Quick Navigation
You've done all the research and finally found the right vessel for you and your family's needs. While you may be confident in your boating skills, you may be less certain of what to do on a boat all day. This is a common concern when new boat owners are faced with their first daytrips on the water.
The excitement of captaining your boat for the first time quickly wears off when you realize you've brought nothing to pass the time and you're in the middle of open water. But even without internet access and the comforts of home, there are still plenty of things to do on a boat trip.
Boating is a great way to reduce stress and let the worries of everyday life fade away with the shoreline. One of the greatest benefits of boating is completely unplugging and enjoying being present with your friends and family. Or you might feel right at home taking a solo fishing trip once in a while, but when it comes to entertaining kids or a group of friends, you're unsure how to keep the fun going.
Whether you're taking a scenic solo trip, treating the family to a lakeside vacation or relaxing on a romantic getaway, My Financing USA is here to help. We'll show you the best games to play on a boat and the most popular boating activities to make your next boating adventure unforgettable. With our inspiration, you'll never be bored at sea.
1. Fishing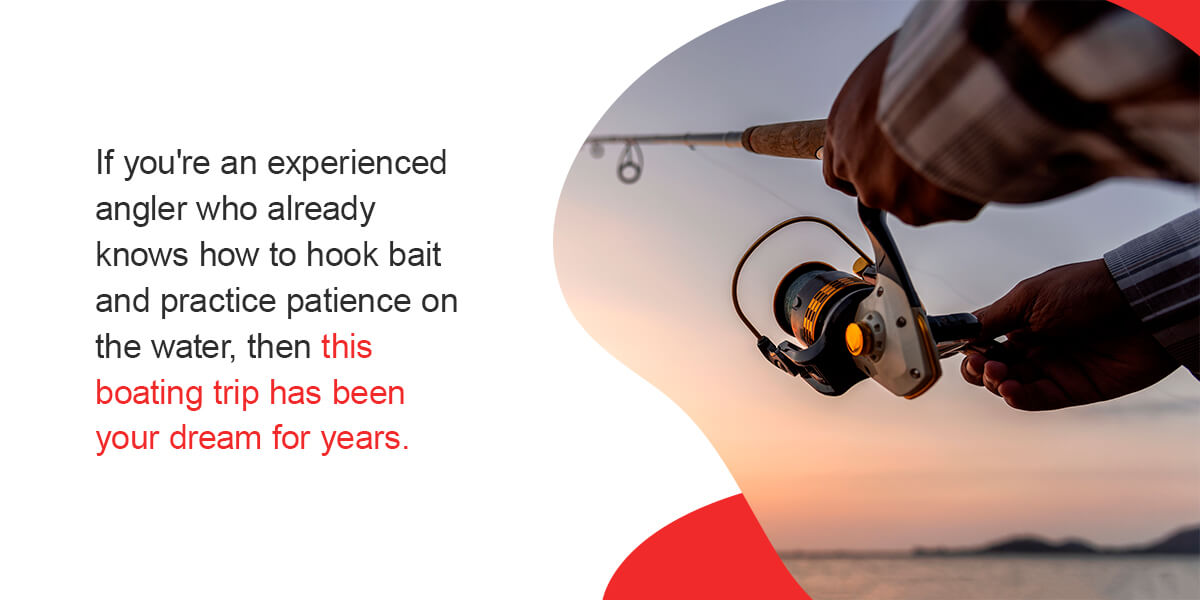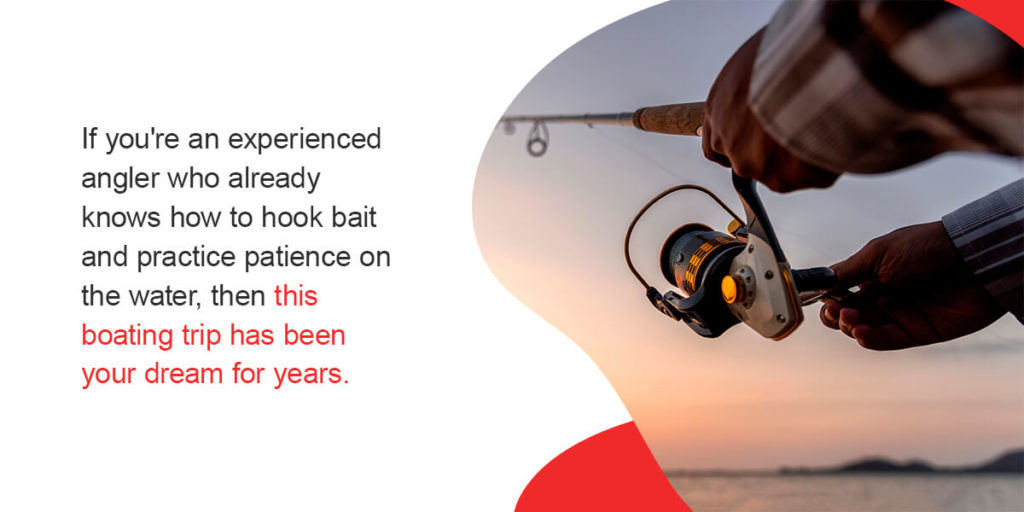 Our list of the top things to do on a boat starts with a classic pastime — fishing. If you're an experienced angler who already knows how to hook bait and practice patience on the water, then this boating trip has been your dream for years. Without the limitation of land, you can finally go to the best fishing spots and truly test your skills in the ultimate battle of human vs. nature.
If you have never tried your hand at fishing, now is the perfect opportunity to learn! Invite a friend with experience along for the ride, and spend the day sharing drinks and conversation on the deck. If you don't have any fishing buddies yet, do your own research and teach yourself how to fish.
Either way, you'll have a new activity that requires minimal effort and leaves plenty of room for you to kick back and relax while waiting for the fish to bite. With time and practice, you can become quite the accomplished angler.
One of the best parts of owning your own vessel is creating memories with your children or grandkids. Why not share your favorite way of how to have fun on a boat by teaching them to fish? Children are usually eager to learn and up for trying new things. Who knows? You may even spark a new passion for them! Bowriders are great family boats with extra seating in the front, so your family can enjoy the water and fishing together.
2. Cookouts
There's nothing like cooking a meal in the great outdoors. Eating on a boat, whether you're picnicking or barbequing, is always a recipe for a good time. Maybe it's the extra vitamin D from the sun or the fresh air that makes eating food outside better, but we recommend taking advantage of your new vessel and packing a meal:
Simple finger food: A picnic doesn't have to be big or fancy to taste good and make your day brighter. Even basic finger food like cheese cubes, cured meats, fruit or vegetables can be refreshing on the water. If you're providing food for several people or going on a longer trip, then you can pack sandwiches, muffins, popcorn, granola or nutrition bars.
Barbequing: Everyone knows calories don't count on the water! Bring a barbecue aboard and indulge in a smoky, saucy feast. From ribs and burgers to pulled pork and corn on the cob, grilling outdoors is an even better experience when you're on a boat. After a day of swimming and watersports, nothing hits the spot like a hot meal.
Three square meals: No rule says you have to limit yourself to lunches and group meals. Hosting brunch on your vessel provides the perfect change of pace from your regular routine. The deck is also a picturesque setting for a romantic date.
It doesn't matter if you're just packing a snack for a fishing trip or planning for an overnight stay, cooking is one of the easiest and most satisfying things to do while sailing.
3. Water Sports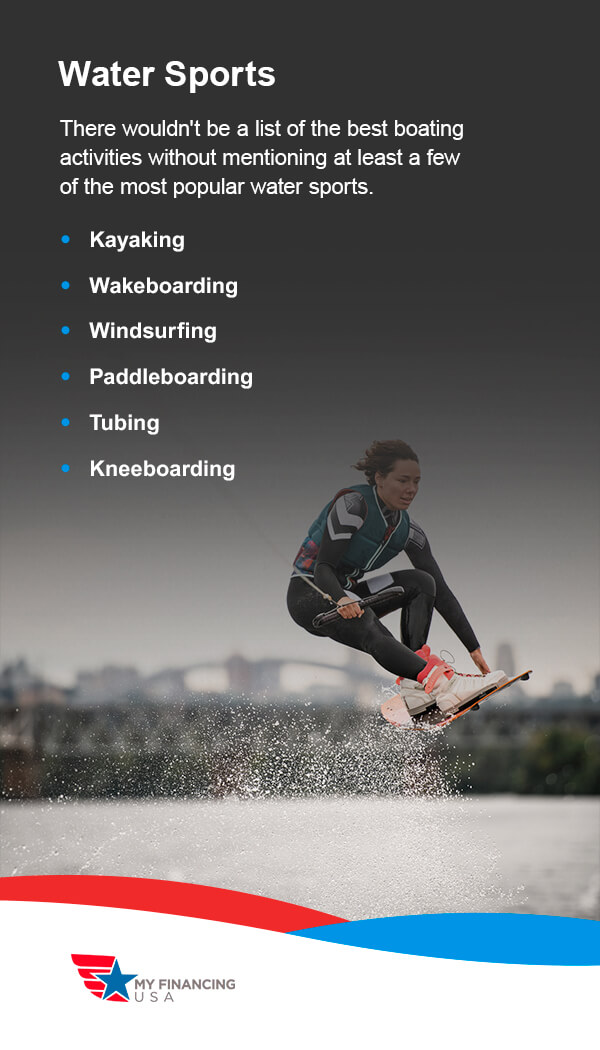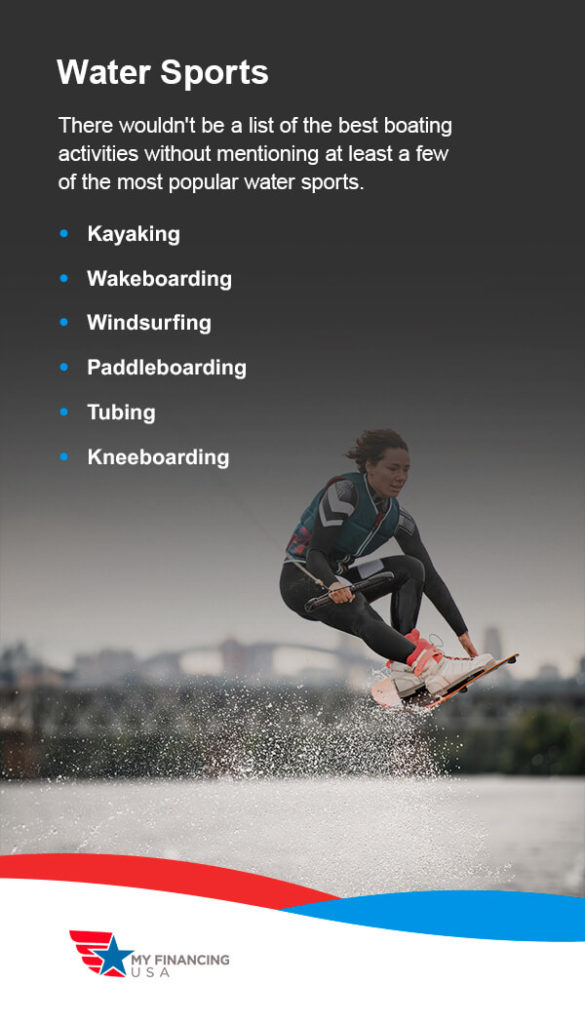 There wouldn't be a list of the best boating activities without mentioning at least a few of the most popular water sports. There are dozens of fun things to do on a boat trip, like kayaking, water basketball and waterskiing. Depending on your boat's size, you may have to pick and choose what activities to do whenever you go out on the water.
But whether you have a Class Two 40 ft. vessel or a Class One speedboat, we can recommend a water sport to elevate your boating adventure, like:
Kayaking: Believe it or not, bringing a kayak along for a boating trip is actually pretty common. Instead of trying to secure it to your vessel with rope and carabiners, you can buy a rack specifically designed to transport kayaks via a mothership. Kayaking is a great activity for boating on a lake with friends.
Wakeboarding: One of the most fun things to do on a boat with friends is to take them wakeboarding. Wakeboarding is an intense and extreme sport in which the rider is strapped to a board, similar to a snowboard, and towed behind a powerboat at high speeds.
Windsurfing: If you happen to sail in a marina that offers windsurfing, we highly recommend trying it out. Windsurfing, sometimes called boardsailing, combines surfing with sailing. On a single-person craft known as a sailboard, the rider harnesses the power of the wind and waves to gain speed and perform tricks. Whether competing or just doing it for fun, it's always an exhilarating experience.
Paddleboarding: Beginner paddleboards easily fit on your vessel and are simple to take for a spin on the water. Medium boards are longer and perfect for recreational paddling on calm waters and most surf conditions.
Tubing: As far as fun things to do on a boat with kids, you can't go wrong with tubing — as long as everyone wears life jackets. All you need is a boat driver, a tow rope and a tube for hours of endless fun. The best part is that tubing can be done with most types of boats, including bowriders, cruisers, deck boats and even some pontoons.
Kneeboarding: If you're uneasy about water skiing or wakeboarding, kneeboarding is a great alternative to get you started with watersports. While the rider sits on the small board in a kneeling position, their center of gravity becomes lower, and they can ride longer and perform tricks with little risk.
There are many types of boats that can accommodate water sports, from runabout boats to fish 'n' skis or ski and wakeboard boats. Knowing all the water sports available to you can help expand your boat's function and enhance your time on the water.
4. Camping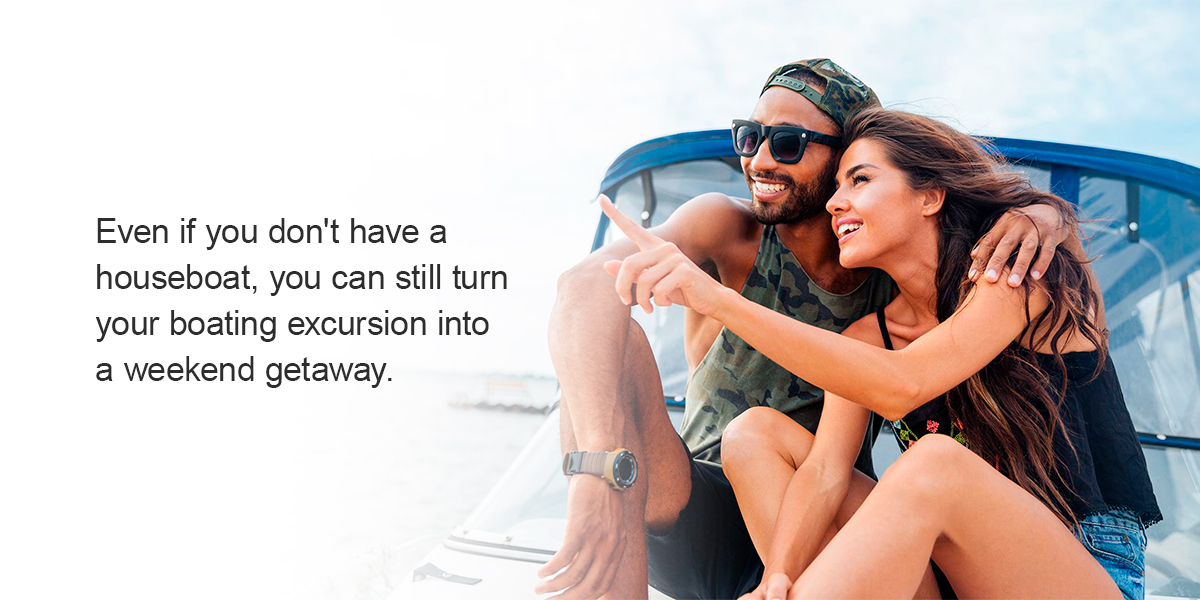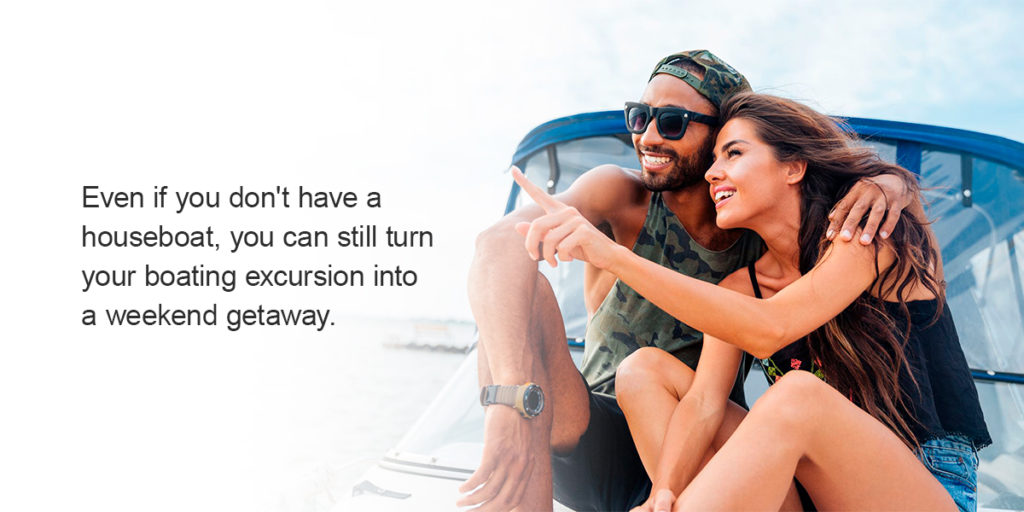 Even if you don't have a houseboat, you can still turn your boating excursion into a weekend getaway. Camping is already a fun and popular activity for adventure-seekers, and there are a few different ways that you can spend the night in a tent while boating:
Waterside campsites: There are hundreds of marinas, lakes, beaches and national parks that allow visitors to set up camp right beside the water. Cozying up beside a fire and roasting marshmallows sounds like the perfect ending to a day of swimming and cruising.
Pitching a tent onboard: One of the most fun things to do on a boat is to camp right on the water. You can sleep on a pontoon boat while on the water by using a fabric enclosure made specifically for pontoons. There are other lightweight, versatile options you can set up on a deck boat.
5. Sandbar Floating
Every boater knows drifting too close to the shallows will cause your vessel to run aground. Intentionally anchoring your boat near a sandbar can bring hours of fun. A sandbar is a shallow area in a body of water caused by a change in tides or wind. Dropping your anchor near a sandbar will give your kids or friends a safe spot to swim while you lounge in the sun.
Sandbar floating sets you up for a day of exploring the water through snorkeling and scuba diving — if you're licensed, that is. Many boat designs feature a ladder hung off the stern to make climbing in and out of the vessel easier. Sandbar floating allows you to swim in the open water in a place where you can usually touch the bottom. It's certainly a safer alternative to swimming in deep lakes or the ocean.
6. Lounging
Sailing is a relaxing and rejuvenating pastime as you spend hours floating along the water, enjoying the fresh salty breeze while the sound of waves and seagulls ease you into a state of tranquility and serenity. Having your own vessel provides the ideal escape from reality so you can recharge your batteries and come back to land feeling refreshed and ready for anything.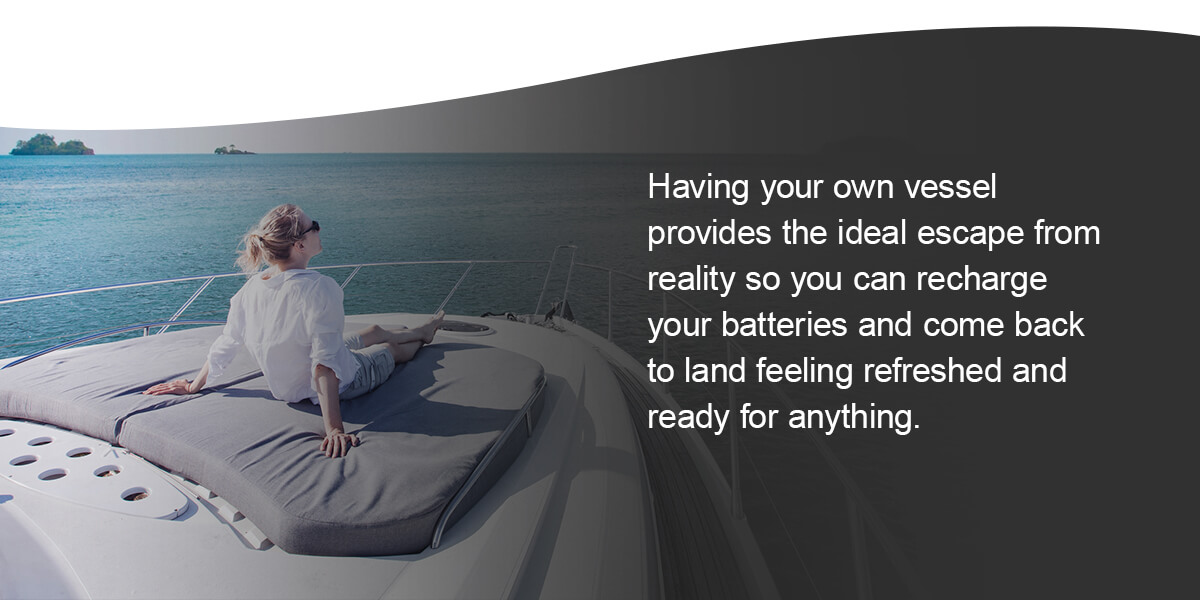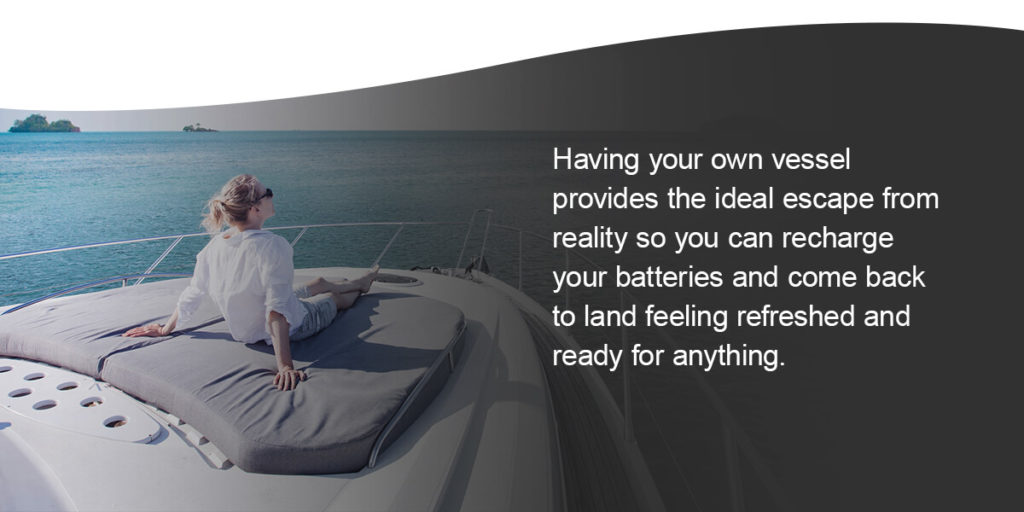 It just goes to show that you don't need games to play on a boat ride to keep yourself happy or entertained. All you really need to do is bring a few key items to help effortlessly pass the time while enhancing your boating experience. Here are a few ways to keep busy while boating:
Bring something to read: Whether you are a bookworm who can't stop turning the pages or a magazine browser, bringing something to read is a great way to lull yourself into a state of total relaxation. If you don't want to carry a book along for the ride, then download an audiobook app, plug in your headphones and enjoy!
Curate the perfect playlist: A great playlist can set the tone for your nautical excursion. Whether you're sharing conversation and kicking it back with a group of friends or taking a solo fishing trip, adding some music to the mix will lighten the mood while cruising the waters.
Play card games: Among the most enjoyable games to play on a pontoon boat are, of course, card games! In a deck of 52 cards, you have dozens of games in one neat package. From gin rummy and poker to crazy eights and solitaire, you'll never be bored. Throw in a pinhole deck, and you're set for the day!
Perform a yoga flow: The peaceful atmosphere of the water combined with the placid movements of yoga seems like a match made in heaven. Striking a pose on paddleboards and decks has been an increasingly popular trend, especially on social media. What better way to take advantage of your new vessel than to set up a mat and perform a yoga flow that's in sync with the gentle waves?
Dual console and deck boats are great lounging vessels with more open space for sitting, so you can spend your free time relaxing on the deck.
7. Beaching for the Day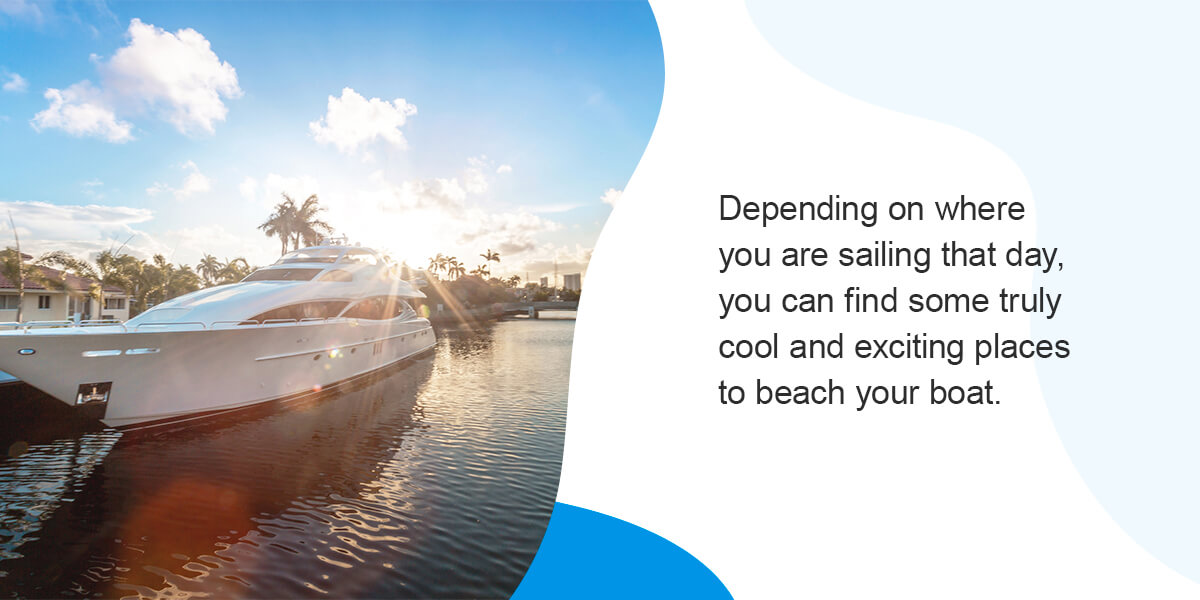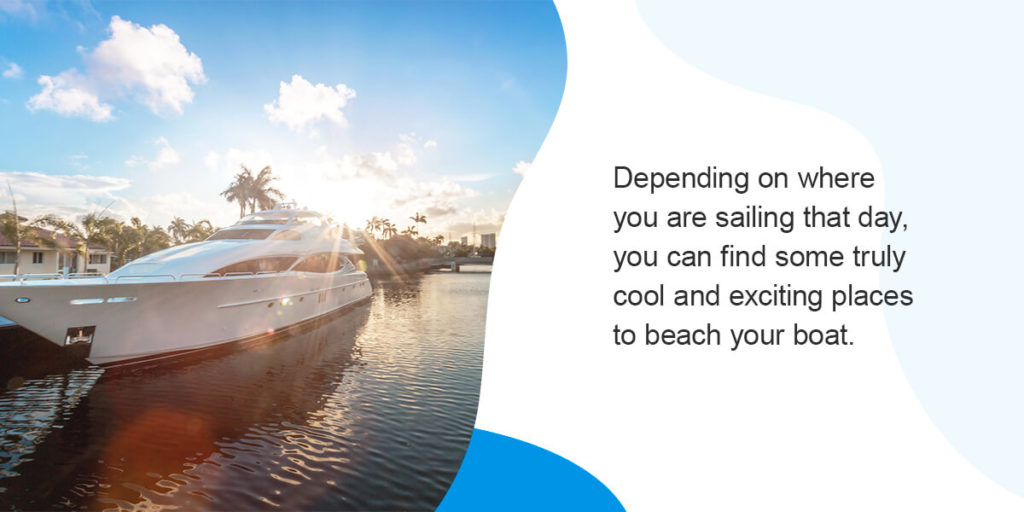 If you love spending time in the sand and jumping in the waves, why not beach your vessel and set up camp for the day? While sandbar floating is perfect for boaters who love swimming and don't like sand, beaching allows your family to have a full beach day, including building sandcastles, playing games and picnicking.
Depending on where you are sailing that day, you can find some truly cool and exciting places to beach your boat. You may find tide pools while exploring along the shores or come across starfish and horseshoe crabs. Before taking your vessel out on the water, you may have to confirm the local beach laws before making plans to beach your boat.
8. Take Part in a Regatta
If you own a sailboat and are well-acquainted with your vessel, you can try your hand at participating in a regatta. A regatta is an organized race typically between sailboats or yachts, although rowboats and speedboats have their own competitions as well. Regattas are day-long events and one of the most fun things to do while sailing.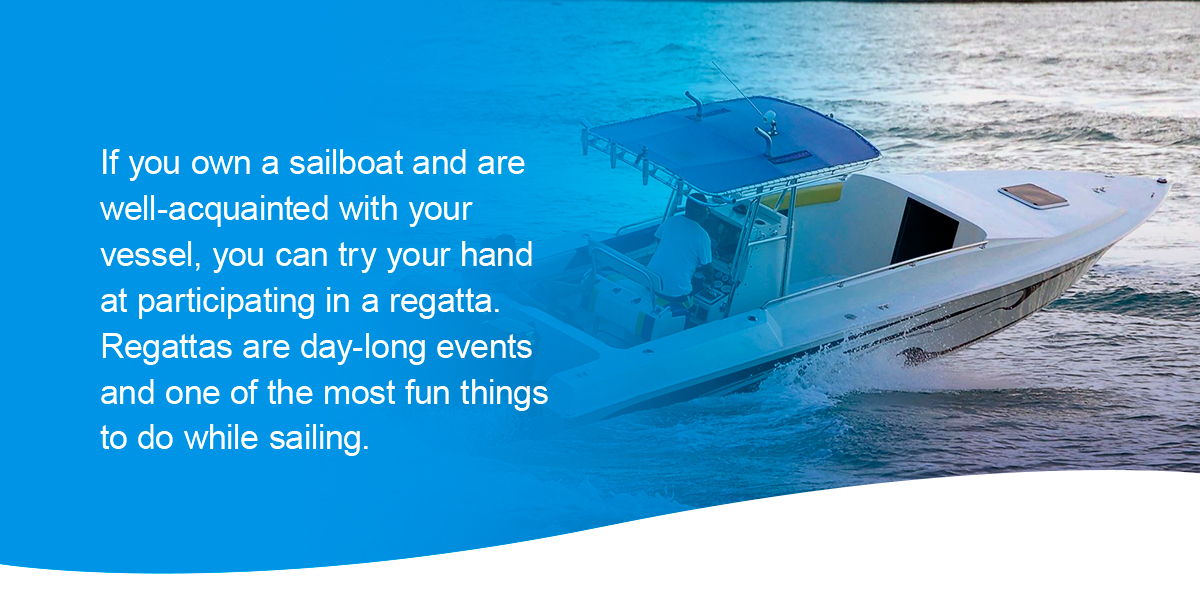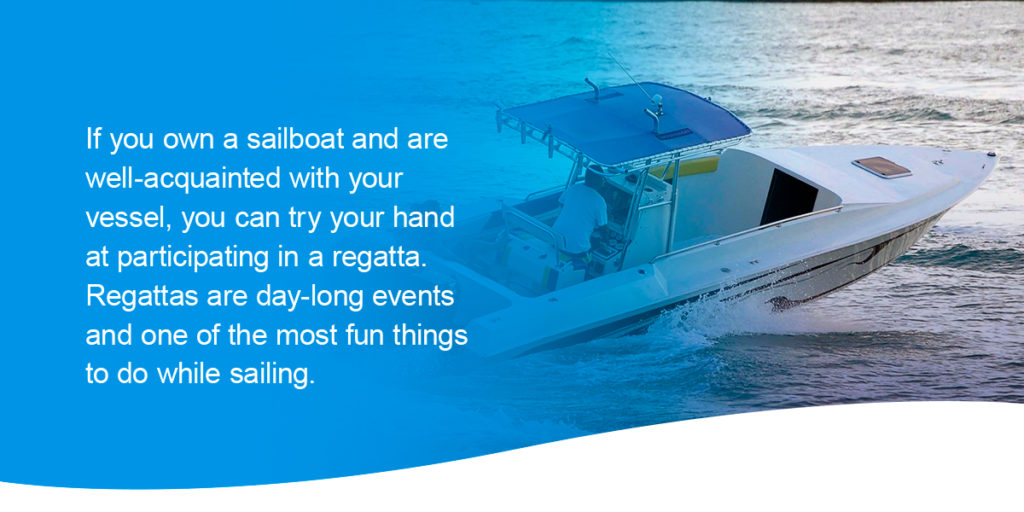 A regatta typically comes with a slew of other fun social and promotional activities for you and the family to enjoy. Don't worry if you've never joined a race before. Regattas are usually reserved for amateurs, and the organizers will explain the rules and regulations before the event. Why look for games to play on a sailing boat when you can use your boat to participate in a race?
9. Play Games
When you're spending the day in the middle of the open water with your children, it can be intimidating trying to keep them entertained all day. In the age of tablets, smartphones and gaming consoles, some parents worry their children will be bored on an extended boat ride. But there are plenty of fun things for kids to do on a boat, it's just a matter of being prepared.
These ideas for activities and fun games to play while on a boat will engage your kids no matter how much time you spend at sea:
Organize a scavenger hunt: Scavenger hunts can be great activities for teaching your children about boating while keeping them busy. Print a list of marine objects you may see on your journey and reward the first child to spot all of the items. Types of fish, boats, seagulls and people participating in watersports can all be included on your list.
Have a pirate day: Tap into your children's imaginations by creating a themed boating day for them! You can create pirate-themed games to play on a boat trip, like treasure hunts, coloring pages or pretending to walk the plank. You can even bring snacks that center around the theme of the day. Test your own creativity by expanding this idea into other planned themed activities for kids on a boat venture, like tea parties, luaus and past decades.
Install an inflatable slide: Turn your boat into a playground with an inflatable slide for the side of your vessel. Grown-ups and kids alike will love the thrill of shooting into the water and cooling off in such a unique and exhilarating way. As far as fun games to play on a boat, you really can't beat a waterslide!
Invest in a water bouncer: Families are willing to spend a good chunk of change on trampoline parks, but you can transform a lake into your own amusement park with just your boat and an inflatable water bouncer. A high-quality water bouncer will last years and provide endless hours of fun and excitement. You won't have to worry about what card games or board games to play on a boat when you have a trampoline on board.
Make it a movie night: If you're staying on the boat overnight, make the weekend even more special with a movie night complete with a projector. Bring popcorn, spread out a few blankets and put on your favorite movie — the kids will love it! You don't need a ton of games to play while on a boat to stay busy. The best memories are made when you're simply enjoying the company of the ones you love.
10. Night Cruising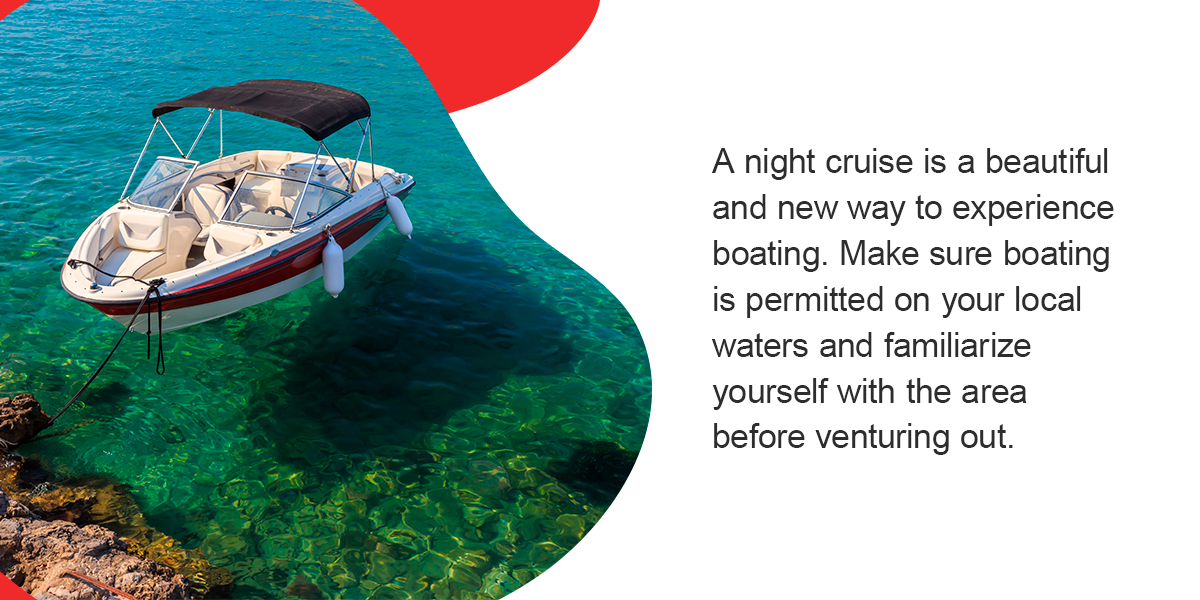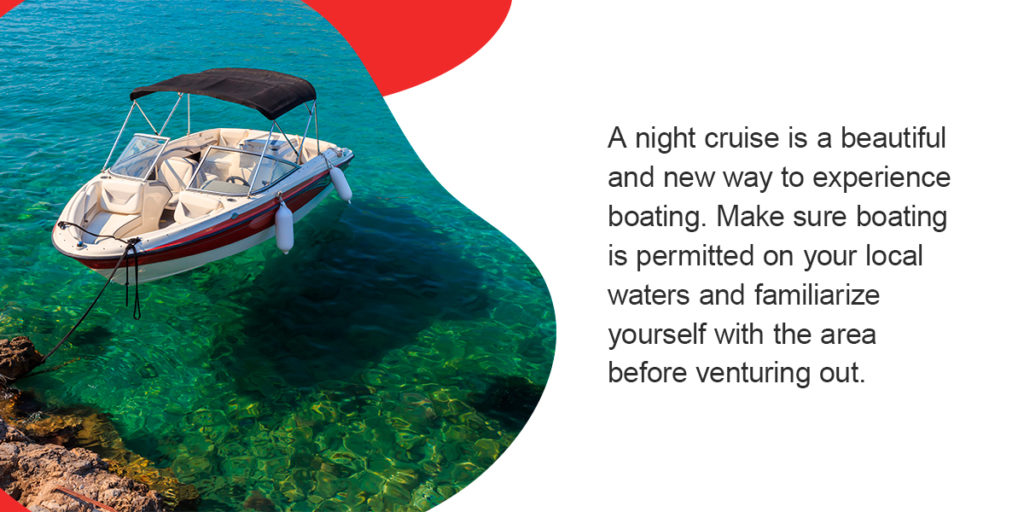 If you have never taken your boat out on the water for a night cruise, you're really missing out. When you are on the water, there is essentially zero light pollution, leaving the moon and stars to shine through. A night cruise is a beautiful and new way to experience boating. However, boating in the later evening hours requires a bit more care than sailing during the daytime.
First, make sure boating is permitted on your local waters and familiarize yourself with the area before venturing out. Check your navigation lights and bring a flashlight just in case. It will take about 20 minutes for your eyes to adjust to the darkness, but if you dim the lights in the cabin, you'll have some backlight for your journey.
With a telescope, and a few snacks and drinks, you have all the makings of a lovely evening of night boating.
Unlock Your Passion for Boating With My Financing USA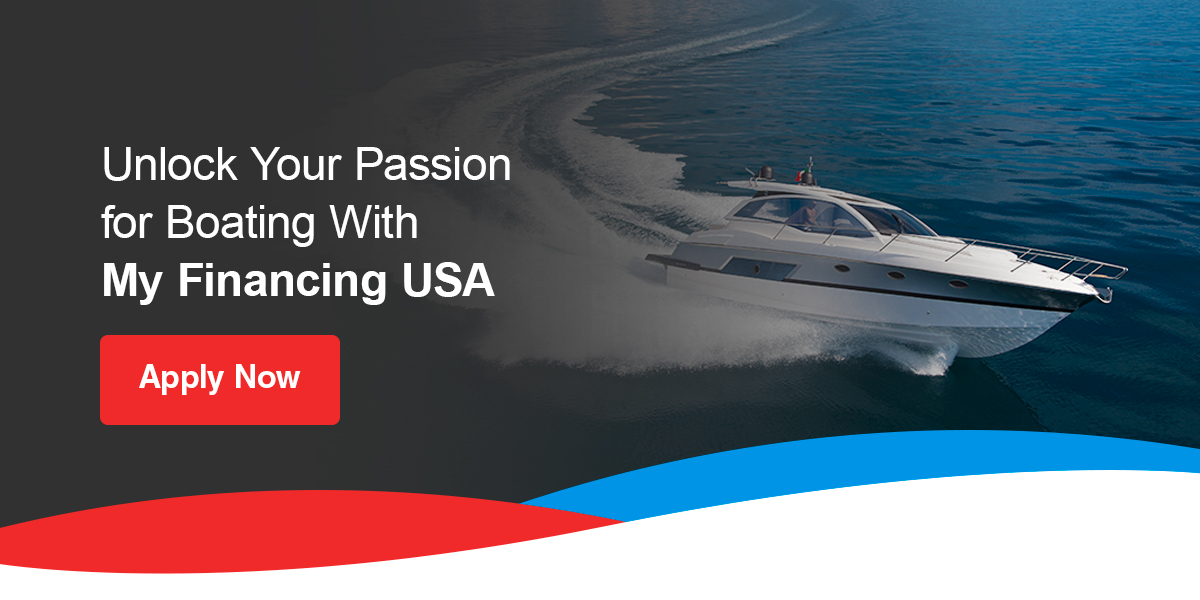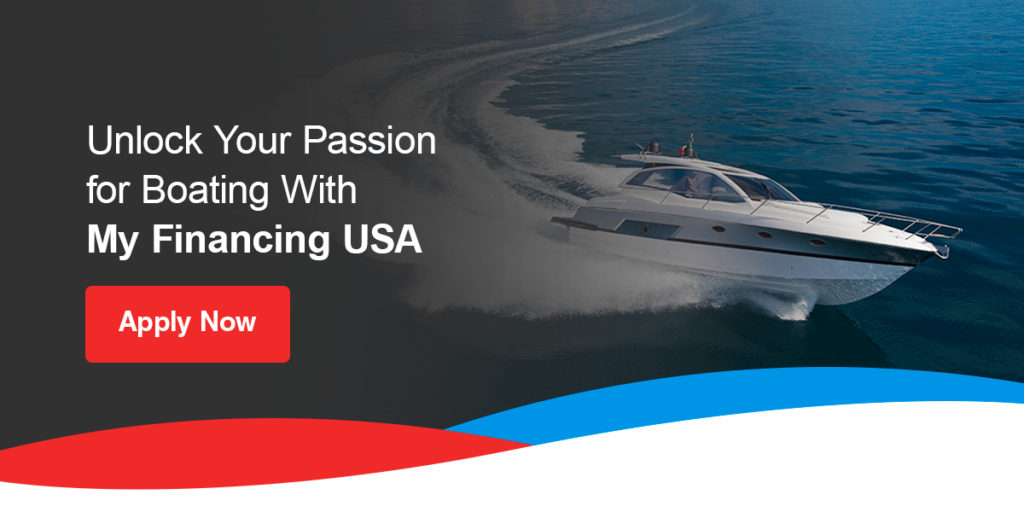 At My Financing USA, we do more than RVs and motorhomes. We can help connect you with the perfect boat for your needs, from bowriders to walkarounds, so you can find the right vessel for your water adventure. We're here to make your nautical dreams a reality with our affordable, top-rated boat loans.
You can jumpstart your maritime ambitions in just five minutes with our streamlined boat loan application. Within just 72 hours, you'll get a phone call from one of our amazing staff to fast-track the process so you can set the sails as soon as possible.
You'll work exclusively with real experts who care about preserving the integrity of your credit score and meet you exactly where you are financially. They'll help you establish your personal goals and expectations rather than relying on a random lender's standard terms.
To learn how we secure financing for all of our boat loans, visit our information page. We show you exactly how fast and easy the process is without using all the technical sales language. Your experience is our top priority. We'll help you achieve your lifetime dream of captaining your own vessel by pairing you with a financing vendor who can give you realistic plans of action. If you're ready to dive in and sail full steam ahead, apply for a boat loan today!
---
Additional Resources on Boating:
---