Quick Navigation
If you want to embark on a boating adventure, Alaska is one of the best states to visit. In addition to its stunning natural beauty, you can spot many types of wildlife, see massive glaciers up close, hike along scenic trails and partake in excellent fishing opportunities. You may even get to view the famous northern lights.
Whether you've recently financed a boat or are considering financing one, Alaska offers many opportunities to make the most out of your new investment. You'll need a boat to access many remote Alaskan destinations — and the remote places often provide the most incredible experiences. Discover our favorite boating destinations in Alaska.
Top 14 Boating Destinations in Alaska
From rural towns and private islands to national parks and historic sites, Alaska boating destinations offer experiences any traveler will enjoy. Here are our top 14 boat-accessible spots:
1. Bear Glacier
Our first destination, Bear Glacier, is found in the Kenai Fjords National Park.
You could travel 12 miles from the town of Seward to catch sight of the glacier, but if you want a closer look, consider bringing along a stand-up paddleboard or kayak. Navigate your boat to Bear Glacier Lagoon — but be careful with the surf conditions the Gulf of Alaska can stir up. For a safe trip, only experienced boaters should undertake this route.
Once inside the park, you can revel in the glacier's natural beauty. Unload your kayak or stand-up paddleboard to get as close to the formation as safely possible. The icebergs in Bear Glacier Lagoon are massive — the size of buildings, with much of the height hidden beneath the water's surface. Enjoy the sight, but be sure to follow the safety guidelines from the National Park Service (NPS).
2. Big Lake
A bit closer to the coast but still inland, Big Lake is near Anchorage, Alaska. You can enjoy numerous outdoor activities and fishing here. Nature lovers can head up to the salmon spawning observation deck. Mount Susitna, Denali and the Talkeetna Mountains overlook the lake, too. If you're here in the winter, head to Big Lake to watch an Alaskan staple — dog sledding.
3. Chichagof and Admiralty Islands
Chichagof Island and Admiralty Island are two destinations located along the Inside Passage containing swaths of the Tongass National Forest.
The islands boast excellent opportunities for wildlife observation, particularly bears. Admiralty Island has around 1,500 bears at a density of one bear every square mile. The high bear concentration earned the island the name "Kootznoowoo," a Tlingit word for "fortress of the bears." If you want a chance to see bears in the wild, make sure you plan accordingly. All Pack Creek Bear Viewing Area visitors must obtain a permit.
You might also spot humpback whales, porpoises, sea lions, nesting bald eagles or Sitka black-tailed deer on Admiralty Island.
Enveloped in the Tongass National Forest, Chichagof Island is another prime spot for wildlife viewing. The island contains the quaint town of Hoonah and the northern portions of Sitka. Chichagof also boasts many fishing opportunities.
4. Denali National Park

If you stop by Big Lake and see Denali in the distance but decide you want a closer look, head to Denali National Park. Here, you can sail — or walk — in the shadow of North America's tallest mountain. The scenery of Denali National Park includes 6 million acres of taiga forest, tundra and mountains.
While you can access much of the national park by land, you'll need a boat or aircraft to reach the northwest sections. Take the Kantishna River to enter Denali National Park from the north.
5. Glacier Bay National Park
Glacier Bay National Park sits at the northern edge of the Inside Passage, and it boasts 3.3 million acres of stunning nature. Stop by the park and catch glimpses of mountains, glaciers and rainforest, all home to diverse wildlife, including whales and harbor seals.
The glaciers are one of the greatest appeals of the park, hence its name. When you stand in awe of these massive blocks, you glimpse the planet's historic glacial past. Because of Glacier Bay National Park's natural wonders, the United Nations named it a World Heritage Site. The space is also part of an internationally protected Biosphere Reserve.
The park contains a network of waterways to traverse in your boat. However, the NPS regulates all boat traffic to protect the park. If you hope to boat to Glacier Bay yourself, familiarize yourself with the NPS's guidelines beforehand.
6. Halibut Cove
The Kenai Peninsula is home to many of our favorite Alaskan boat destinations, and Halibut Cove is at the top of the list. The cove is part of Kachemak Bay State Park, an extensive nature preserve containing mountains, glaciers and forests. Wildlife you might spot at Halibut Cove include sea otters, harbor seals and porpoises. Like many places throughout Alaska, you can also go whale watching.
While nature is a primary appeal of Halibut Cove, you'll also find a small, peaceful community with a population of only 60 people in 2020. Enjoy the quaint, small-town feel as you walk inland and observe the sights. You can even visit a floating post office, something you won't likely see in many other places.
7. Humpy Cove
Also near Seward, Humpy Cove is an excellent destination for wildlife viewing, glamping and even historical excursions. The cove is located along Resurrection Bay and is incredibly convenient for boating. You'll find plenty of anchorage in this destination.
The cove boasts numerous fish, including the pink salmon that inspired its name. You'll also find rockfish, halibut and other salmon varieties along the waterways.
If you're on the hunt for historical significance, check out the Iron Door. This searchlight is a remnant of World War II, making Humpy Cove a prime spot for fishers and historians alike.
8. Inside Passage
The Inside Passage is 500 miles of waterways along the southwestern edge of Alaska bordering British Columbia. Along the northern edge of the passage, you'll find Juneau and Chichagof Island. Ketchikan and Prince of Wales Island sit near the passage's southern entrance.
Many of our top destinations are along or near these waterways. You might embark on a trip down the entire passage or head directly to a particular spot of interest. The passage includes sights ranging from glaciers and fjords to scenic islands and rainforests. The Tongass is the country's largest national forest. Within the forest's branches, you can spot wildlife such as eagles and bears.
Also along the Inside Passage are ample opportunities for hiking and fishing. A few of our favorite boat-accessible spots are Tracy Arm Fjord, Chichagof Island and Glacier Bay National Park.
9. Kenai Lake
While you can access Kenai Lake from the road, you'll be able to reach more remote areas with a boat. Glaciers formed many Alaskan lakes, and Kenai Lake is no exception.
When you stop by this large waterway, you can pull out your kayak or dock your boat and enjoy land activities. For example, you could pitch a tent along the shore, go hiking and possibly spot a few interesting birds.
10. Lake Louise

Lake Louise is a fantastic option if you're further inland and looking for a great boating destination without venturing too close to the sea. Lake Louise is in southeastern Alaska, just west of Glennallen.
This destination offers many outdoor activities, including camping and hiking. You can also spot birds and waterfowl such as cormorants, swans and loons. Wildlife include moose, bears, wolves and foxes. If you're in Alaska in the fall, keep an eye out for the Nelchina caribou migration. Lake Louise is excellent for catching lake trout, whitefish, burbot and arctic grayling.
One of our favorite appeals of Lake Louise is the prime viewing it offers of the northern lights. Imagine taking your boat out to the middle of the waters and enjoying the gently lapping waves as one of the most stunning sights in the world plays in the sky.
11. Seldovia
While you're in Kachemak Bay, be sure to sail over to Seldovia, a small town with numerous activities and sights to explore.
The area boasts a network of waterways, and once you dock, you'll have a quaint town to wander on foot. This destination provides an excellent respite for seafarers who want to rest on land for a bit. Because of the town's size, you'll find shops and restaurants after walking only a few blocks. Head uphill to see the St. Nicholas Orthodox Church, one of Alaska's National Historic Sites.
If you're itching to get back to nature, go for a hike along Otterbahn Trail, which ends at Outside Beach. Keep an eye out for blueberries, low-bush cranberries and salmonberries as you hike. Once you make it to the beach, you can search the shore for shells or other exciting finds and look across the way to find Mount Redoubt and Mount Iliamna on the horizon. You might see eagles or otters here, too.
Once you're ready to head back out on the water, grab your kayak and explore Eldred Passage, Tutka Bay and more on the town's outskirts. While adventuring, you might spot a sea otter, seal or sea lion. If you want to fish, the area boasts an excellent opportunity for halibut and two species of salmon.
12. Stormy Lake
You might hear Stormy Lake called Three Bay Lakes, which refers to its segmented nature, with channels creating passages between the three "bays." Stormy Lake is another top destination on the Kenai Peninsula. When boating here, beware of high winds. However, the lake's windy nature also means you'll likely see naturally beautiful whitecaps along the surface.
13. Tracy Arm Fjord
Tracy Arm Fjord is the perfect spot to see stunning glaciers. The fjord is located just south of Juneau, and it's home to the twin Sawyer Glaciers. If you take a summertime trip to Tracy Arm, you'll find giant chunks of ice floating throughout the fjord.
A unique feature of Tracy Arm Fjord is its habitation of deepwater species not often found in shallow waters like fjords. Specific water conditions allow these animals to make their homes in Tracy Arm, including deepwater coral species. Other wildlife you might spot in the fjord area include bears, wolves, whales and harbor seals. Birdwatchers should keep an eye out for arctic terns, eagles and pigeon guillemots.
The United States designated the area around the fjord the Tracy Arm-Fords Terror Wilderness, which is part of the Tongass National Forest. The area boasts stunning cliffs, mountains and waterfalls, creating awe-inspiring sights everywhere you turn.
When sailing along the southwestern waters of Alaska, you'll most likely take the Stephens Passage to reach Tracy Arm.
14. Tustumena Glacier
Tustumena Glacier spans from the Harding Icefield to Tustumena Lake. Head to the town of Kasilof to journey up to this stunning sight. Because this is a less-frequented location, you can enjoy remote, crowd-free hiking. Keep an eye out for salmon as you pass streams.
4 Tips for Your Alaska Boating Trip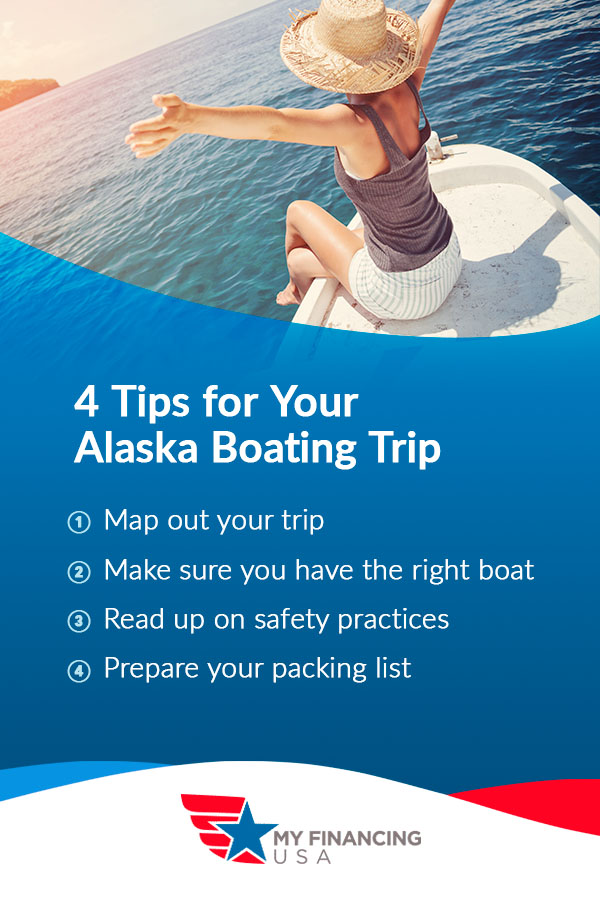 Alaska boasts many boat-accessible destinations, and we've only described our top 14. If you're planning to take advantage of these stunning locations, follow these preparation tips to have the best experience possible:
1. Map out Your Trip
Many of the destinations on our list are near each other or along the same path. Choose your top spots so you can map out the most strategic route. Knowing where you want to go ahead of time allows you to check for any required permits or boating regulations. Many of the destinations on the list have guidelines all boaters must follow. Also, check that your intended stops will have ample docking.
2. Make Sure You Have the Right Boat for the Destination
If you're considering financing a boat and want to use it to see the world, know which types of vessels best suit your ideal activities. For instance, a jet boat might be great for lake goers wanting to partake in watersports, but if you're going to take a trip down the Inside Passage, you might want a boat with a cabin, like a cruiser. As you prepare to purchase your new vessel, learn how boat financing works.
3. Read up on Safety Practices
Some of these Alaska destinations require a deft captain's hand. Make sure you're well-prepared so you can safely navigate whichever journey you decide to embark upon. Read our boat safety tips for a great starting point for any boating adventure.
4. Prepare Your Packing List
You've planned your trip, chosen your boat and are nearly ready to set off. Ensure you have everything you'll need for a fun trip. Some items — in addition to safety-related things — you might want to bring along include:
Kayak
Stand-up paddleboard
Camera
Fishing gear
Hiking gear
Water and snacks
Sunscreen
Plan Your Boating Trip to Alaska Today

At My Financing USA, we want to help you take the boating trip of your dreams. Finance your new boat through us and get out on the water as quickly as possible. Along with financing, we offer Guaranteed Asset Protection (GAP) to cover you if your boat is stolen or in an accident and declared a total loss.
There's a whole world out there to explore. If you're ready to purchase a boat for your Alaska adventure, fill out a short online application or contact our team today to learn about your financing options.
---
Additional Resources on Boating:
---