Quick Navigation:
Spending the summer by the lake is a quintessential American experience. However, sometimes you want to expand your horizons and check out new waters. With thousands of lakes to explore across the United States, it can be challenging to know which one to visit first. This handy list showcases some of the best boating towns across the country to make your next vacation one-of-a-kind!
1. Traverse City, Michigan
Lake Michigan's Grand Traverse Bay offers numerous boat tours and plentiful fishing opportunities due to large quantities of salmon, smallmouth bass and walleye. Traverse Bay also contains miles of waterfront with numerous coves and islands to explore. To top off a perfect day of fishing, exploring or cruising, make sure you stop at one of the many wineries to try one of the local sweet wines.
2. Gainesville, Georgia
Lake Lanier in Gainsville, Georgia, is a man-made lake and serves as a hub of activity for residents and vacationers. With nearly 700 miles of shoreline, there is plenty of open space for cruising or spending the day relaxing. Some common activities you can enjoy on the lake include water skiing, swimming and tubing.
3. Port Townsend, Washington
Port Townsend is a perfect getaway for boaters and offers a rich naval history to explore. This thriving maritime community is a working waterfront and home to many marine trades like boat building, sail making and repair. Visitors can partake in one of the many regattas throughout the year and learn more about the charming city's maritime heritage.
4. Annapolis, Maryland
When you think of sailing, the Chesapeake Bay may come to mind, which serves as the unofficial Mid-Atlantic sailing capital and home of the United States Naval Academy. Activities such as boating, paddle boarding and water tours are popular among many visitors and you can even view some of the warships at the Naval Academy Museum. With over 533 miles of shoreline and numerous small towns to stop and visit, a trip to Annapolis is essential for any boating enthusiast.
5. Tarpon Springs, Florida
Enjoy boating during every season at Tarpon Springs. You can find this idyllic harbor along the Anclote River on the west coast of Florida. With easy access to the Gulf of Mexico, and numerous opportunities for fishing, Tarpon Springs is one of the best boating towns in Florida.
6. New Bern, North Carolina
New Bern is a waterfront destination for boaters, and the Neuse River is a fantastic water scene. At its widest point, the Neuse River measures six miles across to provide plenty of room for recreational activities and cruising. New Bern is also close to other popular boating destinations like Wilmington, Outer Banks and Belhaven.
7. Portland, Oregon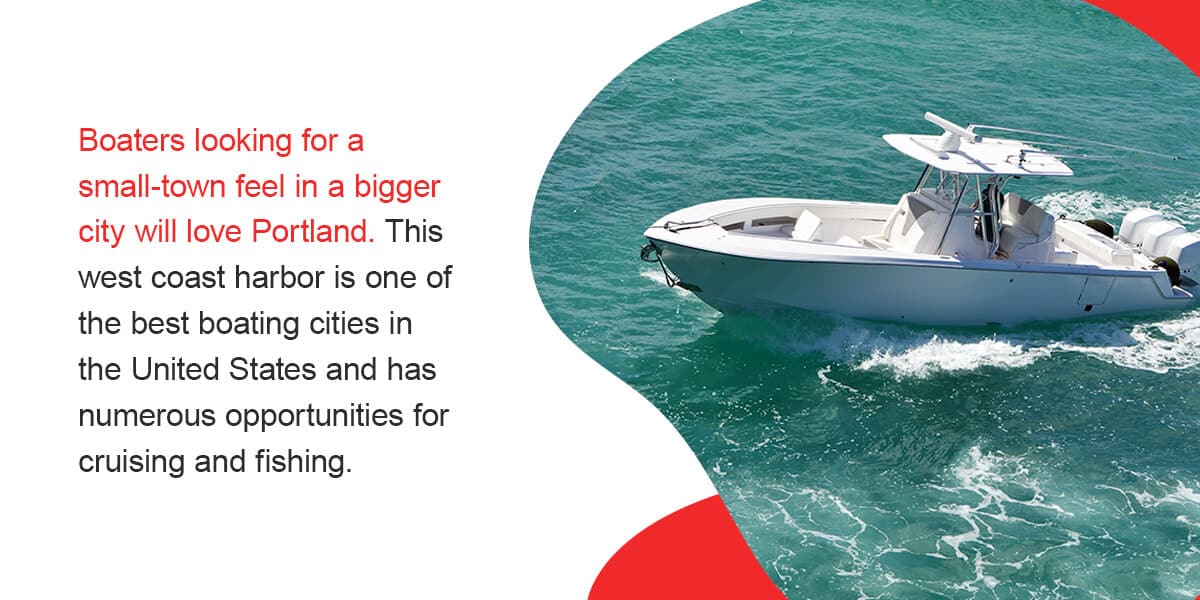 Boaters looking for a small-town feel in a bigger city will love Portland. This west coast harbor is one of the best boating cities in the United States and has numerous opportunities for cruising and fishing. If inclement weather occurs, there is plenty to do ashore with museums, breweries and more.
8. Portland, Maine
Portland, Maine, is home to a historical port area with numerous 19th-century buildings and warehouses. The picture-perfect coastline plays host to fishing boats, cruise ships and luxury yachts, making it ideal for any boater.
9. San Diego, California
With warm and sunny weather throughout the year, San Diego is the perfect location for boaters who want to hit the open ocean anytime. The area offers plentiful fishing and plenty to do ashore, like restaurants and museums. San Diego also provides easy access to the Pacific Ocean for boaters looking for deep-sea fishing or other adventures.
10. Fort Lauderdale, Florida
Fort Lauderdale is a prime location for many boat enthusiasts due to its 300 miles of waterways, more than 100 marinas and sunshine-filled weather. Fort Lauderdale is one of the best places to live for boating due to its perfect conditions and the Fort Lauderdale International Boat Show, an annual event showcasing over 1,500 vessels.
11. Rangely, Maine
If you are looking for a quintessential New England experience, you can't go wrong with Rangely, Maine. This quaint town is one of the best boating towns on the East Coast to spend a peaceful summer and contains five lakes for boating, canoeing, kayaking and other aquatic activities. If you want to spend some time off-deck, the town is full of tiny bed and breakfasts, antique shops and numerous inns and lodges for a comfortable place to stay after a day on the water.
12. South Lake Tahoe, California
While most of Lake Tahoe is in Utah, the southern side of the lake is in California and offers gorgeous boating weather year-round. Whether you would like to host friends and family or spend some time quietly bobbing on the water, there is plenty of opportunities for both parties and relaxation. Cruises are available through the Emerald Bay area if you want to see more of the lake before setting sail.
13. Wolfeboro, New Hampshire
While New Hampshire does offer access to the ocean, one of the more prominent boating locations is Lake Winnipesaukee in Wolfeboro. This high-class lake town attracts many political figures, authors and movie stars, but that does not mean it is exclusive. Wolfeboro is a haven for all boat lovers and features open areas perfect for sailing and quiet coves for relaxing and admiring the scenery.
14. Phoenix, Arizona
When thinking of Arizona, you may picture a desert climate, however, this state is home to many dams which offer an aquatic playground for residents. Boaters can set sail in Saguaro, Canyon, Apache or Roosevelt Lake for unique boating experiences that provide a deliciously cool break from the heat.
15. Santa Catalina Island, California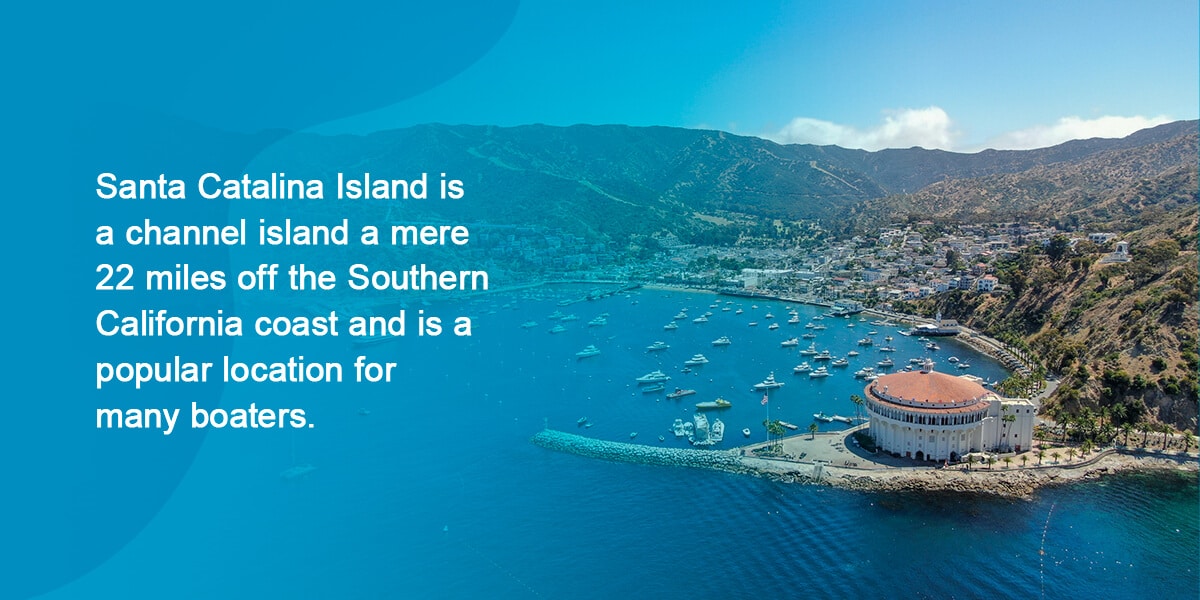 Santa Catalina Island is a channel island a mere 22 miles off the Southern California coast and is a popular location for many boaters. On the island's west end, you will find Two Harbors, which offers a village and secluded coves perfect for mooring your boating in between adventures. The east side of the island is home to Avalon Bay and offers many aquatic expeditions for visitors, like sunset cruises, glass-bottom boat tours and guided fly fishing experiences.
16. Lake of the Ozarks, Missouri
Lake of the Ozarks is a favorite among locals and vacationers to Camdenton, Missouri and is one of the less crowded boating options. With over 1,100 miles of shoreline to explore, it's easy to spend the entire day drifting along and admiring the scenery and coves or trying your hand at the numerous fishing spots available.
17. Lake Havasu City, Arizona
Lake Havasu is the ultimate party lake, making it a playground for many residents and visitors to Arizona. With wide open waterways, there is plenty of space for boating, fishing, tubing and swimming. While it may feel like spring break never ends on Lake Havasu, it's essential to remember that it is in Western Arizona and is subject to scorching weather, especially during the summer.
18. Lake Superior, Michigan
Lake Superior is your destination if you are looking for a peaceful boating getaway. Boaters looking to reconnect with nature can travel across the lake to Isle Royal National Park, which contains plentiful wildlife and camping areas. Or, boaters can drift to the Wisconsin coast and visit Apostle Island and other smaller islets. Regardless of your preferences, once you anchor your boat in Lake Superior, you'll understand why this lake is truly a boater's paradise.
19. Destin, Florida
Located on the Florida panhandle halfway between Pensacola and Panama City, Destin is a prime location for boaters to take advantage of the Gulf of Mexico. Destin is an ideal location for beginner and expert boaters and offers numerous opportunities for activities both on and off the water, such as fishing, parasailing and shopping. The Baytowne Marina is also open to the public, allowing you to dock your boat between excursions.
20. Long Island, New York
Long Island is over 120 miles in length, making it the perfect location for some great boating trips. If you prefer calm bays or want to test your skills in an open ocean, there is plenty to see and explore with a trip to Long Island.
Visitors can choose to place their boat in the water at the northern or southern shores, with both locations offering opportunities for admiring the scenery and homes which line the bay. Experienced boaters can sail closer to the city for breathtaking views of the State of Liberty and Yankee Stadium one can only see from the water.
21. Newport, Oregon
Do you ever wish you could travel to the past and live like your ancestors who made their living on the water? In Newport, Oregon, you can feel yourself go back in time as you drift along Yaquina Bay. As an authentic waterfront, you can spend your day sailing or go on shore to visit aquariums, historical museums and lighthouses.
22. Maui, Hawaii
Hawaii is in the heart of the Pacific Ocean and its natural beauty makes it one of the most popular destinations in the world. Sailors have made their way to Hawaii for centuries and the island remains one of the country's most popular sailing destinations.
While all of Hawaii's islands offer their own unique charm, Maui offers year-round sailing that has encouraged many boaters to enjoy its strong winds and exotic scenery. Keep close to the coastline, take in the sheer cliffs, stop and snorkel among the coral reefs or spend the day floating in the peaceful blue water.
23. Chattanooga, Tennessee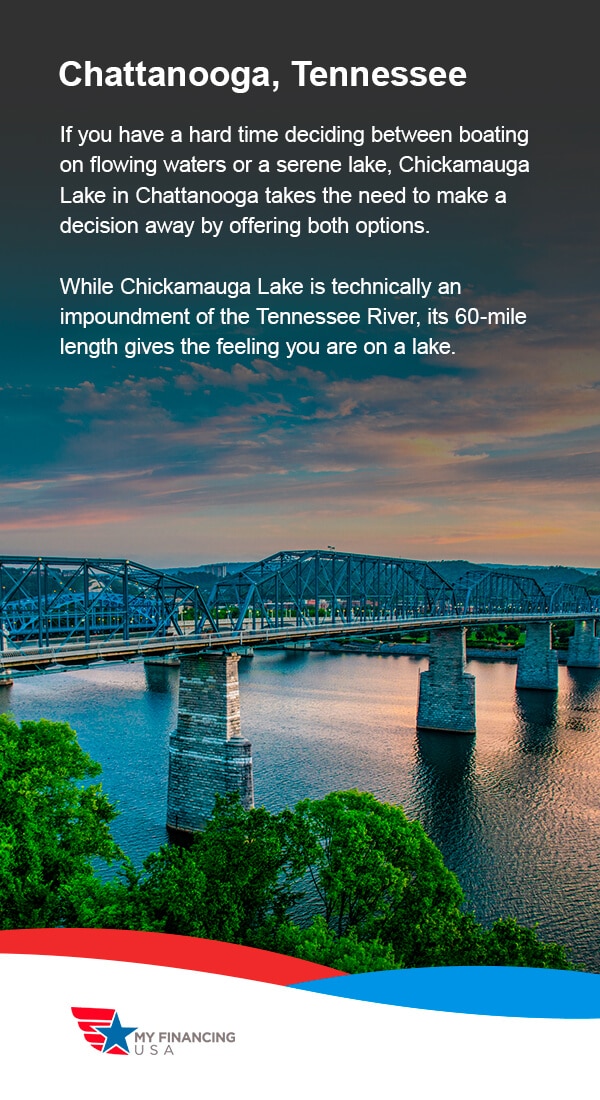 If you have a hard time deciding between boating on flowing waters or a serene lake, Chickamauga Lake in Chattanooga takes the need to make a decision away by offering both options. While Chickamauga Lake is technically an impoundment of the Tennessee River, its 60-mile length gives the feeling you are on a lake. There are also numerous boat launches and storage options for boaters to enable you to safely store your boat while you take a trip to explore the various attractions on land.
24. Seattle, Washington
Seattle is the biggest city in the Pacific Northwest and sits between Puget Sound and Lake Washington, making it perfect for boaters. The main harbor of the city, Elliot Bay, is an inlet of Puget Sound and attracts salmon anglers and boaters and is often a popular send-off point for sailors heading to San Juan Island or north to Alaska.
If you time it right, you can also attend the opening day of boating season, during which crafts of all sizes sail to Lake Washington for a regatta and boat parade.
25. Columbia, South Carolina
Lake Murray in Columbia offers a more relaxing setting and is a popular destination for water skiing, wakeboarding and swimming. There are numerous marinas nearby that offer abundant landings and ramps to help you get your boat safely in and out of the water. If you want to take a day trip into the city, you'll find numerous entertainment options ranging from concerts, ice shows and a botanical garden.
26. Green Bay, Wisconsin
Green Bay grew from trading posts that used the river to transport goods and furs to the city. While water trading is no longer as prevalent, its impact is still present, making it an excellent place for people who enjoy the history of boating.
As you drive down the road to the Bayside Park launch ramp, take some time to examine the scenery as this road cuts through the rock of the Niagara Escarpment. Green Bay is a great fishing location and many boaters use it as a starting point for trips to Door County Peninsula and beyond.
27. Grand Marais, Minnesota
Grand Marais is a picturesque harbor town on the bank of Lake Superior. Part of what makes Grand Marais so great for all kinds of boaters is its location. With Minnesota to the west, Wisconsin and Michigan to the south and Ontario and greater Canada to the north, you can use the lake as a start and end point for a multi-day boating trip.
Have an Adventure at One of These Boating Towns Today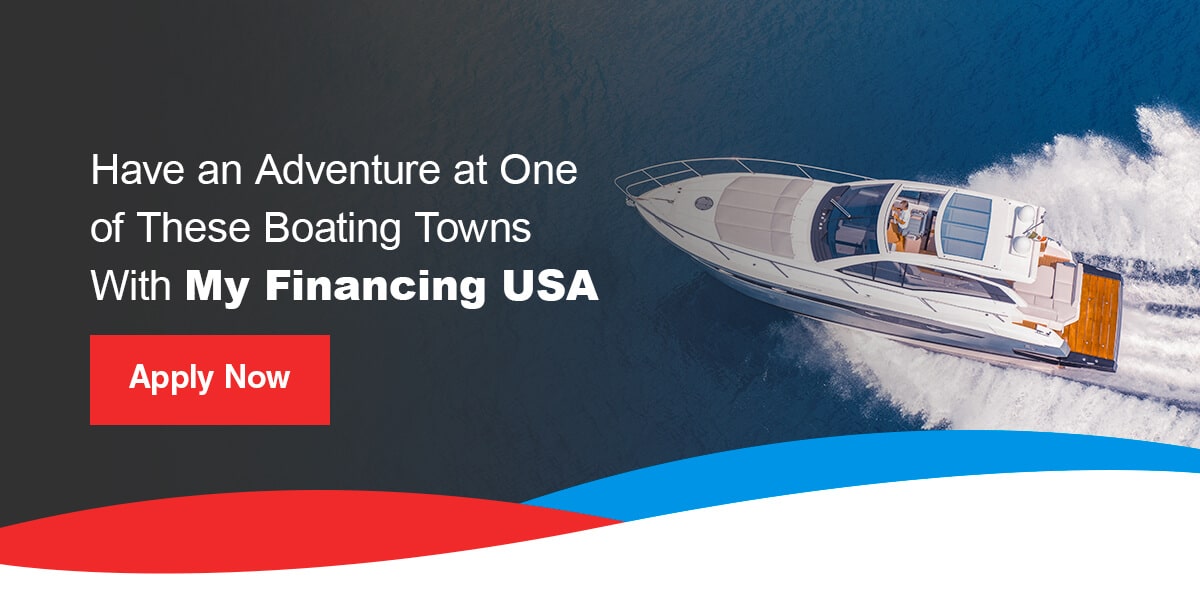 At My Financing USA, we want to help all boat enthusiasts purchase the boat of their dreams. Whether you're looking for a bowrider or a walkaround, our team can help you find the right vessel for any water adventure.
With our streamlined boat loan application, it's easier than ever to take the first steps toward owning the boat of your dreams. After completing our application, you will get a phone call from our staff within 72 hours to fast-track the application process so you can set sail sooner.
Throughout the application process, you will work exclusively with experts who care about preserving your credit score and meeting you where you are financially. We will work with you to create goals rather than relying on general standard terms.
We encourage you to visit our information page to learn how we help borrowers secure financing. We strive to make the borrowing process fast and easy for all applicants without the use of overly technical sales language. If you're ready to dive in and set sail, we encourage you to apply for a boat loan today!
---
Additional Resources on Boating:
---