Quick Navigation:
Music festival RV camping can be an exciting process. Finding the right music festival is the first step for those who enjoy jamming out to their favorite music and want to make it a camping trip with friends and family.
Explore some of the best music festivals for bringing your RV along below!
Best Camping Music Festivals in the US
From famous festivals like Coachella to rock festivals and country festivals in California, Florida or Illinois, some of the best music festivals in the United States offer performances by new and well-known artists worldwide.
Here are some of the great camping music festivals to attend:
Rocklahoma
Rocklahoma is an excellent music festival option for those who enjoy camping and rock music. If you want loud music, plan to attend Rocklahoma to watch some of the industry's leading rock bands perform. Past headliners have included Korn, Disturbed, Steel Panther and Seether. Be prepared for several days of rock, as the festival lasts around three days. You'll likely find headliners you know and smaller bands you don't.
When camping out in Rocklahoma, the three-day pass lets you use a space of 20 by 40 feet. Your entire vehicle must fit within the area, so limit your RV size and pack lightly.
Rock Fest
The Rock Fest music festival lasts three days, with various classic rock and heavy metal bands performing across five stages. The festival boasts performances from over 70 artists, with one of the largest campgrounds and over 7,000 campsites, making it the most significant rock music festival in the U.S. Some headliners include Slipknot, Pantera and Godsmack, with past performances from Disturbed, Incubus and Alice in Chains.

As one of the largest, most famous rock festivals, Rock Fest lets attendees purchase a three-day or one-day music and camping pass. Based on your preferences, you can stay for as long or short as you want. They also offer various campsite options, from camps with electricity to general camping areas or glamping sites. Make sure you research and act quickly, as the general and electric campsites sell out fast.
Welcome to Rockville
Welcome to Rockville is a popular four-day rock festival with performances from rock, heavy metal and hard rock bands. The festival used to be located in Jacksonville, Florida, and was later moved to Daytona International Speedway in Daytona, Florida. Some past headliners and performers include the bands Tool, Rob Zombie, Evanescence and Slipknot. If you want to see some of the most famous and popular rock bands, consider camping out at Welcome to Rockville.
If you want to enjoy other attractions, try participating in the festival's painting classes or the popular wine garden. They also have some rides like a Ferris wheel and water slides. Take a break from the heat and enjoy different experiences and great music.
The festival has car, RV and tent camping options. Consider investing in a great dry camping spot to bring your Toy Hauler RV. Toy Haulers can fit well within most RV festival spaces, and with a larger opening and ramp door, you can easily interact with other festival-goers during your stay. Welcome to Rockville offers power or both power and water sites.
Stagecoach Music Festival
The Stagecoach music festival is one of the most popular country festivals in the U.S. It has boasted performances from famous country artists, such as Luke Bryan, Sam Hunt and Jason Aldean. Located in the Coachella Valley region in Southern California, the weather during Stagecoach often reaches the highest of 75 to 90 degrees. Be prepared for a warm stay and dry weather.
Regarding bringing your RV or camping on the grounds, Stagecoach offers many passes and options. Bring your Class C Motorhome RV to enjoy a larger living area and over-cab sleeping space while you stay at the festival. You can also explore their unique Safari Campground, which includes spots with furnished Shikar tents and air conditioning.
Country Thunder Music Festival
The Country Thunder festival is one of the best country music festivals for country music fans. The Country Thunder name is recognizable everywhere, as the festival has expanded to several venues across states like Iowa and Florida. It's boasted famous names like Luke Combs and Eric Church. This four-day festival also offers various attractions and entertainment besides music, from DJs to a famous line dancing competition.
Regarding camping out at Country Thunder, the festival offers different packages based on your budget. For example, if you order their platinum package, you can stay in an RV with electricity and waste services.
Old Settler's Music Festival
Old Settler's music festival is a wonderful campfire jam experience for those who enjoy laid-back events. The festival mainly offers bluegrass folk performances, with past lineups from artists like Brandi Carlile and Jason Isbell. Old Settler's takes place in the beautiful woods and rolling hills of Tilmon, Texas. Many artists travel to the state to showcase their work or sell to willing customers, meaning the festival is for art enthusiasts and music lovers.
You must invest in an RV parking permit to camp at Old Settlers. Many attendees say paying for the permit is well worth it.
Coachella

Perhaps the most famous music festival in the United States, Coachella boasts a variety of international artists, influencers and stars every year. Guests range from the rich and famous to the up-and-coming artists to affluent guests in the community. It remains one of the most coveted music festivals to this day.
Coachella has had performances from many famous artists over the year, such as — Coldplay, Prince, Jay-Z, Snoop Dog, Drage, Lady Gaga, Kendrick Lamar, Harry Styles, Billie Eilish, Ariana Grande, The Weekend and Eminem. With two three-day events every April, the Empire Polo Club in Indio, California, boasts thousands of participants yearly.
There are several camping options at Coachella. Remember that many of these locations sell out quickly, so you should also research nearby areas to stay or campgrounds where you can crash.
Electric Daisy Carnival
The Electric Daisy Carnival is one of the country's biggest electronic dance music festivals. It boasts a variety of music and attractions, from music performances to art shows, rides and games. The performances themselves are famous for their use of pyrotechnics and light shows.
Lasting four days, tickets to the Electric Daisy Carnival sell out fast. The venue offers tent pods you can purchase with or without pillows and bedding. Depending on your budget and preferences, you can bring an RV to stay in their campgrounds.
Electric Forest Music Festival
The Electric Forest music festival offers electronic and jam music. It takes place at the Double JJ Resort in Michigan, with past lineups from well-known artists like Kygo, ODESZA and The String Cheese Incident.
If you want to find a camping or parking spot, consider purchasing their upgraded camping tickets. You can stay at a tent with shade from trees, camp in a pre-set tent or bring your RV.
Lightning in a Bottle
Lightning in a Bottle is one of the most unique festivals for guests with eclectic music tastes. Even if your taste in music is not mainstream, you'll likely find your favorite artists performing at this venue. They also offer art installations and boutique stalls to explore.
If you want to camp at Lightning in a Bottle, the festival offers RV camping hookups with various power options.
Summer Camp Music Festival
The Summer Camp music festival takes place in Illinois every year around Memorial Day weekend. With an open field lined by trees, over 20,000 people in attendance and access to over 100 bands, you'll surely find the music you love at this festival. Past artists include Trampled by Turtles and George Clinton.
Buying their general admission passes will grant you access to their camping areas. You can also purchase access to their RV camping spots, with electric or non-electric options.
Bonnaroo Music Festival
The Bonnaroo music festival has occurred for over 20 years, with some of the best performances from artists like Lizzo, Kendrick Lamar, Foo Fighters and Odesza. You can find music from various genres, like hip-hop and electronic music to classic rock and punk rock. The festival offers other attractions like yoga classes, a water slide and a 5K race if you want more than the music.
Bonnaroo is one of the more expensive options for purchasing tickets and camping out. If you plan to attend this festival, finding a good place to stay is well worth the money. Bonnaroo offers RV and camping spots of up to 20 by 50 feet.
Consider bringing your Pop-Up Camper RV should you want a sleeping space that is easily collapsable and offers smaller transportation and storage. Your stay will improve if you can fit your tents and belongings in the space.
Firefly Music Festival
While the Firefly music festival may be a new event, it quickly made waves when it was first announced. In Delaware's forest landscape, the event is excellent if you want a change from festivals in the desert. The Firefly festival has boasted some famous names in past lineups, from Rage Against the Machine to Halsey and Billie Eilish.
The festival offers brewery samples and a silent disco if you want to enjoy other amenities. Regarding camping at Firefly, they offer RV camping options in different tiers based on your budget. The top level provides water and electric hookups to set up your spacious and comfortable Fifth Wheel Camper RV.
10 Tips for Camping at a Music Festival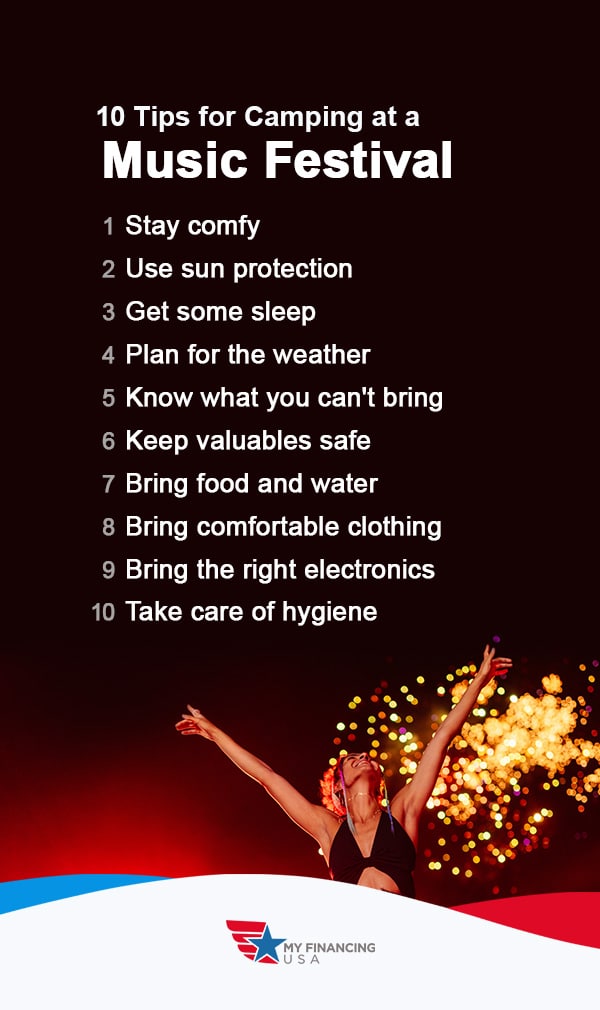 You want to ensure a safe and comfortable time when camping out at a music festival. Aside from the initial thrill of listening to your favorite music artists and camping out with friends, you'll want to keep your belongings compact, bring a portable charger and think ahead about what kinds of food and drinks to get. Here are 12 helpful tips for camping at a music festival:
1. Stay Comfy
Comfort is one of the most important parts of camping at a music festival. Without a sleeping mat, blanket or camping chair, you might be left standing for hours or sitting on the bare grass or dirt. It's better to be prepared than left without a place to rest your legs.
Invest in a portable sleeping mat that is both lightweight and easily carried. When sleeping after the festival performances, you can improve comfort and feel well-rested and excited for the next day of music. Another option is an inflatable mat or air bed. Consider bringing one if you know you'll have access to electricity and can blow up the mat at your camping tent.
You can also bring a comfy RV when the festival allows, ensuring a good night's sleep. For example, Class A Motorhomes offer one of the largest slideout living areas and provide maximum comfort when sleeping overnight at your favorite festival.
2. Use Sun Protection
Using plenty of sun protection can help reduce the chance of harmful sunburn or exposure to UV rays. Because most music festivals take place outside with little access to shade, having some sunscreen on hand is an excellent idea. You can also bring a hat and sunglasses to shield your face and eyes. Some guests like to bring a canopy tent to the music festival. Check if the event rules allow you to set up tents while you watch performances.
3. Get Some Sleep
Getting sleep throughout the festival is essential. Because most festivals last several days, you want to feel energized the next morning and prepared for another day of jamming out to your favorite artists. Pack noise-canceling earbuds or standard earplugs to ensure you sleep through the night. Many festival-goers make noise late into the night, or the festival might have late performances.
Pack an air mattress or a ground pad if you want to sleep comfortably. You don't want to wake up with a sore neck or back. It would also help if you found a campsite that offers electricity. Even better if they let you bring your RV — you can pack into your Travel Trailer and enjoy larger living quarters and comfortable sleeping space. Having an RV allows for comfort during travel and at the festival, meaning you'll be well-rested for the day's activities.
4. Plan For the Weather
Many outdoor venues experience hard rainfalls or bad weather at some points during the festival. If the venue has filled with rain and turned into a mud pit, be prepared with rain boots, an umbrella and a raincoat or disposable poncho.
5. Know What You Can't Bring
Understanding the festival's rules is essential for a fun and safe time. Check the event website before booking tickets to ensure you know what you can and can't bring. If you bring an item that is confiscated, you likely won't get the item back. Be sure to follow the rules and have a wonderful time.
6. Keep Valuables Safe
Keeping your valuables safe at all times is another important consideration. Ensure your phone, ID and money are on your person anytime you leave your campgrounds. Invest in a money belt or fanny pack to transport your belongings more easily.
7. Bring Food and Water
Eating food and drinks from the festival can be expensive. Many guests like to bring their food but might not know where to start.
Pack nonperishable foods and drinks if you don't have direct access to a cooler. Bring a camping or backpacking stove, and pack some meats or canned foods. Try to get a cooler if you can fit it with your belongings. It will save you plenty of meals, and you can pack your favorite perishables and soft drinks.
8. Bring Comfortable Clothing and Footwear
When attending a music festival, bring comfortable clothing and footwear like cotton with moisture-wicking layers. Choose shoes with a comfortable and sturdy base, or invest in lightweight hiking shoes.
9. Bring the Right Electronics
A charged smartphone is essential when taking pictures or texting friends and family. Consider bringing a portable charger or solar-powered battery pack. You can use the charger to power speakers, batteries, lanterns or GPS devices.
10. Take Care of Hygiene
Many festivals have bathrooms, though you may want to invest in a portable shower and toilet if you don't want to wait in line. Bring toilet paper, seat covers, soap and hand sanitizer.
My Financing USA
Using an RV for camping at a music festival offers affordable accommodations wherever you plan to stay. At My Financing USA, we offer loan options for those who need accommodations for their trip and are ready to invest in an RV. You can also take advantage of our RV Tire and Wheel Asset Protection services, which you can get separately from a loan or as part of a package.
Complete an online application today to start your adventure!

---
Additional Resources on Road Trips:
---