Quick Navigation:
We all plan to take that fishing trip of a lifetime. The United States boasts some of the best fishing trips the world has to offer, with hundreds of fisherman-friendly gems dotted all over the country.
Whether you're looking for more inexpensive fishing trips or want to go all out on your next fishing adventure, you can tailor your next trip to your budget and desires. Consider some of these spectacular, all-American angler's delights when thinking about the next spot you'd like to settle in and cast your line.
Best Fishing Trips in the East
The East Coast boasts some of the best fishing adventures for any angler. You're bound to find something to float your proverbial boat in this spectacular part of the country.
Plymouth, Cape Cod, Massachusetts
Despite being the location of the classic film Jaws, you're not likely to get bitten in half when you visit Plymouth. You might run into the occasional shark alongside the bluefish, striped bass, tuna and cod, but you shouldn't be too concerned. The gorgeous New England scenery will provide a perfect backdrop for your fishing adventure.
Montauk, New York
The self-proclaimed fishing capital of the world, Montauk offers strong surf, exquisite beaches and refreshing fishing. Though the ostentatious mansions and perfect lawns may spring to mind, Montauk is the largest commercial harbor in the state. Some of the world's best sports fishermen frequent the area for both offshore and freshwater fishing. You can try your hand at tuna, Mahi-mahi and marlin, to name a few.
Lake Champlain, New York
Whether or not you believe the legend of the Champlain monster, you can still enjoy an angler's buffet in the Lake Champlain basin program. Fish to your heart's content for smallmouth bass, northern pike, walleye, chain pickerel, lake trout and landlocked Atlantic salmon.
Cape May, New Jersey
Aside from the spectacular beaches and scenery, this seaside resort town is known for its outstanding offshore and deep-sea fishing. Enjoy long half and full-day excursions as you explore the offshore fishing opportunities. When you're not aboard, you can take in some of Cape May's rich history, including remnants of the harbor defense battery of World War II.

Pymatuning Lake, Pennsylvania
Perfect for those looking to become one with nature, Pyamatuning lake runs through both Pennsylvania and Ohio. A fishing license from either state is all you need to enjoy this quiet fishing spot, and gas-powered motorboats are more than frowned upon here. At the right time of year, Pymatuning is one of the best ice fishing trips in the U.S.
Ocean City, Maryland
Marlin enthusiasts flock to Ocean City every year for the annual White Marlin Open, the largest billfish tournament in the world. Competitive anglers are after the prizes, but there is plenty to do for non-competitive ones. You can fish for sports, such as bluefish, mako, yellowfish and tuna. Animal lovers can also enjoy dolphins and the occasional sighting of wild horses along the shoreline.
Lewes, Delaware
Fishing holidays don't have to only be about fishing. If you're looking for spectacular beaches, Lewes could be for you. It's a bit off the beaten track, so you can lose the crowds and still have access to quality offshore fishing. If bay or freshwater fishing appeals to you, there are plenty of spots.
Hilton Head Island, South Carolina
Hilton Head Island could be your place if you want to wrestle an acrobat. The coastal waters surrounding the island are renowned for their Tarpon fishing. Fishing for these guys is exhilarating and adds a new challenge to your repertoire.
You can explore Gulf Stream fishing between 60 and 80 miles off the island. You'll also have plenty of river fishing opportunities on the May River for redfish, black drum, speckled trout and flounder.
Best Fishing Trips in the South
Fishing is an official pastime in the south. This area boasts some of the best offshore fishing in the country and is full of Southern hospitality.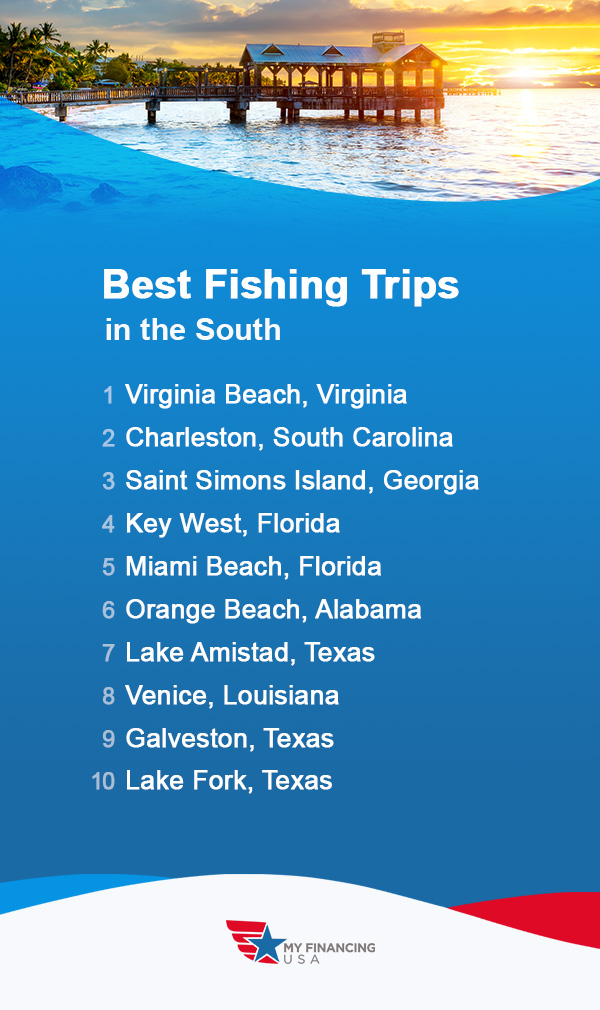 Virginia Beach, Virginia
Situated in the Chesapeake bay, this fishing hotspot is ideal for offshore fishing at any time of year. Take your boat out in search of cobia, redfish and even sharks. If you're looking for a more vibrant evening experience, you can find plenty of activities in the city after fishing time.
Charleston, South Carolina
If there were ever a photo opportunity, you would find it in Charleston. It's sport fisher's bliss with game fish aplenty in the waters. Fish for anything from flounder, redfish, sheepshead and seatrout. You may even get your hands on the odd shark. This city has a great vibe and a colorful past, so you won't lack entertainment during your stay.
Saint Simons Island, Georgia
Those who love offshore fishing will tick the boxes. There's a good chance you'll discover snappers, redfin, flounder and sharks on one of your fishing excursions.
Saint Simons Island is well known for the expansive salt marshes, which are well worth a visit. If you love wildlife, get your camera ready. There's a large variety of birdlife and you may spot an alligator.
Key West, Florida
Known for its shipwrecks and reefs, Key West can be described in one word as far as fishing is concerned — variety. Almost endless fishing possibilities await the intrepid angler here. It doesn't matter if you prefer deep sea or flat fishing on the shallow flats. There is something for everyone at this more mainstream location.
Key West is the perfect place to explore as many types of fishing as your heart desires and it can be one of the best fly fishing trips in the U.S.
Miami Beach, Florida
Wildlife fans will love the diverse ecosystem in Miami beach. As for the fishing, the warm Florida current brings a wide range of sport fish to the offshore fisherman's door. Fish for marlin, grouper, sailfish, snapper and tuna for starters.
In-shore fishing enthusiasts can also enjoy the shallow flats and catch sight of some local wildlife, such as alligators, deer, turtles and an assortment of bird life.
Orange Beach, Alabama
Among other things, Orange Beach has a massive artificial reef system where red snapper, grouper and amberjack abound. Offshore enthusiasts can enjoy fantastic sports fishing while keeping an eye out for dolphins, sea turtles and sizeable sharks.
Inshore, you can look forward to pompano, red snapper and trout fishing. There are many activities for the whole family – should you choose to bring them along.
Lake Amistad, Texas
Lake Amistad is the perfect place to land yourself a trophy bass on the border of Mexico. You'll need a heavy rod and some time in the gym first, though. One of the best bass fishing trips in the U.S., this place is a natural oasis surrounded by an unforgiving desert.
Those fishermen craving solitude and a connection with the great outdoors will enjoy hiking and camping in the area. If you're lucky, you might be around for one of Lake Amistad's many bass fishing tournaments.
Venice, Louisiana
Venice is one of the best fall fishing trips in the U.S. The Mississippi river mouth is excellent for catching redfish, bass and speckled trout. If you're looking, you can also find large saltwater fish. There should be an award for anyone who doesn't manage to catch fish here.
Galveston, Texas
Fishing and surfing, what could be better? The weather is great, the surf is up and there is much fresh and saltwater fish to take your fancy. Shark lovers can turn their attention to bull sharks and blacktips. Everyone else can enjoy croakers, drums, red snapper and stingrays.
Aside from fishing, the historic architecture in Galveston is fantastic. If you're into arts and culture, you can spend your non-fishing time enjoying this unique side of the city.
Lake Fork, Texas
Lake Fork is where you want to be if you love bass fishing. You'll be 65 miles outside of Dallas, with all the freshwater fishing you could want. Your dreams of fishing and eating white and largemouth bass for days have come true.
When you're not fishing, the reservoir provides many other activities, including water sports and you can enjoy some proper Texas culture in the nearby cities.
Best Fishing Trips in the Midwest
The midwest is home to some of the most enthusiastic anglers in the country. There is plenty for everyone in this visually stunning area.
Saint Joseph, Michigan
To those who prefer the freshwater experience, Saint Joseph is one of the best freshwater fishing trips in the U.S. You can try your hand at lake trout, brown trout, king salmon, coho salmon and steelhead. Fall is the best time to catch trout and salmon, though you can fish the whole year. When you're done fishing for the day, you can enjoy the city's Victorian architecture and rich history.
Driftless Area, Minnesota
The driftless area spans Minnesota, Wisconsin, Iowa and Illinois. Trout fishing is massive in this area and you can enjoy some of the most incredible scenery while you attempt to get a bite. Conservation is a massive part of the driftless culture, so it's advisable to work within sustainable fishing programs.
Meeker, Colorado
Meeker gives you plenty of fishing opportunities outside the city limits and outside the White River Valley. The waters are clear, the vibe is quiet and the fish are waiting in one of the best river fishing trips in the U.S. You'll find salmon, bass, sunfish, walleye, perch and more when casting a line in Meeker. The area caters to avid fishermen of all levels.
Best Fishing Trips in the West
You'll find so much variety in the west in fresh and saltwater fishing and enjoy the rich mountain and coastal scenery.
Salmon, Idaho
It's all in the name, really. You won't find ocean-run salmon and steelhead in every state, but you will find them here alongside brook, cutthroat and rainbow trout. Salmon's breathtaking views and remote location tick every box. Enjoy rugged outdoor activities like whitewater rafting, hiking and horseback riding.
San Diego, California
When you are keen to try a bit of freshwater and saltwater fishing, head to San Diego and get your fill of both. Many consider the city one of the best fishing destinations in America. You can look forward to excellent weather fishing for bass, yellowtail and other gamefish in these waters. Whales and other marine life are also common, so you might want to hop on a whale-watching tour while you're there.
Avalon, Catalina Island, California

Catalina Island is perfect for anyone looking to turn their fishing trip into a whole resort-style luxury experience. The famous Catalina flying fish have been a staple since the early 20th century. Anyone who visits Avalon is remiss not to watch their characteristic flying leaps out of the water.
Regarding actual fishing, anglers can be on the lookout for Blue Perch, sheepshead, halibut and the characteristic calico bass.
Mammoth Lakes, California
Trout fishermen can't afford to miss the fishing in Mammoth Lakes — it's some of the best you'll find on the West Coast. The Sierra Nevada Mountains surround this scenic fishing spot. It's accessible all year round and boasts other outdoor activities to complement your trip. Mammoth Lakes is also an excellent RV camping site if you want to stay close to the great outdoors!
Anacortes, Washington
Anacortes is one of the most popular spots for fishing, boating and other nature activities in the Pacific Northwest. Located on the island of Fidalgo, this town will create fishing memories for the books. Sports fishermen will delight in the Pacific salmon, lingcod, Dungeness crab and rockfish.
There are many hiking trails and nature reserves scattered around the island. Fishing enthusiasts might also enjoy the Maritime Heritage Center in their free time.
Best Alaska Fishing Trips
Though Alaska is a considerable distance from the contiguous 48 states, the trek is worth it when you consider the great fishing spots in this gorgeous state.
Ketchikan, Alaska
Ketchikan could be a fisherman's heaven. Aside from the plentiful wild salmon, you'll get a rich insight into the Alaskan culture and some of the most breathtaking scenery in the world. Fishing in a place known as the world's salmon capital provides exciting sports fishing. Anglers stand a good chance of catching king salmon, silver salmon and halibut when they fish in these waters.
Sitka Alaska
Saltwater fishing might not get better than Sitka, where the fishing is legendary and the views are insane. The halibut in Sitka is some of the largest in the world. The catch rates for halibut and salmon are some of the highest in Alaska. You can also find steelhead, char and trout in the crystal clear waters.
Homer, Alaska
Homer is one of the must-see places in North America, especially if you're a salmon or halibut lover. You'll have access to salmon spawning runs in the local river at the right time of year. When you're looking for something different, head to Kachemak bay for some lingcod, halibut and rockfish!
Homer is, in fact, the self-proclaimed halibut capital of the world. It's ideal for those who consider themselves true outdoors people and the five-hour drive from Anchorage is worth the unbelievable views and a peek into the local culture.
Best Hawaii Fishing Trips
Look no further than Hawaii for stunning beach weather and fantastic fishing.
Waikiki, Hawaii
To add a complete tropical getaway experience to your fishing experience, consider Waikiki on the island of Oahu. You'll find some of the most colorful offshore fishing in the world. Attempt to reel in the elusive Pacific blue marlin or aim for tuna, mahi-mahi and onu.
Kailua-Kona, Hawaii
The marine life in Kailua-Kona alone makes visiting this sun-kissed town worthwhile. While fishing for staples like tuna, mahi-mahi and marlin, you can enjoy dolphin and even whale sightings. The waters are abundant and the location takes your breath away.
Plan Your Fishing Trip With My Financing USA Today

To make your best fishing trips complete, think about your boat. My Financing USA can help you finance your dream boat. Choose the perfect companion for the fishing trip of a lifetime and know we're happy to chat with you about all your financing options.
We will search nationwide for the best boat financing program to fit your needs. With My Financing USA boat loans, you know you're in the best hands. Make your once-in-a-lifetime fishing dream a reality today and apply for a boat loan.
---
Additional Resources on Boating:
---