Quick Navigation:
The United States is home to some of the most beautiful lakes in the world. If you're an adventure seeker, seeing some of these famous lakes is undoubtedly on your bucket list. Whether you're planning a road trip to see the country's best lakes or a weekend away, our list of must-see lakes will offer you the spectacular adventure you've been dreaming about.
Let's look at some of the best lakes in the country so you can start planning your lake vacation!
Most Beautiful Lakes in the U.S.
There are so many lakes across the U.S. to see. While they all have unique features, these are some of the most breathtaking and prettiest lakes in the U.S.
1. Lake Willoughby, Vermont
This beautiful lake in Willoughby State Forest is one of New England's clearest and bluest. The water is so clear you can see all 300 feet of its depth. The lake-facing cabins are perfect for an overnight stay with a gorgeous view. During the day, visitors can enjoy a dip in the lake and go fishing or boating.
2. Lake Santeetlah, North Carolina
If you're looking for a serene adventure, Lake Santeetlah is the perfect oasis, with 76 miles of beautiful shoreline. You can enjoy a quiet fishing trip, relax on the beach reading a book or take a peaceful paddle in a canoe. Look out for otters, bald eagles, beavers and hawks in the surrounding habitat.
3. Lake Superior, Minnesota, Michigan and Wisconsin

This lake is the largest freshwater lake in the world by surface area — 2,900 miles. It's so vast that it can feel more like an ocean than a lake, especially with its sea caves on the Apostles Islands.
Its captivating surroundings include a picturesque shoreline with deep bays and sandstone cliffs at 200 feet. Waterfalls tumble into Pictured Rocks National Lakeshore along the southern shore of Michigan's beautiful Upper Peninsula.
4. Caddo Lake, Texas and Louisiana
On the border of Texas and Louisiana lies this mysterious lake. The Spanish moss in the surrounding 27,000 acres makes up a giant cypress forest. It's one of the best lakes for boating or exploring on a canoe.
You can venture down a maze of bayous, swampy marshes and backwaters, taking in the wildlife that calls this lake home. Alligators lurk in the tree roots, so check out the alligator safety tips and guidelines beforehand.
5. Mono Lake, California
This magnificent body of water is one of the oldest lakes in North America. Mono Lake is known for its tufa towers, which are calcium-carbonate spires and knobs made from the reaction between the freshwater springs and the lake water.
The super salty water is the perfect breeding ground for brine shrimp and alkali flies that hatch during the spring. These creatures nourish the 1-2 million birds that feed and rest at the lake yearly.
Most Popular Lakes in the U.S.
These lakes are famous because they make for the best lake vacations. Visit these popular destinations if you want an adventure that guarantees a good time.
1. Lake Powell, Arizona and Utah
This famous lake has nearly 3 million visitors every year. Most people rent a houseboat and lounge on the water during the summer. If you're feeling more adventurous, you can explore the Orange Cliffs and the more extensive park in the Glen Canyon area. The almost 200 miles of shoreline make this lake the perfect place for exploring and having fun with friends and family.
2. Lake Shasta, California
The clear water and beautiful views of Mt. Shasta make Lake Shasta an adventure seeker's paradise. Its surface covers 3,000 miles, so there is plenty of room for fishing, canoeing, boating and water skiing. Boat rentals and lodging on the water are available at Bridge Bay, its largest marina.
3. Lake of the Ozarks, Missouri
Originally made to provide hydroelectric power to residents, this lake has become a significant tourist attraction. This lake has 1,100 miles of shoreline. It offers plenty of room for lounging on the beach, fishing and fun water activities. If you're up for a fun time on the water, Party Cove, known officially as Anderson Hollow Cove, is where the party is!
4. Lake Havasu, Arizona
If a good time on the water is what you're looking for, this is where you'll find it. Lake Havasu is popular with college students during spring break. To break away from the festivities, head upriver to Havasu National Wildlife Refuge or downriver to the Bill Williams River National Wildlife Refuge.
On your adventure, you must see the London Bridge — yes, it did come from London. Initially built for the Thames, they dismantled it and moved it to Arizona.
5. Big Bear Lake, California
Tucked away up in the mountains, Big Bear Lake is the perfect location for visitors in the summer who want to go fishing, boating or hiking. It's known for its beautiful views and trails that attract many vacationers. The town is home to only 5,000 people, but during peak seasons, it sees up to 100,000 people over a weekend.
Deepest Lakes in the U.S.
These spectacular lakes take beauty to new depths.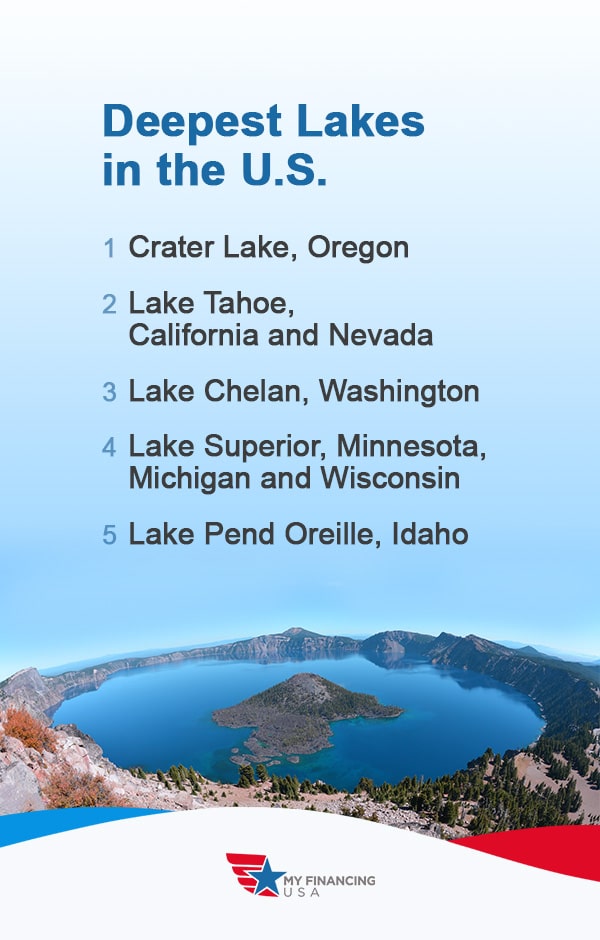 1. Crater Lake, Oregon
As the deepest lake in the country, Crater Lake reaches a depth of 1,949 feet and is known for its immaculate blue waters. No body of water runs into this lake. Instead, rainfall and snow from the mountains replenish it. Visitors can enjoy a dip in the clean waters, camping, biking and hiking.
2. Lake Tahoe, California and Nevada
At 1,645 feet, this lake is the second deepest. This major tourist attraction is in the Sierra Nevada mountain range. Winter travelers can enjoy skiing, and sailing is a popular activity among guests during the summer. The shimmering blue water is also some of the cleanest in the world.
If you're interested in a fishing road trip, be sure to check out Mammoth Lakes, where you can find some of the best fishing in the country less than four hours away.
3. Lake Chelan, Washington
Two basins, the Lucerne and Wapato, make up this 1,486-feet-deep yet narrow lake. If fishing is your hobby, you'll find a fantastic selection of fish in these waters. The species include bull trout, peamouth, whitefish and Chinook salmon. The mountainous backdrop enhances the natural beauty and offers a serene day of lakeside lounging and fishing.
4. Lake Superior, Minnesota, Michigan and Wisconsin
Lake Superior reaches depths of 1,333 feet. This large lake is also a critical shipping lane, with thousands of ships passing through its waters yearly. The southern shore is known as the Graveyard of Ships, where many shipwrecks lie at the bottom of the water. Many of these shipwrecks wrecks are in pristine condition thanks to the icy deep waters.
5. Lake Pend Oreille, Idaho
With a maximum depth of 1,150 feet and 383 square kilometers of surface area, this lake is also the biggest in Idaho. Surrounded by three mountain ranges and beautiful forests, a unique mix of wildlife calls this area home.
You can find various fish, including walleye, trout, kokanee salmon and rainbow trout. The land animals include elk, moose, grizzly bears, wolves and mountain goats.
Mountain Lakes in the U.S.
If you love a mountain adventure, then these lakes are a must-visit. The ranges encircling or backing the views of these mountain lakes make them incredibly special places.
1. Thousand Island Lake, California
Nestled in the boundaries of Ansel Adams Wilderness and the Ritter Range, this lake gets its name from the rocky islands that dot its surface. Several hiking routes through the beautiful wilderness will lead you to this spectacular lake.
2. Dream Lake, Colorado
This lake rightfully earns its name as Hallett Peak and Flattop Mountain hem it to create a dreamy mountain lake escape. What's even better is that this lake is easy to reach, so you can enjoy a casual hike passing other beautiful bodies of water to view it.
3. Sawtooth Lake, Idaho
Nestled in the Sawtooth Mountains, Mt. Regan stands at 10,910 feet at the backdrop of this destination lake. The hike to this beautiful lake also has spectacular views, where you'll pass Alpine Lake.
4. Iceberg Lake, Montana
Iceberg Lake is the most impressive lake in Glacier National Park in the Northern Rocky Mountains. Iceberg Peak and Mt. Wilbur closely encircle this gorgeous body of water. All through the winter and the summer, you can see ice along the mountains and icebergs drifting along this lake. Reaching this lake is nothing short of an adventure.
Cleanest Lakes in the U.S.
There are many gorgeous lakes across the U.S., but if you're looking for spotless waters, here are some that make the cut.
1. Lake George, New York
Nicknamed the Queen of the American Lakes, Lake George is considered one of the cleanest lakes in the world. It's located in Adirondack State Park and draws thousands of visitors during the summer. You can enjoy many water activities like kayaking, jets skiing, rafting and water skiing.
2. Hanging Lake, Colorado
This gem has a pure turquoise-blue coloring that adds to the beauty of this body of water. The waterfalls on the cliffs of Glenwood Canyon that replenish the lake complete this picture-perfect landscape.
3. Flathead Lake, Montana

Besides being one of the cleanest lakes, Flathead Lake is one of the largest freshwater lakes west of the Mississippi. The best time to plan your trip to this lake is during late spring to early fall before the chilly winter.
Are you an avid bird watcher? You'll enjoy gazing at the 75 bird species in the nature sanctuary on Wild Horse Island. This magnificent location also has a golf course and beautiful cherry orchards.
Other Lakes in the U.S. That Are Worth the Visit
Whether you're looking for the best lakes in the South or somewhere else, you can find hundreds of options from state to state. Check out some of the coolest lakes across the country to help you plan an unforgettable vacation.
1. Lake Rabun, Northern Georgia
This lake's classic style makes it the ideal destination for a family vacation. There are no boat rental facilities directly on the lake, but you can bring your boat and launch it from Hall's Boat House or find a rental facility nearby.
The surrounding accommodation matches the timeless scenery of the lake. Stay at a stone-timber inn built in the 1920s, a farmhouse-style inn or a mountain lodge.
2. Trophy Lakes, South Carolina
If you're looking for a ski adventure, it's what you'll get at Trophy Lakes. Created specifically for skiers, this privately owned lake is the perfect size for water skiing. If you're a newbie, there are great expert instructors in the area who can help you learn.
3. Lake Martin, Alabama
The third largest lake in Alabama, Lake Martin a popular destination for boating, water skiing and swimming. On your vacation, you can also relax on the beautiful sand beaches, camp and enjoy the stunning islands on the water, such as Goat Island.
4. Yellowstone Lake, Wyoming
Every summer, millions of people travel to see one of the most geologically active lakes in the world. Situated between the Beartooth Mountains and the Absaroka Range, this clear, deep and cold lake is quite a sight to see. During winter, it's even more special — the bubbling geysers' steam creates a beautiful stream of color against the icy backdrop.
5. Deer Lake, Minnesota
This lake is also known as the Lake of Changing Colors. Sometimes, the water looks blue, and other times, it turns shades of green. The beautiful clarity is thanks to the mineral content. You can see up to 15 feet deep in some places. You can swim, canoe or launch your boat on this lake on your adventure.
6. Avalanche Lake, Montana
This beautiful lake lies between majestic mountains in the breathtaking Glacier National Park. The clear blue waters magnificently reflect the mountains and lush forest surrounding it. You may also spot some wildlife on your hike to the lake.
7. Lake Michigan, Michigan
One of the great five lakes of North America, Lake Michigan is the second largest by volume. Besides the beautiful views, there are many attractions in the surrounding area. Stunning towering dunes and unique hiking trails offer breathtaking views. Lounge on the beach, enjoy boating or visit one of the many wineries.
Purchase an RV or Boat With Financing From My Financing USA

The U.S. has some of the world's most spectacular lakes. Exploring these beautiful bodies of water is a traveler's dream. One of the best ways to see the coolest lakes in the U.S. is in an RV or on a boat! Plan a fun getaway and spend quality time with family and friends by traveling the country and these stunning waters at your own pace.
If you're interested in owning an RV or boat, My Financing USA can help you purchase one for your future lake vacations. Start your adventure today by taking just a few minutes to apply for financing online.