Alabama is home to some hidden gems, and your RV is one of the best ways to explore them. Numerous camping and RV destinations across the state give you plenty of options. Whether you want to soak up the sun on a sandy beach or hike through the mountains, Alabama has an RV destination for you. Before hitting the road in your RV, consider some of these Alabama state and RV parks.
DeSoto Caverns
DeSoto Caverns is an outdoor complex that features amusement park rides, a maze, a light and sound show and the caverns. The central room of the caverns is known as the Great Onyx Cathedral. This part of the cavern is massive, reaching heights of 120 feet and spanning an area larger than a football field. More than 3 million years old, the cave features a few small natural tunnels, stalagmites, stalactites, flowstones and a waterfall that once flowed naturally, but has been artificial since the original dried up.
A short walk from the activities and entertainment is the DeSoto Caverns campground. The campsites are full of amenities, including RV hookups, wireless internet and adjacent pavilions with bathrooms, showers and laundry. Whether you choose to explore the caverns and their numerous offerings or go off-site to the various nearby excursions, DeSoto Caverns is a family-friendly RV destination that's sure to provide an adventure.
Lake Lurleen State Park
Over 1,600 acres of state park surround Lake Lurleen, creating a scenic destination for relaxation and recreation. From a campground and RV storage to fishing piers and boat rentals, Lake Lurleen has something for everyone. The state park hosts over 90 modern campsites and several bathhouses around the park for visitors and campers. Whether you enjoy hiking or mountain biking, Lake Lurleen's 23 miles of trails offer easy to moderate exercise.
At nearly 50 feet deep and a mile and a half long, Lake Lurleen is popular for fishing. Fish from the pier, rent a boat or launch your own vessel. If fishing isn't your thing, spend the day at the beach, play areas, nature center or activity building. Lake Lurleen State Park boasts outdoor recreational activities for the entire family, making it an excellent RV destination.
Gulf State Park
Gulf State Park is one of the best ways to experience all that Alabama has to offer. This state park has it all, and everyone is sure to find something they enjoy. Primitive campsites, full hookups, cabins and cottages provide abundant space for campers looking to enjoy the Gulf. Visit the white-sand beaches and crystal blue waters to soak up some sun, cool off in the campground swimming pool or go boating on Lake Shelby. If you're looking to stay dry, walk, bike or hike the 28-mile Backcountry Trail.
Other activities in the state park include fishing at the largest pier in the Gulf of Mexico. Bring your own tackle or enter the world of saltwater fishing through the Angler Academy. For more learning experiences and activities, be sure to check out the Gulf State Park Nature Center, Learning Campus and Interpretive Center. There's so much to do at Gulf State Park, you'll want to keep coming back.
Cheaha State Park
Cheaha Mountain in Cheaha State Park is the highest point in Alabama, and the state park is the oldest in the state. Over 392,000 acres of the Talladega National Forest surround unique wind-warped trees and granite boulders in Cheaha State Park. Travel Alabama Highway 281 to experience the Talladega Scenic Drive, or trek some trails ranging from accessible to extreme difficulty. Climb to stunning views and enjoy waterfalls and wildlife along the way.
In addition to the lodge and cabins, Cheaha State Park offers a variety of campsites near the highest point of the mountain and near Cheaha Lake. This RV destination offers guests a way to unplug from the busy life below the mountain and reset in one of the nation's most distinctive parks.
Oak Mountain State Park
Oak Mountain is the state's largest state park, consisting of 9,940 acres and over 50 miles of trails. In addition to its beautiful landscape, Oak Mountain has a large variety of outdoor recreational activities. From hiking and fishing to horseback riding and golfing, your camping trip is bound to be full of excitement. Mountain biking is one of the most popular activities in Oak Mountain State Park, and the Mountain Biking Association (MBA) even recognized the Red Trail as one of the best.
Oak Mountain offers 85 RV campsites with sewer, water and electrical hookups, and the campground is open year-round. Whether you're looking for a relaxing weekend getaway or a fun-filled RV vacation, Oak Mountain is certainly a destination to consider. Be sure to check out the wildlife center that rehabilitates injured birds and returns them to the wild.
Lake Guntersville State Park
The campground at Lake Guntersville State Park is modern and allows visitors to enjoy several outdoor activities and opportunities within the park. Guntersville is Alabama's largest lake, which you can experience through beach access, fishing and boating. Consider taking a guided hike on the 36 miles of trails, exploring yourself, or taking your bike on the trails. Lake Guntersville State Park also offers an 18-hole golf course and a thrilling zipline.
Unique to Lake Guntersville is their bald eagle conservation efforts. Bald eagle populations are rising in Alabama, and Lake Guntersville is an excellent place to spot them soaring overhead. Learn about the once-endangered species at the nature center and spend time in the park's 6,000-acre woodlands to increase your chances of an eagle sighting.
Joe Wheeler State Park
Joe Wheeler State Park campground has recently reopened its campsites after a tornado destroyed the area in late 2019. The newly updated campsites are spacious with lakeside views, and a majority of them include full RV hookups. Bordering the Tennessee River and Wheeler Lake, this state park offers numerous ways to enjoy the water. A full-service marina allows you to launch and dock your boat during your stay or simply rent a vessel for the day.
The state park also features an 18-hole golf course and resort lodge. If you're looking to connect more with nature, consider hiking or biking the various Joe Wheeler State Park trails. The park also has courts for basketball, tennis and horseshoes if you're looking for some friendly competition.
Wind Creek State Park
Wind Creek State Park is one of the largest state-owned campgrounds, hosting over 580 campsites. Many of Wind Creek's campsites are waterfront to Lake Martin, which is a main attraction at the park since much of its 1,444 acres line the shore of the lake. Lake Martin is popular for the many fishing tournaments hosted in the park each year, bringing in competitive anglers and recreational fishers from all over. If you're looking for a fishing destination, this is it.
Aside from fishing, you can enjoy plenty of hiking, like the Cherokee Ridge Alpine Trail. Be sure to explore the Smith Mountain Observation Tower for stunning views of the park and reservoir or go ziplining through the trees. Soak in camping experiences like biking, campfires, grilling, swimming and more across the 320-acre campground.
DeSoto State Park

DeSoto State Park is over 3,500 acres of mountains, waterfalls and outdoor sports. Whether you're a nature lover or an outdoor sports enthusiast, DeSoto State Park has something for you. The park boasts scenic waterfalls and blooming wildflowers that will take your breath away. Be sure to check out DeSoto Falls, the park's 104-foot waterfall attraction.
Aside from exploring naturing and hiking, DeSoto State Park is the perfect spot for all types of outdoor sports ranging from kayaking, swimming and fishing to rappelling, biking and rock climbing. Explore over 30 miles of biking and hiking trails, or enjoy the boardwalk trail for a more accessible route through the park. With over 90 RV hookup campsites, you're sure to find something you love at DeSoto State Park.
Lakepoint State Park
Located along "The Bass Capital of the World," Lake Eufaula, Lakepoint State Park features a modern campground, resort lodge, marina and full-service restaurant. As the nickname might suggest, fishing is popular at Lakepoint, and you may easily catch your dinner. You'll likely see other types of wildlife, including a variety of birds like osprey and American alligators.
In addition to fishing and wildlife viewing, Lakepoint State Park offers other activities like swimming, hiking, boating, playgrounds and picnic areas. Set up camp at the park's 192 improved campsites and enjoy the scenic views. Also consider visiting some of the nearby attractions like Eufaula National Wildlife Refuge or exploring downtown Eufaula's historic sites.
Auburn RV Park
Auburn RV Park is located at Leisuretime Campground in Auburn, Alabama. As the only privately owned RV park in Auburn, the park offers full hookups for a wide range of RV sizes. Parkerson Mill Creek runs through Auburn RV Park, providing the soothing sound of running water. The campground's amenities include bathhouses, laundry, vending and ice machines and a business center.
Auburn RV Park is a fantastic destination if you plan to explore Auburn and the surrounding attractions. There is a softball complex and an 18-hole golf course within walking distance. Biking is popular in this area, so bikers have many options. For example, you can bike to Chewacla State Park. Explore the various biking trails and routes, including the Charlotte and Curtis Ward trail.
Autumn Lake RV Park
Autumn Lake RV Park is a new and growing location worth checking out. The RV spots here are large to accommodate various sizes of RVs, and the pads are concrete to prevent tracking gravel, sand and dirt into your camper. Autumn Lake also offers the option of small cottages. The property is lakefront, so guests can enjoy lake views and activities.
Autumn Lake RV Park is a great place to start a day trip. The park is 1.5 hours from Alabama beaches, and several golf courses are nearby. Popular on-site recreational activities include fishing and bird watching. Whether you're looking for a vacation destination or a quick change of scenery, be sure to keep Autumn Lake in mind.
Monte Sano State Park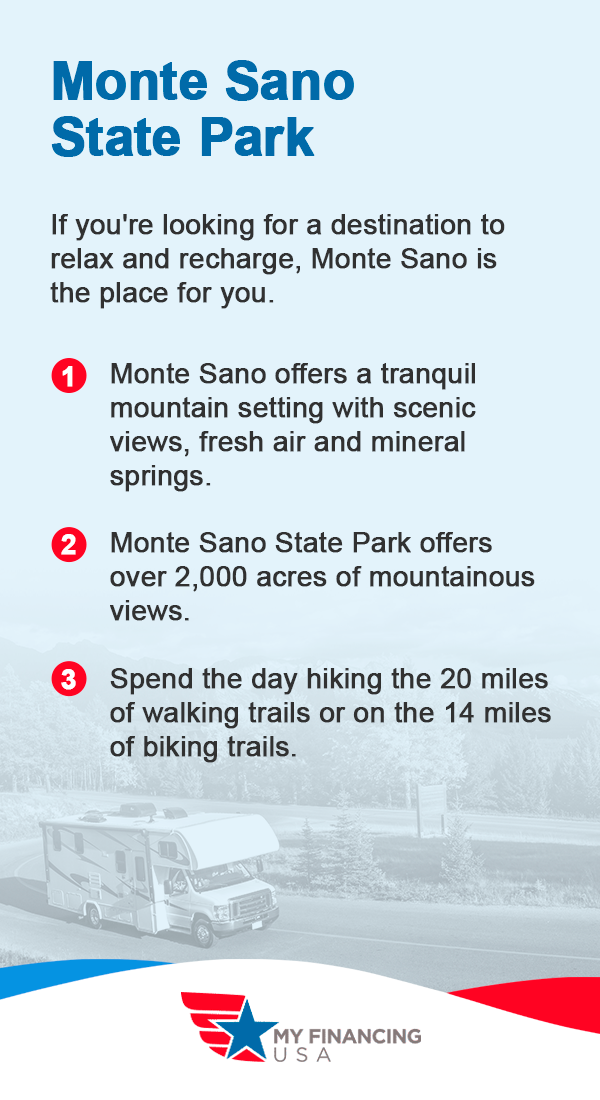 If you're looking for a destination to relax and recharge, Monte Sano is the place for you. Meaning "Mountain of Health," Monte Sano offers a tranquil mountain setting with scenic views, fresh air and mineral springs. Since the 1800s, people from across the United States have come to the park for rejuvenation. Today, the park is perfect for weddings, family reunions and camping trips. Whether you're staying in one of the rustic cabins or parking your RV at one of the 89 campsites, there are many ways to enjoy yourself.
Monte Sano State Park offers over 2,000 acres of mountainous views that are especially spectacular when the leaves change color in the fall. Spend the day hiking the 20 miles of walking trails or on the 14 miles of biking trails. Visit nearby attractions like the Huntsville Botanical Gardens or the Space and Rocket Center.
Cathedral Caverns State Park
Becoming an official state park in 2000, Cathedral Caverns offers a unique experience. There are numerous sights to see within the caverns, including the massive entrance. The caverns also feature one of the largest stalagmites in the world, a formation that looks like a frozen waterfall and stalagmite forests. The cave remains 60 degrees year-round, making it the perfect destination at any time of year.
In addition to cave tours, Cathedral Caverns offers other activities like gemstone mining. The state park also offers numerous trails for those looking to spend time outside. The park hosts primitive and improved campsites and is a short drive from other attractions like Monte Sano State Park.
Island Retreat RV Park
Island Retreat RV Park is located just five minutes from Gulf Shores Public Beach and a short distance from many other beautiful sand beaches, including Orange Beach. This park features 173 spacious concrete pads to accommodate RVs of all sizes. Each RV site is equipped with water, sewer and electrical hookups as well as cable TV and high-speed Wi-Fi.
Island Retreat is family-friendly and pet-friendly, offering a playground for the kids and an enclosed dog run for your furry family members. Some of the campground's other amenities include shower facilities, 24-hour laundry, a seasonal saltwater pool and courts for basketball, horseshoes and corn hole.
Chewacla State Park
Located on 696 acres, Chewacla State Park features Chewacla Lake, beach access, playgrounds, modern camping, mountain bike trails and hiking trails. While there's no boat launch for motorized vessels, visitors are welcome to launch their personal canoes or kayaks from the banks of the lake. Fish for various fish species in the lake or the park's two creeks. Hiking and biking offer scenic views and a chance to see wildlife like deer, foxes and turkeys, as well as native flora and fauna.
Chewacla offers 36 full hookup campsites to allow you to immerse yourself in the nature and experiences of this state park. To make the most of your trip, also consider visiting attractions like the Tuskegee National Forest.
Visit These Top RV Spots in Alabama

Traveling in an RV is a great way to visit and explore some of the country's finest locations. If you're in the market for a new RV or are looking to purchase your first, use My Financing USA to get the best RV loans. We'll quickly get you approved and connected with the best lenders for your budget and situation so you can get on the road in no time.
Fill out our online application and our team will get in touch with you to begin your loan process!
---
Additional Resources on RVing:
---