Alaska is one of the most beautiful destinations America has to offer. From its vast mountains and beautiful bodies of water to long coastlines and vibrant wildlife, a trip to Alaska is truly remarkable.
It's also an excellent destination for an RV trip. You can explore the state's natural beauty from the comfort of your vehicle. While you get closer to the incredible Alaskan nature, you can enjoy an RV vacation's flexibility and cost-effectiveness. No RV adventure is the same, so you can count on making extraordinary memories.
The best news is that there's a wide range of Alaskan destinations to visit in your recreation vehicle. From national parks to historic highways, you're sure to find many options that excite you and your travel mates.
If you're wondering where to take your RV in Alaska, here are some of the best places.
Denali National Park
With more than six million acres of beautiful, wild landscape, Denali National Park is an unforgettable sight. The park has one entrance and a single scenic road winding through 92 breathtaking miles of scenery. The Denali Park Road leads through forests and mountain passes as it winds westward.
Denali is an excellent option for RVs. You can drive through the first 15 miles of the park on your own, viewing the beautiful landscape from your vehicle. After that, you can travel the rest of the way in a bus tour or other park transit.
The park also has several options for RV camping. Most travelers recommend staying a couple of days at Denali, so resting overnight provides you with ample time to explore its beauty and wildlife. There are two campsites fit for RVs:
Riley Creek Campground: Located at mile 0.25, Riley Creek is a wooded campground near the park entrance. Offering cell phone reception, Wi-Fi connectivity and the opportunities to purchase firewood and ice, this campground is an excellent stop for your trip.
Savage River Campground: Savage River sits a little further down the road in Denali at mile 13. This campground is a short walk from the transit buses and resides in a neat forest. It's also only open in the summer, perfect for a warmer RV trip.
The Santa Clause House
The Santa Clause House is another signature destination in Alaska. Open for more than 50 years, the world-famous Santa Clause House is sure to excite every visitor. Featuring a delicious bakery and many chances for unique photos, this stop provides a highly memorable experience. You can drive up easily in your RV and spend as much time as you need.
Other attractions include:
World's largest Santa Claus: The Santa Claus House is home to the world's biggest statue of Santa. At almost 50 feet tall, this is an unforgettable sight. Be sure to snap a picture with it during your visit.
Santa's reindeer team: Right next door to the house is the Antler Academy, where you can look at Santa's reindeer. This attraction is a great stop for families with kids.
Gift shop: The extensive gift shop offers many Christmas-oriented options, from ornaments to mini Santa statues. You can bring home a souvenir from your trip that reminds you of your Alaskan memories.
Matanuska Glacier Hike

The Matanuska Glacier is the biggest glacier in the United States reachable by vehicle. Spanning an awe-inspiring 27 miles, you can view the glacier from a major Alaskan highway. The road views make it a perfect roadside attraction for RV trips in Alaska.
You can also hike and take guided tours of the Matanuska Glacier. Guided hikes usually last around two hours, making this a perfect daytime excursion for your trip. You can view the beautiful surrounding mountains and make your way across the stunning ice sheet. Guided tours provide you with helmets, poles and other safety materials necessary for your trek. With campsites nearby, you can camp in your RV easily.
Fairbanks
Fairbanks is Alaska's second most populated city. Stop by during your trip and try to catch a glimpse of the Northern Lights, best seen in fall, winter and early spring. The exquisite lights illuminate the sky in shades of green, yellow and blue. Fairbanks is an ideal location to see the lights because it resides under the "Auroral Oval" where the lights often concentrate. You have a very high chance of viewing the Aurora Borealis during the city's Aurora season, which runs from August 21 to April 21.
You have many options for viewing the Northern Lights during your RV trip. Try a guided tour or dog-sled adventure. Or, park your RV at a nearby campground in Fairbanks and set up underneath the stars.
Totem Bight State Historical Park
Totem Bight State Historical Park is a perfect day trip for you and your travel companions. Located in a beautiful forest and with nearby waterfront views, this park displays Native American artwork and structures. View the 14 Native totem poles and marvel at the Native history and culture around the park.
Totem Bight is open year-round, so you can easily fit it into an RV trip no matter the month. Park your RV in one of the parking areas and discover the historic beauty during your vacation.
Alaska Wildlife Conservation Center
This conservation center is a sanctuary for local Alaskan wildlife. From moose and elk to coyotes and foxes, you can view Alaskan wildlife closely. The center is another great opportunity for a daytime excursion during your trip. You can park your recreation vehicle in one of the provided parking lots and walk around the sanctuary. You could also drive the 1.5-mile loop to see the wildlife from the comfort of your vehicle.
Try a guided tour or daily education program if you want more thorough information on the animals and their habits. With these options, trained specialists guide you through the center and explain the history behind the animals. Seeing the wildlife so closely will be an unforgettable experience for any animal lover.
Klondike Gold Rush National Historic Park
This historic park celebrates the 1897 Klondike Gold Rush. Open year-round, this massive park has many opportunities for museum visiting, hiking and sightseeing. Explore historic sites like the boomtown Dyea or the Moore Homestead. Or, try one of the memorable hiking trails like the 33-mile Chilkoot Trail.
Parking is available for daytime exploration, and the Dyea campground is available for RVs if you want to camp overnight. The campground is just a short walk from historic Dyea and other important trailheads.
The Homer Spit

One of the most interesting landforms in Alaska, the Homer Spit is a narrow land stretch extending into the Kachemak Bay. It's a perfect area for visitors with many waterfront shops and restaurants. If you're interested in fishing or boating, the Homer Spit provides many opportunities. Whether you walk, eat, fish, boat or shop, you're sure to have an exciting time during your visit.
There are also many parking lots and camping spaces for your trip. For instance, the Heritage RV Park is an oceanfront offering located directly on the Homer Spit.
Chena Hot Springs
Chena Hot Springs is a famous hot springs resort in Alaska. And if you want a relaxing getaway, this could be the perfect spot for you. Healing hot water is available in rock lakes, hot tubs and other interior pools. The hot water contains many minerals thought to relieve aches and pains in the body. Escape the cold temperatures of Alaska and plunge into the surreal warm water. The resort also offers an ice museum and many dining options.
Best of all, this site has 24 campsites available for RVs. You can set up camp nearby and immerse yourself in the unforgettable nearby hot springs.
Alaskan Brewing Co.
Visit the Alaskan Brewing Company for authentic and delicious brews. Based in Juneau, the brewery offers an extensive tasting room and nearby food options. If you're interested in trying an Alaskan Brewing Company beer, you have many options to choose from. Stop in for drinks after dinner or check out the guided tasting experience for a detailed tasting.
If you want to rest after your drinks, there are several nearby camping locations perfect for your RV.
Alaska Highway
The Alaska Highway connects the British Columbia to Delta Junction, Alaska. If you plan to drive into Alaska from Canada in your RV, this is the best option. With its scenic views and sightseeing opportunities on the way, you can start your journey on this breathtaking road. The highway also ends at Fairbanks, a great destination to rest for the night and begin your trip.
Talkeetna
This historic village is situated right next to Denali National Park. Whether you stay for a day or a week, Talkeetna is full of Alaskan culture and breathtaking views. And with plenty of opportunities for lodging and camping, you're sure to find the best place for an overnight RV stay if it fits your plans.
Here are some of the many activities you can find in Talkeetna:
Flightseeing
Hiking
ATV and zipline tours
Art galleries
Gift shops
Fishing
Unique restaurants
Valdez
This exciting destination features glaciers, mountains, rainforests and exotic wildlife. And with the variety of tours available, you can choose your ideal way to explore the city. Whether it's a helicopter tour, a day-long cruise or an independent kayak trip, you can discover the awe-inspiring scenery of Valdez as you choose. You might see whales, sea lions or various birds during your explorations.
Valdez also has many RV parks for you to choose from. Because experts recommend you spend at least three days to get the full effect of the town, staying overnight is a great option. Most parks are right next to beautiful scenery and wildlife. They also feature convenience stores and plentiful options for RV hook-ups.
Haines
Surrounded by glacial waters and stunning mountains, Haines is a city abundant with possibilities. It's perfect for outdoor lovers, with its extensive hiking trails and fishing options. And with multiple state parks and campgrounds, you can plan the perfect multiple-day trip with your recreation vehicle.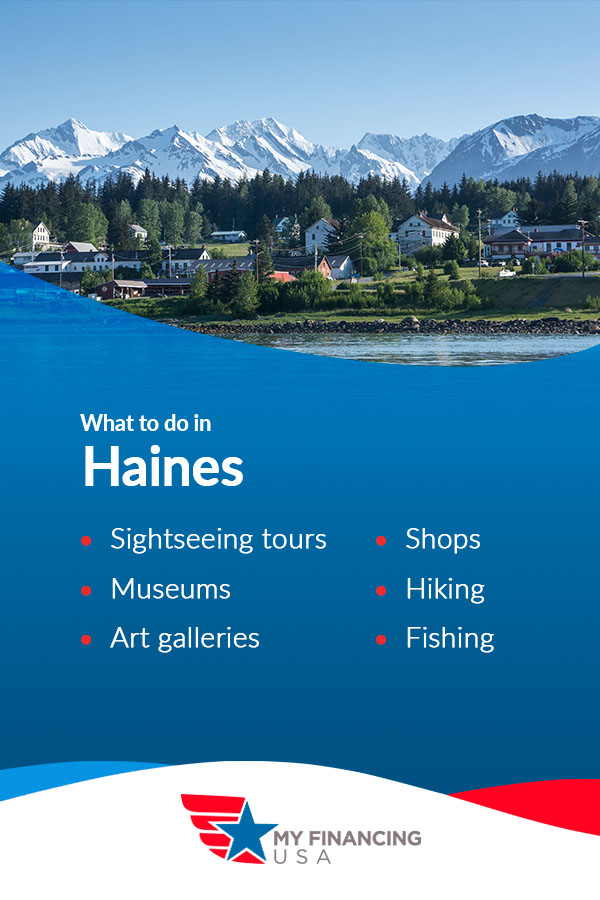 These are a few of the extensive activities in Haines, Alaska:
Sightseeing tours: Whether you prefer land, air or sea, Haines offers many opportunities for scenic tours. Try a mountain trail with an expert hiking tour guide to see the beautiful mountains, or explore the water with a rafting excursion. Haines even has helicopter tours for extraordinary aerial views of the landscapes.
Museums: If you're interested in the city's history, visit one of the multiple museums and historical sites nearby. Many are open year-round, making for a perfect trip any time of year.
Art galleries: Haines is famous for its local art. Luckily, you can explore and purchase art pieces at its many galleries. Whether you love paintings or sculptures, you can take home a beautiful, homemade keepsake of your journey.
Shops: Check out the extraordinary selection of boutiques in downtown Haines. From books and flowers to clothes and sporting goods, you can shop to your heart's content.
Hiking: Haines offers multiple hiking trails for exploring the beautiful surroundings. If you're a seasoned hiker, try the Mount Ripinsky Trail. There are also smaller trails for people who want less of a challenge. Either way, you can view the beautiful landforms and wildlife up close on your treks.
Fishing: Haines is a perfect spot for fishing. You can pick from freshwater or saltwater, and many areas don't even require a boat. With such a surplus of places to cast your line, you're sure to find a memorable place to enjoy your hobby.
Hyder
Hyder is an isolated town on the edge of Alaska. One of America's most famous ghost towns, its population hovers at around 60 people. It's one of the best places in Alaska to visit in your RV with its proximity to national forests and remarkable landforms. Park nearby and check out these ideas for activities in Hyder:
Seward
In this beautiful Alaskan town, you can find many opportunities for fishing, hiking and exploring. A harbor town located near Resurrection Bay, Seward is famous for its tourism. It's a perfect spot for RV camping with many RV-friendly campsites. Aside from its many opportunities for shopping, boating and dining, Seward is home to many attractions like:
Alaska Railroad and museum
Alaska SeaLife Center
Kenai Fjords National Park Visitor Center
Seward Mariners' Memorial
My Financing USA: Plan an RV Trip to Alaska

If you're ready to start planning your RV trip to Alaska, get started today with My Financing USA. We help you finance your RV and find the best fit for your financial needs. No matter what type of recreational vehicle you're looking for, we can assist with the process. With our simple process, fast approval rates and high credit protection, you'll be on the road to Alaska in no time.
Apply for an RV loan today or contact us with any questions. We look forward to helping you achieve the Alaskan adventure of your dreams.
---
Additional Resources on RVing:
---