From the city of Phoenix to the Grand Canyon, Arizona is home to vibrant wildlife, gorgeous scenery and diverse, thriving cultures. We've rounded up our favorite spots for nature lovers, science enthusiasts and city slickers alike. If you're wondering what to do in Arizona, you just need to decide where to go!
Arizona National and State Parks
A trip to Arizona would be incomplete without taking a tour of one of its beautiful parks. Nature lovers, photographers and active individuals — make sure these national treasures are on your trip itinerary!
Grand Canyon National Park
If you're taking an Arizona RV trip, you have to stop at Grand Canyon National Park. Depending on the time of year, you can enter the park through entrances at the South Rim or the North Rim. The North Rim is considered the wilder side of the canyon and sees the fewest visitors, while the South Rim is where most tourists go. Here's what else you need to know:
What to do: Spend a day hiking the 9.5-mile Bright Angel Trail or walk the Trail of Time to learn about the geological formation of the canyon.
Where to stay: The South Rim has multiple RV-friendly campgrounds, including Trailer Village, which is open year-round. If you're looking for something more luxurious, The Grand Canyon Railway RV Park offers more modern amenities. Visiting the North Rim? RVs can park in the North Rim Campground.
Good to know: The North Rim is only open on a seasonal basis due to winter snowfalls, so it's best to book in advance if you plan to visit this side of the canyon.
Antelope Canyon
Named for the pronghorn antelope, Antelope Canyon is a slot canyon located only minutes from the town of Page, Arizona. At midday, the sun illuminates the naturally carved canyon walls, creating a stunning image. Make the most of your trip with these tips:
What to do: You can tour either the upper or lower half of the canyon. Upper Antelope Canyon tends to be the more popular choice since it's at ground level, but the views in the lower half are equally as breathtaking.
Where to stay: With so many different landmarks near Page, many travelers choose to spend at least two days in the area. One standout location is Wahweap RV and Campground, which is situated on the shores of Lake Powell and offers a beautiful waterfront camping area for travelers of all kinds.
Good to know: Antelope Canyon is on private land, so you can only enter with an authorized tour guide. Reserve your tour well in advance — it's a popular spot!
Horseshoe Bend

Just outside Page, Arizona, is Horseshoe Bend, one of the most iconic spots in the Grand Canyon. It's also conveniently located a few miles from the beginning of Grand Canyon National Park, so you can easily fit it into your trip schedule!
What to do: You can hike through the canyon around Horseshoe Bend or take a rafting tour to see it from the water. Looking for something a little more thrilling? Try a flightseeing tour to see the whole canyon from the air!
Where to stay: Page Lake Powell Campground and RV Park is another excellent choice. It offers amenities like free Wi-Fi, a dump station and even a fitness center.
Petrified Forest National Park
From the name of this park alone, you might think its only offering is lots of petrified trees. However, the Petrified Forest National Park features such landmarks as the Painted Desert and the Blue Mesa trail:
What to do: Drive or bike along the 28 miles of paved road stretching through the Painted Desert, or visit the ruins of Puerco Pueblo. Those who are more adventurous can take a backcountry hike off the beaten path to find hidden gems few visitors get to see. Whatever you choose, make sure to bring your camera.
Where to stay: Holbrook/Petrified Forest KOA Campground is only 20 minutes away, making it the closest choice. If you prefer a less rustic experience, OK RV Park is another great option. Both parks offer various amenities such as free Wi-Fi, dog parks and recreational activities.  
Good to know: You can visit the park without making reservations in advance!
Kartchner Caverns State Park
Discovered in 1974 by cavers Gary Tenen and Randy Tufts, the cave formations at Kartchner Caverns State Park offer an exciting underground experience for explorers of all ages:
What to do: Take a tour of the Rotunda and Throne Room to see geological wonders like one of the longest soda straw stalactites in the world, or try a Helmet & Headlamp tour to experience the cave the way Tenen and Tufts did.
Where to stay: The park has its own campground with 55 RV sites, including 12 pull-through sites with full hookup. Other amenities include dishwashing sinks, dump stations and shower and restroom facilities.
Good to know: If you plan to tour the caves, book in advance and show up early to guarantee your spot!
Organ Pipe Cactus National Monument
This national park was established in 1937 to preserve the natural habitat of the organ pipe cactus, named for its resemblance to a pipe organ.
What to do: Hike one of the park's many trails or take a scenic drive through the desert to experience the region's incredible biodiversity.
Where to stay: Twin Peaks Campground is the main campground at Organ Pipe, featuring 208 campsites that can accommodate RVs of various sizes. Ajo Heights RV Park is another option if you prefer a higher level of modern comfort.
Catalina State Park
Nestled at the base of the Santa Catalina Mountains, Catalina State Park is home to an incredible variety of desert plants and animals. The park offers eight trails of varying difficulties, some of which reach elevations of up to 3,000 feet. Here's what to know:
What to do: Hike or ride through one of the park's eight trails, all of which are dog-friendly.
Where to stay: Catalina State Park offers 120 campsites complete with RV dump stations, restroom facilities and picnic areas. Additionally, because the park is located only minutes from Tucson, you can choose from many other campgrounds nearby.
Meteor Crater and Barringer Space Museum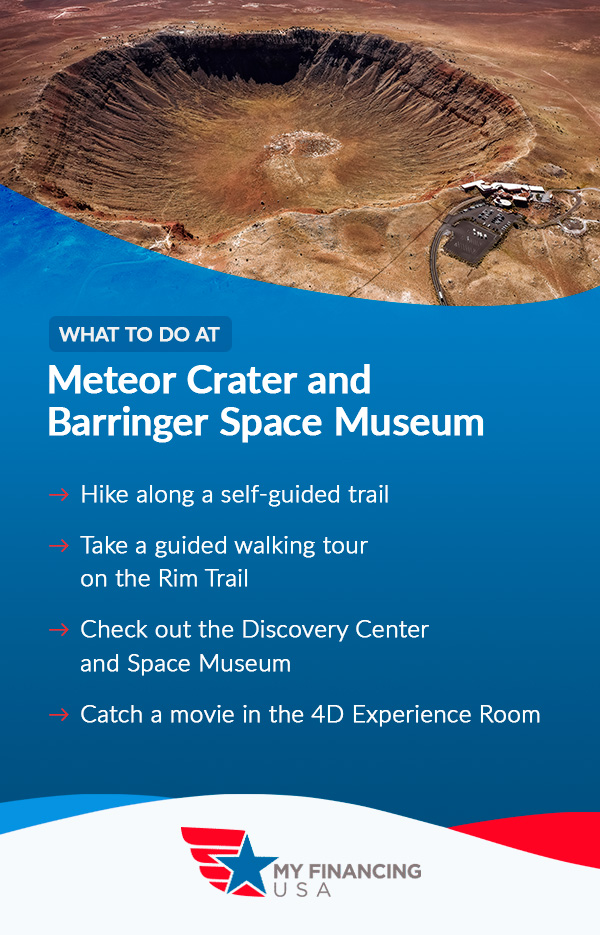 Only minutes away from Route 66, the Meteor Crater and Barringer Space Museum boasts the planet's best-preserved meteorite impact site. Here's what you need to know:
What to do: Explore the crater by hiking along a self-guided trail or taking a guided walking tour on the Rim Trail. Need some time out of the sun? Check out the Discovery Center and Space Museum or catch a movie in the 4D Experience Room.
Where to stay: The Meteor Crater RV Park is conveniently located only 5 miles from the main attraction. In addition to free coffee and Wi-Fi, park guests receive discounted admission to Meteor Crater.
Good to know: Is your furry friend with you? The visitor center offers a Pet Ramada and Dog Run so you can fully enjoy the crater knowing your pet is safe and secure.
Cities to Explore
Exploring new cities is an essential part of any road trip. The following towns and cities have something for every kind of adventurer.
Phoenix
As the fifth most populous city in the country and the state's capital, Phoenix has so much to offer. The opportunities are seemingly endless, from the renowned Heard Museum, which tells the stories of the region's American Indian tribes through their exhibitions, to the OdySea Aquarium, known for its one-of-a-kind revolving aquarium experience.
Here are some travel tips:
What to do: Catch a show at one of Phoenix's many theaters or pick up some souvenirs from local shops. Another notable museum is the Phoenix Art Museum, one of the largest art museums in the southwestern United States.
Where to stay: There are many RV parks and campgrounds in the Greater Phoenix area, so you have several options to choose from. If you're looking for something a little more natural, Cave Creek Regional Park offers full hookups and miles of desert trails to explore during your stay. Eagle View RV Resort in Fort McDowell is another excellent choice for those who want more amenities.
Good to know: Need a place to start? Drop by the Phoenix Visitor Center for more information on local attractions, area maps and details on ongoing and upcoming events.
Wickenburg
As the oldest town north of Tucson, Wickenburg offers a rich history to explore. Spend a day wandering through one of the town's museums or shopping for souvenirs to send to family and friends:
What to do: While strolling through the city, check out the Downtown Characters — six life-size bronze sculptures that depict fictional 19th-century residents of the town. History buffs will also love the Desert Caballeros Western Museum, which preserves the Wild West through its exhibitions and programs.
Where to stay: Conveniently located in the center of town, the Wickenburg Community Center RV Parking is pet-friendly and offers partial hookups and optional access to their banquet room.
Kingman
Kingman, Arizona, is located in northwestern Arizona along Route 66. Here are some things to do:
What to do: Notable attractions include the Kingman Powerhouse, which was a key contributor to the town's growth. It's currently home to the Route 66 Museum. Train enthusiasts will love visiting Locomotive Park, which houses the legendary Steam Engine #3759.
Where to stay: Fort Beale RV Park offers 42 full hookup sites and access to a swimming pool and a coffee room. Another nearby option is Circle S Campground, which features 92 pull-through sites, dumping facilities and hot showers.
Prescott

Centuries ago, Prescott was the territorial capital of Arizona. Anyone interested in the Old West will love strolling through the city and soaking in its historic architecture.
What to do: Tour one of the city's many art and history museums. If you're visiting in the summer, check out the World's Oldest Rodeo. Visit historic Whiskey Row for shopping, art galleries and, of course, saloons.
Where to stay: Cactus Mobile Ranch, conveniently located near the Prescott Resort & Casino, is an excellent choice offering laundry facilities and cable TV hookups. Another option is Willow Lake RV and Camping Park.
Other Cool Places to Visit in Arizona
While you're cruising through the state, you'll definitely want to make a stop at these incredible sites:
Route 66
Stretching from Chicago, Illinois, to Santa Monica, California, Route 66 is an excellent way to experience everything Arizona — and much of the United States — has to offer.
What to do: You can easily access many of the other sites on this list from Route 66, like the Petrified Forest National Park and the Grand Canyon.
Where to stay: Hundreds of RV parks and campgrounds line Route 66, so wherever you are on the route, there's a place to camp for the night.
Biosphere 2
The University of Arizona owns Biosphere 2, an environmental research facility that houses many diverse ecosystems under one roof. Experience miniature oceans, rainforests, deserts and other environments in the facility's many rooms. Here's what you need to know:
What to do: Download the Biosphere 2 Experience app before you arrive for a 60-75 minute guided tour through the facility. You'll learn all about the facility's rich history and current research initiatives.
Where to stay: Biosphere 2 is conveniently located near Tucson, providing various options for parking your RV for the night.
Good to know: The staff at Biosphere 2 strongly recommend purchasing timed tickets in advance to ensure quick entry and a safe distance between tour groups.
London Bridge and Lake Havasu
Yes, you read that right. You can really visit the London Bridge in the United States. The original London Bridge was replaced in 1831, but the weight of heavy traffic caused the "New" London Bridge to slowly sink into the River Thames. So in 1967, the City of London disassembled the bridge and sold the pieces to American inventor Robert McCulloch, who facilitated its reassembly over Lake Havasu.
Here are some tips to see the bridge for yourself:
What to do: Stroll across the bridge by yourself or take a 90-minute guided tour to learn more about the bridge's history. Looking for some fun in the sun? Visit one of the lake's many beaches.
Where to stay: Campbell Cove RV Resort is a newer RV park that offers an excellent view of the lake as well as access to amenities like a convenience store, a boat launch site and a pool. Another great option is Crazy Horse Campgrounds, which offers many sites to park your RV.
Good to know: Arizona gets hot, but Lake Havasu holds the record for highest temperatures. Be sure to bring sunscreen and drink plenty of water during your stay.
Plan Your RV Trip to Arizona Today

At My Financing USA, we offer financing services for RVs and motorhomes. This focus allows us to find you the lowest rates possible.
So if you've been dreaming of taking the open road in a beautiful RV, we're here to help. Apply for RV financing using our online form today to consult with a representative.
---
Additional Resources on RVing:
---