Quick Navigation
RVing in Arkansas will show you the best the state has to offer. From the Ozark Mountains to national forests and everything in between, you and your travel crew will have all sorts of adventures.
Arkansas can offer every sort of outdoor adventure you can think of. Lakes like Lake Ouachita, Lake Catherine, Lake Hamilton and more can fill your water sport fix, from kayaking to fishing. If you want to go on a trail adventure, you can find equestrian, motorcycle, ATV, mountain biking and hiking trails in the many national parks with RV parks inside or close by.
This guide will take you through national parks and forests, plus the best places to camp in Arkansas and Arkansas RV resorts that are the perfect destinations for your RV trip, with numerous nearby adventures to get into.
First up are some of the parks and forests that are great destinations for you to take your RV to.
Hot Springs National Park
Hot Springs National Park in Hot Springs, Ark., is the oldest federal reserve in the country. It boasts 47 hot springs sourced from Hot Springs Mountain that are an average temperature of 143 degrees Fahrenheit. The park is also home to historic bathhouses. The town of Hot Springs is an exciting place for you and your RV crew to explore when you are ready for a break from nature. The RV sites at Hot Springs National Park are only minutes from both the park and the historic downtown with full hookups and space for 70-feet-long rigs.
Ouachita National Forest
From central Arkansas to southeastern Oklahoma, 1.8 million acres of forest and mountains make up the Ouachita National Forest. The Ouachita Mountains are unique in that they run east to west. The surrounding hardwood, pine and oak forests host plenty of wildlife and outdoor adventures. The Ouachita National Forest is the South's largest and oldest national forest — established as the Arkansas National Forest by President Theodore Roosevelt in 1907.
The park has 35 developed recreation areas, so you and your group will have no shortage of activities to choose from during your stay. You can take your RV to Lake Ouachita State Park, where there are 93 campsites with full hookups right on the 40,000-acre Lake Ouachita.
Ozark National Forest
The Ozark National Forest spreads across 1.2 million acres of the Ozark Mountains in Northern Arkansas. The forest is home to Mount Magazine, the highest peak in Arkansas and part of the Ouachita Mountains. You can also find the Blanchard Spring Caverns in the park, which are spectacular to explore. The mountain range features V-shaped valleys with steep slopes and clear streams flowing alongside them.
You have several options for RV camping in and around Ozark National Forest, depending on what part of the forest you want to be in and what features you want from your campsite.
Blanchard Springs Caverns

The Blanchard Springs Caverns are another spot to add to your Arkansas RV vacation checklist. The caverns are in especially high demand in the summer, as the underground caves provide some relief from the heat. Inside the caves, you'll find a subterranean lake, mazes, crystals and beautiful, still-changing formations made from stalactites, flowstones and stalagmites. The caverns host several trails for you to explore, many of which have guided tours available.
You can take your RV to one of the RV parks around Ozark National Forest and have easy access to the Blanchard Springs Caverns. The rustic Ozark RV Park is perhaps the best one to stay at when visiting the caverns with 73 RV sites.
Eureka Springs
Eureka Springs is a mountain town that provides a more civilized experience for your RV trip with its unique character and charm. They welcome you to bring your dogs along to explore the Victorian homes, unique shops, art galleries, museums, restaurants and more. You'll likely catch a festival or event while you're visiting. If you still want to get the taste of the outdoors, you're in luck. The town is in the heart of the Ozark Mountains and features trout fishing on the White River, canoeing, water sports, hiking and mountain biking.
You can park your RV in one of the many parks and campgrounds around Eureka Springs. An excellent option is Beaver Dam Cottages and RV Park, which is not far from the Beaver Lake shoreline.
Now, we'll walk through some of the best RV parks in Arkansas.
Catherine's Landing
Catherine's Landing RV campground is in Hot Springs, Ark., along the Ouachita River and containing a mile of Lake Catherine. The campground covers 400 acres and offers fire pits, a playground, a heated pool, free Wi-Fi, a gift shop, a fitness center and the ability to rent kayaks and pontoon boats. And you can bring your furry friend along!
While camping at Catherine's Landing, you can get into many different adventures, including the Mid-America Science Museum, an off-road vehicle park, a spa, the Magic Springs theme park, Oaklawn Racing & Gaming and the Crystal Falls water park.
Blue Heron Campground
In Flippin, Ark., you will find Blue Heron Campground on the banks of the White River. Buffalo National River is also nearby, making it a great place to camp if you are interested in doing water activities on your trip, especially fishing. You can take guided fishing trips all year long, or fish from the shore and get some White River trout.
The sites at the campground have 30/50 amp hookups, restrooms and a pavilion for large gatherings.
Shady Oaks Campground and RV Park
Shady Oaks Campground and RV Park is in the northern part of the state. While camping at Shady Oaks, you can explore incredible sites like the Crystal Dome, Mystic Caverns, Buffalo National River and the Hurricane River Caverns. This wooded spot offers a secluded camping experience.
The campsite has a dog park, playground, volleyball court, basketball court, pavilion with games, kitchen area, splash pad, Wi-Fi, hiking trails and many other activities for you and your group to get into on your trip. Full hookups are available, and the sites can go up to 50 amps.
Treasure Isle RV Park
Another park in Hot Springs, the Treasure Isle RV Park is on Lake Hamilton, making it easy to get to attractions such as botanical gardens, a winery, horseback riding, zip lining and a family fun park featuring go-karts, mini golf, bumper boats and arcade games. Being on the lakefront provides a beautiful getaway while staying close to a lot of adventure spots.
The Treasure Isle RV Park has 45 pull-through sites and 20 back-in sites for you to book.
Tom Sawyer's RV Park
Tom Sawyer's RV Park sits on the Mississippi River in West Memphis, Ark., and provides visitors with a laid-back, relaxing atmosphere for an unforgettable getaway surrounded by abundant greenery. While staying at Tom Sawyer's RV Park, you can easily get to attractions like the Beale Street Entertainment District, the Center for Southern Folklore, the American Dream Safari, the Children's Museum of Memphis and many other historical sites in the area. Visiting in April or May might not be ideal, as the river tends to flood in the spring.
The campsite has full hookups, 30/50 amp service, bathhouses and laundry facilities. The biggest draw for adventurers is the river, where you can fish and boat.
Wanderlust RV Park
In Eureka Springs, Ark., you'll find the Wanderlust RV Park, once voted Arkansas' No. 1 RV park. From Wanderlust RV Park, you can get to downtown Eureka Springs in five minutes. You can quickly access "The Great Passion Play" as well. Though the park is not directly on the water, there are several nearby if you want to get into some water activities.
On the campground, you will find showers, laundry facilities, a pool, pavilions with refrigerators, grills, microwaves, stoves, Wi-Fi and other amenities. They also welcome pets! The pull-through sites have full hookups and 30/50 amp services. Wanderlust RV Park is open year-round.
Downtown Riverside RV Park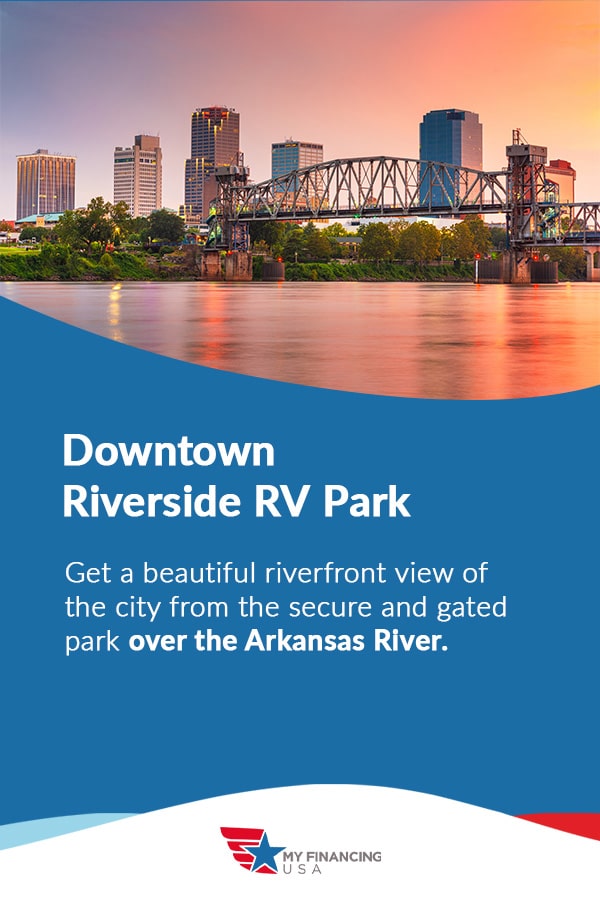 You can find Downtown Riverside RV Park in downtown North Little Rock, Ark. Being in the city makes this park unique and gives it a much different vibe than some of the others on this list. Its convenient downtown location means everything from shops to restaurants to shows to sports are all within walking distance of the park. You also get a beautiful riverfront view of the city from the secure and gated park over the Arkansas River.
Downtown Riverside RV Park is open all year, with sites for 61 RVs. The park features water hookups, 50-amp service, laundry services, a boat ramp, a pavilion and free Wi-Fi.
Ozarks Luxury RV Resort
The Ozarks Luxury RV Resort is in Oak Grove, Ark., near the border of Missouri and overlooking Table Rock Lake. Being on the lake allows you to do water-based activities like canoeing, boating, kayaking and fishing.
Ozarks Luxury RV Resort is open to all types of RVs and all kinds of guests, including kids and pets! The park offers an array of activities for you and your family, like boat docks, a golf course, pickleball, tennis, a swimming pool and a hot tub. There are full hookups at each site and up to a 50-amp service. If you enjoy visiting so much that you want to make it a repeat destination, the resort offers RV lots for purchase, so you can stay there whenever you wish.
Murfreesboro RV Park
Murfreesboro RV Park lies in the southwest region of Murfreesboro, Ark. The park is on the banks of the Little Missouri River and sits just outside the Crater of Diamonds State Park, making it easy to access several adventures for you and your family. Visitors to the Crater of Diamonds State Park find about 1,000 diamonds each year, and you can try your luck on your trip!
The RV park has fire pits, free Wi-Fi, a library, laundry, an area for children to play, a 30/50 amp service and full hookups. A potluck hosted every other Thursday is a unique part of the park. The potluck is open to anyone and is a fantastic opportunity to meet new people.
Shadow Mountain RV Park
You'll find Shadow Mountain RV Park just a few miles south of Mena, Ark., in the Ouachita Mountains, close to the Ouachita National Forest. The nearby mountains and forest lend themselves to abundant outdoor adventures for you and your group to get involved in. From equestrian trails, to mountain biking, to hiking to ATV and motorcycle trails, you can try new things or explore a favorite hobby in a unique location.
Shadow Mountain RV Park has a reputation for cleanliness and how its staff meticulously cares for nature and wildlife. You will have a peaceful, natural stay at Shadow Mountain.
The park has 64 sites for RVs, many of which are pull-through. The sites have full hookups, 30/50 amp service, video rentals, Wi-Fi, various trails and a playground.
Visit Arkansas in Your RV

At My Financing USA, we want you to get the adventure you've been waiting for without finances getting in the way. Taking your RV to beautiful destinations is an unforgettable opportunity for you, your family and your friends. We help provide you with the financing you need to buy the RV of your dreams.
When you inquire about an RV loan, we will get to know you and your specific needs to find the best program for you with no excessive credit inquiries or guesswork.
Once you finish your loan application, you will consult with one of our friendly team members to move the process forward and ensure you know what to expect before submitting paperwork to a vendor.
Our RV loans offer several benefits.
Nationwide low rates: We search nationwide to ensure we are getting you the best RV loan terms and rates, regardless of your past credit problems.
Protect your credit: We work to reduce inquiries to zero if we can. We pre-qualify you and focus on matching you to one lender at a time.
Easy, fast approval: We don't want to disrupt your life through this process, so we make it possible to sign and submit paperwork right from your phone. We work to have your application funded in only 48 hours.
Apply for an RV Loan online and contact us today via chat, text, email or phone call to learn more about how we can help you get the RV trip of your dreams.
---
Additional Resources on Road Trips:
---