Quick Navigation
For some, gliding through the water is a relaxing pastime that brings inner peace and tranquility. For others, sailing is a social activity shared with friends and family on a deck filled with laughter and great conversation.
Fortunately, no matter where you are in the United States, you don't have to travel far to find truly spectacular places to go boating. With hundreds of lakes scattered around the country, the best places for sailing in the U.S. are right in your own backyard — or at least a short drive away. With so many options, it's best to turn to the experts who know and love boats as much as you do!
We've compiled a list of the best boating lakes in the United States to help plan your future nautical expeditions. We'll show you where to go boating within your region or state, as well as dream locations for your next extended boating vacation. When you're no longer limited by land travel, why not venture out and explore new scenery?
From quiet, hidden treasures to bustling family favorites, our list of best boating lakes is a boater's paradise just waiting to be explored.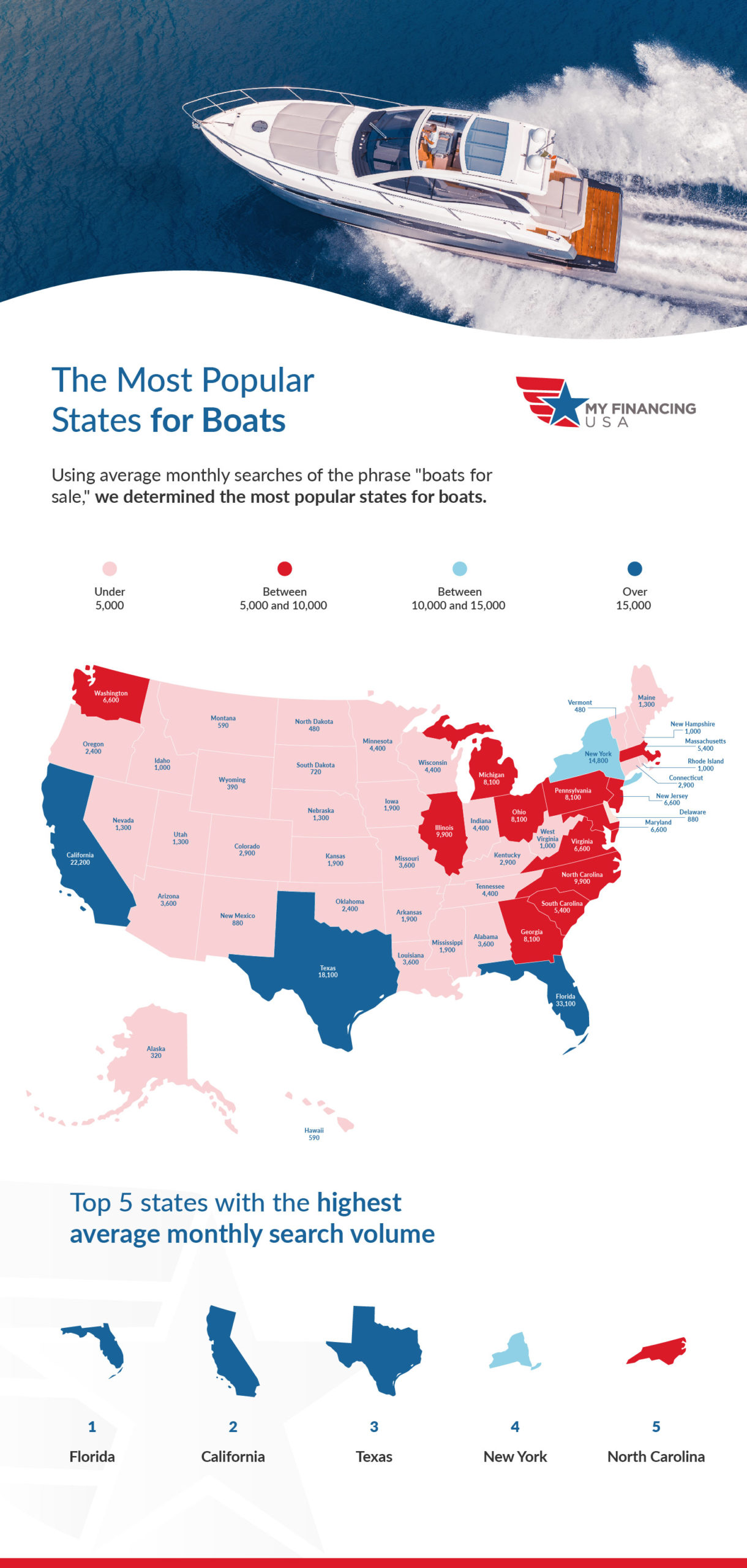 Best Boating Lakes in the Northeast
The search for the best lakes for boating near you starts in the epic landscapes of the Northeast. With mountainous terrain, incredible foliage and miles of picturesque coastline, the East Coast offers some of the most beautiful scenery in the nation. From the farmlands of Pennsylvania to the forest-lined shores of Maine, these are the best places for boating East Coast states have to offer.
Moosehead Lake, Maine
Great seafood, lush blueberry fields and majestic beaches — there's a reason that famous authors like Stephen King and Kenneth Roberts cling to the rocky coastline of the Pine Tree State. Nestled in the heart of the highlands sits the largest lake in the state. Moosehead Lake is 40 miles long, with approximately 75,000 acres of cool open water, perfect for enjoying your favorite water activities. Take out a bass boat or a runabout for a great adventure in the Maine wilderness.
Surrounded by a thick forest of colorful oaks and towering pines, Moosehead Lake is bursting with untouched wilderness and wildlife. After a day of fishing, whitewater rafting, jet skiing, paddleboarding and kayaking, you can dock your vessel and enjoy just as many adventures on land. Explore one of the many hiking trails or set up camp for the night. Who knows? You might even see a moose or two.
With antique shops, rustic lodging and a charming small-town feel that makes you feel right at home, Moosehead Lake is undeniably among the best boating lakes in the United States.
Lake George, New York
Forget fighting for space on the Long Island Sound or trekking it on land in the busy crowds of New York City. Hitch your trailer and haul your vessel to one of the best boating lakes East Coast state parks have to show.
Lake George has a long and remarkable history, dating back to the 1600s. It had been given several names before officially becoming Lake George. Today, the 32-mile long body of water is considered the cleanest lake on the East Coast and hosts more than six million visitors every year. Nicknamed "The Queen of American Lakes," this idyllic destination in the southeastern Adirondack State Park is a hot spot for family vacations and romantic getaways.
Along with traditional boating activities like fishing and picnicking, you can explore the water while kayaking, canoeing, lazy river tubing, parasailing or even taking a hot air balloon ride. When you want to leave the world of technology and modern boating behind, take a relaxing tour of the lake in a historic steamboat. If you're spending the weekend with your family, take a day to visit the local amusement parks or shopping outlets.
Between cruising on the water and taking in the local shops and restaurants, you'll never run out of things to do.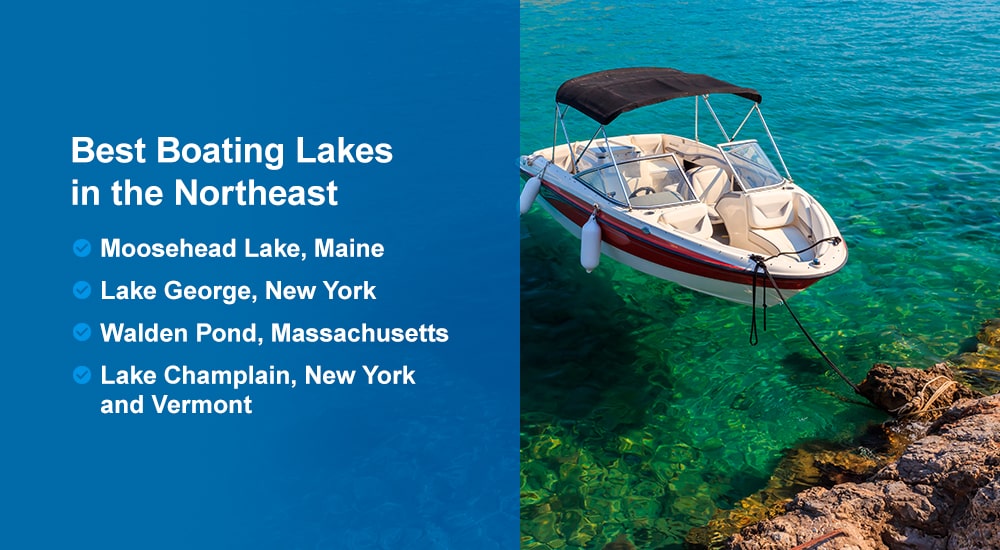 Walden Pond, Massachusetts
Just 30 minutes from the busy streets of Boston is the serene escape of Walden Pond. But don't let the name fool you. Walden Pond State Reservation's lake is acres of deep, crystal clear water. This wildlife haven has a noteworthy history, as the city of Concord played a significant role in the American Revolutionary War. The natural beauty of this untouched area has also inspired numerous famous writers, such as Henry David Thoreau, Louisa May Alcott and Ralph Waldo Emerson.
Whether you're boating, swimming, canoeing, fishing or just taking in the allure of the surrounding landscape, you're guaranteed to feel rejuvenated and restored after a day on the water. When you're not sailing, you can take a walk through Sleepy Hollow Cemetery or take a short car ride to Boston for the day. With the perfect mixture of solitude in nature and access to modern amenities, Walden Pond is among the best lakes in the U.S. for boating and historical appreciation.
Lake Champlain, New York and Vermont
Cascading along the borders of New York and Vermont is one of the nation's largest bodies of water. Extending from Quebec, Canada, down to the top of Lake George, this natural freshwater lake has seen historical battles and legendary local tales. You'll find small islands scattered throughout the lake.
The vast lake provides plenty of room for all of your favorite boating and water activities, including kayaking, fishing, swimming, water skiing and sailing. While on the water, you'll be surrounded by gorgeous views of New York and Vermont foliage. When you dock for the evening, you can head ashore to camp or stay at one of the bed and breakfasts. Your quintessential boating experience will be complete once you visit the local farmer's markets and attend one of the seasonal festivals.
Lake access is available all year, so even when your boat is tucked away in storage for the winter, you can enjoy ice fishing, snowshoeing and Nordic skating. As far as the best boating lakes in Northeast New York or Vermont goes, Lake Champlain is a clear winner.
Best Boating Lakes in the Southeast
The South has always been a vacation destination. From charming small towns in South Carolina to sunsets on warm Florida beaches, the landscapes in our southern states are diverse and just waiting to be explored — starting with their scenic lakes!
People worldwide flock to the southern states to experience the gorgeous year-round weather. With sunny, clear skies and calm blue waters for most of the year, the boating season never ends. This is what makes the best boating lakes in the South so difficult to choose between. Wherever you go, you're almost guaranteed to have a wonderful time. However, these lakes are a must-see for your boating bucket list.
Caddo Lake, Texas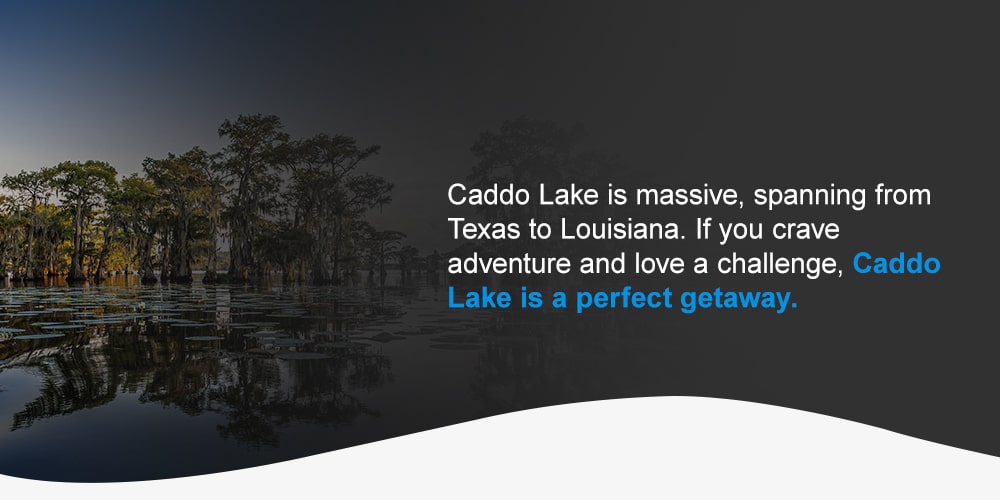 There is some debate about whether or not Texas is in the South East or West. Either way, there can't be a list of the best boating lakes in the South without including the magnificent Caddo Lake.
Caddo Lake is massive, spanning from Texas to Louisiana. If you crave adventure and love a challenge, Caddo Lake is a perfect getaway. Along with interconnected waterways and bayous, you'll have to navigate small islands, narrow channels and trees that grow right in the water. These waters are perfect for job boats or skiffs with their shallower areas and narrower navigation.
Local and touring anglers know that Caddo Lake is a hot spot for fishing. More than 70 species of fish inhabit the water, as well as alligators. Along with boating, you can spend your time paddleboarding, geocaching, camping and hiking. Just remember to pack on the sunscreen!
Stonewall Jackson Lake, West Virginia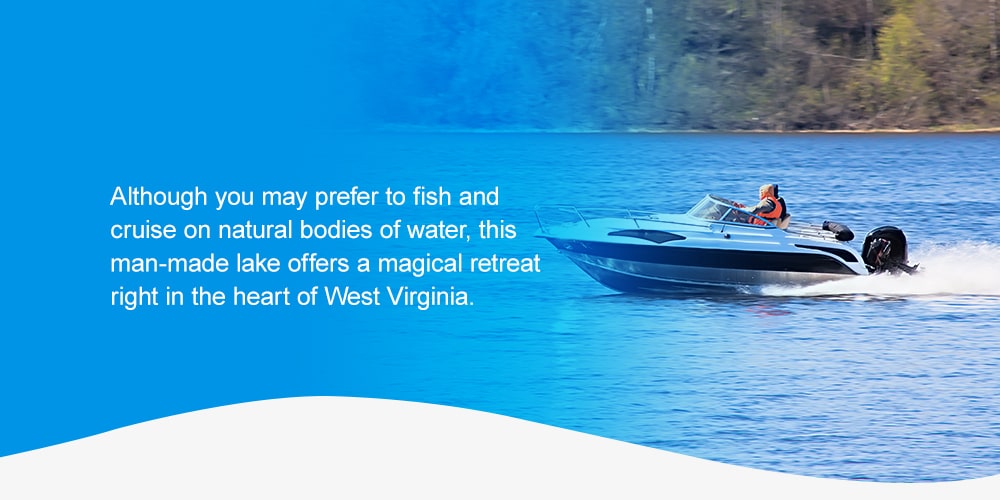 Although you may prefer to fish and cruise on natural bodies of water, this man-made lake offers a magical retreat right in the heart of West Virginia. Visitors have access to public bathrooms, hiking trails and fishing, as well as plenty of dining options right in town and on the lake via the Stonewall Resort.
After a day of boating, paddle boarding and canoeing, you can watch the sunset from Lightburn's Restaurant's open deck overlooking the water. Turn your boating weekend into a complete vacation by playing a round of golf on the Arnold Palmer Signature Golf Course or indulging yourself in the luxuries of the Mountain Laurel Spa. If you're bringing the kiddos, they'll love camping next to the lake or roasting s'mores outside a yurt tent.
Turn your boating weekend into a complete vacation by playing a round of golf on the Arnold Palmer Signature Golf Course or indulging yourself in the luxuries of the Mountain Laurel Spa. If you're bringing the kiddos, they'll love camping next to the lake or roasting s'mores outside a yurt tent.
Stonewall Jackson Lake has something for everyone. Whether you're looking for a simple relaxing day of boating or treating your family to an extended-stay experience, you'll find everything you need right in Lewis County, West Virginia.
Lake Hartwell, South Carolina and Georgia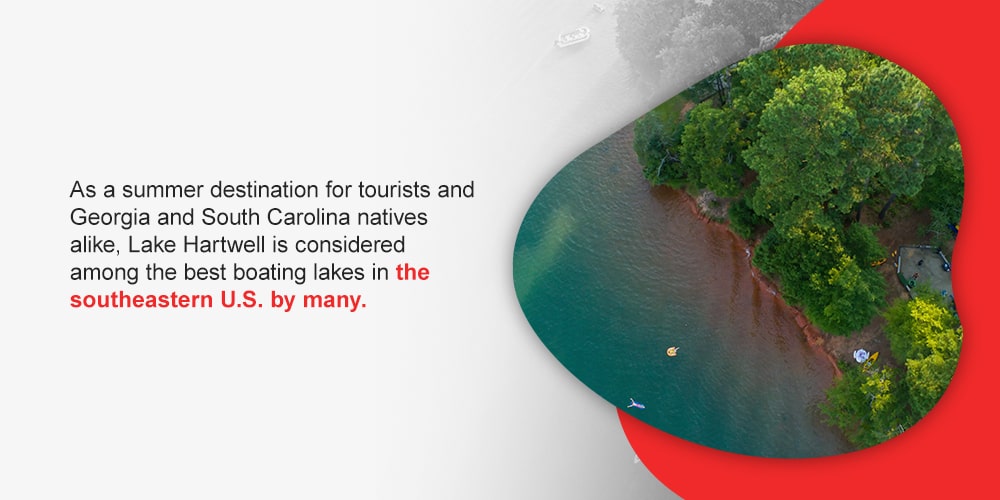 While most tourists swarm to the warm sandy beaches of South Carolina, experienced boaters and locals know that one of the state's true treasures lies right on the edge of western South Carolina and the top of Georgia. Lake Hartwell is a well-known location for fishing. The water is brimming with catfish, striped bass and bream. Take out a bass boat or other fishing vessel for a great day on the water with your fishing lines cast and ready.
As a summer destination for tourists and Georgia and South Carolina natives alike, Lake Hartwell is considered among the best boating lakes in the southeastern U.S. by many. Along with boating and fishing, you can paddle up the various creeks branching off the lake or stop at one of the islands to explore the historic land.
From geocaching and golfing to scuba diving and kayaking, there's much to see and do, both in the water and on land.
Best Boating Lakes in the Midwest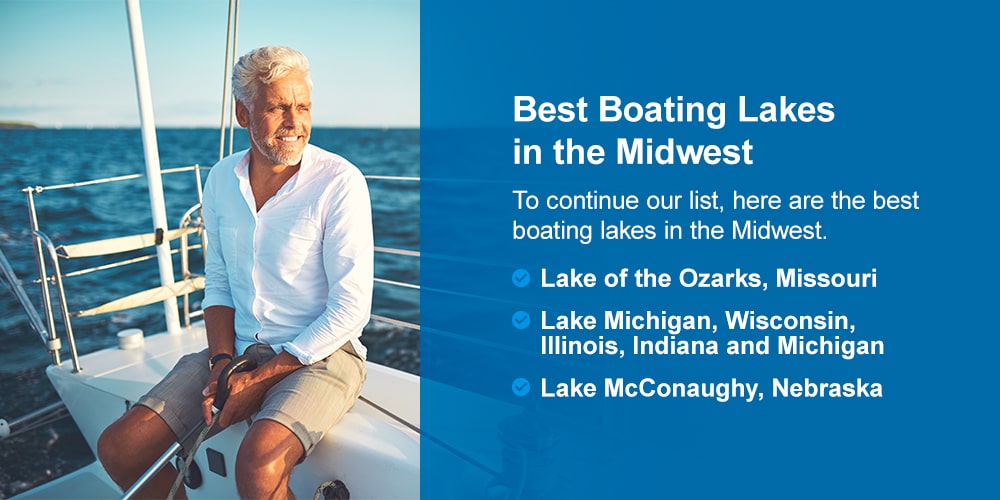 There is a common misconception that boating is for people who border the shore. While we're used to thinking of sailing as a coastline activity, fishing and boating are incredibly popular activities even in the middle of the country. In fact, some of the best places to go boating in the central U.S. states are in landlocked regions.
To continue our list, here are the best boating lakes in the Midwest.
Lake of the Ozarks, Missouri
Before being showcased as the setting for a popular television series, the Lake of the Ozarks was already known as one of the best boating lakes in the United States' midwestern region.
The Lake of the Ozarks is Missouri's most beloved lake, with miles of shoreline perfect for fishing, sunbathing, volleyball and barbequing. For fun on the water, the reservoir has plenty of room for boating, fishing, waterskiing, tubing and any other activities that float your boat, making it perfect for recreational boats like bowriders and runabouts. When you want on-shore adventures, there are many other local spots to enjoy.
The rolling Ozark Mountains stretch across four counties in Missouri, so there's no shortage of fun things to do. From waterparks and caves to spa retreats and a baseball complex, Lake of the Ozarks is an all-in-one destination for boaters of all ages.
Lake Michigan, Wisconsin, Illinois, Indiana and Michigan
At the top of the list of the best boating lakes in Midwestern states is, of course, Lake Michigan. Stretching across four states, including Illinois, Indiana, Wisconsin and Michigan, it is one of the five Great Lakes in the United States. While it is known today as a vacation spot to enjoy firework shows, charming beach towns, lighthouse tours and every water sport you can imagine, this bucket list destination is rich in American history.
Evidence of Native American tribes dating back centuries has been found along the shores. History buffs will certainly want to head ashore to visit the historic lighthouses, museums, estates and churches scattered around the beloved lake.
Lake McConaughy, Nebraska
For those who love soaking up the sun on white-sand beaches and sailing on crystal clear waters, you can't find a better boating experience than at Lake McConaughy. Also known as "Big Mac" or "Lake Mac," this reservoir of serene water is among the best places for boating in the Midwestern states.
While you can partake in any of your favorite water sports and camping activities, like hunting and windsurfing, most local anglers flock here for the fish. This man-made habitat has produced fish of trophy-winning sizes — so don't forget to bring your rod and net!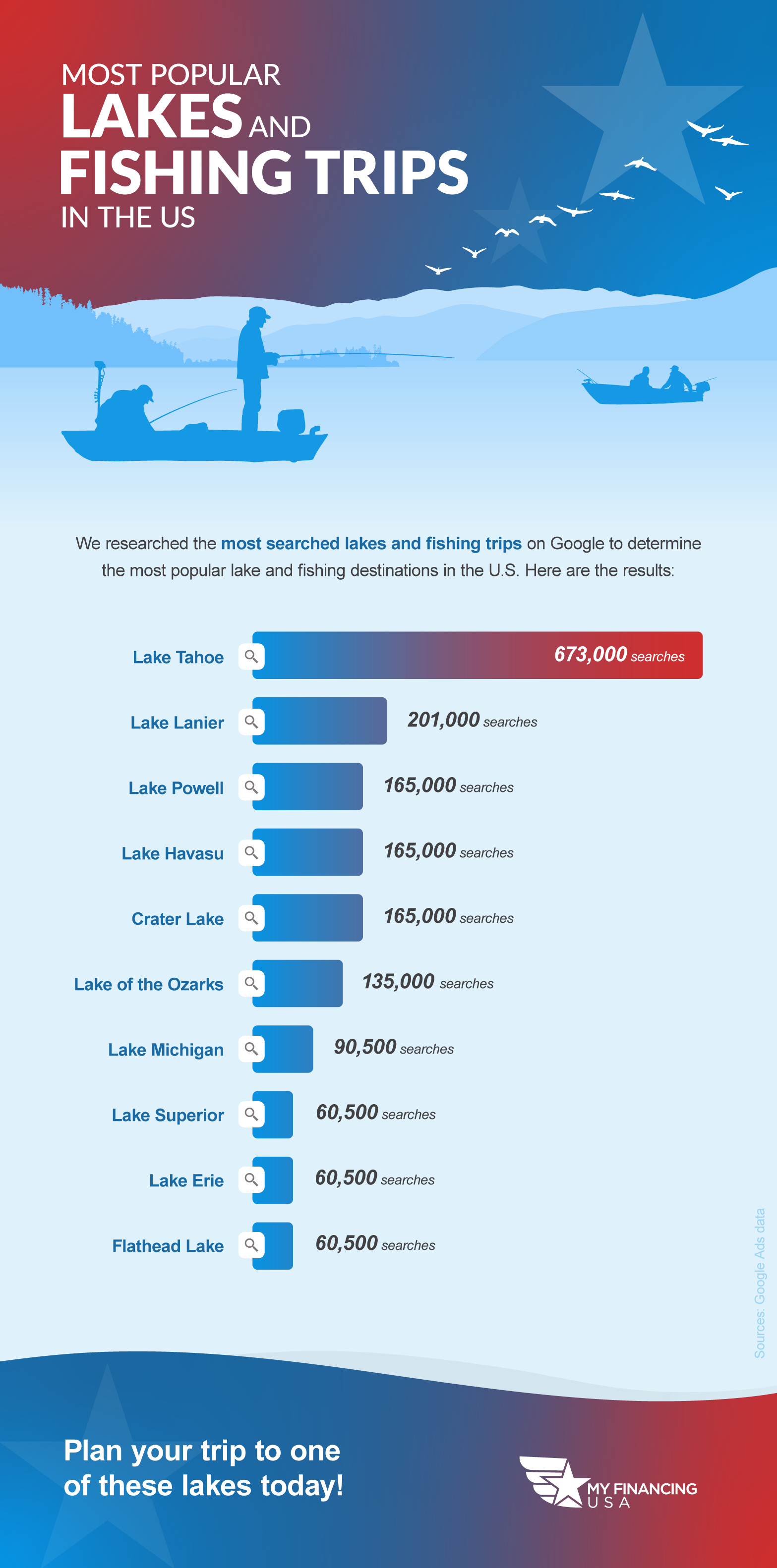 Best Boating Lakes on the West Coast
When you think about the best places to go boating on the West Coast, you most likely picture the Pacific Ocean. California is known for its massive shoreline and huge swells. But some of the best lakes to go boating are miles from the ocean, tucked into the picturesque mountains among the Golden State's luscious pines.
Crater Lake, Oregon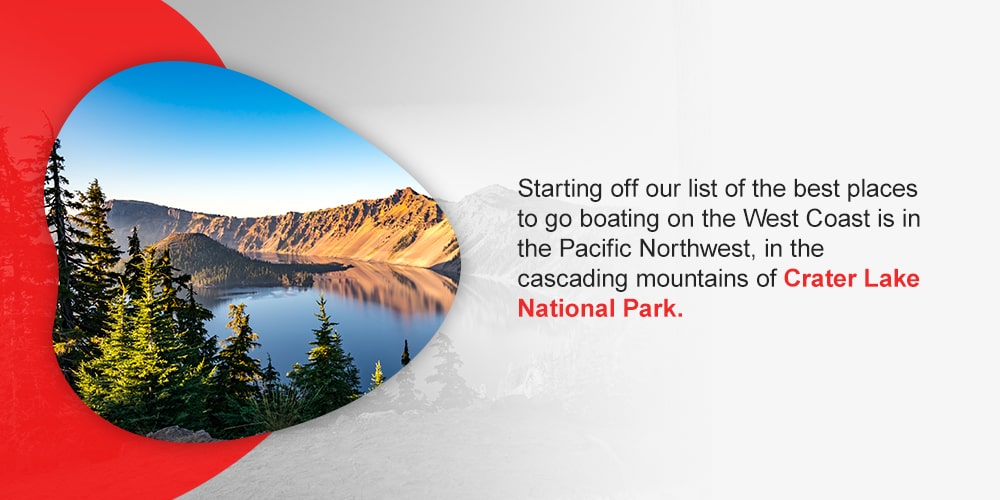 Starting off our list of the best places to go boating on the West Coast is in the Pacific Northwest, in the cascading mountains of Crater Lake National Park. Crater Lake is a miraculous natural beauty formed from a collapsed volcano thousands of years ago.
Surrounded by snowy mountains, the deep indigo lake is a majestic sight to behold. While private boats are not permitted on the lake, the boat tours will place you right in the middle of the giant crater. You can also fish, hike, cycle, sled, ski and camp.
Big Bear Lake, California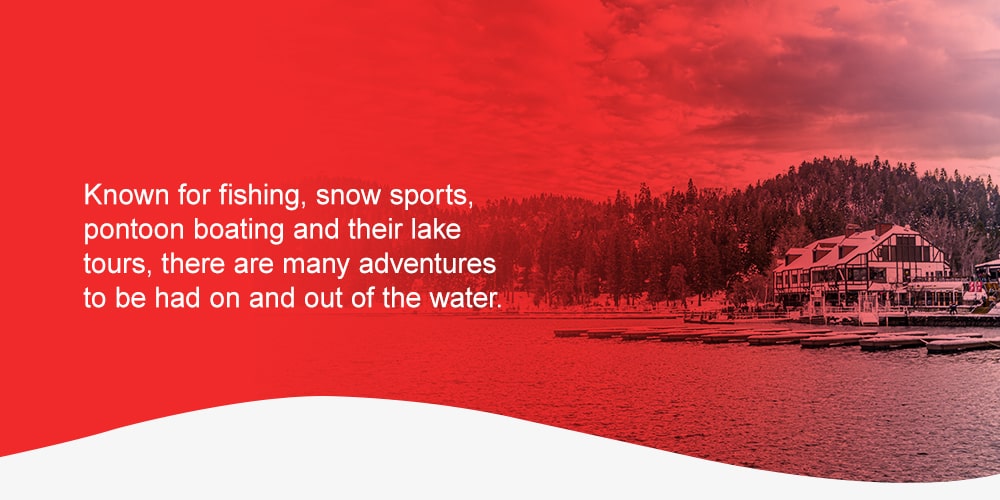 Away from the bustling city of Los Angeles, hidden in the San Bernardino Mountains, lies the small city of Big Bear Lake. Known for offering Golden State citizens all four seasons, even in the heart of Southern California, Big Bear Lake has a storybook scenery of towering trees and a peaceful, open lake.
Known for fishing, snow sports, pontoon boating and their lake tours, there are many adventures to be had on and out of the water. What really brings this destination to the top of the list of best places for boating on the West Coast is that the lake and national park have been the set for hundreds of Hollywood films.
Lake Tahoe, California and Nevada
If you love fishing, water sports, cruising along the water, swimming and every winter sport you can think of, then Lake Tahoe is the perfect place for your next boating vacation. Residents of California and Nevada, as well as visitors from all over the country, vacation here year-round.
Lake Tahoe is one of the world's largest and oldest lakes and certainly one of the best places to go boating in the West Coast states. With plenty of boat launches, resorts and restaurants lining the outer shores, you and your loved ones will love the epic adventures that can only happen at Lake Tahoe. Bring your bowrider or dual console to make space for the whole family while partaking in everything Lake Tahoe has to offer.
Best Boating Lakes in the Southwest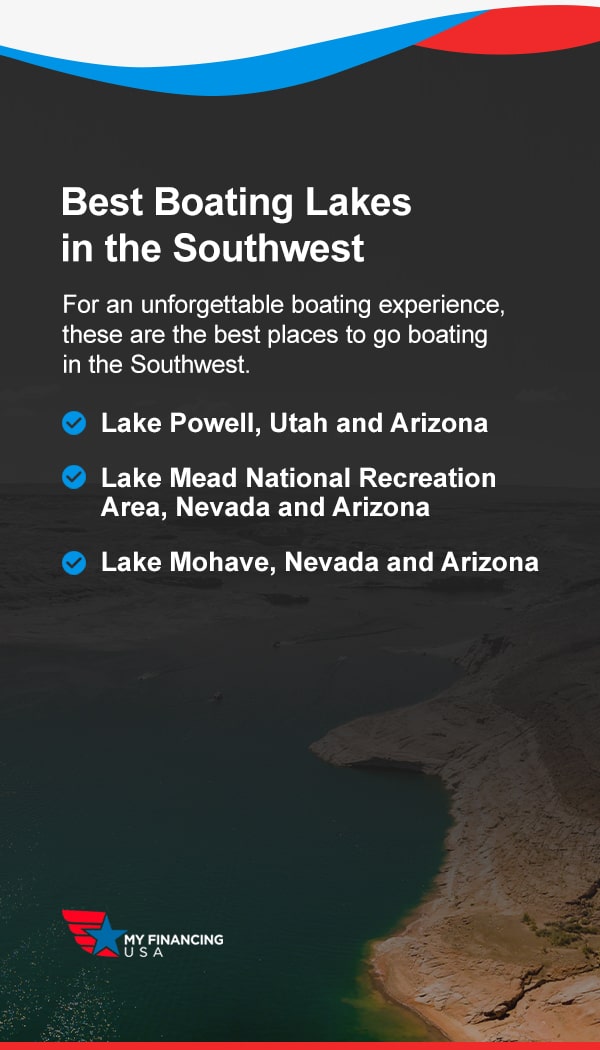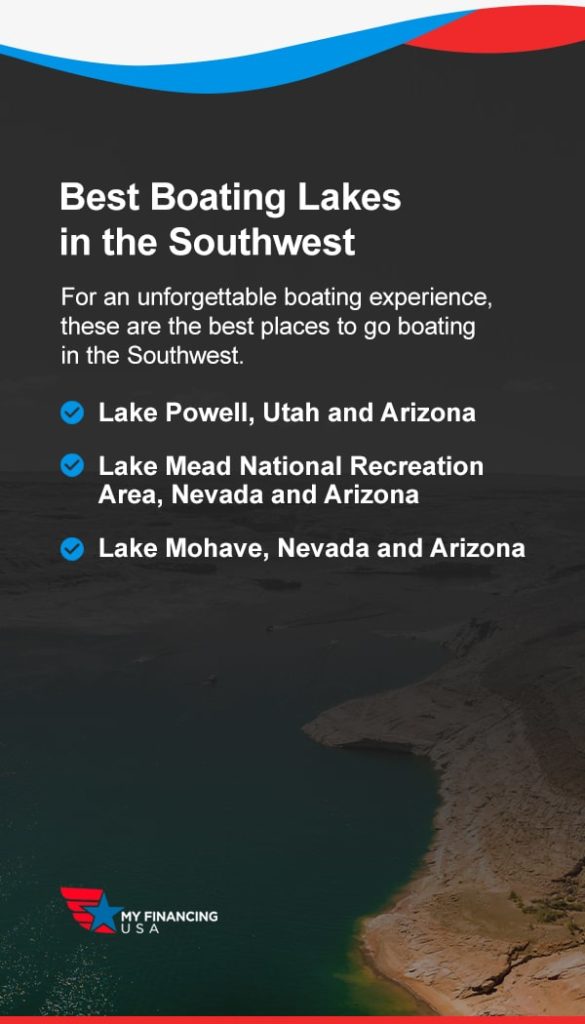 If you live in or frequent the Southwestern United States, consider yourself extremely lucky. In the desert heat, these lakes provide the ideal oasis with incredible views of canyons and red mountains bursting with wildlife. For an unforgettable boating experience, these are the best places to go boating in the Southwest.
Lake Powell, Utah and Arizona
Upon first look, you would never guess that Lake Powell is an artificial lake. Among the soaring canyons, boaters can spend their afternoon in the sun cliff diving, swimming, waterskiing, fishing, rafting, wakeboarding and barbequing. But the fun doesn't end in the water. Visitors can also rappel in the ravine, dine at a restaurant overlooking the lake or camp under the starry night sky. You can even rent a houseboat and stay right on the water for the night.
When you visit Lake Powell, be sure to check out Glen Canyon Dam, Rainbow Bridge and Hite Crossing Bridge.
Lake Mead National Recreation Area, Nevada and Arizona
Right along the border of Nevada and Arizona sits Lake Mead. Its river snakes its way between the two states, surrounded by striking landscapes and connecting the two lakes of the Lake Mead National Recreation Area.
This gem has acres of mountains, rivers, canyons and valleys to explore. With miles of shoreline, you can sail across Leak Mead's crystal clear surface, spending hours fishing, scuba diving, kayaking or taking in the vast views of the Hoover Dam.
Whether you're setting up camp by the water, hiking the backcountry or picnicking on a pontoon boat, it's clear that Lake Mead National Recreation Area has two of the best places for boating in Southwestern states — including the final one on our list.
Lake Mohave, Nevada and Arizona
The southern neighbor of Lake Mead may be part of the same national park but offers an entirely different experience. With miles of open water just waiting to be discovered on your next boating venture, you can enjoy all of your favorite water sports, making it perfect for ski and wakeboard boats. The surrounding area is also available for hunting, hiking, off-roading and camping.
For a full-blown boating getaway, why not spend the weekend on the water, navigating between the two lakes?
Priceless Experiences You Can Afford With My Financing USA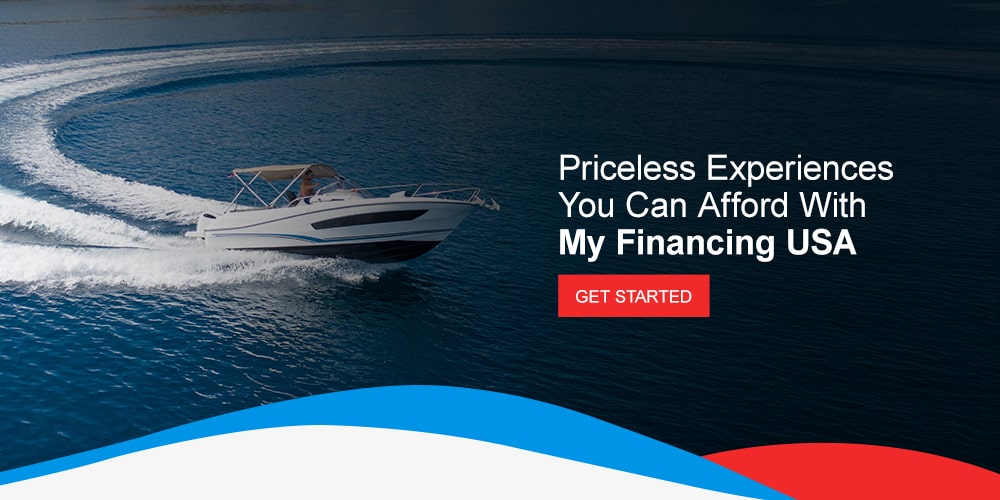 As the leader in the financial service industry, My Financing USA is known nationwide for getting our clients' loans at affordable rates. Regardless of your credit standing, our team of highly qualified professionals will get you the best rate using our connections with top loan providers in the USA.
It's time to stop waiting to make your dream purchase and get real results with experts who have helped millions of individuals live out their bucket list dreams. With our resources, we're able to get you lower interest rates and monthly payments that are otherwise unattainable.
My Financing USA can help you get the boat of your dreams, from bass boats and other fishing vessels to recreational ships like yachts. All it takes is a quick application to see if you pre-qualify. Within 72 hours, we'll have one of our staff call you and let you know exactly how we can help.
Want to know more about our process? Our boat loan information page will answer all of your questions. Or just take the leap at no risk to you, and fill our boat loan application today!
---
Additional Resources on Boating:
---