Quick Navigation
Florida is a vacation paradise where travelers can find sunny beaches, national parks with natural wetlands and theme park attractions like Universal Studios and Walt Disney World. Learn more about good places to visit in Florida with an RV!
The Best National Parks in Florida for RVers
The Everglades, Big Cypress, Dry Tortugas and Biscayne are all excellent national parks for adventurous travelers to explore, but the Everglades is among the best parks for RVers — for more reasons than its household-name level of renown. Big Cypress is another memorable option.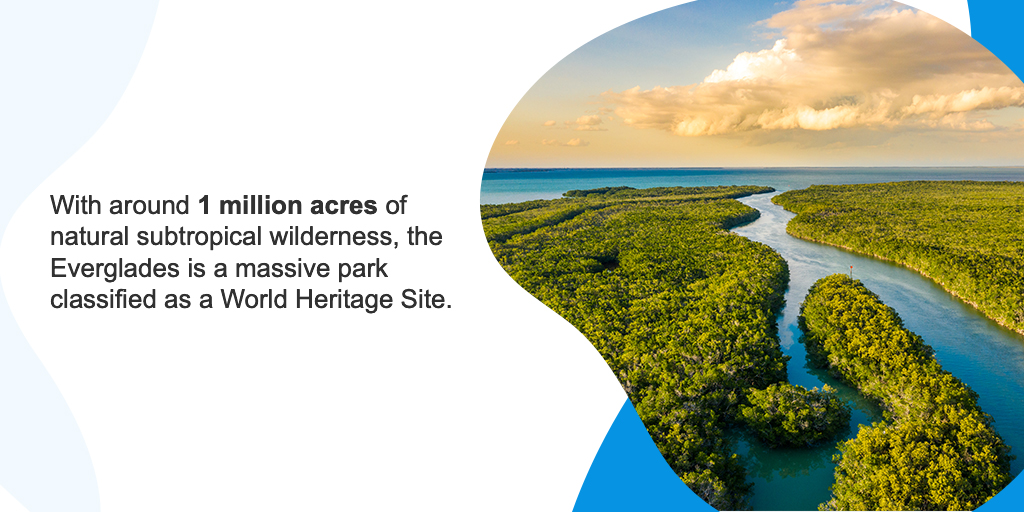 1. The Everglades
With around 1 million acres of natural subtropical wilderness, the Everglades is a massive park classified as a World Heritage Site, and you might find it's the best place to go with an RV in Florida. Because of its expansive size, the park has multiple RV campsites and visitors' centers, with RV rentals available in the surrounding areas. The two RV-friendly campgrounds are Long Pine Key Campground and Flamingo Campground.
Go boating on the Florida Bay, or venture out on the hiking and cycling trails. The swampland and biodiverse forests here are teeming with rare wildlife. You can also board a tram near Shark Valley and climb the observation tower to look out over the ecosystem below. From the Flamingo Visitors' Center, go canoeing at the marina. You can even go on boat tours to Ten Thousand Islands, a mangrove estuary where manatees and the endangered loggerhead turtle gather.
2. Big Cypress National Preserve
This park covers around 729,000 acres of the Big Cypress Swamp near the Everglades. Big Cypress has marine estuaries, swamplands and tropical and temperate plant life. The range of terrain makes it a biodiverse park. If you're lucky, you might spot a panther's tracks.
It is home to an RV resort, and several campgrounds border the trails. You can also go on a hunting vacation for deer, wild hogs and turkeys if you visit at the right time of the year. 
The Best Florida State Parks for RV Camping
The Sunshine State is also home to several RV-friendly state parks, where RVers can find recreational areas to stay in while they hike the trails.
1. Bahia Honda State Park
Located on Big Pine Key, Bahia Honda State Park is a prime camping area for RVers. You can access this park's island home via the Overseas Highway. Temperatures are balmy all year long, and the beaches are a relaxing retreat after the drive to this destination.
Recreational activities include seaside fishing, boating, surfing and snorkeling. You can also go hiking on the Old Bahia Honda Bridge trail.
2. Florida Caverns State Park
This park has some of the busiest RV campgrounds in Florida, and campers have access to its unique recreation areas, including the nine-hole golf course that invites you to spend a relaxing day on the green. The primary attraction is the caverns, where you can enjoy a guided tour of the rock formations. Tall, colorful stalagmites and stalactites line the wide paths into the caves.
Other recreational areas at Florida Caverns State Park include bike, equestrian and hiking trails. If you want to spend time out on the water, you can also go kayaking on the Chipola River. 
3. Paynes Prairie Preserve State Park
Paynes Prairie Preserve was once the site of a Seminole community. It has eight trails and a 50-foot-tall observation tower for wildlife spotting. You can also go fishing or canoeing on Lake Wauberg while you're camping in your RV here.
This state park is a nature lover's paradise as one of the few places in the United States where you can see wild bison and small herds of mustangs. The park is also home to alligators and numerous species of birds.
4. Anastasia State Park
Close to St. Augustine, Anastasia State Park has 1,600 acres of relaxing beaches, tidal marshes, trails and campgrounds where you can park your RV. Bird-watching in the hammock forests is a popular activity here, whether you're looking for waterfowl like spoonbills, majestic bald eagles, ospreys, painted buntings or warblers.
5. St. George Island State Park
Located on the Forgotten Coast, St. George Island has an RV park where you can also bring your boat. The shores have a reputation as one of the best beaches in Florida. The Gulf of Mexico is a top destination for fishing and boating, whether you have a kayak, canoe or yacht.
Spend a day sunbathing on the white-sand beach, and at night, enjoy stargazing up at the usually clear sky. Dolphins and whales occasionally emerge close to the beach, but the blue waters are always a sight to see.
The Best Resorts for RV Camping in Florida
If you plan to stay in Florida on a long-term vacation, RV resorts offer the most benefits to campers. The following resorts are among the best RV parks in Florida.
Types of RVs for Your Activities 
While traveling across Florida, you'll need an RV that lets you enjoy your camping activities in comfort. Whether you need a small RV with the basic necessities or wish to vacation in style with an entertainment center and king-sized bed, there are plenty of options for your needs. Here are some of the most common RVs for recreational travel. 
Class A motorhomes: Built with a heavy-duty frame, these RVs have a similar build to an 18-wheeler truck. Class A motorhomes are the most luxurious, as the interior typically resembles a home. They're very roomy, and most can easily sleep four people. These RVs are spacious and offer plenty of storage for you to travel in style.
Class B motorhomes: Commonly known as a camper, these RVs look like an oversized van with enough room to stand comfortably. Though Class B motorhomes are on the smaller side, they're ideal for adventuring alone or with one other person. With a kitchen, living room and bathroom, it has everything you need to travel light. 
Class C motorhomes: Equipped with an over-cab sleeping area, these RVs provide a more spacious living area and can even tow a car. You can leave this RV parked at your camping destination while you drive your car around to explore even more of the location.
Fifth-wheel campers: With a bi-level floor plan and all the same amenities as a conventional travel trailer, such as a kitchen and living room, these RVs are well-suited for adventure. You can tow yours with a van or truck using a fifth-wheel hitch. 
Travel trailers: As suggested in the name, these RVs are perfect for recreational travel, designed with comfortable living quarters and plenty of room. You can tow these trailers using a ball hitch on any towing vehicle. 
My Financing USA Can Help You Find an RV Loan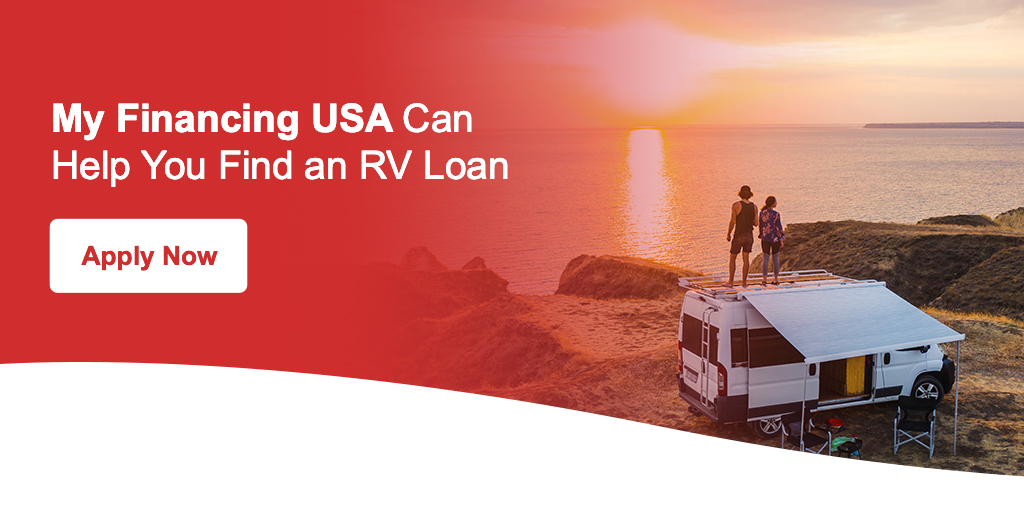 If you're ready for a long-awaited vacation to Florida, consider getting an RV for traveling comfortably. Need an RV loan to finance the perfect option before going to the best Florida places to visit in an RV? My Financing USA can connect you with a lender, whether your credit score is pristine or less than ideal.
Learn more about our RV loans and what kind of benefits we offer buyers like you. You can apply for an RV loan online at any stage of the process if you have found the RV you want or you're researching how much you can afford.
---
Additional Resources on RVing:
---