Thinking about hitching up the camper or taking the RV out for a spin? There's nothing better than breaking away from the routine of everyday life and hitting the open road.
From cruising along the shores of the East Coast to venturing cross-country through the national forests of the Midwest, the United States offers endless adventure and fun. If you've ever taken a road trip, you know that no journey is complete without a soundtrack.
Quick Navigation
That's why we've made a list of the best road trip songs to set the tone for your next adventure. From classic headbangers by Nirvana to bleeding heart ballads by Adele, we've covered all the bases with playlists for every music preference.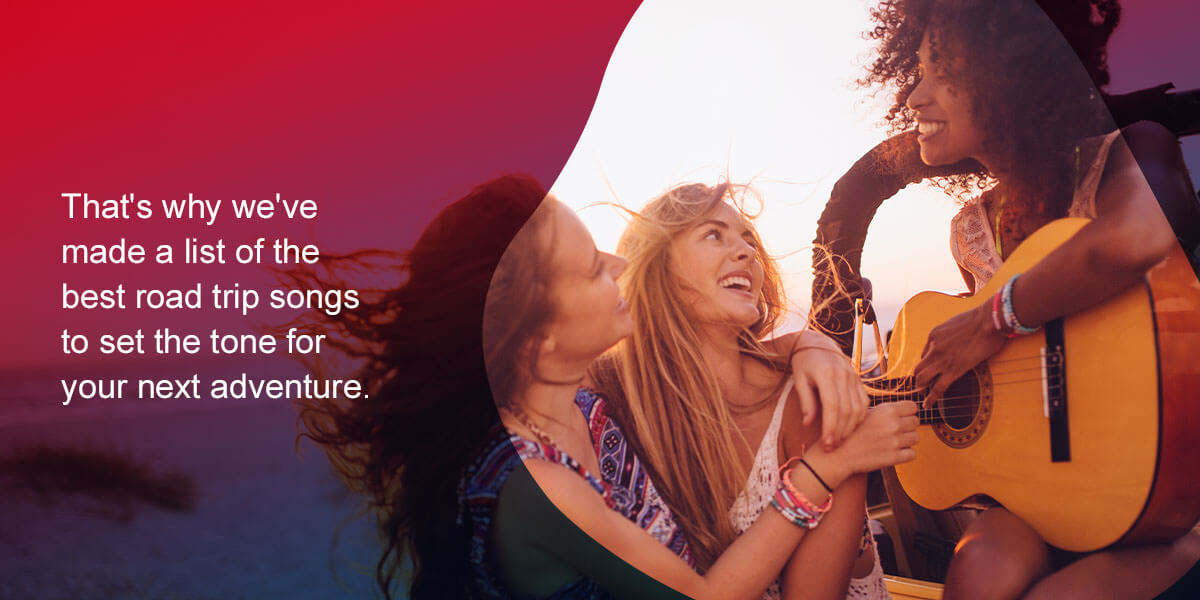 Creating the Ultimate Road Trip Playlist
There are hundreds of good songs, but great road trip songs are a bit different. They make you want to roll the windows down, sing at the top of your lungs and laugh with your friends and family until your stomach hurts. These road trip playlist songs take the best of country, rock and pop to curate the perfect score for your pilgrimage.
While turning on the radio may be your go-to move, traditional radio stations can be somewhat unpredictable. Your jam sessions are interrupted by commercial breaks and the same songs are eventually played through several times over. Of course, you always have the option of tuning into ready-made playlists on your favorite music apps, but you'll still have to filter through songs you don't know or like.
Curating your own playlist ensures you know every song will add energy and excitement to your journey. But what exactly is the criteria for choosing songs for an hours-long drive? When it comes to creating a good road trip arrangement, not just any track will do.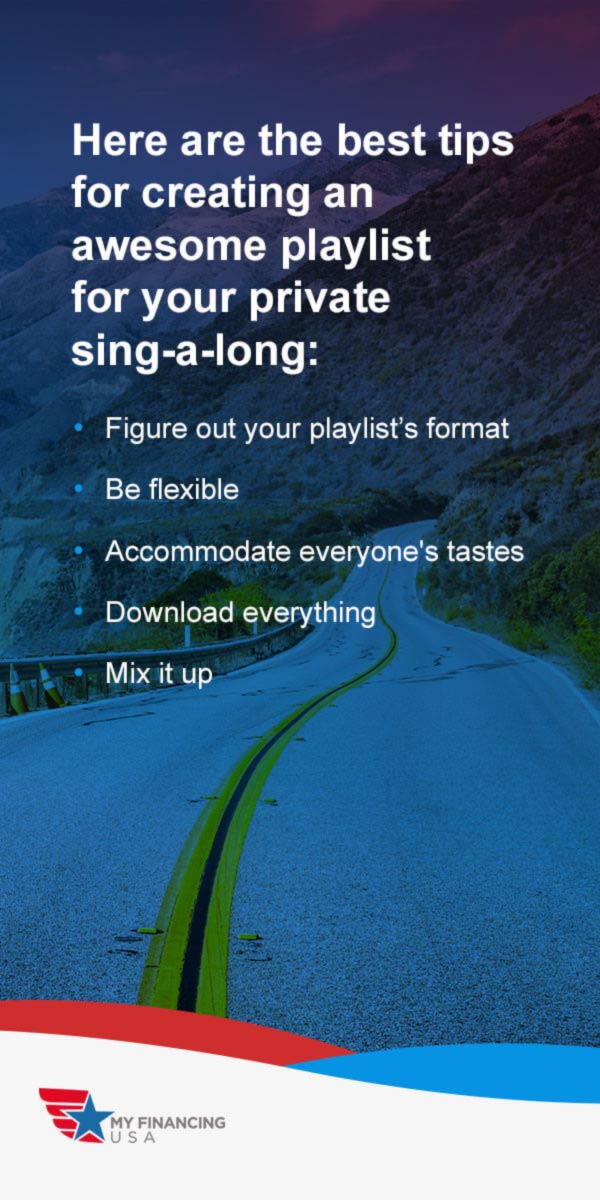 Here are the best tips for creating an awesome playlist for your private sing-a-long:
Figure out your playlist's format: Structure your playlist like an artist formats their albums. You can't start a trip with a song that has too little or too much energy. The playlist needs to start out on the mellow side and slowly build up into a crescendo of sing-able lyrics and dance-inducing music. One song should naturally blend into the next based on beats per minute (BPM), tone or artist.
Be flexible: Mix it up with classic and modern hits. It's easy to get stuck listening to the same bands you already know and love. However, there are many artists who produce great music, but may not be in your regular rotation. Anticipate what you'll want to listen to one or two hours after you've already started your journey, and adjust accordingly.
Accommodate everyone's tastes: Include songs for everyone who's joining you on your trip. A family road trip can include people from varying generations, who all have varying tastes in music. If you're traveling with a group of people, consider what they might like to hear. After all, it's their road trip too!
Download everything: Don't forget to download your music before you leave home! It's hard to imagine a world without WiFi, hotspots and data, but when you're on the road, you're almost guaranteed to hit the occasional dead zone. Most music apps offer the option of downloading individual songs and entire playlists, so you never have to worry about the music cutting out.
Mix it up: Shuffle between your two favorite genres. Most people don't listen to just one style of music. When you're making a playlist, it's easy to get stuck on artists and bands who fall into the same category. If you find yourself with an abundance of pop or rock, take a break and come back with fresh eyes and ears. You'll end up with a colorful arrangement of good music from all genres!
Whether you're cruising in a canary yellow Buick, a vintage Volkswagen van or a state-of-the-art RV, great music is a universal mood booster that can't be passed up. Time flies when you're having fun, and these playlists will make those long hours pass by in no time. Get ready to roll down the windows and crank it up to 11.
25 Classic Road Trip Songs
It's true that any song you play on the radio while driving can be considered a "road trip" song.
However, what makes these hits road trip classics is their continuous presence in pop culture regardless of when they first debuted. From classic 80s rock power ballads to high-tempo new wave chart-toppers, a playlist of the top road trip songs is always evolving and growing.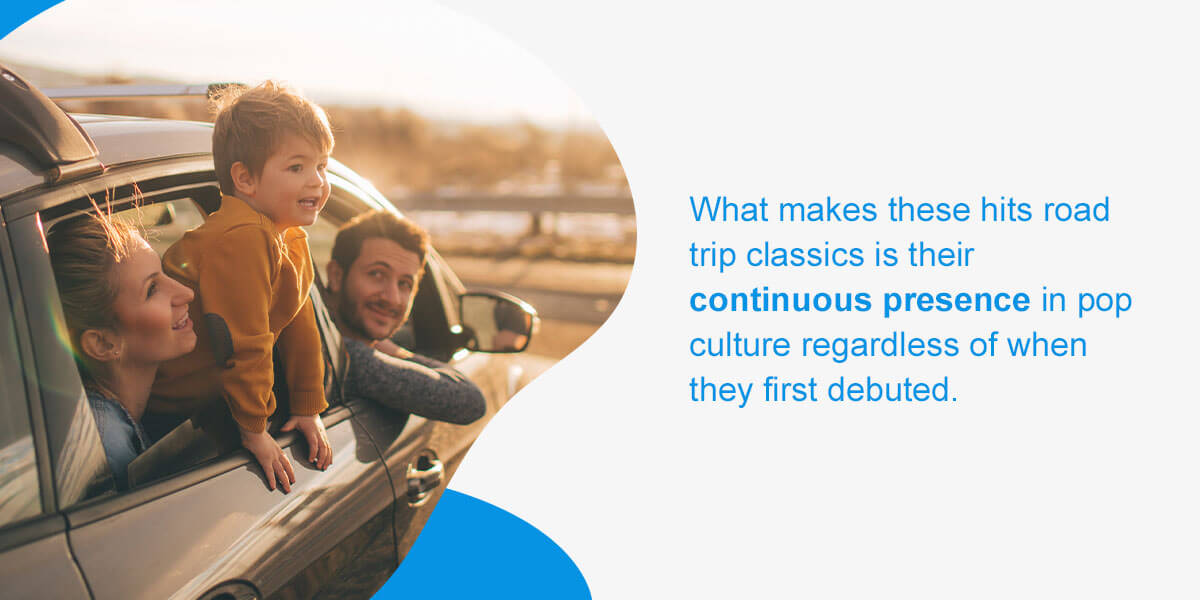 If you don't already know these classic road trip songs word-for-word, you'll definitely recognize them. These are the ballads everyone knows and loves, the guilty pleasures that are forever solidified in music history. These are classics played at every wedding, retirement bash and birthday party because no one can resist dancing and singing along. That's what makes these hits the perfect background music for a long drive with friends.
After all, does it even count as a road trip if you didn't harmonize to Bohemian Rhapsody?
"Here I Go Again" - Whitesnake
"Don't Stop Believing" - Journey
"You Give Love a Bad Name" - Bon Jovi
"Summer of '69" - Bryan Adams
"Somebody to Love" - Queen
"Sweet Home Alabama" - Lynyrd Skynyrd
"Born to Be Wild" - Steppenwolf
"Livin' on a Prayer" - Bon Jovi
"Eye of the Tiger" - Survivor
"Jessie's Girl" - Rick Springfield
"Beat It" - Michael Jackson
"Mr. Brightside" - The Killers
"Renegade" - Styx
"Separate Ways" - Journey
"Soul Man" - Sam & Dave
"Everybody Wants to Rule the World" - Tears for Fears
"Don't Stop Me Now" - Queen
"I Love Rock and Roll" - Joan Jett & the Blackhearts
"Any Way You Want It" - Journey
"Carry on My Wayward Son" - Kansas
"Africa" - Toto
"Stacy's Mom" - Fountains of Wayne
"September" - Earth, Wind & Fire
"American Pie" - Don McLean
"Bohemian Rhapsody" - Queen
30 Rock 'N' Roll Road Trip Songs
There's no time for fluffy music and slow melodies on the road! When you're hitting the pavement and putting the pedal to the metal, it's time to crank the tunes and let your hair loose.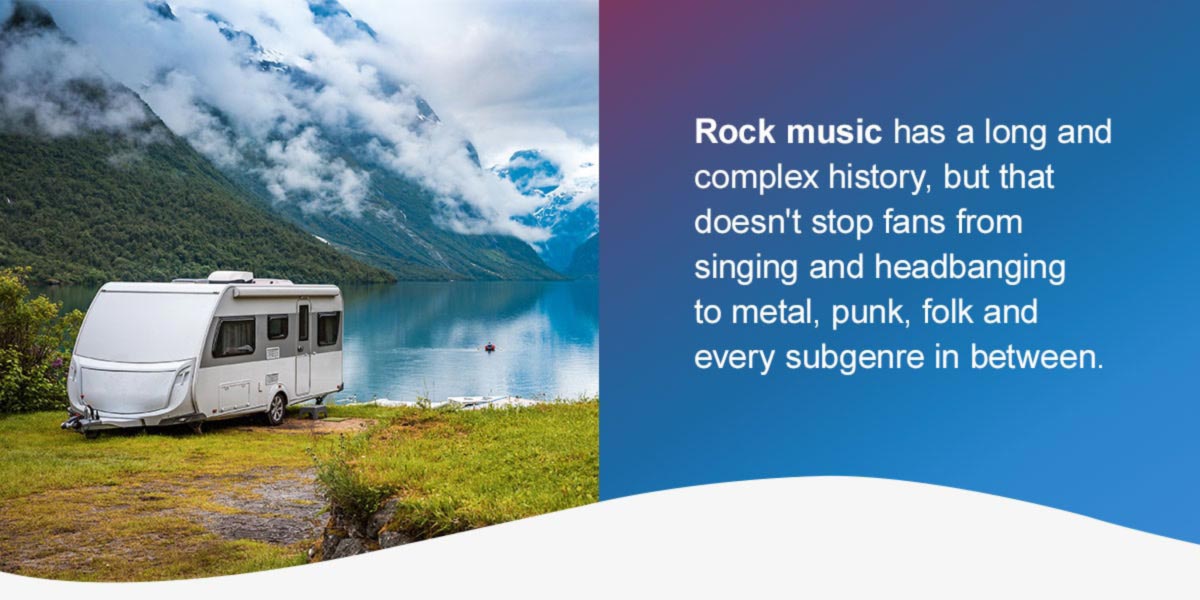 Rock music has a long and complex history, but that doesn't stop fans from singing and headbanging to metal, punk, folk and every subgenre in between. At its core, rock 'n' roll music is about life, artistic expression and living life to the fullest. There's no better time to dive into the rock history books for some good road trip band songs than when you're driving with your buddies.
These old school road trip songs will have you back in the pits of your favorite rock bands, devil horns raised. So, get out your air guitar, leather jacket and eyeliner, if that's your jam, and get ready to rock out.
"Highway to Hell" - AC/DC
"Iron Man" - Black Sabbath
"Pour Some Sugar on Me" - Def Leppard
"Nothin' But a Good Time" - Poison
"Go Your Own Way" - Fleetwood Mac
"We Will Rock You" - Queen
"Paradise City" - Guns N' Roses
"Thunderstruck" - AC/DC
"Riot" - Three Days Grace
"Hit Me With Your Best Shot" - Pat Benatar
"Come as You Are" - Nirvana
"Slow Ride" - Foghat
"The Wait" - Metallica
"Barracuda" - Heart
"Paralyzer" - Finger Eleven
"Pain" - Three Days Grace
"Back in Black" - AC/DC
"Shakin'" - Eddie Money
"Another One Bites the Dust" - Queen
"Immigrant Song" - Led Zeppelin
"Dream On" - Aerosmith
"Bleed It Out" - Linkin Park
"Black Shuck" - The Darkness
"Juke Box Hero" - Foreigner
"Edge of Seventeen" - Stevie Nicks
"Seven Nation Army" - The White Stripes
"Ain't No Rest for the Wicked" - Cage the Elephant
"Sweet Child O' Mine" - Guns N' Roses
"Smells Like Teen Spirit" - Nirvana
"Dani California" - Red Hot Chili Peppers
30 Chill Road Trip Songs
Road trips aren't always about adventure and excitement. Many great poets, songwriters and novelists have delved deep into the inherent desire to explore the outside world while also achieving peak introspection. This journey you're about to embark on is the perfect opportunity to relax and let the music take your thoughts wherever they may wander.
Heart-racing, bass-booming playlists can be overstimulating and distract you from the satisfying simplicity of driving down a long road, enjoying the scenery.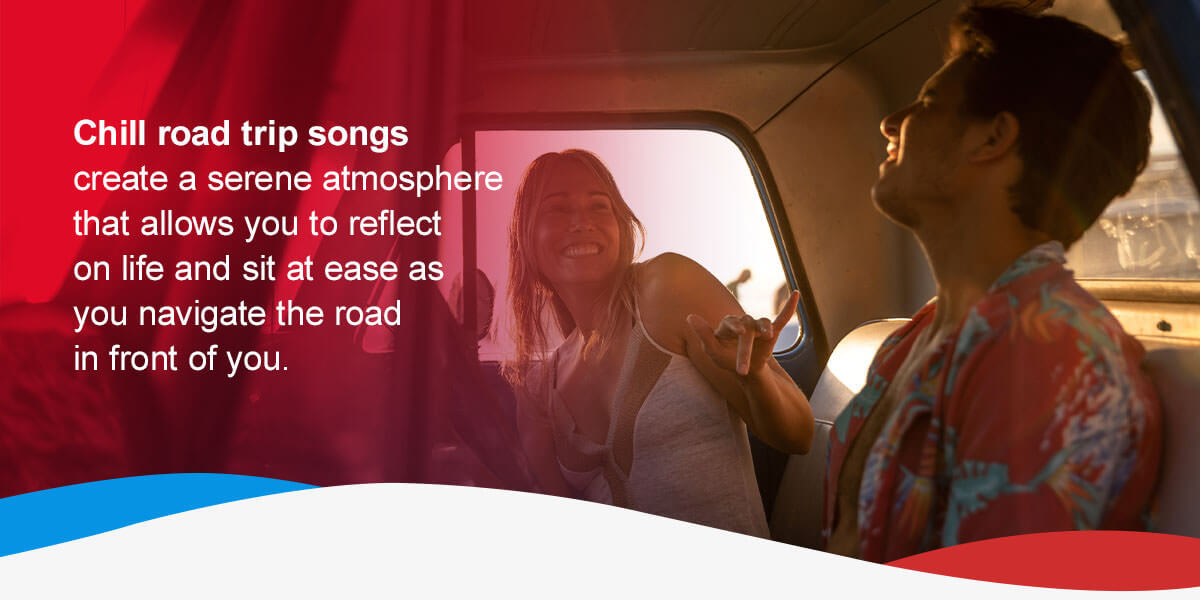 Chill road trip songs create a serene atmosphere that allows you to reflect on life and sit at ease as you navigate the road in front of you.
Our playlist of relaxing, feel-good road trip songs takes the best from current artists and the older bands who defined the easy-listening genre. From classic folk-rock bands like Fleetwood Mac to the dreamy modern melodies of Dove Cameron and George Ezra, you'll feel the stress melt away at the first note.
Check out our picks for the best music to play when you want to drive around and forget about life for a while.
"Rhiannon" - Fleetwood Mac
"Hey Soul Sister" - Train
"Budapest" - George Ezra
"Cover Me in Sunshine" - Pink, Willow Sage Heart
"The Substitute" - The Who
"Everybody Wants to Rule the World" - Tears for Fears
"Paradise" - George Ezra
"Riptide" - Vance Joy
"Secrets" - OneRepublic
"Summertime" - Susto
"The Chain" - Fleetwood Mac
"Wrong Side" - LJ Benet
"We Belong" - Dove Cameron
"She Will Be Loved" - Maroon 5
"505" - Arctic Monkeys
"Chocolate" - The 1975
"Pumped Up Kicks" - Foster the People
"So Good" - Dove Cameron
"Sweater Weather" - The Neighbourhood
"Somebody That I Used to Know" - Gotye, Kimbra
"Shotgun" - George Ezra
"Stressed Out "- Twenty One Pilots
"Take Me to Church" - Hozier
"Tiny Dancer" - Elton John
"Gone, Gone, Gone" - Phillip Phillips
"Sunflower" - Post Malone
"Fallingforyou" - The 1975
"Spirit in the Sky" - Norman Greenbaum
"A Horse With No Name" - America
"Sign of the Times" - Harry Styles
27 Country Road Trip Songs
Conway Twitty famously said, "A good country song takes a page out of somebody's life and puts it to music." What better way to mark your next adventure in life than with country road trip songs about dirt roads, good times and the American way?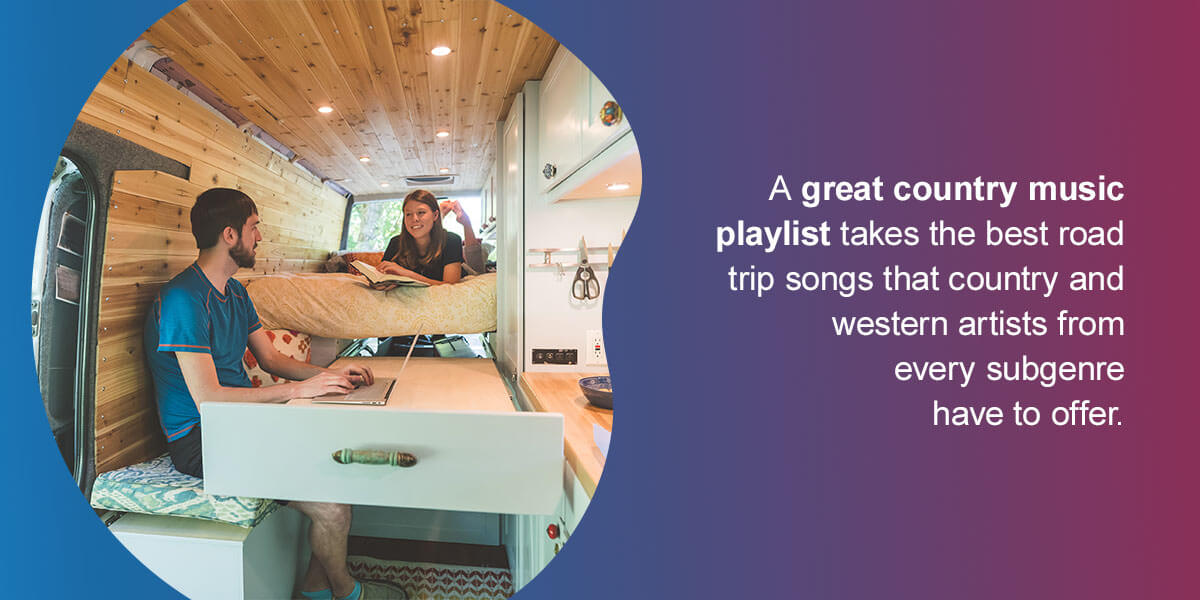 A great country music playlist takes the best road trip songs that country and western artists from every subgenre have to offer. The result is a diverse soundtrack that western and blues fans from every generation will love. From the unmistakable baritone of Johnny Cash to the upbeat twang of Carrie Underwood, the scope of America's country catalog is too vast to limit to just today's hits.
Whether you prefer the blues, Southern gospel or American folk music, one thing rings true. The best country road trip songs are the ones that make you want to put your feet up on the dash and drive for hours.
"Good Vibes" - Chris Janson
"All Summer Long" - Kid Rock
"Somebody Like You" - Keith Urban
"Lovin' on You" - Luke Combs
"Take It From Me" - Jordan Davis
"Champagne Night" - Lady A
"Cruise" - Florida Georgia Line
"Driving My Life Away" - Freddy Weller
"Amarillo by Morning" - George Strait
"Highwayman" - The Highwaymen
"Take Me Home, Country Roads" - John Denver
"Dirt Road Anthem" - Jason Aldean
"Jolene" - Dolly Parton
"God's Gonna Cut You Down" - Johnny Cash
"Wine, Beer, Whiskey" - Little Big Town
"Good Time" - Niko Moon
"Whiskey Glasses" - Morgan Wallen
"Wagon Wheel" - Darius Rucker
"Dirt on My Boots" - Jon Pardi
"Something Bad" - Miranda Lambert, Carrie Underwood
"Love Ain't" - Eli Young Band
"Beachin'" - Jake Owen
"Miss Me More" - Kelsea Ballerini
"Knockin' Boots" - Luke Bryan
"Red Solo Cup" - Toby Keith
"Chicken Fried" - Zac Brown Band
"Friends in Low Places" - Garth Brooks
34 Pop Road Trip Songs
The popular music genre has come a long way in recent decades.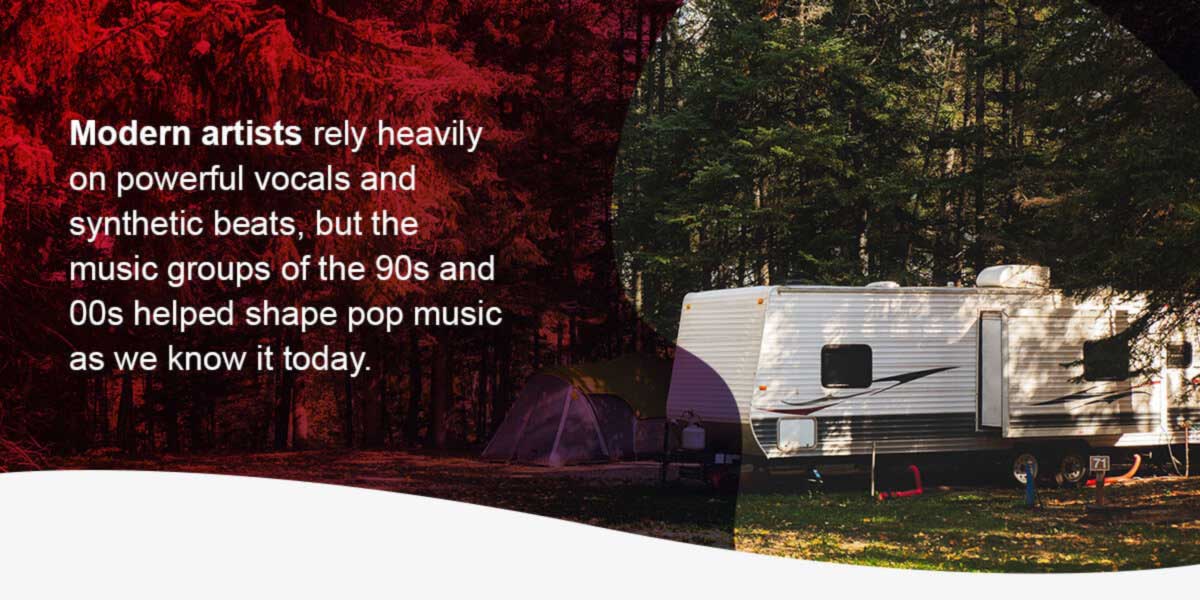 Modern artists rely heavily on powerful vocals and synthetic beats, but the music groups of the 90s and 00s helped shape pop music as we know it today.
Pop music has taken over the radio waves with upbeat feel-good beats you just can't get out of your head. While Billboard Top 40 songs are popular for a reason, we can't help but plug in our phones to tune into hits of the synchronized boy bands and standout soloists of the pop of days past. With catchy choruses and snappy hooks, you can't go wrong with some throwbacks.
Although there are many pop road trip songs that deserve a spot on this list, here are our top road trip songs from the 90s to the 2010s.
"All I Wanna Do" - Sheryl Crow
"Sugar" - Maroon 5
"Poker Face" - Lady Gaga
"1, 2 Step" - Ciara, Missy Elliot
"Stronger" - Kanye West
"Umbrella" - Rihanna
"Bye, Bye, Bye" - *NSYNC
"...Baby One More Time" - Britney Spears
"Moves Like Jagger" - Maroon 5
"Scream" - Usher
"All Star" - Smash Mouth
"Say My Name" - Destiny's Child
"I Want It That Way" - Backstreet Boys
"Genie in a Bottle" - Christina Aguilera
"No Scrubs" - TLC
"Don't Speak" - No Doubt
"Rolling in the Deep" - Adele
"It Wasn't Me" - Shaggy, Rik Rok
"Toxic" - Britney Spears
"Old Town Road" - Lil Nas X, Billy Ray Cyrus
"Drive By" - Train
"Dynamite" - Taio Cruz
"Counting Stars" - OneRepublic
"Replay" - Iyaz
"Low" - Flo Rida, T-Pain
"Yeah!" - Usher, Lil Jon, Ludacris
"Just Dance" - Lady Gaga
"Single Ladies" - Beyonce
"Some Nights" - fun.
"Fireflies" - Owl City
"It's Time" - Imagine Dragons
"Temperature" - Sean Paul
"Hot N Cold" - Katy Perry
"Raise Your Glass" - Pink
25 Summer Road Trip Hits
Winter blues still got you down? Jumpstart the season with upbeat road trip songs that will make that lingering December chill melt away. With good vibes and vacations to look forward to, you simply can't resist the bright and sunny future that summer has to offer!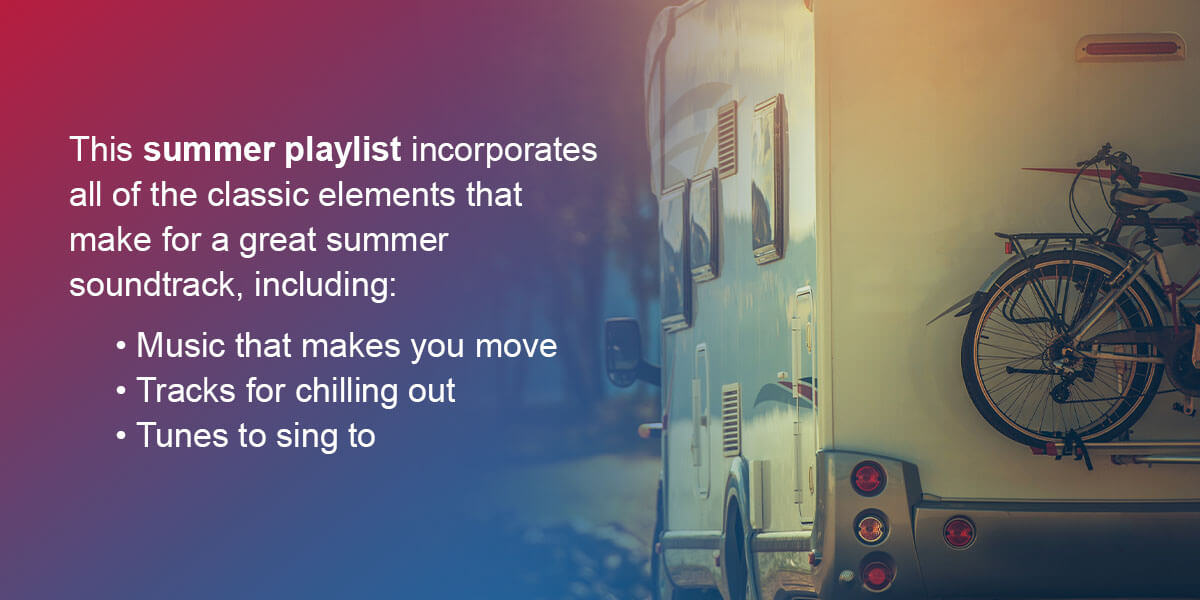 The best summer road trip songs have an infectious and uplifting energy that makes you feel like anything is possible. This summer playlist incorporates all of the classic elements that make for a great summer soundtrack, including:
Music that makes you move: These are the unforgettable hits that make you want to groove to the beat. Think "Love Shack," "Shut Up and Dance With Me" and "Wake Me Up Before You Go-Go."
Tracks for chilling out: With a cool breeze on your face and the sound of waves in the background, you'll feel more relaxed than ever! Tom Petty, Bastille and the Eagles also help.
Tunes to sing to: Who cares if you're a little off-key? Raise your voice with Rascal Flatts and Billy Joel.
Whether you're taking the RV to a wooded campground in the mountains or riding a motorcycle along the beach, these hits will effortlessly match the sunny aesthetic of your summer vacation.
"Footloose" - Kenny Loggins
"Love Shack" - B-52's
"Misery" - Maroon 5
"Stereo Hearts" - Gym Class Heroes
"Come and Get Your Love" - Redbone
"Ain't No Mountain High Enough" - Marvin Gaye, Tammi Terrell
"Uptown Girl" - Billy Joel
"Ocean Avenue" - Yellowcard
"Shut Up and Dance With Me" - Walk the Moon
"1985" - Bowling for Soup
"Pompeii" - Bastille
"Mrs. Robinson" - Simon & Garfunkel
"Hooked on a Feeling" - Blue Swede
"Free Fallin'" - Tom Petty
"Life is a Highway "- Rascal Flatts
"Wake Me Up Before You Go-Go" - Wham!
"Mr. Blue Sky" - Electric Light Orchestra
"Livin' La Vida Loca" - Ricky Martin
"Best Day of My Life" - American Authors
"Hotel California" - The Eagles
"Cake by the Ocean" - DNCE
"I'm the One" - DJ Khaled, Justin Bieber, Lil Wayne, Quavo, Chance the Rapper
"Body Like a Back Road" - Sam Hunt
"South of the Border" - Ed Sheeran, Camila Cabello, Cardi B
"The Lazy Song" - Bruno Mars
29 Songs for the Ultimate Girls Road Trip Playlist
This one is for the ladies! While using a hair brush as a microphone is a bit unrealistic, there's no denying that the convertible karaoke scenes are dead-on. So, gather your girls, pack a cooler and don your favorite sunglasses because this playlist is everything your teenage-self dreamed of.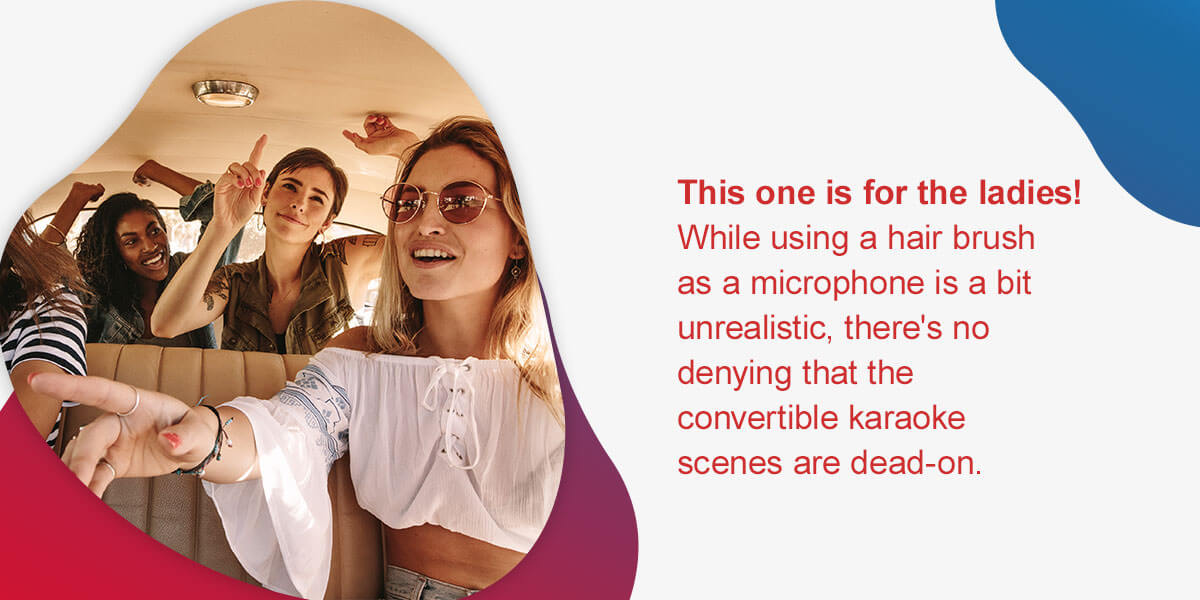 It'll put you on love's battlefield with Pat Benatar, make you feel like a woman with Shania Twain and shake your hips to Shakira.
"Wings" - Little Mix
"Crazy in Love" - Beyonce
"Man! I Feel Like a Woman" - Shania Twain
"Torn" - Natalie Imbruglia
"I Wanna Dance With Somebody" - Whiney Houston
"Survivor" - Destiny's Child
"A Thousand Miles" - Vanessa Carlton
"Everywhere" - Michelle Branch
"Bang Bang" - Jessie J, Ariana Grande, Nicki Minaj
"Party in the USA" - Miley Cyrus
"Love is a Battlefield" - Pat Benatar
"Fighter" - Christina Aguilera
"Lady Marmalade" - Christina Aguilera, Mya, Lil Kim, Pink
"S&M" - Rihanna
"Sorry Not Sorry" - Demi Lovato
"Truth Hurts" - Lizzo
"Bootylicious" - Destiny's Child
"If It Makes You Happy" - Sheryl Crow
"Since You Been Gone" - Kelly Clarkson
"Candy Man" - Christina Aguilera
"Before He Cheats" - Carrie Underwood
"Heart Breaker" - Pat Benatar
"Wannabe" - Spice Girls
"California Gurls" - Katy Perry, Snoop Dogg
"Super Bass" - Nicki Minaj
"Dancing Queen" - ABBA
"Rude Boy" - Rihanna
"Hips Don't Lie" - Shakira
"Juice" - Lizzo
Start Your Road Trip With My Financing USA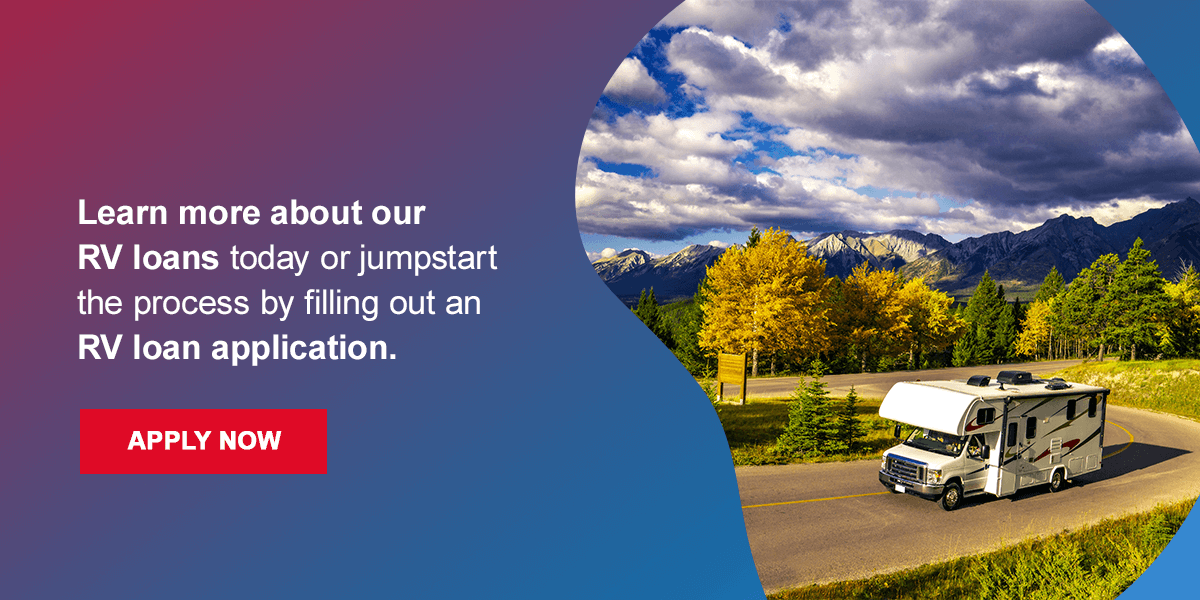 Whether you're making your way across the country or venturing just a few hours outside of your hometown, your driving vacation becomes much more fun and possible with a recreational vehicle (RV) to take you there.
RVs make traveling with family and friends easier by:
Saving you money on lodging.
Giving you flexibility wherever you go.
Carrying everything you need.
Giving you control of the driver's seat.
Allowing everyone to join the adventure!
My Financing USA helps you travel in style by making RV financing simple and accessible. With a streamlined online customer interface, competitive rates and personalized customer service, our staff is ready and equipped to help you get the best deal.
Low credit score? No problem! We find the best rates for you, so you can focus on planning your road trip. It's as easy as filling out an application — all it takes is five minutes, and you'll hear back from us within 48-72 hours. We value your time and needs, which is why everyone who submits an application gets a consultation with a real person, not a computer-automated response.
We don't just do the work for you, we help you establish your goals and standards from the beginning, so you can find an RV that meets your expectations. Music is just one ingredient that makes a road trip great. A comfortable and affordable RV is what will make your trip unforgettable.
Learn more about our RV loans about our RV loans today or jumpstart the process by filling out an RV loan application.
---
Additional Resources on Road Trips:
---