Explore America the way it was meant to be seen by taking one of the country's iconic road trips. Whether you want to take a weekend getaway or the ultimate cross-country trek, the United States has the perfect trip for you. Consider one of the following top road trips for your next adventure.
Quick Navigation
1. Route 66 Road Trip
The iconic highway that crosses the U.S. from Chicago, Illinois to Santa Monica, California, Route 66 appears on most road trippers' bucket lists. Despite interstates replacing much of the historic highway, you can still traverse miles of the historic Route 66 and experience its cool and kitschy sights from the early and middle of the 20th century.
Along the way, you can see and do the following:
These are just a few ideas for your road trip — you can experience dozens of famous locations and eateries on your Route 66 road trip.
2. Blue Ridge Parkway Road Trip
Extending between Shenandoah National Park in Virginia and the Great Smoky Mountains in North Carolina, the Blue Ridge Parkway will give you a bird's-eye view of the most beautiful scenery in the southeastern United States. Along the route, you'll come across multiple overlooks, giving you ample opportunities for stunning panoramic pictures.
Even if you never tire of seeing the towering mountains, stately trees or crystalline streams, you don't have to dedicate your entire Blue Ridge Parkway trip to nature. Be sure to stop by Blue Ridge Music Center in Galax, Virginia, to learn more about bluegrass music. Stop by the covered breezeway to hear daily live performances of bluegrass.
At the end of the Blue Ridge Parkway in Asheville, North Carolina, visit the Biltmore Estate to tour America's largest estate. With a winery, house tours, a spa, shops and restaurants, you may want to dedicate more than one day to this massive and iconic property.
The Blue Ridge Parkway connects you to jaw-dropping vistas, historic locations and cultural experiences that you won't soon forget.
3. Pacific Coast Highway Road Trip

Explore the Pacific Coast with a trip from San Francisco to San Diego along the Pacific Coast Highway (PCH) portion of California State Highway 1. This world-famous road trip gives you an up-close-and-personal view of the West Coast's stunning coastal beauty and easy access to California's most popular cities.
You can see elephant seals at the Piedras Blancas Rookery, check out sea otters at Morro Bay and stop by Hearst Castle in San Simeon to see a storied American estate. Of course, you can't forget about the miles of beaches to explore for swimming and surfing, and the numerous wineries along the way to explore the tastes of California.
Spend a few days in San Francisco, Los Angeles and San Diego between driving to see what each city has to offer. With so much to explore, you'll want to dedicate plenty of time to your PCH adventure.
4. Silverado Trail Road Trip
The Silverado Trail takes you from Napa to Calistoga, California. This route is quieter than the major State Highway 29 it parallels. Use the relaxing nature of the surrounding countryside to lull you into a state of peacefulness. Though only a short 29 miles, there are enough places to visit along this route that you may want to take several days to explore the area's wineries and spas.
Stop by the numerous tasting rooms in vineyards along this route, which include the many located within the renowned Stags Leap District, which the Silverado Trail bisects. The vineyards you'll find within this district that have tasting rooms or wineries include:
Robert Sinskey Vineyards
Baldacci Family Vineyards
Ilsley Vineyards
Silverado Vineyards
Taylor Family Vineyards
Stags' Leap Winery
Pine Ridge Vineyards
After sampling wines, it's time for a visit to the spa. Originally founded as a resort built around natural geothermal hot springs, Calistoga today has a selection of services aimed at optimizing your feeling of well-being. With more than two dozen resorts with hot springs or spas, you won't find a shortage of options to get pampered at the end of your road trip.
Explore at your own pace to discover your favorite ways to relax along this short yet attraction-packed trip.
5. Scenic Byway 12 Road Trip

Just over 120 miles through Utah's most scenic landscapes, Scenic Byway 12 is a road trip you must take to experience the rugged beauty of the western United States. This roadway starts near Panguitch, Utah, at U.S. 89 and stretches to the intersection with S.R. 24 near Torrey, Utah.
While you may drive along many of Utah's state highways on the way to state or national parks, take the time to enjoy the journey along Scenic Byway 12. The trip along this route is so picturesque and quintessentially American that this byway is known as one of the All-American Roads, which only a third of the nation's scenic routes have in common.
Your journey will include sights like Red Canyon in Dixie National Forest, Grand Staircase-Escalante National Monument and Capitol Reef National Park. Make sure to pull over at scenic overlooks to take pictures and give yourself ample time to enjoy the beauty of the American West.
Scenic Byway 12 is all about the beauty of the rugged mountains that make this portion of the country so awe-inspiring.
6. North Shore Scenic Drive Road Trip
While many road trips focus on the eastern or western states, a trip along the North Shore of Lake Superior in Minnesota is conveniently located for those in the Midwest.
This trip only takes three hours without stopping, but you'll want to make several stops along the route between Duluth and Grand Portage to see some of the state's eight state parks, the historic 1910 Split Rock Lighthouse, golfing in Lutsen and the Grand Lakes Aquarium. This route also includes access to the two largest waterfalls in the state at Grand Portage State Park and Tettegouche State Park.
Outdoor activities and scenery are at the core of this road trip. Still, you can see art galleries in Grand Marais, a museum in Tofte dedicated to commercial fishing and a train museum in Duluth. You'll have plenty to do along this trip to stretch it out for a week or longer, depending on what you want to take in.
The North Shore Scenic Drive shines in the autumn months. Travel this road during the fall to capture the stunning autumn colors along the lake's shore. The crisp weather, beautiful colors and gorgeous scenery will make it a trip you won't forget.
7. Olympic Peninsula Loop Road Trip
The Olympic Peninsula Loop in Washington offers more than 300 miles of stunning Pacific Northwest beauty, where you get to explore the exterior of Olympic National Park. This trip starts and ends in Olympia, with Highway 101 being the primary route of this trip. On your way to the park, you can stop at well-known locations like Port Angeles and Forks.
The visitor center at Hurricane Ridge places you within easy reach of the hiking, biking, cycling and skiing trails of Olympic National Park. Experience numerous environments within Olympic National Forest, from mountains to rainforests to beaches to canyons. Additionally, you'll find both wild beaches and old-growth forests on your trip. Shi Shi Beach is the last remaining wild beach in the country. Sol Duc Valley features old-growth stands of trees surrounding Sol Duc River and Sol Duc Falls.
This road trip gives you the chance to see America's ancient forests, wild beaches and mountainous scenery in one of the most stunning locations in the U.S.
8. High Road to Taos Scenic Byway Road Trip
Take the more laid-back route from Santa Fe to Taos, New Mexico, along the High Road to Taos Scenic Byway. While you can drive straight through in just two and a half hours, you should allow at least four to eight hours to experience everything.
The Spanish influence in New Mexico endures in churches and architecture along this route. Visit 300-year-old San Francisco de Asis Church, which is the only church from the 1700s in Taos that remains intact. It's been depicted by famous artists Ansel Adams and Georgia O'Keeffe, among others.
In Chimayo, visit Plaza del Cerro, which remains the last Spanish fortified plaza in the Southwest. This town also features the most visited church in the state, Santuario de Chimayo, which is said to have healing soil beneath it.
If you want to see artists at work or find handmade crafts, the High Road to Taos gives you several places to do so. Ojo Sarco has numerous artist studios for you to visit. Crafts and local artwork also appear in shops in Chimayo, which is well-known among art aficionados. Santa Fe also has several shops and galleries along the town's Canyon Road.
Whether you want to explore historic churches, see stunning southwestern scenery or purchase arts and crafts made by local artists, you'll find everything you want on the High Road to Taos Scenic Byway.
9. Saddle Road Road Trip
If you find yourself on the Island of Hawaii, you can't miss a trip across the heart of the island on Saddle Road, also known as State Route 200. It takes you from the Kailua-Kona area to Hilo. A trip along this road reduces the time you need to get across the island while taking you through lava fields, grasslands, pastures, forests and mountains.
Saddle Road's name comes from the curve of the road between the volcanos Mauna Kea and Mauna Loa. This is the best route to take if you want to visit the volcanoes or the observatory on Mauna Kea. Several hiking trailheads start along this route, too. With upgrades to the road, this once tricky highway is now easily traveled, letting you go from the west to east coasts of the island while seeing the stunning natural preserves between.
Saddle Road is the ideal trip to take to experience many of the landscapes on the Big Island, from forests to moon-like dried lava flows over the nearly 60-mile journey.
10. Parks Highway Road Trip

Alaska has miles of roads and pristine landscapes to explore. However, the expansiveness of the state can feel daunting to tackle, even for experienced road trippers. The Parks Highway makes a trek to see Alaska's finest landscapes easier. You'll travel between the state's two largest cities, Fairbanks and Anchorage, on this road trip.
While driving down this route, stop by Denali National Park and Preserve at the southern end. If you're an experienced adventurer, tackle the whitewater rapids in Nenana River or the 27-mile Little Coal Creek Trail. For picturesque views, you can't miss stopping by Hurricane Gulch Bridge, or seeing any of the views of the nation's tallest mountain, Denali, along the highway.
If Alaska is on your bucket list, include a Parks Highway road trip in your visit to see the natural wonders that make this state so breathtaking.
11. Nevada Highway 50 Road Trip

Nevada's Highway 50 no longer deserves its nickname of "The Loneliest Road in America." This highway includes several interesting stops in small towns along the way. Start this trip in the capital of the state, Carson City, and travel east across the middle of Nevada's Great Basin.
Interestingly, U.S. Highway 50 was the country's first cross-continental highway, opening in 1913. Traveling this roadway gives you a glimpse of America as former cross-country tourists saw it. Highlights of a trip across Nevada on Highway 50 include:
Singing sand dunes at Sand Mountain
Site of the first gold discovery in the state at Dayton
A Pony Express Station converted into a restaurant at Middlegate Station
Numerous historical markers showing the locations of mining towns
Fully restored 1880s Eureka Opera House
With so many stops along the way, you get a completely unique look at the state.
12. Colorado State Highway 82 Road Trip

Colorado is known for its outdoor experiences, including hiking, skiing, cycling, fishing and rafting. State Highway 82, along the Independence Pass portion, gives you the chance to experience all of these on one of the most beautiful roadways in a state filled with magnificent scenery.
The road rises more than 12,100 feet above sea level. As the elevation changes, so do the flora and fauna. Along Independence Pass, you'll experience three types of ecosystems — montane, subalpine and alpine. The pass's summit has a cold, stark alpine setting while the lower subalpine elevations have short-season plants and hardy animals, such as Lodgepole pine, aspen, elk, beavers and marmots. The lowest areas with montane settings have lush forests, meadows and wetlands.
Colorado's best views lie along the short but beautiful trip along State Highway 82 through Independence Pass. Add this journey to a larger road trip through Colorado or as a standalone adventure in the spring, summer or fall.
13. Arizona Road Trip
Travel across Arizona from Phoenix to Grand Canyon National Park in a single-state road trip that offers a multitude of things to see and do. Of course, the destination at the Grand Canyon will be a dramatic finish to your trip, but don't miss the fantastic views and stops along the route.
Scottsdale has Camelback Mountain to challenge your hiking skills. Quartz Ridge Trail nearby offers an easier hiking trail where locals regularly jog or walk their dogs. Sedona has galleries, restaurants and shops to visit before traveling out of town to see Cathedral Rock, Bell Rock and Oak Creek Canyon Drive. The Grand Canyon's South Rim gives hikers of all abilities paths to take to experience the beauty of this national treasure.
This Arizona road trip from Phoenix to the Grand Canyon packs a lot of natural vistas into one trip. Take your time and pace yourself to make the most of this adventure.
14. Southwest National Parks Road Trip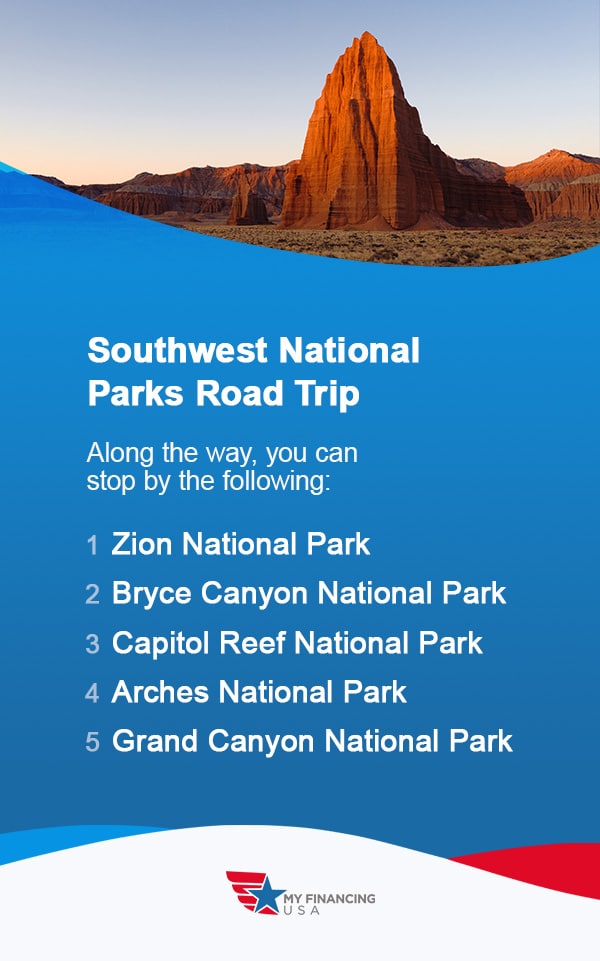 You can explore more of the American Southwest on a road trip that links multiple parks in the area. Depending on where you choose to start, this trip can take you south from Zion National Park in Utah to the Grand Canyon in Arizona. It gives you the best chance to see as many national parks in a single road trip as possible.
Along the way, you can stop by the following:
Zion National Park
Bryce Canyon National Park
Capitol Reef National Park
Arches National Park
Grand Canyon National Park
Plan at least two days in each park to give yourself a chance to rest between the legs of this trip and experience as much as possible at each park. See for yourself why the national parks are so special by visiting five in one road trip.
15. Florida Keys Scenic Highway Road Trip
Sometimes, it's easy to forget how diverse America's landscapes really are, and the Florida Keys are one example of that! The southernmost part of Florida, the Florida Keys are a stunning string of tropical islands that offer delicious cuisine, amazing beaches and one of the least-visited yet most unique national parks in the country, Dry Tortugas National Park.
This 110-mile road trip takes you from Key Largo to Key West on what's known as the Road to Paradise. On the way, you'll experience the area's gorgeous waters, beaches and palm trees as you adopt the locals' laidback lifestyle. Be sure to check out Ernest Hemingway's house, explore Duval Street and take a boat tour. Don't forget to take a detour to Everglades National Park and grab a slice of key lime pie, which originated in the Keys.
16. Vermont Route 100 Road Trip

If you've never visited the historic states of New England, fall is the perfect time to do so. Avoid the crowds of summer tourists to see the region's stunning display of fall foliage, which appears in vibrant reds, yellows and oranges. There are a few routes you can take, but Vermont's Route 100 is arguably the most iconic.
The 200-mile route begins at the bottom of Vermont and takes you to the very top, just under Canada. The road goes around Green Mountain National Forest and well-known towns like Stowe to give you some variety. At every point along the trip, the leaf-peeping will be a breeze, and you'll have many chances to stop off in quintessential New England towns to eat, shop and explore.
Plan your trip anytime from late September to mid-October for the best fall foliage displays.
Plan Your Perfect U.S. Road Trip With Our Road Trip Guides

Ready to experience the stunning diverse landscapes of America with the best road trips in the USA? Get insider information on road trips around the nation from our travel guides to make your planning even easier. Every region of America has something to offer, so no matter the kind of road trip you want to take, you can do it here.
If you're interested in exploring the country in an accessible and comfortable way, My Financing USA has you covered there, too. Fill out a quick RV loan application to get funding for the ultimate road trip vehicle to make your future travel plans simple. Reach out to us with any questions you might have — we look forward to hearing from you.
---
Additional Resources on Road Trips:
---