Traveling in an RV allows you to see the world up close. There are so many iconic destinations and photogenic landscapes to visit all around the country. Why not try exploring the best RV parks across America? Traveling in an RV gives you the unique opportunity to immerse yourself in each new destination without sacrificing any of the comforts of home, like a warm bed, stocked refrigerator or space to have family game nights at the dining table.
RV parks and campgrounds make it even easier to see the world with on-site amenities that transform your average vacation into an extraordinary escape, complete with stunning views, fun activities and so much more. Many parks even let you bring your favorite furry friend for a true family road trip.
We've compiled a list of the best-rated RV parks, so you can start packing your bags right away. Whether you plan on traveling solo, with your family or a group of your closest friends, these campsites will allow you to see the world up close in your preferred setting. From the best Midwest RV campgrounds surrounded by mountains and forest to beachside campsites on the East Coast shorelines, every overlook and resort is well worth the journey.
Best RV Campgrounds in the South
Southern states have long been at the center of most vacation daydreams. Sunbathing on the shores of Daytona Beach, seeking a thrill on amusement park roller coasters and embracing the nightlife of cities like Charleston or Miami are all just a few miles away from these top-rated RV parks in America — and from endless restaurants serving sweet tea and Southern food staples.
If you're not a fan of sand or theme parks, the south still has plenty of beautiful campgrounds for your home away from home. With luxury resorts and wooded state parks, you'll find top-rated RV parks from the Carolinas to the Florida Keys.
1. North Beach Camp Resort in St. Augustine, Florida
You can't go wrong with a campground that offers scenic cruises and private campsites. With a playground, pool, fresh seafood and plenty of community activities, the atmosphere makes North Beach Resort easily one of the top RV parks. This dog-friendly campground has spacious private sites that are separated by shrubbery. Along with swimming, surfing and fishing, you can spend your days exploring the historic city of St. Augustine. Watching the sunset on the private oceanside deck is the perfect ending to a relaxing weekend away.
2. Beverly Beach Camptown RV Resort in Flagler Beach, Florida
As far as the best RV parks East Coast and Southern states go, Beverly Beach Camptown RV Resort takes the cake. If you have ever dreamt of sleeping on the sand under the stars, many consider this among the best RV parks on the beach because you'll be camping right on the water.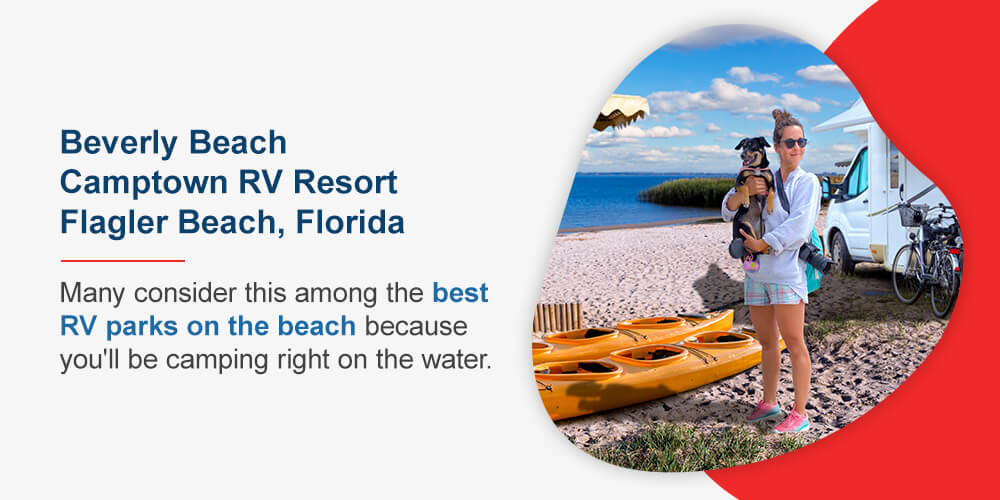 This beachside RV resort offers sites with cement patios, full hookups, boat storage, Wi-Fi and cable. With a convenience store filled with food and beach gear and a coffee shop, you'll never want to leave!
3. Myrtle Beach State Park in Myrtle Beach, South Carolina
South Carolina is home to some of the most beautiful beaches in the nation, so it's no wonder that Myrtle Beach State Park isn't just one of the best RV campgrounds in the southeast, but one of the top RV parks in America. The state park has full-hookup RV campsites with access to water, electricity and sewer.
Skip the conventional hotel stay and take in the natural beauty of this underdeveloped beach, with the ocean just a few yards away from your campsite. When you're done catching rays and riding waves, you can explore the biking and hiking trails, fish off the pier, or meet with family and friends at the picnic pavilion.
4. Cloudland Canyon State Park in Rising Fawn, Georgia
Among deep canyons and sandstone cliffs, under a canvas of dense evergreens, you'll find Cloudland Canyon State Park. Each campsite comes equipped with a grill, fire ring, picnic table, and water and electrical hookups.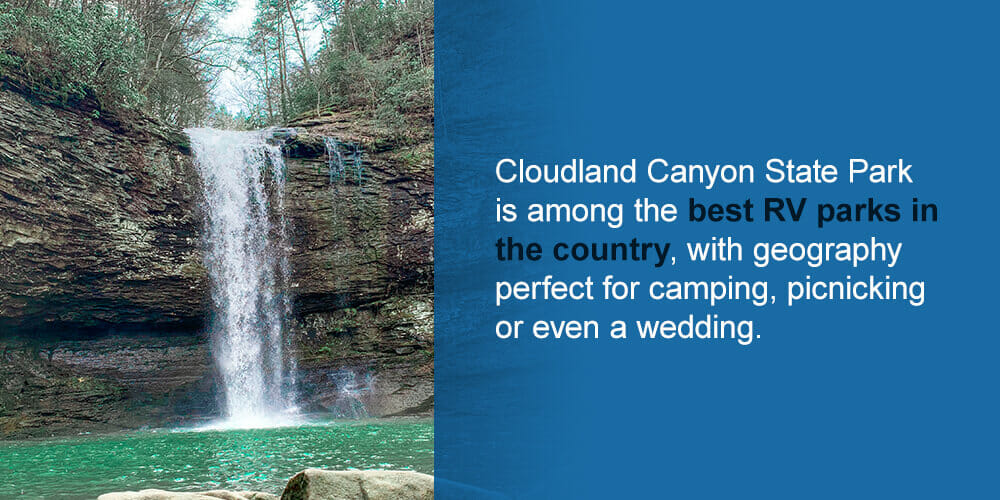 Take in the sites while horseback riding, hiking, geocaching or walking your dog. You can also pass the time with disc gold, fishing or rock climbing. Cloudland Canyon State Park is among the best RV parks in the country, with geography perfect for camping, picnicking or even a wedding.
5. Hilton Head Island Motorcoach Resort in Hilton Head Island, South Carolina
Finishing off our list of best RV campgrounds in the USA is the Hilton Head Island Motorcoach Resort in sunny South Carolina. As a luxury destination for RV owners, Hilton Head Island has more amenities than you'll know what to do with! Aside from the full hookups, cable television and Wi-Fi, the campground has a spa, gym, lounge, dog wash, tennis courts, incredible modern showers and motorcoach detailing services. After your first night, you'll already be planning your next trip!
Best RV Campgrounds in the West
From the snow-covered mountain peaks of Montana to the sunny shores of the California coastline, the western US has landscapes and camping accommodations for every preference and person. Whether you're traveling with a group or as a solo hiker, this list of the best RV parks in Midwestern and Western states will have you running for your suitcase.
The challenge in creating this list was narrowing down the best RV campgrounds on the West Coast and the Midwest and Northwest. Since the US is so large, there were 26 states to consider, each offering remarkable views and unique experiences, ranging from deep, colorful canyons to parks filled with towering trees and wildlife. Hopefully, these campgrounds inspire your next RV getaway, whether venturing cross-country or just a few hours from home.
1. Wallowa Lake State Park in Joseph, Oregon
Between the towering peaks of the Wallowa Mountains, tucked alongside the Wallowa River, you'll find an idyllic spot for traditional and RV camping. Wallowa Lake State Park boasts full hookup RV campsites, along with ADA and nonhookup sites.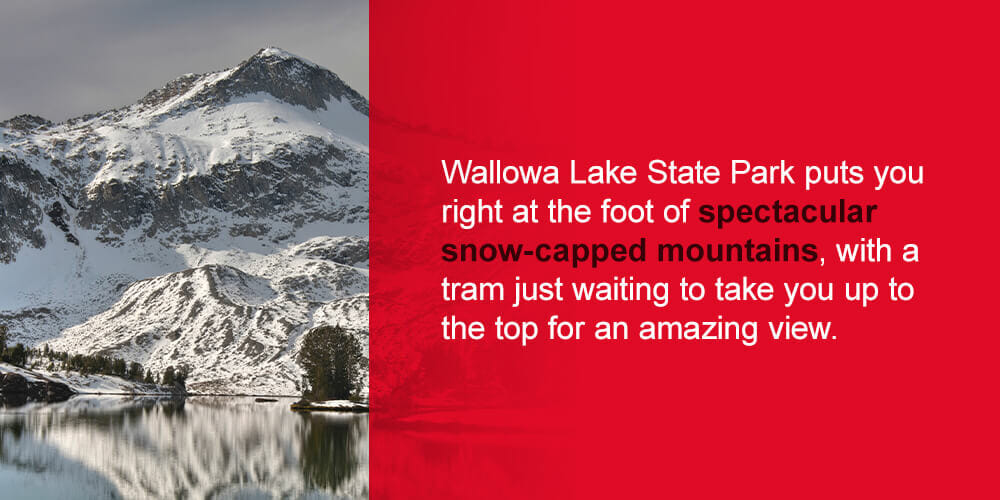 Oregon's state parks offer some of the best RV campgrounds in the USA. Wallowa Lake State Park puts you right at the foot of spectacular snow-capped mountains, with a tram just waiting to take you up to the top for an amazing view. You and the family can enjoy a number of activities both on-site and in town, including horseback riding, miniature golf, hiking, biking, paddleboarding and bumper boats.
2. Polson Motorcoach and RV Resort in Polson, Montana
When you don't feel like roughing it and just want to enjoy a relaxing vacation in a luxurious setting, look no further than Polson Motorcoach and RV Resort. At the top of the list of the best RV campgrounds in the Midwest, Polson Motorcoach and RV Resort has an equipped commercial gym, pristine landscaping, gas fire pits, outdoor kitchens and furniture.
If the amenities aren't enough to convince you to stay here, the views will! Immerse yourself in the natural beauty of the Mission Mountains and Lake Flathead while lounging on the manicured lawns. Or venture into town to go cherry-picking, whitewater rafting or golfing. You can also visit the sport clay shooting range, Polson rodeo or Saint Ignatius Mission Parish, one of the most beautiful churches in the world.
3. James M. Robb Colorado River State Park in Fruita, Colorado
Colorado is home to many outdoor sports enthusiasts. Its grand mountain ranges, hot springs and sand dunes are prime destinations for those seeking adventure. James M. Robb Colorado River State Park allows you to enjoy every aspect of Colorado wildlife, with plenty of activities for anyone looking to get back in touch with nature. The state park has full hookup RV sites, complete with fire rings, picnic tables and stand-up grills. Across the way, you have a bookstore, laundry facilities, playgrounds, shops and restaurants.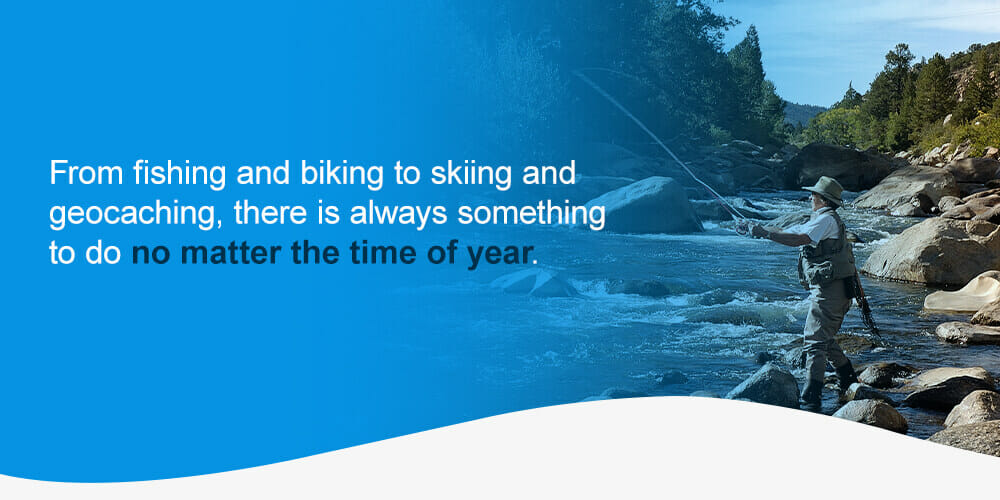 From fishing and biking to skiing and geocaching, there is always something to do no matter the time of year. What makes this state park especially unique is that it's split into sections known as the "string of pearls." These sections include Island Acres, Corn Lake, Colorado River Wildlife Area, Connected Lakes and Fruita. With the Colorado River guiding you from one location to the next, you can safely explore all that the Colorado landscape has to offer.
4. Yellowstone Grizzly RV Park in West Yellowstone, Montana
Although there are dining, shopping, museums, discovery centers and other attractions just a short walking distance away, chances are you won't want to leave Yellowstone Grizzly RV Park once you get there! The large RV camping sites have full hookups with electric, water, sewer, Wi-Fi and cable television. Without light pollution, the dark, quiet nights set the optimal atmosphere for stargazing. Who knows? You may even see a wolf or grizzly bear!
Yellowstone Grizzly RV Park is one of the cleanest and best campgrounds the Midwest United States has to offer. The staff takes the experience to the next level with genuinely friendly and helpful customer service. When you aren't visiting the enormous Old Faithful geyser or the Grand Canyon of the Yellowstone, take in the sights on a zipline or snowmobile. The campground also has a general store, gift shop, laundry room, and restrooms and bathhouses for your convenience.
5. Inn Town Campground in Nevada City, California
As one of the largest states in the US, California has miles of diverse landscapes to explore. In just a few hours, you can drive from the coastline to the grasslands, passing through several landscapes along the way. Inn Town Campground is known as one of the best RV parks on the West Coast due to its cleanliness, affordability and community atmosphere.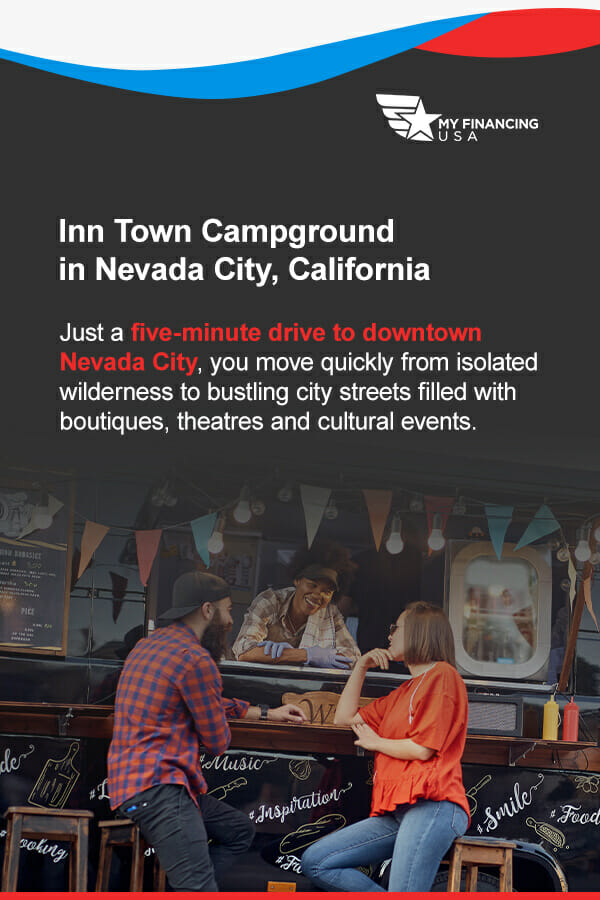 Along with access to Wi-Fi, showers, laundry and a swimming pool, campers can also freely utilize the communal kitchen and dining areas, dishwashing stations, and the barbeque area. Just a five-minute drive to downtown Nevada City, you move quickly from isolated wilderness to bustling city streets filled with boutiques, theatres and cultural events. With a camp store equipped with ice cream and s'mores fixings for the kids and alcohol available on site for the adults, there is something for everyone at Inn Town Campground.
Best RV Campgrounds in the Northeast
There is much to be said about the Northeast. Like every other region, it has its own culture and way of life. While the East Coast is often associated with New York City, beaches and heavy snowfall, there is so much more to do and see when traveling the northern states.
This compilation of the best RV parks in the Northeast will take you from Pennsylvania's hidden waterfalls to Delaware's scenic beaches, showing you the best that this region has to offer. With the best beach RV campgrounds on the East Coast and ski-ready mountains scattered across the countryside, there is always somewhere new to go and something exciting to see.
1. Ohiopyle State Park Kentuck Campground in Dunbar, Pennsylvania
Pennsylvania is home to beautiful state parks with campsites, hiking trails, marinas and waterfalls throughout the state. Ohiopyle State Park stands at the top of our list of best RV campgrounds on the East Coast.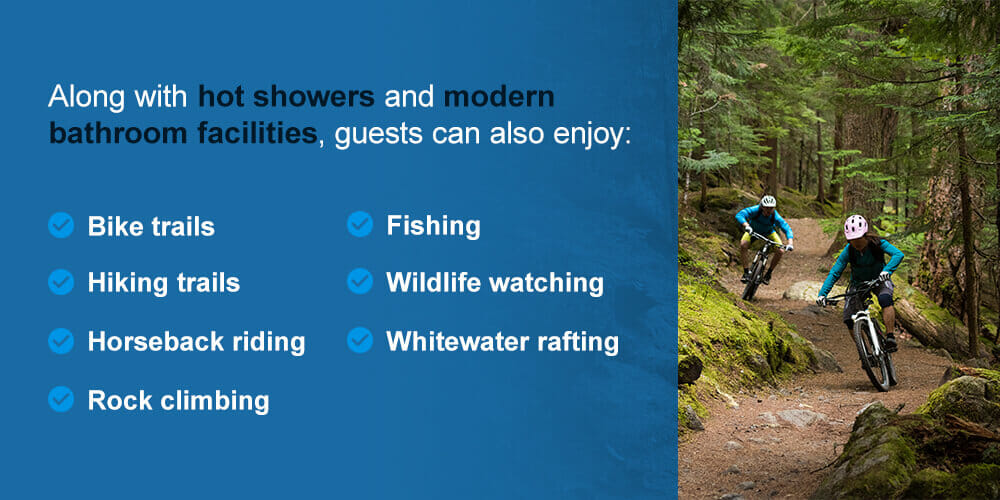 In Dunbar, Pennsylvania, Kentuck Campground provides the ideal rustic setting for unplugging from modern life and returning to nature. It is the perfect getaway for nature lovers and adventure-seekers. Along with hot showers and modern bathroom facilities, guests can also enjoy bike trails, hiking trails, horseback riding, rock climbing, fishing, wildlife watching and some of the best whitewater rafting in the state.
If you do make your way to Ohiopyle State Park, make sure to visit Frank Lloyd Wright's house on Kentuck Knob. It's a national historic landmark built into the landscape by the famed architect himself. And, of course, don't forget to snap a few pictures in front of the Ohiopyle waterfalls!
2. Delaware Seashore State Park in Rehoboth Beach, Delaware
If you love watersports and romantic sunsets on the beach, Delaware Seashore State Park may be just the vacation spot you're looking for. This campground offers ocean views and bay coastline, so you have plenty of space to sunbathe, surf and swim all summer long. Along with modern bathhouses and changing rooms, the state park also has concession stands and boat rentals for your convenience.
There are two campgrounds on either side of the Indian River Inlet, with campsites that feature three-point hookups for your RV. The best way to end your camping excursion is with dinner and drinks at the Big Chill Beach Club, overlooking a 360-degree view of the Atlantic Ocean.
3. Lake George Escape in Lake George, New York
Forget about the crowded streets of Manhattan and see a different side of the Empire State. Lake George Escape provides a wooded haven nestled into the Adirondack Mountains of upstate New York. Visitors can enjoy classic summer activities like fishing, swimming, tubing, kayaking and canoeing, along with group recreations such as bingo, wagon rides, sports, crafts and even "paint and sip" events.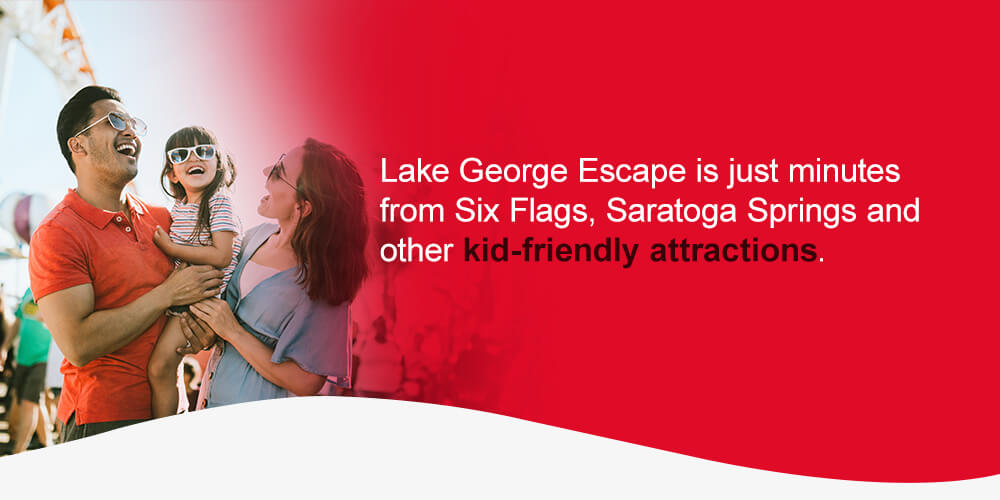 Lake George Escape is hailed as one of the best family RV parks on the East Coast because it's just minutes from Six Flags, Saratoga Springs and other kid-friendly attractions. With so many activities and attractions available, you'll never be at a loss for something to do!
Each RV campsite comes fully equipped with water, electricity, a fire pit and a picnic table for your convenience.
4. Pumpkin Patch RV Resort in Hermon, Maine
Along with amazing seafood, idyllic shorelines and rich history, Maine is also known for its beautiful wildlife and campgrounds. At the top of the list for best RV parks in America sits the Pumpkin Patch RV Resort in Hermon, Maine. With fair prices and a refreshing country atmosphere, you'll find that the adult-catered RV park is the quiet escape you've been looking for.
Pumpkin Patch RV Resort has pull-through sites in shaded and open areas, as well as laundry facilities, Wi-Fi and a dog park for your best friend. The facilities are the cleanest campground amenities you'll ever find. Enjoy walking through their beautifully landscaped gardens, travel to one of the many coastal lighthouses, or visit the storybook towns for a day of antiquing and flea markets.
5. West Haven RV Park and Campground in Fairview, Pennsylvania
Lake Erie is the fourth-largest Great Lake in North America and a long-time hot spot for campers of the East Coast. West Haven RV Park and Campground lets you enjoy all that Lake Erie has to offer with monthly and seasonal rates for their RV sites.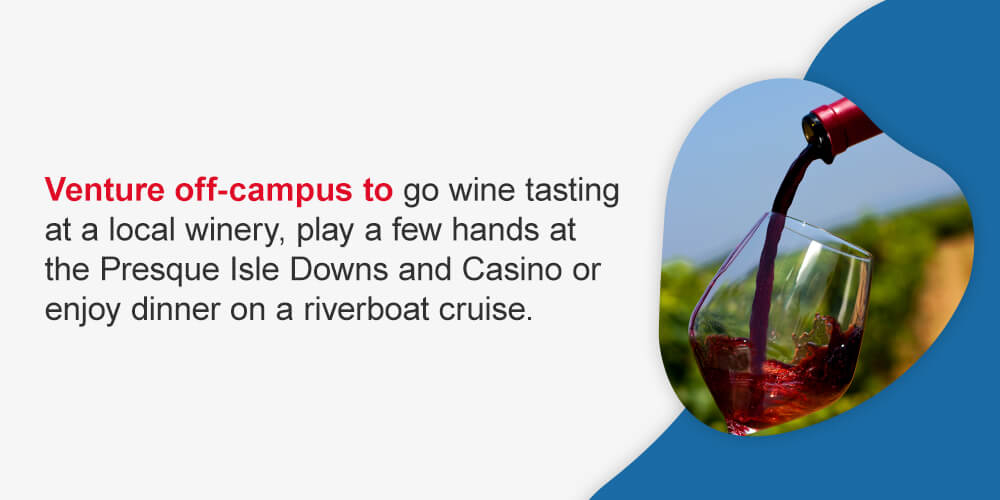 West Haven Campground is considered to be one of the best RV parks in the US. When you don't feel like taking a dip in their newly renovated swimming pool, venture off-campus to go wine tasting at a local winery, play a few hands at the Presque Isle Downs and Casino or enjoy dinner on a riverboat cruise.
Traveling with the kids? No problem! West Haven Campground is also one of the best RV parks for kids, with an indoor waterpark, children's museum, amusement park and zoo all within just a few miles of your site.
6. Apple Island RV Resort in South Hero, Vermont
New England is known for its spectacular autumn foliage, and Vermont's landscape is the perfect backdrop for your next RV vacation. Apple Island RV Resort has everything you need for a weekend away, including Wi-Fi, a fitness center, a playground and bathhouses.
After taking in a relaxing game of golf on the resort's public golf course, head over to the general store and deli for fresh pastries, sandwiches and souvenirs to commemorate your visit. Apple Island RV Resort also features a saltwater pool, farmer's stand, free concerts and community campfires to make the most out of your New England getaway.
Travel to the Best RV Campgrounds With My Financing USA
The United States is full of amazing sightseeing opportunities and adventurous locations to explore — and there's no better way to explore the world around you than from the comfort and convenience of an RV suited to your family's exact traveling needs. Whether you're looking to travel across the country or want to stay in your own backyard, there are so many campgrounds to explore in your own RV. With My Financing USA, you can start planning your next RV excursion sooner with our RV loans.
With just a few clicks, you can fill out an application and get personalized service within 72 hours to jumpstart the process. Our team is always ready to assist with application questions or to help you choose the best loan options for your needs. With an online customer interface and competitive rates, you won't find a better financing solution. Take five minutes to fill out an application today and get ready to see the world up close.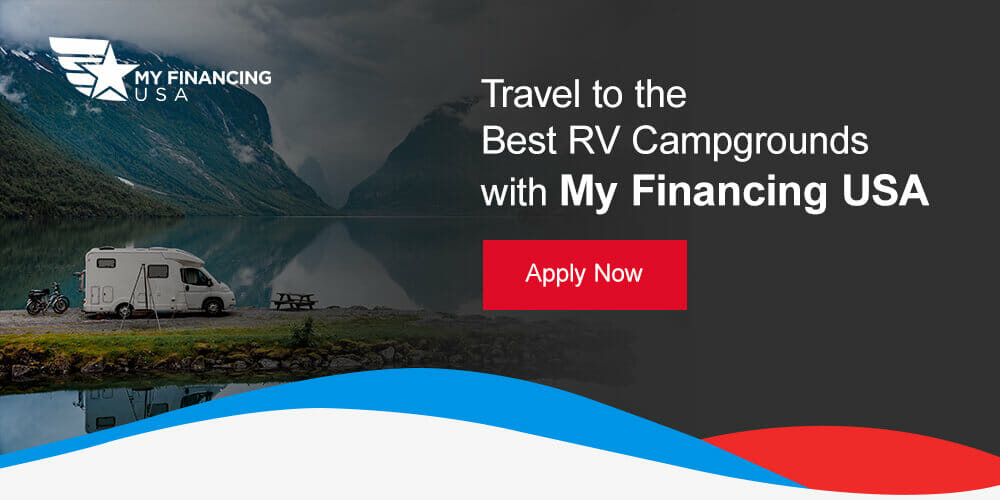 ---
Additional Resources on RVing:
---