The Blue Ridge Parkway is one of America's most popular drives. Spanning over 450 miles, the parkway winds through Central and Southern Appalachia. This long drive is renowned for its mountainous terrain, beautiful landscapes and variety of biodiversity. And with so many unique places to stop along the way, the Blue Ridge Parkway is perfect for an extended road trip.
If you've never visited the Blue Ridge Parkway and you're planning a trip, you want to see the best sights. With so many available places to stop at and explore, crafting a perfect itinerary takes additional care. Luckily, we're here to help. Read on for the ultimate guide to a Blue Ridge Parkway road trip.
Where Is the Blue Ridge Parkway?
First things first, the Blue Ridge Parkway is located along the Blue Ridge of the Appalachian Mountains. It links the Shenandoah National Park in Virginia to the Great Smoky Mountains National Park in North Carolina and Tennessee. At 469 miles in length, it is the longest road planned as a single unit in the United States.
The long drive displays the beautiful and rugged terrain of the Appalachian Mountains. From panoramic mountain views to roaring waterfalls and rivers, the parkway is famous for its natural beauty. It contains a wide range of natural habitats, vegetation and wildlife and passes through many notable cities and towns. The parkway is lined with many rest areas and scenic overlooks so visitors can get closer to nature. Open year-round, the Blue Ridge Parkway is a popular road trip destination for millions each year.
How Long of a Trip Should You Plan?
The length of your Blue Ridge Parkway road trip depends on how many stops you'd like to make. The road was designed for a slow and leisurely drive, with a maximum speed limit of 45 miles per hour. If you just want to drive on the parkway and not make many stops, you could get through it in one day. But with so many places and attractions along the road, you could quickly turn your trip into an extended visit.
If you want to see everything the parkway offers, you could easily fill a week with activities. Or, if you only have a few spots in mind, you could plan for a three- or four-day trip. The best way to decide your trip's length is by checking out the towns, parks and other attractions along the parkway. Then, you can decide what areas you want to see and plan an itinerary around your interests. Whether you opt for the scenic drive or plan to stop in multiple locations, you're sure to have an unforgettable trip.
What Time of Year Should You Plan Your Trip?
You can visit the Blue Ridge Parkway at any time of year, so choosing a trip time depends on your preferences. While the parkway is open all year, many visitor centers, concessions and campgrounds have varied operating schedules. For instance, many campgrounds and concessions are open during spring and summer but not winter. Research operating hours before setting off on your drive.
The Blue Ridge Parkway is particularly popular during the summer and fall months. During summer, you can see the full blooms of forests and wildflowers. The elevation makes the area prone to frequent thunderstorms during hotter months, so prepare for rain if possible.

Many people visit the parkway during autumn to see the beautiful fall foliage. The forest leaves change into beautiful expanses of gold, brown, red and orange. The peak of the colors is typically during the last two weeks of October. Fall is also a popular time for the parkway because of its low humidity and reduced rainfall.
You can also visit during winter, but be prepared for ice and snow. Many sections of the road get closed during the winter months due to snow accumulations, which could disrupt your trip. There's occasionally a late snow in March, and excess spring rainfall leaves the greenery looking lush as summer rolls in.
Best Places to Stop Along the Way
A large component of the Blue Ridge Parkway's popularity is its many roadside destinations. From gorgeous pull-offs that let you admire the scenery to unique cities perfect for exploring, you can find countless ways to spend your adventure.
Here are a few of the best places to visit on the Blue Ridge Parkway:
Charlottesville
Many visitors kick off their Blue Ridge Parkway trip with the city of Charlottesville — even though it isn't an official part of the parkway. Located in Virginia, the city is home to the University of Virginia and many other noteworthy attractions. If you plan on starting your parkway trip in Virginia and heading south to North Carolina, Charlottesville is a great place to begin. It's easy to access the parkway from the city, and there is a local airport you can fly into if you're traveling to the parkway from a greater distance.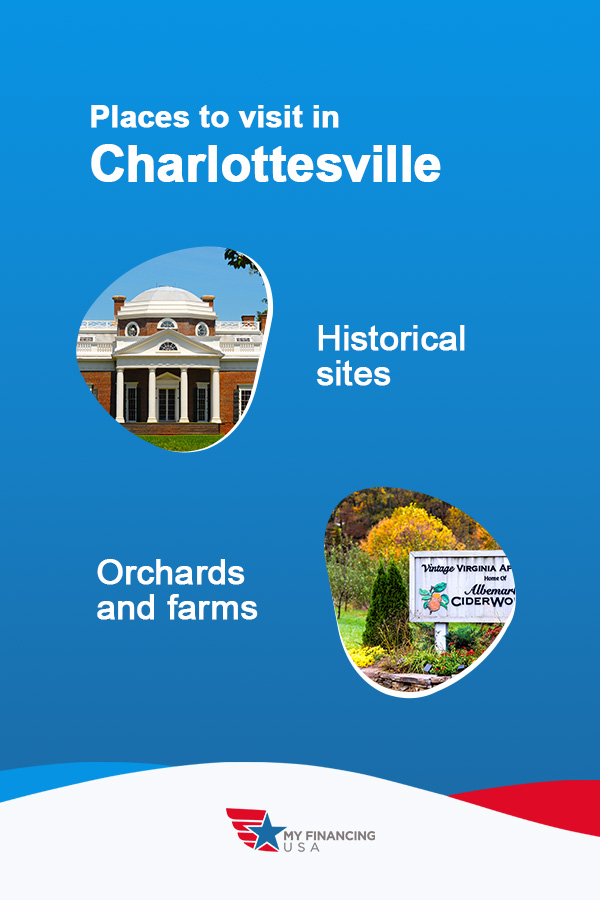 You can head straight for the parkway or explore Charlottesville. The city has many exciting places to visit, such as:
Shenandoah National Park
The Shenandoah National Park is a signature stop for many Blue Ridge Parkway travelers. Whether you start or end your journey in this park, it's a memorable destination for the road trip. The park is home to over 200,000 acres of protected lands. With gorgeous vistas, fields of wildflowers and countless wildlife species, Shenandoah is one of the most beautiful parks America has to offer.
The park is open year-round, but some facilities like campgrounds are only available seasonally. From countless hiking trails to historical exhibits and wildlife viewings, you can find many ways to spend your time in this beautiful park. Shenandoah National Park is also a great place to spend the night if you plan on an extended parkway trip. You can choose from various cabins and campgrounds and rest overnight in the beautiful nature.
Crabtree Falls
Crabtree Falls is an extraordinary waterfall located near milepost 340 in North Carolina on the Blue Ridge Parkway. The 60-foot falls are one of the most notable stops along the parkway, accessible directly from the road. You can take one of two trails to reach the waterfall:
A moderate 1.8-mile hike that takes you to the falls and back
A more strenuous 3-mile hike that guides you through the entire loop
The fall is named after the nearby Crabtree blossoms, all beautifully pink and vibrant in the springtime. The location is also great for a rest stop or an overnight stay, with nearby picnic tables, tent sites and RV sites available.
Natural Bridge State Park
Named after the 215-foot tall Natural Bridge in Virginia, beautiful meadows and mountains surround this state park. The park is perfect for a daytime stop during your parkway road trip. You can view the limestone Natural Bridge and try one of the multiple hiking trails available. For instance, the Blue Ridge Trail offers breathtaking views of the Blue Ridge Mountains.
Or, if you're planning a family vacation, you can check out the Children's Discovery Area. The area has simple trails and an immersive outdoor classroom that allow kids to learn more about nature.
Roanoke
Roanoke, Virginia, is a perfect stopping point for your parkway travels. You can take a break from the road and explore the city's many attractions. A cultural and business hub of the Blue Ridge Mountains, Roanoke has many opportunities for travelers of all interests.
Here are some noteworthy aspects of Roanoke you can try:
Attractions: From museums and zoos to galleries and arboretums, Roanoke has attractions to suit every traveler. You could explore the Mill Mountain Zoo or the Spikenard Farm, both home to a variety of wildlife. Or, browse the many museums and galleries, such as The History Museum of Western Virginia.
Historical sites: Roanoke is also rich in history, and you can visit many historical sites to further your knowledge of the city's past. For instance, you can visit the Booker T. Washington National Monument, a location commemorating the famous educator's life. Head to the Virginia Museum of Transportation for an interactive look at the state's transportation development.
Dining: Roanoke is a perfect place to stop for dinner during your drive. From breweries and wineries to sit-down restaurants, you're sure to find an unforgettable meal on your visit.
Shopping: Whether you love shopping for antiques, local produce or homemade crafts, Roanoke's shopping district has an answer for you.
The Biltmore Estate
The Biltmore Estate is an unforgettable stop for your Blue Ridge Parkway journey in Asheville, North Carolina. The historic estate is one of the largest privately owned homes in the United States. The 250-room house is famous for its breathtaking architecture and beautiful surrounding grounds.
The Biltmore Estate is perfect for a day trip. With so many activities to try, you can easily spend a day or more at the gorgeous estate. You could try:
Guided tours: The estate offers tours of its many facilities, from the house itself to the surrounding gardens. You can explore the area at your own leisurely pace or register for a guided tour to learn more in-depth facts about the history.
Dining opportunities: Biltmore also has a wide range of dining opportunities. Whether you want signature Appalachian food, creamy desserts or fine wines, you can find a dining option for you and your travel mates.
Spa treatments: If you're looking for extra relaxation, you can try Biltmore's spa treatment options during your visit.
Great Smoky Mountains National Park
Lastly, the Great Smoky Mountains National Park is another signature attraction on the Blue Ridge Parkway. If you began your adventure at Shenandoah National Park, this destination could mark the end of your trip. Or, if you choose to start here instead, the park could be the beginning of your adventure. Either way, the Great Smoky Mountains National Park is an unforgettable stop.

The park is famous for its stunning natural landscapes. From waterfalls and creeks to wildflower meadows and striking mountains, the park presents extraordinary beauty. You could visit the Newfound Gap, a low point in the mountains that sits on the border between North Carolina and Tennessee. Or, explore the many waterfalls and waterways of the Deep Creek area.
Great Smoky Mountains National Park also has many camping opportunities for both cars and RVs. Whether you prefer front-country or back-country accommodations, you can rest overnight in the gorgeous park.
Best Restaurants to Try During Your Trip
After a long day on the road or exploring attractions, there's nothing better than a delicious meal. The Blue Ridge National Parkway has countless dining options, from the beginning to the end of the road.
These are some notable restaurants to try during your road trip:
Mabry Mill Restaurant and Gift Shop
The Mabry Mill Restaurant and Gift Shop is known for its traditional Appalachian food and shopping. The iconic mill in Meadows of Dan, Virginia, is a signature image of the parkway, and you can explore the surrounding area before or after your meal.
The restaurant offers a wide range of breakfast foods, from oatmeal and buckwheat pancakes to biscuits and gravy. For dinner, they have traditional dishes like pot pie and pulled pork. You can browse the gift shop during or after your meal and discover a broad collection of local gifts and foods. Purchase anything from locally-ground buckwheat flour to Blue Ridge Parkway-themed souvenirs.
Northwest Trading Post
The Northwest Trading Post is another excellent option on the parkway, located in Glendale Springs, North Carolina. It offers handcrafted items in addition to its food menu. You can stop in for a quick sandwich or slice of fudge, all while taking in the breathtaking scenery of the nearby mountains.
Pisgah Inn and Restaurant
This inn and restaurant in Canton, North Carolina, has welcomed visitors since 1919. Open from April 1 to the end of October, the Pisgah Inn and Restaurant is a wonderful option for your parkway travels. The restaurant serves breakfast, lunch and dinner, so you can stop in at whatever time suits you best — just be sure to make a reservation. The dining room overlooks a beautiful, panoramic view of the nearby mountains. You can also explore their country and craft store and find the perfect gift to remember your trip!
Plan the Ultimate RV Road Trip With My Financing USA

No matter where your Blue Ridge Parkway adventure takes you, you're sure to experience breathtaking views and remarkable attractions. One of the best ways to explore the parkway is with an RV. You can admire the natural landscapes and relax comfortably as you make your way down the parkway.
At My Financing USA, we understand the importance of a solid road trip vehicle. We can help match you with the best RV loan for your needs. With an entirely online process and dedicated customer service professionals, we make the process simple. You can start your Blue Ridge Parkway adventure in no time in a recreational vehicle that suits your financial situation and trip requirements.
To get started with My Financing USA, take five minutes to fill out an application online today!
---
Additional Resources on Road Trips:
---