Quick Navigation:
As much as most boat owners would love to use their boats year-round, doing so is unfortunately not an option for many. Whether you're without your own dock or don't want to leave your boat in the water through winter, you'll need boat storage.
There's a lot to consider when storing your boat, from preparing it for storage to your options, costs and security. Learn everything you need to know about storing your boat so you're prepared when the time comes.
When to Start Looking Into Boat Storage
Generally, it's best to start thinking about storage for your boat a few months before you'll stop using it for the season, especially if it's your first time storing it. Give yourself ample time to weigh your options and logistically determine how you'll store your boat.
When you should start looking into boat storage specifically will depend on how often you use your boat and whether you have wet storage during the boating season. If you can't keep your boat docked between uses, you'll need to plan for boat storage upon purchasing your boat. If you can leave your boat docked between uses, you likely won't need to worry about storage until close to the off-season.
Your location is another factor. Boaters in mild climates can use their boats longer because of the warmer weather, while the earlier onset of cooler weather limits boaters in harsher climates. So, boaters in harsher climates should begin thinking about winter storage before the end of the summer, especially in locations where the cooler seasons take over quickly. You'll also need time to prepare your boat for storage.
How to Store a Boat
Boats are prone to normal wear and tear throughout the season, whether from sitting in the water or consistent use. Regardless, taking a few steps to prepare your boat for storage will help keep the vessel in good condition while in storage and give you a headstart in prepping for the end of the off-season. You should ensure your boat is clean and corrosion free when it goes into storage. Here are a few aspects to consider before taking your boat to storage.
Exterior
Weather and water can cause significant damage and wear on your boat's exterior. Floating debris can scratch the hull, and algae or barnacles can grow on the underside of your boat. To prevent these issues from worsening while your boat is in storage, thoroughly clean and rinse your boat's exterior with fresh water.
Wipe down the windshields, trim and every nook and crevice. Applying a light coat of polish can also help refresh your boat's appearance and lock out dirt and moisture during storage.
Interior
Dampness, mold and mildew can become serious issues for boat interiors. Thoroughly clean all interior spaces and:
Open hatches, compartments and other spaces like lockers, holds and storage areas so they can air out and get exposed to sunlight.
Clean your seat cushions and allow them to dry out.
Remove any equipment that may need to dry out or be cleaned, like life jackets.
Remove radios and other electronic devices and store them in a secure space.
Engine

Caring for your boat's engine before storage helps ensure it's ready to run smoothly again next season. Degrease all the chambers, valves and pistons and ensure they're debris-free. Use a cloth and a bit of oil to wipe down the engine to prevent the exterior from corroding and rusting. Change the oil and oil filter to prevent old, dirty oil from sitting in the engine over the off-season.
Fuel System
It's best to consult with your boat's manufacturer or owner's manual, but most boats should be stored with a nearly full tank of fuel. While you should always leave room for fuel expansion, the more fuel in your tank, the better. When there's empty space in your fuel tank, moisture is more likely to enter the tank and form condensation. Condensation in your fuel tank results in water sitting at the bottom of the tank, which leads to various other issues for the entire system.
Inspection
In addition to these major parts of your boat, do a general inspection of the entire vessel. Be sure to check the battery and keep it dry, lubricate moving parts, check for loose parts and make repairs and replacements before taking the boat to storage. Also, make sure your boat cover is in good condition so it properly protects your boat.
Pros and Cons of Boat Storage Options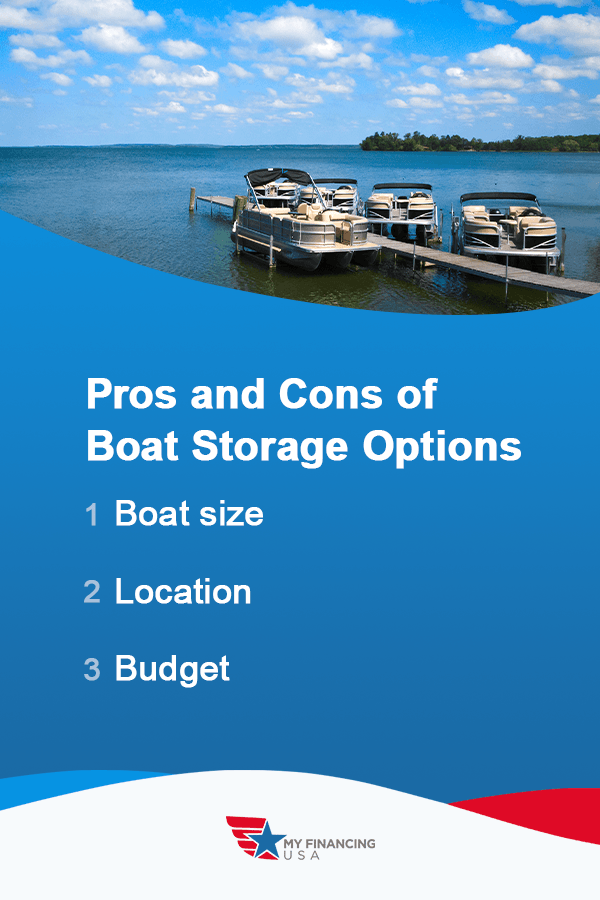 Boat storage options vary significantly, and the best option for you will depend on many factors, including:
Boat size: Big boats have fewer storage options because of their size. While options do exist, you may need to travel farther or pay more to store a larger boat. Many more options exist for small- to standard-sized boats.
Location: Depending on where you live or need to store your boat, dry storage may be your only option. Boaters in cold, harsh climates should avoid storing their boats in the water because freezing water can cause significant damage to the hull, pipes and other boat parts.
Budget: Different storage options come at different costs, so it's important to determine a budget. What can you comfortably afford to pay for storage? Be sure to also consider the length of time your boat will be in storage, as this will increase the cost.
Keep these factors and more in mind as you consider these types of boat storage and how they'd work for you.
Indoor Storage
Indoor storage typically offers the most protection for your boat because it's shielded from outdoor elements that can damage your vessel. For this reason, indoor storage is popular, and empty storage facility space can be hard to find. Indoor storage can range from dry stack facilities to your own garage. Here are a few types of indoor storage options and their pros and cons:
1. Indoor Self-Storage
Indoor self-storage facilities can be a great option for boat storage. This option provides complete protection from UV rays, snow or other inclement weather. Self-storage facilities are abundant, so you may be more likely to find open space.
You also have the convenience of taking your boat out of storage as you please. However, finding a storage unit big enough to store your boat may be challenging. Indoor self-storage facilities can also be pricey, depending on the area or time of year. You'll have to consider transporting your boat from the water to the storage facility, too.
2. Dry Stack Storage
Dry stack storage is typically located at or near a marina. These facilities essentially store boats on shelves in a warehouse using forklifts. Dry stack storage keeps your boat protected from the elements.
Most dry stack storage is for smaller boats. While stack storage is often located near the ocean or lakes for convenience, most facilities only allow boaters to take their boats out at certain times, and there may be a wait during busy times.
3. Your Garage
Many small boat owners store their boats on their own property. If you have a garage, barn or other structure that your boat fits in, this option can cost you next to nothing to store your boat. Storing your boat in your garage gives you the freedom to go boating at any time. Just keep in mind that leaving your boat to sit on a trailer may result in the need for extra maintenance.
Outdoor Storage

Outdoor boat storage can be significantly more cost-effective than many indoor storage options. Outdoor storage can either be wet or dry and is often more widely available.
This choice is often the preferred storage method of larger boats, as they're more difficult to transport and store indoors. However, keeping your boat outside typically offers significantly less protection from the elements.
Here are a few common ways to store your boat outdoors:
1. Marina
Marinas have wet slips that allow boaters to keep their boats docked in the water at the marina. Marinas can vary in price and often have different boat storage options. Storing your boat in the water can be beneficial if you live in a mild climate and use it often — your boat stays in the water, so there's no need to transport it.
As for the cons, leaving your boat in the water for extended periods can cause significant damage. Your boat is also left completely exposed to sunlight and other exterior elements.
2. Outdoor Self-Storage
Outdoor self-storage yards are generally an affordable dry storage option. Outdoor self-storage areas may have open space for you to park or block your trailer, or there may be designated parking spaces. If the outdoor self-storage facility doesn't offer boat coverage or protection, you may need to invest in a boat cover to protect it from exterior elements.
3. Your Driveway or Yard
If you don't have a garage but have a yard or driveway space, you can store your boat outside at your house. While it can be an eyesore, you'll save money on storage costs. Also keep in mind that if your boat is uncovered, it will be more susceptible to damage and may require more maintenance.
How Much Does It Cost to Store a Boat?
The cost of storing a boat varies significantly depending on factors like location, boat size, storage duration and storage facility. Costs differ from location to location with the cost of living and climate in the area. For example, the price could vary significantly from storing your boat near Lake Michigan compared to Malibu, California.
Many storage facilities, often indoor or marinas, charge boaters per foot of their boat length or height, meaning longer, taller vessels would cost more to store than smaller boats. With a larger boat, you'll also be more limited as to where you can store your boat, which could lead to spending more on storage costs. Typically, indoor boat storage costs more than outdoor boat storage because it provides more protection and reduces the risk of damage. Some marinas are cost-effective, while others can be pricey.
You need to factor in the duration of time your boat will be in storage to determine an accurate cost. Depending on the factors above, your boat storage cost per month could range from a few hundred dollars to a few thousand dollars. Storing your boat at home is the most cost-effective and convenient option, though not every boat owner can. If you need to use a storage facility, be sure to weigh the pros, cons and costs to find the best fit for your boat.
What's Included in Boat Storage Costs?
While some boat storage facilities simply provide a place to store your boat, others include extra services or inclusions in the storage fees. When comparing facilities or outdoor lots and their prices, be sure to also consider what's included in the overall cost. For example, some companies offer extras like:
Boat transport: The storage company may pick your boat up from the water with their trailers and transport it back to the storage facility or take it back to the water when you want to take it out of storage.
Shrink-wrapping: Shrink-wrapping involves wrapping your boat in plastic sheeting to create a custom-fit cover. Shrink wrapping is one of the most effective ways to protect the boat during winter storage.
Preventive maintenance: This maintenance helps prevent serious boat issues. Some storage companies will maintain your boat over the winter to ensure it's ready to go again in the spring.
The Security of Boat Storage
A boat is a big investment, and if you're leaving it in storage somewhere, you should ensure it will be secure. Most storage facilities have security cameras to deter criminals and catch anyone breaking in. Indoor storage options are typically more secure than outdoor storage because the boats are locked inside under surveillance. Some outdoor storage lots may also utilize security cameras, though the bigger security concern is whether the lot is fenced in.
Some people choose to pay a little more for storage if they know the facility is more secure. Regardless, it's best to remove anything of value from the boat before putting it in storage, making it a less likely target in case of a break-in. Additionally, if you're leaving your boat parked on a trailer, consider putting a lock on the trailer so no one else can hook it up to their vehicle and drive it away.
Check out reviews, ask the company about their security policies and ask friends or family for recommendations to find secure boat storage options near you.
Apply for a Boat Loan With My Financing USA

Now that you know how to store a boat, it's time to get a vessel of your own. Whether you have good or low credit, My Financing USA can help you find financing for a boat. We match your information with various lenders nationwide to find one that meets your financial needs. If you're approved, you could receive your financing within a few days.
To find out if you qualify, fill out our online application or contact us for more information about our financing process.
---
Additional Resources on Boating:
---