Quick Navigation:
Should you buy an RV from a dealer or private seller? When you want to explore the country through the open road, RVs are a great way to do it. With many available features and models, you can find the best option for your needs, helping optimize your needs and comfort. As you approach the buying process, understanding how to buy an RV can help you choose the best option.
Pros of Purchasing an RV From a Dealership
People often think of dealerships when considering an RV, especially a new one. This buying method offers several benefits to buyers, making it ideal for many individuals looking for an RV.
1. Includes Plenty of Options in One Place
At dealerships, you can explore several purchasing options simultaneously with all the organization's vehicles in one place. Dealerships offer diverse selections, helping shoppers discover and find options that match their exact needs. At a dealership, you can find various RV:
Makes
Models
Layouts and floorplans
Sizes
Amenities
This purchasing method is perfect for people still trying to figure out what they want, allowing them to speak with professionals who understand the differences between models or compare models against each other in one session. Buying an RV from a dealership can also greatly benefit first-time RV owners because sales professionals can better pair you with a model that matches your current skills for better RV care and management.
2. Has New and Used Options
Along with selection diversity, many dealers offer some used options for interested buyers. Many individuals seek used models because they are often cheaper. Dealerships can simplify the purchasing process by creating a more comprehensive collection of used models than you can find with private sellers. So, buyers can still explore several options as they would when buying new.
Further, many dealerships require used models to undergo performance and safety testing to ensure all used models meet their standards. When you buy from a reputable used RV dealership, you can receive a quality model that meets your expectations and needs.

3. Offers Several Functions for Buyers
Dealerships are for more than just buying and comparing options. Many businesses offer additional services to customers, including interested buyers and current owners:
Trade-ins: For returning buyers, some dealerships allow individuals to trade in older models for newer ones at a discounted price. Purchasing contracts will outline the requirements for trade-ins, like your vehicle's age and condition.
Comparisons and tours: Many dealerships encourage individuals to explore their options to find the model that works best for them. You can ask your sales professional and other personnel if you can tour various possibilities to get a closer look at models and determine how they can meet your needs.
Repairs and servicing: Dealerships can also help owners maintain RVs purchased from their location. Regular servicing and timely maintenance can strengthen your RV's performance, safety and longevity, but finding a quality service can be challenging. At dealerships, you can ensure employees understand your RV and will provide excellent care, from annual inspections to replacing specific parts.
Like the selection diversity of dealerships, the additional services can benefit first-time RV owners who might need help completing some services themselves or finding a reputable partner. When your dealership can handle various aspects of RV ownership for you, owners can better justify their new or used RV investment from a dealership.
4. Aims for a Quality Customer Experience
Dealerships have reputations that depend on their customers to attract new shoppers. Reviews, recommendations and referrals from existing and past customers help keep their businesses thriving, along with any marketing strategies. Because of this, dealers make the customer experience a priority. They may offer competitive pricing, comprehensive services, additional benefits and perks to support your needs and ensure you walk away satisfied, regardless of whether you purchase an RV during that visit.
5. Handles Taxes and Title Paperwork for Buyers
Along with their other services, dealerships will complete more difficult processes to further boost the customer experience for buyers. On-site professionals can walk customers through taxes and other paperwork, like putting the RV title in their name, ensuring that customers understand processes and that all information is accurate and correct. By streamlining the process, customers can have a more positive experience with the dealership and their RV.
Cons of Purchasing an RV From a Dealership
While there are many reasons for interested buyers to choose a dealership over private sellers, you should be aware of the considerations that come with buying from an RV dealer. With this information, you can make a more well-informed decision that supports your needs and RV purchasing goals.
1. Comes With Higher Prices
Dealerships tend to have higher prices for their new and used RVs, which can deter buyers who are looking for cheaper options or working with a strict budget. However, these higher prices often include quality guarantees and various services unique to dealerships, ensuring you can optimize your investment when choosing this option.
2. Lacks a Comprehensive History for Used Models
While dealerships can be a great and efficient way to explore multiple used models simultaneously, you should still be wary when considering these options. Dealerships may require used models to pass their quality and safety inspections before buying them from owners, but they might not have access to the RV's complete performance history. So, dealers wouldn't be able to answer questions about past repairs, service received or equipment quirks.
This lack of information can create a higher learning curve for individuals adjusting to their used RV after purchase.
3. Limits Selection to Their Present Stock
Dealerships can offer wide selections for individuals looking for specific features, makes or models. However, they are limited to what they currently have. If they don't have what you want, you will be out of luck at that location and will need to choose something else or seek out another dealership. Both alternative options can be time- and cost-consuming, preventing you from using your RV immediately.
Another common misconception is that RV dealerships are the same as car dealerships. While the two are similar in function and services, RV dealerships will not typically trade with other dealers to get the make, model or other feature you want.
4. Increases Long-Term Costs
While warranties and insurance plans can make purchasing an RV from a dealership more appealing than a private buyer, you should always ensure you need these deals before agreeing to them. Often, individuals sign up for warranties with high payments only to rarely need covered services, making it more costly than it was worth.
Additionally, initial repairs for used models can offset costs for slightly cheaper models. You can bring a third-party inspector to review used and new models to provide an objective view of your RV. They can identify damages and risks, helping you better understand your potential model and investment value.
Pros of Purchasing an RV From a Private Party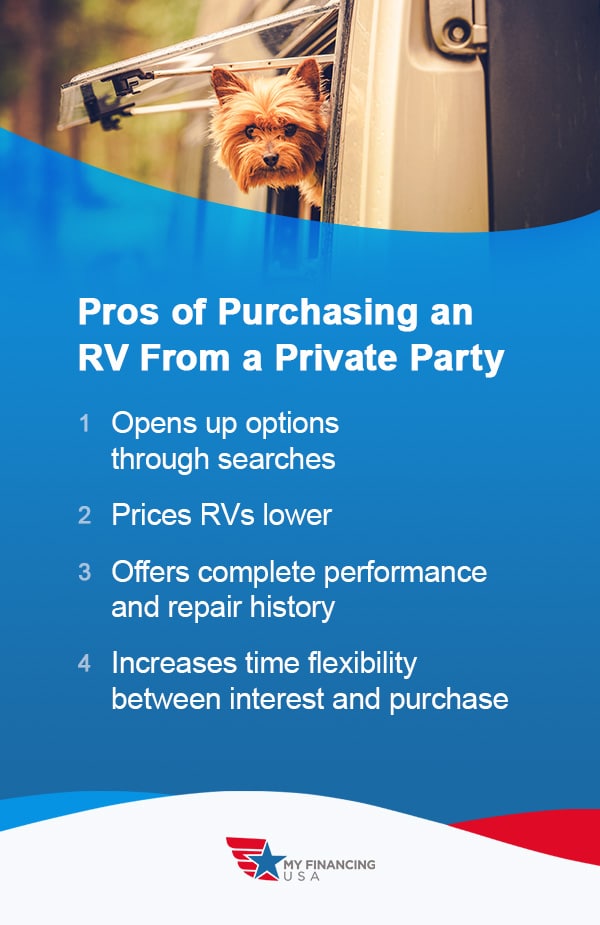 Buying an RV from a private seller versus a dealer can offer a quality alternative purchasing experience. This option can benefit many interested buyers, allowing them to find the price and model that meets their needs. Understanding the perks of this purchasing method can help individuals decide if this process is right for them.
1. Opens up Options Through Searches
Dealerships might limit what's available in their lot presently, but you can search for individuals selling used options by model and other specifications. Interested buyers can find sites and forums dedicated to connecting RV sellers and buyers, allowing you to optimize your time and research.
This option is ideal for people who already know exactly what they want and need. While shoppers who are unsure can still use sites and forums to explore available options, searching by your requirements and specifications can be more efficient than going to a dealership.
2. Prices RVs Lower
Private sellers often offer lower prices than dealerships. Because they lack services like repairs and financing, you might only be covering the market price for the RV itself. When you're looking for an RV with a tighter budget, getting a used RV from a private seller can better support your financial needs.
When private sellers are often the current owners rather than businesses, they have more flexibility when selling their RV than dealerships. They do not have to consider other factors to keep a business running, like employee paychecks, insurance and parts stocks. Instead, a private seller might only be focused on making some profit. This system gives interested buyers more room to negotiate pricing, so both parties can come to a conclusion that meets your needs.
3. Offers Complete Performance and Repair History
As the previous owners, private sellers can usually provide a comprehensive RV history, including its performance and any maintenance needed. Previous owners can often tell you how they received every scratch and dent, including what they have done to fix previous damage.
Private sellers understand what parts will squeak when running and signs that you'll need a tune-up soon. If the equipment has any quirks, they'll be able to provide insight into this as well.
Private sellers and previous owners will also likely include all accessories needed in your deal, from vent covers to car hitches. When you have everything you need upon purchase, you can start your RV adventure immediately.
4. Increases Time Flexibility Between Interest and Purchase
Many shoppers feel pressured at dealerships to purchase immediately during their first visit because sales professionals highlight limited sales and deals. They feel the model and price they want might not be available if they leave and think about the decision. Alternatively, buying from private sellers can add more flexibility for buyers.
Before meeting with the seller, you might communicate with them online to discuss meeting times, review more pictures of the RV or start the negotiation process. After the meeting, you can take your time touring the vehicle and asking questions. If the seller has no other offers for the RV, you can think more about your decision and review critical information, like performance and repair history. If you want to carefully consider your options and think about your decision, buying from a private seller might be ideal.
Cons of Purchasing an RV From a Private Party
When choosing between a used RV dealer versus a private seller, knowing the potential drawbacks of private sellers can help determine if this option is right for you.
1. Must Work Together for Title Transfer
One process you are responsible for when working with private sellers is the title transfer. In this scenario, you must file all paperwork with the seller to the right organizations, ensuring all information is correct to properly transfer the title to your name. Individuals who have never done this before might experience more confusion and inefficiency as they navigate processes. If you work with My Financing USA to finance your RV, we take care of this process for you!
2. Must Travel to Their Location
You can find RV dealerships all over the country, ensuring you can find something with your needs locally. Likewise, buyers can also find private sellers nationwide. However, the buyer you want to connect with might be far from you. You'll need to specify your search to your area, which can limit your results, or you'll potentially need to travel long distances to view and purchase the RV.
3. Not Obligated to Disclose History

While private sellers can provide a more detailed vehicle history, they don't have to. Further, they can even be dishonest about its repairs and performance to make the vehicle seem more appealing to potential buyers or increase the offering price. Like dealerships, you can bring a third-party inspector to review RV conditions to ensure all disclosed history is accurate and reliable.
Should You Buy Your RV From a Dealer or Private Seller?
The choice between private sellers and dealerships will depend on your circumstances and needs. Every buyer looks for different experiences and offerings, drawing them to one buying method over another. That said, you can consider buying your RV from a dealer if:
You're making your first RV purchase
You'll be trading in your current RV
You aren't sure what make, model or class you want
You want to purchase a new RV
You want a streamlined paperwork process
A private dealer may be the right choice if:
You want a used RV
You'd feel comfortable negotiating the price
You want to save money on your purchase
You're hoping to get accessories thrown into the deal
You would be willing to travel to get your purchase
Get the Best Deal No Matter What With My Financing USA
Regardless of which option you choose, My Financing USA can support your decision with powerful financing options.
My Financing USA helps individuals secure RV loans efficiently, taking as soon as 48 to 72 hours for loan approval. When you can apply online in minutes, you can easily complete the process to align with your buying schedule. With My Financing USA, you can secure the funds you need for a private purchase or avoid unwanted add-ons from dealerships.
Submit an application online today and get closer to your next adventure in your RV. For any questions, contact our team to learn more about our application process.

---
Additional Resources on RVs:
---