There's something special about hitting the open road with your camper and enjoying the great outdoors. Whether you're going for a cross-country trip or visiting your favorite campground, you will make some unforgettable memories with your camper.
But as you know — or will soon find out — owning a camper is a huge responsibility. Think of the work it takes to care for your home. Then consider how often your car has an issue you need to address. Combine those two concepts, and now you know a little bit more about what it's like to take care of a recreational vehicle. Discover how to maintain your camper so it's always ready for your next adventure in our guide below.
Why Is Camper Maintenance Important?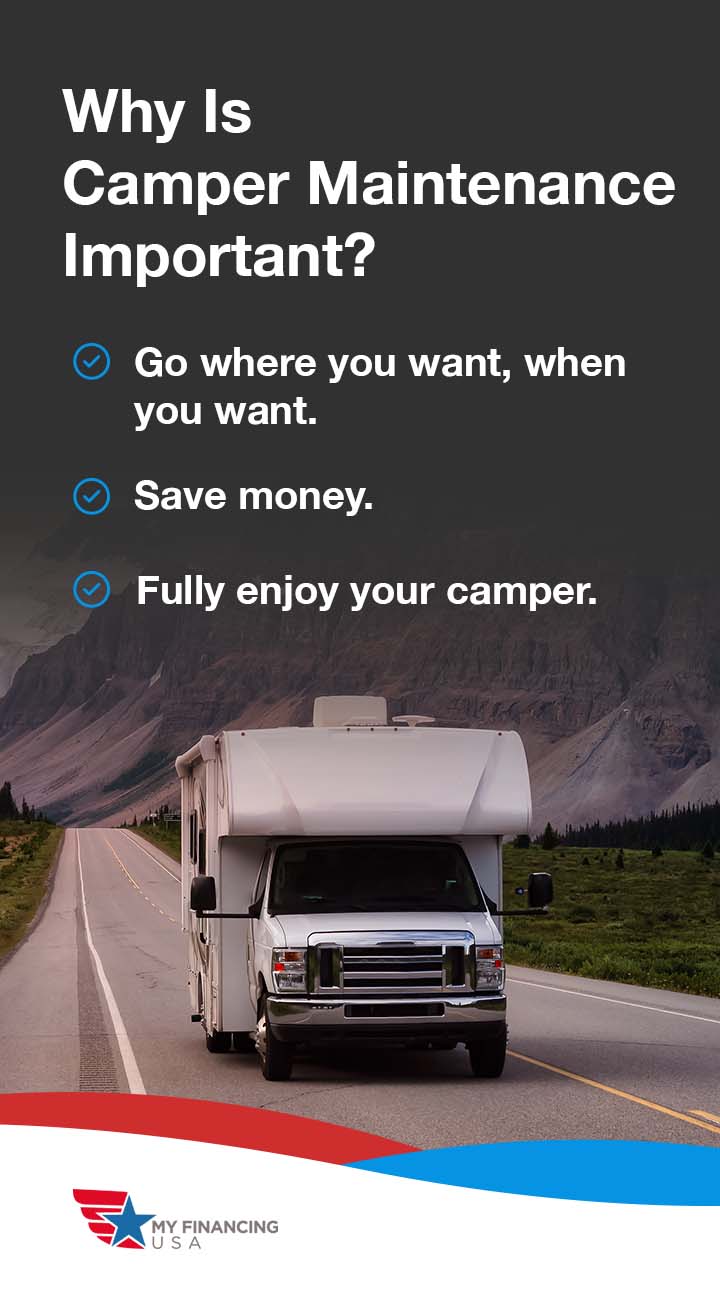 As a camper owner, you'll want to maintain your vehicle and protect your investment. With so many unique components to keep track of, you may feel like you always have something else to do for your camper. The truth is that every bit of camper maintenance you do is worth it. Here's why it's so vital.
Go where you want, when you want: One of the worst experiences is trying to use your camper and finding that it needs significant work done before you can enjoy a successful trip. The only thing worse than that is getting on the road and coming across issues that impact your getaway. Avoid these issues by keeping your camper maintained. Then you can take your next trip with confidence.
Save money: Sure, the cost of maintaining a camper could be high, but the cost of repairing it will be much higher. It's always better to put in the necessary expenses now. Down the road, the repairs could take far more time and money.
Fully enjoy your camper: When you're out enjoying life in your camper, you want every aspect of the vehicle to work, including the generator, slide-out sections, running water and anything else you depend on for a great experience in your camper. Maintaining your camper ensures you get to enjoy all its functions. Avoid future frustration by practicing proper RV upkeep year-round.
Different Types of Campers
Some of the more specific ways to maintain your camper depend on its style. Let's take a closer look at four of the primary types of campers available.
Motorhomes
Motorhomes have it all. They're self-contained road trip and lodging experiences with all the mechanical features needed to drive on the open road. They also have many other exciting features, like motorized pop-out sections, bathrooms, kitchens and plenty of room for standing and walking.
Motorhomes are convenient because you can get behind the wheel and take your lodging with you without any extra hookups. Motorhomes have everything you'll need for your adventure. They're also expensive to buy upfront and can be pricey to maintain or store.
Pop-Up Campers
Pop-up campers are a more budget-friendly option than motorhomes, but still offer many of the same amenities. However, the primary difference is that this camper style lacks an engine, which means you'll have to tow it to go anywhere.
For some, pop-up campers are the perfect solution to their camping needs. They're affordable, customizable and can still pack a whole list of features. That also means maintaining your pop-up camper is one of the most critical things you can do. Letting it go without upkeep can still cause expensive repairs.
Truck Campers
Truck campers are perfect for pickup truck owners. The camper's living space attaches to the truck, taking up the bed and often expanding over the truck's cab. Inside, you'll find many of the amenities of other types of campers, including a place to sleep, eat and even cook.
Truck campers are an excellent option for camping convenience. Like a motorhome, you can drive your camper anywhere, thanks to the power of your truck. With truck campers, there are fewer vehicular components to maintain throughout the year. Still, the cost to own and maintain a truck camper can go up if you forget to stay on top of things, so be sure to make proper maintenance part of your routine.
Camping Trailers
Camping trailers take many of the characteristics of the other camper styles and put them in a towable form. There's a vast selection of camping trailers available, each with different sizes, features and specifications. Some camping trailers are minimalistic, while others include a vast array of intricate amenities and mechanical components.
You'll have to consider your camper's specifications when planning how to maintain it. Pay special attention to the hitch connection and towing requirements to ensure safe travels on your next journey.
Camper Maintenance Tips
Here's a list of 13 tips you can use to keep any camper in shape all year long.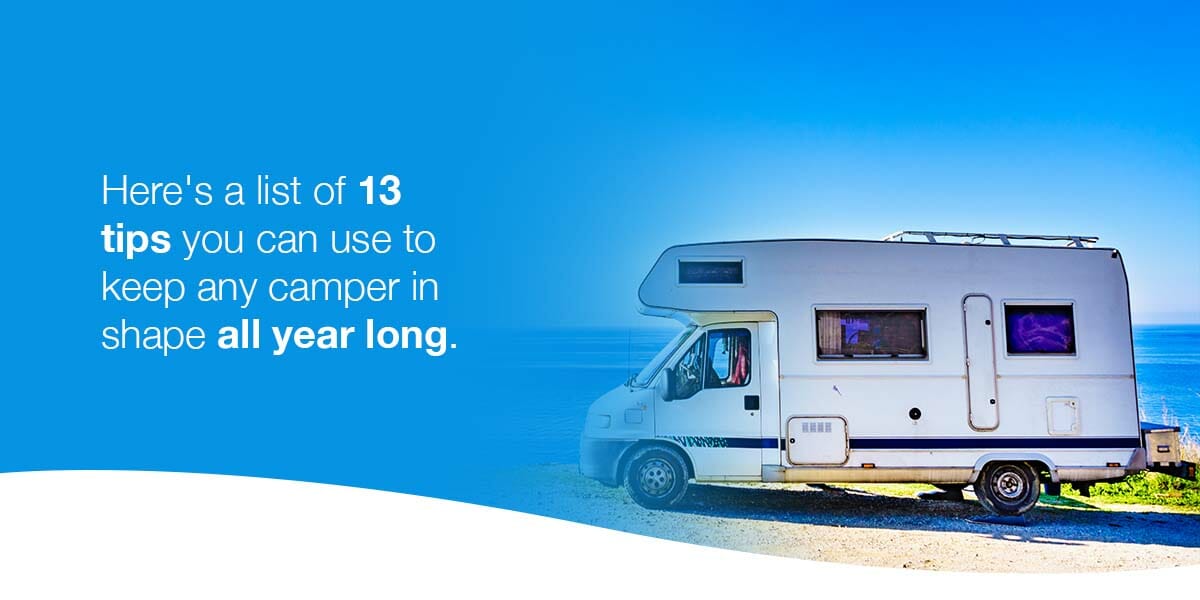 1. Care for Your RV Roof
Depending on your style of camper, you may think very little of its roof. Some camper roofs are walkable and can even function as expanded living or sleeping quarters, depending on the specs. Other campers have roofs that could be dangerous to walk or stand on. There are also different roof materials, including metal and rubber. Regardless of the type or material, you have to maintain your camper roof. Here are two ways you can do that.
Keep it clean: Leaves, dirt, bird droppings and tree sap will inevitably get on your camper's roof. These can damage the roof's materials or paint job. Know whether it is safe to walk on your RV roof before starting the cleaning process.
Check the seals and seams: The seals and seams on your camper roof are susceptible to dirt, grime and weathering. You want to avoid leaks or other malfunctions, so inspect your roof seams and seals regularly so they're ready for your next camping trip.
Keep it covered: When you are not using your camper, it's wise to keep it covered. A storage building or special cover designed for your RV's model can protect the roof from the elements so it's ready to go out on the road.
2. Maintain Your Appliances and HVAC System
RV maintenance extends to your appliances and other operating systems. Refrigerators, stoves, water heaters and HVAC systems all need inspection and maintenance. Make sure you read the manufacturer's instructions before working on appliances. Here are a few suggestions for keeping these parts in good condition:
Ensure your refrigerator and stove are clean and free of debris.
Leave your refrigerator door open when you aren't using your RV to prevent any unpleasant smells.
Keep your RV water heater vent free of debris.
Run your RV furnace system once a month and change your air conditioner filters once a year.
An RV mechanic can also help with maintenance since the model of your appliances and systems might require different parts.
3. Keep Your Tires Ready for the Road
Whatever type of RV you have, maintaining your camper tires and wheels is crucial to getting to your destination. The last thing you want is a flat or blown tire putting your vacation on pause. Here are some ways to keep your tires in great shape.
Check tire pressure: Make sure your camper tires have the correct air pressure. Low air pressure can cause excess drag and lower your gas mileage. High air pressure can put you at risk of blowing a tire. Fill each tire to the recommended air pressure for the best results.
Tighten the lug nuts: Tighten each lug nut to the correct tightness. Also, use this time to see if you've lost any lug nuts so you can replace them before your trip.
Inspect for rot: Decreasing air pressure, high temperatures and sun exposure can all lead to dry rot in tires. Rotting tires are dangerous to drive on. Before you get ready for a trip, check your tires for signs of brittleness, cracking and fading colors. You can protect your tires with covers whenever you aren't using your camper. You should also rotate your tires regularly to even out wear and tear.
Inspect for balding: Balding is another sign that your tires need changing. When a tire balds, its tread wears down to a shallow depth. If your tires' tread is in poor condition, it could be time to change them. Have an RV mechanic evaluate your tires to determine whether they are safe for driving.
4. Purchase a Tire and Wheel Protection Policy
You can keep your tires in top shape, but you can't plan for road hazards like broken glass, debris and potholes. Unexpected driving hazards can rack up quite a cost. Fortunately, tire and wheel protection policies provide coverage for accidents like these.
At My Financing USA, we provide tire and wheel protection policies to get you ready to roll. Whether you have a blowout on the side of the highway or drive over a nail on your way home, our policy can help you make the repairs and get back on the road
5. Check the Batteries
Knowing how to maintain a camper battery is essential. A dead battery will be detrimental to your plans, and it's even more serious if it dies while you're on your journey. Some batteries require more maintenance than others, so check your battery to see what type you have so you can give it the proper care.
Your goal should be to keep your camper's battery charged at all times. When cared for correctly, batteries should last for several years. You may notice your battery getting weaker over time. If it's been several years since you last changed your battery, now might be the time to consider getting a new one.
6. Manage Your RV's Wastewater System and Water Storage Tanks
When managing your camper's wastewater system, use the right chemicals to keep each water holding tank clean, safe and functional. Most campers have several water holding tanks, and each requires different cleaning chemicals.
Freshwater tank: It's a good idea to flush and clean your freshwater tank before your next trip in case any bacteria have accumulated. Fill the tank with water and a gentle touch of bleach to sanitize the tank. Then fill it and flush it several more times with only water to remove any traces of the bleach. Then, you can enjoy clean, fresh water on your next adventure.
Graywater tank: The graywater tank holds the water that drains from your sinks and showers. This water is relatively clean and contains trace amounts of dirt, soap or other particles. You'll still have to maintain this tank to keep smells away, so consider using an odor blocker if you start detecting any smells from your graywater tank.
Black tank: The blank tank is where your camper stores the wastewater from the toilet. Be sure to use all recommended chemicals to help neutralize odors and dissolve solids. To maintain the toilet in your camper, clean it consistently and test it to see if it flushes properly.
7. Make Sure Your Brakes Are in Good Shape
Maintaining your brakes is essential for on-the-road safety — both yours and everyone else's. Whatever type of camper you have, this step is critical. Just like you maintain your car or truck's brakes, you must keep your RV brakes in top condition to enjoy a safe trip and avoid any costly repairs.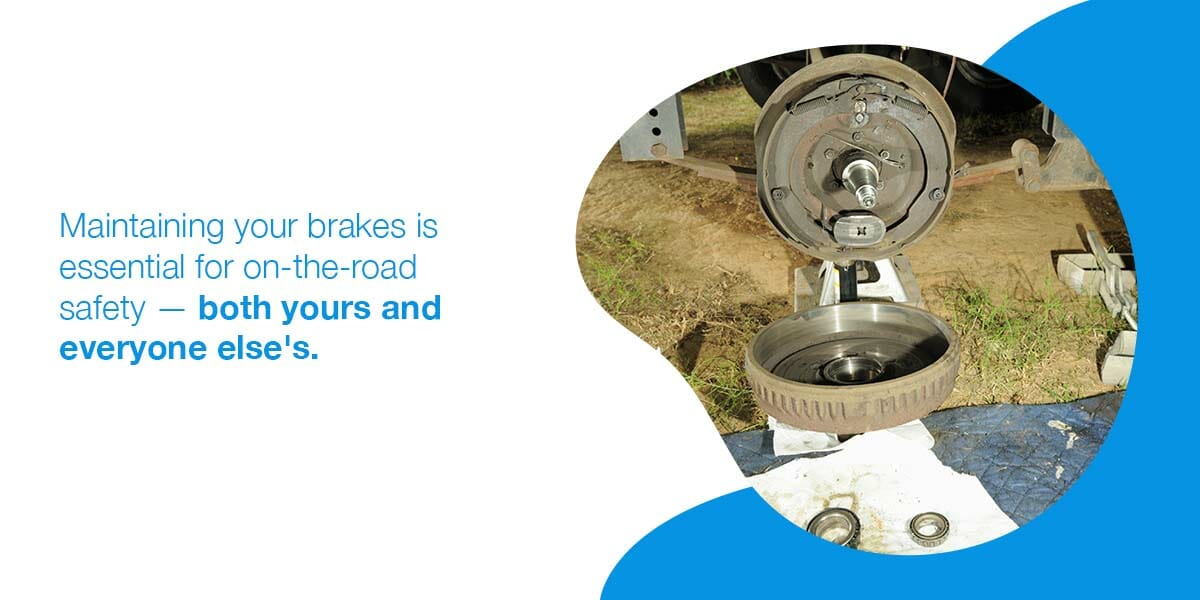 Lubricate your wheel bearings and check your brake pads to see if they still have enough material on them. If you're connecting a camping trailer to another vehicle, make sure you have a good, working connection to engage the trailer's brakes. Feel free to test your camper's brakes before your journey, especially if you're planning on driving far on your upcoming trip.
8. Clean Your RV's Slide-Outs and Seals
If your RV has slide-outs, ensure they're in working order so you can enjoy the expanded interior space they provide. First, make sure the slide-out tracks are clean of any debris. This measure ensures each track operates smoothly and puts as little wear on the motors as possible.
Then, check the seals around each slide-out section. You want to keep your camper free from unwanted openings that could let in bugs, water or outside air. Make sure the seals are in good shape to give you maximum comfort.
9. Change the Oil
You know how crucial it is to change your daily vehicle's oil regularly. The same is true for your motorhome. Without fresh oil, your RV's engine could seize, which can be expensive to repair.
Your best bet is to check your oil before you hit the road. Doing so allows you to see if your engine needs a top-off or if the oil is dark and gunky. Dark oil can be a sign that your engine is ready for a fresh batch of oil. The cost and time needed to change the oil is far less than the cost of repairing a broken engine. Make sure this step is part of your consistent RV maintenance routine.
10. Replace All Filters Before Hitting the Road
Like changing your RV's oil, replacing all filters is an essential step in the maintenance process. This step goes for your motorhome or your hauling vehicle. Here are some of the filters you should inspect to see if it's time for a replacement:
Air filters
Fuel filters
Hydraulic filters
It's a good idea to get into the habit of changing these filters seasonally. You should also check them during each oil change, as that's a great time to swap out for a fresh filter. You also need to check your RV's coolant at this time. Doing this ensures you're putting less wear on your engine components.
11. Protect the Awning
Many campers have awnings that extend outward to provide shade when parked. These are ideal if you're camping in a sunny area and want a more comfortable place to sit. Whether your awning extends manually or at the press of a button, you need to make sure you're protecting it.
Natural debris can find its way onto your awning, which can create issues the next time you try to close it up. If your camper uses one, this could damage the awning's motor. Whatever style of awning you have, any debris that lands on it can put it at risk of tearing or other forms of damage. Damage from leaves, twigs and branches can be costly to repair and leave you without that extra shade on your next camping trip.
12. Test the Electrical Connection Between Your RV and Towing Vehicle
Maintaining electrical connections is crucial, and this step deserves a mention in this list of travel trailer maintenance tips. The electrical connection between your camper and towing vehicle — if you're using a pop-up or travel trailer — is essential for safety during your travels. This connection serves three primary purposes:
It triggers the lights on your towed camper so cars behind you know when you're braking, reversing or parking.
It controls the brakes to ensure you can stop when you need to.
It charges the camper's battery as you drive.
Before starting your drive, make sure you have a solid electrical connection to enjoy a safer trip.
13. Purchase an Extended Warranty or Vehicle Service Contract
Equipment breakdowns still happen regardless of how well you maintain your camper. To protect yourself from unexpected costs, purchase a vehicle service contract or extended warranty from My Financing USA. A vehicle service contract and extended warranty can protect you against breakdown costs and road hazards. 
These can help you cover the costs of part repair or replacement that typical manufacturer's warranties don't cover, potentially saving you thousands of dollars in repairs. At My Financing USA, we offer extended warranties and vehicle service contracts as stand-alone policies or included with a loan, so you always have coverage in case of a breakdown.
How to Maintain Your Camper During the Offseason
Your camper gets plenty of use on the road and when you're out camping, but you may find it surprising that most of your camper's issues could arise during the offseason. When your camper sits around without use for an extended period, it can develop several issues requiring costly repairs and more time in the shop. Try these maintenance techniques to make things easier for you come camping season.
Keep your camper covered: Covering your camper during the offseason is a great way to protect its exterior. As your camper sits, it is subject to anything nature throws at it. Consider wrapping it in an RV cover, or park it under a dedicated protective structure. Doing so will protect it from debris, sunlight, precipitation, sap and other elements.
Keep your tires covered: Your RV's tires are susceptible to dry rot in between road trips. Exposure to the elements can lead to cracking and decrease your tire pressure to dangerous levels. You can use special tire covers to extend the life of your wheels and protect them all year long.
Be sure to run your generator: Your generator can suffer internal damage when you let it sit for an extended period. Gasoline has a short shelf life, and even with fuel stabilizers, it may only stay good for a season. As the gasoline expires, it can start to break down your generator's carburetors. You can avert this issue by starting up your generator every few weeks and letting it run. This step keeps things moving within the generator so everything stays in working order.
Open the vents: Your RV can get hot, especially if it's sitting in direct sunlight all day. Even in the colder months of the year, the sunlight can penetrate your RV's windows and cause the internal temperature to increase. The higher your camper's temperature gets, the faster the interior starts to fall apart. Paint could peel, and surfaces could become discolored. Opening up some vents during the offseason allows the air to keep flowing, reducing the temperature to safer levels.
Store your battery correctly: A common mistake that people make is failing to store their battery correctly during the offseason, which can make for an anticlimactic first use of the season. At the beginning of the offseason, disconnect your battery from your camper. Then store it somewhere with moderate temperatures. You want to avoid excessive heat especially. Also, make sure the storage location is somewhere dry and safe from extreme weather.
Document your RV maintenance: Another great tip during the offseason is to document any maintenance you do. Keeping a checklist helps you track what you still need to do in preparation for camping season. That way, you can focus more on preparing your camper and less on wondering if you need to change the brakes, replace your tires or do anything else.
Get a Camper Loan to Make Your Adventure Dreams Come True
Is the price of a camper the only thing separating you from your next adventure? A camper loan from My Financing USA may be the answer you've been looking for. We offer reduced credit inquiries and increased choice for shoppers with good and bad credit scores. You can apply for our RV loans through a quick and simple online application, and we strive to give you the best experience possible. Since we focus on RV loans, we can offer lower interest rates than the competition.
If you're ready to take the next step toward getting a camper of your own, apply for a camper loan today. Feel free to call us to learn more about our camper maintenance service to make caring for your RV easier than ever.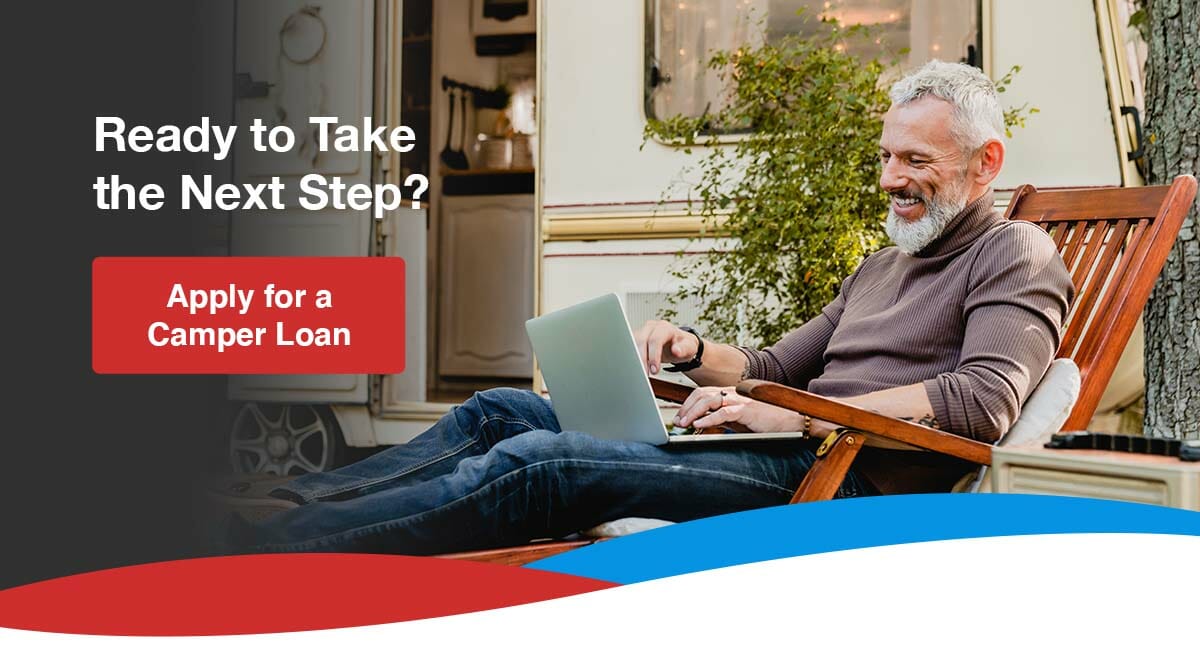 ---
Additional Resources on RVs & Campers:
---