Quick Navigation:
Going on a trip across the United States can be an exciting process. From seeing new sites to staying with friends and family, an RV is the perfect vehicle to make traveling safe and comfortable. However, many new RV owners lack the research and knowledge to make long trips with a large vehicle for the first time. Learning what beginner RV mistakes to avoid can help you prevent vehicle breakdowns, disruptive behavior or problems with weight and height capacities.
Top RV Mistakes to Avoid
While you might be excited about buying or financing an RV for the first time, driving and using an RV comes with many challenges. Some new owners forget to make a checklist of items to bring or fail to do their research when it comes to hooking up the sump pump or defrosting the freezer. Avoiding any mistakes can help keep you and your passengers secure and safe. Here are 17 common mistakes new RV owners make and how to avoid them.
1. Driving Too Fast or Too Far
Not everyone enjoys the luxury of an RV trip across America. Those who do often have limited time off to travel and explore. As a result, many travelers try to fit in lots of sites or stops during their two-week vacation or weekend trip. The fast-paced nature of this kind of trip can cause more stress than excitement, leading to drained passengers and anxious navigators.
Driving for hours is exhausting and takes more time away from exploring or spending time with friends and family. Slow down during the trip and plan a simplistic route with a few critical spots. Traveling should be about enjoyment and socialization as much as the destination.
Slowing down your trip and pacing yourself well can also prevent damage to the RV. It can be unsafe to drive fast down the road. High speeds may cause hazardous conditions for the vehicle and passengers or lead to trailer sway. You might miss your exits or put other travelers on the road in danger. Slow down your drive and break up the journey into smaller chunks. Take rests when you and your passengers need them, and enjoy your surroundings more often. Pacing your journey ensures safety and security.
2. Buying the Wrong RV
Buying the wrong RV is one of the most common new RV mistakes. While the right kind of RV exists for most customers, you'll want to find a vehicle that fits your needs and family size. For example, consider a small tow-behind trailer if you plan to travel with a few friends. If you want to travel with many friends and family, consider investing in a luxury coach.
By exploring your options, you can buy the right RV rather than invest in something too big or small. Don't rush to purchase the first RV that catches your eye. Take your time and find the best fit. You can explore various RV shows, ask questions online, or rent an RV for a few days to see what models you like.
3. Forgetting to Disconnect
Finding an RV park or campsite with a sump pump and electrical hookups is one of the best parts of traveling with the vehicle. However, many new RV campers forget to disconnect their hookups before they leave, making it easy to drive down the road for a few miles with a cord or sewer hose dragging behind them. While this may not happen often, it can cause damage to your RV and result in costly fees to the park or campsite. Remember to check everything around the RV before you leave the site. Disconnect all utilities and stay aware of your surroundings as you go in case you forget something.
4. Being a Bad Neighbor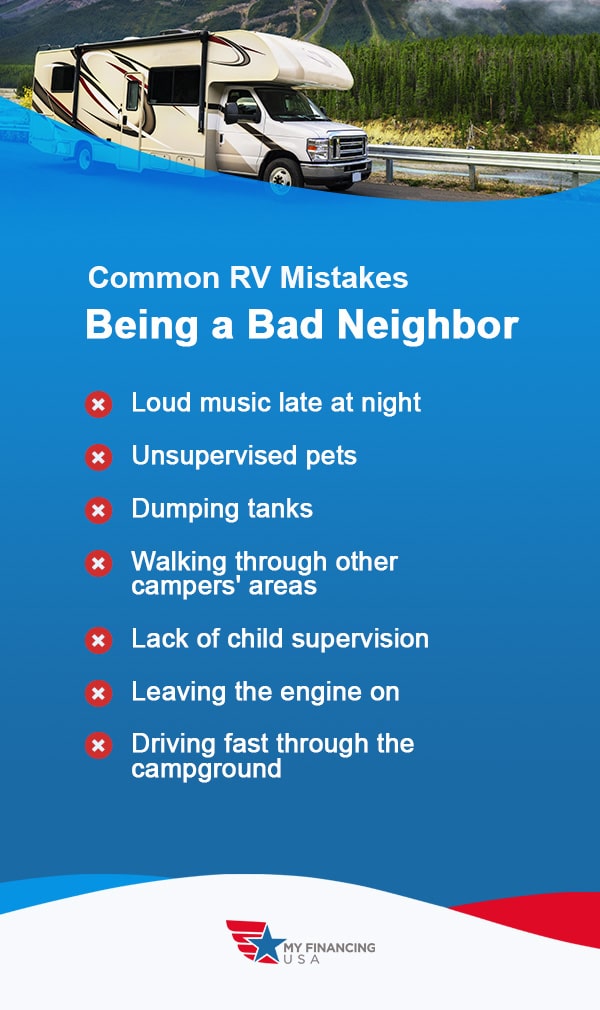 Common first-time RV camping mistakes include being a bad neighbor to other campers or nearby travelers. This might include the following:
Loud music: Don't play loud music late at night when other campers want to relax and sleep.
Unsupervised pets: Don't let your pets run around without a leash and fail to pick up after them.
Dumping tanks: Don't dump your tanks on the ground and leave a mess for other campers to clean up.
Walking through campsites: Don't walk through other campers' areas without regard to privacy.
Lack of child supervision: Don't let your kids explore the area without supervision or awareness of campground rules.
Leaving the engine on: Don't leave your motor running for longer than a few minutes and disturb the neighbors.
Driving fast: Don't drive too fast through the campground as you could put other travelers at risk.
Being a bad neighbor disrespects other campers who want to enjoy their stay. Treat the area like a small community, making it safe and fun for everyone. If you are clueless about the rules and regulations of the site, it could lead to costly fees or unsafe situations. Do your research to find the right area that works for you. If you want to bring your children or pets, find a campsite that allows more freedom for kids to explore and pets to play.
5. Packing Too Much
You or your friends and family might pack too many items, making your RV weight limits jump over capacity. Most new RV owners are tempted to cram as many kitchen, food and travel items as possible due to their excitement for traveling. However, it is essential to follow the RV's weight capacity. Exceeding the limit could result in dangerous driving conditions or trouble stopping the vehicle safely.
Ensure you pack simply and efficiently. Take what you need and be picky about the items you want. It can be helpful to make a packing checklist so you can cross off any items you don't need and focus on the essentials.
6. Not Leveling the RV
Not leveling is one of the most common RV setup mistakes, but leveling is essential. No one wants to sleep on an angle during their stay or have to use a slanted toilet. Ensure you know what your RV needs to level itself on uneven ground. It may vary depending on the type of RV. It's best practice to level every time you park, as many campsites are uneven.
7. Not Defrosting the Freezer
Defrosting the freezer before you travel is essential but sometimes forgotten by many new RV owners. Take the time to defrost the freezer, or ice might build up in the back, taking away space to store food. Should you fail to defrost, the freezer might also fail to work. To defrost, turn off the fridge and remove all of your food. Let the frost melt at room temperature or speed up the process with a hairdryer.
8. Forgetting to Reserve a Spot

Many new RV travelers forget to reserve a spot at a park or campground before starting their trip. You might arrive after a long driving day and have nowhere to park or set up. Be sure the park you want to visit can accommodate your RV and fit your needs.
For example, some sites might only allow modern-day motorhomes and trailers, while others are reserved for seniors or adults without children. To find the right space, research thoroughly and make a reservation beforehand. Explore some examples of park regulations to be sure you follow all the rules and requirements.
9. Not Planning the Route
Planning the route before you drive is important, especially when traveling in a large RV. Driving an RV is not like driving an average car. It requires careful planning for routes and highways, as turning and navigating in an RV is more complicated.
For example, you must ensure you turn safely and can make it under bridges or cross intersections without backing up traffic. Plan your route carefully to ensure the safety and security of everyone on board. Look at maps of the area and research what highways or roads can fit your vehicle.
10. Being Underprepared at the Dump Station
The dump station requires attention to detail and cleanliness. Educate yourself and come prepared to quickly dump what you need to and make room for other campers. Research how your dump tanks work. You can read your RV manual or watch videos that can give you visual, in-depth advice on preparing your dump tanks. If unsure, ask other people at the campsite or park for advice. Have everything you need in one place before arriving at the dump station for easy and fast cleanup.
11. Driving Without Practice
Driving an RV is not like driving a car. It requires practice and care to be sure you can handle a large vehicle. RVs are long, heavy and tall, meaning you should practice specific driving techniques before taking it out on the road for the first time. Learn how to slow down in windy weather, how to turn correctly and when to back up safely.
Go to a parking lot or practice area and practice for a few hours daily. Before your trip, you want to be sure not to rush the driving. You can even ask for advice from other RV owners or take classes for a few weeks.
12. Backing up With No Help
Backing up in an RV often requires a spotter or a backup camera to do it successfully and safely. Without the proper help, you might end up putting other campers or vehicles at risk. While some parks and campsites offer convenient pull-through spots, you still want to have the right backup help if that is not the case.
To avoid hitting trees and vehicles or accidentally backing into a ditch, practice backups in a parking lot with a friend or family member before you travel for the first time. You can also use a backup camera or invest in one if the RV does not have one installed.
When backing up on-site, have your spotter talk to you on the phone or with a walkie-talkie. Live communication is essential for safety and security. You can even agree on hand signals or verbal cues to communicate. Just be sure to take it slow and listen closely to your spotter's advice.
13. Ignoring Clearance Limits

Many RVs have height, length and width clearance limits. Ignoring those limits could result in costly damages to your vehicle or unsafe conditions for your passengers. You might damage the AC unit, the top of the RV or the vehicle's bumper. Always practice caution and measure the RV unit yourself or read the manual before traveling for the first time. Look at clearance signs on the road and pay attention to bridges or tunnels. You can also plan your trip ahead of time for safe height, width and length clearance.
14. Leaving the Awnings Out
Awnings provide shade, weather protection and privacy during your travels. If you leave your awnings out too long, they can become difficult to work with and might break. You should also never drive with the awnings out, as it can lead to broken metal and twisted fabric from bad weather and extreme wind.
15. Not Understanding What You Need
Your RV might need specific items and tools to work and run properly. Consider packing a portable generator, jumper cables, a tire gauge, a tool kit and a first aid kit. Don't forget your RV registration, insurance and owner's manual as well. Aside from safety and RV tools, invest in quality kitchen items to fill your drawers and cupboards. Bring utensils, bowls and plates, a nonstick pan and a cutting board. Don't forget about the food. While the space you have to store or freeze food might vary depending on your RV size, be sure to bring some non-perishable items as well as water and snacks for traveling.
16. Forgetting the RV Travel Checklist
A travel checklist is integral to an organized trip without forgetting the necessary items. Before you drive, check the entire vehicle, including the rig, lights, compartment doors and connections. Latch the doors and cupboards and close all windows and vents. Making a list of all items you need to secure can prevent damage or safety concerns at a later date.
17. Taking out Bad Loans or Poor Financing
New owners often take out bad loans or use poor financing to afford an RV. This could result in financial trouble or a vehicle that won't work as well as you want. Partner with a loan and financing service, such as My Financing USA. They can help you find the right loan or financing options for your credit score and personal needs. Achieve your RV ownership dreams with help from My Financing USA.
Don't Overpay! Find the Best RV Loan Rates With My Financing USA
My Financing USA offers flexible loan and financing options for those who want to locate a reliable RV for their next road trip. Our company connects with vendors and helps you find the best option for your needs. With competitive rates and secure loans with fixed interest, you will surely appreciate our financing services. My Financing USA prides itself on simplicity, credit protection and fast approval. You can receive financing options without collateral if you have a good credit score. Consider using our gap waivers or tire and wheel program services as well. Apply for an RV loan online today!
---
Additional Resources on RVs:
---