Quick Navigation:
More people than ever are embracing the recreational vehicle (RV) lifestyle. With the freedom to travel wherever your heart desires, explore new parts of the world and break away from the status quo, it's no surprise that RVs are growing in popularity in the digital age. If you're thinking about buying an RV but don't know where to start, our guide to different types of RVs and campers is here to help you.
There are actually several different types of motorhomes that you can choose from. Your lifestyle, resources, travel plans and personal preferences will help decide the best type of RV for your upcoming adventure. In this guide, we'll show you the differences in different types of RVs, and the pros and cons of the different RV classes, so you can find the model that is right for you.
Types of Motorhomes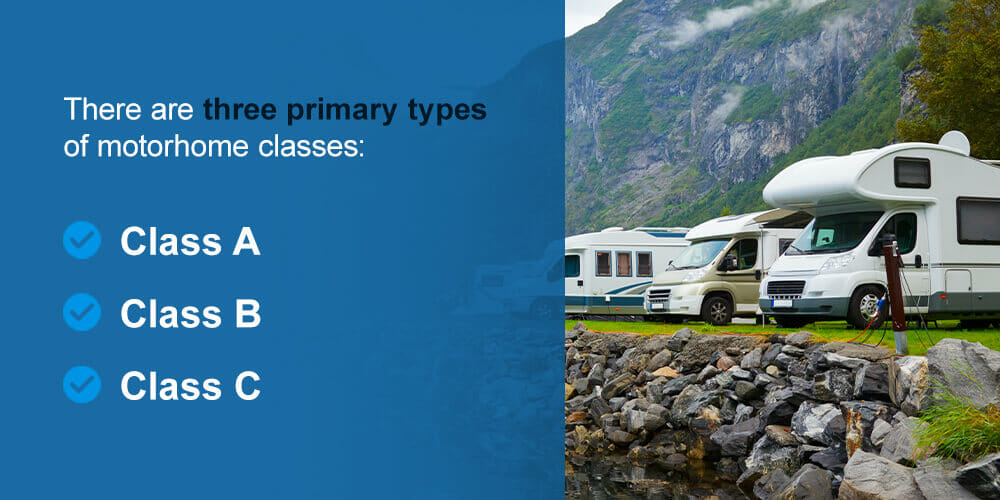 Campers, pop-ups, travel trailers — what's the difference? You have probably seen several types of RVs while traveling or camping, without realizing that they are all part of the same family of vehicles.
RVs are, in fact, split into two categories — motorized and towable. Motorized RVs, also known as "motorhomes," feature motors. They offer the dual benefit of driving and living under one roof. Unlike towable RVs, they don't require the extra work of hitching and towing the vehicle and your belongings from one place to another. Instead, you get to roll out of bed and immediately jump into the driver's seat.
Depending on the class and size of the motorized RV, you can enjoy the same amenities that you have at home. Many motorhomes have kitchenettes, bathrooms, sleeping accommodations and plenty of outlets for your phone chargers and other plug-ins. These comforts make first-time RV owners feel at ease while traveling on the open road.
If you're wondering, "What is the difference between motorhome classes and how do I know which one is right for me?", this comparison guide will help you make the distinction. While many people use the words "motorhome" and "RV" to describe many different variations in this category, there are major differences between makes, models and types. When you are shopping for a new RV, you need to know exactly the type of class or floorplan that you want so you can spend more time focusing on the individual features of each model.
Understanding the benefits and disadvantages of the different motorhome classes will allow you to identify what features and amenities bring value to your travel, and which ones you can do without. It's all about creating realistic expectations for your future travel plans while staying on budget and getting the most bang for your buck.
There are three primary types of motorhome classes — Class A, Class B and Class C.
Class A
Class A motorhomes are powerful and magnificent structures. They are the largest type of motorhome and are built for luxury and comfort. Unlike conventional cars and trucks, most of these vehicles house their engines in the back of the coach to help push the RV down the road. This is why many people commonly refer to them as "pushers."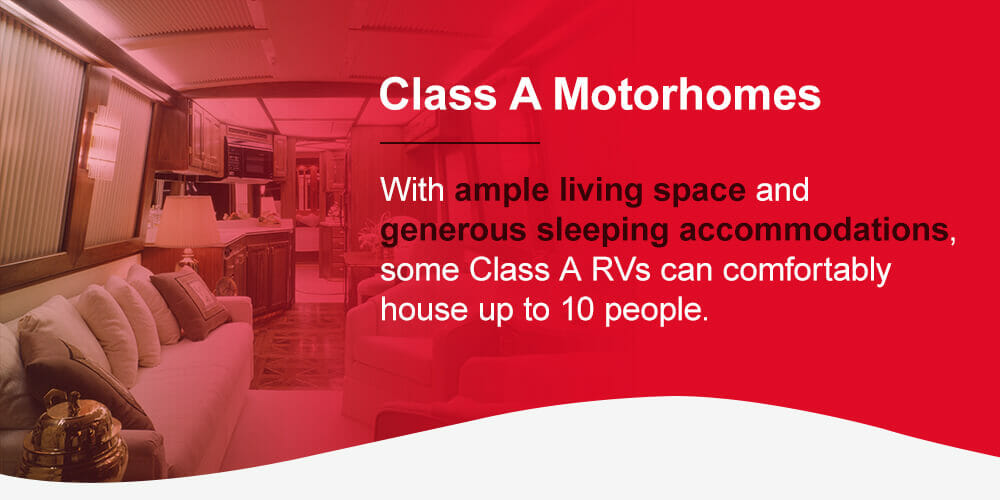 These motorhomes are incredibly spacious and come chock-full of amenities. With ample living space and generous sleeping accommodations, some Class A RVs can comfortably house up to 10 people. If you're traveling long-term or with several people, then a Class A motorhome may be the right fit for you.
However, a large motor vehicle with a heavy frame means more expenses when it comes to maintenance and fuel. Class A RVs can range between 26 to 45 feet in length and weigh up to 30,000 pounds. Needless to say, this isn't your typical bus. If you aren't used to the size and weight of such a massive vehicle, there can be a serious learning curve when you first take it out on the road.
Pros
Large living areas
Convenience of traveling with one vehicle
Extra storage compartments
The luxuries of home while traveling
Greater amenity options, like laundry machines and bathrooms
Cons
Higher price tag
Higher maintenance and gas fees
Less agility on the road
May require a special license
May require an additional car for errands
Apply for a Class A Motorhome Loan
Class B
When it comes to differences in motorhome classes, Class Bs stand apart as a less ornate, more rustic option for RV living. Although they are not as grand or spacious as Class A RVs, Class B motorhomes are becoming more common every year.
Their popularity is largely due to the increased interest in nomadic and tiny living. It is a challenge to eliminate unnecessary waste and stick with the essentials. Many minimalistic RVers who take on the open road have inspired hundreds of families and individuals to travel for longer periods and embrace whatever adventures lie ahead.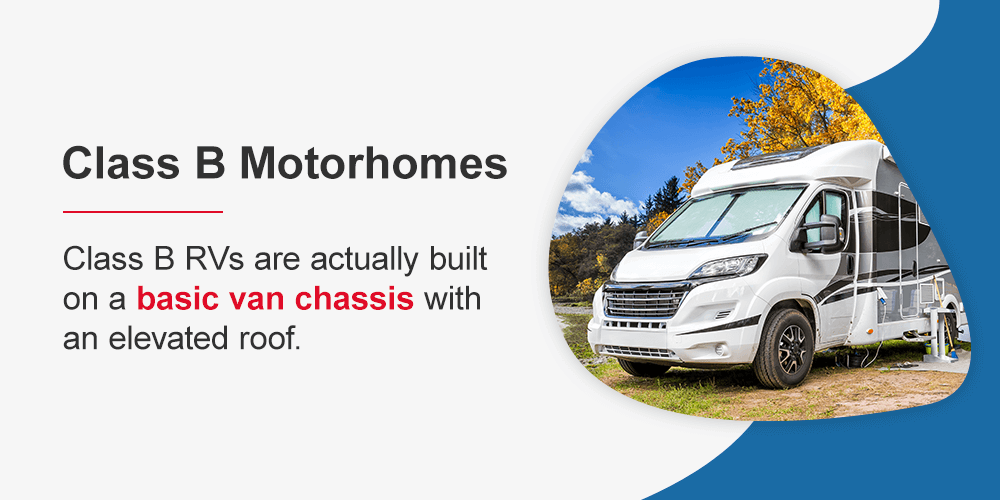 These smaller and less ornate vehicles look and drive very similarly to your typical van. Class B RVs are actually built on a basic van chassis, with an elevated roof so you don't have to stoop down when walking around inside. While these smaller vehicles may not offer the same comforts as their Class A counterparts, they have greater drivability. Their compact size also makes it easier to maneuver smaller roads, especially when traveling through villages and towns.
Class B RVs tick all the boxes when it comes to convenience and affordability, but they do have their downsides. Standard Class B motorhomes have a queen-size bed and kitchenette. The number of people you can fit into the space is generally four. You'll also have to get accustomed to using a wet bath, which is a sink, shower and toilet combined into one tight space. If you like to take spontaneous road trips with your partner or someone you don't mind living in close quarters with, a Class B motorhome is a great vehicle to own.
Pros
Affordable
Easy to drive
Compact design
Better gas mileage
Maneuvers small roads
Cons
Less storage space
Smaller living space
Lower occupancy
Fewer and smaller amenities
Apply for a Class B Motorhome Loan
Class C
When considering the differences between Class A, B and C RVs, the Class C motorhomes give you the best of both worlds. You get more amenities and furnishings similar to Class A units, with the compact design and drivability of a Class B.
These motorhomes are identifiable by their cab-over structure, in which the living area extends over the front of the vehicle to provide an additional bed or storage space. As a smaller RV, these are typically built on a truck chassis. This feature means you will have an easier time handling it on the highway and won't need a special license to operate it.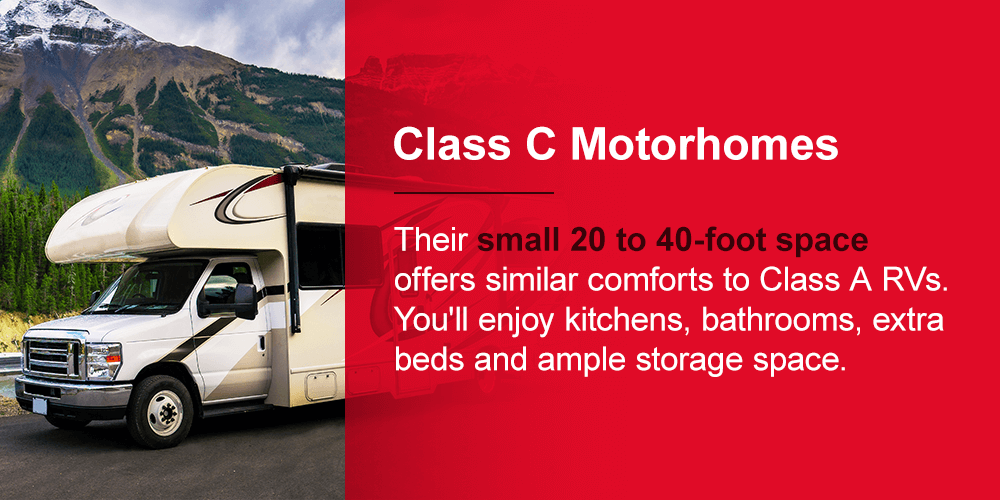 Class C motorhomes stand out among other RV vehicle types because their small 20 to 40-foot space offers similar comforts to Class A RVs — you'll enjoy kitchens, bathrooms, extra beds and ample storage space. The greatest downside to Class C RVs is that the fuel and maintenance costs lean towards the higher side.
Pros
Affordability with luxury
Drivability
Additional storage compartments
Diesel and gas options
Plenty of floor plans to choose from
Cons
High maintenance costs
Higher price than larger towable counterparts
Low miles per gallon (MPG)
Feels different from riding in a car
Apply for a Class C Motorhome Loan
Types of Towable RVs
Towable RVs, also known as trailers, don't have engines and therefore require hitching to another vehicle to get around. There are several types of RV trailers, ranging in size, shape and weight. These include:
Travel trailers
Fifth wheel campers
Toy haulers
Teardrop campers
Pop-ups
Truck campers
Trailers are a more affordable and versatile option than motorized RVs. Since trailers don't have their own engines, the biggest factor in choosing one will be your towing vehicle. Larger RVs will require bigger trucks to haul them around, whereas you can tow many types of pop-up campers with a car.
Maybe moving around in a large motorhome isn't your style, or you like the convenience of being able to park your living space and still travel on day excursions. Whatever the case may be, there are clear advantages to owning a towable RV that you simply can't get with a motorhome.
Unhitching your trailer so you have free use of your car or truck in any city or town is an obvious benefit of towable RVs. Having more options for floor plans and size with a significantly lower price tag is just the icing on the cake.
Aspiring RV owners often ask the same questions. What are the different types of RVs? Can I use a standard hitch for all types of RVs? There are multiple different types of campers and RVs, and this in-depth explanation will show you the pros and cons of different types of RVs so you can choose a towable that fits your needs and budget.
Travel Trailers
Travel trailers are common campground favorites, and for good reason. Firstly, travel trailers come in nearly every size and shape. They can range between 12 and 35 feet in length and can comfortably house up to eight people. Secondly, there are many floor plans to choose from, so you can find a model that fits your personal needs. Lastly, the price comparison between nearly every type of motorhome in the Class A and C categories is substantial.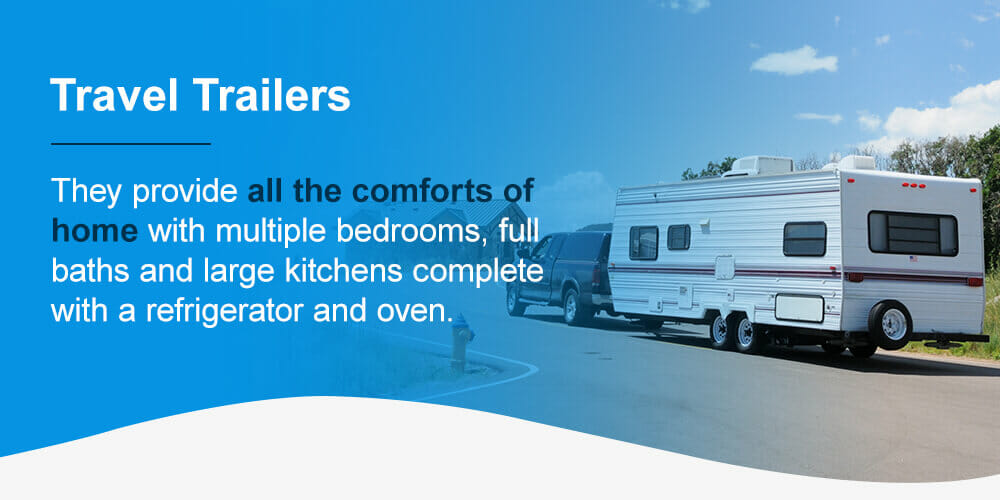 Larger travel trailers can come fully furnished with tons of features. They provide all the comforts of home with multiple bedrooms, full baths and large kitchens complete with a refrigerator and oven, along with enough room left over to still host friends and family. If you're working with a smaller budget, you can still enjoy traveling in style with modest kitchen accommodations and sleeping arrangements for two to four people.
These types of RVs are popular among camping enthusiasts. They often feature exterior storage compartments and extendable awnings, which are perfect for enjoying nature and hosting friends.
One of the downsides to shopping for a towable trailer is that you will need to limit your options based on the size and weight of your car or family vehicle. Since travel trailers can range between 1,200 to 10,000 pounds, you will have to purchase a travel trailer that your personal vehicle can easily tow. Fortunately, there is a suitable travel trailer for almost every car size.
Pros
Plenty of sizing options
More affordable than a motorhome
Suits most vehicles
Similar amenities to Class A motorhomes
Easy setup
Cons
Must know how to navigate turning and driving with a large unit in tow
Requires checking the hitch at every road stop
Most states don't allow passengers to ride inside the travel trailer
Some road conditions make it difficult to travel with a large trailer
Need a vehicle to tow it
Apply for a Travel Trailer Loan
Fifth Wheel Campers
Fifth wheel trailers are the largest type of towable RV, as well as the most expensive. The living quarters are comparable to Class A motorhomes, featuring lush interiors with a generous amount of space. These trailers can be massive, ranging from 20 to 40 feet in length. But their size also means that you will need a large truck to haul it around. In addition to a powerful vehicle to tow your fifth wheel, you will most likely need a special fifth wheel hitch.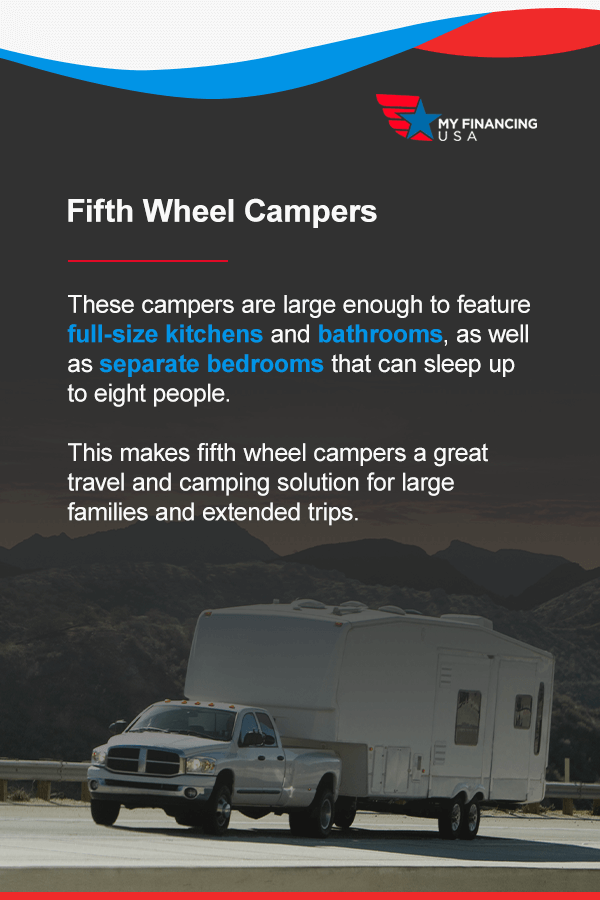 Fifth wheel trailers are recognizable by their prominent overhang that rests above the truck bed. This extra space is usually transformed into a bedroom loft or living space. These campers are large enough to feature full-size kitchens and bathrooms, as well as separate bedrooms that can sleep up to eight people. This makes fifth wheel campers a great travel and camping solution for large families and extended trips.
Many fifth wheel trailers also come complete with at least one patio awning, elevated ceilings, heating and air conditioning and split-level living space. Rather than opting for a hotel room or tent when going on vacation, you essentially have a ranch-style home wherever you go.
Pros
Lavish interior fixtures and conveniences
Full-size rooms, kitchen units and bathrooms
Affordable in comparison to motorized options
Multiple floor plans to choose from
Incomparable interior and cargo storage space
Sturdier than other towable RVs
Cons
May need a special attachment for towing
Requires a large truck to tow it
Needs more maintenance than smaller RVs
More difficult to drive in traffic
One of the most expensive types of towable RVs
Toy Haulers
Toy haulers are RVs that have an additional garage section in the rear that's perfect for transporting motorcycles, kayaks, side-by-sides, ATVs and other toys. With a ramp door, you can easily pack and haul your sports vehicles securely from one place to the next.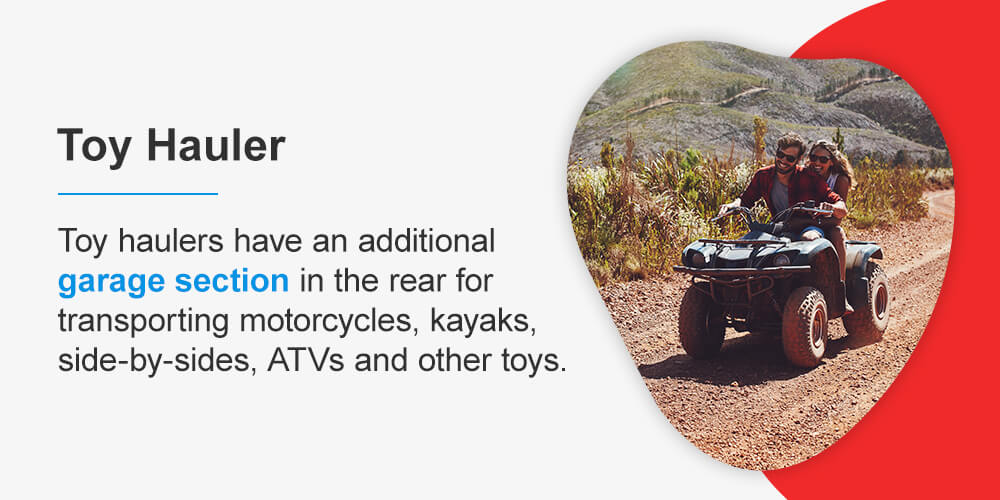 You don't have to have toys to get the most out of a toy hauler. These RVs measure between 20 to 40 feet in length, so the additional garage space can become an office, extra bedroom or living space.
Wear and tear is normal for any RV, but transporting motorcycles and ATVs can lead to unwanted grease stains and mud. While you can take the chance of hauling your sports vehicles another way, toy haulers are specially designed with tie-down anchors, protective wall paneling and water and oil-resistant flooring. Many come with fold-away beds in the garage space, as well as entertainment centers.
There is a common misconception that toy haulers can smell like fuel fumes from carrying smaller vehicles. However, most toy haulers actually feature a solid wall, known as a vapor wall, that reduces odors caused by transporting your sports vehicles and separates the garage from the living areas.
Toy haulers can come as fifth wheel trailers, travel campers and even motorhomes.
Pros
Ability to tow sports vehicles
Rear ramp doors that can double as a patio
Versatile garage space
Garage customization options
Sleeps up to 12 people
Cons
Weigh more than other types of RV campers
Need a heavy and powerful truck to haul it
More expensive than non-toy haulers of the same size
Very large and can be difficult to maneuver
May be unnecessary if you are not traveling with sports equipment
Pop-Up Trailers
If you don't want to commit to a large towable RV or don't really need a lot of glitz, glam or space, then a pop-up camper might be the right fit for you. These little trailers get their name from their compact and functional design. When stored away, the compartments neatly fold into themselves as a self-made storage unit. When you're ready to set up camp, they expand into a full camper.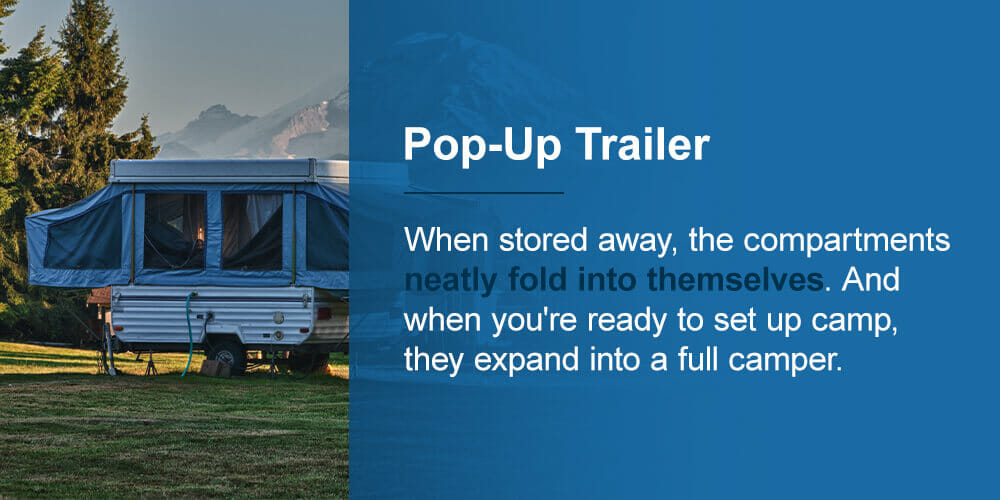 Pop-up campers can comfortably fit up to six people, sometimes eight when you have a larger unit. The downsides to this trailer are minimal if you're using it in the right climate. The canvas and netting lining means there's no insulation, so the temperature inside the camper fluctuates with the weather outside, much like a tent. Since this is a collapsible RV, you need to manually set it up and break it down with every use, which can be inconvenient when you're eager to get on the road.
Pros
Small and easy to drive
Compact while still carrying your camping gear
One of the most affordable campers available
Easy to store in garages
Cons
Less storage space
No built-in climate control
Manual set up and break down
Lightweight Campers
What are the types of RVs that can sustain minimalist living without requiring a heavy truck to tow? The answer would be lightweight campers. These small RVs are made from light materials, so they are aerodynamic and easy to pull with a regular SUV or sedan.
From teardrop trailers to ultra-light campers, each towable offers the feeling of home with a bed, kitchenette and even a wet bath. They are the perfect size for the solo traveler or for a getaway for two.
Pros
Easy to drive
Perfect for short trips
Hitches to smaller cars
Affordable
Cons
Less insulation
Lower occupancy
Find Your Home Away From Home With My Financing USA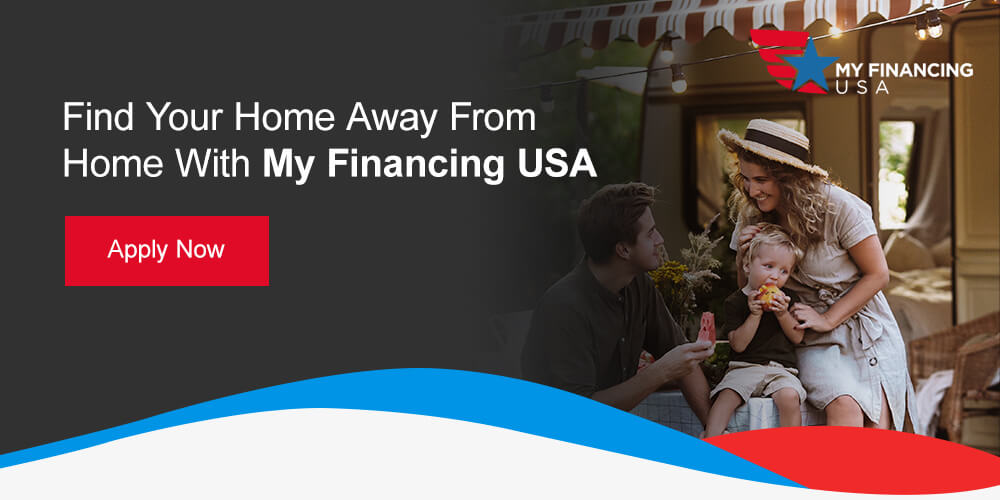 Your new traveling vacation home is just a click away with My Financing USA's RV Loan Application. In just five minutes, you can jumpstart the process and cut right to the bottom line so you can get on the road sooner. Within 48 to 72 hours of your application, you'll hear from one of our experts who will help establish your goals and find the most competitive rates on the market.
When it comes to traveling with loved ones and creating lasting memories, why waste time? Find out more about our RV loans and fill out our online application today!
---
Additional Resources on RVs:
---