Quick Navigation:
If you're looking for some USA road trip ideas, try the East Coast! With 14 states between the Atlantic Ocean on the east and the Appalachian Mountains on the west, the East Coast has everything you could want for a road trip destination. Enjoy an endless array of flavors and activities across the Eastern Seaboard, from Miami's beaches to Maine's seafood shacks.
This guide offers the best East Coast road trip ideas in the USA. Find great options for exploring big cities, small coastal towns and everything in between.
Big City Road Trip Ideas up the East Coast
Whether you're doing a short trip or an entire East Coast tour, hitting these major cities on your route is sure to give you a ton of fun East Coast road trip ideas. If you like exploring busy streets, learning about history or simply having a good time, these cities will provide everything you're looking for. Explore someplace new and discover the attractions that make up the cities on the Eastern Seaboard:
1. Miami, Florida
Lush glades and clear waters surround this sprawling city on the coast. If you're planning a trip, stopping in Miami is one of the best East Coast road trip ideas. Explore the beaches and islands of Miami for some world-class fun in the sun. For a quiet spot to relax and a family-friendly environment, try North Miami Beach. If you want to party, Miami's South Beach scene is renowned for showing visitors a good time.
After beach time, explore the city's wonderful street food and bars in Little Havana. For activities the whole family will enjoy, visit the Miami Children's Museum and explore the Everglades National Park. If you want to do something edgy and unique, check out Miami's Museum of Graffiti.
2. Savannah, Georgia


Another idea for road trips on the East Coast includes a stop in Savannah. As one of the most historic cities in the South, Savannah has a wealth of activities to choose from. Shop along the historic Broughton Street and check out the unique Paris Market. Stroll down the historical cobblestones of River Street and bear witness to Savannah's rich, and at times dark, past.
Give your feet a break with a trolley tour of Old Savannah — you can hop on and off at your convenience to learn about and explore the city at your own pace. If you're looking for something a little spooky, take a bone-chilling ghost tour of America's most haunted city.
3. Norfolk, Virginia
Another great East Coast USA road trip idea is a stop in Norfolk, Virginia. It's situated on the coast, so you can get all the benefits of a coastal city along with great inland activities. You can explore the Chesapeake Bay on a cruise or even learn to set sail with one of Norfolk's sailing programs.
For history buffs, take a short trip north to visit the remains of the first English settlement, Jamestown. Explore more history at the Hampton Roads Naval Museum and see a real-life warship, Battleship Wisconsin. Get active and take a bike ride down Elizabeth River Trail, right on the waterfront, or take a stroll in the Norfolk Botanical Gardens.
4. Washington D.C.

Washington D.C., the United States capital city, is one of the best road trip ideas along the East Coast. This city has something for everyone. Visit the Capitol to see the Library of Congress and even take a tour of the White House. Or, visit one of the 17 museums of the Smithsonian Institution, like The National Museum of African American History and Culture. For something truly unique that kids will love, check out the International Spy Museum.
You can also check out the restaurants and bars of Georgetown. Visit Georgetown Piano Bar for a cool and classy night on the town, or make your way over to The Tombs, a welcoming pub offering classic American fare. After a long day exploring the city, stroll along the National Mall to see the beautiful monuments reflected in the Lincoln Memorial Reflecting Pool.
5. Baltimore, Maryland
As another coastal city, Baltimore is a great stop for a road trip on the East Coast. Take a lunch or dinner cruise on the Inner Harbor for great views of the city and an unforgettable dining experience. Spend a day exploring Fell's Point, one of the oldest neighborhoods in the city. Stop by America's oldest continually operating saloon, The Horse You Came In On Saloon, for live music and great food.
Get a glimpse at the diverse sea life and extraordinary marvels of the ocean at the National Aquarium, which is perfect for all ages. If you want to escape the hustle and bustle of the city, let nearby Patapsco Valley State Park transport you into a peaceful and relaxing state of mind. Or, stick around in the city and enjoy simple sea fare and great views at a waterfront restaurant.
6. Philadelphia, Pennsylvania


No East Coast American road trip ideas are complete without a stop in Philadelphia. As the first World Heritage City in the United States, Philadelphia matches its rich history with an awesome culture to make it one of the best cities to visit on the East Coast. Check out Independence Hall and the Liberty Bell to see iconic foundations in the story of America's founding.
For a look at incredible works of art from around the globe, visit the Philadelphia Museum of Art — as a bonus, on your way to the museum you'll get to walk up the famous steps from the movie "Rocky." You can also get a picture with the iconic Rocky statue at the bottom of the steps. Even though you're in the middle of a city, Philadelphia's beer garden scene is hopping. After exploring historic Philadelphia, stop by Independence Beer Garden or another outdoor establishment for a refreshing brew in a magical greenspace.
7. New York City, New York
As the most populous city in the United States, it might be easier to list what you can't do in New York City. Split into five boroughs, New York City has so much to explore. Some of the most notable tourist stops include the Statue of Liberty and Ellis Island, Central Park and Times Square. In addition to tourist attractions, New York offers some of the best markets and spots for authentic cuisine from around the world.
For a heavy dose of arts and culture, check out the Metropolitan Museum of Art (MET) and the Museum of Modern Art (MoMA). Relax for a mid-day picnic in Central Park, the most visited urban park in the country. No matter when you visit, you can guarantee something fun is going on, from film and music festivals to parades and block parties. New York City isn't for the faint of heart, but it is a cool idea for an East Coast road trip destination.
8. Boston, Massachusetts
Lovingly referred to as Beantown by its residents, stopping in Boston is another great road trip idea for an East Coast vacation. Learn about the city's rich multicultural history on one of the many walking or boat tours available. Step into the past at the Boston Tea Party Ships and Museum for a reenactment of that famous event. History buffs will love to round out the day with a trip to the Harvard Museum of Natural History.
Boston has much more to offer than history lessons, however. Take your kids to the second oldest children's museum in the nation, Boston Children's Museum or the Boston Museum of Science for fun-filled activities. At the end of a long day of adventures, see why this city is becoming the craft brew capital of the USA by visiting one of the many local breweries.
Scenic Coastal Routes for Your Drive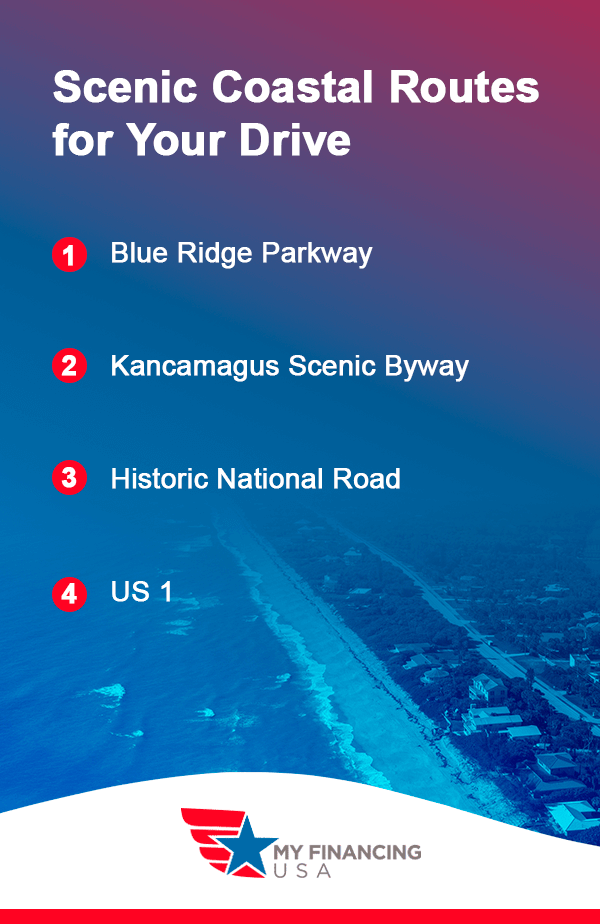 One of the biggest draws of taking a road trip through the East Coast is the gorgeous views of the coastline. If you want to get acquainted with the true atmosphere of the East Coast, check out the scenic drives, small towns and natural preserves. Whether you want a long escape or a respite between visiting the big cities along the East Coast, these coastal getaways represent some of the best East Coast road trip vacation ideas.
With the Atlantic Ocean to the east and the Appalachian Mountains to the west, the East Coast has no shortage of scenic views. Take one of these fantastic scenic routes for your road trip on the East Coast:
Blue Ridge Parkway: An immensely popular road, the Blue Ridge Parkway spans nearly 500 miles from Virginia to North Carolina. Get fantastic views of Shenandoah National Park and the Great Smoky Mountains National Park. Be aware that speed limits are slower than traditional highways.
Kancamagus Scenic Byway: This scenic route in New Hampshire is only 34 1/2 miles, but boasts some of the most incredible views of White Mountain National Forest. The 'Kanc' is especially popular during the fall season.
Historic National Road: Originally constructed around 300 years ago, this 170-mile route in Maryland will take you through history.
US 1: At a whopping 2,376 miles, this route takes you from the top of Maine in Fort Kent to the tip of Florida in Key West. Use parts of the route for a shorter trip, or take the full route for a long-haul road trip.
Enjoying Nature on Your Trip
While the West Coast may get more attention for its huge national parks, the East Coast has tons of beautiful natural lands to celebrate and explore. Add one or a few of these parks to your list of U.S. East Coast road trip ideas:
Acadia National Park in Maine
Cape Cod National Seashore in Massachusetts
Congaree National Park in South Carolina
Great Smoky Mountains National Park in North Carolina and Tennessee
Everglades National Park in Florida
Biscayne National Park in Florida
Quaint Coastal Towns to Enjoy
For a truly relaxing vacation, check out one of these cozy small towns along the East Coast:
1. Marathon, Florida
Add Marathon to your list of East Coast road trip ideas for a truly unique destination. Spread across 13 beautiful islands between Key Largo and Key West, this town is an idyllic coastal paradise. Enjoy activities like snorkeling in the reef or dolphin tours, and unwind at one of the beachfront restaurants.
2. Bald Head Island, North Carolina
Bald Head Island is a great place to ditch the car and explore the lighthouses, beaches and quaint shops of this remote gem. Renowned for its turtle nesting activity, visitors can join local conservationists for a Turtle Walk to witness turtles nesting and hatching in the wild.
3. Rehoboth Beach, Delaware


Rehoboth Beach is a wonderful, family-friendly beach city along the Delaware coast. Enjoy walking on the mile-long boardwalk with its restaurants, shops and amusements. Rehoboth Beach also offers fun in the off-season with a variety of different festivals and fairs.
4. Kennebunkport, Maine
Kennebunkport's claim to fame is that it hosts the summer home of former President George H. W. Bush and his family. Set out on a whale watching adventure from this city, or stay on land and explore the various shops and restaurants on the dock. A local favorite, the Clam Shack is famous for its lobster roll.
Ideas for a Food Tour of the East Coast
While the East Coast has tons to offer in scenic views and sunny beaches, the quality and variety of food you'll find along your road trip is unbeatable. Food tours are some of the most interesting road trip ideas on the East Coast, and they're guaranteed to satisfy the whole family. Check out these highlights from some of the major cities and regions on the East Coast:
1. Start in Little Havana


Begin your road trip in the south of Florida with a taste of Cuba. Little Havana, a neighborhood in Miami, is internationally renowned for its Cuban fare. Start your morning right with a cafecito or café con leche with pan Cubano — Cuban bread. If you are a serious foodie, you can take a walking food tour of Little Havana, or explore the restaurants on your own. Just don't forget to try the empanadas, pasteles and Cuban sandwiches.
2. Soul Food in Savannah
Even though it's a coastal city, Savannah has no shortage of soul food. Soul food was born from African Americans in the deep South and features dishes like fried chicken and fish, macaroni and cheese, okra, collard greens and cornbread. For great Southern food and hospitality, check out The Sisters of the New South. For an upscale Southern dining experience, stop by The Grey.
3. Oyster Roasts in South Carolina
South Carolina has been crowned the Napa Valley of Oysters for its oyster season, which spans from around September to March. These oysters are in demand all over the country, and they sell fast. For an authentic and rustic oyster shack, order from the famous Bowens Island Restaurant in Charleston. Pair your oysters with wine at SAVI Cucina and Wine Bar for a fine dining experience.
4. Baltimore Crab Cakes


The Chesapeake region is known for its seafood, but no dish is more popular than the Baltimore crab cake. Maryland's "crab culture" is booming, and variations of this staple crop up in hundreds of restaurants in the area, particularly in Baltimore. Maryland likes crab so much they dedicate whole festivals to it — check out the Baltimore Seafood Festival, Chesapeake Crab, Wine and Beer Festival, the Annual Queen Day Crab Feast and many others.
5. Philly Cheesesteaks
Nothing says Philly like a greasy, cheesy cheesesteak. In fact, two steak restaurants have been at war in Philly for around 50 years. Pat's King of Steaks and Geno's Steaks face off 24/7 as they are just across the street from each other. Teeming with a near-constant stream of tourists, these restaurants are a Philadelphia staple. Most locals have their own favorite spots — ask around and you'll see how many different restaurants claim "the best cheesesteak" title.
6. New Jersey Hoagies
Piled high with cured meats, cheeses and veggies, the hoagie is a staple of New Jersey cuisine. Depending on where you are, it goes by different names, including "sub" and "hero." This simple, handheld dish can have hundreds or thousands of variations, but most natives like it simple. Try a hoagie from an authentic deli, like Carmen's, for a true taste of Jersey.
7. Everything in New York


New Yorkers are extremely proud of their pizzas and bagels, and you can find some of the best examples of these items in this city. You can also get so much more. New York has everything a foodie could desire, from truly authentic regional Chinese cuisine to obscure Ukrainian dishes you've never heard of. You could spend weeks here and still not try everything, which is why it's such a great food tourism destination.
8. Boston Is Beantown
Beans are so ingrained in Boston culture that the current baseball team, the Braves, was formerly called the Beaneaters. As early as colonial times, Bostonians made baked beans a staple of their diet. Cooked slowly in molasses, a tradition derived from the local American Indian tribes, beans became a staple dish, and visitors to Boston appreciated the quick, cheap meal so much the nickname Beantown stuck.
9. End in Maine With Lobster Rolls
In the early days of New England settlement, lobster was readily available and therefore food for the poorer citizens. As tastes evolved, so did the lobster industry — now, lobster is an often expensive delicacy. The lobster roll brings back the humble roots of the lobster with its simple construction. Almost every seafood joint in New England offers their variation of lobster meat tossed in butter settled between two rolls. For a traditional lobster shack, try Red's Eats in Wiscasset or The Clam Shack in Kennebunkport.
Weekend Road Trip Ideas on the East Coast
If you don't have time for a long road trip, the East Coast is ripe with perfect weekend getaway locations. Spend a long weekend exploring Maine along the Acadia National Byway or island-hop from Key West to Key Largo. If you live near the East Coast, a short drive can take you someplace very different from where you live, which is a benefit of the East Coast's compact geography.
You can also add a big city to your mini road trip ideas on the East Coast. Savannah, Georgia, is a fantastic weekend getaway for a girl's trip or fun for the whole family. Hit up some of the major sites in Washington D.C. or Philadelphia for a quick dose of history, or spend a weekend exploring New York City. The options are endless, and the East Coast has something for everyone.
Get the Best Rates With My Financing USA RV Loan Financing


Hopefully these U.S. road trip ideas along the East Coast have inspired you to take your next vacation. Enjoy sandy beaches, great food and a huge variety of activities on your road trip up the East Coast. What could make this trip even more memorable? There's no better way to travel the East Coast than in a personal recreational vehicle (RV).
If you're looking to purchase an RV, My Financing USA has the experience and expertise to get you the most competitive rates in the nation while also protecting your credit score. We offer RV loan financing to those who have both good and bad credit, and we are proud to provide friendly, personalized service to all our customers. Enjoy the ease of our online application interface, and get a response in as little as 48 to 72 hours.
Get more information about financing your RV with My Financing USA, and check out our straightforward online application today!
---
Additional Resources on Road Trips:
---