Quick Navigation
This summer, say goodbye to a staycation and hit the road in a new RV. An RV will allow you to bring the comforts of home with you to any destination, which the whole family will appreciate. Hitting the road in an RV can also make your family vacation much more affordable.
If you don't have any ideas for a family road trip with children, we have compiled a list of possibilities for you, regardless of whether you are traveling on the East Coast, the West Coast or in the Midwest. With this list's fun, family-friendly trip ideas for every part of the USA, you can find great family road trip ideas in your area or hit up some of the best spots along your cross-country vacation.
East Coast Family Road Trip Vacation Ideas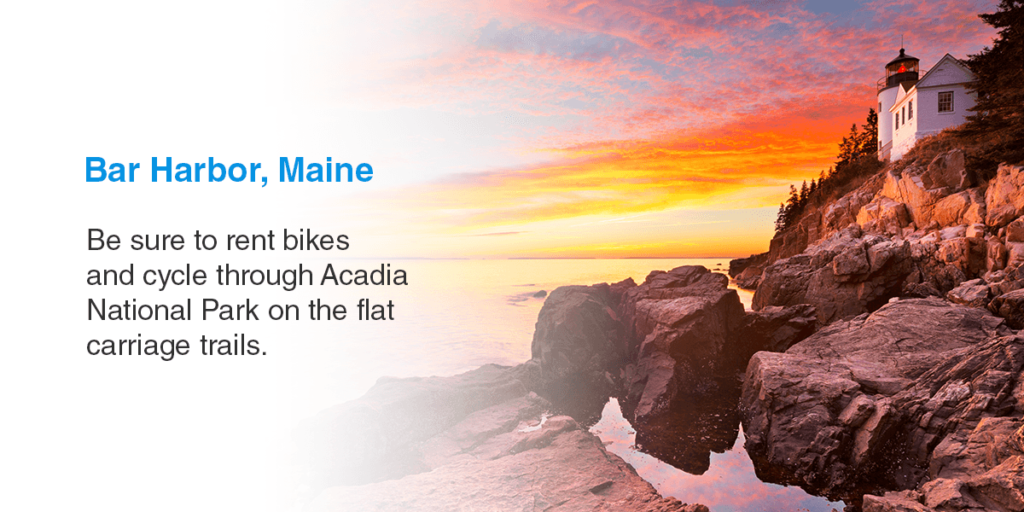 The states on the East Coast all share the coastline along the Atlantic Ocean. These states include Maine, Massachusetts, Connecticut, New Hampshire, Rhode Island, New York, Delaware, New Jersey, Maryland, North Carolina, South Carolina, Virginia, Georgia and Florida. Below, find a list of good road trip ideas with family while traveling on the East Coast. Be sure to stop at:
Bar Harbor, Maine: On the East Coast, Maine is one of the best states to visit in the summer. If your family is into hiking, you can watch the sunset from Cadillac Mountain's summit. The homes you'll pass along the coast on your way back look like they've been ripped right out of The Great Gatsby. Be sure to rent bikes and cycle through Acadia National Park on the flat carriage trails. In the morning, dine on smoked salmon eggs Benedict and wild Maine blueberry pancakes at 2 Cats Restaurant.
Assateague Island, Maryland: A family favorite in Maryland is Assateague Island, with its natural beauty and wild horses. Be sure to bring water, food and sunscreen to watch the ponies roam while you enjoy the salt air and sand. You can also swim while the lifeguards are on duty.
Ocean City, Maryland: The town closest to Assateague Island is Ocean City, featuring pristine beaches, seaside amusements, delicious restaurants and an iconic boardwalk. Visit Fish Tales, where you can eat some delicious seafood while your kids can burn off some energy on the playground that includes a pirate ship.
Williamsburg, Virginia: Be sure to visit historic Colonial Williamsburg and bask in the shade of the old tree on Nicholson Street across from the St. George Tucker House. After, take a drive to Waller Mill Park, where you can hit the biking and hiking trails or rent a boat and do some turtle watching. You can choose from any of the historic taverns for dining, such as Chowning's Tavern. Taste 18th-century food while learning about our nation's history from costumed characters.
Washington, D.C.: For your family, a must-see in D.C. is the Smithsonian National Museum of Natural History. Here, your kids can view the Hope Diamond and a huge prehistoric white shark. At the International Spy Museum, your kids can start a mission from a secret room. To view the monuments from the Tidal Basin, rent a paddleboat. For some authentic Ethiopian cuisine, check out the renowned restaurant Ethiopic.
Bryson City, North Carolina: If your road trip passes through Bryson City, North Carolina, visit the Nantahala Outdoor Park. Here, your family can do some whitewater rafting. After you dry off, hit the road and take a quick drive until you reach the famous Great Smoky Mountains Railroad. In the morning, visit the Everett Street Diner for a hearty breakfast.
Charleston, South Carolina: In South Carolina, you can take a boat to one of the last undeveloped barrier islands known as Capers Island. Your family can cruise past dolphins and pelicans and through tidal creeks. Once you reach Boneyard Beach, collect shells with the kids. Eat at The Wreck of the Richard & Charlene, where you can enjoy fried seafood and watch shrimp boats from the pier.
Savannah, Georgia: After a stay in Charleston, you may want to travel a couple of hours further south to Savannah, Georgia. Lay on the beach, hit the water in a boat, visit theSavannah National Wildlife Refuge, explore Savannah's historic sites, attend a baseball game at Grayson Stadium and indulge your sweet tooth at Leopold's Ice Cream.
Atlanta, Georgia: Atlanta has plenty of activities and sights to see to keep your family busy. First, be sure to visit the world's largest aquarium – Georgia Aquarium. To avoid crowds, go early in the morning or during the week, and buy your tickets online beforehand. Watch the Dolphin Presentation, and after you visit the aquarium, head to the Atlanta Botanical Garden. For dinner, grab a chili cheese dog and onion rings at The Varsity, the largest drive-in restaurant in the world.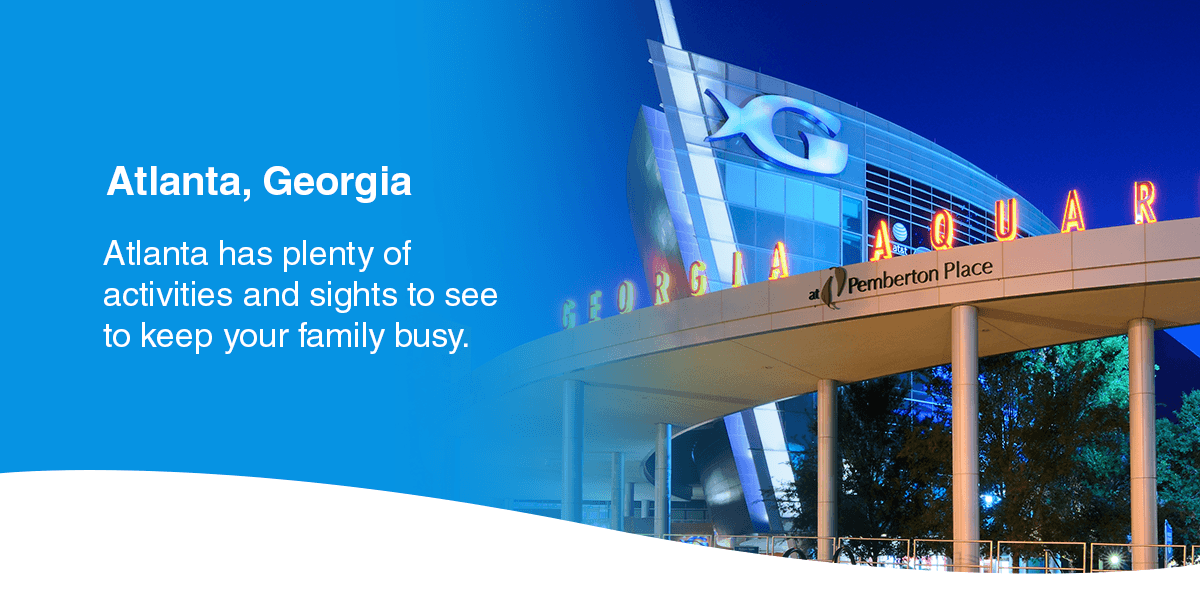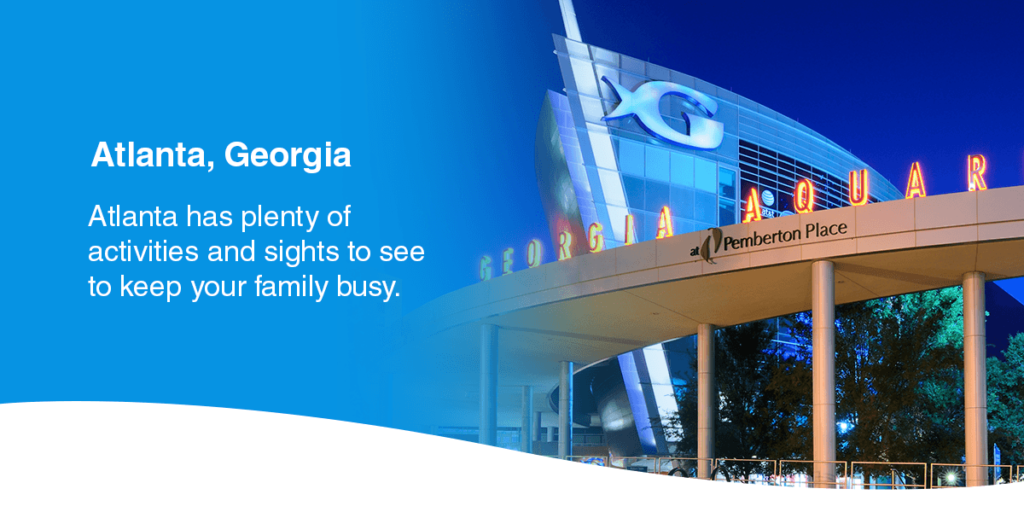 Midwest Family Road Trip Ideas
States in the Midwest include Illinois, Ohio, Indiana, Iowa, Michigan, Kansas, Missouri, Minnesota, Nebraska, Wisconsin, North Dakota and South Dakota. In the Midwest, there are plenty of destinations for your family to travel to.
Travel to Kansas City, Missouri
Despite its name, this city isn't in Kansas. Instead, you'll find it in the Midwest state of Missouri. The city has plenty to offer your family, including Deanna Rose Children's Farmstead and the Kansas City Zoo.
At the farmstead, you'll find animals, fishing, pony rides and plenty of room to play. At the zoo, you'll find the African Sky Safari and the Endangered Species Carousel. A family-favorite restaurant is Cascone's Italian Restaurant, where you can dine on your favorite Italian dishes.
Take a Drive to Traverse City, Michigan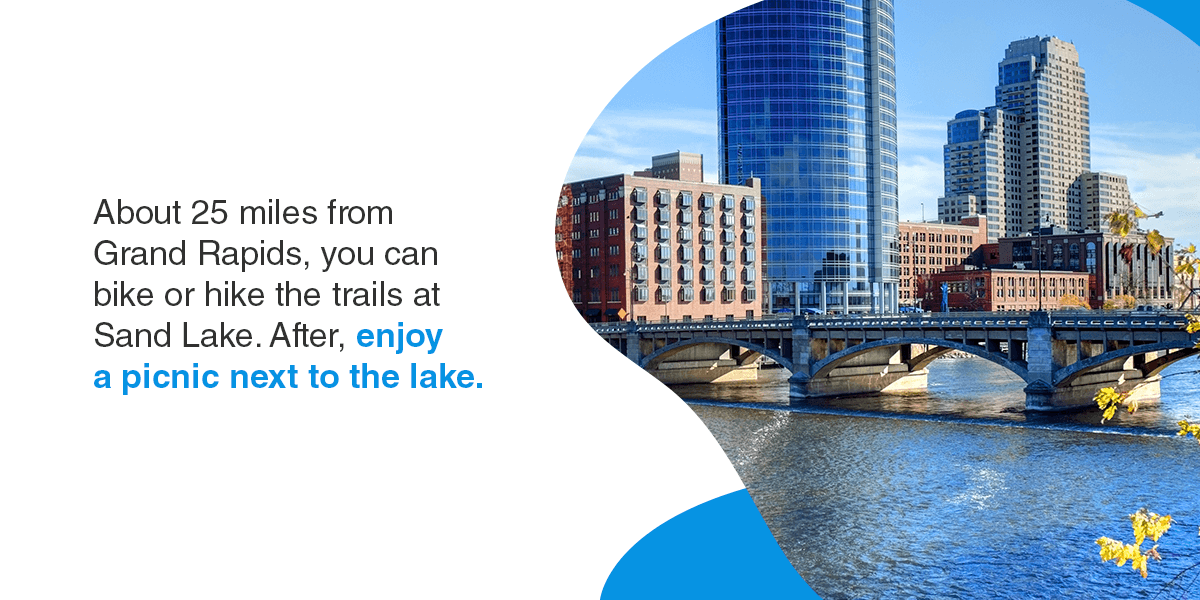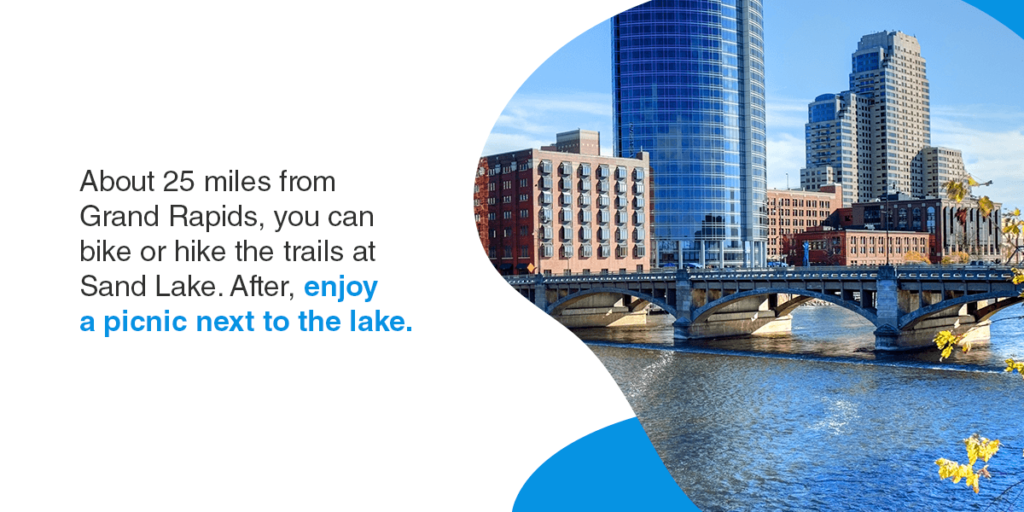 In Elk Rapids, you can visit Rennie Orchards and pick cherries from July through August. You may also want to stop by Friske Farm Market, where your kids can feed adorable goats and take wagon rides. About 25 miles from Grand Rapids, you can bike or hike the trails at Sand Lake. After, enjoy a picnic next to the lake.
Centuries ago, millworkers built Sleder's Family Tavern. You'll feel like you're enjoying a meal in a hunting lodge, and a bartender will ring a bell each time the tavern's stuffed moose gets a kiss.
Stop by Holland, Michigan
If you're planning a trip to Michigan this year, head to Holland. In Holland State Park, you can relax on Lake Michigan's pier, where you can view the Big Red Lighthouse. There is a world-famous indoor public facility to cool off known as the Holland Aquatic Center, and your kids can play on the playground at Kollen Park.
For food, stop by the waterfront Ottawa Beach Inn for a famous perch sandwich. Then go to Captain Sundae to order a Tommy Turtle Sundae.
Travel to Chicago, Illinois
Chicago has lots of excitement to offer. At Millennium Park, you can snap a photo of your whole family's reflection on the enormous, bean-shaped sculpture known as Cloud Gate, aka "The Bean." On a weekday, enjoy a fantastic view of the city from atop the Navy Pier's giant Ferris wheel, Centennial Wheel. If you stop by on the weekend, you'll be stuck waiting in a long line.
On a rainy day, visit the Museum of Science and Industry, where you'll find a fairy castle and a coal mine. There are plenty of places to eat in the city as well. At Superdawg Drive-In, a carhop will deliver your burgers, fries and shakes directly to your window. And of course, you can't go to Chicago and not try the famous deep-dish pizza. Stop by Lou Malnati's Pizzeria, which has been a Chicago fixture for decades.
Cruise Down Route 66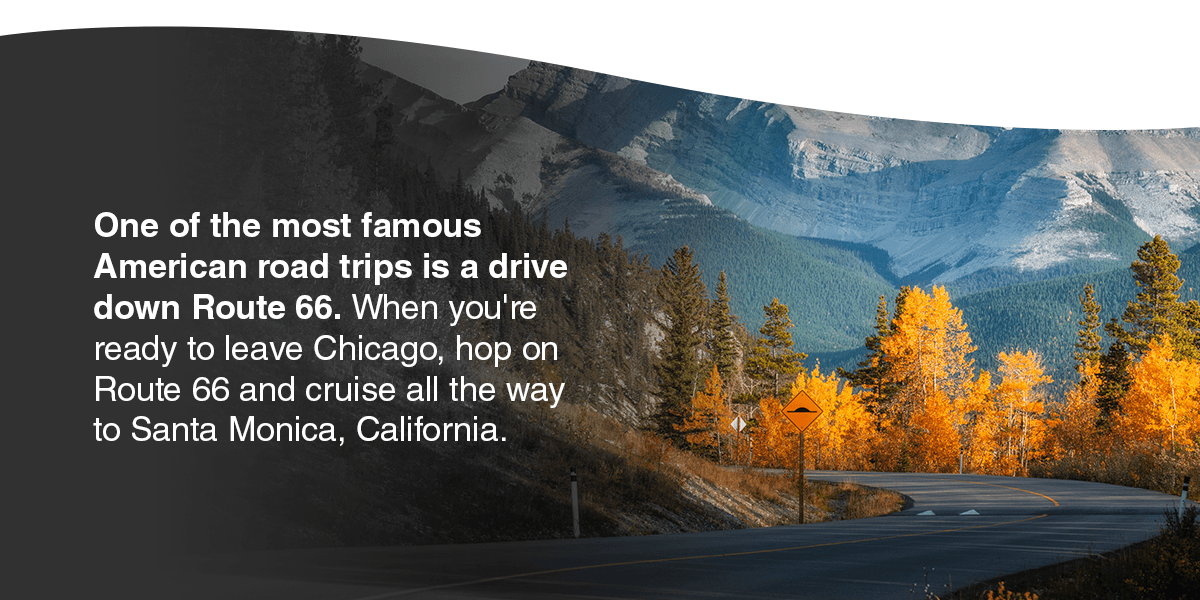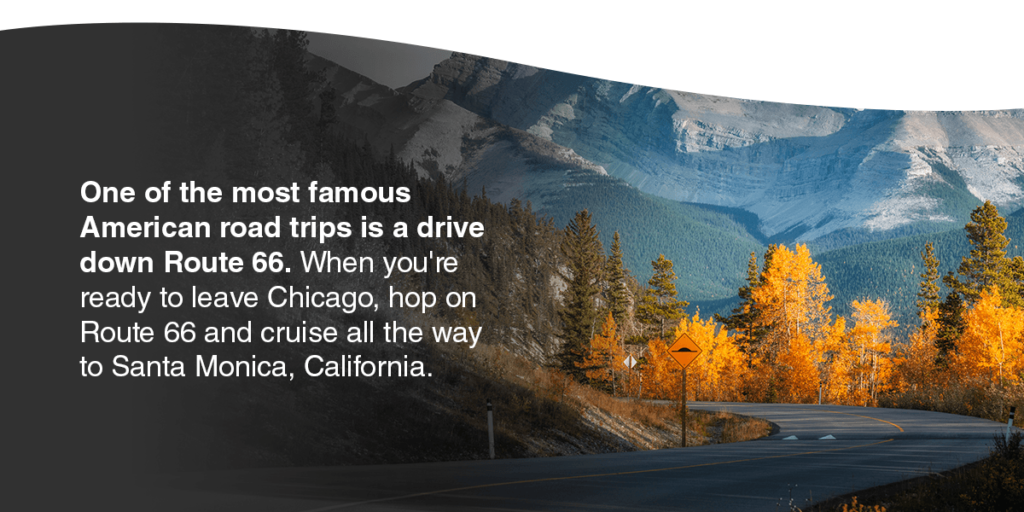 One of the most famous American road trips is a drive down Route 66. When you're ready to leave Chicago, hop on Route 66 and cruise all the way to Santa Monica, California. Along the way, you'll pass by vintage neon road signs, retro diners and breathtaking sights.
Of course, this is an ambitious undertaking for a family, so you may want to wait until the kids are a bit older before you tackle this trip. However, if you want to take the trip while your kids are still young, you can still drive a smaller portion of the route. For example, traveling between Chicago and Springfield will keep you in Illinois, and you'll still see plenty of interesting stops along your way.
West Coast Family Road Trip Ideas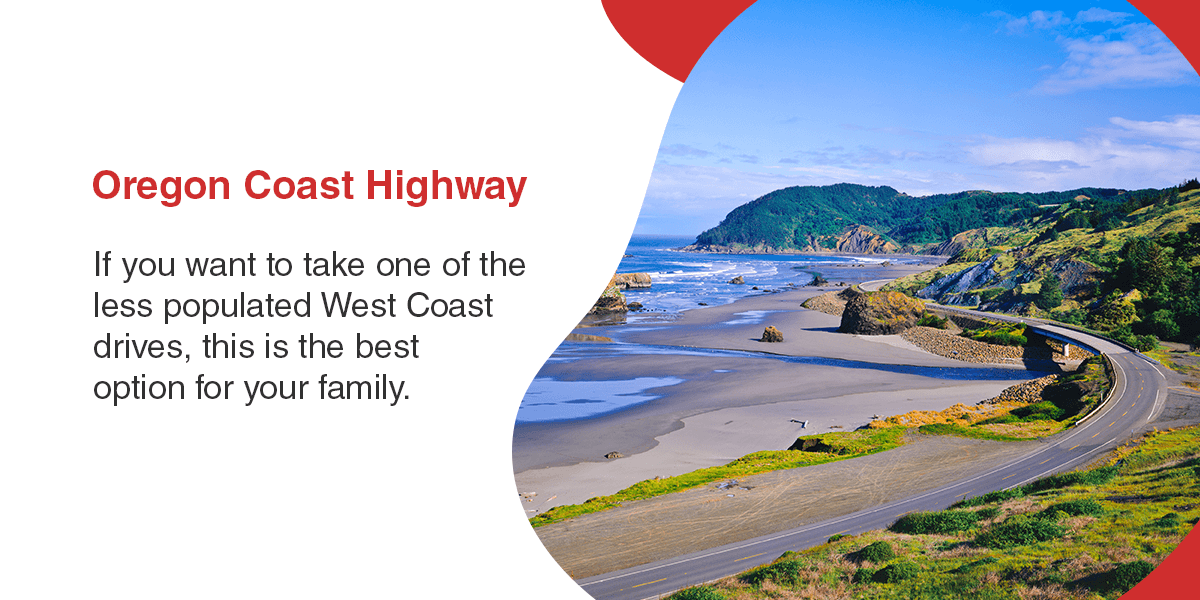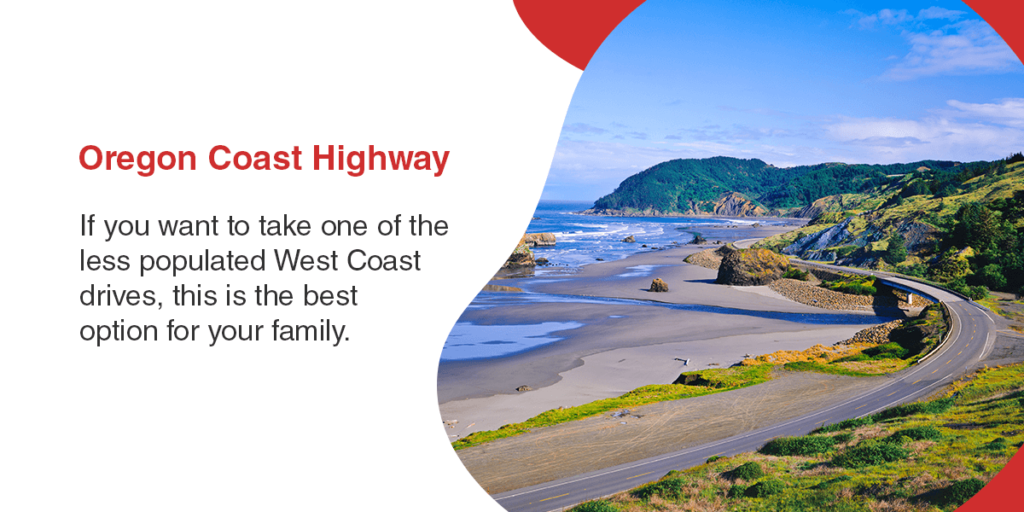 Also known as the Pacific Coast, the West Coast includes the states that all have a coastline along the Pacific Ocean. These states include Washington, Oregon and California. If you have family on the West Coast, you may be searching for West Coast family reunion road trip ideas. Or you and your family may want to travel out West for the first time. Regardless, there are plenty of road trip opportunities for your family in this region.
Pacific Coast Highway: For a family that loves the ocean, a trip along the Pacific Coast Highway is a must. Start your trip along this highway in San Francisco and stop at numerous California cities on your way down to San Diego, including Big Sur, Santa Cruz, Santa Monica, Malibu and Monterey. Hang out on the beach in Malibu, go whale watching in Monterey and ride on the Ferris wheel in Santa Monica.
Oregon Coast Highway: In Oregon, the Oregon Coast Highway is perhaps the most idyllic road trip you can take. If you want to take one of the less populated West Coast drives, this is the best option for your family. Travel all the way from the Columbia River down to the California border and make stops in the Oregon cities of Astoria, Seaside, Cape Meares, Cannon Beach, Cape Lookout, Lincoln City, Cape Kiwanda, Newport, Depoe Bay, Coos Bay, Reedsport and Florence. Don't miss a stop at the Samuel H. Boardman State Scenic Corridor for more breathtaking views along with some hiking and fishing.
Family Road Trip Ideas in California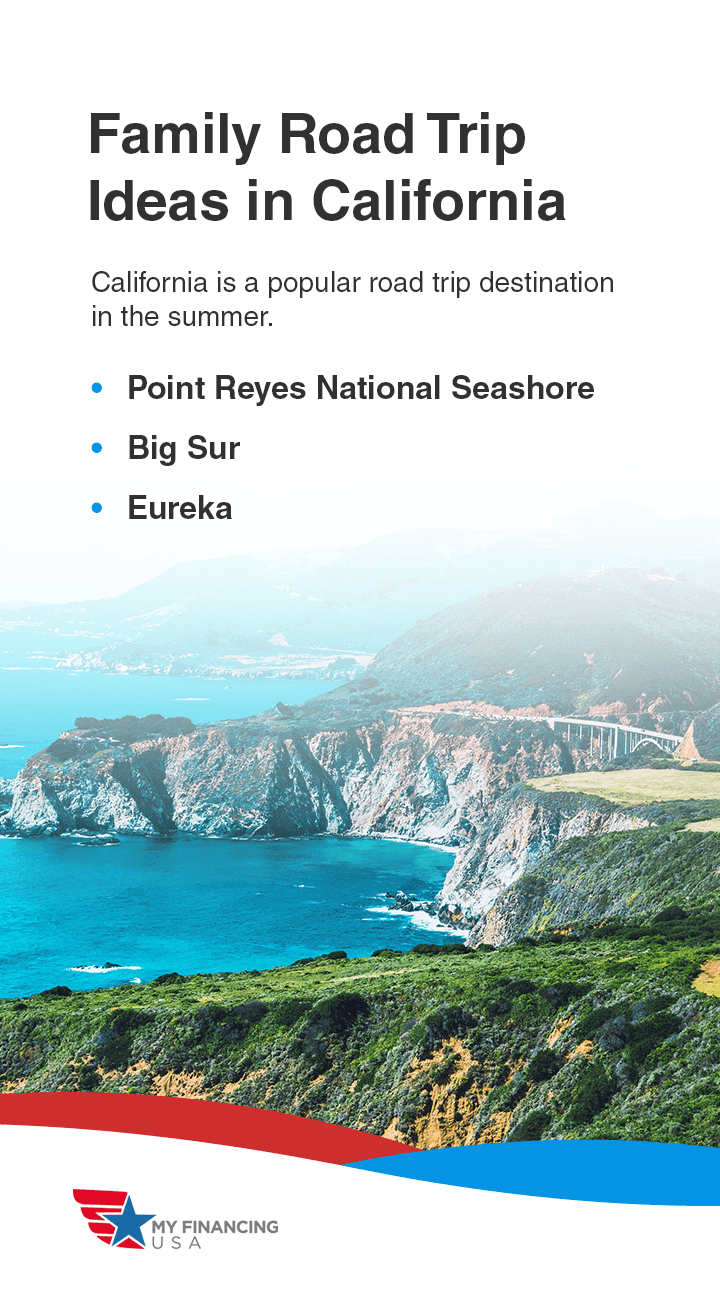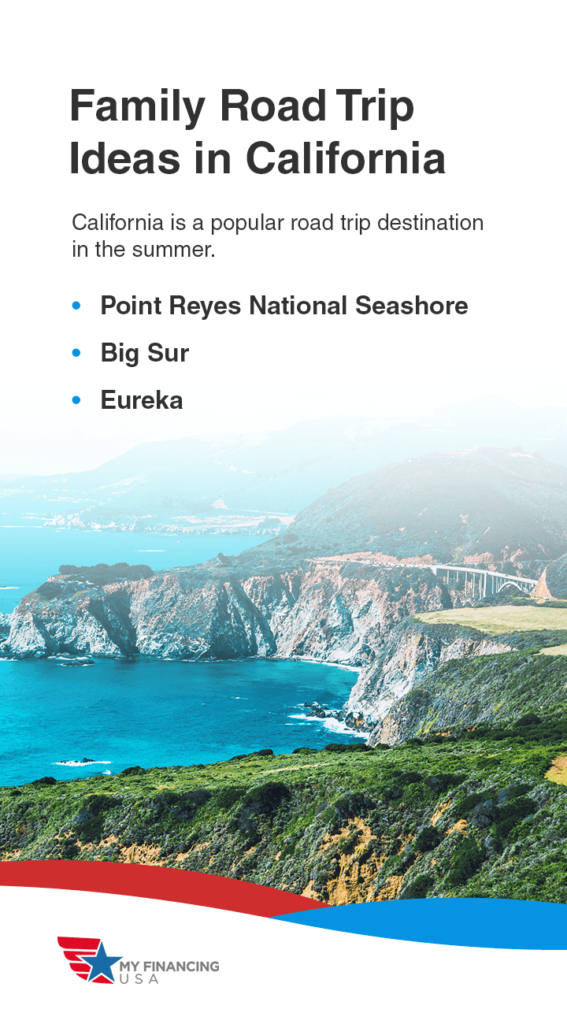 California is a popular road trip destination in the summer. If your family wants to go to California, whether to reunite with extended family or to enjoy the impeccable weather, there are plenty of family-friendly places in the state you can travel to.
Point Reyes National Seashore: One of the areas you can travel to in California is Point Reyes National Seashore. If your family enjoys surfing, visit Dillon Beach. Because the undercurrent is strong, younger children should stay on land. Fortunately, there are large dunes that your kids will love rolling down and plenty of sand to play in. For dinner after a day on the beach, head to Nick's Cove Restaurant and Oyster Bar, located on Tomales Bay, where you can enjoy local seafood while surrounded by a quirky nautical theme.
Big Sur: There is plenty to do in Big Sur, including stopping for baked goods and wood-fired pizza at Big Sur Bakery. After eating, visit Julia Pfeiffer Burns State Park, where you can take a trail to the waterfall that plunges into the Pacific Ocean. Be sure to stop at Nepenthe, an iconic restaurant with communal tables that overlook the ocean – perfect for the whole family.
Eureka: After a visit to Eureka, California, this charming city will quickly become a family favorite. You can visit the Sequoia Park Zoo that features animal habitats and redwoods and view the harbor via a Humboldt Bay Harbor Cruise. For a place to eat, consider stopping by the last surviving cookhouse of the West, Samoa Cookhouse, where you'll feel like you've entered a time machine. They serve food family-style, and you can enjoy breakfast, lunch or dinner.
More Summer Road Trip Ideas for Families
Family vacation road trip ideas can take you to the most scenic and exciting corners of the United States. The Northeast, Southeast, West, Southwest and Midwest all offer unique sights, weather and adventures. Consider the summer road trip ideas below if you're open to traveling anywhere in the U.S.
Dallas, Texas
Texas is a vast state with plenty to offer. In Dallas, check out the Dallas Heritage Village. There, you'll find Victorian and pioneer buildings, along with a working farm from the Civil War era where people dress in hoopskirts and bonnets. If your family has any picky eaters, take them to Son of a Butcher, where your family can dine on a variety of old-school sliders in a smattering of flavors and enjoy some handmade shakes for dessert. Or, head to Truck Yard for outdoor dining with food trucks, a treehouse and live music.
Whitefish, Montana
Montana is one of the most beautiful states, and it offers plenty of adventure for the whole family. Head to the city of Whitefish, Montana, where you can bike the Whitefish Trail and hike the North Boundary Trail. The Whitefish Trail goes through town, where you can grab a bite to eat at the Wrap and Roll Café, home of the "Fatty Burrito." Or, check out the Buffalo Café and Nightly Grill to try some Montana elk enchiladas and enjoy a kids menu with something for everyone.
Big Sky, Montana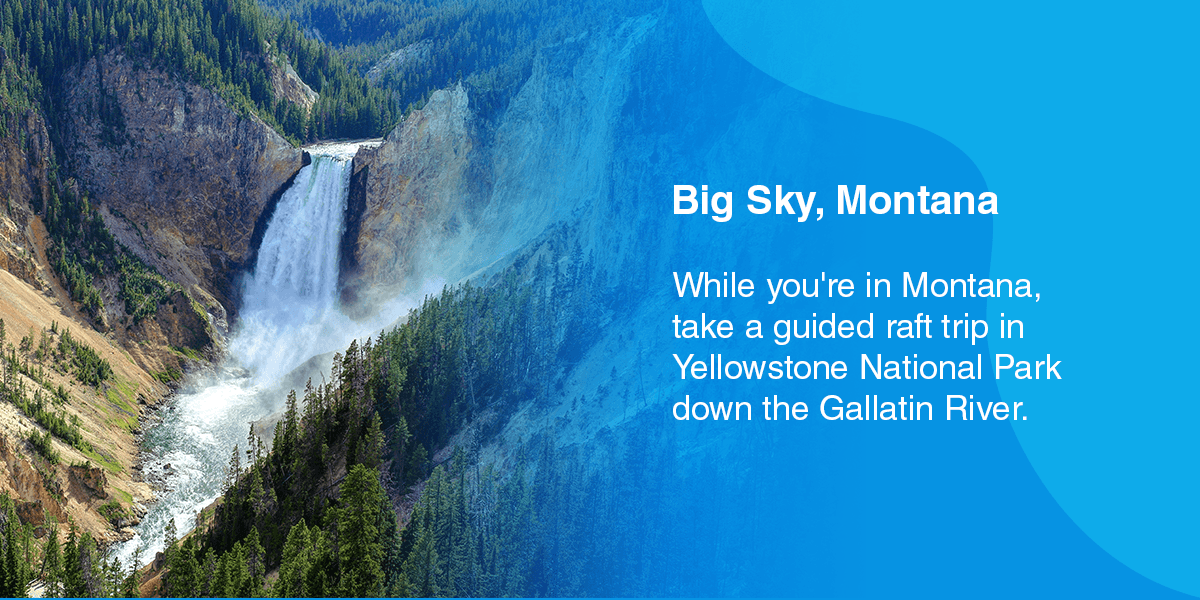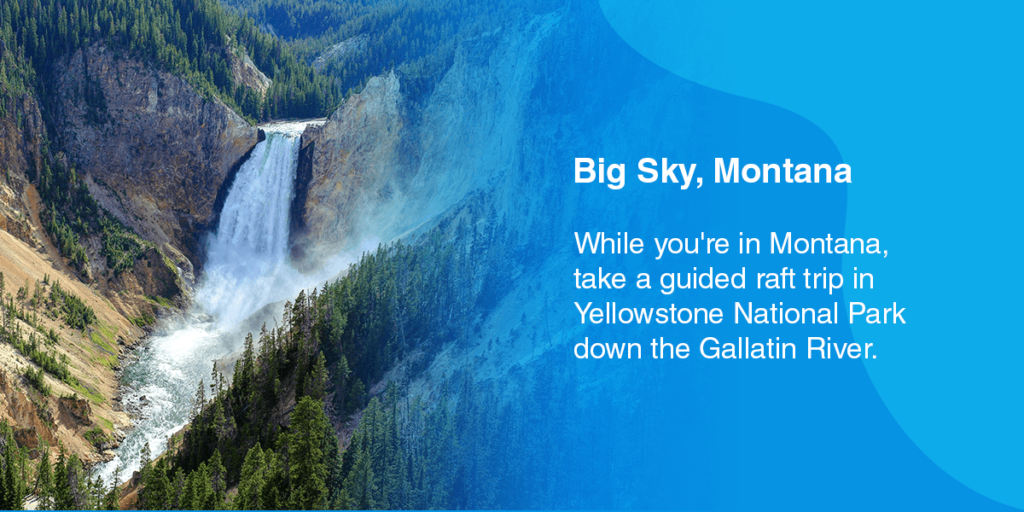 While you're in Montana, take a guided raft trip in Yellowstone National Park down the Gallatin River. After your water adventure, go fishing for brook trout at the nearby creeks. Don't forget to purchase all your picnic makings from the Hungry Moose Market & Deli, which offers a selection of salads, sandwiches and wine for the adults.
San Juan Skyway
If you drive this scenic Colorado byway, you can view some of Colorado's best scenery, including lakes, forests and peaks. In Ouray, Colorado, referred to as the Switzerland of America, you can find luscious hot springs nestled under some snow-capped mountains. In Durango, your family can go kayaking and take a steam train.
Oklahoma City, Oklahoma
If you want to take a trip to Oklahoma, be sure to head to Oklahoma City. At the Sam Noble Museum, Oklahoma's Museum of Natural History, you'll find dinosaur exhibits and art from cultures around the world. Hop on the "dinovator," which carries you up to eye level with the Apatosaurus. To shop for cowboy boots and watch horse shows, visit the Stockyards City district. Eat like a ranch hand at Cattlemen's Steakhouse, where you can enjoy a delicious steak and lamb fries.
Tribal Park Loop
The Tribal park loop will take your family along the Utah-Arizona state line.There, you can visit Monument Valley Najavo Tribal Park, which has served as the backdrop for numerous Hollywood movies, including westerns, Mission Impossible II and Forrest Gump. The valley features brilliant red landscapes and large sand towers, and by traveling along the Tribal Park Loop, your family can enjoy all these sights. You may even want to stay the night and sign up for a tour with a Navajo guide, who can lead you to areas that you can't access alone and educate your family on the area's history.
Tennessee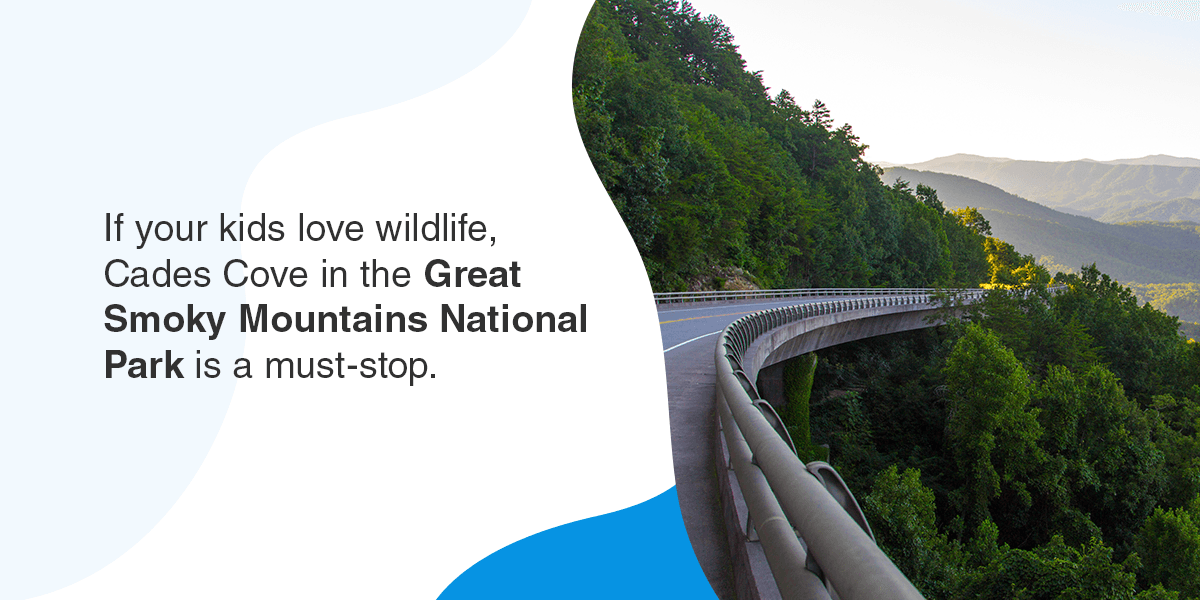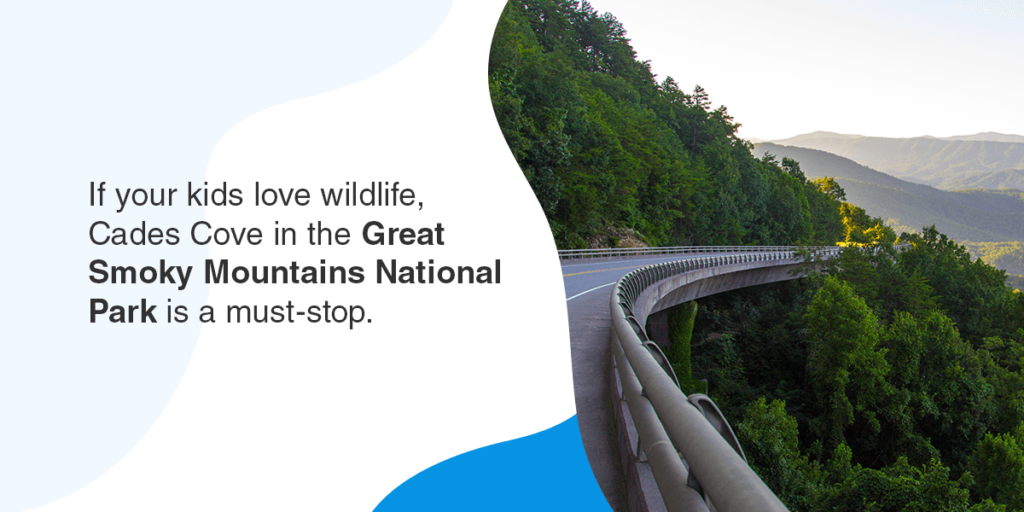 One of the best places to travel with your kids during their summer break is to Tennessee. This state offers delicious food and plenty of fun for the whole family.
In Pigeon Forge, you'll find novelty restaurants, glittering lights and Dollywood. This theme park, owned by Dolly Parton, offers something for every family member, including exhilarating rides and a water park where you can relax and cool off. Then enjoy a southern feast and amusing entertainment at the Hatfield and McCoy Dinner Feud™.
If your kids love wildlife, Cades Cove in the Great Smoky Mountains National Park is a must-stop. With RV campsites, you and your family can set up camp and spend a day or two wandering through a 19th-century settlement, viewing the wildlife and hiking.
A vacation to Tennessee wouldn't be complete without a visit to Nashville. Your kids will love roaming the lush paths in the Cheekwood Botanical Garden that look like they belong in a storybook. The Warner Park Nature Center is full of games and trails specifically for kids.
Downtown, you can find the Frist Art Museum, where there is a children's gallery and tons of hands-on activities. For a place to eat, stop by The Loveless Cafe, where you and your kids can watch the cooks prepare the Southern classics like biscuits and gravy in a setting that feels like a country kitchen.
Learn About Our RV Loans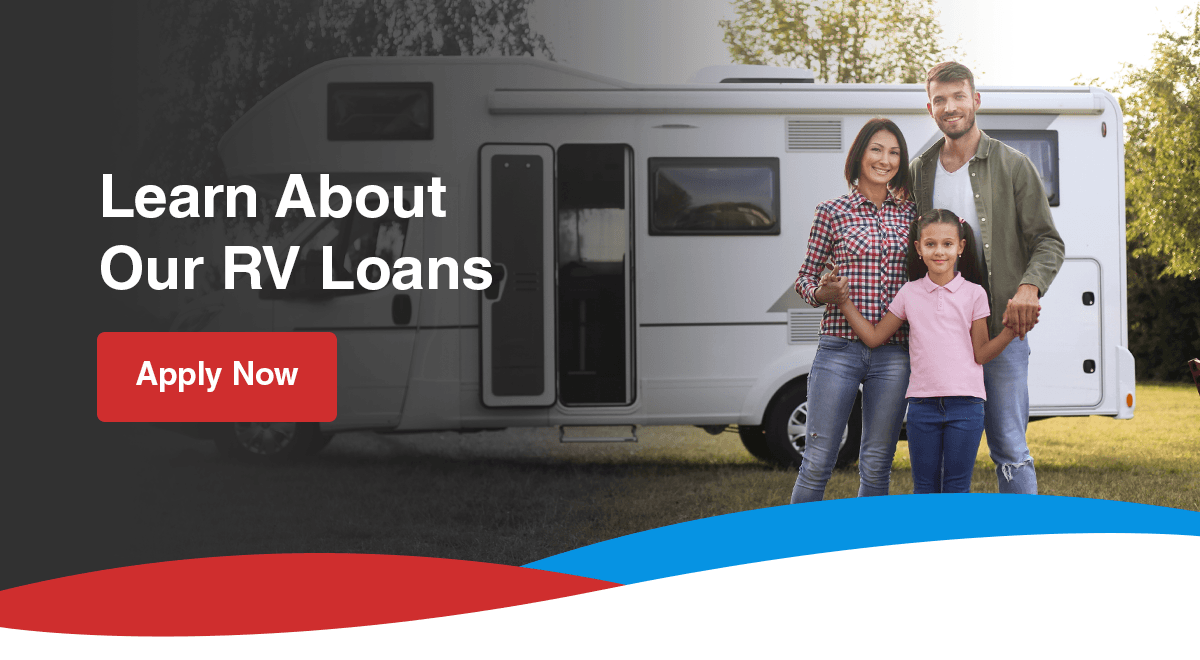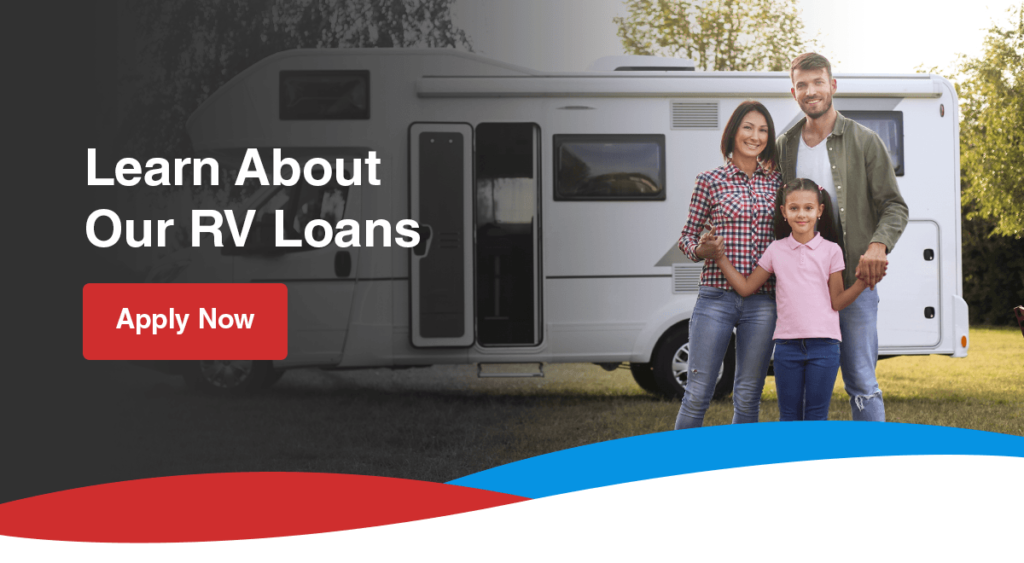 One of the best ways to indulge all of your family-friendly road trip ideas is by hitting the road in an RV. At My Financing USA, we can help you find an RV loan, regardless of whether you have a high or low credit score. When you work with us, you can enjoy:
Credit protection: In some cases, we can minimize credit inquiries by offering you the ability to get pre-qualified and sending your application only to one lender at a time.
Quick, easy approval: Sign your documents and submit them all from your phone. This makes application approval faster and simpler, allowing us to potentially fund your application in just 48-72 hours.
Nationwide low rates: We conduct our search for RV loans across the nation, so we can help you find the best available terms and rates, even if you have credit problems in your past.
Ready to hit the road in your new RV? Apply for an RV loan today, and we can help you find the financing that's right for you.
---
Additional Resources on Road Trips:
---