Whether you've recently enjoyed driving a boat for the first time or you frequent the water with friends, you might be considering buying your first boat.
Between staying safe on the water and taking the best care of your vessel and passengers, you have much to keep in mind. To make it simple, we've created a guide to help you tackle your journey as a new boat owner.
Check out our first-time boat owner advice and tips for smooth sailing.
The Importance of Boating Safety and Preparation
Before taking your boat out for the first time, you must understand the importance of boating safety and preparation. You can get the most out of your time on the water by actively staying educated about your boat and boating practices.
While getting out on the water is often a fun and exciting way to spend your day, there are many factors you should consider to stay safe. According to the American Boating Association (ABA), there were 3,191 injuries and 767 deaths in 2020 from boating mishaps. In addition to these, there were also 5,265 recorded accidents.
Every first-time boat owner should prioritize safety and take the proper steps to avoid hazards as much as possible. You can do this by taking great care of your boat and exercising the best operational techniques. The more you know, the more prepared you can be.
The First-Time Boat Owner's Guide
There is some crucial information every boat owner must know to avoid accidents and have the most enjoyable boating experience. Before getting out on the water, consider the following first-time boating tips:
Secure Boat Insurance
As a new boat owner, you should prioritize getting insurance. Boating can be a potentially dangerous activity, and the average boat insurance claim is around $11,000. Because of this, having an insurance policy that offers protection and support in the event of an accident or mishap can give owners peace of mind.
Most boat insurance policies fit into two categories — agreed value and actual cash value. Agreed value policies base coverage on the value of your boat at the time of policy writing. Actual cash value policies are less expensive upfront but factor in depreciation, so the policy only pays as much as the actual cash value of the boat when the loss is declared.
Keep Track of All Relevant Documentation

Each state has its own requirements regarding the proper documentation for your boat. You should explore your state's specific rules to ensure you have everything you need to get out on the water legally.
The following are some of the most common documents you need to have on hand as a boat operator and owner:
Your boat's registration
Your boater education card
Personal identification
Proof of insurance
Take a State-Approved Boater Education Course
As a boat owner, you should familiarize yourself with your state's boating requirements and laws. Some states ask you to complete a boating safety or education course before operating a motorized vessel. Even if your state doesn't require certain classes, courses teach you what to know as a first-time boat owner and are worthwhile.
Other states have age restrictions for operators and other conditions you must meet before you can make the most out of your boat. Whether or not your state has requirements for boater education, you should always familiarize yourself with the best practices for:
Operation
Navigation
Safety and life-saving skills
Master Basic Operating Skills
In addition to taking any necessary education courses, every owner should master the basic operating skills for their specific boat.
Have your boat dealer walk you through how all the systems on your boat work. Practice operating your vessel until you have the foundation you need for:
Boat handling
Docking
Navigation
Waterway rules and regulations
If you want additional practice and to jump-start your learning, look into chartering a boat with a captain. They can help and consult with you until you feel confident operating alone.
Review Boating Laws in Your Area
Before taking a boat out for the first time, learn about the boating laws in the area you wish to sail. Neglecting to learn and abide by the laws can have serious consequences. You could endanger yourself and anyone else on the water, and you could also face fines or jail time.
To further protect yourself and your boat, be sure to have the correct hull identification number (HIN) for your vessel. Law enforcement will use your boat's HIN to ensure it was legally acquired and matches registration documents.
Ensure Your Boat Has All Necessary Safety Equipment on Board

Every boat needs to have all the necessary safety equipment anytime it is out on the water. Essential boating gear includes:
Life jackets and wearable personal floatation devices
Tossable flotation devices
Visual and sound signaling devices
Fire extinguishers
The United States Coast Guard (USCG) provides requirements for safety equipment. Ensure all of your gear is on the Coast Guard's approved list and fits the set specifications.
Learn the Basic Boating Terminology
A valuable piece of first-time boat owner advice is to learn the basic words used in boating. This will help you to understand your vessel better and be more prepared when on the water. As you read your boat's manual, the more you comprehend, the better.
You should know the words for the various parts of your boat and some general directional words. For instance, "port" is the left side of a boat, while "starboard" is the right, and "stern" is the rear. Taking a course can help you master these words even before your first time driving a boat.
Keep a Maintenance Checklist
When owning a boat for the first time, it is essential to keep a maintenance checklist. If you want your vessel to last longer and perform at its best, regular upkeep is a necessity.
Create a checklist to ensure you never forget to take care of important maintenance tasks for these parts of your boat:
Engine
Hull and topsides
Electrical systems
HVAC systems
Upholstery
Moving parts
Plumbing
It is also helpful to keep a record of when you perform maintenance on your boat to ensure you're always on top of things.
Learn About Tide Changes
As a responsible boat owner, it is important to educate yourself about tides and currents. If you plan on boating in coastal waters, you need to know about the tides and the natural makeup of the areas you plan on exploring.
You should always do the following regarding tides:
Always Have an Experienced Operator on Board

One of the key things to know for first-time boat owners is to always have an experienced operator on board when on the water. The operator should know the following:
The boat's parts and its controls
The location of all emergency equipment
How to approach emergencies
How many passengers are on board
What route you are taking
The characteristics of the waterway you are boating on
Limit Passengers on Your First Trips
Getting a new boat can be very exciting. While immediately inviting all your friends out for a day on the water can be enticing, limiting the number of passengers on board during your first few trips is best.
Give yourself time to sharpen your skills and wait until you feel confident before inviting a crowd to sail with you. Once you welcome more passengers on your boat, be sure to follow your boat's maximum capacity, which is typically listed on a plate. If your boat doesn't have a capacity plate, multiply your boat's length by its width, then divide the result by 15 for a rough capacity guide.
Create and Follow a Pre-Departure Checklist
Every boater should have a pre-departure checklist. Before spending time offshore, review this list and check for the following:
Enough safety equipment for everyone onboard
Sound-producing devices
Functioning lights
Distress signals
Tools
Spare components
Sufficient fuel and oil
The weather forecast
Charged batteries
It is also necessary to share your boating plans with a trusted friend or family member in case of an emergency. This way, someone always knows your whereabouts and can locate your boat if need be.
Familiarize Yourself With Boating Etiquette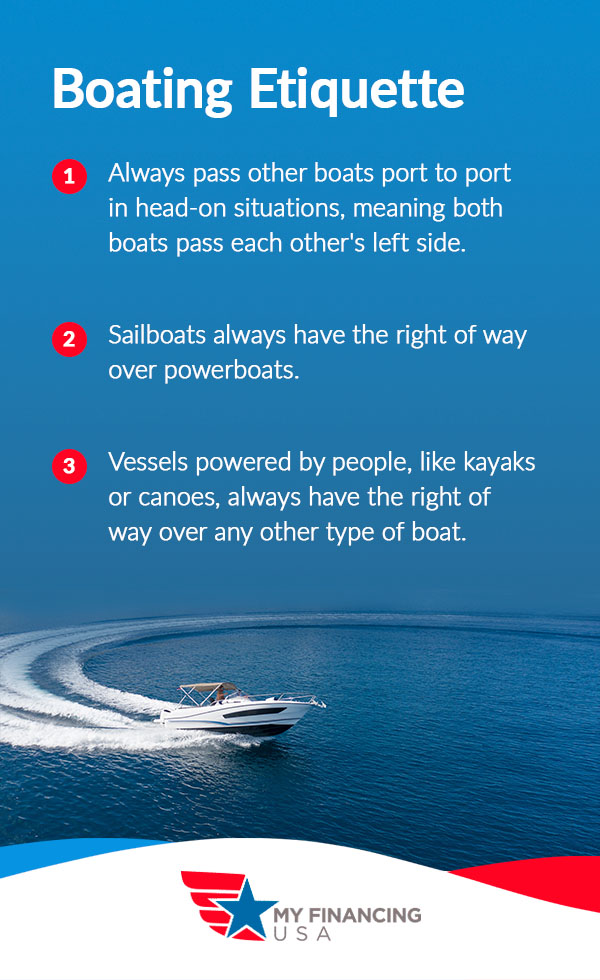 Etiquette is about more than good manners and social norms. It ensures boaters are being safe and considerate of one another. There are some basic boating etiquette rules to follow, including:
Always pass other boats port to port in head-on situations, meaning both boats pass each other's left side.
Sailboats always have the right of way over powerboats.
Vessels powered by people, like kayaks or canoes, always have the right of way over any other type of boat.
Knowing these and other boating rules will help you stay secure in boating traffic and be courteous on the water.
Avoid Boating in Inclement Weather
Boat owners need to keep a close eye on the weather and avoid boating during inclement conditions. If the forecast calls for a storm, stay onshore. A mild thunderstorm can be more aggressive at sea.
If you get caught on the water during bad weather, turning on navigation lights and reducing your speed is crucial. If there is lightning, have your passengers stay far away from electrical components and find the lowest part of the boat. Position yourself to face the wind at a 45-degree angle for better control to head to the nearest port if it's safe to do so.
Invest in Waterproof Bags
First-time boat owners can often overlook the need for a good waterproof bag. Use these bags to store:
Identification
Money
Electronics
Valuables that can't get wet
Between splashing and weather, it is essential to protect your belongings, especially communication and navigation devices.
Sort out Storage

As a boat owner, you need to know where you plan on storing your boat both in season and during the colder months. You'll need to sort out the following regarding storage:
Required space
A storage facility
Costs
There are three main types of boat storage. The first is in-water, where your boat stays in the water and can utilize a covered slip. There is also indoor and outdoor dry boat storage, but indoor options can be challenging to find. Most outdoor storage facilities utilize dry stacks where each boat has its own spot on a metal shelf system.
Learn How to Trailer Your Boat
Trailering your boat gives you the freedom to travel to different waterways. Learn how to do this early on in your boating ownership journey.
Before you purchase a boat you want to tow, be sure you have a vehicle that can handle it. You'll need to make sure the vehicle's tow rating and gross combined vehicle rating (GCVR) accommodate the size and weight of your boat. Note that your state might also require you to register your trailer as a separate vehicle with its own title and license plate.
Pack Essentials in Case of an Emergency

The National Park Service provides a list of outdoor essentials people should bring with them when heading out to a national park. This also works as a list of supplies for first-time boat owners:
Navigation: Put the navigation system you plan on using for your trip at the top of your first-time boat owner checklist. It will help you get back on track if you happen to go off course.
Sun protection: SPF and protection from the sun's rays are essential for outdoor activities, especially on the water.
Insulation: Weather can be unpredictable. Pack clothing items to combat rain and cold temperatures.
Illumination: It is important to have a backup source of light. If you pack a flashlight or headlamp, make sure you include batteries, too.
First-aid supplies: Be prepared for unexpected medical needs with a stocked first aid kit.
Repair kit and tools: Having a basic tool kit can help you make small repairs. Include things like duct tape and a knife.
Nutrition: Every trip should include some sustenance. Pack extra food that is nutritious and handy in case someone is feeling unwell or you find yourself in a pinch.
Hydration: Bring some extra water with you on a boating day. Staying hydrated is extremely important. There are also portable water treatment supplies that can help you purify drinking water if you need to collect it in nature.
Avoiding Common First-Time Boat Owner Mistakes
Whether you're new to boating or a first-time boat owner, there are some common mistakes you might make while getting prepared and being on the water.

The following are some of the blunders you'll want to avoid as a boat owner and operator:
Not checking the marine weather forecast: You should check the marine weather before every trip to anticipate the possibility of rough seas or a sudden storm. Note this is not the regular weather forecast, and you will have to seek out marine weather specifically for your area.
Hitting the dock: Be especially cognizant when nearing a dock. Approach any platform slowly and as controlled as possible.
Overloading: Carefully calculate the weight of everything you are loading into the boat, including people. Overloading is dangerous, and boats have a maximum capacity you must pay attention to.
Going off course: Thanks to modern technology, getting lost happens less often. However, going off course will happen from time to time, and it is important to have a backup navigation system like an app on your phone.
Running out of gas: The fuel gauge on your boat can give inaccurate readings since fuel splashes around in the tank. Be sure to have sufficient gas before heading out. Running out of fuel is one of the most common boating errors.
Running aground: Get to know the waterways you frequent well. Make a note of areas where you might run aground and avoid that region. Most boats can withstand hitting a little soft mud or sand bottom, but hitting harder materials like rocks can do serious damage to the bottom of your boat.
Forgetting the drain plug: Before getting your boat in the water, you must remember to put in the drain plug. Many rookie boat owners forget to do this, especially if they remove the plug for trailering.
Mooring the boat incorrectly: It is important to know how to tie a perfect cleat hitch to secure your boat next to the dock. Mooring incorrectly can lead to your boat floating away on its own.
Using an insufficient anchor line: When anchoring your boat, you need to make sure you drop enough for around five to seven times the depth of the water.
Forgetting routine maintenance: With all the fun of getting out on the water, you might forget to stay on top of regular maintenance efforts.
Running the engine dry: Water is often part of a boat engine's cooling system, and it also lubricates the water pump impeller. When you run the engine dry, it can overheat and the impeller can break.
Avoiding these common mistakes will help you take the best care of your boat and get the most out of your time on the water.
Good Boats for First-Time Owners

If you're still in the research phase of buying your first boat, the following are five of the best boats for first-time owners:
Runabout boat: This option is great for people looking for a versatile, yet small powerboat. These vessels work for fishing and water sports so first-time owners can enjoy participating in a variety of activities on the water.
Pontoon boat: These are an excellent option for people looking for a vessel to take leisurely trips in. As afirst-time pontoon boat owner, you'll notice how comfortable this style vessel is.
Jet boat: If you plan on boating in shallow waters, jet boats are perfect. They are typically small and extra maneuverable, making them an awesome option for water sports.
Bowrider: As one of the most popular types of boats, bowriders are super versatile and come in many different models. This style is considered a quintessential family boat.
Fish 'n Ski boat: If you enjoy being active and participating in watersports, a fish 'n ski boat may be the best first-time boat for you. These vessels can support angling and fun activities. And if you want to relax, you can use these boats for that, too.
Finding the right boat as a first-time owner is the initial step in making the most of your time on the water.
Learn More About Boat Loans From My Financing USA

With an understanding of these basics for first-time boat owners, you can make a more informed decision and feel confident on the water. If you find yourself ready to buy a new boat but not as eager to dig into your savings, there are loan options available for you.
At My Financing USA, we believe in finding the lowest rates and providing a simple approval process to make getting a boat loan easy, even with bad credit.
Interested in learning more about loans? Apply for a boat loan online with My Financing USA!
---
Additional Resources on Boating:
---