Quick Navigation
The following information is courtesy of Michelle from the finance and lifestyle blog Making Sense of Cents.
Many travelers want to buy an RV but are concerned with how to afford RV living. Whether you want to stay in your RV for extended periods or are interested in getting away occasionally, living your dream requires financing the perfect RV.
Many potential RVers are unsure of how to afford the RV lifestyle with a loan and monthly expenses. With research and careful planning, you can prepare for this big-ticket purchase even if your credit score is low. Above all, it's important to stay realistic as you work toward meeting your financial goals.
We have identified four ways to make RV living affordable. By considering the following points that other RVers often use to get ahead in their finances, you can determine what your savings or paychecks need to look like as you undertake this exciting new adventure.
1. Set a Realistic Budget for Buying the RV
There are many options when it comes to RV types, so it's best to review each kind before you begin looking at individual models. Your choices start with choosing motorized RVs that are drivable or towable RVs that you haul with reliable transportation.
Motorized RVs come in three types. Which motorized RV is best for you depends upon the size and layout that fits your style and your budget. The three classes of RV are:
Class A: As the largest drivable style, Class A RVs are generally the most luxurious and have the highest market value. This style is built on a long chassis, usually a commercial truck or bus, and can have an engine that runs on either gas or diesel fuel.
Class B: This smaller, more compact drivable style is built on a van chassis and is a highly affordable option for those looking to save.
Class C: This drivable style is built on a cab or cut-away chassis and generally comes with a mid-tier price tag for its well-rounded features.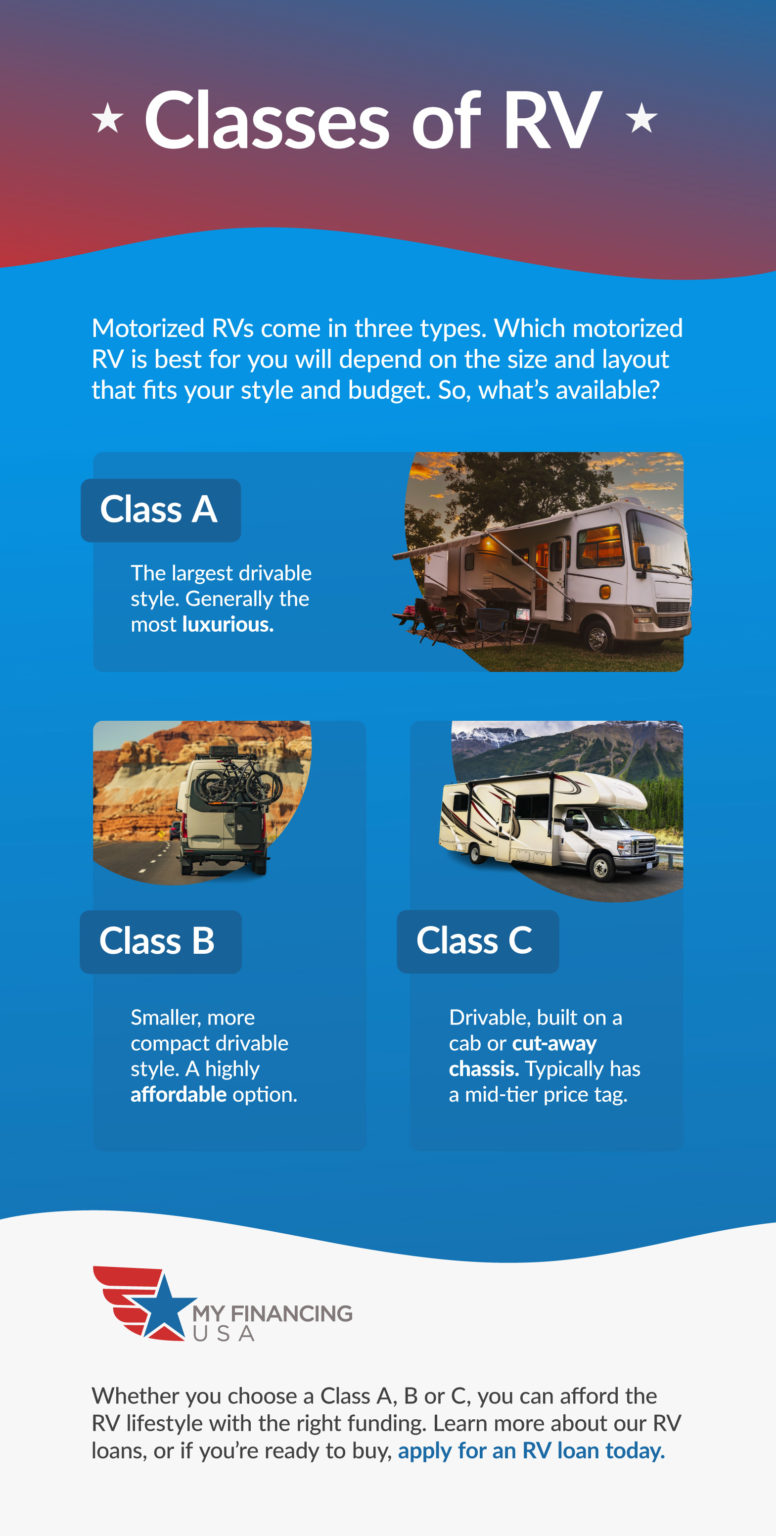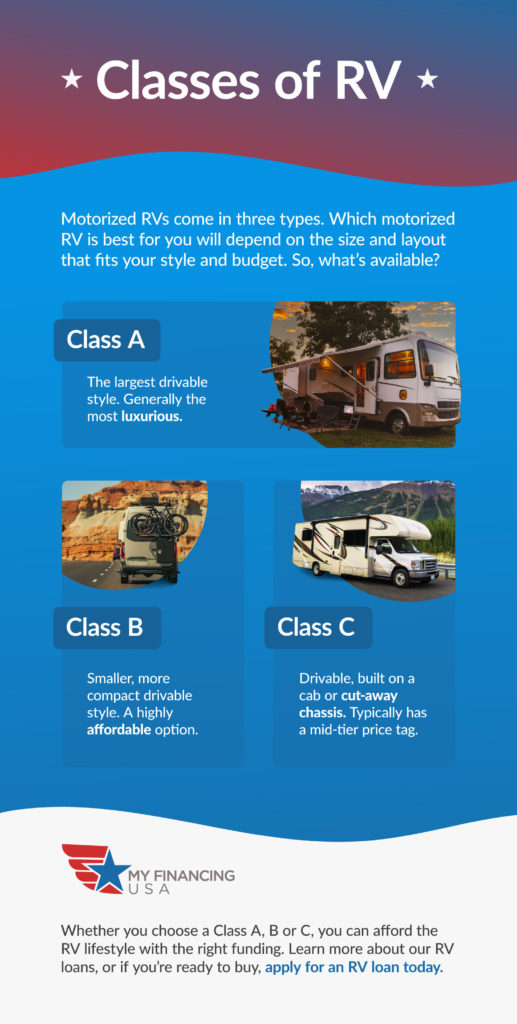 If you already own a pickup truck or SUV capable of towing, consider getting a towable RV instead. Your options include the following:
Travel trailer: Also known as a caravan, tourer or camper trailer, this towable style comes in various sizes and offers a reasonable price tag.
Fifth wheel: This style is similar to a travel trailer but uses a jaw hitch in the bed of a pickup instead of a ball and coupler hitch. This towable style is usually large enough for a mid-tier price tag.
Folding camping trailer: Also called a pop-up camper, this compact towable style typically has fold-out attachments for increasing space and is highly affordable.
Truck camper: This style is also called a slide-in or cab-over and sits inside a truck bed. It is more compact in space, varies in overall size and is an affordable option.
2. Come Up With a Travel Budget
To estimate your total on-the-road costs, make a list of everything you will need to pay for on your travels. This way, you can calculate the total costs of your RV trips instead of just your RV payments. Shop for an RV that fits the most closely with what you can afford. You will want to estimate your fixed expenses, including:
RV loan payments
RV insurance
Gas or diesel
Phone bills
Propane
Laundry
Entertainment
Health insurance
Maintenance and repairs
Internet devices and services
Campground and parking fees
Supplies such as soap and paper products
Food – including groceries and restaurants
3. Save Money on the Road
Saving money involves more than finding an affordable RV. Some RVers discover that they tend to spend more money on the road than at home and adjust their spending habits accordingly. With a little planning ahead, you can create an affordable budget and still enjoy your time on the road.
The many different ways to save money include:
Stay at reasonably priced campgrounds: Make budget-conscious choices about the campgrounds and RV parks where you stay. Consider the amenities they offer and how much you will use certain luxuries during your stay, especially when you're making a brief stop. Campgrounds with more services, events and amenities will generally cost more.
Find other places to park: Avoid paying campground fees by looking for alternative overnight parking. For example, state parks are a great low-cost option. Consider using travel apps and connecting with frequent travelers online to find safe places to stay that best suit your needs.
Observe the speed limit: Fuel is usually one of the largest parts of an RVer's budget. When you drive at the posted speeds, you help keep your fuel consumption in check.
Restrain your impulse for unnecessary purchases: Limiting your shopping for pleasure while you're traveling can help you save more money than you might have expected. This will also help you save space, as your RV has just the right amount of room for supplies and essential possessions. Before buying extra gadgets, it's wise to think about whether or not you really need the item.
Start doing meal preparation: Shop smartly by visiting farmers' markets for the highest quality budget options. Avoid eating out at restaurants frequently, and discuss your plans with your campground neighbors. Even though restaurants are convenient, cooking your own meals is also healthier than most dining options. To save the most money, purchase affordable ingredients and cook at your campground or inside your RV.
4. Earn Money While You Travel
If you are not retired but want to RV travel often, find ways to fund your travels while making money instead of putting your earnings on hold. Here are some tips for how to afford an RV while you're traveling:
Working remotely: If your employer allows remote work, all you will need for extensive traveling is a laptop or other portable device and to stay reliably connected to the internet.
Operating your own business: As a business owner, you can fund your travels by regularly connecting to your website and using local mailing facilities to ship products to customers.
Using your vacation hours: If your employer offers paid vacation time, be sure to use all of it every year.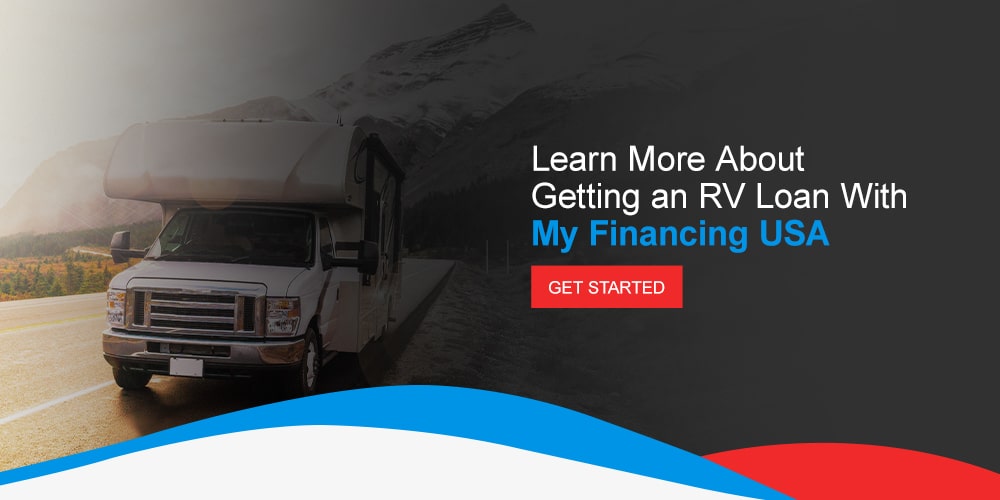 Learn More About Getting an RV Loan With My Financing USA
With a little planning, you should have no problem living and enjoying the RV lifestyle. Learn more about our RV loans, or if you're ready to buy, apply for an RV loan today.
---
Additional Resources on RVs:
---