Quick Navigation:
An RV road trip is a great way to see the country, explore new sights and save money. Whether you're planning a solo road trip or taking a group of family or friends on vacation, a road trip around the Great Lakes will provide all the fun activities, beautiful sights and delicious food you could ask for.
The Great Lakes are the largest lakes in the world by area, spanning 4,530 miles of coastline and bordering eight states. From bustling cities and charming towns to pristine freshwater beaches and soaring sand dunes, a Great Lakes USA road trip offers something for everyone. Check out these Great Lakes road trip ideas to plan your journey!
Top Stops on Your Great Lakes Road Trip
This itinerary outlines a road trip of Great Lakes proportions! The trip starts in Wisconsin and winds east, stopping in Illinois, Michigan, Ohio and even Canada. But you can tweak it however you want and start at any point. Here are the top stops you should include when planning a road trip to see all the Great Lakes:
Green Bay, Wisconsin
This trip begins in eastern Wisconsin. The city sits right on Green Bay, an arm of Lake Michigan. Green Bay has a wide range of activities everyone can enjoy, from botanical gardens and the National Railroad Museum to the Green Bay Packer Hall of Fame. Lambeau Field is another popular attraction.
While in Green Bay, try some artisan cheese from one of several local cheese shops in the city. This stop on your road trip through the Great Lakes is famous for its cheese curds and other Wisconsin varieties like cupola and Colby.
Milwaukee, Wisconsin

After Green Bay, head south to Milwaukee for another stop on the shores of Lake Michigan. This next destination on your road trip to the Great Lakes is rich in museums, parks and breweries. Taste your way around the city by sampling fish fry and frozen custard, two Milwaukee staples. Then enjoy the lakeside views at one of Milwaukee's public beaches.
If you plan your trip right, you can make it to Summerfest, one of the largest music festivals in the world. This festival occurs in the summertime on Lake Michigan so visitors can enjoy the live bands, great food and lake views.
Chicago, Illinois
A road trip around the Great Lakes would be incomplete without a stop in Chicago. About a 90-minute drive from Milwaukee, Chicago is a historic and iconic city. From its breathtaking architecture and modern art to its dazzling skyline, Chicago is a delight for city lovers. Take a cruise along the Chicago River, walk along Navy Pier and then take in the city from a bird's eye view in the Willis Tower or 360 Chicago.
If you're looking for shopping, the Magnificant Mile is a stretch of Michigan Avenue that will satisfy anyone looking for high-end shops. Snap a picture in the famous Cloud Gate sculpture, known affectionately as "the Bean," before trying a deep-dish pizza or a Chicago-style hot dog.
Grand Haven, Michigan
Drive around the southern tip of Lake Michigan and north to Grand Haven, Michigan for your next stop on this Great Lakes road trip route. A relaxed beach town that encapsulates Michigan's lake culture, Grand Haven is a great place to lounge on the beach, shop downtown and take in a gorgeous Lake Michigan sunset.
The area features several beautiful trails around the lake for bikers or hikers, while those who want to get closer to the water can go fishing or charter a sailboat. Grand Haven also hosts several festivals during the summer, including an art festival, a kite festival and a sand sculpture contest.
Ludington, Michigan
Next on this Great Lakes road trip itinerary is Ludington, Michigan. Ludington is one of the state's best beach towns, with plenty of sand and dunes to enjoy. This is also a great place to charter boats and go trout or salmon fishing. Take your catch to one of the nearby restaurants participating in Michigan's Catch and Cook program to enjoy the rewards of your labor!
Ludington is a must-see for any Great Lakes lighthouse road trip, as Big Sable Point Lighthouse is one of the state's tallest lighthouses. Climb the tower to enjoy a view of the dunes before heading down to your RV campsite at Ludington State Park.
Sleeping Bear Dunes National Lakeshore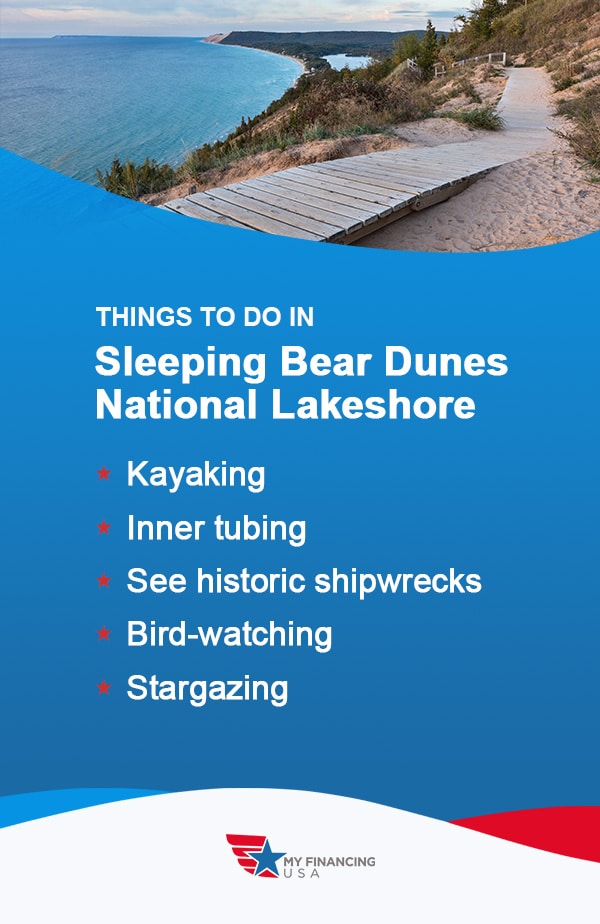 One of the best Great Lakes road trip destinations is Sleeping Bear Dunes National Lakeshore, a nature-lovers paradise. Encompassing Michigan's North and South Manitou Islands and the lake's eastern shoreline, the park's steep bluffs tower high above Lake Michigan, while sandy beaches, lush woodlands and clear island lakes make Sleeping Bear Dunes an exciting place to explore. Visitors will enjoy scenic drives and serene hiking trails.
The Lakeshore also offers plenty of activities to do on the lake. Go kayaking or inner tubing on Lake Michigan, or dive at the Manitou Passage Underwater Preserve to see historic shipwrecks. Sleeping Bear Dunes is also the perfect place for bird-watching and stargazing.
Mackinac Island, Michigan
To get a taste of Lake Huron, head north toward Michigan's Upper Peninsula and visit Mackinac Island. Called the Crown Jewel of the Great Lakes, this island is a popular tourist spot that's well worth the visit. Mackinac Island is a car-free island and only accessible by ferry, which you can take from Mackinaw Island. Once on the island, you'll be delighted by visitors walking, riding tandem bicycles and taking horse-drawn carriages.
Be sure to take in the sights of the majestic Grand Hotel and sample fudge crafted right on the island. You can also enjoy shopping and dining, golf and spa treatments for some relaxation. If you're taking a lighthouse road trip around the Great Lakes, stop at Old Mackinac Point Lighthouse or McGulpin Point Lighthouse before crossing back to the Lower Peninsula.
Great Lakes Shipwreck Museum
The Great Lakes Shipwreck Museum is one of the best places to learn about the lives and ships lost on the Great Lakes. This stop on your Great Lakes road trip is located in the Upper Peninsula, an area heavily forested and rich in history, from the lives of the indigenous tribes who were the first to live there to the copper rush of the 1840s. To access the peninsula, you'll have to cross the five-mile-long Mackinac Bridge, one of the world's largest suspension bridges completed in 1954.
The museum is inside the Whitefish Point Light Station and features shipwreck artifacts, ship models, artwork and more. Museum admission includes a self-guided tour of the lighthouse keeper's quarters, lifeboat houses and the Navy Radio building.
Munising, Michigan
Next on your Great Lakes RV road trip is Munising, located in Michigan's Upper Peninsula on the shores of Lake Superior. The drive across the bridge to reach Munising takes about two hours.
Munising is best known for Pictured Rocks National Lakeshore, a sandstone rock formation featuring beautiful cliffs and waterfalls. Visitors enjoy taking a cruise or kayaking below the rocks. Smoked whitefish and pasties are signature Upper Peninsula dishes to try during your visit.
Isle Royale, Michigan
Further into the Upper Peninsula is Isle Royale, an island with plenty of outdoor activities. Visitors enjoy backpacking, hiking, paddling and diving. Stop at Rock Harbor Lighthouse, an enchanting lighthouse on the island surrounded by dark pines and rocks. You may even see moose or some of the wolves relocated to the island.
Isle Royale is the perfect stop if you want to take a Great Lakes camping road trip. Tent camping is popular at Isle Royale National Park and the water is plentiful because it's right on the shores of Lake Superior. Officially designated as a wilderness, Isle Royale is only accessible by ferry, seaplane or private boat.
Bay City, Michigan
Drive back out of the Upper Peninsula and along U.S. Route 23 on Michigan's east coast before arriving in Bay City. The scenic drive offers stunning Lake Huron views along Saginaw Bay. Once in Bay City, you can explore plenty of boutique shops, parks and dining opportunities.
Bay City is one of the best spots for surfing along this road trip around the Great Lakes. You can also stroll along the Bay City Riverwalk trail or take advantage of the world-class walleye fishing in Saginaw Bay.
Frankenmuth, Michigan

The next stop on this Great Lakes region road trip is Frankenmuth, also called Michigan's Little Bavaria. Settled by German immigrants in the 1800s, the area is still proud of its German roots. This charming town is full of timber-framed architecture and offers numerous opportunities to enjoy German cuisine and culture.
Enjoy a world-famous chicken dinner at Zehnder's of Frankenmuth, where your servers will be decked out in traditional German dress. Take a horse-drawn carriage ride around the village and explore the River Place shops. You can also go ziplining, catch a beer and sausage festival or visit the world's largest Christmas store.
Detroit, Michigan
The best road trips around the Great Lakes have to take in the unique sights of Detroit. Motor City is famous for its automotive history, but there is more to this city than meets the eye. Visit an automobile museum to soak in the history, the Detroit Zoo to admire the animals and the Motown Museum for learning about Detroit's contribution to American music. During your visit, try Detroit-style pizza and coney dogs.
Outdoor activities are more limited here, though hiking and biking on the Iron Belle Trail are popular. You can also charter a fishing boat on the Detroit River, which flows from Lake St. Clair to Lake Erie.
Toledo, Ohio
Drive south to the western tip of Lake Erie to visit Toledo, Ohio, a former glass-making metropolis. Toledo was also a popular place for bootleggers during Prohibition, giving this city a lot of history. Today, Toledo has a thriving art scene and plenty of attractions for the whole family.
Stop at the Toledo Museum of Art or catch a performance by the Toledo Symphony Orchestra to enjoy some culture. The National Museum of the Great Lakes is located here, providing an in-depth look at the region's past. Botanical gardens and amusement parks provide more opportunities for fun.
Sandusky, Ohio
Another city situated on Lake Erie's shores, Sandusky is best known for its family attractions. The city is brimming with water parks, amusement parks and gardens. Visit the Maritime Museum of Sandusky for exhibits on shipwrecks, shipbuilding and ice harvesting. While in the city, try fish and chips featuring perch caught in the lake.
Great Lakes lighthouse road trips must include nearby Marblehead Lighthouse, one of the most photographed lighthouses on the Great Lakes. Take a picnic lunch to the park around the lighthouse and enjoy the views of Lake Erie.
Cincinnati, Ohio
For the best road trip near the Great Lakes, you may want to venture inland. Cincinnati boasts a wealth of attractions, including the world-famous Cincinnati Zoo. The Cincinnati History Museum is another popular spot. Built in an abandoned railroad terminal, the museum is a testament to the rise of the steam engine and Cincinnati's role in the advancement of the railroad.
There are plenty of sports teams to cheer on in Cincinnati, like the Bengals and the Reds. If you're interested in a different kind of thrill, a short drive from downtown is King's Island amusement park, the largest amusement park in the Midwest. When it's dinner time, try Cincinnati-style chili, a spiced chili poured on top of spaghetti or hot dogs.
Columbus, Ohio
Northeast of Cincinnati is Columbus, the Ohio state capital. Columbus has a lot for families to do, from science centers and museums to a Broadway show at the Ohio Theatre. The city's German Village features historic brick buildings built by settlers in the 1800s, while the Short North Arts District is a thriving arts center.
Take a walk down the riverfront Scioto Mile to admire the city skyline. In the evening, check out some of the area's restaurants or enjoy the music in a local club.
Niagara Falls
The best road trips to all five great lakes have to include Niagara Falls. Every second, around 3,160 tons of water flows over Niagara Falls. Two of the three falls that make up Niagara, Bridal Veil and American Falls, lie on the American side, while Horseshoe Falls is in Ontario, Canada. Visit Niagara Falls State Park in New York to get close to this awe-inspiring natural wonder. Some of the best Niagara Falls experiences include exploring the Cave of the Winds and riding the Maid of the Mist boat.
Toronto, Ontario
This USA Great Lakes road trip actually ends in Toronto, Ontario, so don't forget to bring your passport! Toronto is a lively place to explore along the shores of Lake Ontario, the last Great Lake on the trip. The best view of the lake is from the 114th floor of the CN Tower.
The Gothic Revival castle Casa Loma is a must-see while in the city. The mansion features a museum and has been a popular filming location for movies. Visit the Royal Ontario Museum, one of the largest museums in North America, to take in the natural, art and world history. Toronto is also a foodie city, so try the range of cuisines from local restaurants during your stay.
Plan Your Great Lakes Road Trip With My Financing USA
A Great Lakes USA road trip has so much to offer. Whether you're enjoying watersports on Lake Michigan or having a fine dining experience in a metropolis, you'll have a wonderful trip as you explore the region from your RV.
Getting an RV loan with My Financing USA can help you make your Great Lakes road trip a reality. We search nationwide to find the best rates for our RV loans, even if you've had credit problems in the past. Once you apply for an RV loan, you can be approved in as little as 48 to 72 hours. To get one step closer to your Great Lakes RV road trip, apply online today.

---
Additional Resources on Road Trips:
---