Quick Navigation:
Do you dream of sailing on the open seas? Do you love the smell of freshwater mist and the feeling of a cool breeze on your skin as you gaze out to the horizon? Cruising along the shores in a worthy vessel used to be just a retiree's fantasy. But, with today's resources, budget-friendly boat selections and useful financing options, owning a boat is easier and more viable than ever before.
While the task of shopping for the perfect nautical craft may seem daunting, the necessary steps are similar to those of shopping for a new car or house. As long as you know what questions to ask when buying a boat and how to check a boat before buying it, you'll be ready to explore new waters in no time.
Whether this is your first or 10th vessel, our guide can help you navigate the process with ease. If you are an aspiring sailor who is new to the maritime world, you may be wondering what you need to know before buying a boat. Do size, year, model or speed matter? How hard is it to buy a boat?
These may seem like simple questions, but the answers depend on your preferences and how you want to use your boat. Whether you envision yourself exploring new places, hosting your friends on the harbor or enjoying a family vacation at the lake, there is a vessel for every purpose. At My Financing USA, we're here to help make your nautical dreams a reality. Here's what you need to know when buying a boat.
Deciding What Type of Boat You Want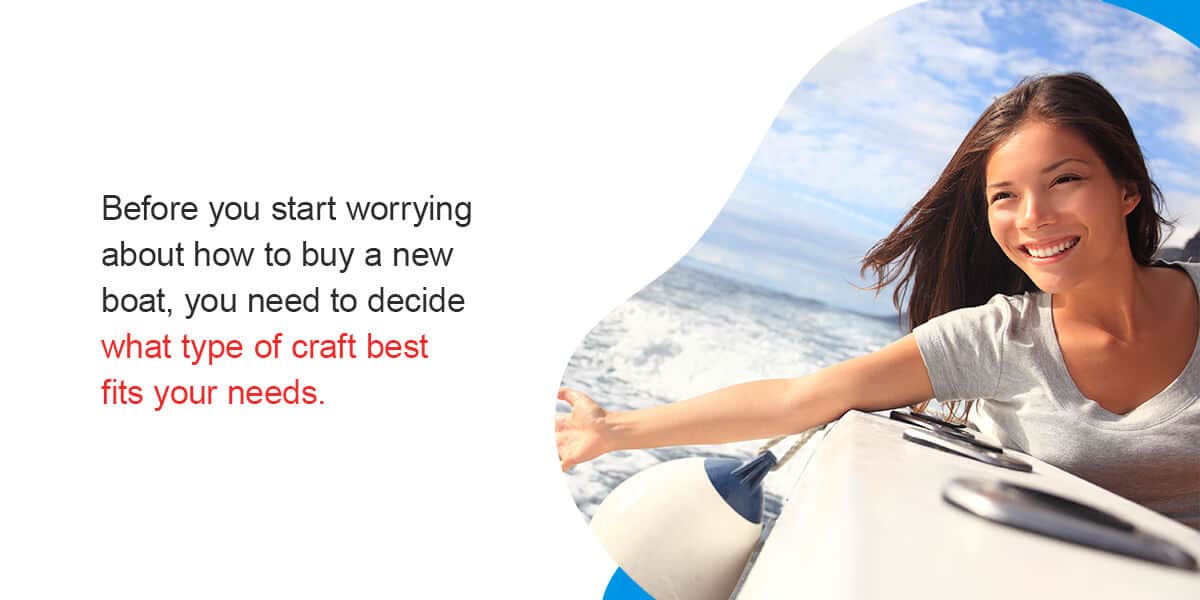 Before you start worrying about how to buy a new boat, you need to decide what type of craft best fits your needs. Thousands of vessels are out there, waiting to hit the water, but only a handful will tick every box on your wishlist. Boats of every size, speed and water activity are available on the market.
The best way to find the right boat for you is to start by answering the following questions:
Where do I want to use my boat? Are you looking to embark over freshwater or saltwater? Boats meant for freshwater have several minor differences from saltwater boats. Likewise, shallow waters sometimes have a size limit, while deeper waters may warrant a larger vessel.
What do I want to use my boat for? Many hobbies and activities require a boat. From waterskiing and fishing to joyriding and vacationing, you can enjoy your new vessel in many different ways. Your boat should be designed for whichever particular use you intend for it.
Who will be joining me on board? Many people love venturing out to open waters on solo trips. Sailing can be a very relaxing activity for one person, so a sailboat may be exactly what you need. On the other hand, if you want to host family and friends on your craft, you'll need a bigger boat.
Where will I store it when I'm not using it? If you don't have a personal dock or space for a boat trailer at your home, you may need to reserve a spot at a local marina. Larger boats typically come with higher storage payments. You'll also want to consider where you are going to store the boat during the winter months. Many owners prefer dry boat storage during the off-season.
Setting Your Budget
Once you have decided what your priorities and intended uses are for your boat, you should determine your budget. Boat prices vary depending on the type and size of the vessel. If you want to know how much it is to buy a boat, prices can range from $10,000 to $300,000. For instance, a new 22-foot long boat used on rivers and lakes costs at least $35,000 on average.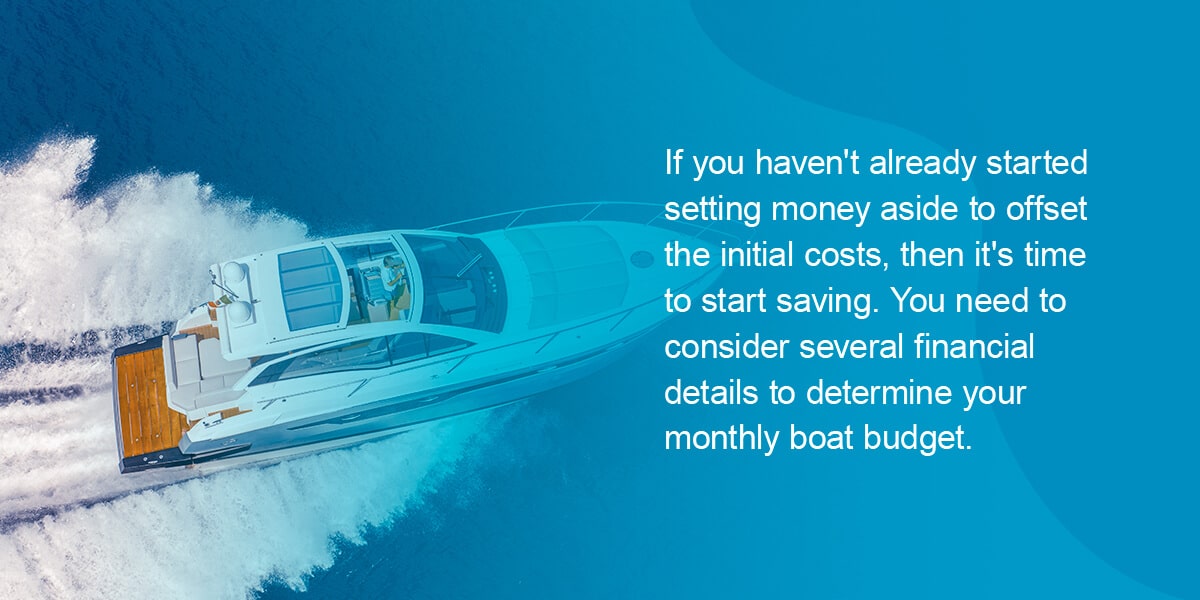 While you may have a general idea of what type of boat you want, it's important to set realistic expectations when it comes to your budget. If you haven't already started setting money aside to offset the initial costs, then it's time to start saving. You need to consider several financial details to determine your monthly boat budget.
Decide if you're going to finance your vessel or pay out-of-pocket: Many people are taking advantage of low interest rates to finance their boats. Financing water crafts is a common practice. On the other hand, you have the option of paying in cash. It's up to you to decide which course of action is best for your long-term financial goals.
Estimate your monthly payments and other fees: Too many aspiring boat owners get so caught up in trying to figure out how much it costs to buy a boat that they forget about the monthly costs of boat ownership. There are maintenance costs, marina rental fees and insurance to consider in addition to the upfront expenses. While these small expenditures may seem overwhelming at first, they are manageable and comparable to those of owning a new car.
Figure out if you're buying new or used: There are advantages and disadvantages to buying both new and pre-owned vessels, which we will cover in-depth later. When it comes to your budget, how much to buy a boat for will depend on its condition, history and age.
The Boat Type That's Best for You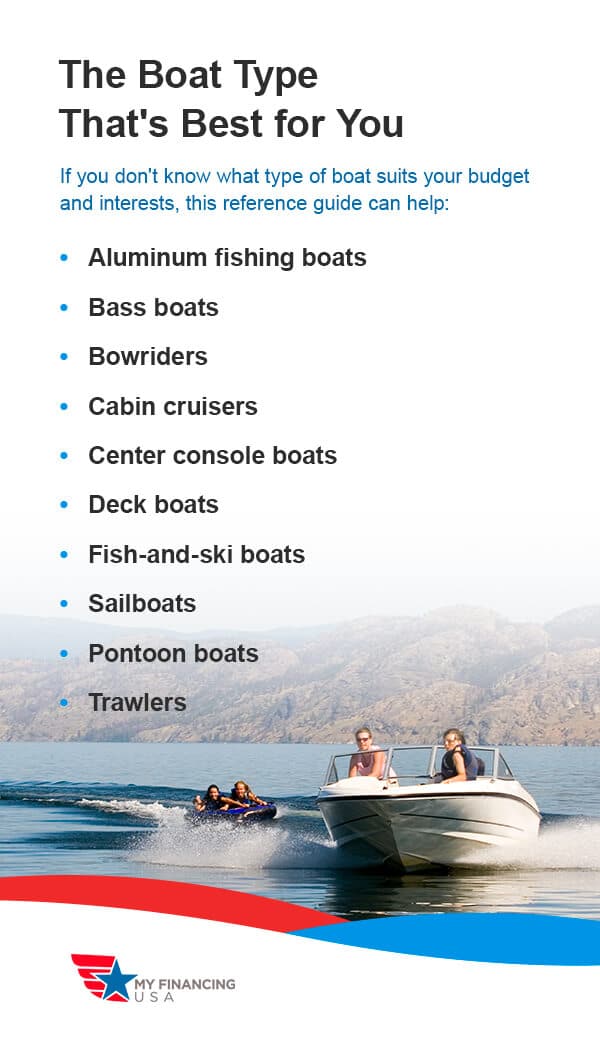 Whether you want to speed through the waters in a powerboat or enjoy a relaxing cruise on a luxury craft, your lifestyle is the greatest factor in determining which type of boat best fits your needs.
If you don't know what type of boat suits your budget and interests, this reference guide can help:
Aluminum fishing boats: Aluminum is strong and versatile, making it a great material for fishing boats. Its durability means fewer maintenance and repair costs. Aluminum boats are also lightweight, resistant to rust and won't catch fire or corrode. They are considered very safe vessels.
Bass boats: For efficiency and speed, look no further than bass boats. These boats have a flat deck, aerated livewells and fierce outboard engines. They are considered the best boats for fishers, as they allow for ample control in shallow waters and high winds.
Bowriders: If you love day cruising and watersports, then a bowrider may be your perfect match. Bowriders, also known as runabouts, are nimble and easy to handle. While they can only fit three to five people at a time, they are extremely versatile and can be outfitted for whatever watersports you enjoy.
Cabin cruisers: For extended stays on the water, consider a luxurious cabin cruiser. These spacious vessels feature sleeping, cooking and bathroom accommodations large enough for up to a dozen people to enjoy.
Center console boats: Center console cruisers are identifiable by their center steering station. The placement of the console allows for the controls and equipment to be easily accessible, including the compass, GPS, ignition and radio. Different types of center console boats are designed for different uses, water and conditions. These boats are optimal for fishing and can be used for family water sports.
Deck boats: These boats are similar to bowriders, but they have a few key differences. Deck boats are larger, so you can host more people for your water adventures. Deck boats are favorable options for boating beginners because they can be outfitted with storage compartments and kitchenettes.
Fish-and-ski boats: Fish-and-ski boats can transform from your typical fishing craft into a watersports vessel with just a few attachments. Basic fish-and-ski boats are equipped with a windscreen and seating on the front and back of the craft. They can have one or two motors, depending on how large the boat is. Perhaps the most convenient feature of these boats is the storage space under the seating.
Sailboats: Unlike other boats, sailboats are powered by the wind rather than motors. While sailboats are visually impressive vessels, they can be huge undertakings for new sailors. Steering and maneuvering a sailboat often requires training. A small sailboat can be operated by a single person, whereas a larger boat may need a crew of two or more.
Pontoon boats: Pontoon boats give you the best of power and comfort. Pontoons have powerful motors, which makes them great for watersports. Their lush and spacious seating provides a relaxing environment for lounging and day cruising.
Trawlers: If you like the idea of cruising along from port to port, a trawler may be the boat for you. Once considered the worker's boat, trawlers are now commonly used for extended vacations at sea. They are stable and safe, offering plenty of room for living accommodations and walk-around decks.
New vs. Pre-Owned Boats
"Should I buy a new boat or a used one?" This is a common question for new boat owners, especially when they find great deals for gently worn crafts. A boat from the factory can often be tailored to your liking and comes with a warranty. However, a pre-owned vessel can be more affordable and carries the confidence of being a reliable, tried-and-tested boat.
Benefits of Buying a New Boat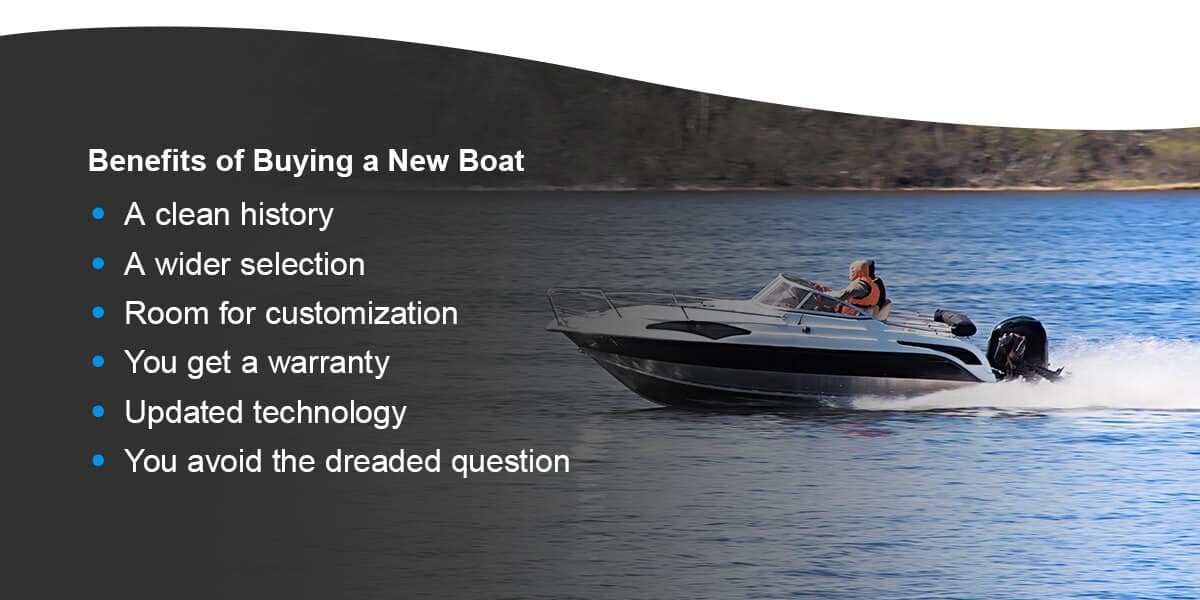 Is buying a new boat worth it? Let these benefits help you decide.
A clean history: A new boat comes with the luxury of a clean slate. You don't have to worry about its condition or how a previous owner treated it. It will come in pristine condition with no problems or quirks.
A wider selection: The market for a new boat always has a larger selection. You are guaranteed to get the exact boat you want.
Room for customization: How much does a boat cost to buy? That depends on whether you want all the bells and whistles or just the basic model. A new boat allows you to add whatever attachments or details you want, so you don't have to add them later.
You get a warranty: A new boat comes with a warranty, which can be invaluable and protect you from various mishaps and damages.
Updated technology: New boats feature the latest designs, updated interiors and the most advanced technology.
You avoid the dreaded question: Perhaps the greatest relief in buying a new boat is that you don't have to wonder why it's for sale. It can be uncomfortable to ask why a used boat is for sale.
Benefits of Buying a Used Boat
While buying a pre-owned boat may come with negative connotations, there are many notable advantages that can make your purchase worthwhile.
Affordability: It's no secret that used boats are typically more affordable than brand new ones. You can potentially spend less money on bigger, more powerful boats. Additionally, buying a pre-owned vessel often means your lower monthly bills will be lower, leaving room for more flexibility in your finances. The price of used boats is much smaller than how much it is to buy a boat that is new.
Relief of wear and tear: When you buy a new boat, you may worry about every nick, scratch and bump because you don't want to cause any damage. Used boats in good condition already have normal wear and tear, so you can just relax and enjoy the ride.
Leverage the history: Some pre-owned boats have a long history of owners. Depending on the material, a boat can last anywhere between 10 to 30 years or even longer. If you are in the market for a used boat, you can use the internet and other boat owners' testimonies to find out if the boat you want to buy has common issues. Secondhand boats can have several years' worth of data to inform your buying decision.
Room to talk sales: Buying used gives you many options for the sales process. If you are purchasing a boat from a used dealer, they may give you a better price while still providing warranties and other benefits. You can also buy a pre-owned boat from a broker or private seller. All these options give you more wiggle room to discuss pricing.
How to Inspect a Boat Before You Buy It
Whether you're buying new or used, you still need to vet the vessel thoroughly before you commit to it. However, if you don't know what to look for when buying a boat, you could overlook some major red flags.
Here is how to inspect a boat before buying it:
1. Start With an Exterior Once-Over
Unless you're a nautical expert, it's difficult to spot manufacturing mistakes or misalignments immediately. However, taking your time to look at every aspect of the boat from a visual standpoint is a great place to start.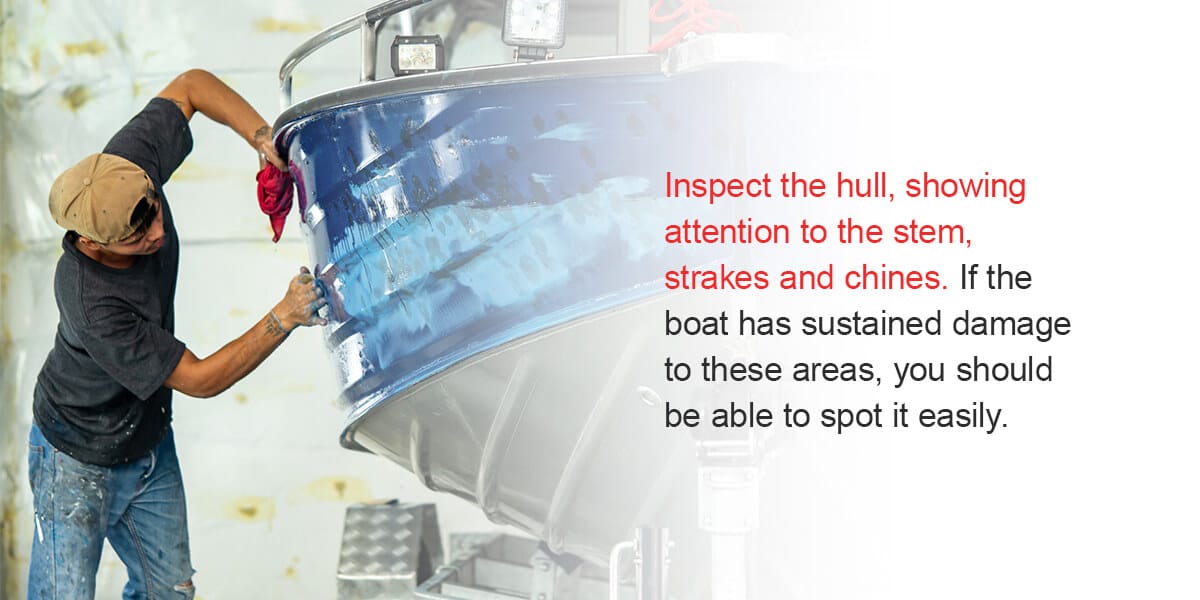 Inspect the hull, showing attention to the stem, strakes and chines. If the boat has sustained damage to these areas, you should be able to spot it easily. Move your attention to the other areas of the boat, working your way from front to back, then onboard. Here is a complete exterior checklist to guide you:
Keel
Deck
Helm station
Hull-to-deck joint
Trim
Hardware
Seating
Hatches
Windshield
Lights
Life rail
2. Check the Interior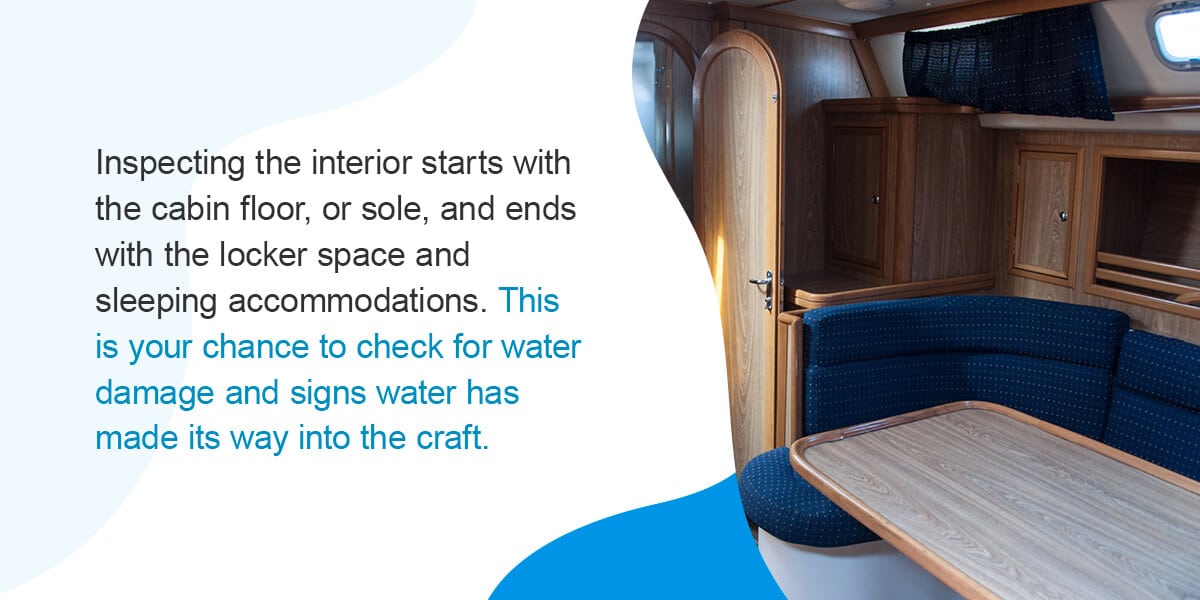 Inspecting the interior starts with the cabin floor, or sole, and ends with the locker space and sleeping accommodations. This is your chance to check for water damage and signs water has made its way into the craft. Pay special attention to the condition, smell and color of the surfaces and furnishings. Here are key points to check during your interior survey:
Water tightness
Furnishing and upholstery
Galley
Storage and locker space
3. Operating Equipment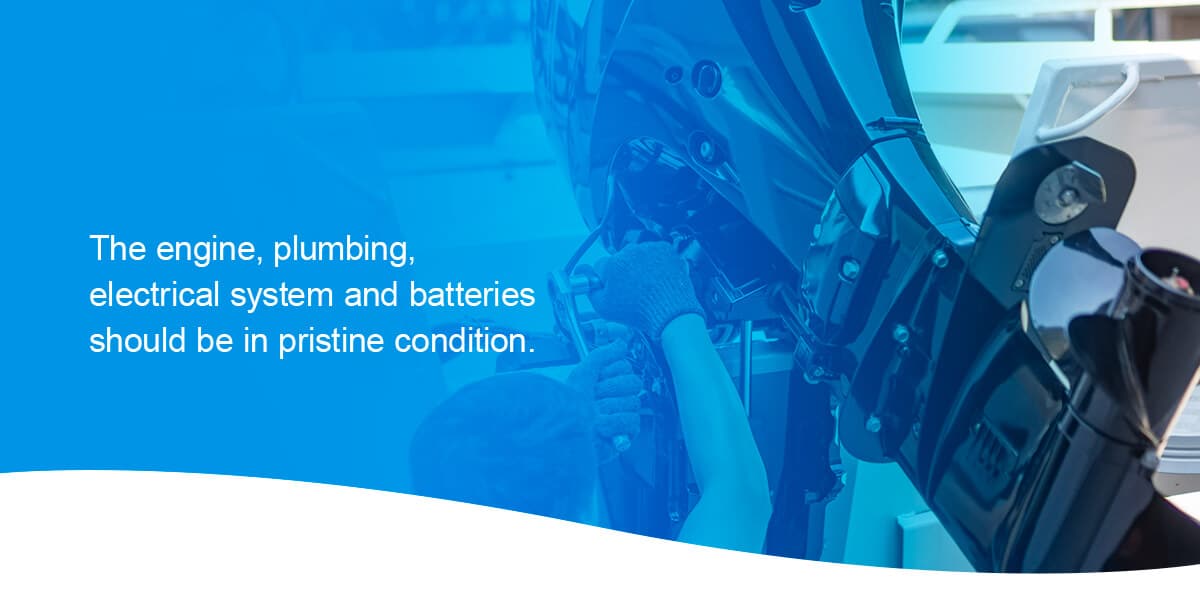 What good is a boat if it can't navigate the waters? You may not be an expert in boat mechanics, but that doesn't mean you should skip over the operating gear during your inspection. The engine, plumbing, electrical system and batteries should be in pristine condition. If you're not familiar with the operating systems, knowing what to look for when buying a boat can be challenging. Here are the pieces of equipment to check:
Engine
Oil
Battery
Bilge
Lines
Steering
Mast and rigging
Wiring
Gauges
Safety equipment
Plumbing
You should take plenty of photos of the boat you're considering to keep a record of the important details. Take photos of the entire interior and exterior, the engine and engine serial number, the trailer vehicle identification number (VIN) and the hull number.
You may not have all the answers for what to know when buying a boat, but other people do. If you aren't comfortable deciding based on your current knowledge, call in an expert! Even if you feel confident, it's never a bad idea to hire a boat surveyor to inspect the boat properly. They will have the best idea of what to know before buying a boat better than anyone else. A surveyor will have your best interests in mind when inspecting the craft's condition. They also hold the seller and the boat to the Code of Federal Regulations set by the Coast Guard to guarantee your safety when boating.
What to Ask When Buying a Boat: FAQs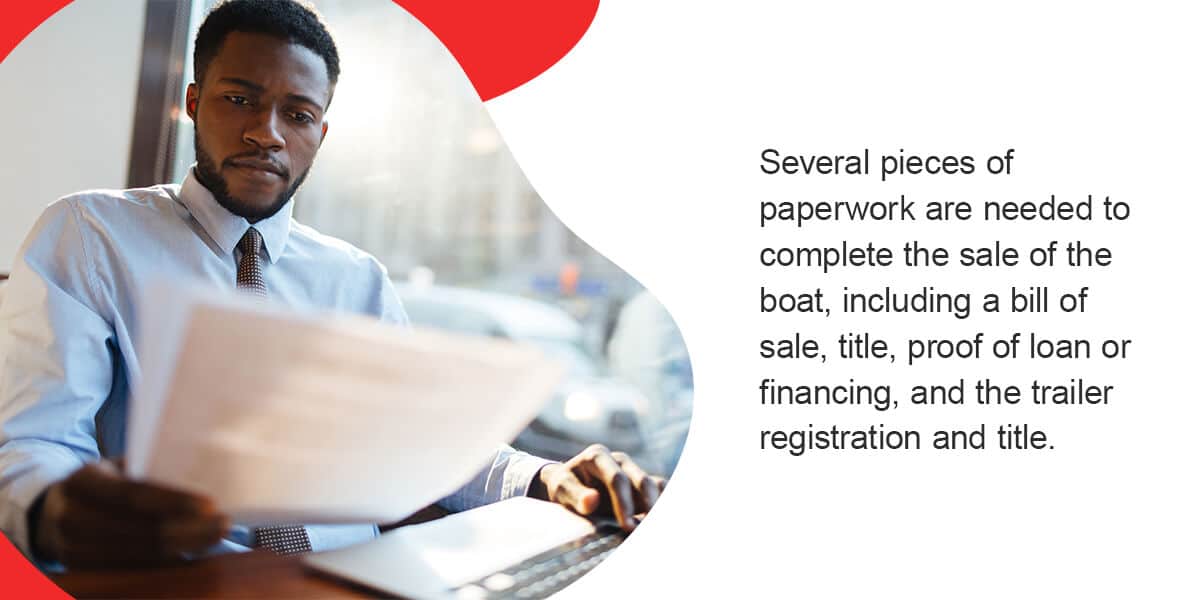 The boat buying process can be difficult to navigate if you don't know what questions to ask. What do you need when buying a boat in terms of paperwork and titles? Do houseboats come with their own laws and regulations? Is there ever an off-season in the buying market? These questions can make or break your buying decision. Fortunately, our FAQ guide answers the most common questions asked by future boaters.
When is the best time to buy a boat? There is no time like the present, and every season has its advantages. However, spring and summer are the prime boating seasons and tend to be the worst times to purchase a new vessel. When is the best time to buy a new boat? It depends on how quickly you want to make your purchase. Autumn typically ensures discounts from manufacturers, but winter offers access to boat shows for optimal window-shopping.
What paperwork do I need to buy a boat? Several pieces of paperwork are needed to complete the sale of the boat, including a bill of sale, title, proof of loan or financing, and the trailer registration and title. You should also receive warranty confirmation and maintenance records if you are purchasing a used boat.
Can I buy a boat without titles or paperwork? If you are searching for how to buy a boat without a title, there are some red flags that you need to be aware of. A boat with a title requires a thorough inspection and a complete history of its past. As long as you have the hull number and name, you can begin your search online for more information about that particular vessel.
What credit score do I need to buy a boat? Stellar credit isn't always necessary when purchasing a boat, but it certainly helps during the financing process. A higher score usually leads to better interest rates. If you're looking for how to buy a boat with bad credit, it's best to work with financing experts who give you personalized service and stay with you every step of the way.
Is buying a boat worth it? If you ask any boat owner, they will tell you that the memories you make with your family and friends on the water are priceless. For most people, purchasing a boat isn't a spontaneous decision but a lifelong dream. The adventures you take on your boat make this investment worth it.
Ask My Financing USA How to Buy a Boat Today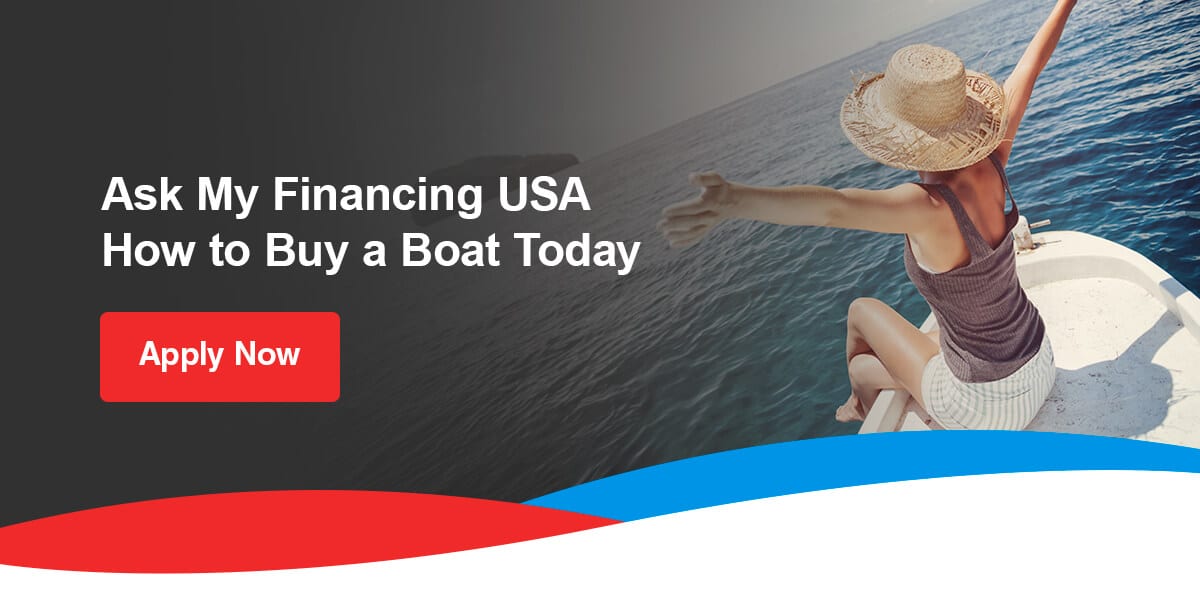 Your dreams of taking to the seas are just a click away. Our financial experts help you establish your goals and expectations, so you can make informed buying decisions.
You can learn more about our boat loans on our website or fill out an application right now!
Take a few minutes to apply, and one of our financial experts will call you within 72 hours to jumpstart the process. If you've already realized your passion for boating on calm waters and clear horizons, let My Financing USA bring your vision to life.
---
Additional Resources on Boats:
---