Quick Navigation:
An RV is a serious investment that can significantly lower your food costs on the road while providing a comfortable personal space away from home. RVs come in different sizes, providing a great fit for everyone from the traveling professional to the large family. Are you wanting to buy an RV and start living your dreams of cross-country adventures? Check out our guide for what to know before buying an RV.
What Should I Know Before Buying an RV?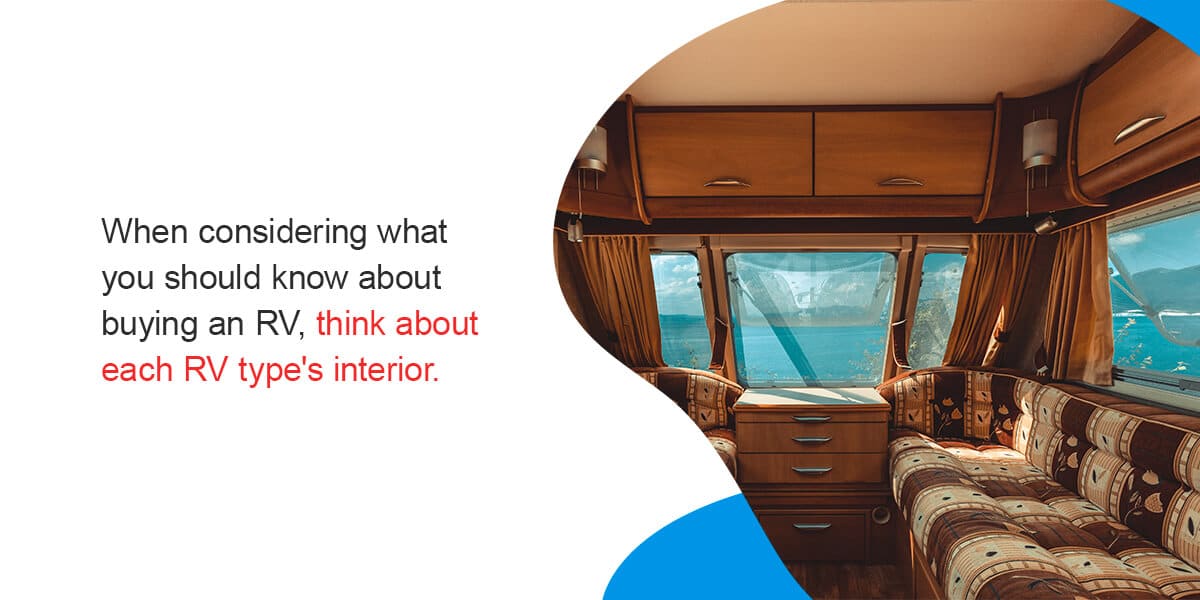 When you first start browsing for an RV to fit your goals, you will encounter an extensive amount of styles and options. When considering what you should know about buying an RV, think about each RV type's interior. Decide how much space you will need and which amenities will make you the most comfortable. Each RV is different, even when they share the same class.
Ask yourself:
Do you want to drive the RV or tow it? Before you make the final decision on a model, you should know about all possible options. One of the first considerations you should make is whether you would prefer to operate an RV that doubles as an automobile. If you already have a dependable vehicle that gets good gas mileage and has towing capabilities, consider buying a camper. Otherwise, you could select a drivable RV for towing an automobile.
What class appeals to you most? When you have a clear idea of what you want, determine the RV class to start shopping for. You will find more information about classes and their typical amenities below. You might change your mind a few times based on the price ranges or features.
Are you looking for a new RV or a more affordable used one? If you decide on a used RV, always check the quality by inspecting it before you buy it.
When searching for an RV of the appropriate size and capacity, consider the various available types and which will suit your needs best.
Drivable RVs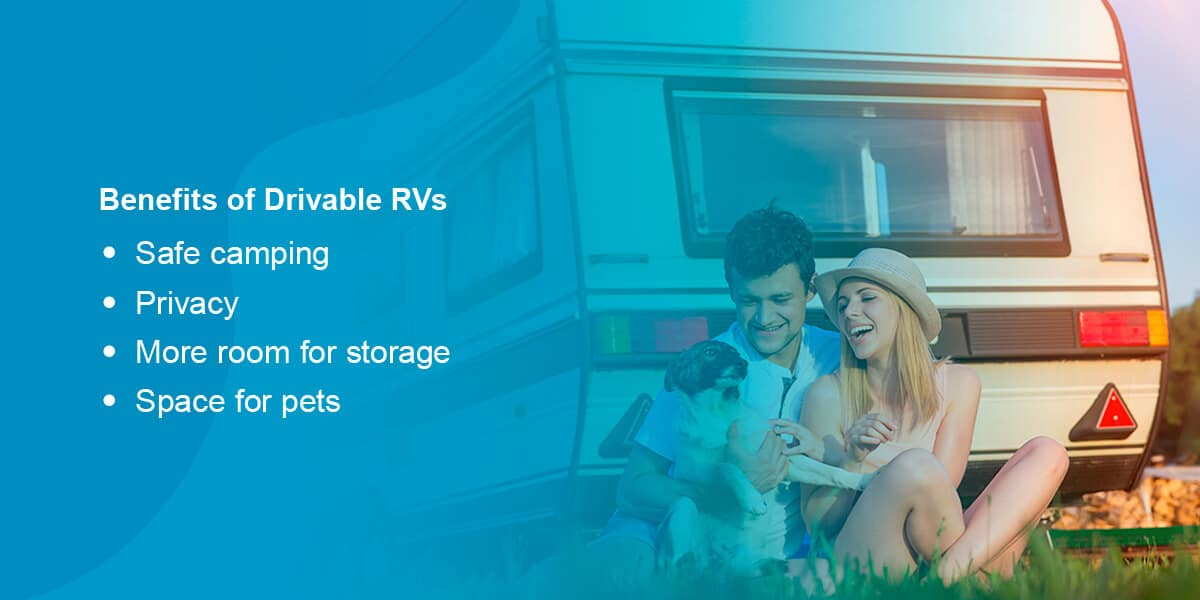 With an RV as your primary source of transportation, you won't have to exit one vehicle to enter another unless you're towing a passenger car. Drivable RVs are beneficial for many reasons, including:
Safe camping: You can stay in the RV when you're ready to start traveling again without venturing outside to a dark, cold campground or rest area to get into your vehicle.
Privacy: When you stop to use the restroom, you can stay inside the RV. Then you can go into a gas station or convenience store to grab some snacks for the road.
More room for storage: Drivable RVs typically have more storage space, with the largest models looking similar to a home's interior.
Space for pets: If you will be taking pets along on your travels, a drivable RV provides more room and less stress for your furry friends.
Below are the most common drivable RV models:
Class A
These RVs are shaped like buses. They are popular for their spacious interiors, and they offer high-quality amenities. In a class A RV, you can shower, watch TV, do the dishes and use a restroom connected to plumbing.
Pros of a class A RV include:
It can tow your automobile.
It generally offers the most space.
It is built like a small house for maximum comfort.
Some cons are:
It is subject to vehicle restrictions and weight limits, especially on narrow roads.
It is more expensive to buy, insure and repair.
It can be difficult to maneuver because of its large size.
Learn About Class A RV Financing
Class B
Class B RVs are often decently spacious and get a good gas mileage for their size.
Pros include:

The gas mileage is superior relative to other models.
Their cost makes them economical and affordable.
They drive just as easily as vans.
Some cons are:
They come with less room to store your supplies and luggage.
Most lack larger appliances because of the space limitations.
They are comfortable for about two travelers, but larger families will require more room.
Class C
Class C RVs look similar to vans, with hoods that protrude in the front. They combine the best features of classes A and B, so if you would prefer getting a model in the middle ground, look into buying this type of RV.
Pros are that:
They are spacious. Most have enough room for about four travelers to sleep inside.
They are a more affordable option than their larger counterparts.
They can fit more amenities than smaller motorhomes.
Cons are that:
They lack the towing capacity of typical class A RVs.
They are larger than class B RVs, which may not be fitting if you want something smaller.
Steering them can take some getting used to since they are bulkier than your average truck or van.
Towable RVs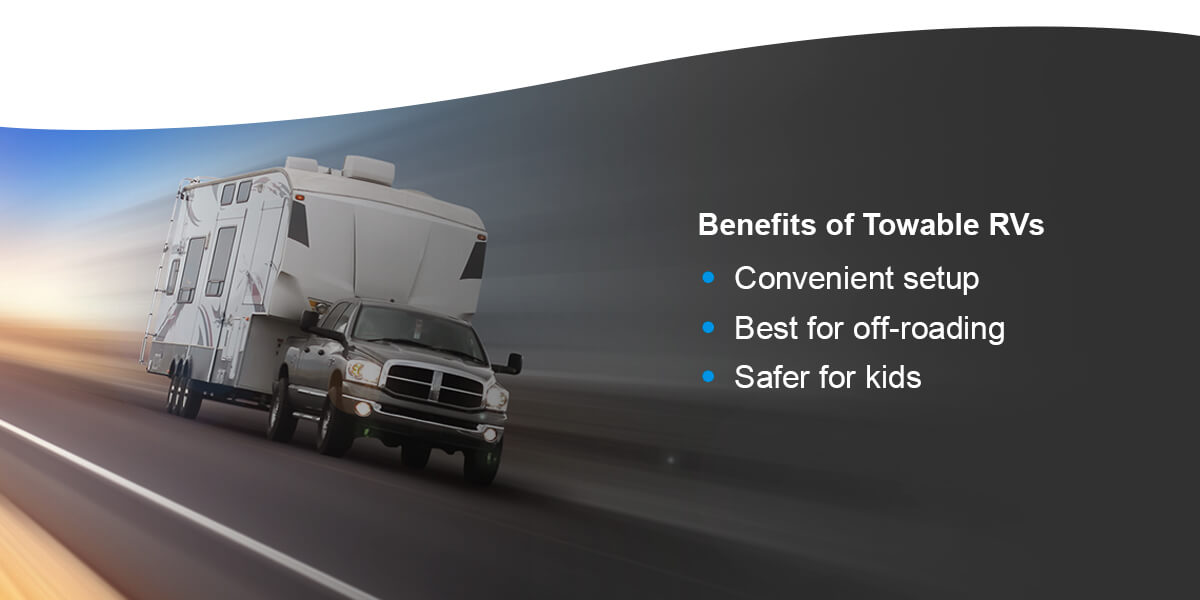 Many RV enthusiasts decide to buy a towable RV because they already have a truck or SUV capable of hauling one.
Benefits of getting a towable RV include:
Convenient setup: You can unhitch from your camper and head into town to go to festivals, shopping malls, grocers and convenience stores. This ability allows some of your party to rest at the campsite while others go on supply runs.
Best for off-roading: If you will be boondocking on unpaved or uneven roadways, towing an RV with a reliable all-wheel drive (AWD) vehicle is the best possible option.
Safer for kids: If you have kids, they will have to stay in your vehicle while you are on the road. There will be no opportunity for them to run around if they have to stay in your car or truck. Towing the RV behind you is preferable when you have young children who require car seats.
Common types of towable RVs include:
Pop-up Trailers
Also called bumper-pull travel trailers, these are lightweight and have attachments similar to tents for adding extra space — only with better amenities than you would get from tent camping.
The pros are:
They are universally towable, with most towing vehicles capable of hauling them.
They are among the most affordable RVs on the market.
They are easy to install and transport.
The cons are:
They have less insulation due to the pop-up sections.
They can be tricky to maneuver.
They offer less space but can work well for a small group of travelers.
Travel Trailers
Travel trailers were the most popular type of RV in 2018, for many good reasons. They are simple in design and lock behind the hauling vehicle until you are ready to unlatch them at a campground.
The pros are:
They are fully enclosed and insulated from the elements.
They are highly affordable, with the teardrop subtype being the cheapest and smallest RV on the market.
Most types are easy to maneuver.
The cons are:
They tend to be small, and teardrops are also short.
Some lack the most convenient amenities and features, so you might have to buy a camping toilet and a freestanding sink with its own water pump.
If you have kids, you will probably need to select a larger type of RV with more space for them to sleep.
Fifth Wheels
Fifth wheels are long, submarine-shaped RVs that connect securely to your vehicle by a special tow hitch.
Pros include:
They are easy to maneuver and tend to remain stationary.
They are spacious, with enough room for more luxurious amenities.
They have a higher sleeping capacity.
Cons are:
They require heavy-duty hitches and a strong truck — you can only tow one with the proper vehicle and equipment.
Despite the special hitch, it's still unsafe for passengers to ride in the fifth wheel when you're on the road. You would only have as much room for travelers as you have seats in your vehicle.
The installation process takes a while — and so does disconnecting your RV from the vehicle to make camp.
Buying New or Used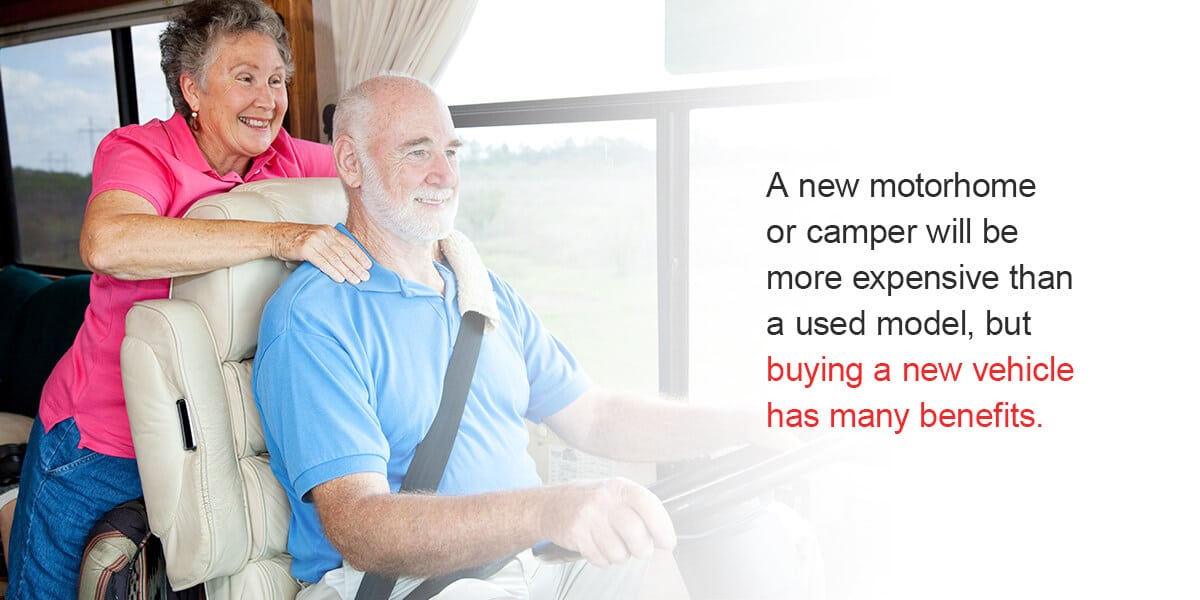 A new motorhome or camper will be more expensive than a used model, but buying a new vehicle has many benefits. When buying your first RV, consider the advantages of getting a new model:
The RV will come with new parts.
The manufacturer warranty starts after you make the purchase.
The RV will come without damage or wear.
You can sometimes bundle customizations with the sale price, such as selecting your desired color and layout.
Advantages of getting a used RV include:
The unit will cost less.
Your insurance expenses will be lower.
The RV will have less potential for depreciation.
Any manufacturing problems or recalls might have already been taken care of.
How Much Does It Cost to Buy an RV?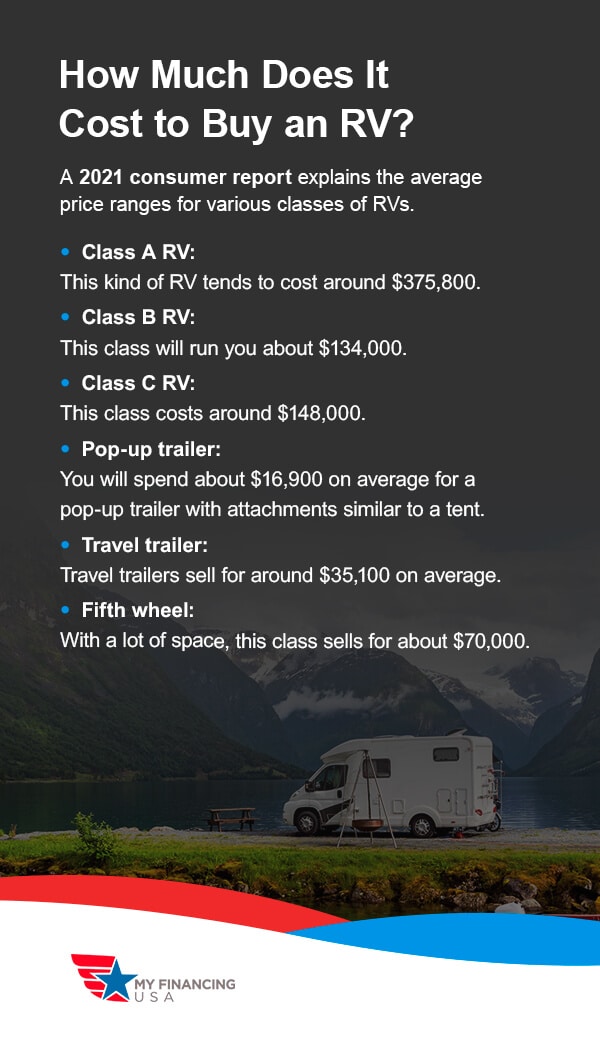 Wondering how to buy a new RV with your savings and a credit line? New RVs fall into a vast price range of about $10,000 to $500,000. Since the pandemic, RVs have soared in value following an increase in demand. Factors influencing the total cost are the size, class and appliances. A 2021 consumer report explains the average price ranges for various classes of RVs.
How to buy a class A RV: This kind of RV tends to cost around $375,800 after the newly manufactured models' significant price increase post-pandemic. As the largest drivable RV with the most amenities, it has the quality of a tiny house. A new class A model can currently cost as much as $500,000 or start as low as $60,000. Loans for class A RVs are similar to home loans regarding the interest and required down payments. If your credit score dips below average, you might be able to work out a deal.
How to buy a class B RV: This class will run you about $134,000. These models have a reputation as the most affordable drivable RV class and are in high demand due to media attention on the van life movement. Their price range is about $60,000 to $150,000.
How to buy a class C RV: This class costs around $148,000. A little more expensive than class B, class C is considered the midrange expense of drivable RVs. You can find these motorhomes for $60,000 to $260,000.
How to buy a pop-up trailer: You will spend about $16,900 on average for a pop-up trailer with attachments similar to a tent. This is the most affordable option aside from the teardrop trailer, which is a smaller, teardrop-shaped version of the standard travel trailer. You can buy a pop-up trailer for only $6,000 or as much as $22,000. If you already have the money, you can pay in cash, but if you are a little short, loans for a smaller amount are easier to get approved for.
How to buy a travel trailer: Travel trailers sell for around $35,100 on average, making them an appealing midrange option if you want to put less money down. You can find them for around $8,000 up to around $95,000.
How to buy a fifth wheel: With a lot of space, this class sells for about $70,000. These more luxurious towable RVs can cost anywhere from $18,000 to $160,000.
Some other factors that affect the price for each kind of RV are:
The manufacturer: Smaller manufacturers will sell for less than large brand manufacturers. Of course, the mainstream manufacturers also probably have more RV classes on the lot. Certain lesser-known brands will only manufacture the specific RV styles they are known for, so make sure you do your research before requesting a class A from a brand that only builds toy haulers.
The year: An older RV could be thousands of dollars cheaper. If you would rather pay than the average cost of a new build, a used RV that you have personally inspected for quality will be your most appealing financial option.
Availability: Is the RV you're looking for widely available or more exclusive? Obscure or highly stylized models will cost more, with each atypical customization adding to the bill.
The floor plan: The simplest floor plans with the least square footage are also the least expensive. You will pay more for bed spaces, full bathrooms and a larger kitchen area.
Amenities: Showers, built-in microwaves, ovens, Wi-Fi extenders and other appliances will raise the overall cost.
Customizations: If you would like additional features, you will pay more than the baseline cost. For example, if you want a unique type of flooring installed, the manufacturer might lay it for an upcharge. Otherwise, you will have to personally hire a contractor.
How to Inspect an RV Before Buying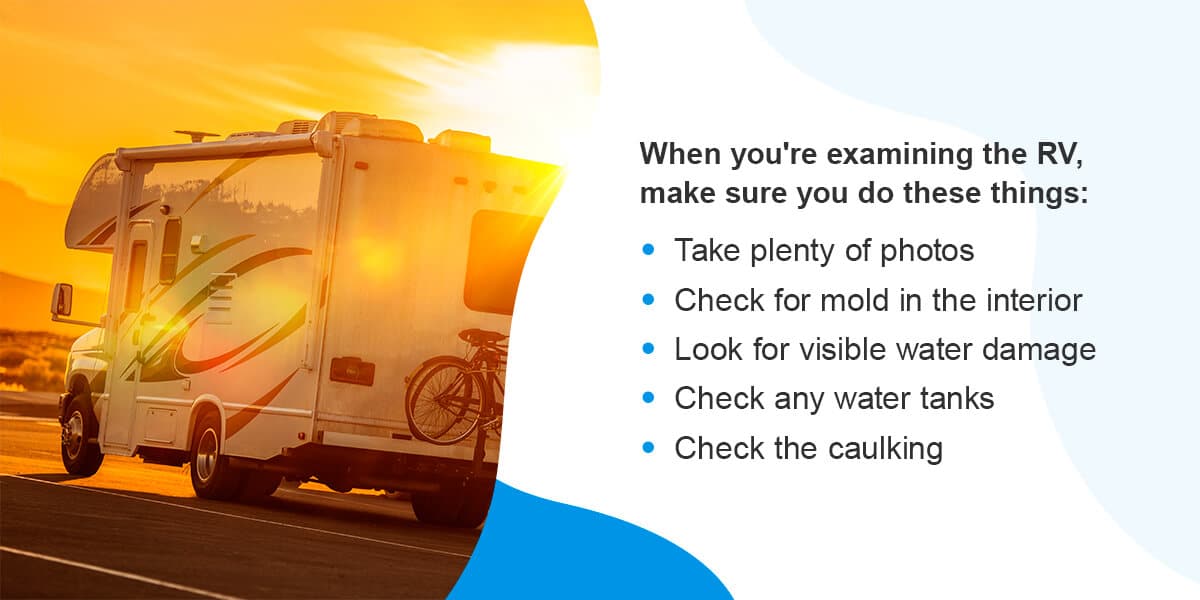 How can you spot a lemon when buying an RV? The dealer should allow you to go inside all used units for an inspection. When you're examining the RV, make sure you do these things:
Take plenty of photos: Get a visual record of the interior, exterior, engine and Vehicle Identification Number (VIN) in case a lender requests VIN information or wants to know the RV's condition.
Check for mold in the interior: Mold can spread to places that are difficult or impossible to see. Shine a flashlight into cabinets and closets to check for mold. You might also be able to smell any mold.
Look for visible water damage: The floors and ceilings around plumbing are common areas to find leaks.
Check any water tanks: When a greywater tank gets older, it may crack or form small leaks around the hoses.
Check the caulking: Look around any fixtures for cracks or empty spaces.
How to Buy an RV With a Low Credit Score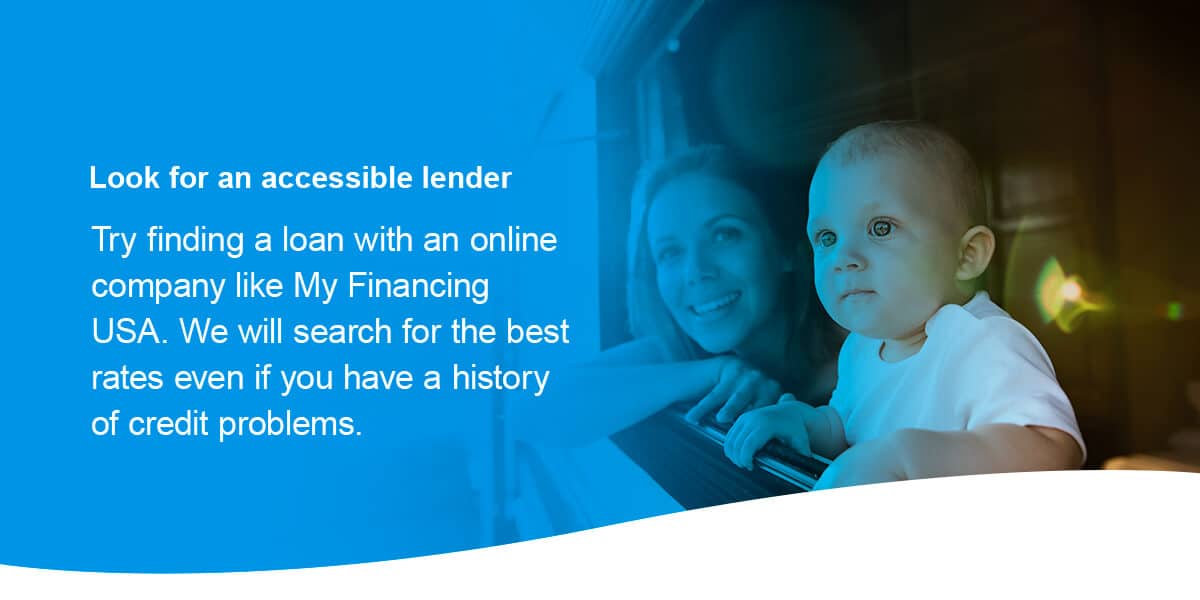 How should you negotiate buying an RV when your credit is less than what most lenders would work with? Here's everything you need to know before buying an RV with a low credit score:
Understand your credit history: Document any prior issues in your credit history to explain how your situation has recently improved. This approach is especially helpful if you have a great recent track record and have been moving up.
Look for an accessible lender: Select a transparent lender that will provide a loan regardless of your credit. For example, try finding a loan with an online company like My Financing USA. We will search for the best rates even if you have a history of credit problems.
Get a cosigner: If your credit score is close to a 300, you can still qualify for a loan by getting a cosigner. Many buyers who lack an established credit history also secure a loan this way.
How to Finance Your RV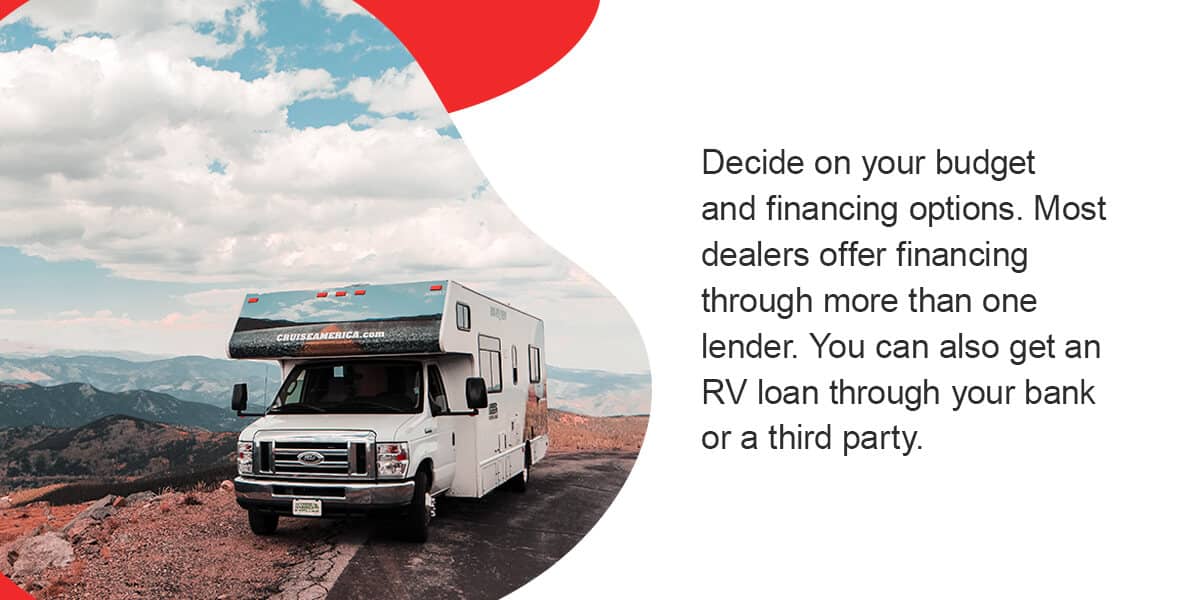 Decide on your budget and financing options. Most dealers offer financing through more than one lender. You can also get an RV loan through your bank or a third party. The same criteria would apply when buying an RV out of state, but you will pay sales tax for the state where you register the RV. Below are some more things to know when buying your first RV:
Figure out your limit: After securing your loan, you will make monthly payments until the end of your term. Decide what your limit should be for monthly payments early on. If you calculate the numbers before you find an RV loan, you will know exactly what to expect and when to back away from the offer.
Consider your credit score: Financing is easier to obtain with a high credit score and a generous down payment, but you can still get approved with low credit. You can finance directly through a dealer for interest rates closer to your bank's, but you might have more limited options with a lower credit score.
Take a higher interest rate: If you're looking to buy an RV with no money down, some lenders offer that possibility with higher interest rates. To make a deal with a low down payment, you might end up paying more money back to cover the interest.
Finance Your New RV With My Financing USA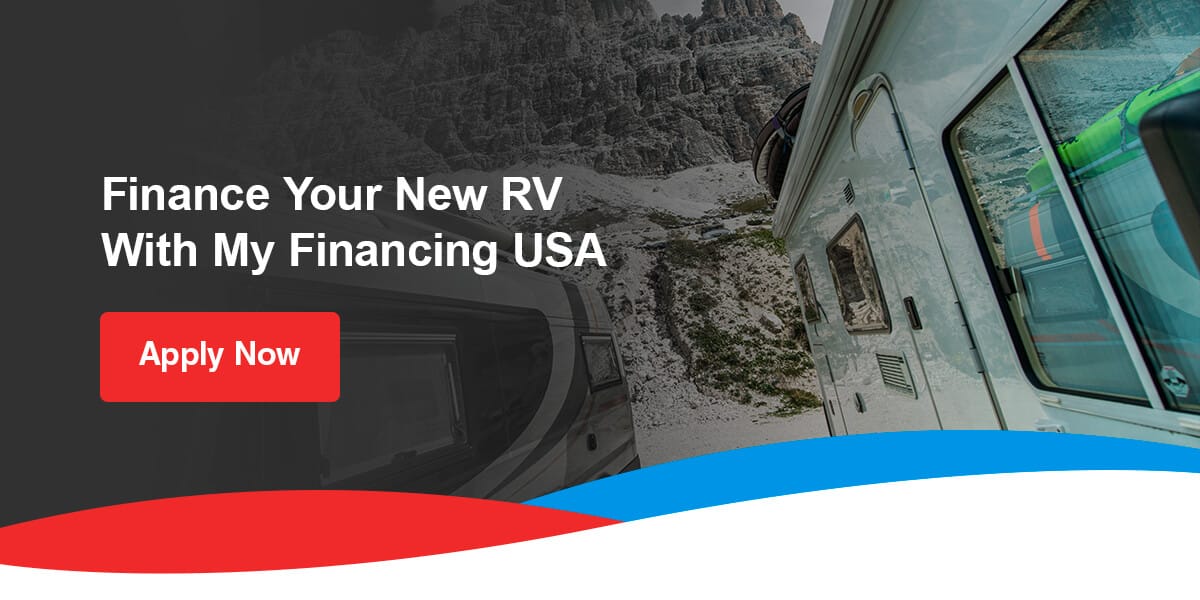 Obtaining a new or used RV can be easy when you choose the right partner. At My Financing USA, we provide loans for all your RV requests. We will help you find a loan that will work with your budget, whether your credit is high or low. Learn more about our RV loans before applying for a deal, or apply for an RV loan today.
---
Additional Resources on RVs:
---