Quick Navigation
If you are a first-time boat buyer, you likely will need to get financing for your new or used boat. The boat-buying process is largely similar to buying a car or home, so if you have previously obtained a loan for a vehicle or property, you may be familiar with many of the steps in the financing process.
Whether you are buying a new or used boat could impact your ability to qualify for financing, and your options may vary based on your credit score and the lender you choose. This guide covers how to secure financing for a boat, regardless of your credit situation or the boat you choose to purchase.
Should I Finance a Boat?
If you have savings, you may be wondering if you should bother financing a boat or if you can find a cheaper option to purchase with cash. While you may not have to worry about taking on a loan or making monthly payments, there aren't many advantages to buying a boat in cash over securing a loan. Even if you have money to pay for a used boat, you may not have enough for your top choice.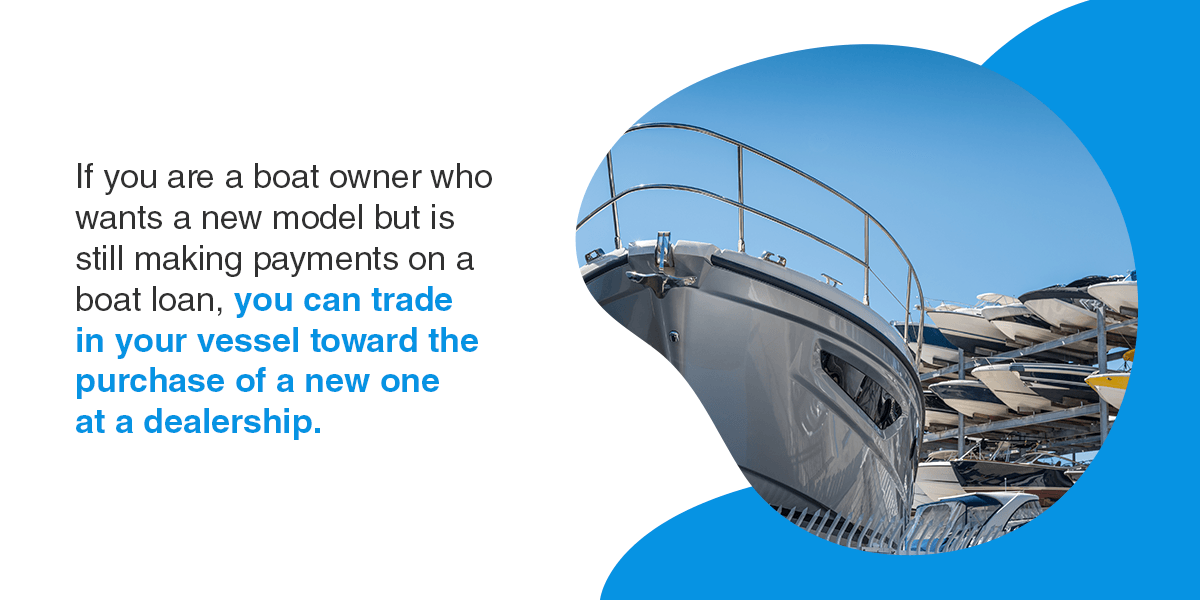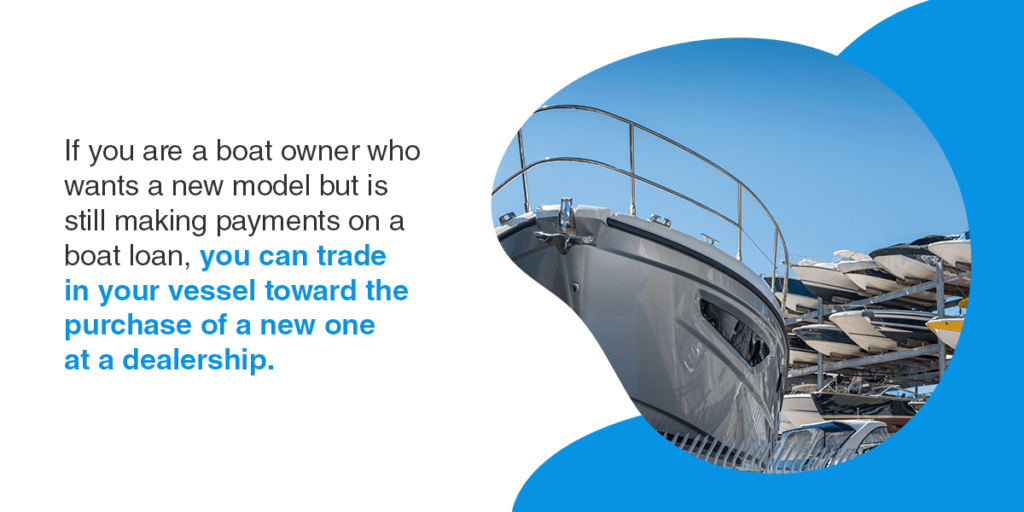 Advantages of Financing a Boat
For many buyers, financing a boat is a much more affordable choice, especially if they don't have the cash on hand to pay for the vessel in a lump sum. The benefits of financing a boat may include:
Favorable interest rate
Lengthy financing terms
Low down payment and upfront costs
Professional guidance through the financing process
Keep your hard-earned cash
If you already have a loan for another vessel, you may need to pay off your existing loan before you can take out another, regardless of your credit score, if you choose to purchase from a private individual. However, just like with a car, if you are a boat owner who wants a new model but is still making payments on a boat loan, you can trade your vessel in toward the purchase of a new one at a dealership. Both these processes can become very complicated, so it is wise to work with a financing expert to guide you through the process.
How Does Boat Financing Work?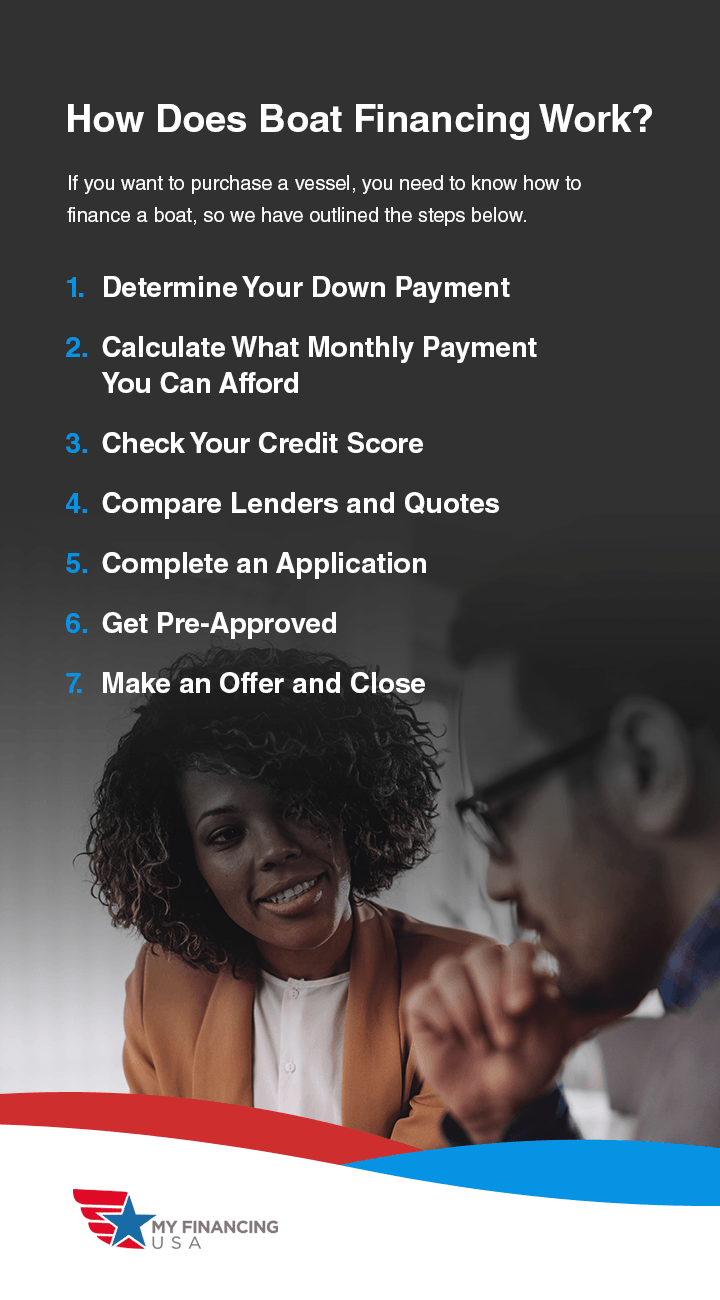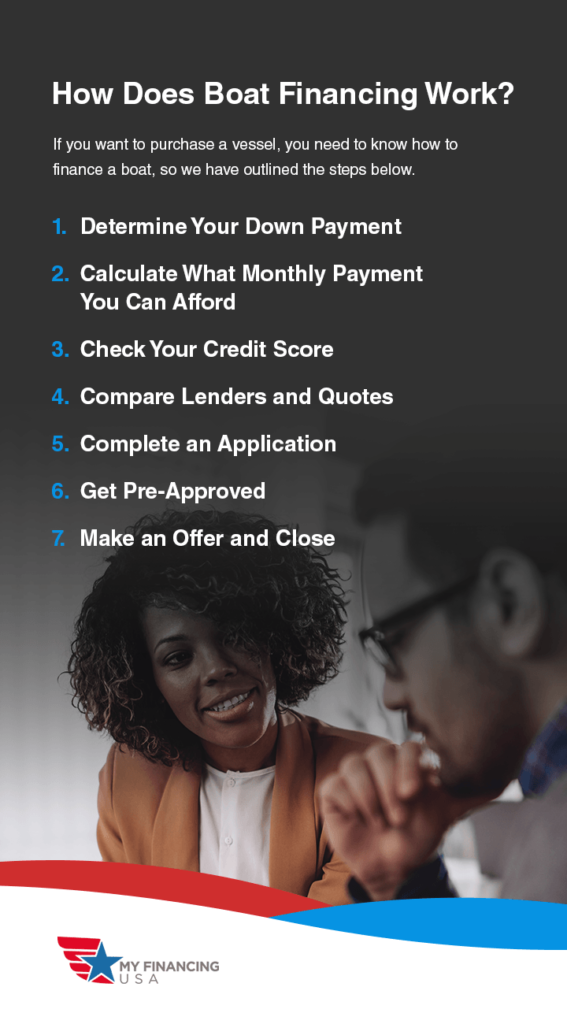 When buying a boat, knowing how to finance your purchase is essential. For many boat buyers, a large, lump-sum purchase isn't feasible. Though you might have some savings for a down payment, you may want to obtain a loan to cover the remaining cost. Boat ownership can become much more affordable when you break the expense down into monthly installments.
If you want to purchase a vessel, you need to know how to finance a boat, so we have outlined the steps below.
1. Determine Your Down Payment
Your first step is to determine how much you can afford to put down on your boat upfront. The more you can put down, the less financing you will need. Lenders tend to ask for a down payment between 10 and 15% of the total boat loan amount. How much you will need to put down depends on the type of loan you obtain and the lender.
Before you provide your down payment, ensure you understand the terms, such as whether your down payment is refundable if you cannot secure a boat loan or you change your mind about making the purchase. Make sure you get a receipt for your down payment and an outline of the terms. At My Financing USA, we also offer 100% financing on a case-by-case basis.
2. Calculate What Monthly Payment You Can Afford
Next, you should figure out how much you can afford to pay for a boat loan every month. Start by reviewing your household budget. Even if you get approved for a specific loan amount, it may not necessarily fit into your budget. Settle on an amount you are comfortable with paying every month before you start shopping for a loan.
At My Financing USA, we offer better-than-average boat financing. Our interest rates for boat loans are Rates Between 7.24% and 19.95% depending on your location, credit history, type of boat you are financing and the amount you are financing. Use our boat loan payment calculator to determine what monthly payment you may be able to afford.
3. Check Your Credit Score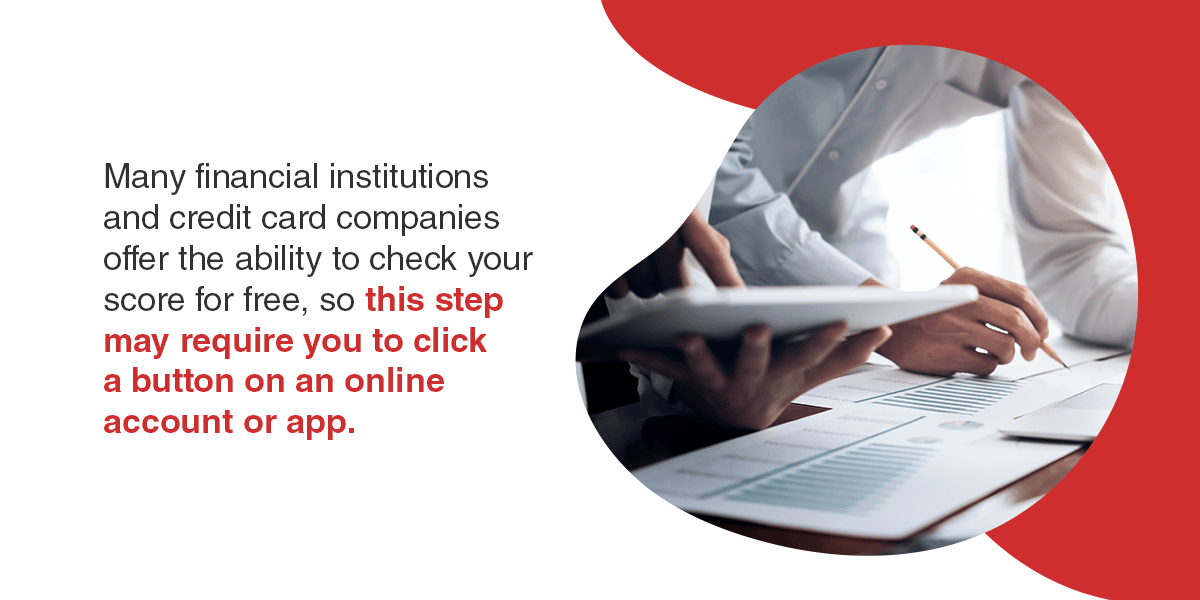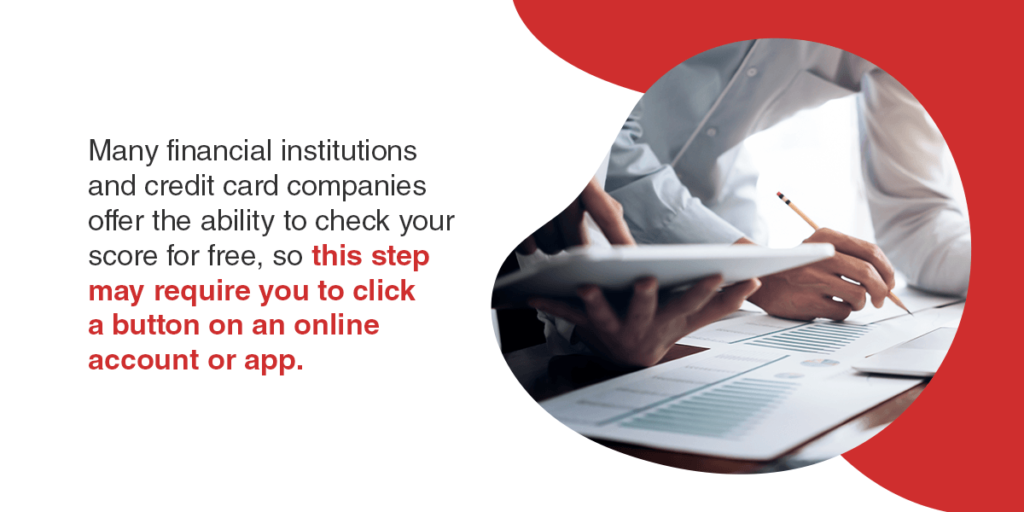 Checking your credit score is the next essential step, as your credit score can significantly impact what financing options are available to you, including what terms and rates you may qualify for. Many financial institutions and credit card companies offer the ability to check your score for free, so this step may require you to click a button on an online account or app. If this option is not available to you, some online services offer consumers free credit reports.
After you apply for a boat loan, a hard inquiry is necessary. While a soft pull won't impact your credit score, a hard inquiry might. However, this impact is usually minor and temporary. Reach out to a professional credit consultant with any questions or concerns.
4. Compare Lenders and Quotes
The rates and terms you may be able to receive vary from lender to lender. Compare the lenders by discussing your options with them and carefully reading the fine print, which will contain information on the loan's length, what minimum credit score you should have and whether there are restrictions on your boat's age.
After you have quotes from a few different lenders, examine your interest rates, loan terms and other terms and conditions side by side to determine which is right for you. Interest rates are an essential consideration, as they can substantially impact how much you pay total over the loan period. The lower the interest rate, the better.
However, it is crucial to ensure you are comparing interest rates for the same loan types. Often, lenders offer the lowest rates for the shortest terms, which may not be the right financial choice for you.
5. Complete an Application
The actual financing process begins with completing an application. You will likely need to provide information about your employment, the boat you are looking to purchase and your financial situation, such as your assets and liabilities. At My Financing USA, we don't charge an application fee. Once we decide to approve or deny your application, we will notify you via email.
After accepting your application, the lender may require a marine survey, which is similar to a home inspection during the homebuying process. Before your loan can move to the underwriting phase, a lender wants to know that the boat is worth the asking price and in good condition.
6. Get Pre-Approved
When you get pre-approved, you will receive an offer from the lender. Requesting pre-approval will show a dealer you are a serious buyer, and you will feel more confident making an offer knowing you have an option for financing.
Once pre-approved by a lender, you may need to submit financial statements, your previous year's tax return and your credit report. We may also ask for an example of what boat you are looking at. You can change your mind after you get approval, and a loan officer will inform you on how to do so.
Depending on the lender, credit pulls are good for about 30 to 90 days. We suggest you close at least 10 days before your approval's expiration, as this will allow ample time for the closing and funding process.
7. Make an Offer and Close
The process from application to closing typically takes about four to eight business days. This period varies, based on how long it takes you to send the usable, valid documents we request. When you find a boat you want, make an offer that fits within your budget and your pre-approval amount from the lender. Once you negotiate a price with the seller and write up a purchase agreement, reach out to your lender to obtain your boat loan.
On your closing date, you will need to sign the paperwork. We'll finance our $495 document fee into your boat loan amount. After closing, the boat will be yours. You may be able to use the vessel for a specific period before you provide final approval, at which point the seller will receive the funds.

Learn About Our Boat Financing
What Are Financing Options for a Boat?
If you want to know how to finance a boat purchase, you should be aware of your options. Choosing the type of boat loan is an essential step in the process, so you'll want to understand the options available to you and how they compare.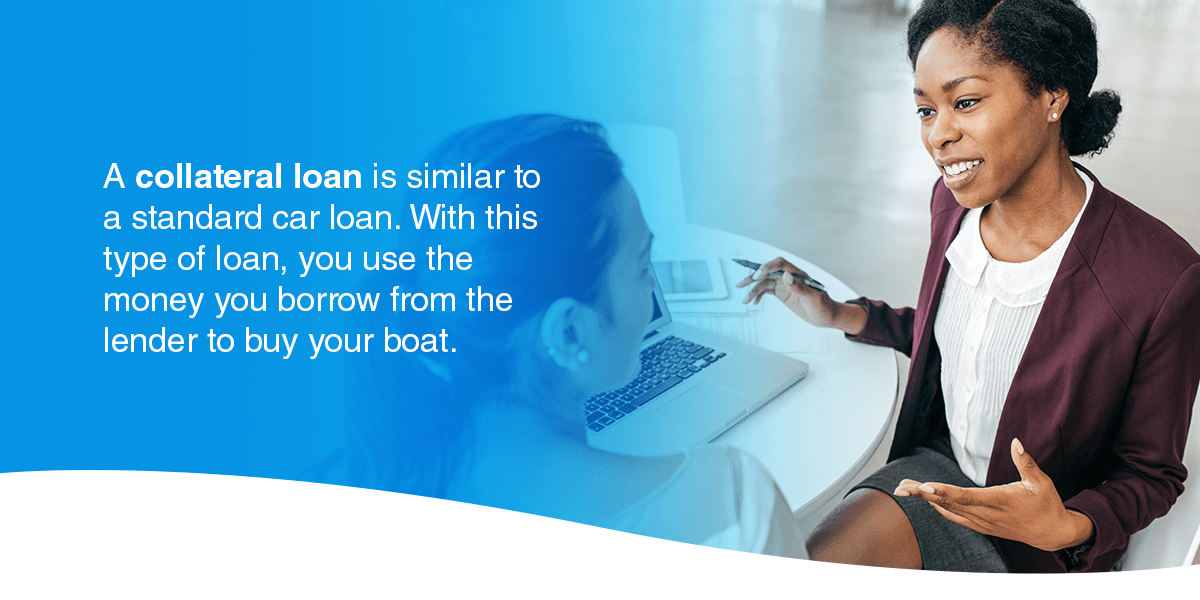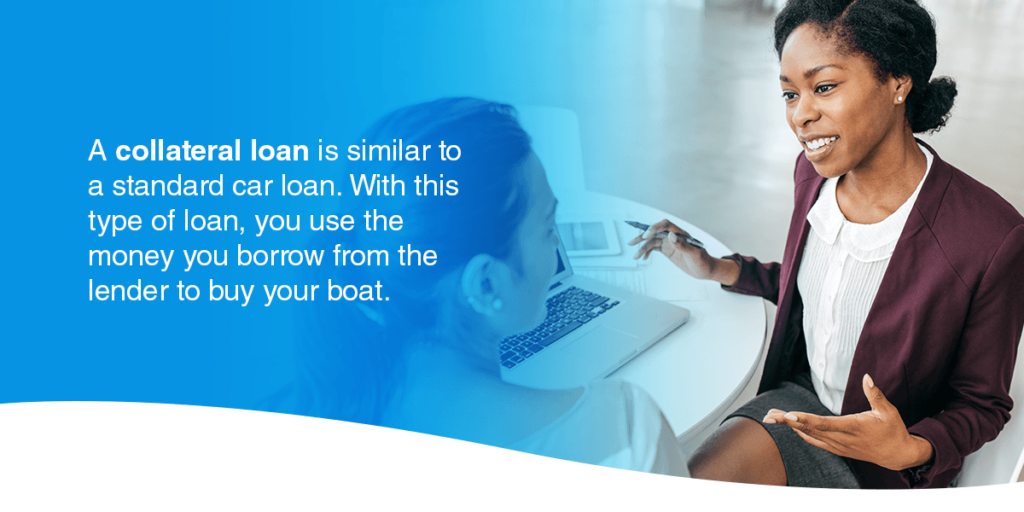 Collateral Loan
A collateral loan is similar to a standard car loan. With this type of loan, you use the money you borrow from the lender to buy your boat. Your boat will then become collateral, so if you default on your loan, your lender can repossess the boat and sell it to cover the debt. My Financing USA offers recreational loans, which is a type of collateral loan.
Dealer-Financed Boat Loan
If you are buying a boat from a dealer, they may offer you a loan. The conditions and terms vary from one seller to the next, so carefully review the fine print before you decide anything. You may also want to compare the dealer's loan offer with your other loan options, as lenders tend to offer better deals.
Home Equity Loan
If you have owned a home for a few years, you may have accrued equity. In some cases, you may be able to leverage this equity to purchase a boat via a home equity loan. With this type of loan, you may take advantage of a low interest rate. Payments are also usually tax-deductible.
Some disadvantages of a home equity loan include the need to pay for an appraisal and cover closing costs. Your home will also become collateral, which means if you default on your boat loan, your lender can foreclose on your house. Many times, a home equity loan may look very attractive on the surface, but carry a much higher risk to you.
Personal Loan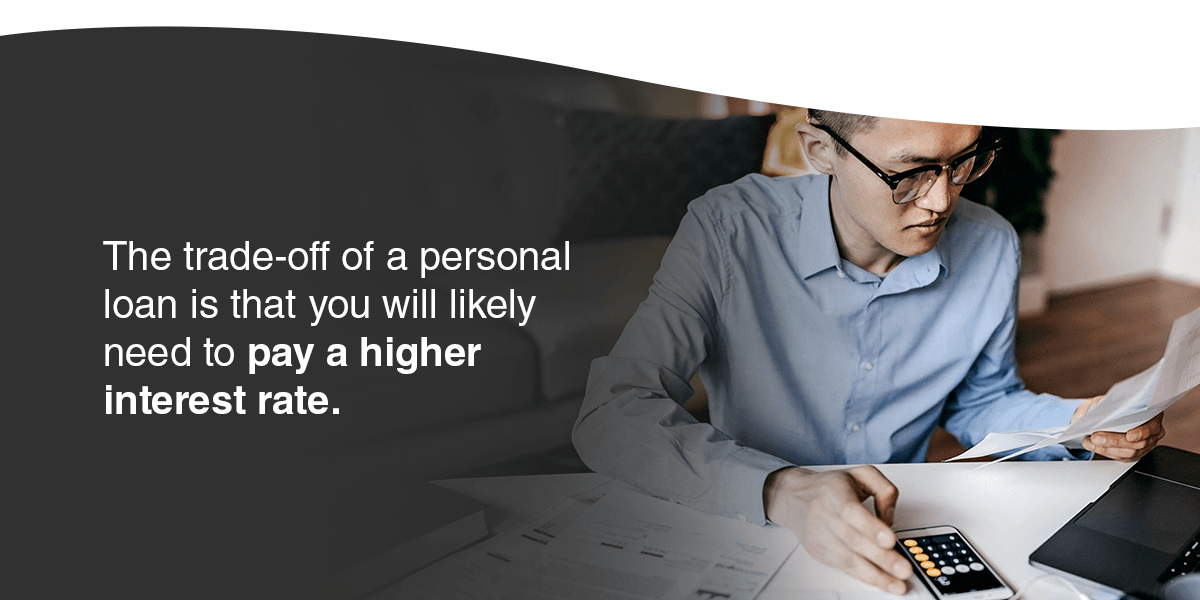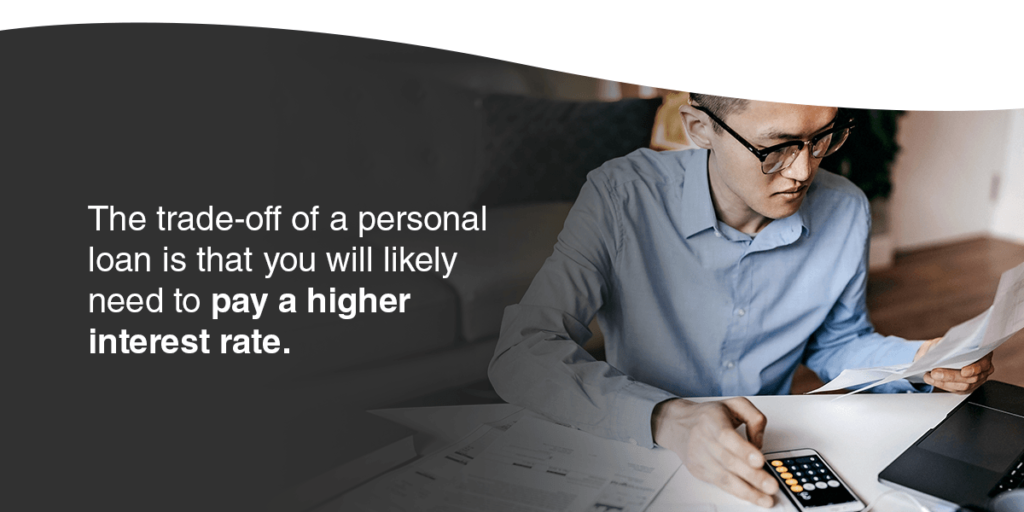 If you have an excellent credit score, you may qualify for a personal loan. One of the most notable advantages of a personal loan is that it does not have collateral, meaning you won't need to worry about your lender repossessing your vessel or home. However, the trade-off is that you will likely need to pay a higher interest rate.
Refinancing Your Boat Loan
We also offer a refinancing program at My Financing USA for boat loan amounts over $75,000 with at least 12 months of payment history and a credit score of 680 or higher. In some cases, after you lock in a loan, you might discover a better interest rate. If you find yourself in this situation, you may want to refinance to take advantage of this lower rate.
Refinancing essentially means starting over with a new loan, so review the terms carefully and ensure you are fairly comparing your options and ultimately making a sound financial decision.
Can You Finance a Used Boat?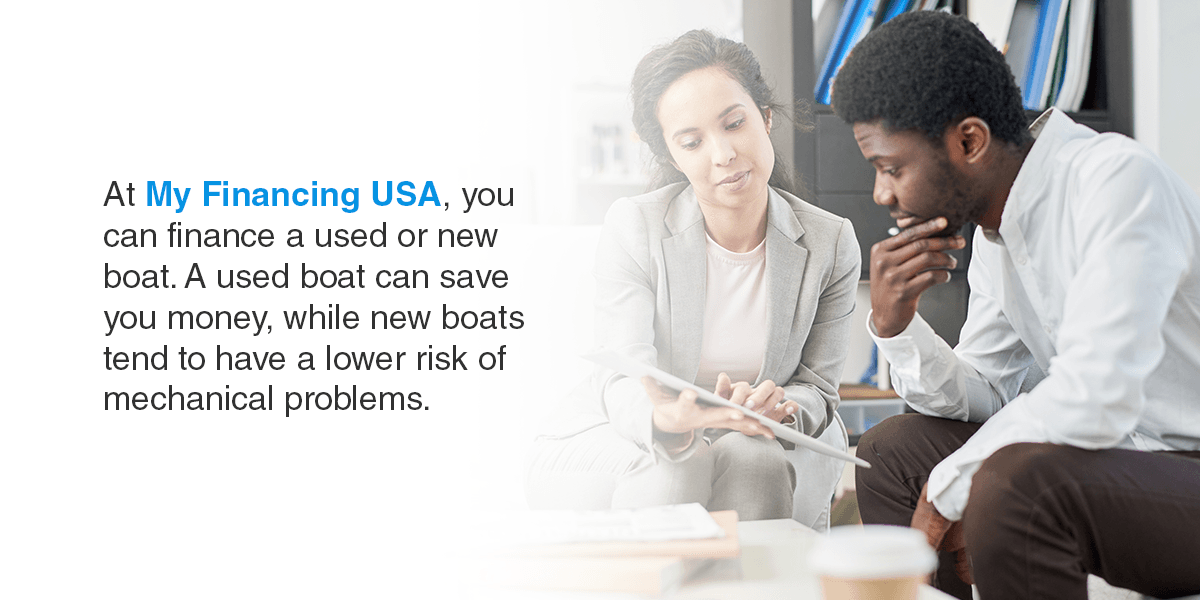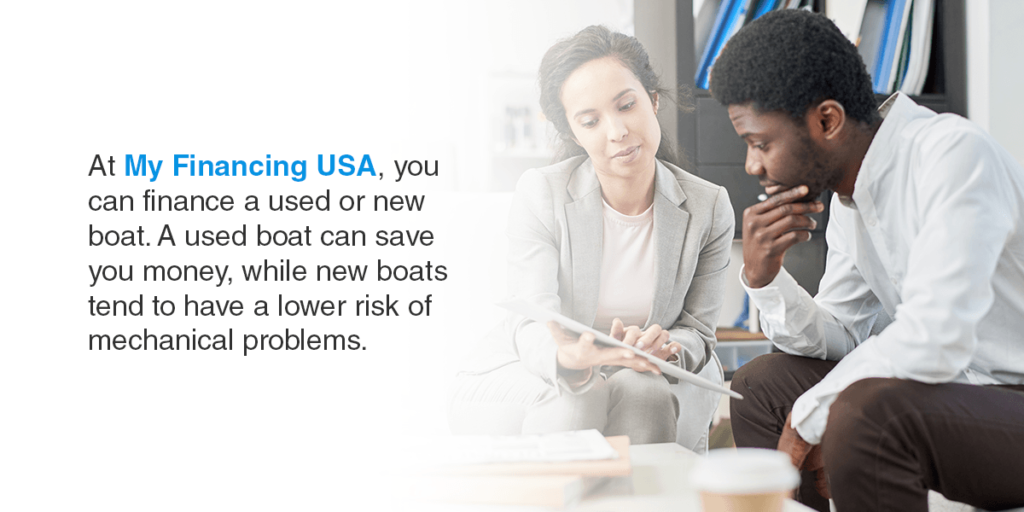 At My Financing USA, you can finance a used or new boat. A used boat can save you money, while new boats tend to have a lower risk of mechanical problems. If you believe you have found a used boat that could meet your needs, we may finance your purchase and offer an extended service plan to maintain your boat. Currently, we offer financing for the following units:
Boats
Personal watercrafts
Jet Skis
RVs
UTVs
ATVs
Car haulers
Motorcycles
Utility trailers
Snowmobiles
Livestock trailers
Lawn equipment
If you want to know how to finance a bass boat, yacht or Jet Ski, we can help you through the process. However, we can't finance units with salvage titles or that have been rebuilt or flood-damaged.
Learn About Our Used Boat Loans
How Long to Finance a Boat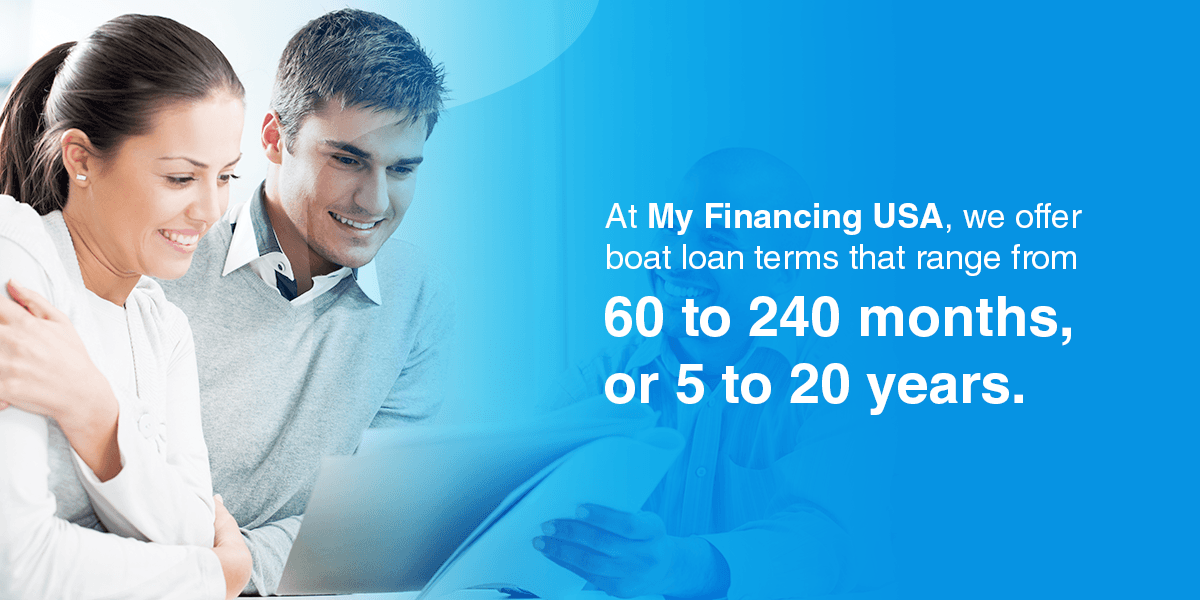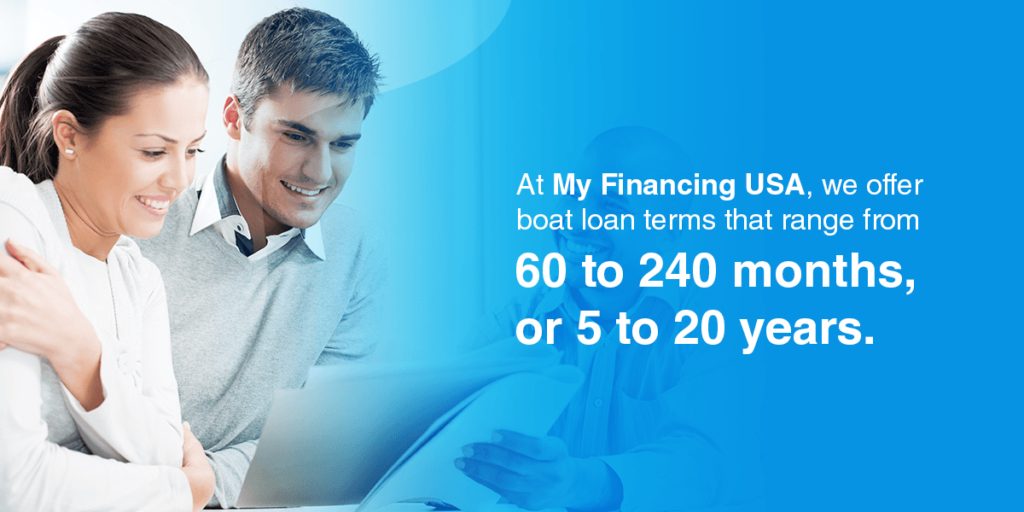 At My Financing USA, we offer boat loan terms that range from 60 to 240 months, or 5 to 20 years. The loan terms you are eligible for depend on your credit history, the age of your boat and the amount you wish to finance. We offer the longest available loan term and no prepayment penalties, allowing you to pay off your loan as fast as you want with the lowest payment option.
Use our boat payment calculator to determine how your boat loan term may affect your estimated monthly payment. The longer your loan term, the less you will have to pay each month for your loan. So if your goal is to get the lowest monthly payment possible, you may want to accept an extended loan term. If you wish to finance for a shorter term, ask your loan officer.
Can You Finance a Boat With Bad Credit?
At My Financing USA, we search the nation for boat financing programs for any credit type, so you can still finance a boat with bad credit. We have programs for you even if you have past credit issues, including past bankruptcies, late payments or collections. The minimum score we require is 550, and if your credit score is below that, we offer free consultation services that can help improve your credit. We will also protect your credit by reducing inquiries.
Even if you have poor credit, you can finance a boat with us at My Financing USA. We offer the following in our bad credit boat loan program:
Reduced credit inquiries
Free boat value checker
Terms as long as 15 years
Friendly, expert loan officers
Approval timeline of 24 hours
Interest rates as low as 6.95%
Express funding in just 72 hours
Buyer freedom, so you can buy from any seller like a private party or a dealer
If you want to get financed for a boat with less-than-perfect credit and participate in our program, you must meet the following requirements:
Price above $10,000
Debt ratio under 40%
Recreational use only
Minimum credit score of 550
10-15% Down Preferred
Consistent income source
Models 2011 or Newer Models (Older case by case)
Past bankruptcy and some past late payments or collections will not disqualify you for our program.
Where to Finance a Boat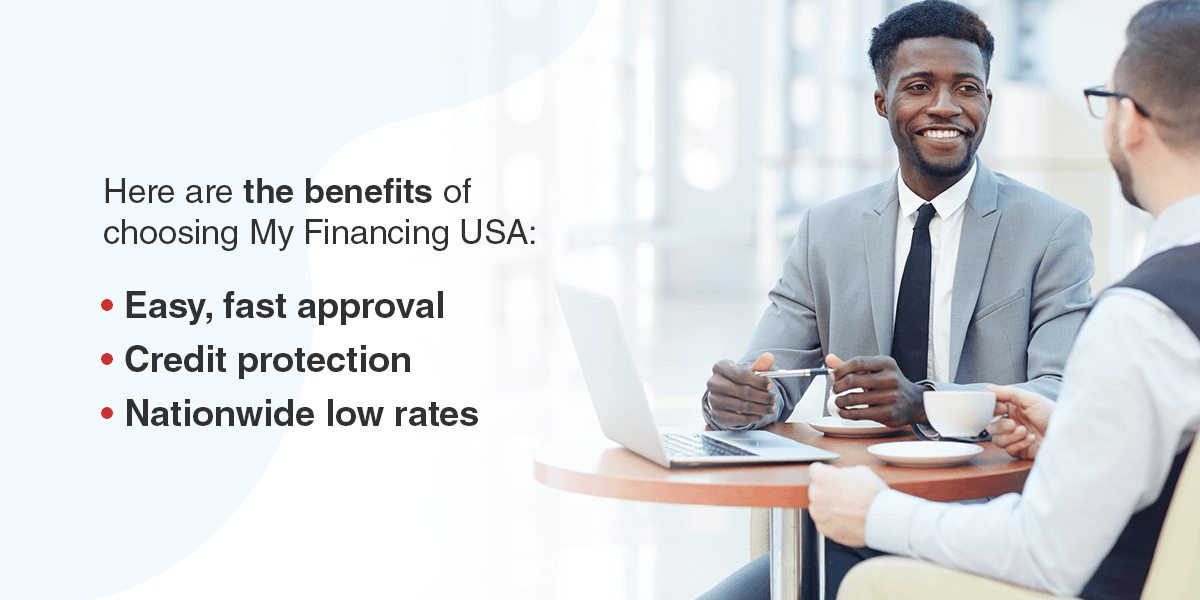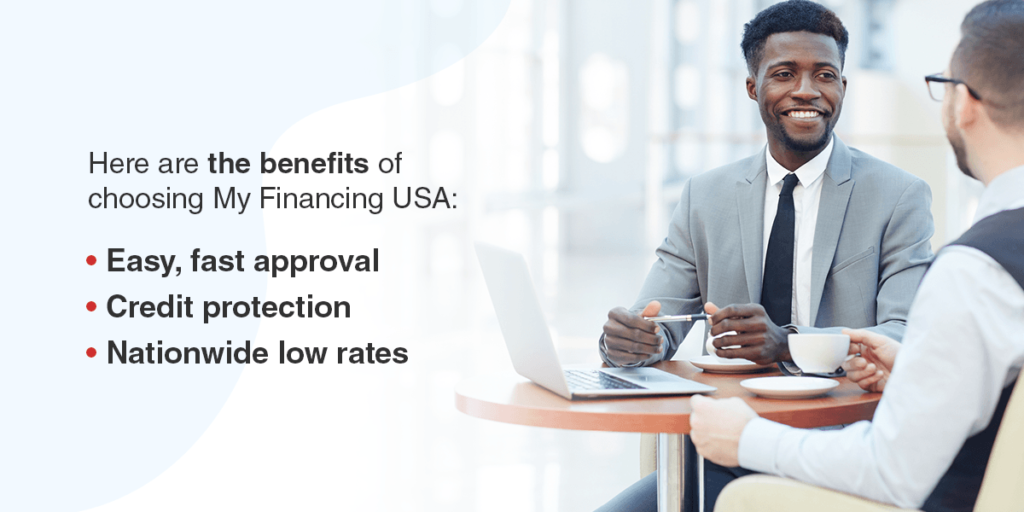 My Financing USA is the best place to finance a used boat and the best place to finance a boat with bad credit. We understand that owning a boat isn't a luxury – boating is a lifestyle. Our goal is to provide our customers with the best boat loan programs, regardless of their credit score.
If we can't approve your initial loan application, we can provide you with a free credit consultation that can help you improve your chances of securing boat financing and saving money down the road. Here are the benefits of choosing My Financing USA.
Easy, fast approval: Signing and submitting the documents from your phone will let us fund your application in as little as 48 to 72 hours.
Credit protection: We can protect your credit by reducing inquiries when we pre-qualify you and only send you a single matching lender at a time.
Nationwide low rates: We will conduct a nationwide search to find the best rates and terms for your boat financing.
We'll do everything we can to find the right boat loan program for you. We may be unable to finance your boat if you have temporary or unverifiable income, multiple bankruptcies, accounts in forbearance or large, outstanding collections. We also do not offer programs in Hawaii or Alaska.
Apply for a Boat Loan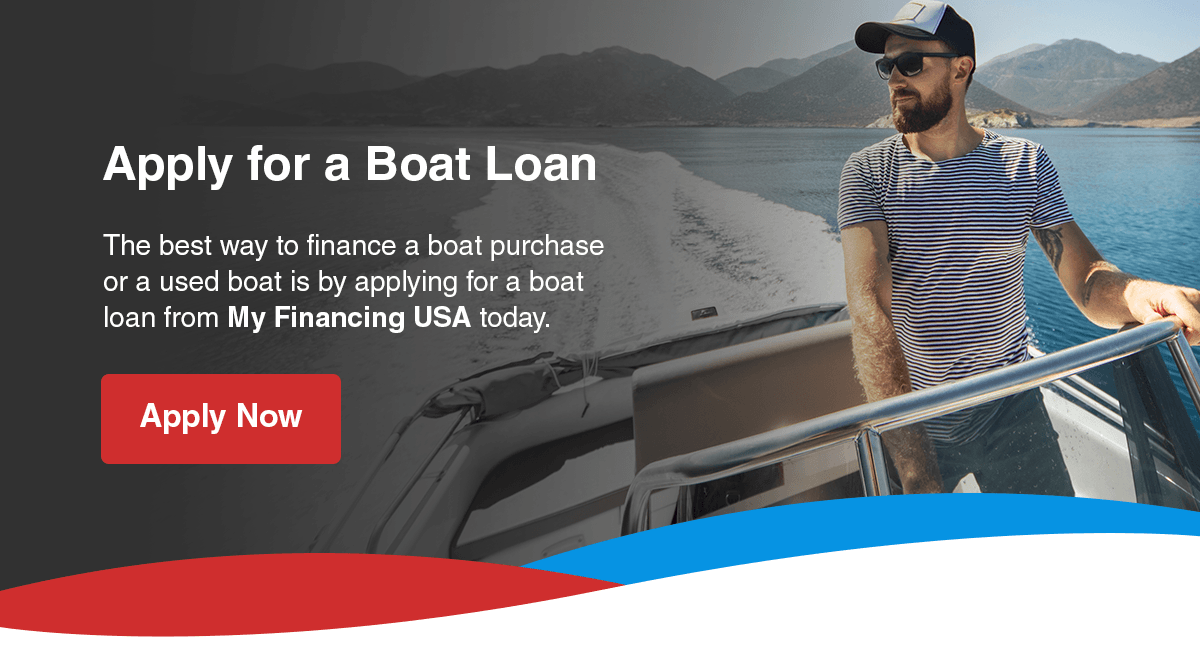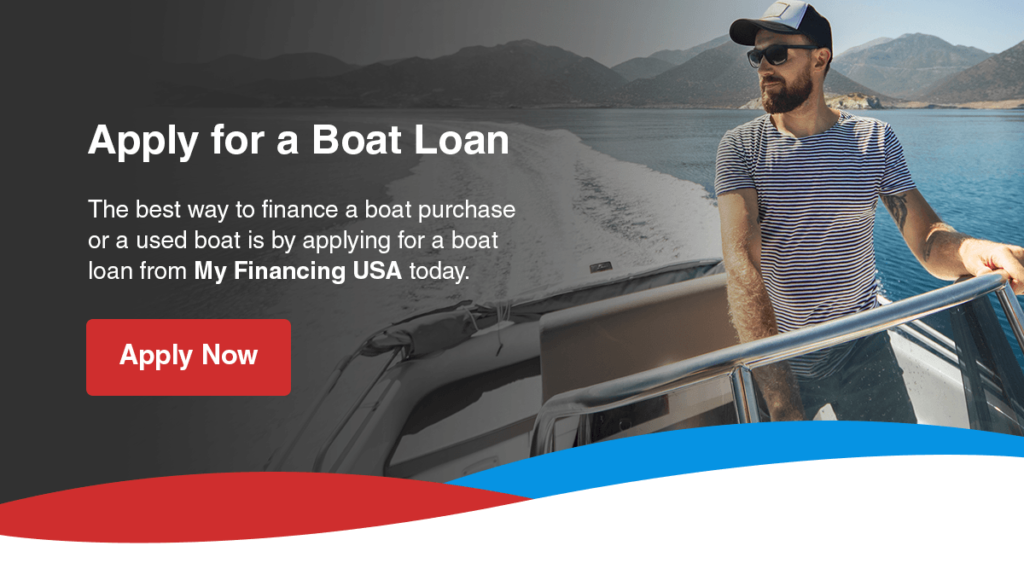 At My Financing USA, we offer financing for boat purchases. Our application process is 100% online and follows the simple steps outlined below.
Apply for your boat loan online: You can submit your information via our website, which is DigiCert Norton VeriSign Secured. Because our website is secure, you can trust that your data will be safe. All the communication between us, you and our partners will stay private according to the latest encryption standards for a financial transaction. If you have a co-applicant, such as a spouse, you will need to provide their information as well.
Get your loan program match: Next, we will find your match by verifying your information and conducting a nationwide search for the best boat loan program for your needs.
Sign and drive your boat: With My Financing USA, you can sign your closing documents directly on your phone. The loan verification and approval process takes approximately one to three business days. Afterward, you can pick up your new boat with your check in hand.
The best way to finance a boat purchase or a used boat is by applying for a boat loan from My Financing USA today.
---
Additional Resources on Boat Financing:
---