Quick Navigation:
A recreational vehicle gives you the opportunity to travel and explore the country with all the conveniences of home at any time. At My Financing USA, we can help make your dreams of RV ownership come true. We can provide financing options to fit your needs, regardless of your credit score. This guide covers how to finance an RV purchase and answers frequently asked questions about the process of securing an RV loan.
What Are RV Loans?
RV loans allow buyers to finance a new or used RV, camping trailer or motorhome that is too expensive to purchase in a single lump sum. RVs vary significantly in size and luxury, so RV loans can offer very different terms and rates. While similar to a car loan, an RV is typically a larger and more complex purchase, so the rates tend to be higher and the terms for repayment are usually longer.
Since an RV can have a high price point, financing may be the only way to fulfill your dreams of RV ownership. Depending on the lender and type of RV, you can get a loan for tens of thousands of dollars paid over a few years or for hundreds of thousands of dollars paid over decades. If you are buying a less expensive RV, you may be able to make the purchase with a personal loan. However, personal loans carry much higher rates and shorter terms, which means you will have a higher loan payment.
If you are buying a more expensive RV, however, you likely will need to apply for a collateral loan. With these loans, the RV serves as collateral, so if you default on the loan, the lender will repossess and sell your RV. The specific rates and terms you can qualify for depend on the RV you want to purchase, your financial circumstances and your lender.
How Do I Finance an RV?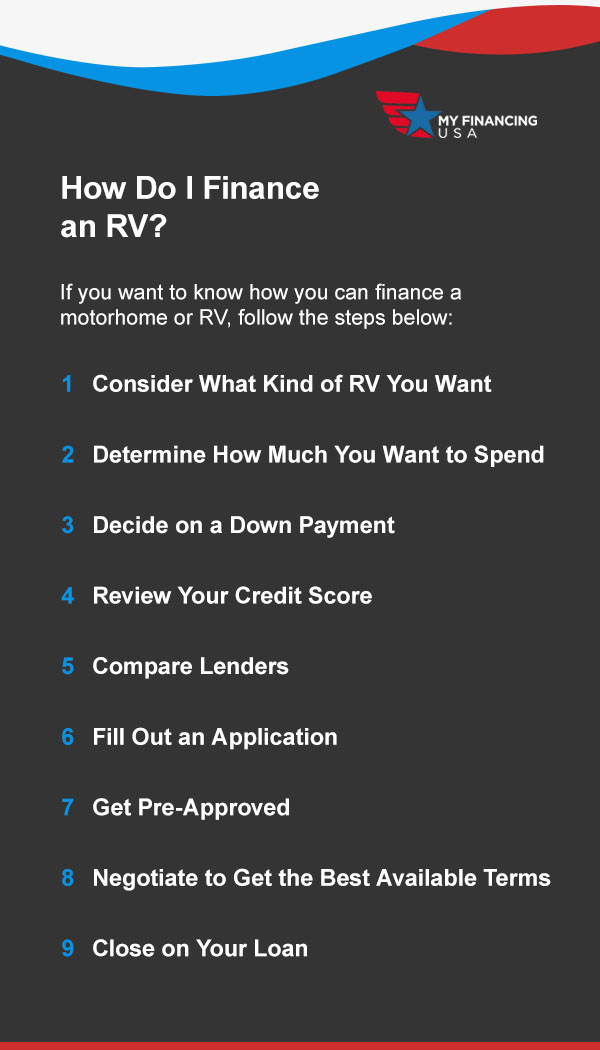 Similar to other types of loans, you will submit an application, and your application will be reviewed by lenders. They will use several factors to evaluate you as a potential borrower, including your credit score, location and your price range. If you want to know how you can finance a motorhome or RV, follow the steps below:
1. Consider What Kind of RV You Want
RV costs vary depending on the size, age and type of vehicle. Interior finishes and add-on features can also cause a small RV's cost to increase dramatically. As you begin seeking an RV loan, determine what you want in an RV and how you will be using it.
Consider whether you will be using your RV to travel full-time or whether you will be traveling only on the weekends. Will you be camping in rugged terrains or cold climates? If so, you may need an off-road or winterized RV. Once you understand what RV lifestyle you want, write a list of the features you must have and features that would be nice to have.
2. Determine How Much You Want to Spend
After you know what kind of RV you want, research the average cost of those RVs and determine whether this average cost is reasonable for your current financial situation. Calculate how much you can afford for an RV by reviewing your budget. How much disposable income do you have each month? How much of that are you willing to allocate to an RV loan payment, along with other related costs like insurance, maintenance, fuel and storage?
You can use our RV loan payment calculator to help determine how much you can comfortably afford. We offer better options than the typical financing for an RV, with interest Rates Between 7.24% and 19.95%. The interest rate we can help you obtain depends on a number of factors, including the type of RV, the age of the RV, your credit score, your location and the amount you plan on financing.
3. Decide on a Down Payment
Many lenders require a down payment of at least 10%, though putting down more can help you secure a more affordable monthly payment and reduce the overall cost of your RV loan. How much you are required to put toward a down payment depends on your lender and the type of RV loan. When you find the perfect RV, review your savings and determine whether you want to save more for a down payment.
If you have poor credit, a larger down payment can increase your odds of being approved for an RV loan, as it reduces the amount of financing you need and decreases the risk to the lender. If you do not have much in savings, you may still be able to receive 100%, which we can provide at My Financing USA on a case-by-case basis.
4. Review Your Credit Score
The interest rate you will qualify for is largely determined by your credit score. While other factors like the size of your loan can play a role, creditworthiness is often the factor that makes or breaks RV financing. To ensure you are eligible for the best available RV loan interest rates, review your credit score and determine whether you need to increase your score before shopping for a loan.
If you choose My Financing USA, we can help you finance an RV with bad credit. Our minimum required credit score is 550, and we have programs that even allow for past credit issues such as bankruptcies, late payments or collections. If you would like to improve your credit, we offer a free consultation to help you increase your score. By reducing your debt and paying your bills on time, you may be able to improve your credit and get better RV loan offers.
5. Compare Lenders
The terms and rates you may be eligible for will vary by lender, so it's essential to compare the lenders who are offering you financing. Carefully read the fine print before you sign, as you should know how long the repayment period is for the loan, the minimum credit score and whether there are limits placed on your RV's age.
Compare your loan terms and interest rates, as these can greatly affect how much you pay in total for your financing and are often the deciding factors for which loan offer and lender is the right choice. Keep in mind that you should compare interest rates for the same type of loan. If a loan offer comes with a lower rate, it may also come with a shorter term, so you will have to pay your loan back faster.
6. Fill Out an Application
More paperwork is required to complete an application than for the pre-approval process. When filling out an application, you may need to provide information about the RV you want to purchase, your employment history and your financial information, such as your debts and assets. After your application is approved or denied, you will receive the decision via email. When you complete an application with us at My Financing USA, you won't have to pay an application fee.
7. Get Pre-Approved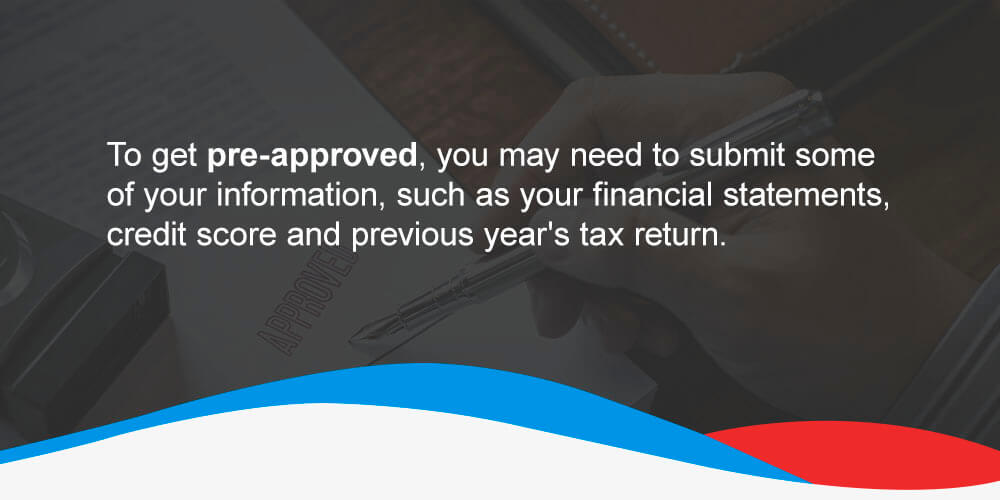 Next, get pre-approved for a loan by a lender. To get pre-approved, you may need to submit some of your information, such as your financial statements, credit score and previous year's tax return. You may also be asked what RV you are looking to purchase. With My Financing USA, this can be changed later, and one of our loan officers will instruct you on how you can change this information.
After you get pre-approved, the lender will give you a pre-approval letter, which you can use to show sellers you are a serious buyer. You will also likely feel more confident when making an offer, as you'll know you already have a financing option. We suggest closing a minimum of 10 days before your approval is set to expire so there will be enough time for funding.
8. Negotiate to Get the Best Available Terms
When you are looking to buy an RV, you want to ensure you are getting the best possible price. Dealerships tend to mark up the prices on RVs and expect customers to negotiate the price down. Depending on the circumstances and the RV you are interested in buying, you may be able to decrease the price by a few thousand dollars.
Additionally, there may be extra amenities or incentives you can take advantage of to make the purchase price of the RV more acceptable like upgrades or maintenance. Even if you are not eligible for a low APR, decreasing your purchase price can reduce your overall cost for financing.
9. Close on Your Loan
Finally, you will make an offer on the RV. Your offer should fit within your budget and your pre-approval amount. If the seller accepts your offer, set a closing date and contact your lender. Typically, it takes about four to eight business days to go from application to closing. Of course, how long it takes to close depends on how quickly you can send the usable, valid documents that have been requested.
After closing, the RV is yours. Once you provide final approval, the seller will receive the funds.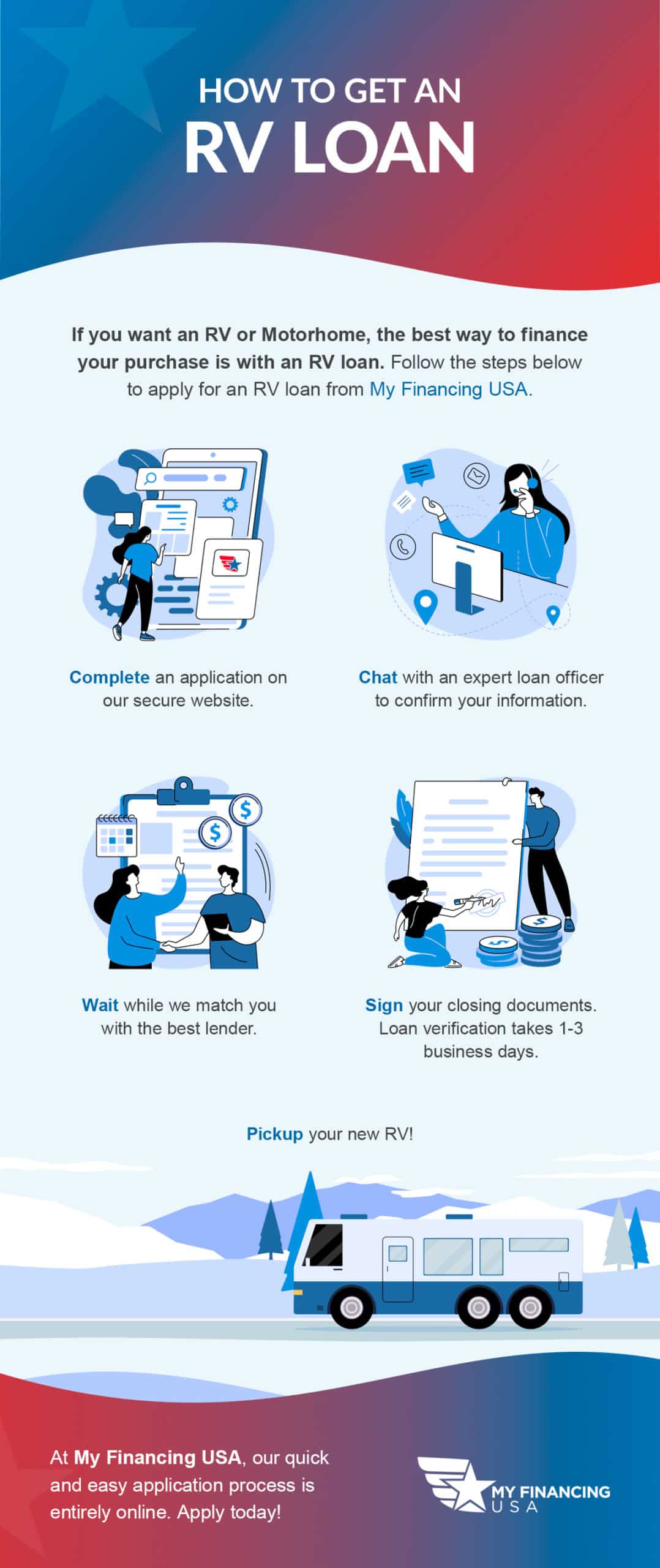 How to Finance a Used Motorhome
With a motorhome, you can travel across the country and visit the nation's most beautiful towns and parks. For some buyers, a used motorhome may be the best, most affordable option. Many used motorhomes are a great investment, as they are less costly than a new motorhome and may have limited mileage. If you are on a budget or you want more room in your RV for less money, you may want to consider purchasing a used vehicle.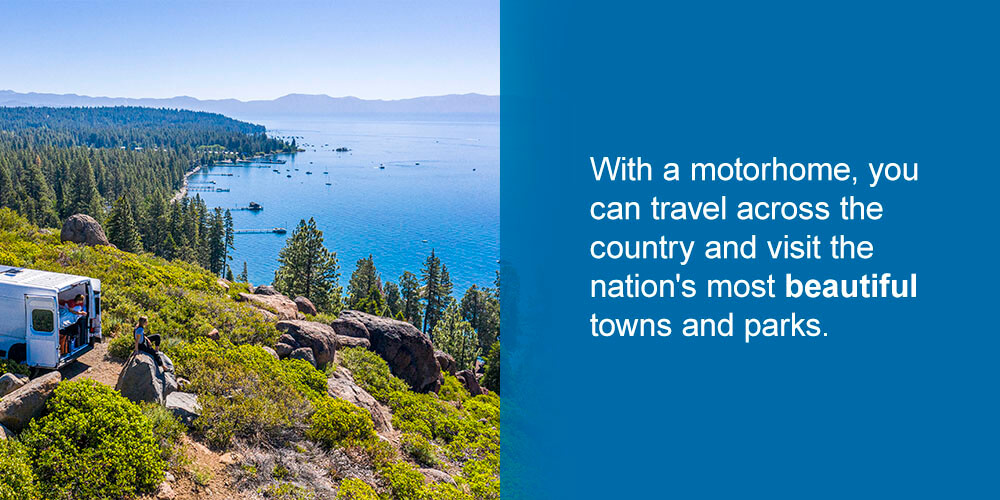 When you choose My Financing USA, you can finance a used RV. Our application process is easy — you simply take a few minutes to complete your application on our website, which is secured by DigiCert Norton VeriSign.
After filling out your application, you will speak with a real person who will discuss your loan details with you. We will ask you about your expectations and goals for your RV loan. Once we have this information, we can help you determine which loan types may or may not be the right options for you.
We can get you pre-approved and limit our inquiries, which protects your credit score against numerous pulls. After we match you with a lender, we will send you the closing documents, which can be signed directly from your phone. With My Financing USA, you can obtain your check in 48 to 72 hours after submitting your application. Once you receive your check, give it to your dealer and drive your used RV home.
How to Finance an RV or Motorhome With Poor Credit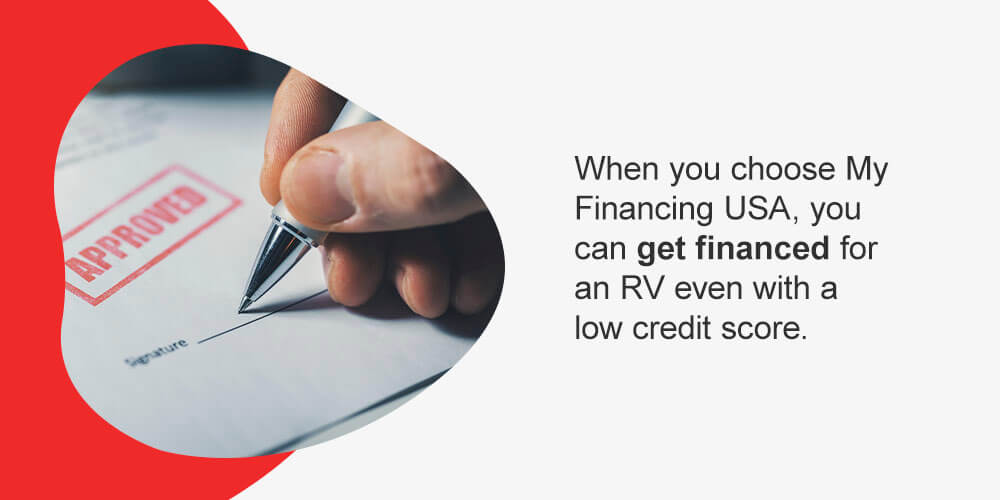 If you have less-than-stellar credit, you may be doubting whether you can pursue your dream of RV ownership. However, when you choose My Financing USA, you can get financed for an RV even with a low credit score. We know poor credit may mean you've gone through a difficult period and fell behind financially — something that can happen to any of us. A challenging financial time in your past shouldn't hinder your ability to fulfill your dreams and lead the life you want to live.
We will search across the nation to find you the best RV loan terms and rates, so you can finance a motorhome even with bad credit. If you receive a rejection on your application, we will start the process again. We can help applicants with credit scores as low as 550 find an RV loan. Even if your past includes late payments, collections or bankruptcy, we are happy to discuss your RV financing options.
To safeguard your credit, we will reduce additional dings by spacing out submissions for inquiries and limiting how many lenders we are in contact with at once. You also won't face any hidden fees from vendors, and all your personal information will be secured by our website. We offer a selection of financing options from fair, flexible lenders with programs that meet your expectations and needs.
We can also offer a credit repair program to help increase your credit score, which can allow you to become a more reasonable risk to lenders. By making payments on time, lowering your credit utilization and paying off debts, you can improve your score. After you complete the program, we can return to your application.
How Much Does It Cost to Finance an RV?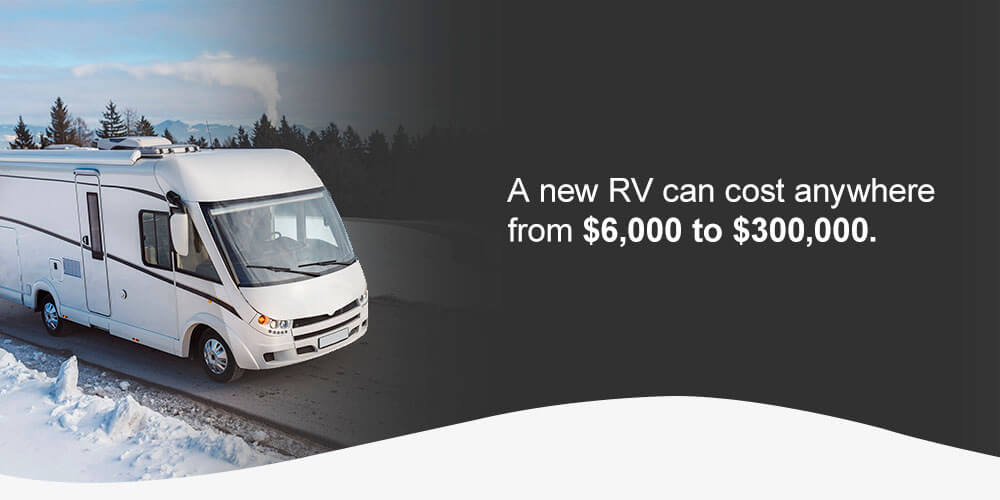 The cost to finance an RV depends on the price of the RV, the interest rate you qualify for, your financing terms, the size of the RV, the make and model and the RV's internal furnishings. Typically, brand new RVs can cost anywhere from $6,000 to $300,000. Use our RV payment calculator to determine how much your RV loan may cost you each month. You can input the amount, term and your rate to calculate your monthly payment.
If you want to pay a lower monthly payment, you may want to obtain a longer financing term. At My Financing USA, we offer financing terms up to 240 months, or 20 years. A longer term can also mean you pay more in interest over the course of the loan, so you may want to opt for a shorter term to lower your total cost. Along with the cost of the loan, keep in mind that you may have upfront costs, such as a down payment.
Can You Finance an Older RV?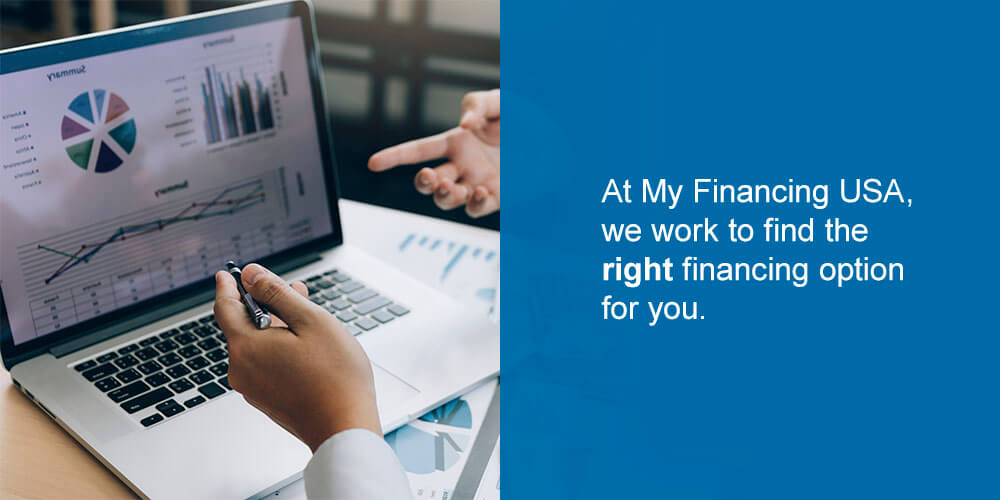 Many lenders place limits on the age of RVs they will finance. Fortunately, it's still possible to finance an older RV. At My Financing USA, we work to find the right financing option for you. Credit unions or even personal loans can sometimes be used to finance older rigs. Keep in mind that many lenders charge higher interest rates on older motorhomes and may require good credit and a sizeable down payment.
At My Financing USA, we can finance RVs from 2009 or newer. RVs that are older than this are financed on a case-by-case basis. If you are interested in an older RV and uncertain whether you can finance your purchase, discuss your option with us. Keep in mind that we are unable to finance units with salvage titles.
Where to Finance an RV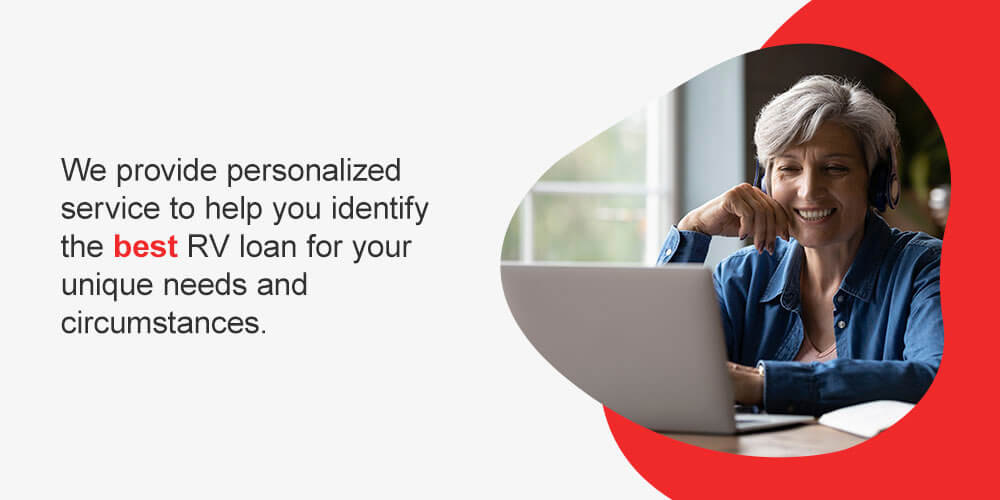 Motorhomes are financed through loans from financial institutions or dealerships. Financial institutions like banks or credit unions tend to be better options than dealerships, as you are more likely to get a better interest rate and you can avoid aggressive sales tactics. When you get pre-approved with a lender, you can stick to a budget and ensure you make a purchase that offers the monthly payments you're comfortable making.
My Financing USA is the best place to finance an RV. We provide personalized service to help you identify the best RV loan for your unique needs and circumstances. We search across the nation to identify the best interest rates and loan terms available, and we are happy to partner with you to identify a financing solution. Choose My Financing USA if you are seeking:
Credit protection: We can get you pre-qualified, reducing the number of inquiries on your credit.
Quick approval: When you apply for financing through my Financing USA, you can acquire your funding in just 48 to 72 hours.
Simplicity: Complete the entire application process online, from providing your information to signing your closing documents.
Along with these benefits, we offer extras like gap waivers and a wheel and tire program. If we cannot get you approved for an RV loan the first time, we offer a free credit consultation to improve your credit score and increase your chances of getting a loan.
Apply for an RV Loan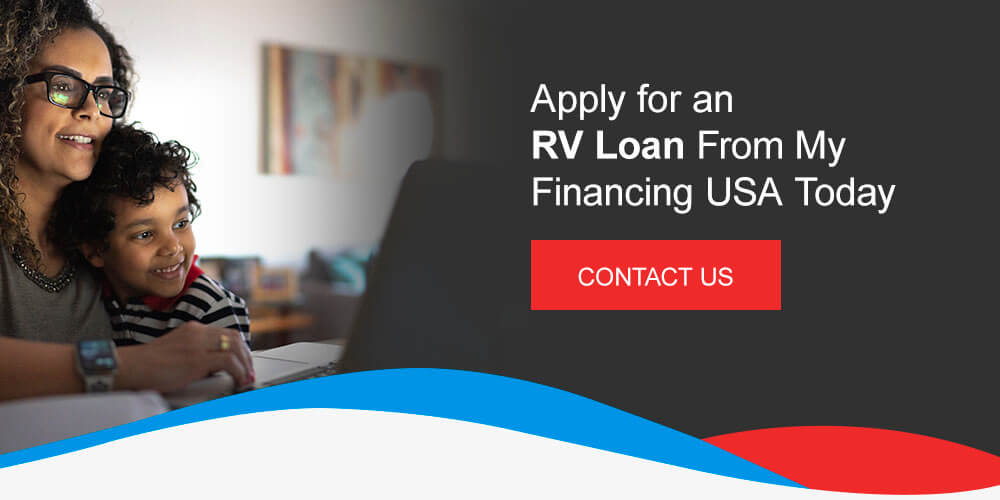 The best way to finance an RV or motorhome is by applying for an RV loan with My Financing USA today. Follow the steps below to apply for an RV loan:
Fill out an application: Complete an application on our website secured by DigiCert Norton VeriSign.
Get your information verified: Next, we will confirm the information you provided. You will speak with an expert loan officer to discuss the details of your application. We let you know which step you are on in the financing process and ensure your expectations align with our available resources.
Receive your lender match: To find the best option for you, we will send your provided information to lenders until we locate a match. To shield your credit score during this process, we stick to a limit of three inquiries from a bureau.
Sign your documents: You can conveniently sign closing documents on your phone and submit them to us. Typically, it takes about one to three business days to verify and approve closing documents.
Get your RV: After the lender approves your closing documents, you can pick up your RV and hit the road.
Our application process is entirely online and takes just minutes, giving you convenience and flexibility throughout the process. Contact us if you have any questions about how to get financed for an RV.
---
Additional Resources on RV Financing:
---