Quick Navigation
Whether you're an avid fisher, enjoy water skiing or want to relax on the open water with your family and friends, you're glad that you bought a boat. One thing you might not be so thrilled about, though, is the loan you took out to afford to purchase the boat. Depending on your circumstances at the time of purchase, your boat loan might have a high interest rate. Alternatively, the monthly payments might not work with your current budget.
If your current loan isn't working for you, you can refinance a boat loan to get terms that are a better fit for your current financial situation. Learn more about how a new or used boat refinance works and the numerous benefits of doing it.
What Is a Boat Refinance?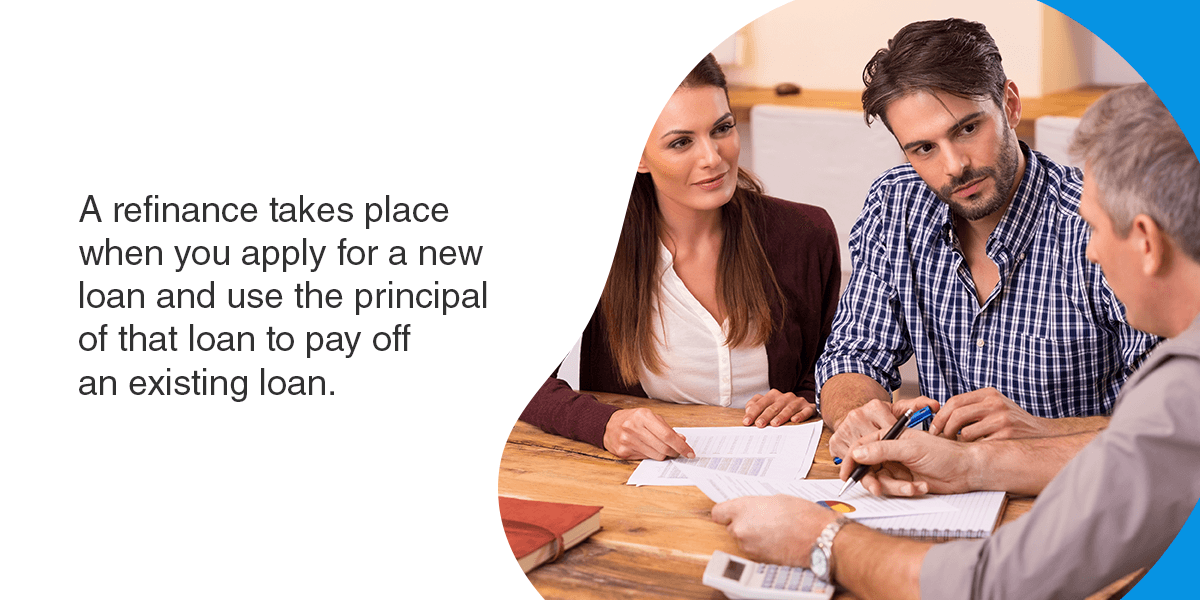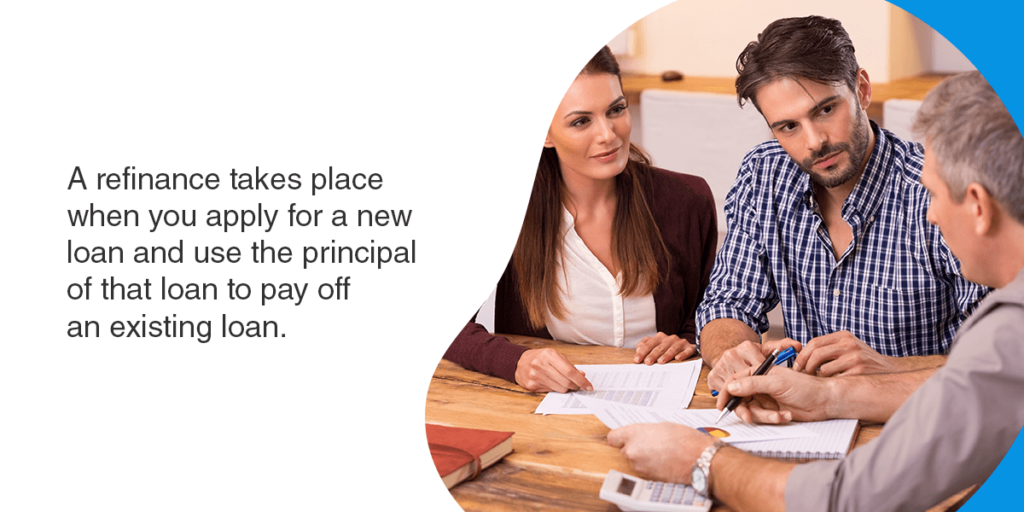 A refinance takes place when you apply for a new loan and use the principal of that loan to pay off an existing loan. You can refinance a wide range of loans. For example, people who own homes can refinance their mortgages to take advantage of reduced interest rates or to cash out some of the equity in their property. People who have car loans might refinance to get a lower interest rate or to change the length or term of the loan.
If you've been through the process of getting a loan for your boat, you're already somewhat familiar with the process of refinancing the loan. You'll need to go through the loan application all over again, providing information like proof of income and your credit history. The lender will make a decision about the interest rate to offer you and then you can decide whether you want to go through with the refinance or not.
A few types of refinance loans are available. The one that is right for you depends on your goals for refinancing and what you hope to get from the loan.
Learn More About Boat Refinancing
Boat Refinance Rate and Term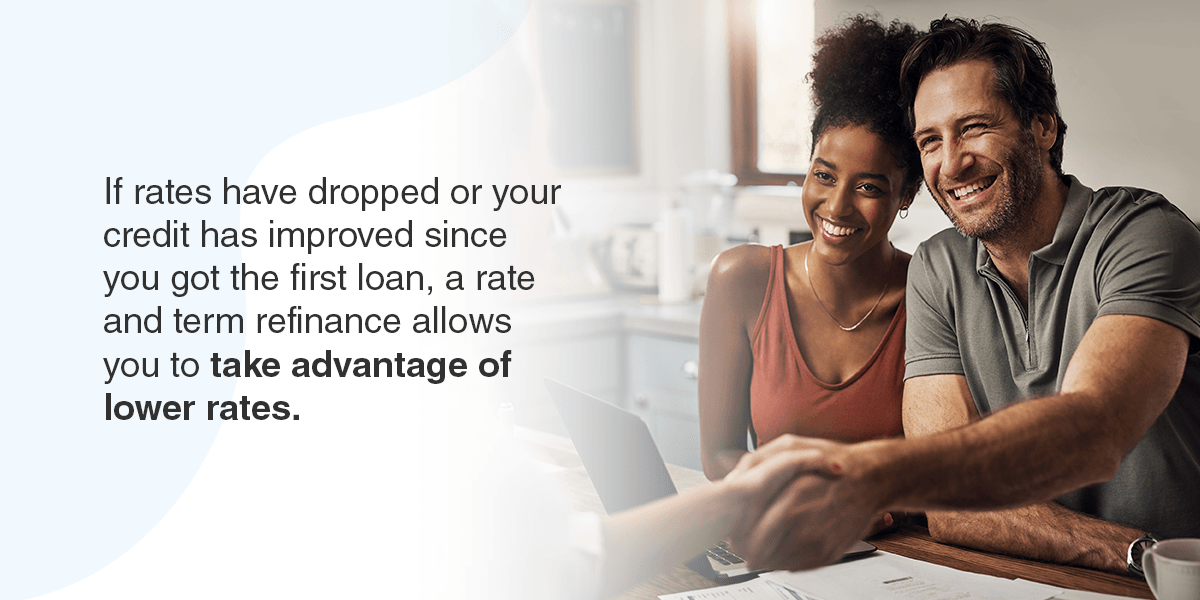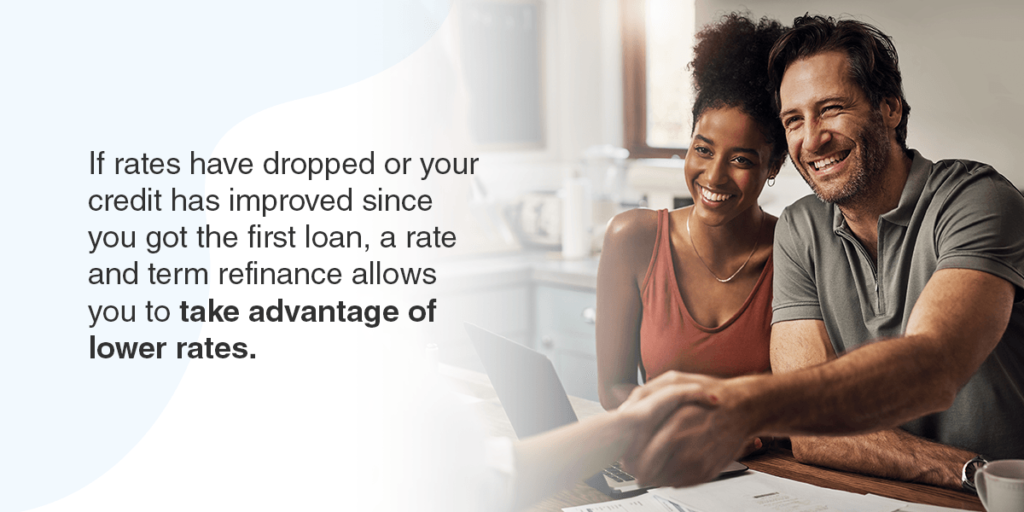 With a rate and term refinance, you change the interest rate on the loan or the term of the loan, or in some cases, on both. For example, say your current loan has a remaining balance of $75,000 and an interest rate of 10%. The original term was 10 years. When you refinance the loan, you borrow $75,000 to pay off the balance on the first loan. The new loan has an interest rate of 8% and a term of eight years.
Some of the reasons you might choose a rate and term refinance include:
You want to pay less interest: If rates have dropped or your credit has improved since you got the first loan, a rate and term refinance allows you to take advantage of lower rates.
You want more or less time to pay off the loan: Your financial priorities might have shifted since you first took out the loan. You might now want to focus on saving for retirement or paying down your mortgage. Refinancing lets you change the term of the loan, allowing you to spread out your payments. Conversely, you can shrink the repayment period if you want to be free of your loan faster.
You want a different monthly payment: Changing the rate or term of your loan, or both, means your monthly payment can increase, reducing the time it takes to pay off the loan. Alternatively, it can decrease, meaning you can focus on other financial commitments.
Is Refinancing Right for Every Boat Owner?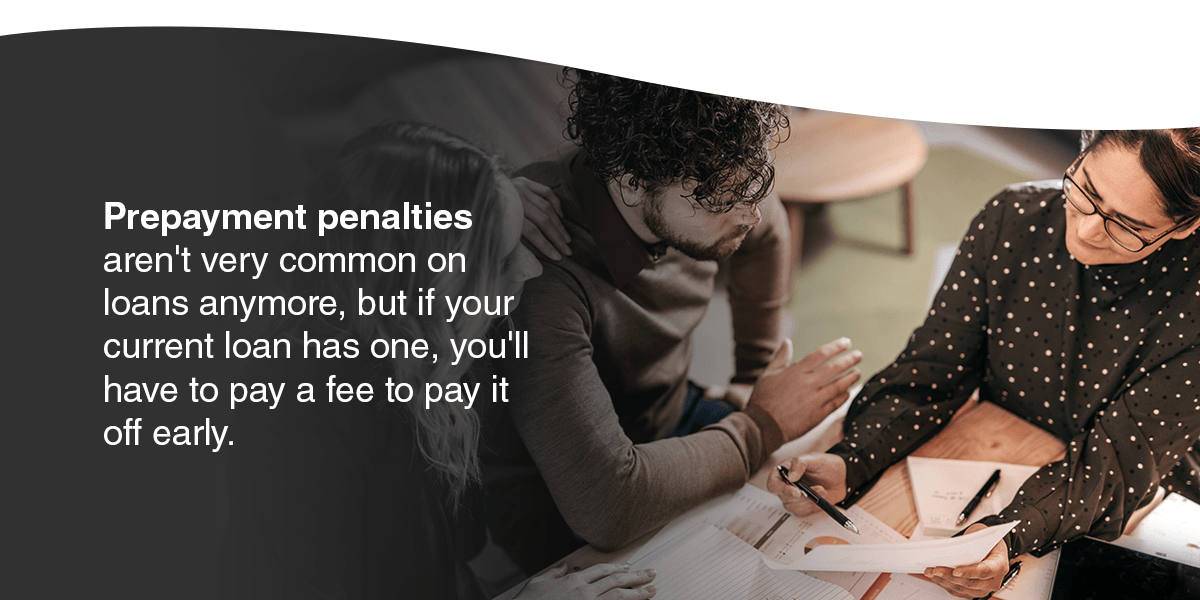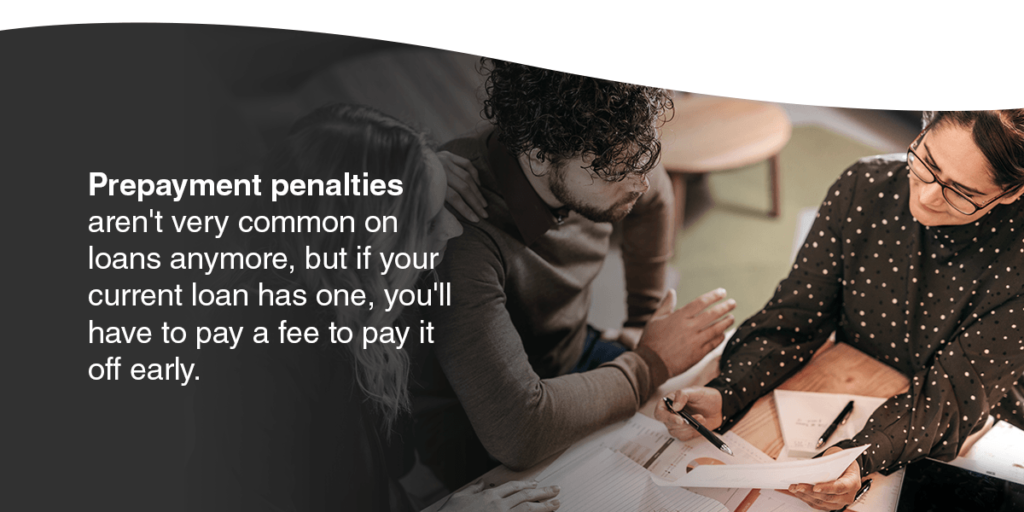 If you're wondering, "Can I refinance a boat loan?" then another question you might ask yourself is, "Should I refinance?" While there are many benefits of refinancing, it's not always the best option. If the following apply to you, refinancing might not be the right choice:
You make less now than when you bought your boat.
Your credit score has dropped.
Interest rates are the same or even higher than when you purchased your boat.
The cost of refinancing is more than you would save.
Your boat loan has a prepayment penalty.
Prepayment penalties aren't very common on loans anymore, but if your current loan has one, you'll have to pay a fee to pay it off early. The fee can be high enough that it eliminates any financial benefit of refinancing.
If your boat loan is nearly paid in full, refinancing also might not make sense. You might be better off paying down the remaining loan and owning the boat free and clear.
What Are the Benefits of Refinancing Your Boat Loan?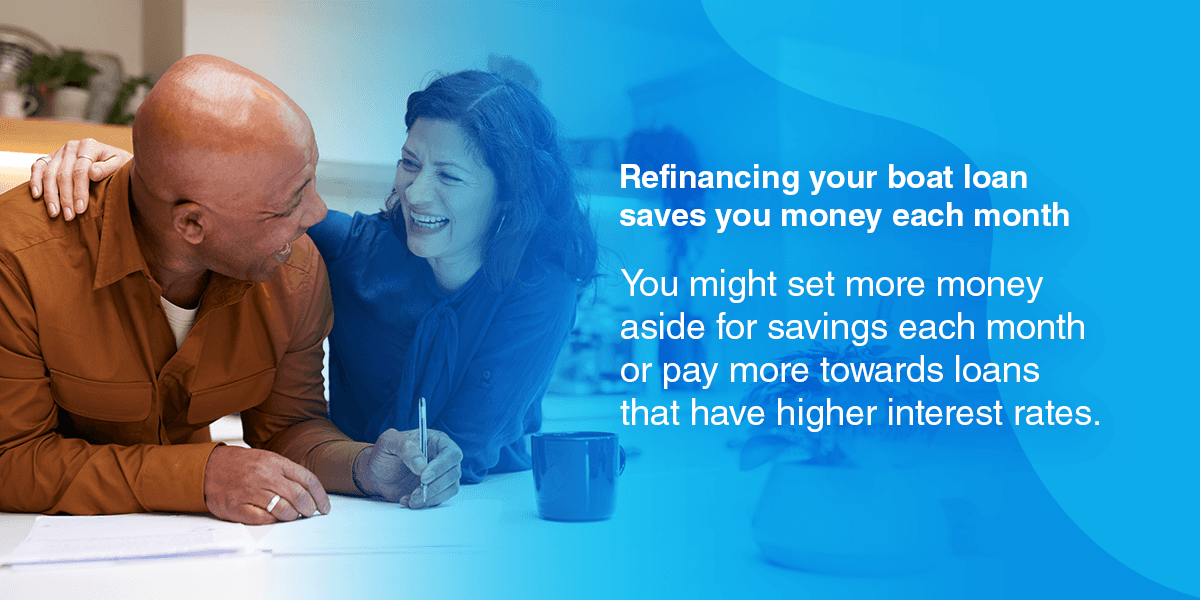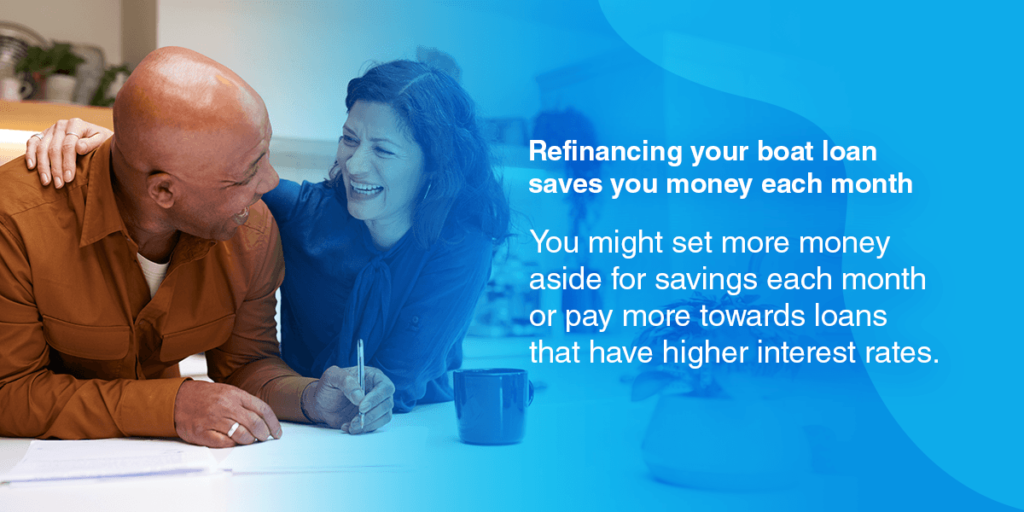 If refinancing seems like the best option for you and your boat, here are a few benefits of doing it:
Saves you money each month: If you refinance and end up with a lower monthly payment, you can adjust your budget accordingly. You might set more money aside for savings each month or pay more towards loans that have higher interest rates. If you've been having trouble making ends meet, a lower monthly payment can give you more room to breathe.
Lets you focus on other financial goals: Refinancing a boat loan can help you shift your financial priorities. For example, you might want to focus on building up your retirement fund. When you reduce your monthly boat payment, you have that option. Refinancing to consolidate your debts also helps you prioritize and shift your financial goals.
Can help you get out of debt faster: Should you decide to change the term of your boat loan when you refinance, you have the option of speeding up the repayment process, meaning you'll be on the path to being debt-free sooner.
What Are the Drawbacks of Refinancing Your Boat Loan?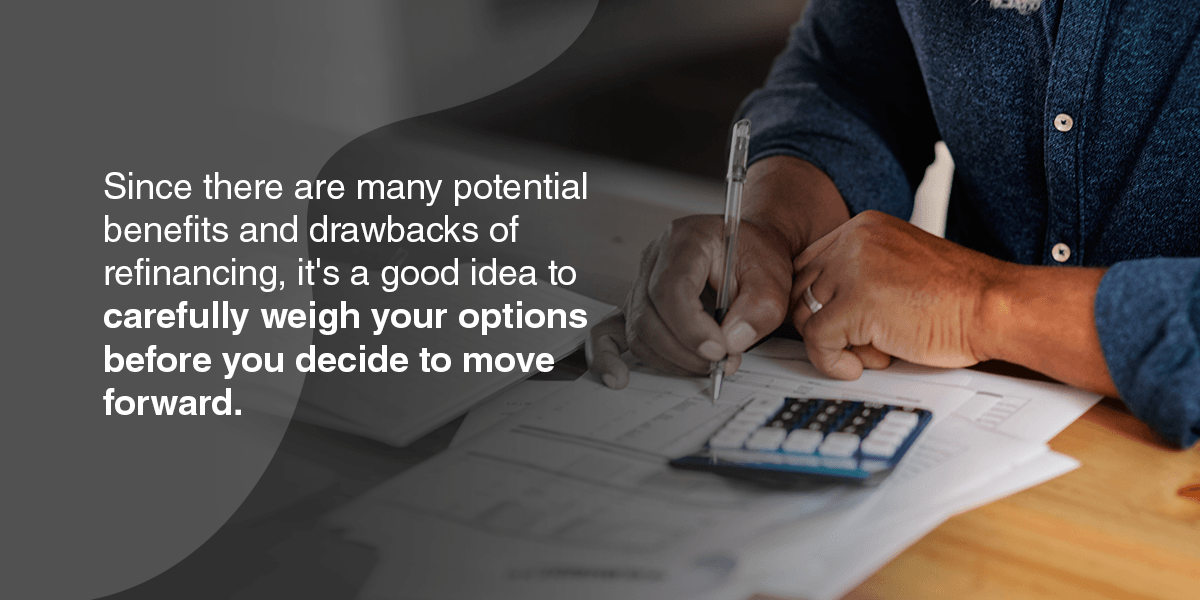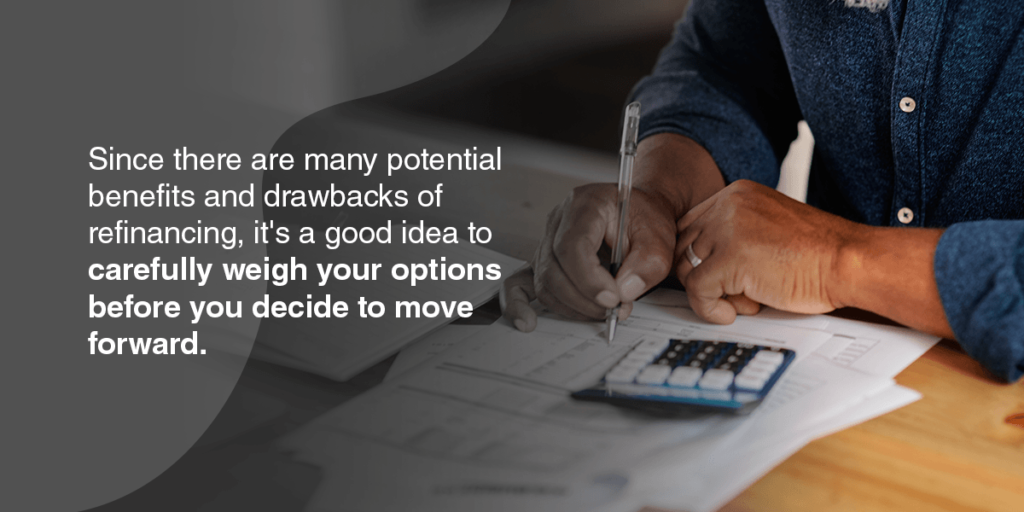 While there are benefits of refinancing a boat loan, there are also some potential disadvantages to consider:
Closing costs can be high: You need to pay certain fees when you take out a loan, including when you refinance. Usually, you pay closing costs when you finalize the loan, which means you'll need to have the cash on hand to pay upfront. Depending on the situation, the closing costs can make it so that you don't save money when you refinance.
You can pay more over time: Extending the term of your boat loan by refinancing can mean that you have more breathing room when it comes to monthly payments. But lowering your monthly payment and taking more time to pay usually means that you end up paying more in the long run. You can use a boat refinance calculator to get an idea of your new monthly payment and to see how it compares to your current loan.
You can get in over your head: Going the cash-out refinance route can seem appealing, as it gives you cash to spend as you wish. But it is possible to borrow more than you can comfortably afford to repay. Alternatively, if your income situation changes, you might have trouble repaying the new, more expensive loan.
It can interfere with your other financial goals: Depending on what you want from life, refinancing your boat loan might make it difficult to focus on your other financial goals. You might end up repaying your boat loan for longer than you had anticipated when you purchased the boat or you might find that the monthly payments make it challenging to save for other accomplishments, such as retirement, paying for your children's education or buying a new home.
Since there are many potential benefits and drawbacks of refinancing, it's a good idea to carefully weigh your options before you decide to move forward.
How Soon to Refinance a Boat Loan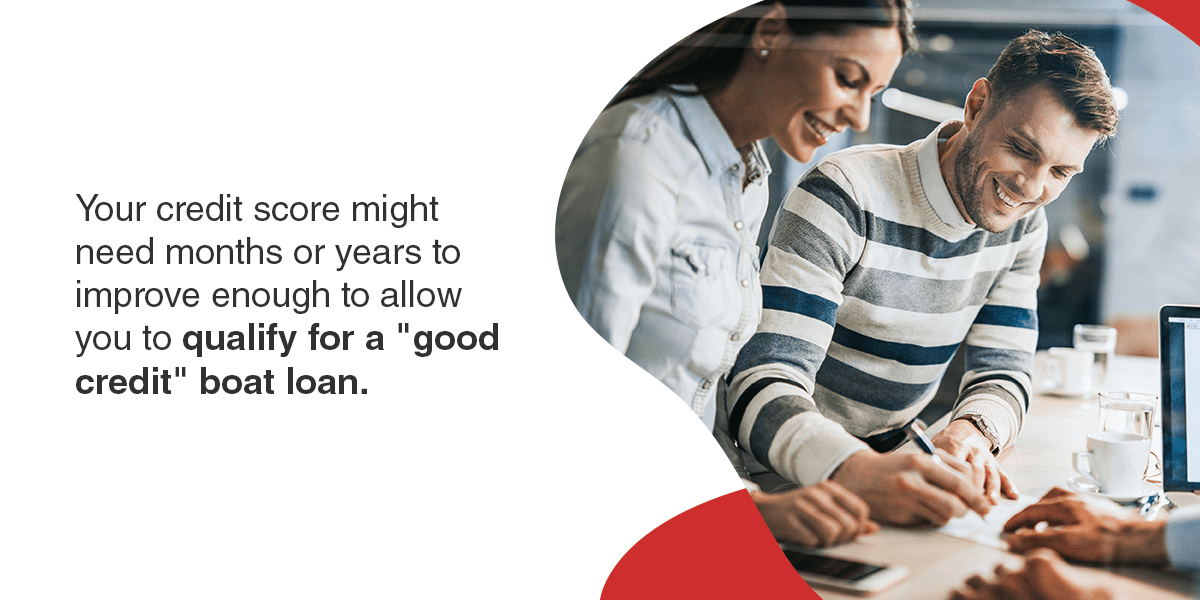 Is there a right time to refinance your boat loan? It all depends on what's going on, both with your personal credit and financial situation and with the world in general. It could be the case that interest rates drop substantially a few months after you took out your first loan. If the drop is substantial enough, refinancing can help you get a lower monthly payment and reduce your total out-of-pocket costs.
It might also be the case that refinancing doesn't make sense until you've made several years' worth of payments on your loan. Your credit score might need months or years to improve enough to allow you to qualify for a "good credit" boat loan.
The best thing to do is keep an eye on the market, your finances and your current loan. That way, you'll get a sense of when rates are low enough that refinancing makes the most sense for you.
Can You Refinance a Loan on a Boat With Bad Credit?
It's possible to get a boat loan when you have bad credit. But will you be able to refinance a boat loan if you have bad credit? It depends — if you took out your first boat loan and then struggled to make payments on it, you might have trouble refinancing it. But if your credit score is a little less than ideal and you've been making regular payments on your current boat loan, a lender might consider working with you on a refinance.
If you don't have the best credit, be prepared to pay slightly higher interest rates when you refinance your loan.
Learn About Boat Loans with Bad Credit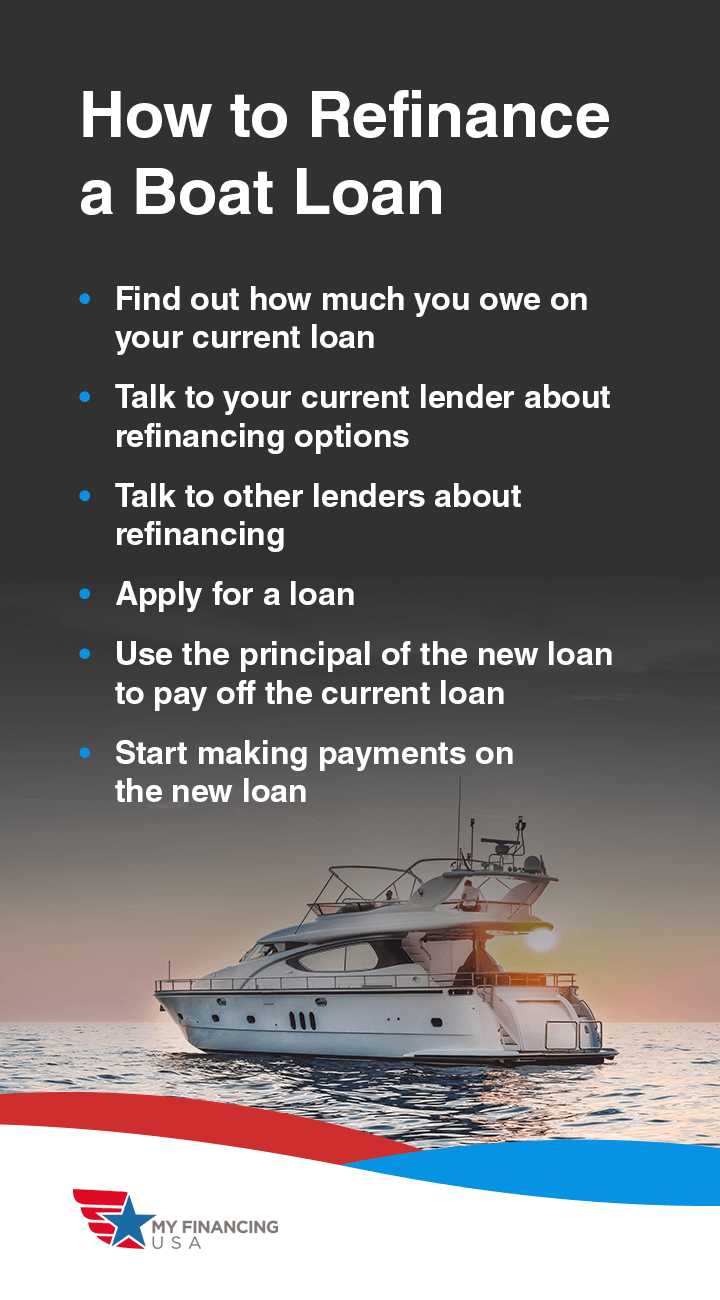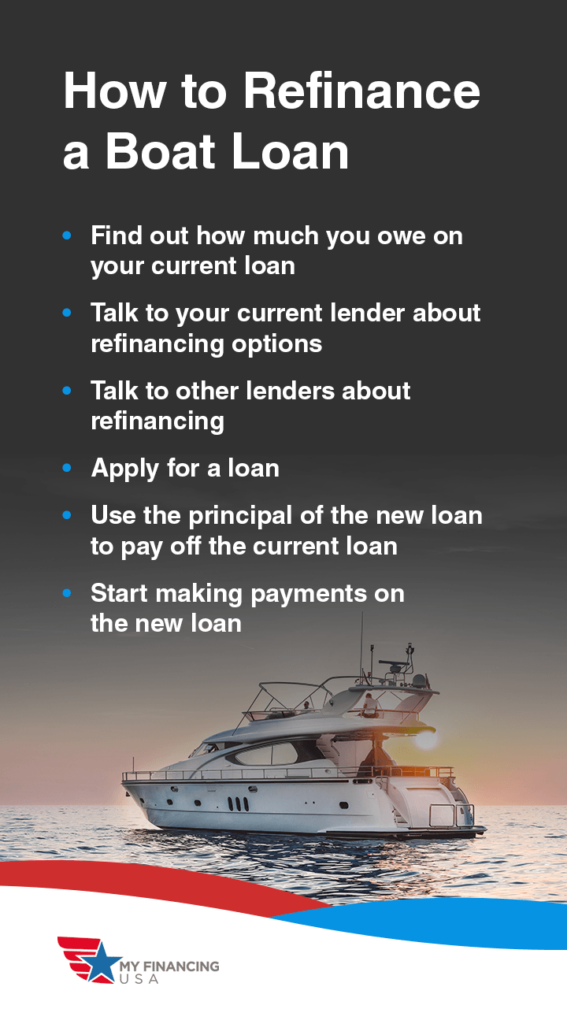 Boat Refinancing Tips
You can do several things to make the refinancing process go as smoothly as possible. Here's how you can best prepare to refinance your boat loan:
Crunch the numbers: It's a good idea to look at how much you still owe on your loan, its interest rate and how much time remains in the repayment period before you start shopping around for new loans. Knowing what you're paying now and how much your current loan will cost you overall means you can compare its costs to the cost of the refinance. In some cases, paying more over time might work for you.
Know your numbers: Along with knowing how much you still owe and how much a refinance will cost, it's important to know your credit score before you refinance. Knowing your score gives you an idea of whether you're likely to get a lower interest rate on the loan or not.
Know your boat: A lender might not let you refinance a loan on a boat that's more than 10 years old, so have the basic details about your boat down before you start the process. Your boat's market value also plays a part in refinancing. You usually can't borrow more than the boat is worth. If your boat has lost value since you purchased it and you haven't paid off much of your debt, you might not be able to refinance.
Know your other debts: Your debt-to-income (DTI) ratio matters when you want to refinance. If you've taken on more debts since you got your first boat loan, your DTI ratio might be too high to refinance. If that's the case, you can focus on paying down other debts before you try to refinance.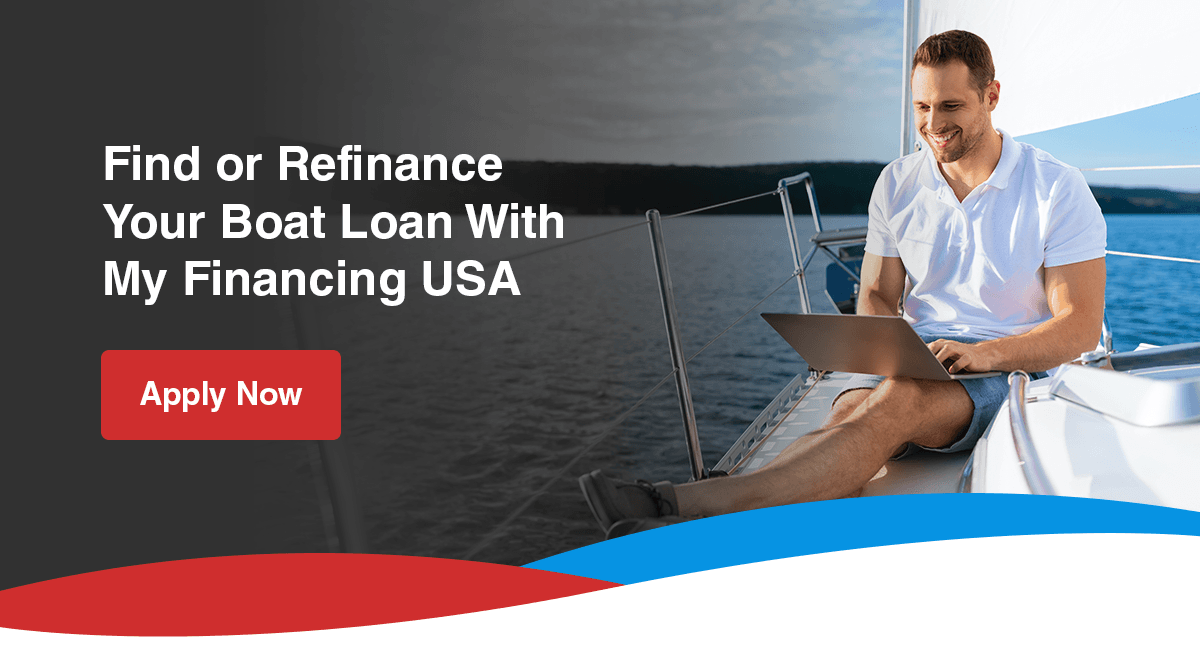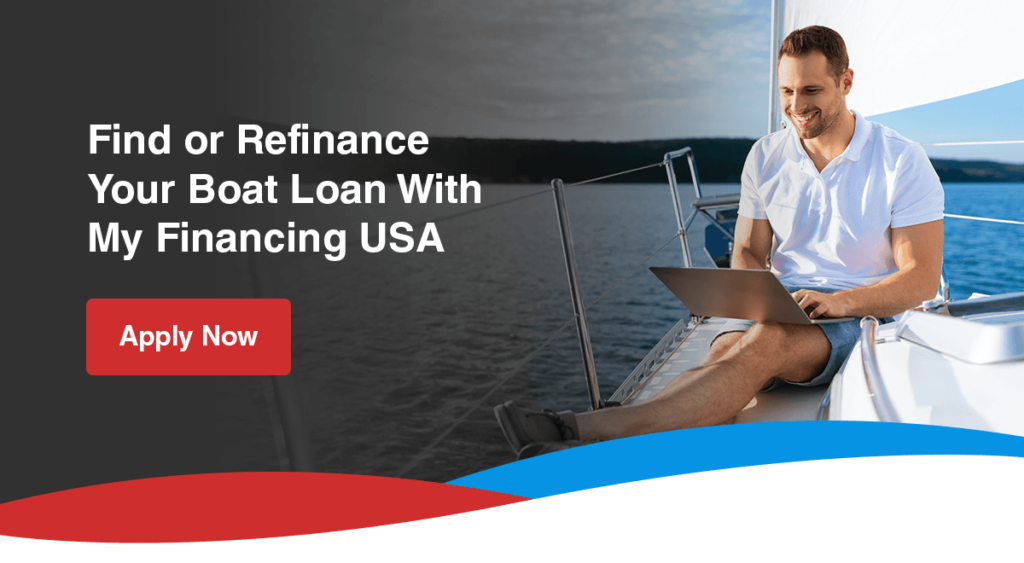 ---
Additional Resources on Boat Financing:
---