Quick Navigation:
If you're tempted to buy a new boat because you're interested in an upgrade, you're not alone. While new boats are exciting and fresh, they're expensive, and you may not have the budget for one at the moment. If your boat could use some updates and you want to avoid buying new, consider repowering. This approach can be a more cost-efficient way to keep your current boat yet add the necessary updates to keep it running smoothly.
Whether you're repowering a pontoon boat or a fishing boat, you'll want to read a bit about repowering before you proceed. Use our guide for help thinking about the various aspects of repowering your boat and whether it's the right choice for you.
What Does Repowering a Boat Mean?

In short, repowering a boat means updating the engine and its subsequent features — you can either purchase a new engine or rebuild your current one. While the engine is certainly a large part of the process, the engine is usually connected to other features on your boat, like steering controls, gauges, fuel and battery systems and more. As a result, almost every function of your boat will feel upgraded.
The type of engine your boat has will partly determine how complex of a project you're taking on. If you're looking to repower a boat's outboard engine, the process will likely be quite simple because the engine is easy to access. If you want to repower an inboard boat, the engine is more difficult to access and is more likely to be connected to other parts of the boat, so the process becomes more complex.
If you're mechanically inclined, you may be able to do the repower yourself, though it's usually best to let professionals repower boat engines. With the proper tools and training, service professionals can ensure your boat gets repowered with less risk of damage.
While repowering older boats can end up being an in-depth project, it's a smart way to improve numerous functions and controls to keep your boat running longer for less money.
Should I Repower My Boat?

There are many reasons you might consider repowering your boat. If you need boating reasons to repower, consider how updating your engine can breathe new life into your boat. Doing so can make taking your boat out on the water a whole new experience, all without having to pay for an entirely new boat.
For many boat owners with aging boats, the body of the boat is still in good condition, but the engine may be racking up a substantial number of hours. When that happens, the engine is likely reaching the end of its life and is running inefficiently. A weak engine can cause the entire boat to run poorly.
When there's nothing wrong with the boat itself but the engine needs a reboot, it often makes sense to repower your boat rather than buy a new boat. If you're looking for more horsepower or better fuel efficiency, you should also consider how repowering can be more financially beneficial than buying new.
Boat Repower Options and Considerations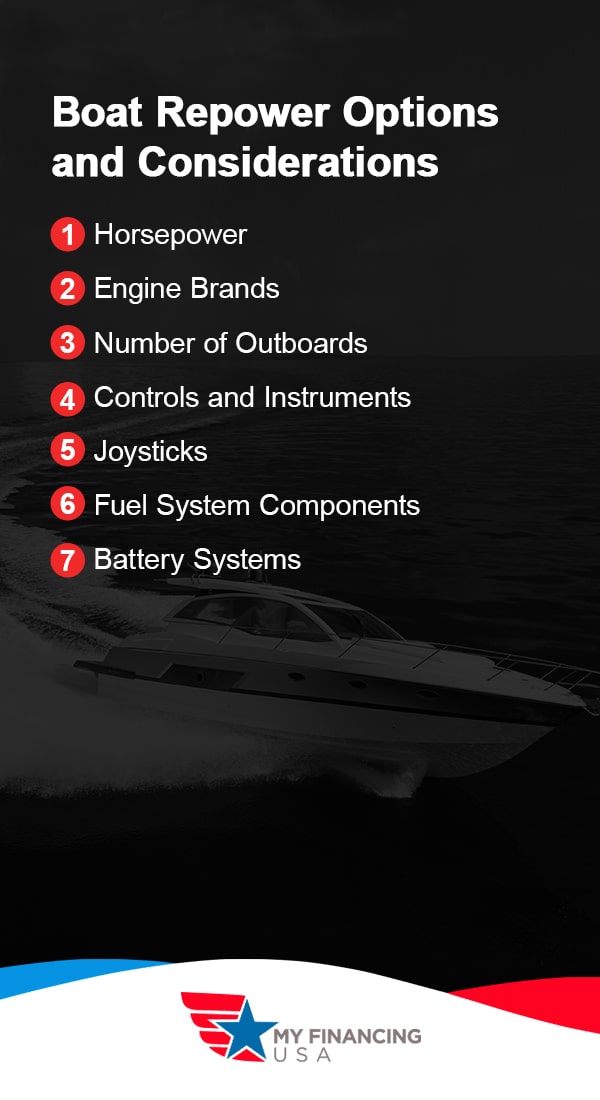 Repowering your boat is an opportunity to make necessary changes, though not every change will be beneficial to the way your boat runs. Repowering a boat is more than just installing a new engine — there are numerous aspects and different options for each aspect that you should consider.
Here are some important considerations when choosing to repower your boat:
1. Horsepower
Many people want to upgrade their boat's horsepower when repowering. However, you should be cautious if this is something you're considering.
Boats have horsepower capacities, and exceeding them can cause serious damage to the entire boat. Be sure to check what your boat's maximum horsepower rating is before you proceed with a repower. The set horsepower is the horsepower you should keep in mind when repowering, regardless of what you had previously.
Your boat will perform best at its maximum horsepower rating because the engine won't be struggling. This aspect often also results in better fuel economy, too.
2. Engine Brands
The most significant part of repowering your boat is replacing the engine, so naturally, you may want to consider other brands than your current one. You'll likely want to find the best motor to repower older boats so you know it'll work well. Changing the engine brand can mean more work to complete the project, but if you're unhappy with the brand's performance, warranty or another aspect of the brand, it may make sense to switch brands.
Switching brands typically requires the boat to be re-rigged, which will require more of a financial investment on your part. However, re-rigging your boat with a different brand engine is an opportunity to replace outdated controls, which is something you may need to do anyway.
While it's not as common now, boat owners used to switch from gas to diesel because it was cheaper. If you're thinking about how to repower a boat to a diesel engine, it may be best to avoid doing so. Today, diesel engines aren't as cost-efficient.
Additionally, repowering to a diesel engine is quite a challenging task. Repowering to a diesel engine typically requires your entire boat's system to be reengineered, which means the cost might not make it a viable option. If you're wanting to go diesel, consider finding a new or used diesel boat for sale instead of trying to repower your current boat to be diesel.
3. Number of Outboards
If your boat uses an outboard engine, you may consider changing the number of outboards you use. This is another aspect of re-powering you should approach with caution.
If your boat currently uses two outboards, you may be able to switch to one large outboard rather than two smaller ones. When changing the number of outboards on your boat, it's important to consider the weight of the motors and the space two of them take up. You should look for a new outboard that offers similar or more power at a similar weight.
Switching from one outboard to two may not make as much sense, especially because many single outboards today can power your boat just as well or better than two do. Additionally, trying to put two outboards where there was only one can raise several issues. For example, two outboards may add too much weight to the boat, there may not be enough room or your boat may lack the necessary structural support.
4. Controls and Instruments
Repowering your boat is a great opportunity to get everything updated, especially the controls. Like we mentioned earlier, switching engine brands may require you to change your boat's controls, but doing so anyway can improve your boat's performance and your experience.
From the throttle and steering to the electrical harnesses and cables, updating your system will make your new engine more enjoyable. Also consider how digital instruments can provide more information than old gauges, like fuel consumption and efficiency.
5. Joysticks
If you're repowering a bass boat or other fishing boat, you might consider adding a joystick control. Joysticks enable you to maneuver your boat at slow speeds with more accuracy. This can be extremely beneficial when docking or making slight changes in direction while fishing.
However, there are a couple of important factors to consider before adding a joystick. For example, when adding to an existing engine system, joystick systems work better with two outboards rather than a single engine. Additionally, installing a joystick system can be costly, so you'll need to determine if you can afford it and whether it's worth the investment.
6. Fuel System Components
Installing new fuel system components is highly recommended when repowering an old boat. Replacing your fuel hoses ensures your boat has ethanol-resistant, Coast Guard-approved hoses. Checking fuel components regularly and replacing them as necessary is crucial to maintaining your boat's engine.
Additionally, be sure to install properly sized hoses and fittings if you upgraded the horsepower. Components that are too small can prevent fuel from getting to the engine, hindering performance and damaging it.
7. Battery Systems
Depending on the engine and features you want to add, your current battery system may not be capable of powering the entire system. For example, outboards with power steering may require more power than your old battery can handle. In some cases, you may be able to replace old battery cables that may be corroded. Doing so has the potential to improve the battery system.
How to Prep a Boat to Repower
While doing a repower yourself can be challenging, if it's an outboard, it may be relatively simple. Boats like pontoons and many fishing boats use outboards, so if you have an outboard, you could do it yourself as long as you have the proper tools and knowledge. Consider the following process to learn how to repower a pontoon boat with an outboard engine.
Remove the Engine

Preparing your boat for a repower requires removing your current engine. If you have any hesitations about being able to properly remove your engine, it's best to consult a mechanic to help you out. This way, you won't inadvertently cause damage to the engine throughout the process.
To start, you'll need to prepare the old engine and various cables and wiring. There can be a lot of value in these parts, so if you're planning on selling them, be sure to keep them in good condition and neatly organized. Potential buyers and parts-seekers will look for individual items and entire cable systems, so even if something doesn't work, keep the parts because someone may see value in them.
First, the control, battery and steering cables should be disconnected. If you're reusing the steering and battery cables, be sure to set them aside so they don't get mixed in with the for-sale items. Next, carefully take out the controls, gauges and wiring harnesses. To make installing new harnesses easier during the repower, tie pull-cords to the ends of the wiring harnesses.
To finish prepping the engine for removal, drain all of the engine fluids. Drain the oil and remove the oil filter. Remove any other fuel filters and remember to drain the fuel lines.
Prepare a Gantry

Another important aspect of preparation is preparing a gantry. Since most engines can easily weigh up to 500 pounds, you'll likely need a system for lifting the engine off the boat's transom.
A gantry is essentially a support frame you can use as a crane to lift the engine. If you have a tree with a thick overhanging branch you can park your boat trailer under, this will make a great gantry. Your other option is to build a gantry with four legs, cross-braces and a traverse beam.
Stability and strength are crucial here to ensure the gantry can support the weight of your engine. Once you have a gantry ready, you'll want to tow your trailer into position so the outboard is centered underneath the branch or beam.
How to Repower a Boat Outboard

With your outboard in place, it's time to remove it. For this process, you'll need a come-along strap. One end of the come-along will attach to the branch or beam and the other end will hook onto the outboard's lifting eye.
The location of your outboard's lifting eye will depend on its brand. You may find it mounted under the cowl, while others may lack one entirely. In this case, you'll need to purchase a lifting eye and screw it into the top of the engine.
With your come-along attached to the lifting eye, you'll want to ratchet the strap so there's minimal tension. With the strap tight enough to support the engine when it's loose from the boat, you can begin unscrewing the nuts on the engine mount. With the nuts removed, you can get the bolts out.
With a partner, slowly move the boat forward just a bit while the other person gently rocks the engine to loosen the bolts. It's crucial to do this step carefully and slowly to prevent the mounting holes on the transom from getting damaged. Damaged mounting holes will make it difficult to install a new outboard securely.
Once the bolts are removed, pull the boat away and your old engine will remain hanging from the gantry. To get the old engine out of the way, simply use the ratchet to lower it onto a truck bed or trailer to haul it away.
The process for mounting a new outboard will be similar, although performed backward. If you're installing an outboard with compatible controls to your current setup, the installation will be as simple as securing the engine on the transom and rewiring the controls. If you need to update your old controls, gauges and instruments, you may need to seek help from a repower dealer as these processes become significantly more complex.
How Long Does It Take to Repower a Boat?
The amount of time it takes to repower a boat will largely depend on the complexity of the upgrade, the type of engine and whether you're doing it yourself or having a dealer handle it. For example, an outboard repower could take as little as an afternoon, but repowering a boat with electric features and new systems will take more time.
If you have a dealership service do the repower, the time it takes will vary depending on their availability and readily they can get the necessary parts.
How Often Should I Repower a Boat?

If you've bought a used boat, you'll likely need to repower it sooner rather than later because the motor will likely already have several hours on it. If the engine is well-maintained, you may be able to put up to 5,000 hours on it before repowering it.
However, most boat owners need to repower after 2,000 hours. While this may make it sound like you'll need to repower your boat often, for most boat owners who only use their boats seasonally, this could end up being 10 or more years.
The best way to know how often to repower your boat is to keep an eye on the hours you put on it and how it continues to run over time. If you notice it starting to run poorly, you may be looking at a repower sooner than that. Keep an eye on it and you'll know the best time to repower your boat.
Is It Better to Repower a Boat or Buy New?
In many cases, repowering is a more cost-efficient option for boat owners looking to upgrade. If your boat is still structurally sound but could use some more power, repowering may be a viable option. Luckily, there are financing options available whether you want to buy an engine to repower your current boat or decide to get a new boat altogether. If you're unsure of the best option for your wallet and your boat, consider having a service dealer give you a price estimate based on the type of boat and its condition.
Compare prices — if the cost of repowering is close to or exceeds the cost of buying a new boat, it probably won't end up being the right option. At that point, buying a new boat will be more reliable and may even have newer features you wouldn't be able to get installed on your old boat.
Learn About Boat Loans From My Financing USA

Whether you're repowering your current boat or looking to invest in a new one, you're likely looking for financing options. At My Financing USA, we can help you finance engines or a new boat entirely. We do the leg work for you when it comes to finding the best boat financing programs across the nation. We'll help you get pre-qualified and will only send you to one lender at a time so you can protect your credit in the process.
With an entirely online process, you can sign documents electronically and receive funds fast. With our help, you could get your financing within two to three days and start your repowering project sooner or buy the new boat you've been admiring. Our application process is simple, and you can fill out an application in minutes to get started.
Would you like more information? Contact our friendly team today!
---
Additional Resources on Boats:
---