Quick Navigation:
Vacations look different for everyone. While some people enjoy hanging out by the beach or visiting a big city, others may prefer to experience the outdoors with a camping trip. You can enjoy camping in a few ways. Some prefer to set up a tent, while others might rent a cabin or visit campsites in an RV.
RV camping is a popular travel and vacation choice for many outdoor lovers. It combines your accommodations and means of transportation, allowing you to explore nearly any location in the continental United States. You can also enjoy the outdoors while enjoying amenities such as furniture, running water and air conditioning.
If you're new to vacationing in a motor home, this RV travel and camping guide can help. You'll learn all about RV camping and what you need to know to make your trip a success.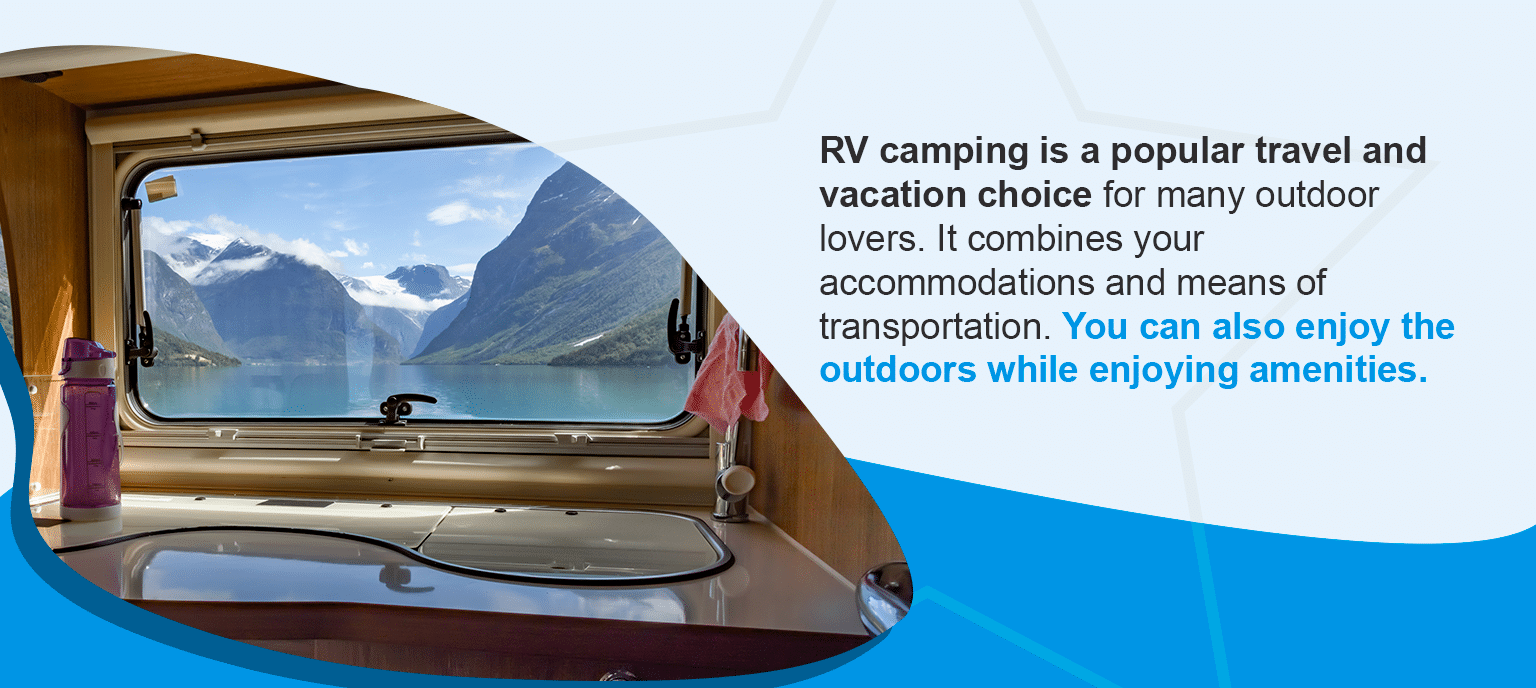 What Is an RV?
An RV is a vehicle or towable trailer that people use to have a place to stay while traveling on the road. RVs come in several sizes, allowing you to find the right RV for you and your traveling needs.
Some of the common types of RVs you'll see on the road include:
Class A: The Class A RVs are the largest camping vehicles available. They have a full cab that connects with the rest of the interior. Passengers can move around the RV easily and enjoy the various amenities. They typically come with small kitchenettes, table and bench seats, beds and more. This type of RV will also cost the most because of its size and features.
Class B: The Class B RVs look similar to large commercial vans. They have higher roofs and more living features than a work van, making it a great vehicle to go camping in. Ensure that the Class B RV has all of the features you need, from sunshades to plumbing hookups.
Class C: The Class C RVs are known for the extended overhang on top of the cab. This area contains a bed and provides an ample amount of space for relaxing inside the RV. This is a great RV for entry-level RVers who want a great vehicle for a fair price.
Towable: A towable RV provides a large living space to enjoy while camping without the driving capabilities like the other RVs. These RVs are towed by a truck or another car that can handle the weight of the trailer.
Once you've chosen the right RV, you can start learning the RV camping basics to prepare for your trips.
Should You Purchase or Rent an RV?
Owning your RV can make your camping and traveling experience smooth. You can easily prepare for trips and know you always have a nice vehicle to travel in and a comfortable place to stay wherever you go.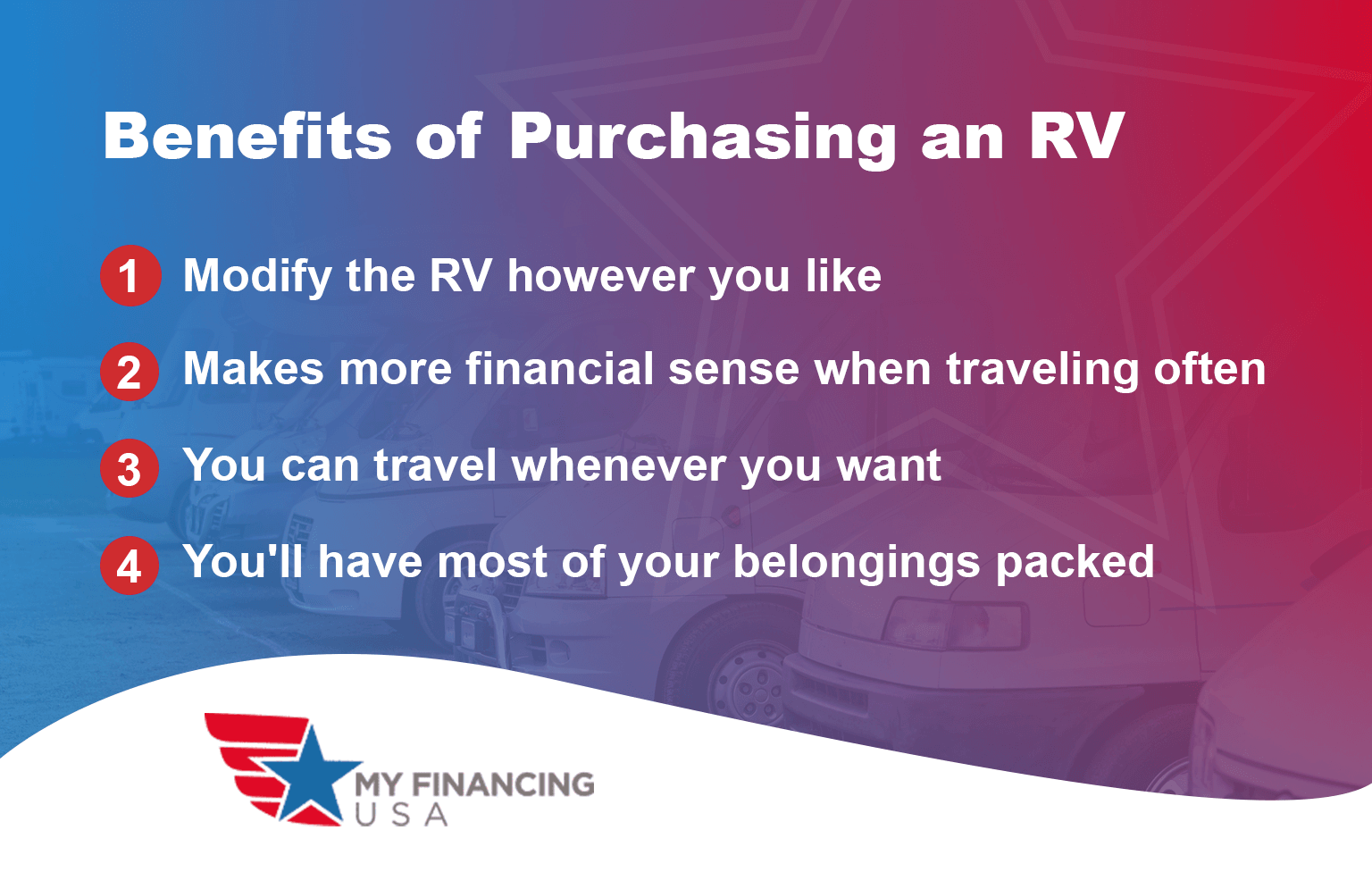 You will find many other benefits of purchasing an RV versus renting one before a trip, including:
Modify the RV however you like: You can create the camping space of your dreams when you own an RV. It's fun to explore all of the new RV gadgets and accessories that can make your camping trips more enjoyable and provide a relaxing traveling experience. Add a new mattress or upgrade the TV to make the vehicle feel most comfortable.
Makes more financial sense when traveling often: If you're planning on taking multiple camping trips or traveling to numerous cities in an RV, purchasing one can make more sense than renting one every time you plan a trip. This investment will allow you to make back some money in the end when it's time to sell the vehicle. You can also apply for an RV loan to purchase your first camping RV.
You can travel whenever you want: You can pack up and hit the road whenever you please as an RV owner. You don't have to wait to rent one or call months ahead to reserve a vehicle for your camping trip.
You'll have most of your belongings packed: Owning an RV means you won't have to pack every item before heading off on your trip. You'll have most of the necessities already inside the vehicle, like toiletries, cooking utensils, blankets and other common items that will always be in your RV.
Beginner RV Camping Checklist: Your RV Camping Packing List
Having the freedom to visit different campsites and cities across the country is a perk of traveling with an RV. The adventures available for RVers are nearly endless.
You can enjoy a successful trip by packing all of the essential belongings for the perfect camping trip. From items for personal care to entertainment, your RV camping packing checklist should include everything you'll need to have a fun vacation.
Know what to pack when going on an RV camping trip with this beginner's guide to RV camping and travel.
What to Pack for RV Camping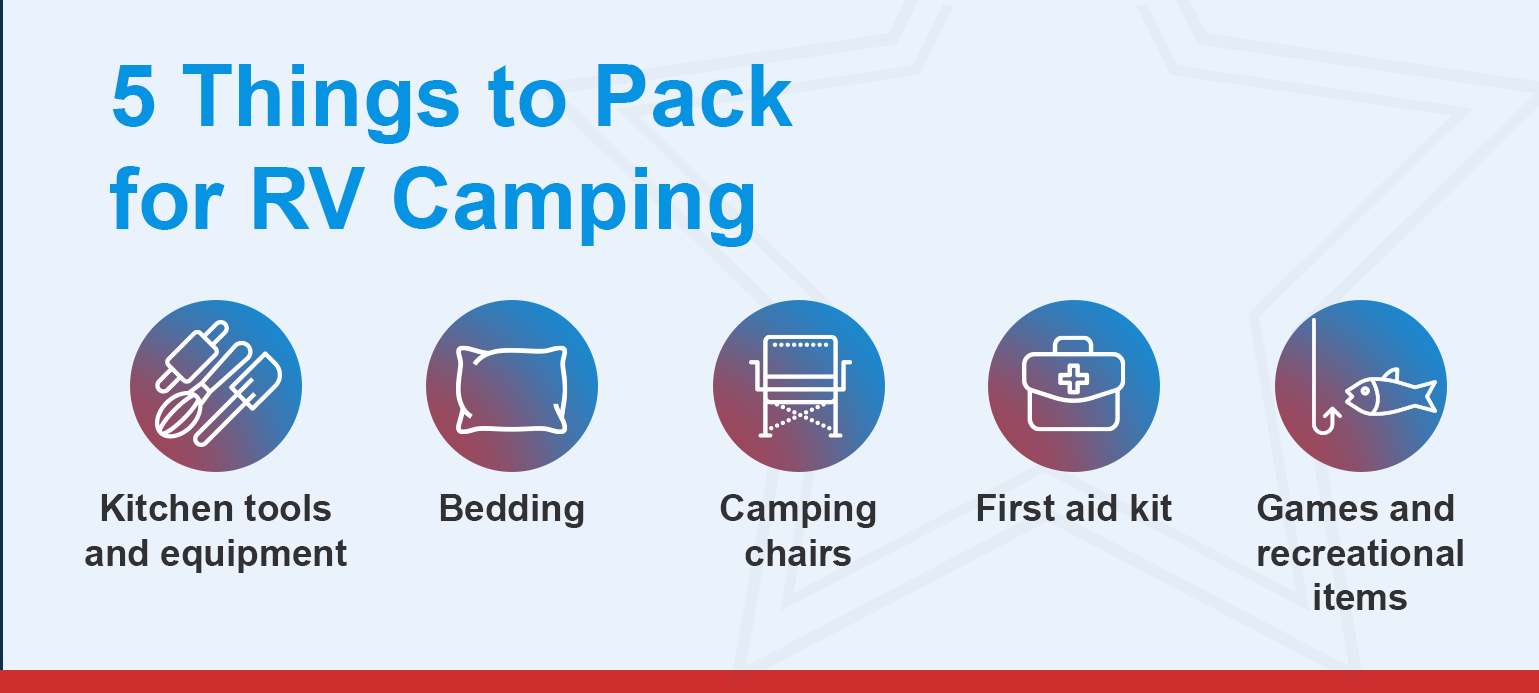 This detailed checklist will show you what you need to pack for an RV camping trip. From items for maintenance on your vehicle to entertainment items, remember to pack these things when preparing for the best RV camping trip :
Clothing: Making a detailed list of every type of clothing you'll need for the trip can ensure you and other travelers are prepared for camping. Since you're spending most of your time outside, packing layers is a must. Whether you're planning on hiking, swimming, fishing or relaxing by the fire, pack sun-protective and water-resistant layers that will keep you comfortable during the trip. Also, remember to bring swimsuits and other miscellaneous clothing items for any activities you'll enjoy on vacation.
First aid kit: Accidents and injuries can happen at any point, especially when you're enjoying time outside. Being prepared with a a first aid kit with you is essential.
Kitchen tools and equipment: Your RV will have a small kitchen space for you to prep meals, store food and secure dishware during your trip. Make sure you pack all of the kitchenware you'll need to make food during your camping trip. Include kitchen tools like a can opener, pots and pans, cutlery, food containers and other utensils. Also, remember to pack trash bags to toss out garage and food scraps.
Toiletries and personal items: You'll need all of the personal care items you use at home in your RV. This includes shampoo and conditioner, hand soap, body soap, toilet paper, toothbrushes, toothpaste, grooming accessories and other items.
Games and recreational items: A great part of camping is the variety of outdoor games and activities you and others can enjoy. Remember to bring all of your favorite games and equipment to use on your camping trip, like sports equipment, fishing poles, hiking equipment, cornhole or board games.
Roadside kit: RVs can break down on trips. Pick up a roadside emergency kit with tools to help with many common issues, like jump starters, car jack and a tire patch kit. This kit can help get you right back on the road or old you over until you visit a mechanic.
Bedding: You'll want a good night's rest in your RV, and bringing plenty of blankets and bedding will help you sleep peacefully in your RV. Bring the essentials like pillowcases, sheets, sleeping bags and a comforter.
Towels: Towels are necessary for the bathroom, kitchen and to keep around for spills and clean up outside. Remember to bring enough bath towels for every traveler and towels that you don't mind getting dirty if you're wiping down picnic tables and chairs outside.
Camping chairs: Campsites offer different amenities, but you'll always want to bring your own folding chairs to set up outside of your RV. You can create a comfortable seating area outside of your RV with camping chairs, folding tables, a portable grill and other camping accessories.
Cleaning supplies: Bring the basic cleaning supplies with you to keep the space inside the RV clean during your trip. Pack items like a broom and dustpan, all-purpose cleaner, dish soap, sponges, glass cleaner and paper towels. You can also bring a mini vacuum to make clean-up easier.
Tire pressure gauge: Keep the tire pressure in your RV accurate with a tire pressure gauge. Low tire pressure can impact the fuel efficiency and handling of your vehicle. You can check the tire pressure regularly during your travels.
Leveling blocks: You'll need RV leveling blocks when you park your vehicle to ensure all features function correctly. The leveling blocks keep the RV level to allow the waste tank and refrigerator to work.
The temperature and weather can make slight changes to your packing list. If you need a guide to winter RV camping, add some of these items to your packing checklist:
Warm coats: You'll need to pack more layers when RV camping during the winter or cooler weather. Make sure to bring warm coats to layer up during cool days and cooler nights.
Indoor and outdoor thermometer: Bringing a thermometer on your trip can help monitor the temperature inside of the RV to know if you need to turn on the heater and outside to see if it's better to hang out inside the RV.
Compact shovel: You might encounter heavy snow when camping in an RV in the winter if you travel to a cooler climate. Packing a compact or foldable shovel can help you clean the area of your campsite when there's snow on the ground.
Movies and books: Pack indoor entertainment options for your winter camping trip. You can enjoy these inside activities like watching movies or reading books when it's too cold outside for outdoor activities.
Slippers: Stay cozy during the winter camping adventure with slippers. You'll take off your outdoor shoes inside of the RV, so you'll need something comfortable to keep your feet warm in the cool temperatures.
Check out the average temperatures where you're traveling. Whether you're adventuring to the east or west coast, this RV camping guide can help prepare you for numerous RV trips.
What Food to Pack for RV Camping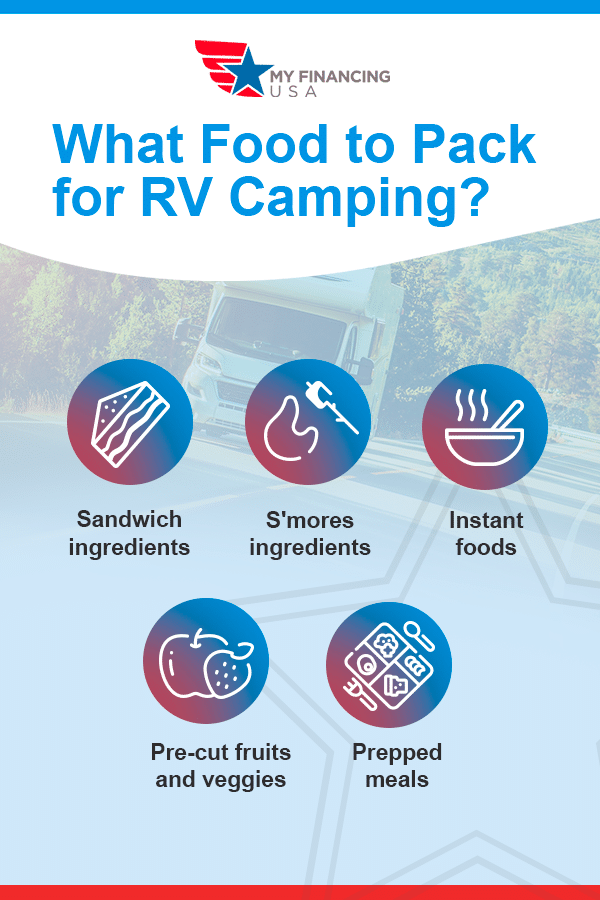 Food is one of the top items you'll pack for your RV camping trip. Since you'll have the resources to cook meals with the kitchen and a possible outdoor grill, you can create plenty of tasty meals to enjoy in the RV.
A helpful tip for starting your food packing list is creating a menu of breakfast, lunch and dinner for every day you're on your trip to ensure you have all of the ingredients to create these dishes.
Here are some grocery items to pack for your RV camping trip:
Trail mix and nuts: Snacking on trail mix or nuts is a popular option for many campers. These snacks have a great shelf life and are lightweight to carry on hiking trips.
Instant foods: Foods that you can heat up in a microwave like mac and cheese, popcorn, soup and other pantry foods are great for camping trips. Microwaves are easy to use on camping trips and you won't have to worry about these foods going bad during your trip. These items are usually an affordable option as well, so you can keep your grocery bill down.
Tea and instant coffee: Coffee and tea are staples in many diets, and remembering to bring these items on your RV camping trip is crucial. The best way to make coffee on the road is to use instant coffee. You won't need a coffee machine in your RV — just a way to heat up water for your coffee or tea.
S'mores ingredients: Perhaps the most iconic camping food item is the s'more. Remember to pack the marshmallows, chocolate and graham crackers and your preferred marshmallow roasting tools to create your s'mores.
Sandwich ingredients: A simple lunch meal you can make while camping is sandwiches. The ingredients are easy to pack and customize to a person's liking. You can bring bread, peanut butter, jelly, lunch meats, mayo and other condiments.
Beef jerky: Beef jerky is an easy snack to bring on your RV trip that won't go to waste. It's easy to store and full of protein, which is beneficial for all of the outdoor activities you'll be completing.
Bagels: Bagels are a great food choice for any meal on your RV trip. Bagels are filling and versatile. Add cream cheese or butter on them for breakfast or stack up some lunch meat to make a bagel sandwich.
Cereal: Cereal is an easy meal to make in the RV and you won't have to worry about shelf life.
Chips and other snacks: Pack some pantry snacks like chips, crackers, dried fruit and granola bars to store in your RV. These snacks last a long time and are easy to grab.
Pre-cut fruits and veggies: Preparing your perishable foods like fruits and vegetables before your trip will save you time cooking while hanging out in the RV. It will be easy to add ingredients to meals or have a quick snack during the day when the food is already cut.
Prepped meals: Prepare as many meals as you can before your trip to make mealtime easy. The fewer dishes and kitchenware you need to clean, the smoother the cooking process goes in your RV kitchen. You can prep meals like chili, hamburgers, salads, breakfast burritos and smoothies.
What You Should Know About RV Campgrounds

After you know what items you need to take for camping in an RV and the meals you'll prepare on your trip, you can choose a campground or campsite to visit. The United States has plenty of campgrounds in every state. As you plan your road trip, you can choose camping locations based on their amenities, location or other factors that are important to you.
An important consideration is the type of hookups the campground offers, such as:
Full hookups: Campgrounds that provide full hookups for RVs will include connections for sewer, electricity and water. Many of these are helpful for a comfortable stay while camping.
Partial hookups: If your campground has partial hookups, they'll provide electricity and water for campers. This option is very common in campgrounds.
No hookups: Campgrounds with no hookups will not provide electricity, water or sewer connections for your stay. These campgrounds are typically on public land and the practice is known as "dry camping."
Campgrounds can offer numerous amenities that attract RV travelers. You can find RV campsites with the following amenities:
Swimming pools
Laundry facilities
Dog parks
Recreational sports courts
WiFi
Playgrounds
Community kitchens
Bike rentals
Hammocks
Camp stores
Special events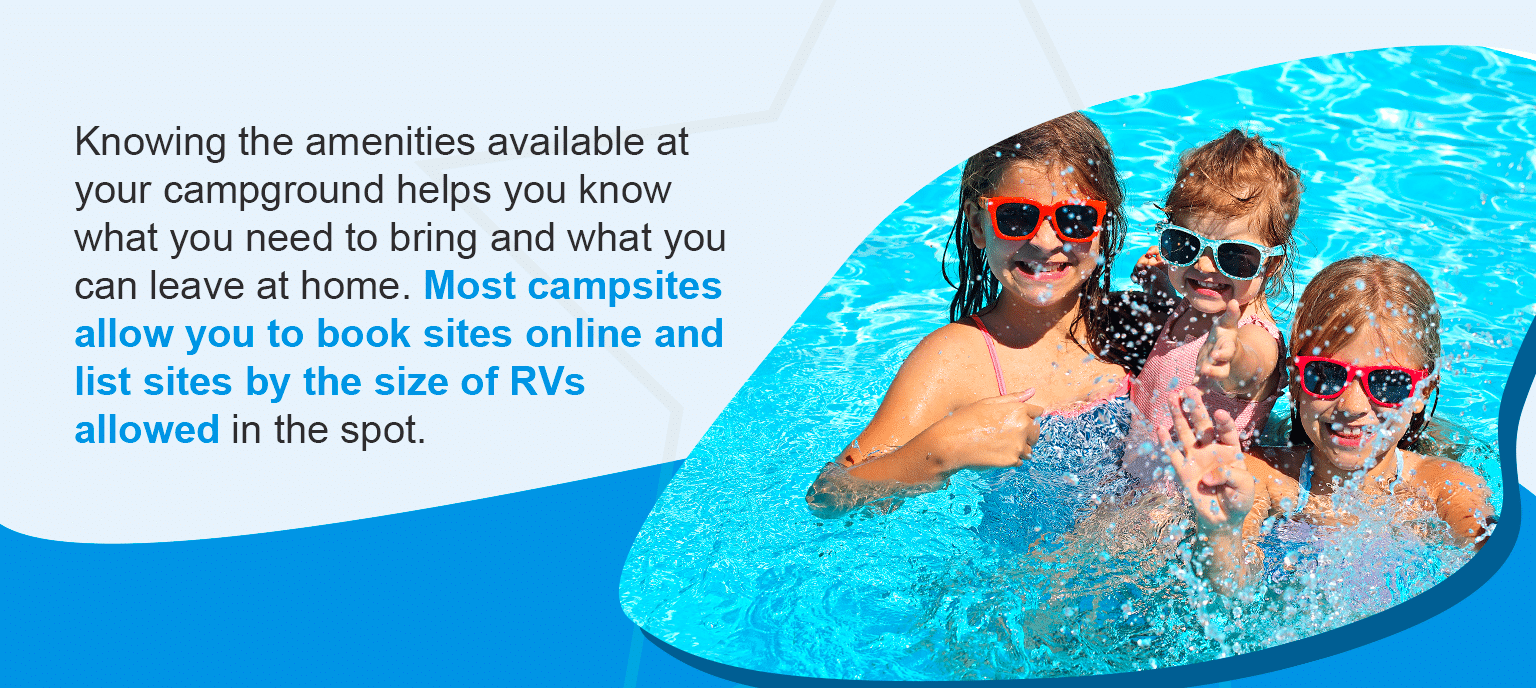 Knowing the amenities available at your campground helps you know what you need to bring and what you can leave at home. Most campsites allow you to book sites online and list sites by the size of RVs allowed in the spot. Make sure you find a campground that has spots that will fit your RV before booking. Also, research the campground's rules and regulations to ensure you have everything you need for a pleasant stay.
Helpful RV Camping Tips for Beginners
Once you know what to bring and where you'll go, it's time to learn how to camp in an RV. Reviewing this quick RV camping 101 for beginners guide is beneficial for preparing your vehicle and your group for a successful USA RV camping trip. Check out some of the most helpful tips and things to know about camping in an RV.
1. Learn RV Etiquette
Camping in an RV is a new experience for you as a beginner. It's smart to learn RV etiquette so you can be respectful of the people around you during your camping trip.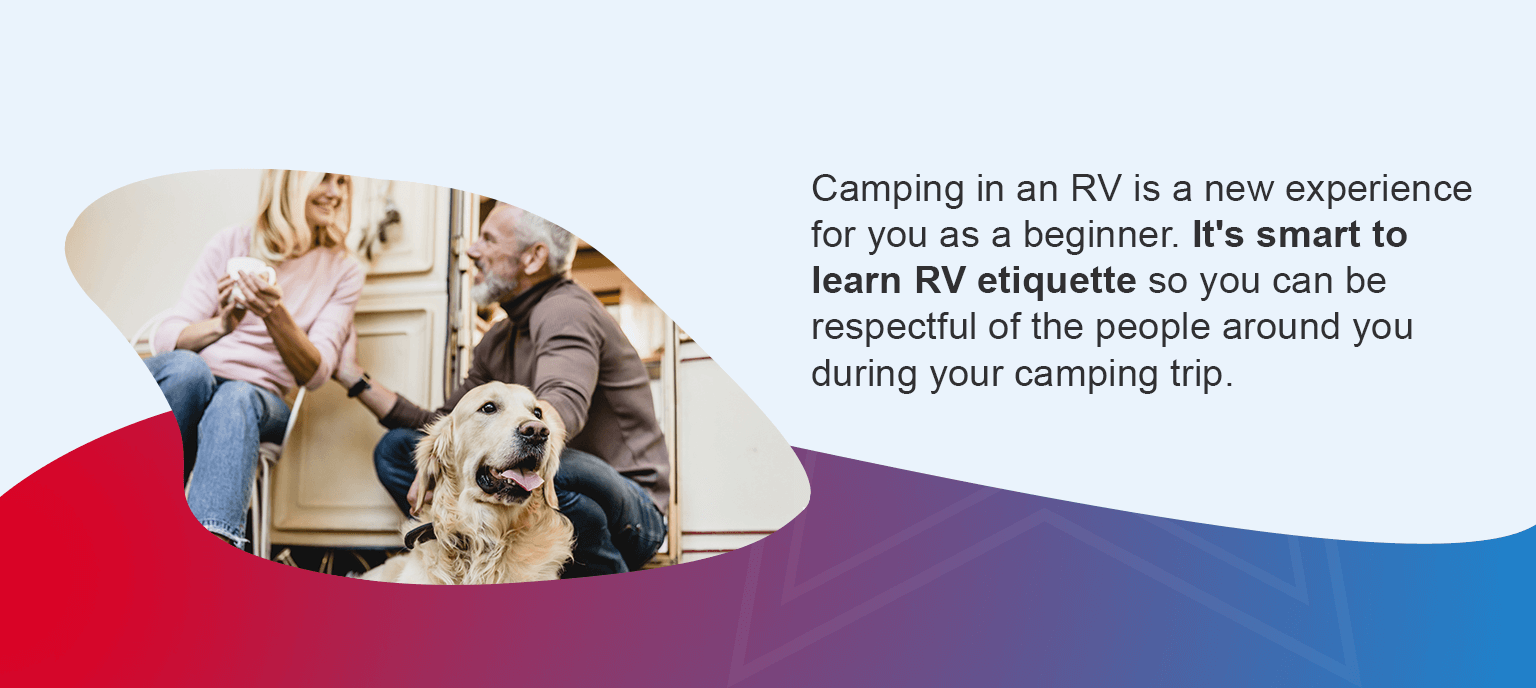 Some of the best RV camping etiquette to consider before heading off on your trip include:
Campsite parking: Some campsites are back in only for RVs. Make sure you check your campground rules and determine whether you can pull through into your spot or back in.
Other campsites: Walk around others' campsites. You don't want to step onto other campers' belongings.
Quiet times: Your campsite likely has a noise curfew. Check out the times for the noise curfew and turn off your generator at night.
Trash: Pick up all of your trash and belongings to leave the campsite clean.
Other rules: Research guest rules before arriving at the campsite.
2. Go for a Practice Drive
If this is your first time driving an RV, take the vehicle for a few practice runs before your first trip. The more you practice, the more comfortable you'll feel behind the wheel.
Driving an RV is different than a car. It's much larger, and you'll be traveling slower. Practice reversing into a spot, making turns and traveling on the highway before starting your camping trip.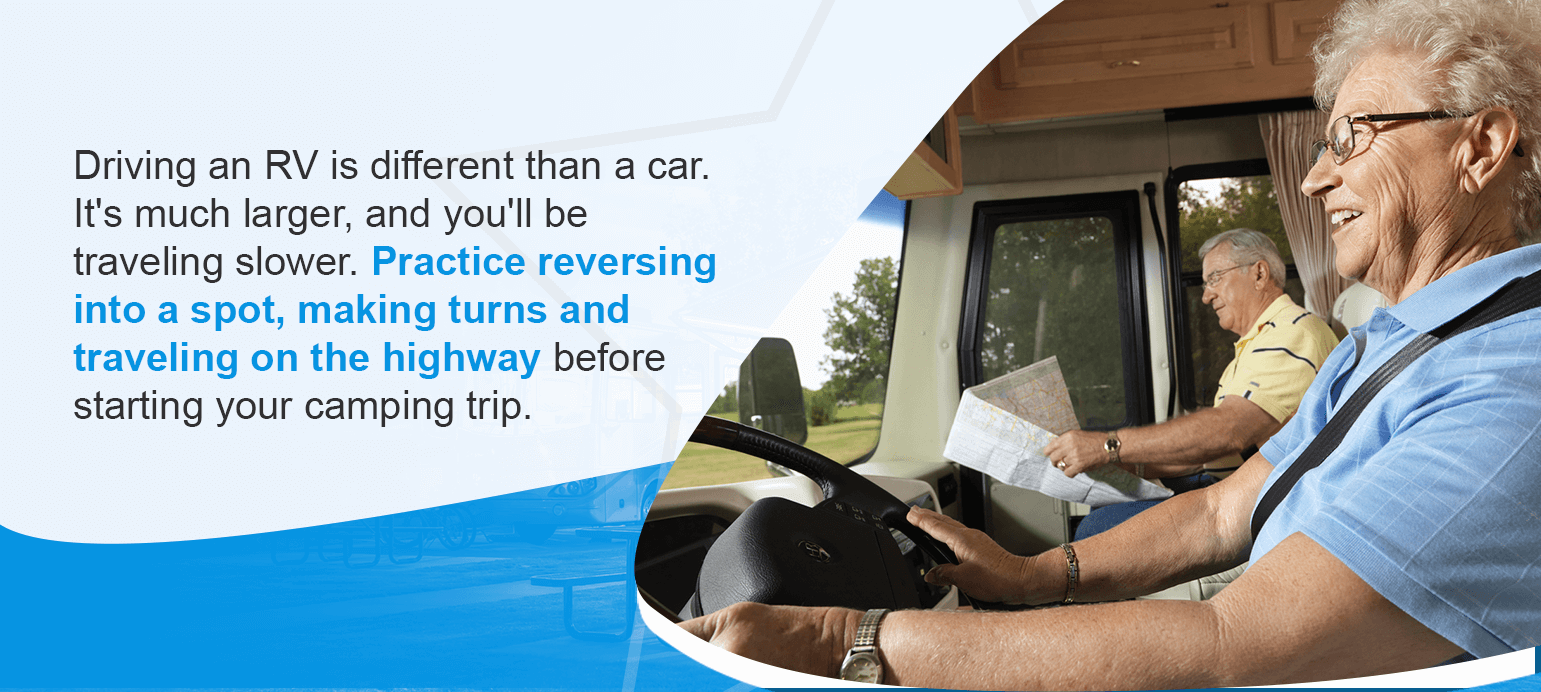 3. How to Dump Water and Sewer Waste
Learn how to dispose of waste in your RV so you can travel without issues or smells. If your campsite has sewer connection hookups, use the black tank for dumping waste from the bathroom and the gray tank for dumping water from the shower and sink.
If your campsite doesn't have sewer hookups, plan trips to a dumping station during your vacation.
4. Practice Camping at Your House
You can prepare for your first RV trip by spending the night in your RV at your house. You'll get a feel for sleeping in the new bed and get a sense of what your routine may look like when you're at the campground. You'll see what items you can leave at home or what you'll need to remember to pack for your real trip.
5. Arrive at Your Campsite Before Dark
Getting to your campsite before the sun goes down will make your time setting up your campsite easier. Being able to see your surroundings, whether you're at a campground or going dry camping in a remote area, will make setting up your space safe and efficient. It might be difficult to spot campsite numbers in the dark and you can avoid feeling tired while driving at night.
Apply for an RV Loan With My Financing USA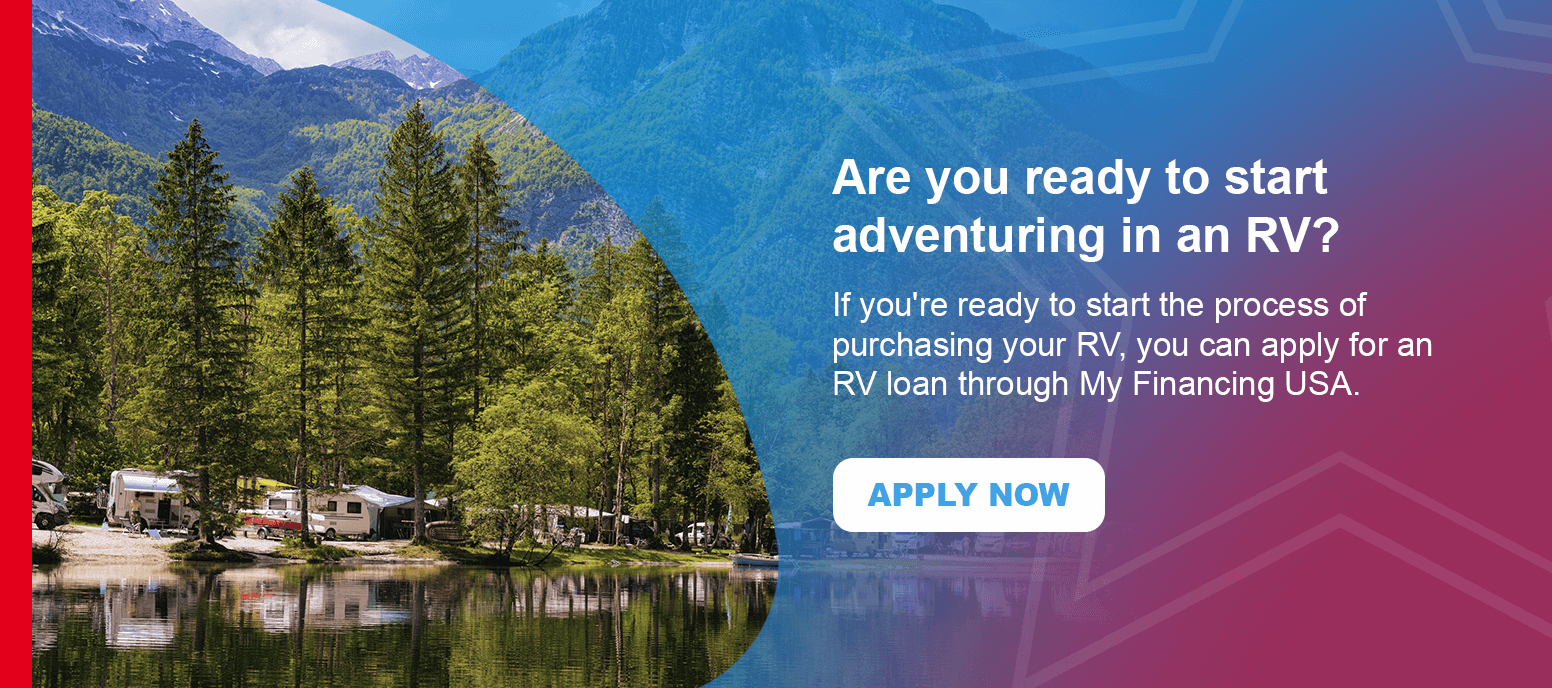 Are you ready to start adventuring in an RV? Hopefully, this RV travel and camping guide inspires you to see how RVing can be easy and fun for exploring the United States. If you're ready to start the process of purchasing your RV, you can apply for an RV loan through My Financing USA. Contact us today to learn more about our RV loan process and how you can receive a loan under various circumstances.
---
Additional Resources on RV Camping:
---