A popular method of travel for all demographics in the country is RVing. RV travel offers a unique way to explore your surroundings and visit new locations. RVs provide a means of transportation and accommodations for a vacation. A big difference between going on an RV trip and a traditional vacation is the packing list.
Your RV packing list will be longer than a traditional vacation packing list because travelers will need to bring items for the kitchen, bathroom, outdoor activities and other items for your RV adventure. The items RVers bring on their trip can make their RV space feel like home and be the ultimate space for their trip.
Know what to pack for an RV road trip by checking out this packing list for first-time RV travelers.
Quick Navigation
RV Essentials Packing List
Packing is the most important task to complete before your RV road trip. You want to make sure you have everything you need before taking off on your trip. The RV is your "hotel" for the duration of your trip, so you're in charge of ensuring you have all of the necessities to have a fun and comfortable vacation in your RV.
Creating an essential RV packing list will help you remember to bring every item on your road trip. Creating a detailed RV packing list before you travel can make the packing process efficient and allow you to focus on other aspects of preparing for your RV trip.
Check out these 12 RV packing ideas of what to pack in an RV before planning your adventure.
1. Important Information and Documents

Documentation and any essential information you'll need traveling are necessary on your trip. You may need to provide medical information, vehicle ownership information and important information on other travelers in your group. Some of the important documents and information you should ensure is on your ultimate RV packing list include:
Medical information: Anything can happen on your vacation and it's crucial to be prepared for medical situations while traveling. Some of the medical documents RV travelers should bring on a trip include health insurance information, copies of legal papers related to medical care, prescription medication information and contact information of doctors or physicians. Having this information on hand can make situations like medical emergencies more efficient.
Insurance info: Having vehicles insurance cards and other essential information for your RV are items you should always have packed in your RV. Some of these items include vehicle titles, travel insurance cards, licenses and registration, and roadside assistance documents. It's also helpful to bring information regarding home insurance and contact information from your neighbors in case something happens to your home while away on the RV trip. You can start dealing with home situations right away, even if you can't make it back immediately.
Pet information: If you're traveling with your furry friends, remember to add any essential documents for them on your RV trip packing list. Your pets are your family too, so having their medical information, contact information for their vet, and any emergency vets on your route will be a lifesaver in case of an emergency.
Copies of legal papers: Bringing copies of any important legal documents on your RV trip can be helpful in various situations. Documents and papers like passports, wills, marriage licenses, birth certificates, divorce papers, the contact information of your attorney, powers of attorney and emergency contact information are all beneficial documents to have copies of on your adventure.
Tech information: You'll likely have to use technology on your trips like your GPS system, cell phones and computers. You should keep some information handy for your devices, including passwords, a GPS system guide, and serial numbers for all devices.
RV guide: You should always have your RV's manufacturer guide inside of your vehicle at all times. This guide can help when you need more information on certain features of the RV.
Other information: Other important documents to bring on your trip are driver's licenses, military ID, tickets for events and itinerary details.
2. Toolbox
Being prepared to fix anything in your RV is a must when you're traveling in a big vehicle. Any feature of the RV can need maintenance, like door hinges, flat tires, a leaky roof and other common problems that happen with a recreational vehicle. Packing the best RV toolkit can help keep you prepared for any maintenance situation.

An RV toolkit can help fix minor problems or hold them over until you can make it to a mechanic. You should select tools that will be the best for your RV and your mechanical skills. Some questions you should ask yourself before compiling items for your RV toolkit include:
Do You Have Plenty of Experience Using Tools or Are You a Maintenance Rookie?
Having the knowledge and skillset to work on your RV is beneficial while traveling any distance in your vehicle. Your RV can have issues with any feature, and the knowledge you have for minor fixes can make a big difference in your travel.
If you're the person who has a significant amount of knowledge on maintenance work and has a large selection of tools, bring all of the necessities plus equipment that is compact enough to fit in your RV storage space. Travelers who are rookies in maintenance work should search for basic toolsets at their local hardware stores to ensure they have the equipment they need to fix minor repairs before visiting a professional. You can learn more RV packing tips for beginners on tools and other equipment by researching mechanic tutorials online. 
How Large Is Your RV and How Much Weight Can it Carry?
Your RV's size and weight capacity will help determine how many items are safe to store inside the vehicle. You may want to bring a helpful piece of equipment with you for maintenance, but if it's heavy, it's better to leave it behind to ensure it's safe to operate the vehicle.
What Tools Are a Must?
The tools and equipment RVers should definitely bring on their trip include:
Tire pressure gauge
Air compressor
RV jacks
Drill set
Drill bits
Hammer
Screwdrivers
Basic socket set
Utility knife
Pliers
Flashlight
Headlamp
Shovel
Hand saw
Caulk
Gloves
Heavy-duty tape
Zip ties
Tow straps
Ratchet straps
Electrical tape
Wire cutters
Vehicle diagnostic scanner
These tools will be helpful when you need to repair a part of your RV to get you back on the road and help you learn how to pack an RV for travel. Once you have all of your tools, go through an RV maintenance checklist to make sure everything is in working condition before driving.
3. Electronics
Remember to pack all of your electronic devices that help make your trip more comfortable and keep your RV running. From personal electronic devices and electronic accessories that will make your trip run smoothly, you can include various electronic items on your RV weekend packing list to make sure your trip is the best it can be.

The essential electronic items and accessories you should pack on your RV trip include:
Chargers and adapters: Electrical chargers and adapters are essential for your RV vacation so you can continue to use all of your devices. You'll need to bring adapters that are powerful enough for your smaller devices like phones, tablets and watches, and some with higher amp levels for air compressors or generators.
Generator: Many RVers use a generator during their trip to ensure they have power while they're parked at a campground, RV park or while dry camping. Grab any cords and spare parts for the generator before leaving on your adventure to ensure it continues working for the entire trip.
Lighting: If you're bringing lighting equipment like lanterns or flashlights, make sure to bring extra batteries for this equipment. These lighting tools come in handy when hanging out outside the RV or working on an RV repair.
Other electronic devices that you can bring with you include:
Tablets and e-readers
Camera
Device chargers
WiFi hotspot
Movies and DVD players
Laptop
Bluetooth speaker
Adding new technology to your RV packing list can help make some processes of RVing smoother and keep you entertained while on vacation.
4. Clothing
One of the more obvious packing categories you'll need to make a list for is your clothing. Knowing how to pack clothes for an RV trip efficiently is something all beginners should learn. The beauty of traveling in an RV is you can pack many outfits in storage space inside the vehicle and potentially have access to laundry facilities depending on the campground you stay at.
You'll likely be outside for most of your RV trip, so selecting the right clothing items for your location, activities and weather will be helpful when creating your list of outfits to pack.
An essential rule of packing for an RV trip, especially if you'll be at a campground or completing outdoor activities, is always to pack layers. You'll want to ensure you can bundle up if the weather gets chilly and remove layers when it warms up outside. Layers are also helpful for protecting your skin when spending time outside.
Some of the clothing items you should pack for your trip are:
A shirt for every day
Pants or shorts for every day
A couple of pairs of sweat pants
Swimsuit if swimming
Snow gear if snowy
A sweatshirt
Undergarments for every day
Running sneakers or hiking shoes
Sandals if necessary
Snow boots if necessary
Sun hats or ball caps
Sunglasses
Gloves if necessary
5. Bedding and Linens
The bed inside your RV should be cozy enough to remind you of home. You'll need to pack all of your bedding gear like comforters, blankets, sheets and linens to make your sleeping space inside of your RV comfortable.

First thing to do when gathering bedding and linens for your RV is to determine the size of the mattress. Matresses in RVs can range in various sizes, even bed sizes that are specific to RVs. The sizes for RV mattresses include:
RV bunk (42" x 80")
RV full (53" x 75")
Three quarter (48" x 75")
RV short queen (60" x 75")
RV queen (60" x 80")
Olympic queen (66"x 80")
RV short king (72" x 75")
RV king (72" x 80")
Eastern king (76" x 80")
RV California king (72" x 84")
With the dimensions and size of your RV mattress, it will make searching for your bedding easy.
Other aspects to consider when picking bedding for your RV trip include:
Temperature of location: Your bedding options can change depending on the location you're traveling to. Some bedding materials are better for hotter climates to keep you cool while sleeping and other materials are great for cooler climates so you can be warm inside the RV.
Comfort: Your bedding and linens should meet your preferences of comfort so you can transform the sleeping space to feel like home. You can add any items you like for your RV bed and enjoy the comfort of quality bedding rather than staying in a hotel, cabin or tent.
Top blanket: The top blanket you bring can depend on the temperature, storage space and personal preference. You can choose a comforter, quilt or duvet for your RV bedding setup.
Pillows: bring bed pillows on your RV trip and make sure you have pillow covers that will fit. 
Decorative pillows: Bring a few decorative pillows to add style and extra comfort to your RV bed. 
Mattress pad: If you want more comfort on your bed, add a mattress pad or topper on your RV bed.
Throw blankets: It's a good idea to add extra throw blankets on your packing checklist for your RV trip in case you need an extra layer while sleeping.
6. Bathroom Necessities
An important area to remember for your RV road trip packing list is the bathroom. You'll need to remember the bathroom essentials like towels and toilet paper and toiletries like face wash or shampoo. This is an important section for your RV travel packing list.
Some of the bathroom accessory items you'll add to your RV packing checklist include:
Bath towels
Washcloths
Hand towels
Small waste bins or garbage bags
Hand soap
Toilet paper
Tissue paper
Hand sanitizer
Cleaning supplies
The toiletries you can pack include:
Shampoo and conditioner
Body soap
Lotion
Face wash
Hairbrush
Hair accessories
Razors or shaving gear
Deodorant
Toothbrush and toothpaste
Contact case and solution
Extra contacts
Glasses and glasses cleaner
Sunscreen
Other items you'll need to bring in this category include:
Prescription medication
Pain relievers
Allergy medicine
Feminine products
Aloe or after sun lotion
Your list for the bathroom should include anything you use on a typical day to get ready or clean up. If you have many toiletry items or want to save space in the RV bathroom, use travel-sized bottles for bathing things like soap and shampoo.
If you're visiting a campground that offers bathrooms and showers, you should also bring shower shoes and a shower caddy bag so you can wash up easily.
7. Outdoor Gear
If you're adventuring out to a campground or dry camping, you're likely going to be having fun exploring the outdoors and enjoying plenty of outdoor activities. One of the many reasons RVing is a popular way to travel is because RVers get to spend time outside for most of the trip.

Your outdoor gear can differ depending on the activities you're planning to do on your trip. The gear you can add to your RV essential packing list includes:
Hiking gear: If you're excited to go on a hike through nature trails or up a mountain while on your RV trip, remember to pack all of the hiking gear you'll need. Bring items like backpacks, trail maps, a compass, comfortable hiking shoes or boots, reusable water bottles and athletic clothing.
Fishing gear: A popular outdoor activity you may plan on your RV trip is fishing. You'll need to pack fishing poles, fishing line, hooks, reels, lures, bate and other helpful tools you can store in a tackle box.
Campfire gear: A traditional activity that may RVers partake in is building a campfire and enjoying the warmth or cooking food. Remember to bring firewood, a fire starter and matches or a lighter to build a fire. If you want to cook food, bring the ingredients to make s'mores for a tasty dessert or roast hot dogs and buns for a great fireside dinner.
8. Kitchen Supplies and Food
Another lengthy part of your RV packing list for beginners is the kitchen supplies and food. Packing food for an RV trip is an important task since you'll likely be preparing all of your meals in the vehicle. A big benefit of traveling in an RV is that you'll have access to a small kitchen area to cook meals in during your trip. You can also cook meals outside on a girl or campfire, so the opportunities for delicious meals are endless.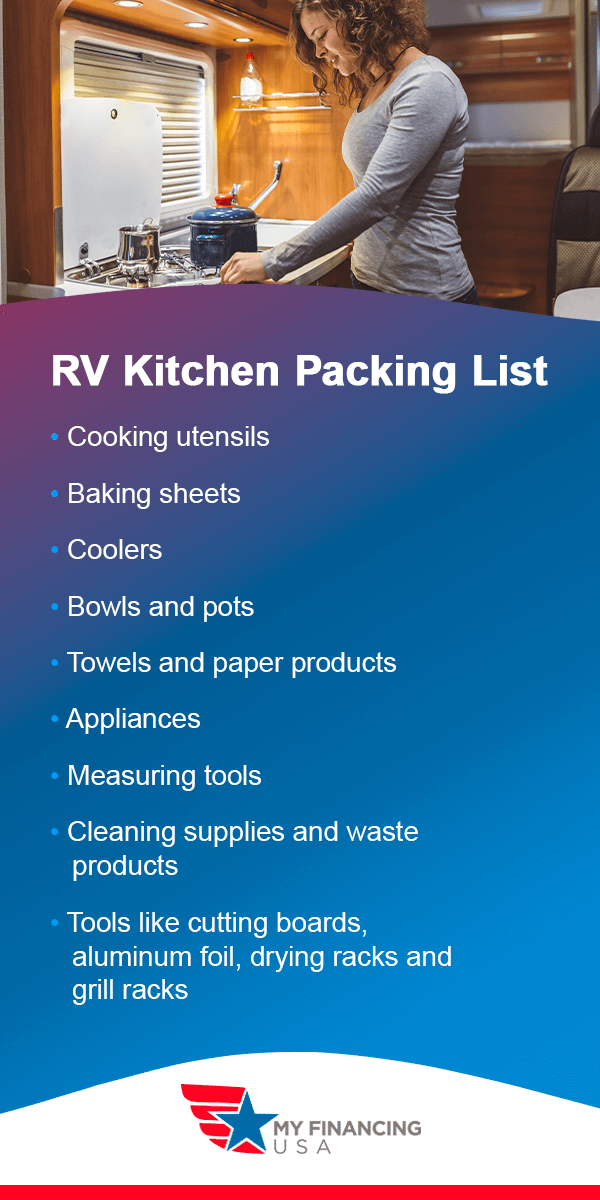 Learn how to pack an RV kitchen and make sure to bring all of the kitchen tools, equipment, and accessories you'll need to make meals and pack the RV refrigerator. Some of the items to include on your RV kitchen packing list include:
Cooking utensils: Include items like whisks, soup ladles, spatulas, mixing spoons and tongs.
Baking sheets: If you'll be baking breakfast muffins or something similar, bring items like flat pans, muffin tins or loaf tins.
Coolers: Hard or soft coolers are great for keeping more drinks or food cool. It's also beneficial for fishing and other outdoor activities.
Bowls and pots: It's always useful to have supplies like mixing bowls, pots, pans and cast iron skillets.
Towels and paper products: Pack some kitchen towels and paper towels for cleaning hands, dishes and messes.
Appliances: Pack extra appliances you'll need like a coffee maker, toaster or tea kettle.
Measuring tools: Bring measuring cups and spoons if you're planning on baking or making measure-specific meals.
Cleaning supplies and waste products: Remember to pack a kitchen trash can or trash bags, brooms, all-purpose cleaner and dish soap.
Other kitchen tools: Bring any other kitchen supplies you'll need for meals like cutting boards, aluminum foil, drying racks and grill racks.
After you have all of your cooking supplies, you'll need to back food. Your RV food packing list should consist of all of the items you'll need to make meals for every day of your trip. It's helpful to create a list of the meals for every day, so you know you have all of the ingredients you need.
9. Games and Toys
Sometimes you'll want to hang out around the RV and enjoy outdoor games and activities. People of all ages can enjoy games on an RV trip to enjoy each other's company and spend time away from electronics. Some game ideas to pack on your RV trip include puzzles, playing cards, traditional board games, corn hole, ladder ball, horseshoe, sports equipment and dominoes.
If you're RVing with children, bringing toys can give them fun activities to stay busy during the trip. You can pack fun toys like coloring books, building blocks, pool toys and other fun items children will enjoy.
10. Recreational Equipment

If you're visiting an area that has a body of water or nice outdoor space to explore, bringing recreational gear to enjoy the outdoors is a great way to spend your trip. Some of the items you can bring for a nice day being active outside include:
Kayaks
Floaties or pool noodles
Bicycle
Scooters
Boogey boards
11. Safety Gear

Safety is a top priority for RVers during all parts of the trip. Including the right safety equipment in your RV is a must when packing your RV for the first time. You'll need to bring:
Carbon monoxide detector
First aid kit
Fire extinguisher
Fire alarm
LP/propane detector
Dash camera
Reflective pet collars
Bug spray
Fire blanket
Generator exhaust system
Tire pressure monitoring system
12. Extras
It will always feel like you need to pack more for your trip, and that depends on where you're visiting and what you're doing. While the previous categories are a must, here are some extra items you can pack for an RV trip if you need them:
Portable hammock
Folding chairs
Clothes drying rack
Umbrellas
Fans
Binoculars
Once you secure all of your extra items and know how to pack an RV, you'll be ready for your next RV adventure.
Buy the Perfect RV for Your Road Trip

Out of all the RV packing tips or hacks that you learn, this detailed RV packing guide can help jumpstart your journey as a new RVer. Are you ready to start enjoying the RVing lifestyle? After learning how to pack for an RV trip and considering all of the necessities you'll need to have a comfortable vacation, you'll need to purchase your first RV. Find RV loans that will match your needs at My Financing USA.
Apply for an RV loan today to get started on your RVing adventure.
---
Additional Resources on Road Trips:
---