Quick Navigation
Owning a boat can be a real joy of life. The thought of taking your boat onto the open waters inspires adventure. If you crave the feeling of the wind rushing past you as you glide across the glistening waves, then you may want to get a boat for yourself. But the first step is knowing about all different types of boats so you can know what type of boat you should buy.
The different types of recreational boats each offer unique features that can impact your experience. The key is to match the best types of recreation boats with the activities you want to do.
Let's look at all types of boats so you can better know which one is right for you.
Aluminum vs. Fiberglass Boats

There are many ways to categorize boats, including by materials used to build them. Manufacturers use all sorts of materials for the types of recreational boats they produce. But the two most common materials by far are aluminum and fiberglass. Both materials are excellent for different types of leisure boats, but they both have different characteristics. Here's a brief description of these two boat categories:
Aluminum boats: Aluminum boats often cost less than their fiberglass counterparts due to aluminum's high availability, flexibility and strength. Aluminum boats consist of either plate construction or pressed construction. Pressed construction is more common in many types of small recreational boats, while plate construction is more common in off-shore, commercial boats. Aluminum will dent when hitting a hard object.
Fiberglass boats: Fiberglass boats have a high price tag due to the labor-intensive process of molding the fiberglass to the desired shape. But one of the main benefits of fiberglass is that it will avoid rust due to the absence of metal materials. Fiberglass is also heavier than aluminum and may chip or crack when hitting a hard object.
Other materials in boat construction include wood and steel. You may find that the boats you look at use several materials in their construction which provide different benefits.
Boat Hull Types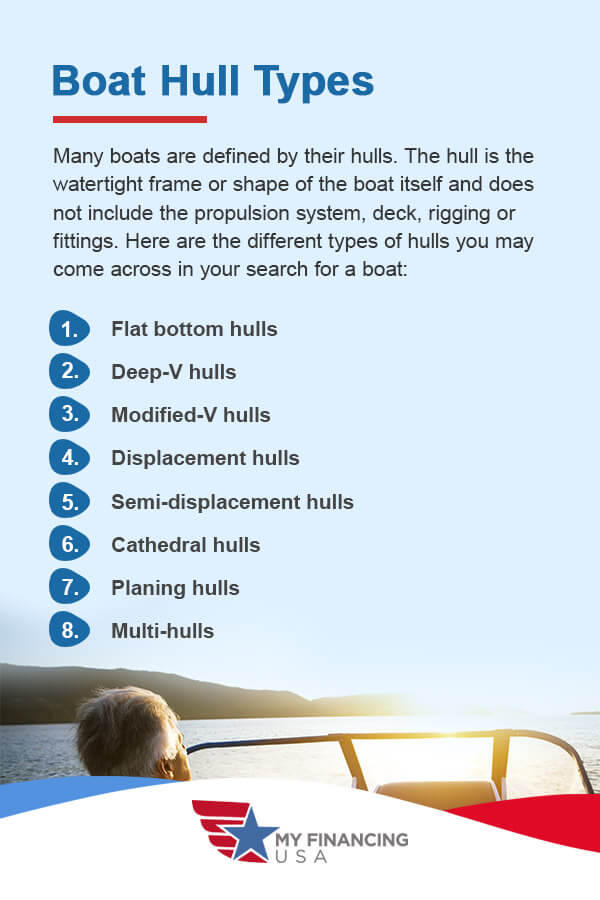 Many boats are defined by their hulls. The hull is the watertight frame or shape of the boat itself and does not include the propulsion system, deck, rigging or fittings. Here are the different types of hulls you may come across in your search for a boat:
Flat bottom hulls: These hulls have almost a zero-degree angle from the hull's keel, which is the hull's backbone at the base of the hull, to its top surface. Flat bottom hulls are exceptionally stable in calm water. They also have a shallow draft, which is the distance between the waterline and the bottom of the hull.
Deep-V hulls: These hulls are wedge- or V-shaped. They can easily part the waters and are good for traveling at higher speeds.
Modified-V hulls: Modified-V hulls take some characteristics of the two hulls above, giving boats with these hulls benefits of each. They have a V-shaped forward section and a flatter-shaped aft, or rear, section.
Displacement hulls: Often found on slower boats, displacement hulls are always completely submerged in the water, regardless of the boat's current speed.
Semi-displacement hulls: This hull stays in the water for most of the time but benefits from some lift when traveling at higher speeds across the water.
Cathedral hulls: Cathedral-shaped hulls earned their name due to their resemblance to medieval cathedral windows when viewed from below. These hulls are mostly found on fiberglass boats and are excellent for sailing on calmer waters.
Planing hulls: Planing hulls rise up and glide atop the water when traveling at high speeds. These hulls allow a boat to travel exceptionally fast when given enough power.
Multi-hulls: Boats with multi-hulls have two or more hulls connected by a single deck.
What Are the Different Types of Boats?

If you're wondering what types of boats there are, you've come to the right place. Whether you're looking for the best type of boat for beginners or want to learn more about boat types in general, this list of types of small boats can help. One of these boats could be perfect for your recreational needs.
1. Deck Boats
One of the best types of boats for leisure activities is the deck boat. As the name suggests, deck boats contain an open deck area that creates the perfect space for an afternoon outdoors on the lake. You'll have plenty of room for seating and socializing on your deck boat.


Many deck boats include a v-shaped hull to help manage the increased weight of the extra passengers that the boat can accommodate. Deck boats can also reach higher speeds, making them ideal for watersports and other forms of water recreation. You can easily come to a standstill with your deck boat to give your passengers a chance to swim and climb back on with plenty of room to lounge and dry off.
2. Bowrider Boats
When you're looking at the types of small recreational boats for families, bowrider boats are some of the best on the market. Like deck boats, bowriders offer plenty of room for passengers in the cockpit, the deck and the helm. To give the bowrider its characteristic name, the bow of the boat uses a special construction to support unique and exciting seating arrangements during travel.
Bowrider boats often contain a convenient swim platform for putting on wakeboards, so they're ideal for watersport activities. With its v-shaped hull, a bowrider boat can carry you across different water conditions at confident speeds. It's a solid option for large groups looking to enjoy the open waters to the fullest.
3. Bay Boats
Bay boats are motorized water vessels of short length that are perfect for floating in bays and other bodies of shallow water. They contain high sides and a deeper hull to provide a smoother boating experience in coastal waters, which can be rough occasionally. The short stature of bay boats makes them ideal for anglers who need to look over the side to find fish directly below the boat.


If you plan on navigating shallow waters regularly, a bay boat could be the option for you. Bay boats contain elevated platforms in the back so you can guide the boat through shallow waters with a pole. You can also lift the outboard motor to give you increased control as you navigate shallow, winding waters.
4. Bass Boats
You can probably guess why someone would want a bass boat by the name. They're the boat of choice for anyone heading onto the water to catch largemouth bass! Bass boats have easy operation and powerful trolling motors to help even first-time boat owners feel comfortable behind the controls.
Bass boats feature wide platforms so you can cast off from almost anywhere on the boat. They also feature low-profile hulls for easy and safe navigation when your journey takes you into shallow waters. To make them one of the most appealing types of boats on this list, they also offer plenty of storage compartments to keep your fishing tackle and floor space to set up a fishing chair.
5. Cuddy Cabin Boats
Cuddy cabin boats are growing in popularity because of their flexibility for overnight adventures with friends or family. Their nimble construction and features make them easy to maneuver, even for beginners. Small groups can enjoy fishing, watersports and other activities with a cuddy cabin boat.
But the fun can go on even after the sun goes down when you have a cuddy cabin boat. The extra storage space in the forward of the ship can serve as a minimalistic sleeping berth. To make your time aboard even more comfortable, this area can also include a bathroom, called a head when it's on a boat When you need extra space for storage or want the option of sleeping in your boat, a cuddy cabin boat could be a great choice for you.
6. Cabin Cruisers


When you want to take to the seas with all the luxuries of home, then you choose a cabin cruiser for your adventures. Cabin cruisers contain both berths and a galley, which is what a kitchen on a boat is called. These amenities offer plenty of room for you and some friends or family. And everyone will be able to share in the luxuries, including air-conditioning, heating, power generators and other modern comforts.
The deep-v hulls of cabin cruisers contain spacious sleeping areas and heads so your group can spend the night on the seas in full comfort. And with the rudder steering on most models, you can take your cabin cruiser into salty waters with peace of mind.
7. Center Console Boats
As the name implies, the helm of a center console boat sits in a console in the center of the boat. Most center console boats use outboard motors for propulsion, allowing for more room on board and quicker handling.
Center console boats come in various sizes, but generally, the bigger the boat, the more it will cost. Small center console boats are great for beginners, thanks to their low maintenance needs and easy storage. Larger models are a solid choice for experienced anglers because the centrally located console allows passengers to walk from bow to stern without any obstacles — this configuration ensures that anglers have plenty of room to spread out their lines even when in a group.
8. Catamaran Boats
Catamaran boats are usually a type of sailboat used for various purposes. What sets them apart from other types is that catamarans have two hulls attached by a single deck, making them the first multi-hull vessel on this list.
The two hulls give a catamaran excellent displacement as it sails through the water. The greater buoyancy also lets manufacturers build larger cabin spaces and decks to increase the number of accommodation options available. And since catamaran boats sit so high on the water, you can bring them closer to shore when docking.
9. Pontoon Boats
Pontoons are like a cross between deck boats and catamarans. They have plenty of deck space and offer excellent stability since they balance between two pontoons floating on the water. In addition to their tubular pontoons, you can recognize a pontoon boat by its wide shape.
Pontoons are durable and comfortable. Some models can reach moderately high speeds, utilizing one or more outboard motors. Most pontoons are suitable for low-speed joyriding on a lake or river. Their smooth boating experience makes them well-suited to leisurely touring, sightseeing and entertaining a group of friends or family members. You can even upgrade your pontoon boat with various accessories to make it a full-scale recreational watercraft.
10. Ski and Wakeboard Boats
Some people's definition of fun on the water involves action and thrills. If this sounds like something you would enjoy, then ski and wakeboard boats are options you should consider.
Ski boats require powerful motors and shallow hulls to reach high speeds and give the skier the acceleration they need for water skiing. Wakeboard boats travel at slower speeds, but they have deeper hulls to create the wakes a wakeboarder needs to catch some air.
Both options are great for watersport fun on the lake or off the coast. Think about which sport you'd like to pursue, and choose the appropriate boat for your desires.
11. Motor Yacht Boats


The motor yacht is one of the latest designs in the long history of the evolution of boats. Additionally, the invention and popularization of motor yachts have shifted the act of boating altogether. Primarily used for leisure activities, motor yachts change how a boater approaches a day on the water.
Yachts vary in length, ranging from around 10 meters to 100 meters, depending on your needs. Yachts provide plenty of room on deck and in the cabins, offering areas to enjoy the breeze and socialize. Within the category of motor yachts, there are several subgroups for different needs, including weekender yachts, day sailing yachts, luxury sailing yachts and cruising yachts.
12. Jet Boats
When you want to enjoy speed and agility on the water, a jet boat may be the vessel for you. Jet boats move via a propelled jet of water which the craft ejects from the rear, sending the boat across the water at high speeds. And by turning off this flow of water, a jet boat can come to a complete stop very quickly.
Jet boats come in several sizes, from small two-person models to larger sizes with lots of seating used for touring. Many jet boats also provide a swimming platform to make enjoying the water even easier. They're one of the best types of boats for lakes and reservoirs.
13. Fish 'n Ski Boats
Families and angling hobbyists will enjoy the versatility of fish 'n ski boats. True to their name, these vessels come with accessories to support fishing and skiing, such as livewells to hold your catches, tie-downs for rods, elevated platforms and built-in ski lockers.
Most fish' n ski boats are around 16 to 22 feet long and can hold up to eight passengers. You can drive them in multiple different settings as well, including bays, oceans, lakes and some rivers. Additionally, fish' n skis are easy to transport, so traveling anglers can rest assured knowing they'll be ready for a fishing trip anywhere they go.
14. Skiff Boats


If you're new to boating or want to take a relaxing ride along the shore, a skiff boat is your best choice. Skiffs are great boats for beginners and inshore anglers. These small, open boats feature pointed bows and square sterns, making them perfect for driving through shallow waters.
Generally, skiffs range in size but stop at a maximum length of 21 feet. Their hulls can be either flat or cathedral-shaped, and many models feature either a tiller or remote-style console to steer from. Depending on the size of your skiff, you can comfortably carry anywhere from one to four passengers. Additionally, many skiffs can meet the diverse needs of all types of anglers.
15. Walkaround Boats
Another boat with a straightforward name, a walkaround is designed to allow anglers to freely walk a full 360 degrees around its small cabin without having to navigate any obstacles. Featuring an open cockpit near the stern, an easily cleanable deck, livewells, bait wells and built-in rod storage, walkarounds make excellent fishing vessels for open-ocean anglers.
The smallest walkaround models are around 18 to 22 feet in length, while the largest are typically 30 feet. However, some manufacturers produce models as long as 50 feet. Larger models are more versatile, doubling as family boats with larger cabins, increased space for seating, padded lounges and even full galleys. Further, walkarounds can be powered by outboard, inboard/outboard or inboard motors.
16. Runabout boats
If you're looking for a good all-around boat suitable for light use, a runabout might be the right choice. "Runabout" is a broad category that can include various boat configurations — typically, runabouts average about 20 feet in length. These versatile vessels are suitable for many different activities, including fishing, cruising and water sports, making them highly popular among sailors of all ages and experience levels.
Runabouts are small, cabinless powerboats powered by outboard or stern-drive motors — as a result, they're lightweight and easy to transport. Their small size also means they have low maintenance requirements, so they're relatively inexpensive to own and operate. Additionally, since the runabout category is so wide, you have many choices in design elements like trim, finish and accessories.
How to Know Which Types of Leisure Boats Are Right for You
So many different types of boats for lakes, oceans and other bodies of water exist. The above list of types of boats only scratches the surface of the options available to you, but it can help get you started in the right direction. The next steps are up to you.

You need to determine the type of boat that is right for you and your needs. Here are some factors to consider when beginning your research and making your decision:
Application: How do you plan on using your boat? What activities do you want to enjoy? Know the reason why you want a boat, and you can immediately start narrowing down your search. The application will also help you determine which features are necessary for enjoying your new watercraft, like having a cabin for sleeping if you'll be doing overnight excursions.
Size: Next, you should determine the size boat that will work for your needs and restrictions. If you want to use your boat with groups of friends or family members, you'll need plenty of seats and deck space. If the body of water you'll be using is shallow or narrow, then that information will also influence the type of boat you can get.
Climate: Your area's climate will also affect the type of boat you choose. If you could encounter ice in the water, you may want an aluminum hull instead of a fiberglass one. Or, you may want an air-conditioned or heated cabin to stay comfortable during different types of weather.
Price range: Finally, your budget will determine which boat you choose at the end of your decision-making process. See how much you can afford for a boat and stay within your price range. Or better yet, partner with a reputable financing company to help you get your dream boat.
Get a Boat Loan Through My Financing USA

My Financing USA wants to help you achieve your dreams by getting you the money you need for the perfect boat. Our boat loans are easy to apply for and understand, so you can enjoy the open waters sooner. And since we specialize in loans for boats, we can help you achieve a lower interest rate than you might get through a private personal loan.
Apply for a boat loan online today. Or, you can contact us for more information about our financing options. Let us help you enjoy the open waters!
---
Additional Resources on Boats:
---