Quick Navigation:
For many people, recreational boating is a popular form of entertainment. Whether you're looking to fish, tube with friends or relax on the water, owning a boat can give you the flexibility to get out on the water anytime you wish. However, it's no secret owning a boat is an investment, which is why most boat owners choose to finance.
Before purchasing your boat, it's beneficial to know how many years boat financing is and how much you can expect to spend over the term of your loan. How many years you finance a boat can impact your monthly payment and interest rate, so you'll want to learn everything you can before you pick a loan. Here's our guide on boat financing to help.
How Long Does It Take to Finance a Boat?
If you've ever purchased a home or car, the process of financing a boat may be familiar to you, though there are some key differences. How many years you can finance a new or used boat is affected by the following factors:
The Boat's Age and Condition
The age of the boat you're looking to buy can have a significant effect on the term a lender is willing to offer you. In most cases, the newer the boat, the longer the term. Many lenders place a cap on the age of boats they consider for financing, and others will only finance new boats. However, even if you want to buy an older boat, you still have financing options.
Many lenders may be willing to fund older boats as long as they're high quality. While a lender may not finance an older boat that costs $30,000 and is worth $30,000, they may finance an older boat that costs $30,000 but is ultimately valued at $40,000. Keep your future boat's age and condition in mind.
The Boat's Price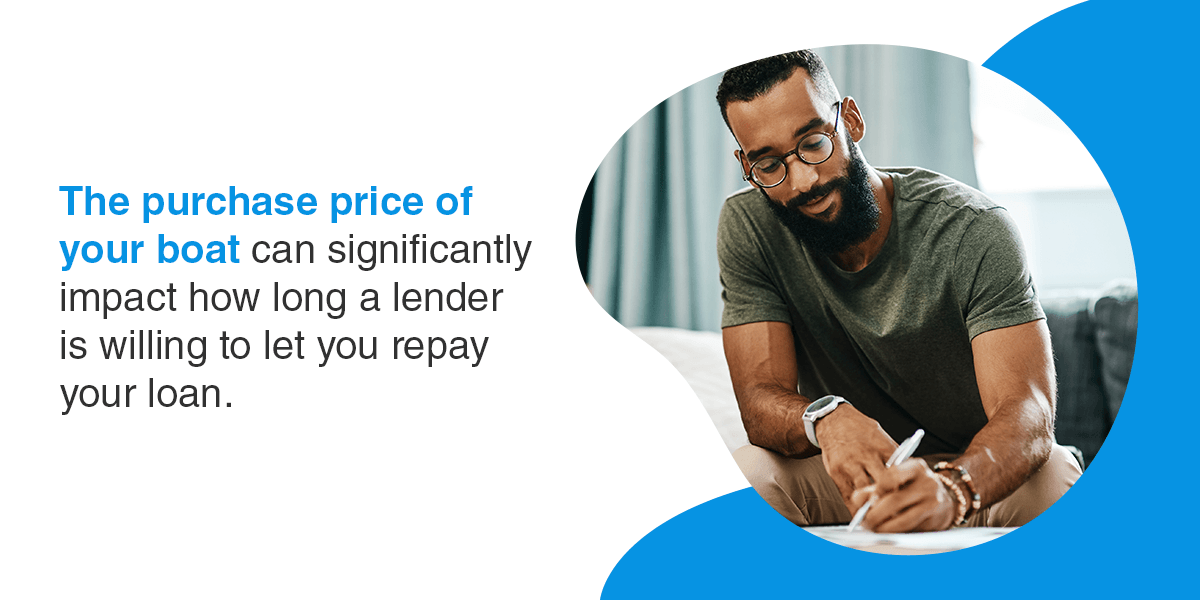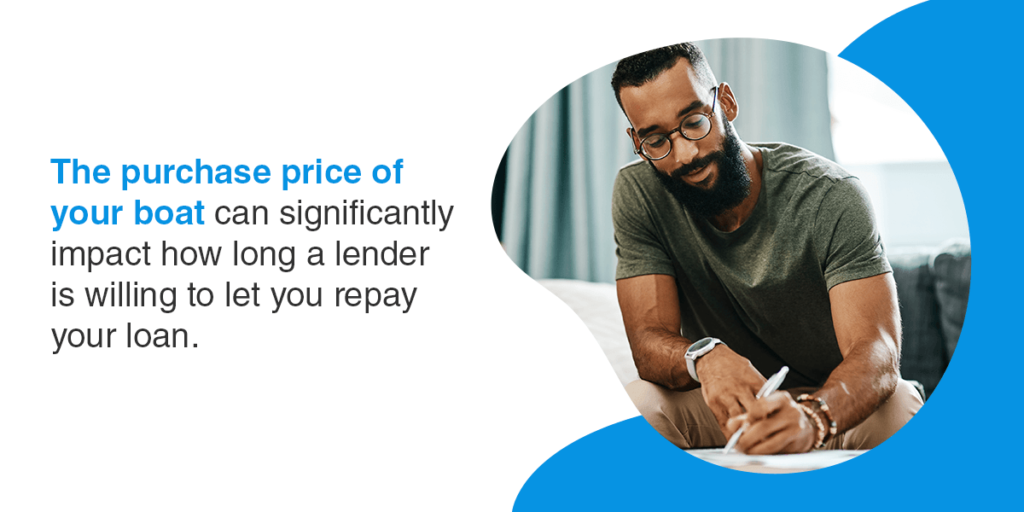 The purchase price of your boat can significantly impact how long a lender is willing to let you repay your loan. Typically, larger loans can be financed longer than smaller loans because they'll likely take more time to pay. Many lenders have requirements for minimum loan amounts to be eligible for certain term periods.
The Interest Rate
The interest rate you qualify for may also impact how long you want to finance your boat. If lenders are only willing to offer higher interest rates because you have lower credit, you may not want to finance your boat for a long period of time because you'll pay more for the total cost of your loan. On the other hand, you may actually want a longer loan term if you have a higher interest rate, as that can make your monthly payment more affordable.
With standard boat loans, interest rates are either fixed or adjustable.
Fixed-rate loans: The most common type of financing for boats is a fixed-rate loan. This type of loan means your interest rate won't change throughout the duration of your boat loan, and your payment will be consistent each month, making budgeting much easier.
Adjustable-rate loans: With an adjustable-rate boat loan, your interest rate can change based on the market. As a result, your interest rate may change while you're paying off your loan, and your monthly payment may increase. The positive to this type of loan is it can be considerably low at times.
While most buyers prefer fixed-rate boat loans so their payments will be predictable, some buyers may not qualify for reasonable fixed rates because of their credit history, and an adjustable rate may offer a low introductory rate. For our customers' peace of mind, My Financing USA only offers fixed-rate loans with no prepayment penalties.
The Down Payment
Many lenders require a down payment for a boat purchase. The amount you'll need to put down on your boat depends on the lender and the price. Some lenders will finance a boat loan without a down payment, but taking that route can put you in a poor financial position depending on the vessel's depreciation.
A down payment can also reduce your monthly payment and the total interest you'll pay for your boat loan, as it'll decrease the amount of financing you need. If your main concern is an affordable monthly payment, you may want to have a down payment.
Your Credit Score
Your credit history can also impact which boat loan terms you can select. While some lenders are willing to offer boat financing to borrowers who have subprime credit, they may have requirements for a low debt-to-income ratio and a down payment. Others may not be willing to offer financing to borrowers with low credit scores. If you have good or excellent credit, you may be offered better rates and terms.
The Type of Boat
Many of today's powerboats are lumped together and financed for similar amounts of time. Therefore, if you're purchasing a powerboat, you likely won't find much variation in the financing options available to you. However, there are some outliers lenders may treat differently, such as:
Sailboats
Liveaboard boats
Pontoon boats
Multi-hull boats
High-performance boats or boats with wood hulls
If you're looking to purchase one of these vessels, lenders may be less flexible with the terms they offer or not offer options for financing at all. For example, financing a liveaboard boat can be complicated due to the laws surrounding residences and homeownership. If a boat is riskier to finance for any reason, you may find fewer ways to finance.
Fortunately, when you choose My Financing USA, we search across the nation to find you the best rate and lender for various types of boats.
How Many Years Is the Average Loan Term for a Boat?
If you're wondering how long you can get a boat loan for, you'll be happy to know you can finance a boat for many years. The average boat loan term can range from eight to 12 years. Some can be as short as five years, while a lengthy loan can last up to 15 years. Boats are now built better than ever, so lenders can use them as collateral for longer periods of time. As a result, lenders are willing to finance boats for more years, making boat ownership affordable for more borrowers. Interest rates tend to be the same for loan terms longer than 5 years, so many prospective boat owners will opt for the longest term possible.
How Many Years Can I Finance a New Boat?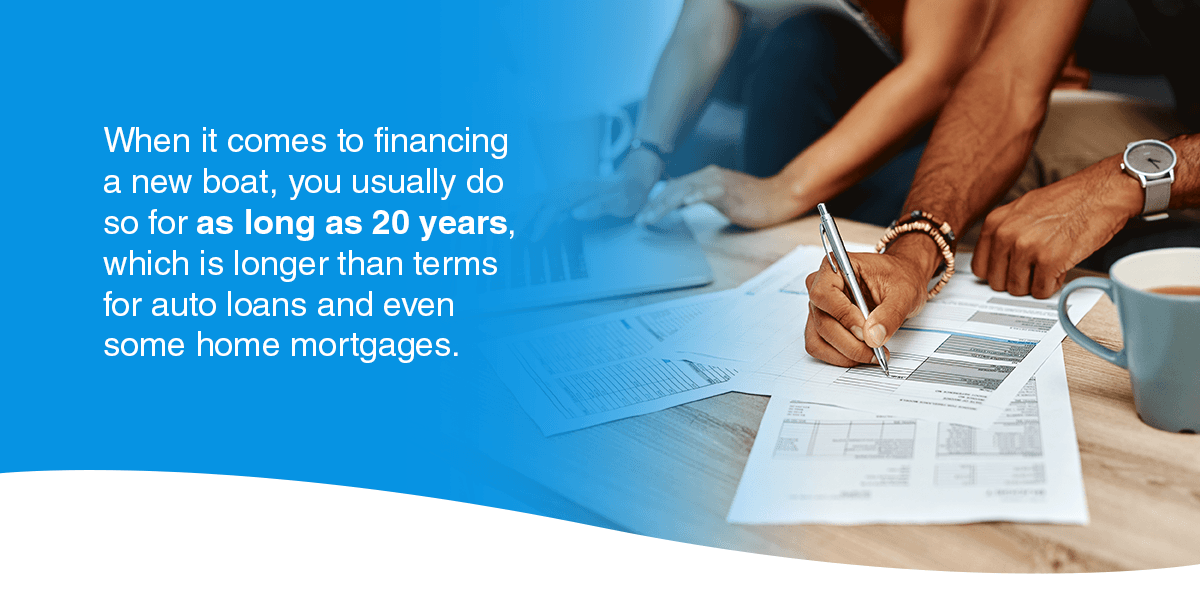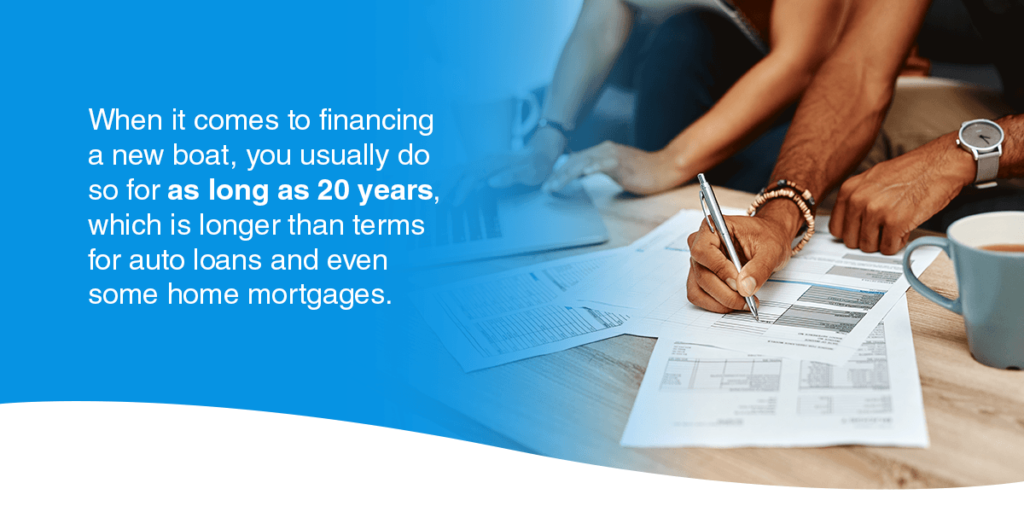 Though often compared to auto loans, boat loans greatly differ in the terms offered. When it comes to financing a new boat, you usually do so for as long as 20 years, which is longer than terms for auto loans and even some home mortgages. Essentially, you can finance a new boat for a long time.
Whether you should accept a lengthy loan term depends on several factors, such as what you can afford for a monthly payment and what interest rates you qualify for. Ensure you can truly afford your loan on top of the other costs of boat ownership, such as storage and maintenance. The cost to upkeep your boat will likely be about 10% of your boat's price each year.
If you double your loan term, a lender may only be willing to offer a slightly higher rate or require a larger down payment. Additionally, the longer your loan term, the more you'll pay in total interest, so if you want to keep the long-term costs of your loan down, you may want to select a shorter term. Since My Financing USA doesn't offer any loans with prepayment penalties, you may choose to split the difference and finance for a longer term to keep your payments low while paying the loan off early to save on the interest.
How Many Years Can I Finance a Used Boat?
Like a new boat, you can finance a used boat for as long as 20 years. The financing options for used boats may differ from options for new boats. If a model is old, a lender may not be willing to offer financing whatsoever, as a lender typically needs collateral for a secure loan. While you may see a boat that's cost-effective and ready for a makeover, your lender could see an unreliable asset.
Fortunately, if you find a used boat that suits your needs and preferences, My Financing USA can help you find the financing option that's right for you.
How Long to Finance a Bass Boat
If you intend to use your boat for fishing, a bass boat may be a great option. These vessels feature a flat deck, a powerful outboard engine and aerated livewells to provide the best fishing experience possible. When fishing on a bass boat, you have more control of your boat in shallow water and during periods of high wind.
As with other types of boats, financing for a bass boat will differ based on the vessel's age, location, condition and make and model. For a bass boat, a lender may base the loan terms on the total amount you borrow rather than on the boat's current value. Some factors that impact your interest rate for a bass boat include:
Your down payment
Your debt-to-income ratio
Your creditworthiness
How Long to Finance a Pontoon Boat
If you're looking for a recreational boat to float on the water with your family and friends, a pontoon boat may be the best choice for you. Historically, pontoon boats have been slow-moving, making them great for outdoor activities like fishing, sunbathing and swimming. Today, pontoon boats are a bit faster, and because of their simplicity in design, manufacturers can create high-end interiors that offer a luxury experience.
The financing for a pontoon boat is similar to that of other boats. Like all vessels, new pontoon boats don't hold their value and may depreciate quickly in the first few years, similar to a new car. Typically, the rate of depreciation slows over time, but it's still something to keep in mind. Similar to a bass boat, your financing will be based on the pontoon's characteristics and your financial history.
If you want to know how a loan term can affect your monthly boat loan payment, use our boat payment calculator. Simply input your loan amount and interest rate and try different loan terms to see how the number of years you finance your boat may affect your payment. This calculator works for all boat types.
Learn About Pontoon Boat Financing
How Many Years Do Lenders Finance Boats For?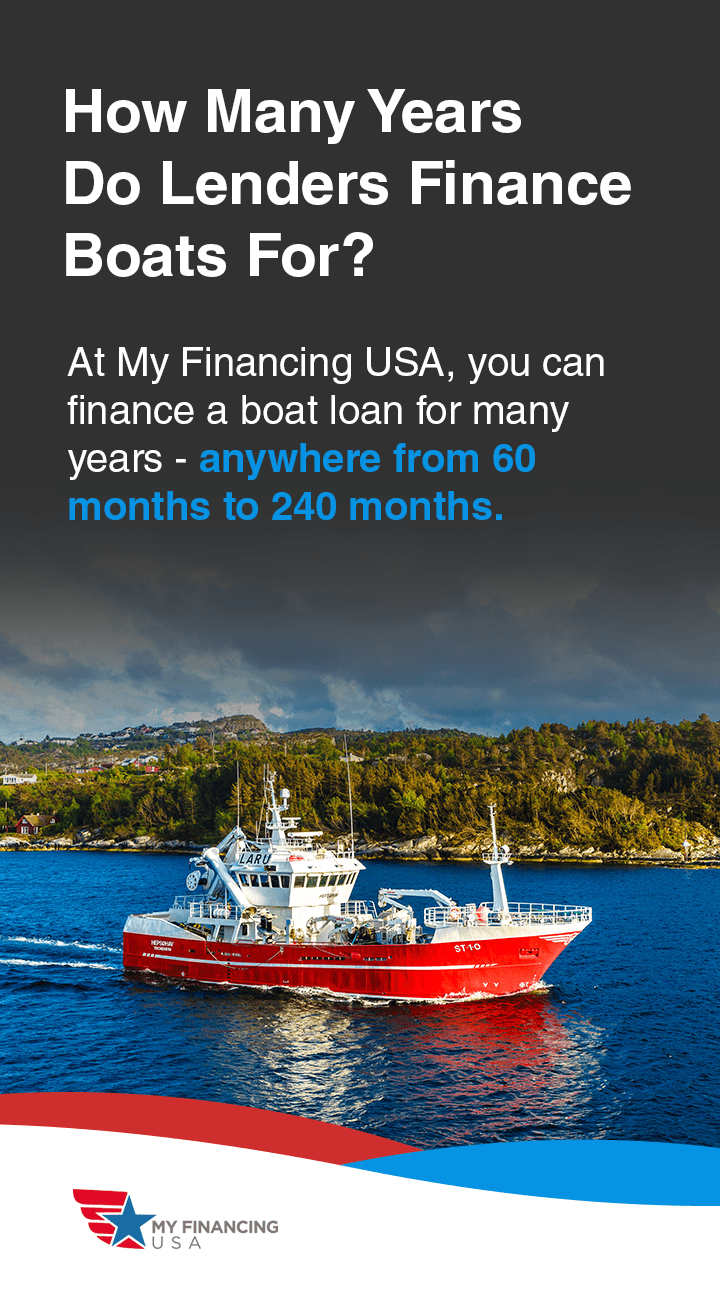 Note that loan terms vary from lender to lender and by loan type. A personal loan, also known as an unsecured loan, often comes with shorter loan terms, while lenders who specialize in boat loans may offer longer loan terms. There are two main avenues you can pursue for financing your boat:
Credit unions, banks and online lenders: Many borrowers go directly to lenders like credit unions and banks to get financing for a boat. These financial institutions tend to offer some of the best interest rates on the market. If you're a bank or credit union member, you may even qualify for discounts when you finance your boat with them.My Financing USA works with banks and credit unions across the nation to find the best boat loan for you.
Dealer financing: The majority of financing for new boats happens through dealerships. These businesses draw in customers, as they're the ones with a wide selection of boats to sell and have relationships with financial institutions that can offer customers boat loans. When a customer expresses interest in a boat at a dealership, they may pursue financing through the dealership or be referred to a bank.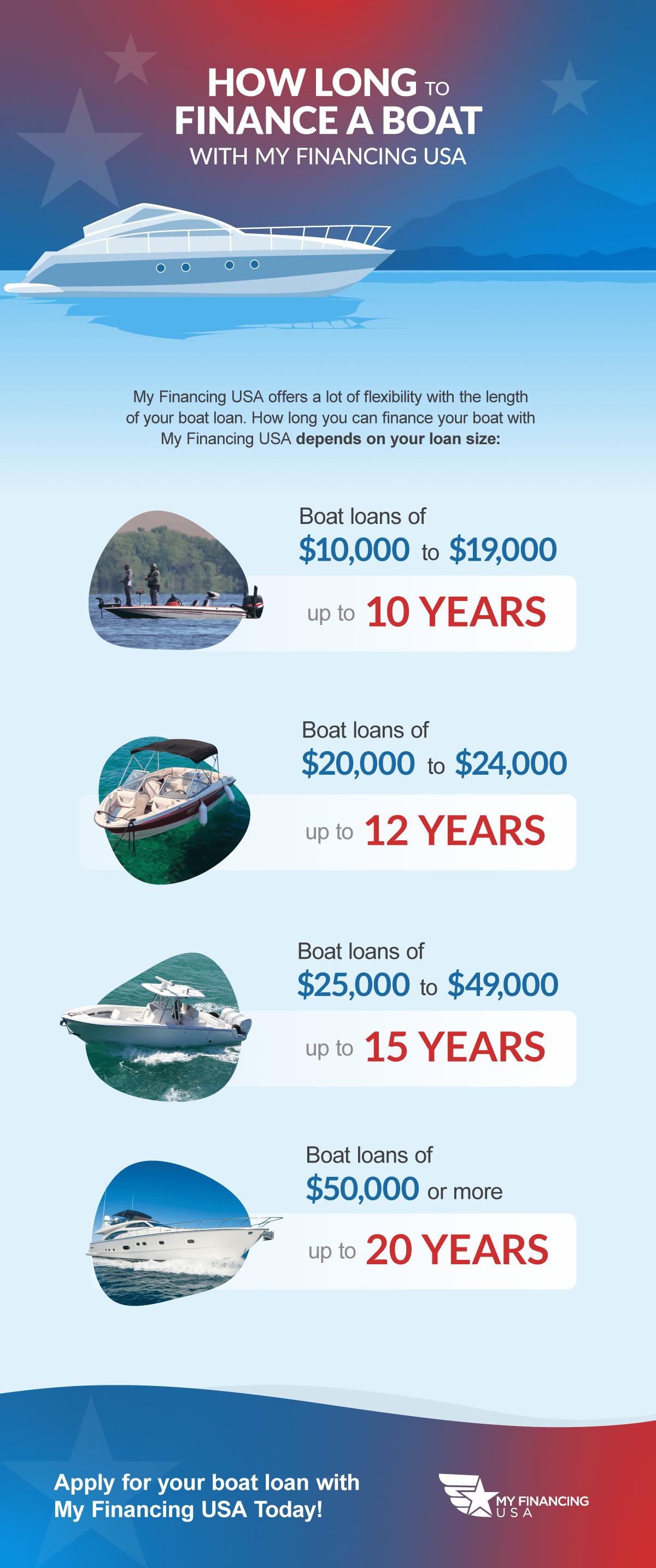 At My Financing USA, you can finance a boat loan for many years — anywhere from 60 months to 240 months. This flexibility means you can pay off your boat as quickly as five years or take up to 20 years to repay your loan. How long you can finance your boat with My Financing USA depends on your loan size:
10 years: You can finance a boat loan of $10,000 to $19,000 for up to 10 years.
12 years: You can finance a boat loan of $20,000 to $24,000 for up to 12 years.
15 years: You can finance a boat loan of $25,000 to $74,000 for up to 15 years.
20 years: You can finance a boat loan of $75,000 or more for up to 20 years.
Along with your loan size, the term you're eligible for depends on your boat's age, your credit history and your down payment. Typically, we require a down payment of 10-15% Down Preferred, though we do offer 100% financing as determined on a case-to-case basis. We also require a credit score of at least 550 and limit the age of boats to 2011 or Newer Models (Older case by case).
Learn About Boat Financing at My Financing USA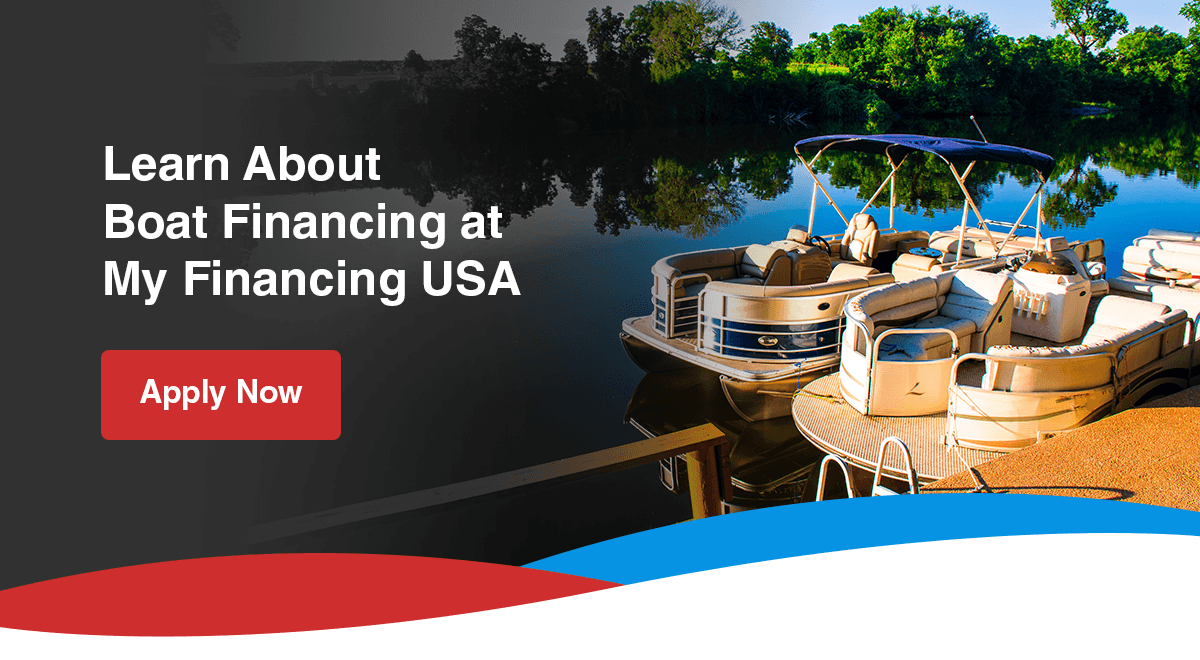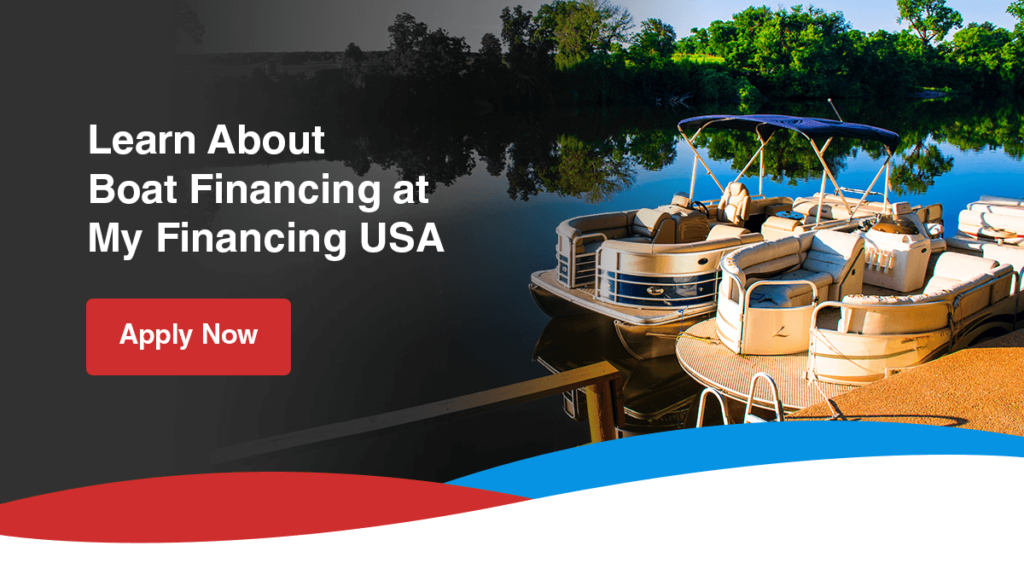 With our high customer satisfaction ratings and our A+ rating from the Better Business Bureau, My Financing USA stands apart from other boat financing companies. We pride ourselves on the sterling reputation we've developed. The advantages our customers enjoy when they work with us include:
The ability to get pre-approved for boat loans
Offers of great rates and terms from trusted lenders
Closing documents you can sign right on your phone
A website secured by Norton VeriSign, which keeps private information safe
A friendly team that will respond immediately to your questions
You can learn more about the boat financing we offer at My Financing USA or apply for a boat loan today.
---
Additional Resources on Boat Financing:
---