Quick Navigation
Many Americans dream of owning an RV. Whether you want to go camping at nearby parks and campgrounds or travel around the country, an RV can make vacations more affordable and flexible. Forget booking hotel rooms and flights months in advance – pack up your RV and family and hit the road for the weekend.
Unfortunately, many Americans with an ultimate goal of RV ownership believe it is not within their financial means. If you are considering purchasing an RV but aren't sure whether you can afford it, we can help you find the right financing option at My Financing USA.
What Are RV Loans?
RV loans are similar to auto loans, meaning you can finance them for several years. Lending institutions like credit unions and banks generally issue RV loans, along with private RV-related businesses. Though a dealership may claim they will finance you, the loan you will get through a dealership comes from a bank in their network. If you have financed a car or a home, the RV financing process will be familiar.
A lender will consider the price of your RV, your proof of income, your down payment and your creditworthiness. Along with your rate and down payment, the cost of your RV loan depends on its length. Fortunately, your RV loan term is negotiable.
How Long Does It Take to Finance an RV?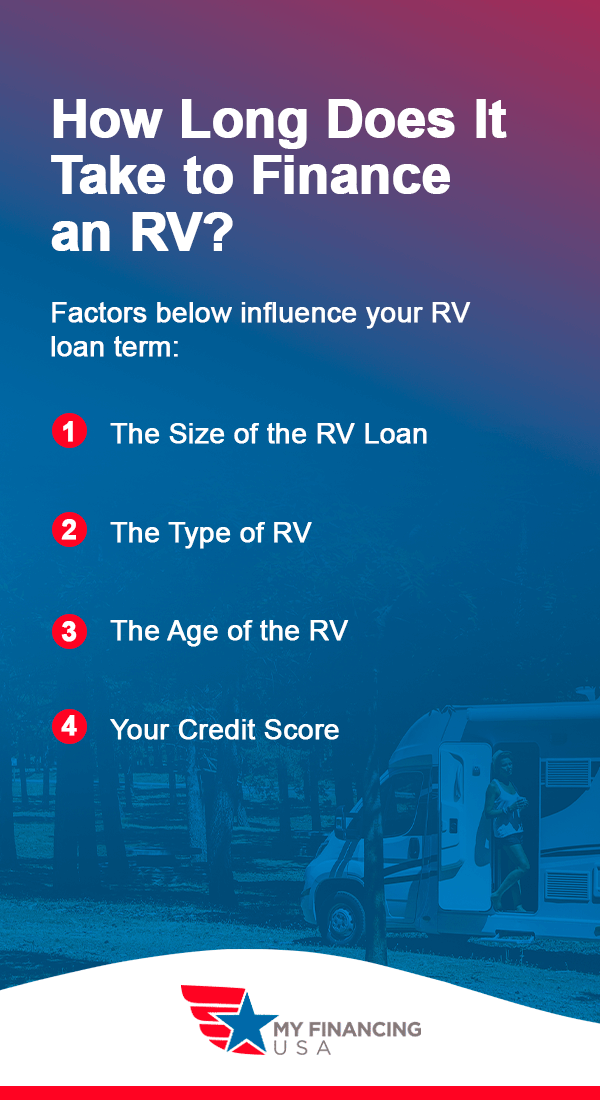 The RV financing process may seem familiar if you have previously financed a car or home. However, there are some differences between financing an RV and a vehicle, such as how long you can finance an RV or a motorhome. The factors below influence your RV loan term.
The Size of the RV Loan
Your RV's purchase price can significantly impact how many years a lender will allow you to take to repay the loan. Generally, you can finance a larger RV loan longer than a smaller loan. Additionally, many lenders set minimum requirements for loan amounts to qualify for specific terms. For example, a new RV can cost between $6,000 and $300,000 depending on the vehicle's size, model, make and internal furnishings.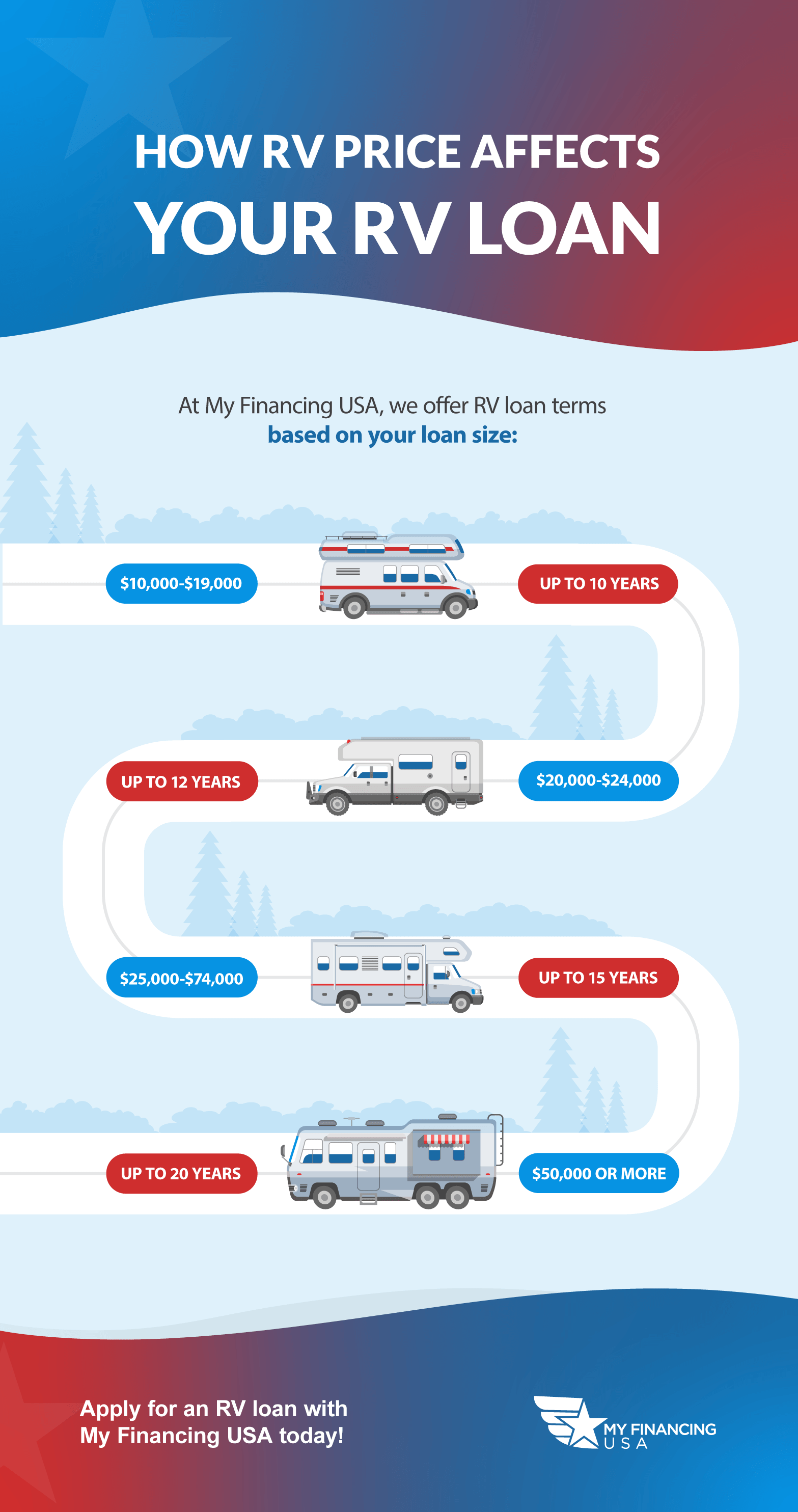 At My Financing USA, we offer RV loan terms based on your loan size.
20 years: For an RV loan of at least $75,000, you can finance a new RV for as long as 20 years.
15 years: You can finance an RV for as long as 15 years if you obtain a loan amount between $25,000 and $74,000.
12 years: You can finance a motorhome for as long as 12 years if your loan amount is between $20,000 and $24,000.
10 years: Even if your loan amount is only between $10,000 and $19,000, you can finance an RV for many years. At My Financing USA, you can finance RVs in this price range for up to 10 years.
We also offer the ability to pay off your loan early with no penalty. Loan sizes vary from lender to lender, so check with each lending institution you are considering.
The Type of RV
Financial institutions will treat most RVs and motorhomes similarly, except in some cases of more experimental vehicles. The following are the different types of RVs you may consider purchasing.
Travel trailer: These versatile trailers can serve various purposes. You can use a travel trailer for hauling and vacationing.
Fifth wheel: Fifth wheels are a top choice among those who want to buy an RV. A fifth wheel allows for stable, easier towing and increases living area with over-cab space.
Lightweight trailer: A lightweight can be an ideal choice if you are looking for a smaller, more fuel-efficient trailer. These trailers can still come with plenty of amenities and are capable of towing by a smaller vehicle.
Expandable trailer: An expandable trailer can be a towable RV, a pop-up camper or a motorized RV. With an add-on or slide-out, you can increase your living space or enhance the feeling of the outdoors.
Class A RV: A Class A RV is one of the largest types of RVs. They are often luxurious and spacious and can carry a family of any size on a long-distance trip.
Class B RV: Also known as a camper van, a Class B RV is more compact than a Class A RV, but it still features a kitchen, bedroom and bathroom.
Class C RV: A Class C RV represents the middle ground between the Class A and Class B models and is recognizable by its over-cab sleeping or storage area, which can provide additional living space for a large family hitting the road. Though smaller than a Class A, a Class C motorhome offers much of the same craftsmanship and features.
Toy hauler: A toy hauler is available as a fifth wheel, travel trailer, Class or Class C. This option can offer you extra space to sleep and store your toys, such as a motorcycle or an ATV.
The Age of the RV
A financial institution will also consider the RV's condition, such as whether the vehicle is new or used. An RV depreciates as it gets older, which means banks and credit unions may be less willing to loan you money over an extended period if your RV is older. While you may still finance an older, used RV, you may only be eligible for a short loan term.
At My Financing USA, we finance RVs 2011 or Newer Models (Older case by case).
Your Credit Score
If you are borrowing money from a lender, they will want to know you have a reliable payment history. Many lenders consider your credit score when determining whether to approve your application and what rates they are willing to offer. The higher your credit score, the more likely you'll be to get approved for a rate and loan term you want.
Credit ranges may vary by the lending institution, but you can generally expect the following credit score tiers.
Deep subprime: This range, typically between 300 and 549, is bad credit.
Subprime: This range, usually between 550 and 674, is below-average credit.
Prime: This tier, typically between 675 and 749, is average to good credit.
Super prime: Super prime is excellent credit, and the range is typically between 750 and 850.
However, even if you have less-than-stellar credit, you may still finance an RV. At My Financing USA, you can prequalify for an RV loan with a credit score as low as 550. We understand that everyone has a unique financial history, which is why we are willing to work with people who have previously dealt with credit challenges.
How Long Can You Finance an RV?
Many borrowers want to know how long they can finance an RV before starting their search. You finance an RV for multiple decades, often much longer than you finance a car, depending on its price. That's because RVs tend to cost a lot more than cars or trucks.
How Long Can You Finance An RV Or Motorhome?


You can finance an RV for many years, especially if it is a new vehicle. The average RV loan can range from 10 to 15 years. However, on qualified collateral, a loan term can be as long as 20 years for newer, more expensive vehicles. With a new RV or motorhome, you may have more financing options available, as the collateral will be more valuable and reliable for a lender. You can choose a shorter term with a higher payment, or a longer term with a lower payment.
Whether you should obtain a long RV loan term depends on various factors, such as what interest rates you are eligible for and what you can afford to pay each month. Ensure you can afford your loan, along with the other costs of RV ownership.
Insurance: As with any car or home, you will need insurance for your RV. For example, an insurance policy for a $50,000 RV may cost roughly $2,500 per year if you have a good driving record.
Maintenance: Every RV requires maintenance for regular service of tires, heating, cooling and toilets, along with winterizing services. Maintenance can cost anywhere from $3,000 to $5,000 each year, depending on whether you use your RV exclusively for summer vacations or getaways throughout the year.
Storage costs: If you lack the room to store your RV on your property, you may need external storage for your vehicle. Depending on the location and how much space you need, storage could cost about $2,500 each year.
Campground fees: Fees can vary significantly from one campground to the next. The range is typically between $20 and $100. Remember this when creating your travel budget.
Additional equipment and accessories: You can equip your RV with extra equipment and accessories, such as a water heater, infotainment gadgets and an external awning. Prices of these items can vary, so you may want to set aside a few thousand dollars depending on what improvements you would like to make.
You may want to base your choice of an RV loan term on the costs you estimate for RV ownership and what you can afford.
How Many Years Can I Finance a Used RV?
How many years you can finance a used RV or motorhome depends on your RV's quality and condition. A lender needs collateral to approve you for financing to ensure they will have something of value to sell if you fail to make your monthly payments.
If an RV is an older model, it can be much more challenging to find long-term financing, and you may have a more limited term to repay your loan. Like a car, an RV can depreciate quickly, so your RV's value can drop dramatically after only a few years of use. How long you can finance a used motorhome also depends on your down payment and credit score.
How Many Years Can You Finance an RV With Lenders?


Whether you should take out an RV loan with a shorter or longer term depends on your finances and goals. If you want a lower monthly payment, you may want to opt for a longer term. If you wish to pay less for the loan in total, you may aim to obtain a loan for a shorter term.
A longer term can also get you a lower rate, and with no prepayment penalty, you can pay off your loan faster than expected. For example, if you choose the longest loan term possible at the lowest monthly payment and pay more than your required payment each month, you can effectively lower how much you pay in interest and shorten your loan term's length.
If you are buying an inexpensive RV, you may want a shorter term, but for an expensive RV, a longer term may be the right choice. Whatever is right for you, we offer flexible financing options at My Financing USA. When you choose us, you can finance an RV for as little as five years or as long as 20 years. You can also enjoy the following benefits when you work with us.
Credit protection: We protect your credit score by reducing the number of inquiries.
Quick application approval: Receive funding for your RV loan application in only 48 to 72 hours.
Convenience: Sign your closing documents right from your phone.
Additionally, we offer extras like gap waivers and a tire and wheel program. Use our RV loan payment calculator today to see how your loan term can impact your monthly payment.
Apply for an RV Loan With My Financing USA


If you want to get behind the wheel of a new or used RV, turn to My Financing USA. Even if you do not have perfect credit, we can help make your dreams of RV ownership come true. We offer our services across the 48 contiguous states and can help you find the lowest available rates.
After you fill out our online application for an RV loan, you can get approved for financing in only 48 to 72 hours. We will reach out to discuss your application and ask about your expectations and goals. After we approve your application, we can start submitting your name to vendors. Apply online for an RV loan in only minutes with My Financing USA today.
---
Additional Resources on RV Financing:
---