Quick Navigation:
Boat slips let you enjoy your boat year-round. Instead of hauling your boat to the marina every time, it remains conveniently parked and ready for use. These parking spots are available in many sizes, accommodating most boat types. You can rent or purchase boat slips to gain easy access to your boat all year.
When you purchase a boat slip, you gain full-time storage for your boat. While the buying process might seem complex, this investment brings many benefits for boat owners. Read our complete guide on purchasing a boat slip and learn more about how My Financing USA can help.
Should You Buy a Boat Slip?
If you're interested in a boat slip, one of the biggest initial decisions is to decide between renting or buying. Renting is less of a commitment and allows for use during specific months. You can think of renting as using someone else's boat slip temporarily, which varies in cost. For instance, if you only want to use your boat in the summer, you can save money by paying for a boat slip for only those months.
Many boaters interested in year-round boating find it worth buying a boat slip. You can store your boat in a secure location, then use it whenever you need. Buying is also great for people who have settled permanently in a region. You can complement long-term investments like houses with a boat slip, allowing you to embark on water-based adventures for as long as you like.
A boat slip investment also provides guaranteed storage space, which is ideal for boat owners. If you've recently bought a boat, you need a secure place to store it while it's not in use. Buying grants you full-time storage at a consistent price.
Is Buying a Boat Slip a Good Investment?

Buying a boat slip is a significant decision. There are many reasons for boat owners to buy a boat slip, including:
Improved access: If you use your boat frequently, boat slips make access much easier. You avoid towing or finding other storage options for the rest of the year. Instead, your boat is already waiting for you at the marina. Owning a boat slip can also increase your boat usage. Because it's easier to access, you might feel more encouraged to get out on the water.
Extra amenities: Many marinas have additional amenities that enhance your boating experience. Features like showers, small stores or nearby restaurants can create an ideal day of boating. Using these amenities without a permanent spot can be more challenging because you might be more concerned with transporting your boat.
Increased value: With the proper care and maintenance, your boat slip could increase in value. In particular, high-demand boating areas might boost your slip's value over time. Finding available spots in popular areas is harder, driving up the demand for your purchase. You also avoid increasing rental costs by paying an upfront ownership cost.
4 Questions to Ask Yourself Before Buying a Boat Slip
A boat slip is a notable investment, so it's important to make the right preparations before diving in. Here are some questions to consider as you browse boat slips:
1. What Is the Average Rate?
It's best to start with a particular budget in mind to protect your finances. Boat slip costs can vary depending on their type, so you can start looking at options that suit your financial needs.
For instance, private marinas are typically more expensive than public ones. Private slips often have extra utilities like electricity and running water, boosting the cost. You might want to pay extra for additional amenities, or you might want the least costly option possible.
As you search for available options, keep your budget in mind and balance it with other essential factors.
2. What Are the Marina's Security Protocols Like?
After committing to a slip, you'll probably spend a significant amount of time there. It's crucial to find marinas with helpful staff and strong security features. Researching different marinas helps you learn more about their processes.
You can ask about locks, security cameras, fences or other protective measures for your boat. Speaking with staff can also give you a better idea of the location — you can see how knowledgeable and helpful they are. Marinas with advanced security might have higher monthly rates, but you might prefer the extra cost for peace of mind.
3. Where Is the Marina's Location?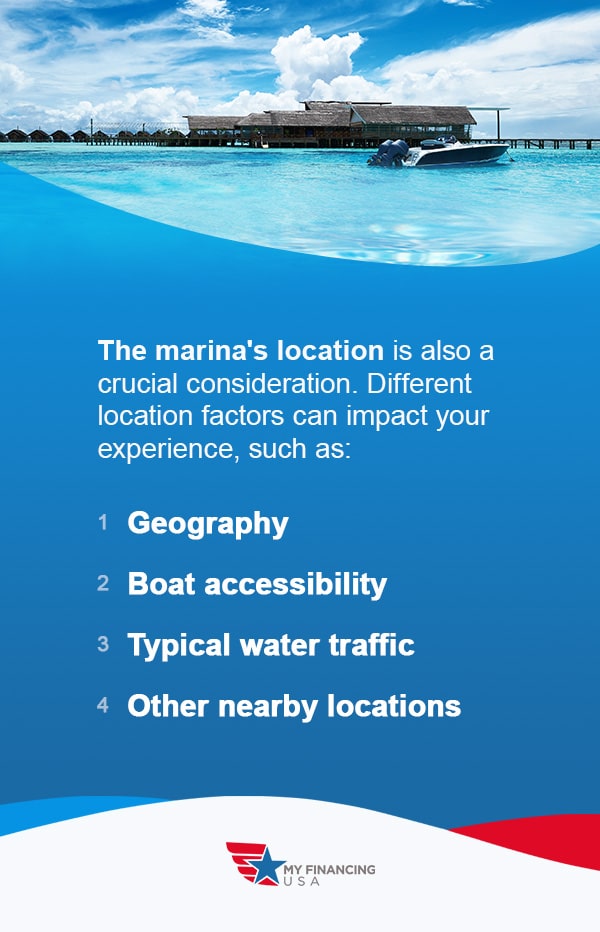 The marina's location is also a crucial consideration. Different location factors can impact your experience, such as:
Geography: The United States contains many waterfront cities and towns, giving you countless options for your boat slip investment. In-demand cities might cost more than unknown ones. You can select a geographical location that matches your preferences and budget.
Boat accessibility: The marina's placement also impacts boat accessibility. The closer the marina is to your home, the easier it is to access your boat. You might not have a marina nearby, making it more challenging to use your vessel. Keep accessibility in mind as you select a boat slip, and make sure it's not too far away.
Typical water traffic: Some marinas are more popular than others, leading to more water congestion. High-traffic areas can cause more collisions and increase departure times. It's best to research average traffic ahead of time and decide if it's comfortable for you.
Other nearby locations: Depending on your preferences, you might want your marina to be within walking distance of other attractions. Some boaters prefer marinas with nearby restaurants or shopping opportunities. If these are important to you, you can look for locations that accommodate this need.
4. What Are the Typical Weather Conditions?
Conditions like wind and current strength affect your boat when it's in use and at rest. You can research the marina's prevailing wind direction and determine whether it would pull your boat towards the dock or the water. You could also learn about the location's typical weather patterns. Areas with frequent storms might cause damage to your boat.
Essential Factors for Boating Slips
Considering various aspects of different marinas can help you narrow down the best boating slip. These are other crucial factors to think about:
Ease of docking: Research the docking situation for the slip you have in mind. The most convenient slips are easy to enter and exit. They should also have enough water for your boat to rest or move smoothly. Look for nearby hook-ups for power, water or other crucial utilities.
Water depth: Water depth is important for safe boat storage. You need enough water to clear the boat propellers, or your boat might scrape against the ground. Prospective buyers can measure the current water depth and determine whether it would support their boat size. You can also ask marina staff about typical water conditions and discuss if your boat would be a good fit.
Finger length: Fingers run parallel to your boat slip, creating two decks for entering and exiting. You should look at the slip's finger length and make sure it aligns with your boat's access point. Finger dimensions are less vital for users that board via side gates or directly onto the deck.
Dock height: You should also inspect the slip's dock height and compare it to your boat's needs. Larger power boats might need taller docks for easy access. In contrast, sailboat decks are usually comparative in size. If you can't find an exact height match, you can use ladders or stools to make up for size differences.

Where to Buy a Boat Slip
You can search for available boat slip spots through ways like:
Online searches: Many websites list vacant boat slips. You can sort through options by filtering for your desired location. They can also provide helpful information like listing price, average rating, nearby amenities and more. You can search online to find local options or ones within a reasonable distance.
Local browsing: If you already know of nearby marinas, you can visit them directly to learn about availability and other features. Talking to staff in person often makes it easier to tell whether you like the location.
Other assistance: You can also find assistance with other options. For instance, many organizations that help with boat financing can also recommend nearby slip locations.
How Much Does It Cost to Buy a Boat Slip?
Marinas and docks determine pricing by boat or slip size. Your exact cost varies by:
Location: Your annual cost will likely be higher in more popular areas. Prime locations offer access to popular sailing waters. Many premium marinas offer high-quality amenities in addition to prime access, increasing prices. In contrast, remote areas have lower prices and are usually more cost-effective. They might not provide access to the best sailing waters or offer extra amenities, so your annual bill is lower.
Current demand: Supply and demand also play a crucial role in boat slip pricing. The more popular an area is, the more the marina can charge for a spot. Some destinations are so in demand that they have a waiting list for interested buyers. Boat slips might experience more demand during sailing seasons or warmer weather, so buying during these times can also increase costs.
Fees: You should also factor in additional slip charges. These could include electricity, running water, membership fees or other related taxes. Depending on the marina, these might be included in your upfront cost or be monthly rates.
Boat size: The bigger the boat, the more you pay for a slip space. Most marinas charge by the foot, and you need to find a space that's large enough for your vessel.
Can You Finance a Boat Slip?
You can finance a boat slip to complete a purchase. Financing is a great option for prospective buyers that want to buy but don't have the total cost in cash yet. Financing separates the total cost into smaller monthly payments, making it more manageable for buyers.
This strategy also lets you access your boat slip right away, even as you pay it off. You can also use financing to pay for a new boat and other significant investments.
These are a few basic steps for how to finance a boat slip:
Determine down and monthly payments: First, you should evaluate your current financial situation. Larger down payments reduce monthly costs, so it's important to put down a substantial amount. However, you should make sure the down payment is within your budget. Next, calculate how much you would be able to pay each month. You can look at typical monthly expenses and determine the best monthly cost.
Compare lenders and quotes: Once you understand your desired payments, you can start comparing lenders. Financing lets you take out a loan to cover the total boat slip cost, then pay back the loan in monthly increments. You can examine interest rates, minimum credit requirements and other loan terms. The providers should also give you monthly quotes, which you can compare to the desired monthly payments you calculated earlier.
Complete an application: After you narrow down a lender, you can submit an application for a financing loan. These documents usually ask for your employment information, credit score, desired boat slip and other financial assets.
Finalize the purchase: The lender processes your application, and either approves it or denies it. If they approve it, you can finalize your ideal offer and move forward according to the lender's instructions. To close the deal, you'll usually have to sign paperwork or submit other important documentation.
After completing this process, you can use your boat slip as often as you want. It's crucial to keep up with monthly payments and follow all lender instructions, or you could encounter additional fees. You can finance a boat slip as long as the lender's terms state. These periods typically last for several years.
Finance a New Boat for Your Boat Slip With My Financing USA

Nothing pairs better with a new boat slip than a new boat. Finance the perfect boat with My Financing USA today to get started on your next adventure. We offer a 100% online application process, and our dedicated team can guide you through every step. After you complete an online application, we'll contact you and help you find the boat matching your budget and preferences.
My Financing USA also sets itself apart from competitors with protective features like our Guaranteed Asset Protection and Vehicle Service Contracts. These add-ons provide extra protection for repairs or accidents.
To get started with my Financing USA, take five minutes to fill out an application online today. Or, contact us to discuss our financing options.
---
Additional Resources on Boating:
---