Quick Navigation:
One of the perks of traveling in an RV is that you can sleep in it. Most people park their RVs at campgrounds or RV resorts, though if you're driving long distances between destinations, can you park somewhere overnight to catch up on sleep? Ultimately it depends, so knowing the ins and outs of overnight RV parking can be extremely beneficial on the road.
Can You Sleep in an RV Anywhere?
When RVing, the most obvious place to stop and sleep is typically a campground. Many campgrounds offer privacy, electrical and water hookups, amenities and other features, making your stay comfortable and relaxing. Campgrounds are ideal locations to park your RV to sleep, but some situations require a bit more convenience than booking a campground stay.
While traveling from one destination to another, you may not need or want to park at a campground. Additionally, most campgrounds require reservations and sites can book up months in advance, which requires significant planning. Sometimes, you just need a quick place to stop and rest your eyes — so where can you park your RV in these situations?
Luckily, you can sleep almost anywhere in your RV. Legal RV parking varies significantly between states, cities and individual locations. Some places may allow you to park your RV to sleep on neighborhood streets, business parking lots, rest stops, state parks and other public lands. Depending on where you're driving through, you may have more options for overnight parking than you think.
How to Find Safe Overnight RV Parking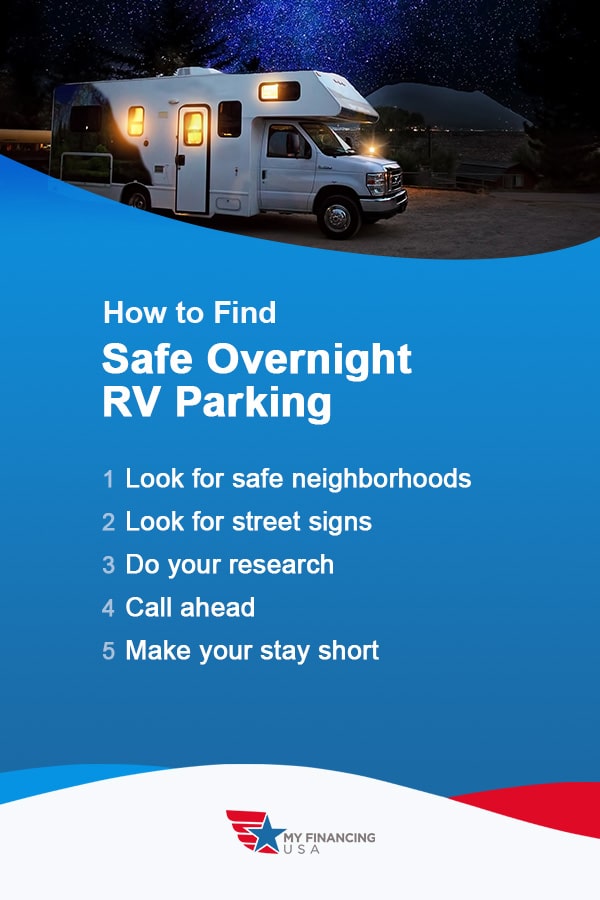 Just because you can potentially park your RV overnight anywhere doesn't mean it's always safe or legal to do so. Finding safe RV parking is essential when sleeping outside of a campground. It's no secret that some areas are inherently safer than others, so you need to know what to look for. Here are a few tips for finding safe overnight RV parking and sleeping on the road.
Look for Safe Neighborhoods
In some areas, you can simply park your RV along a neighborhood street. Once you get to the city you plan on stopping in, drive around to scope out a few neighborhoods or areas you could park at. You can generally get a feel for a neighborhood's safety just by taking a drive through it. Try to avoid run-down areas, spots where people wander at night and poorly lit streets.
State parks and Bureau of Land Management land are also areas worth looking into. These public lands typically offer more seclusion and nature than parking street-side in a city, which also means they can be safer options. Regardless, trust how you feel about an area, and if you feel uncomfortable, you can always just drive away.
Look for Street Signs
Overnight parking where it's legal is often a safe option. Depending on the city, some streets or parking lots may allow overnight parking while others don't. Looking for street signs is one of the best ways to determine if you can park overnight.
Many cities or businesses will post signs that specifically indicate when overnight parking is permitted and if it's not allowed at all. For example, some cities may restrict overnight street parking to the hours of 10 p.m.-5 a.m. to ensure parking spaces are clear the following morning.
Be sure to abide by any signage to avoid issues like parking tickets or towing. If you don't see any signs, you may be OK to park.
Do Your Research
Another way to determine if somewhere is safe or legal for you to park your RV overnight is by doing some research. Cities typically share their laws and ordinances online to make them easily accessible, especially for non-locals. If you don't see any street signs, try doing a quick online search. For example, if you're stopping in Cooperstown, NY, you could search "overnight parking in Cooperstown, NY," or "overnight RV parking in Cooperstown."
Similar to finding street signs, if you don't find any information online stating overnight parking in a particular city is illegal, you may be able to do so.
Call Ahead
Some businesses allow RVs to park in their lots overnight. If you plan on parking at a business or in a private parking lot, it's typically best to call ahead and ensure you're allowed to do so. Every location is different, even if it's a national chain, so find out what a specific spot allows. Calling ahead or checking in with the store manager gives you more information on where to park, how long you can stay and if there's a fee or anything else expected of you.
Make Your Stay Short
When parking your RV overnight anywhere, it's best to keep your stay short. Arrive late and leave early to avoid disrupting the local traffic or visitor flow. The goal of overnight RV parking is to be quick and inconspicuous. Avoid setting up camp and getting too comfortable. Most overnight parking areas allow you to stay for one night only, so the easier and quicker you can get some sleep and get going, the better.
Additionally, never dump trash or wastewater outside of designated dumping areas. Respect the space you're parking in and leave it as you found it.
Best Apps for Finding RV Parking
Knowing how to find free RV parking can make your road trip much easier and stress-free. Technology can be extremely helpful for finding free overnight RV parking. Numerous iPhone, Android and web applications exist to help you find everything from campsites and untraditional RV parking to dump stations and gas stations. Here are several apps and websites that RVers frequently use to find RV parking.
Harvest Hosts
Harvest Hosts is a unique app that connects you to a network of thousands of small businesses like farms, breweries, wineries and museums across North America that allow you to book overnight parking at their locations. As a Harvest Hosts member, your parking at these host locations is free, though you should purchase something from the business during your stay as a thank-you and to show your support.
Most businesses prefer you to arrive during their business hours so they can give you directions and the like. These parking options do require some planning, as you're subject to the hosts' availability, and most only allow one-night stays, making it ideal for traveling stops.
Boondockers Welcome
What started as its own app and is now part of Harvest Hosts, Boondockers Welcome is another unique option for finding untraditional campsites and RV parking. With a Boondockers Welcome membership, you can find individuals that let you park your RV in their private backyards or driveways.
You'll need a self-contained RV with a bathroom and wastewater system when using both of these apps, though Boondockers offers some flexibility, as hosts set their stay limits and arrival times. This is a great option if you travel through urban areas and want to park off the streets.

Campendium
Known as an app created by campers for campers, Campendium allows you to search for affordable campsites and free parking, ranging from business parking lots to luxury RV resorts. The app has filters that allow you to narrow your search based on location, available hookups, dump stations, price and other factors. Each campsite lists important information like what size RVs fit in the site, what type of cell signal is there and reviews from other RVers.
You can access most necessary information with the free version, though the paid membership offers more filters and search capabilities. Most importantly, moderators vet the information in the app to ensure accuracy, so you can trust what you read.
iOverlander
iOverlander also allows you to search for campsites over a map, though this app can also show you where to find other essentials like propane and water refill stations. This app is especially helpful for finding informal or untraditional "sites" like free overnight street parking.
iOverlander is strictly based on user reports which means two things — you'll find more options, but they aren't vetted, so some information may not be updated. Be sure to check how recently information was posted and whether several users have confirmed information to make an informed decision.
The Dyrt
The Dyrt is a similar app to Campendium and iOverlander in that you can search for campsites using different criteria and filters, and it provides helpful information about each site. The free version is pretty basic, giving you the essentials. The Dyrt Pro paid membership offers more features, including an off-the-grid campsite filter, road trip planner and discounts on hundreds of sites nationwide.
Allstays
Much like the previous apps, Allstays features search and filter options to find free overnight parking and thousands of campsites. This app differs because it updates in real time to show you options along your drive and can provide directions to specific sites. Allstays also offers unique navigation features that help you avoid certain conditions like steep grades or low bridges.
Recreation.gov
Recreation.gov is an app and website that allows you to find campsites and overnight parking on land that the U.S. federal government regulates, like National Parks. This app shows you availability and amenities and allows you to make reservations through the app. Compared to the other options, this app is relatively simple and is limited to federal land, though if you're camping specifically in these areas, it proves extremely helpful.
Stores That Allow RV Overnight Parking
You may also have the option to park at various businesses and chain stores nationwide. While popular chains like Walmart typically permit overnight parking, certain locations may opt against it. RV parking is generally at the discretion of the store manager or owner. Since overnight RV parking allowance can vary between store locations, it's best to call ahead and ask questions. You should also look for signs in the parking lot when you arrive to see if there are any restrictions.
Here are several stores, restaurants and businesses you can potentially park at overnight.
Walmart
In the past, Walmart was the go-to overnight RV parking spot. While more locations have restricted overnight parking, their general rule is to allow overnight campers. Walmart stores typically have security cameras in their parking lots. Walmart is mostly a go-to parking spot simply because of the sheer number of locations — you can find one in every state.
Bass Pro Shops and Cabela's
Bass Pro Shops and Cabela's merged and are some of the biggest sporting goods stores in the U.S. While these stores have locations in nearly every state, their lots tend to be less crowded than Walmart, making it easier to find a spot. Some locations even have large parking lanes for RVs.
Camping World
Though Camping World has significantly fewer locations than Walmart and Bass Pro Shops and Cabela's, these stores typically welcome RVers to park overnight. These locations typically have big parking lots, which may give you some extra privacy. If you stop here, you can also restock your camping supplies!
Cracker Barrel
Cracker Barrel has offered free overnight RV parking for several years, and while it's still ultimately up to the manager at each location, most will allow you to park. Cracker Barrel restaurants typically close between 9 p.m.-10 p.m. depending on the location and won't reopen until 7 a.m. — plenty of time to get some rest and even grab a meal before hitting the road.

Casinos
Casinos often offer overnight parking, and some even have hookups and designated RV parking. Some locations may charge an overnight fee, while others let you park for free. Calling ahead is the best way to learn a casino's overnight parking policies.
Costco and Sam's Club
Costco and Sam's Club are bulk discount stores with large, well-lit parking lots. Sam's Club is a Walmart brand, so they typically adopt the same overnight parking policies. Unless the Costco parking lot has signs prohibiting overnight parking, you're usually good to go. Try to park as far away from the entrances as possible, especially during business hours, to avoid blocking customers.
Remember that you don't need a membership to access these stores' parking lots, but you will need one to get inside.
24/7 Gyms
Many fitness gyms that are open 24/7 will allow you to park overnight since they're still open. For example, check out Planet Fitness, Anytime Fitness or 24 Hour Fitness gyms. If you have a membership, you can even run in for a quick workout and use the bathroom and shower facilities before camping out overnight.
Pilot Flying J and Love's Truck Stops
Truck stops are often designed for free overnight parking, and many even offer showers, food and fuel. Love's and Pilot Flying J are well-known for being good overnight RV parking spots. Primarily located along freeways and interstate highways, truck stops have a constant flow of drivers in and out and are generally well-lit.
Churches and VFWs
Though not traditional businesses, many churches allow RVers to park in their lots overnight. Some VFWs may also allow overnight parking, especially for veterans. When considering these options, it's best to call ahead and ask for permission.
Finance Your RV Through My Financing USA

Looking to upgrade your RV or start a new adventure? At My Financing USA, we connect you with lenders nationwide to get you the best rates and terms, regardless of your credit score, so you can finance your RV purchase. RVs provide a convenient way to travel, and we can help you get on the road quickly. Fill out our secure online application to get started today!
---
Additional Resources on Road Trips:
---