RVing is one of the joys of life. Seeing new sights and sleeping where you park brings a whole new definition to the word "freedom." If the open road is calling you, then RVing may be the perfect lifestyle. But there's one issue — you have a dog to take care of.
Quick Navigation:
If you're thinking, "I want to go RVing with my dog, but that would be impossible," take heart! Many people across the country take their four-legged companions with them on their adventures, and you can, too.
We'll look at RVing with small dogs, large dogs and multiple dogs of multiple sizes! Whatever your situation, knowing how to RV with dogs can change the way you approach your future adventures.
Why Camping and RVing With Dogs Is Worth Pursuing

RVing with dogs may seem like a difficult task to some, but dog lovers know that it's an option worth pursuing. After all, you love spending time with your dog after a long day of work or on a casual weekend afternoon. Being able to take your dog with you on an RV camping journey would be like living the dream.
The truth is that this dream can become your reality, but it's going to take some hard work, planning and commitment. RVing with dogs can be stressful at times, but the rewards are worth every moment and proverbial bump in the road.
You'll have the opportunity to see new sights with your adoring pup. You can go on hikes together, relax around a warm fire and even wait out a storm in the comfort of your RV. Many people say that going on an RV trip is the experience of a lifetime. And think about it — the only thing that could make that experience better would be if your loyal canine friend was by your side through it all.
Plus, it would be hard to leave those adoring eyes behind with a dog sitter or in a kennel! Learn how to travel in an RV with dogs so you can take them along and make some of your best memories together.
Tips for RVing With Dogs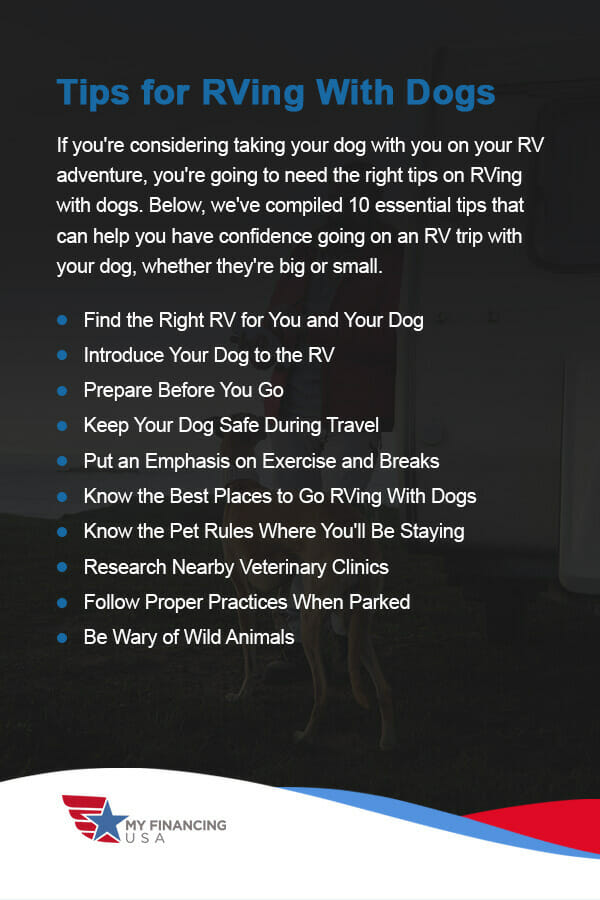 If you're considering taking your dog with you on your RV adventure, you're going to need the right tips on RVing with dogs. Below, we've compiled 10 essential tips that can help you have confidence going on an RV trip with your dog, whether they're big or small.
1. Find the Right RV for You and Your Dog
If you have yet to buy an RV, then this is the first step in the process. Buying an RV first may seem obvious, but buying the right one for you and your dog can be a bit more tricky. Here are some factors that you should consider as you begin your search for the perfect RV for your journey:
The number of people and dogs: Determine how many people and dogs will be joining you on your trips. Will your spouse or partner be joining you? Do you have more than one dog you'd like to take along? You'll want a bigger RV if more people and dogs will be sharing the adventure.
Flooring: Find an RV with hard flooring. Hard flooring is much easier to clean than carpeting should your pup have an accident in the RV or track in mud from the outdoors when you're parked.


Comfortable sleeping quarters: Many RVs have slide-out sections to give you more room when you're parked. But some campgrounds and truck stops may have rules prohibiting you from using these slide-outs to save room. Try to find an RV that allows you and your dog to sleep comfortably, even when you're unable to use the slide-outs.
Access in and out of the RV: Make sure you choose an RV that provides easy entry and exit for you and your dog. This is even more important if your dog has physical conditions that would make stairs difficult.
Temperature control: Reliable temperature control options are crucial when RVing with your dog. You must keep your dog safe and comfortable on your travels, especially if you'll be leaving them to go on a hike or out to a restaurant at any time. Temperature control keeps your dog safe on the hottest and coldest days. Ensure your RV has temperature control options you can rely on.
2. Introduce Your Dog to the RV
The last thing you want to do is assume your dog will be fine living the RV life without any pre-exposure. Every dog has their own temperament and ability to adjust to new things. It's best to introduce your dog to your RV before hitting the road. A happy, comfortable dog will make a huge difference on your trip.
Here are some techniques to try:
Spend time around and inside the RV: Your RV may be an unfamiliar object to your dog, which can lead to anxiety. Instead, familiarize your dog with the RV by spending some time inside and around it together. Bring treats along to further help the cause. Your dog will begin associating the RV with good feelings and positive interactions.
Take naps or spend a few nights sleeping in the RV: The next step is to make your dog feel more comfortable about sleeping in the RV. Dogs enjoy sleeping in familiar places where they feel safe. To help associate safe feelings with your RV, try taking the occasional nap or full night's sleep in your RV with your dog. They may be hesitant at first, but soon enough they may feel as comfortable sleeping in the RV as they would in your home.
Take smaller, shorter trips before bigger ones: Lastly, you should work up to longer trips with your dogs by taking shorter ones first. Start with day trips and move up to overnight stays. This will help your dog feel more comfortable traveling in the RV and spending gradually longer amounts of time away from home. Eventually, they'll be ready for that long trip you've been planning for.
3. Prepare Before You Go
Everyone makes preparations before taking a trip or going on any sort of vacation. So you can imagine that taking your dog with you on such an occasion will require a bit more planning.
Knowing how to RV camp with a dog means preparing for any circumstance you may face along the way. Here are some preparation tips to help you adapt to various issues and prevent problems from occurring:
Visit the vet: Take your dog to the vet to make sure they're up to date on all vaccines and in good overall health. Keep a copy for your records and take them on your travels in case you need them. Taking your dog to the vet will also ensure they're in the best physical condition for the journey ahead.
Gather essential items: Write a checklist of all the items you'll need to bring to give you and your dog the best experience possible. Necessary items may include dog toys, a dog bed, a leash or harness, medications, a collar, non-spill food and water bowls and cleaning supplies.
Bring extra food and water: When taking an RV trip, you could find yourself in unexpected situations as a result of weather patterns, mechanical issues or other circumstances. Having extra food and water on hand will keep your pup satisfied and healthy, even if things go differently than you planned.


4. Keep Your Dog Safe During Travel
You, your dog and the open road — what could be better? Embarking on your next adventure with your dog will be a special experience, but you'll need to learn how to travel with dogs in an RV before your wheels start turning. With the right practices, your dog will stay safe and happy the entire time you're on the road.
Here are two crucial aspects to remember when RVing with your dogs:
Always keep your dog in the same area as you: Keeping your dog in a tow-behind camper as you drive the towing vehicle is one of the most dangerous things you could do. Falling or shifting objects can harm your dog, and your dog could also suffer from extreme heat or cold. Your dog should be near you at all times to keep them as safe as possible.
Keep your dog secured: Use a doggie seatbelt or keep your pup in a secured crate whenever the RV is in motion. Doing so will help keep your dog safer, especially if you ever have to slam on the brakes.
These two tips can help you understand how to travel with large dogs in an RV. But they're also useful when traveling with dogs of any size. The trick is to keep your pup secured and in the same vehicle as you.
5. Put an Emphasis on Exercise and Breaks
While taking long road trips in your RV, it is important to remember that your pups will need entertainment and exercise — just like you. Take plenty of breaks along the way to give your dogs time to relieve themselves, get some fresh air, eat some food and drink some water. Your dogs will feel more content when it's time to hit the road again, which will limit distractions and help your trip go as smoothly as possible.
Here are some important factors to keep in mind:
Consider the breed of your dog: The size and breed of your canine will be essential in determining how often you should let them get some playtime in on your journey. Some breeds need more time to expend their energy than others. Knowing your dog's unique needs is important for keeping them healthy and happy on the road.
Be mindful of rest area protocol: Many rest areas are dog-friendly. But you may need to look or ask an associate for directions to the proper area for dogs to do their business. And be sure to pick up after you're pup whenever necessary!
6. Know the Best Places to Go RVing With Dogs


One of the fun parts of going RVing is that you get to experience several destinations on your journey. If your goals include seeing many incredible sights, then you may want a general idea of where you'll be stopping along the way. This is especially important when you have your canine companion by your side the whole time.
Before you even hit the road, scope out some of the best places to go RVing with dogs. Here are some of the best options:
Dog-friendly public campgrounds: One of the easiest and most popular options is to visit dog-friendly public campgrounds. Many of the other campers there will be RVing with dogs of their own, creating a sense of community. These campgrounds may also have fun exercise and activity options for you and your dog to enjoy together. They often have electricity or plumbing hookups for your RV, as well. Reserve these popular camping spots in advance!
State parks: RVing with dogs at state parks can be an amazing experience. You'll see incredible sights and have plenty of land to roam and enjoy. Many state parks are dog-friendly, but it's best to research the parks you want to visit ahead of time just in case. When visiting, be sure to follow all signs and rules during your stay.
Boondocking or dispersed camping: This type of camping is also known as dry RVing, which is when you set up camp somewhere in the wilderness without any utility connections like electricity or water. Camping in the wilderness means you can enjoy the land with your dog as you wish. But you must make sure to follow the seven official Leave No Trace principles so the next adventurer can enjoy the land as you did.
7. Know the Pet Rules Where You'll Be Staying
Finally, we've arrived at a tip that pertains to one of everyone's favorite parts about RVing — getting to your destination. Whether your trip is an overnight stay or longer, you're going to be glad to arrive. And your pup is going to be excited to arrive, too. But you need to be conscious of the rules before letting your dog run wild.
If you choose to set up camp at an RV park or public campground, you're likely going to be near other campers and RVers. At dog-friendly campgrounds, your dog may hear, smell or see other dogs. This can cause them to get excited, and quite the ruckus could occur. Rules are in place to keep these instances to a minimum.


Before you choose a campground, do your research. Call ahead or read online to see what their rules are, such as size or breed restrictions. When you get there, read all signs to ensure your dog behaves properly. Everyone at the campground wants to enjoy themselves, so following the dog-related rules is important.
8. Research Nearby Veterinary Clinics
This step is especially crucial if you plan on staying in a certain area for an extended period, but it's also important if you'll be passing through. An emergency with your dog could arise at any time, so you need to be prepared.
Look up veterinary clinics in the area of your campground before and after you arrive. Make calls and ask about their emergency policy for dogs who are not regular clients. When you find a vet who would be willing to help your dog in a pinch, you'll experience greater peace of mind as you relax at your new campsite.


9. Follow Proper Practices When Parked
Once you reach your campground, you're going to want to stretch out and unwind after a long journey. You'll have plenty of time to do this, but you still need to be aware of your dog and the proper practices that you must follow. Here are some actions to remember:
Keep your dog on a leash: Letting your dog roam the campground freely is poor etiquette. Keep your dog on a leash so they stay within the bounds of your campsite.
Keep your dog safe when doing a "humans only" activity: You may want to go for a hike or participate in an activity where dogs have to stay behind. When this occurs, keep your dog in your RV with vents open and fans on. Turn on the heat or air conditioning depending on the time of year. You'll also want to put out food and water for your dog in case your activity lasts longer than you expected. For extra peace of mind, set up a system where your RV will turn on automatically if the climate controls run the battery too low.
Limit disturbances: People will expect to hear some barking at a dog-friendly campground. But you'll want to ensure your dog keeps their barking to a minimum, especially when people are trying to sleep or you're away doing another activity. Put on some white noise or soft music to keep your dog from hearing outside noises. Give your pup some of their favorite toys to keep them occupied while you're away or asleep. It may also be a good idea to close curtains so your dog is can't see other canines from the windows.
10. Be Wary of Wild Animals


RVing with dogs can be a great experience, but it's important to remember where you are. You'll be spending much time in nature, and that means you could contact wild animals throughout your journey. Some animals may seem harmless, and some may only be curious or scamper away upon the sight of you and your dog. But others could be hungry, dangerous or have violent defense tendencies should your dog be too aggressive when trying to greet them.
Protecting your dog is one of the most important things you can do as their owner — even if your dog is big enough to protect you from some wild animals. Keep your dog on a leash when hiking or walking to stop them from chasing after any animal they see or smell. Keeping your dog contained is even more crucial if the animal on the other end of the smell is something dangerous like a bear or a coyote.
But you should also seek to protect the wild animals that share the wilderness with you. It's their home, so you should do all you can to protect them so they can continue their lives unharmed. Most wild animals are uninterested in humans and may even be afraid of them.
Choose the Best RV for Your Adventure With a Loan Through My Financing USA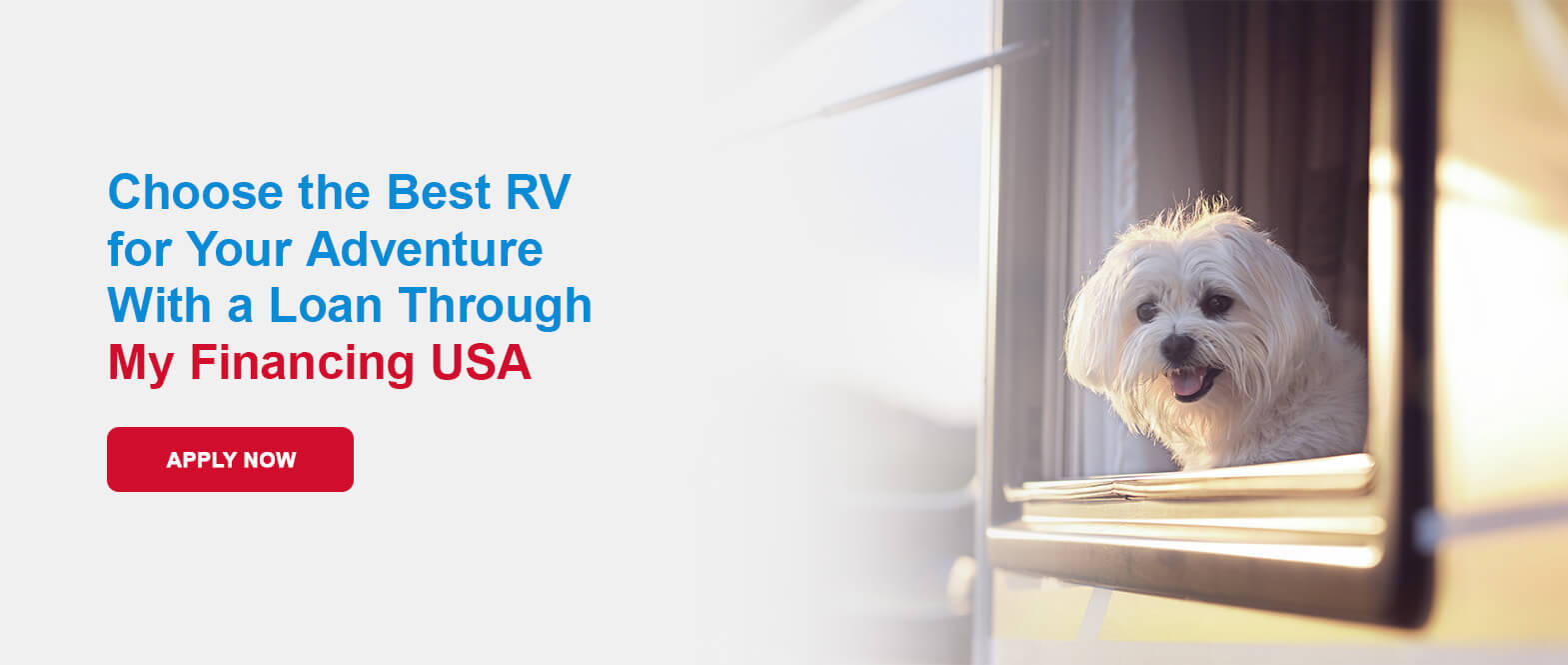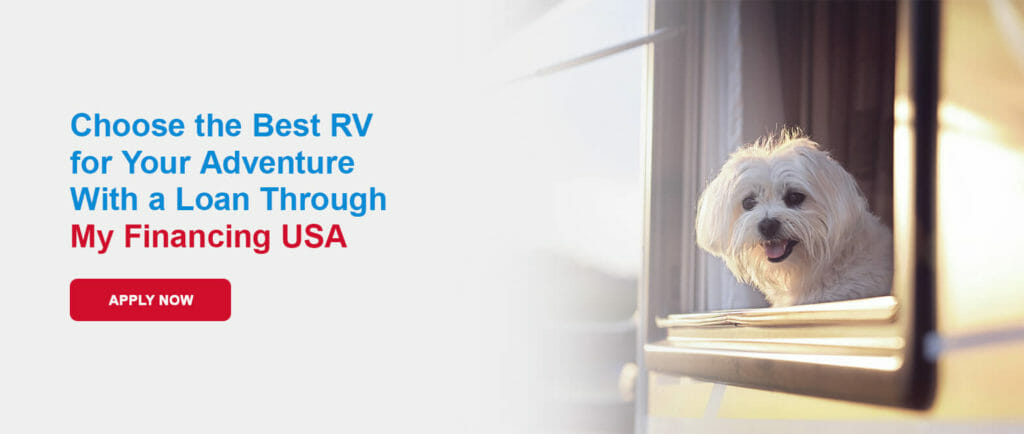 When it comes to choosing an RV for you and your dog, you need freedom of choice. And for that, you need financial flexibility. My Financing USA is here to help you achieve that level of financial freedom. With our help, you can qualify for an RV loan before going shopping. You'll have a better idea of what you can afford, helping you pick the perfect RV for you and your pup.
We invite you to apply for an RV loan today to take the next step toward your RV adventure. Or you can contact us online to learn more about our financing options.
---
Additional Resources on RVs:
---