From pristine white beaches and towering redwood forests to bustling cities and gorgeous deserts, California has it all. With over 65 million visitors a year, California is also one of the most visited states in the nation. Planning a road trip through California promises to delight, with versatile destinations to please everyone in your road trip crew.
One of the best ways to see California's sights is by car or recreational vehicle (RV). Driving allows you to stay anywhere and travel all over the state as you take in its marvels. Learn how to plan a road trip to California in your RV below!
Top California Road Trip Destinations
With an area of over 163,000 square miles, California has a wealth of sights to explore. When figuring out how to plan a road trip to California, one of the first steps is to pick your destinations. Determine which locations stand out to you as must-sees so you can map your route efficiently. Because many of the best sights in California are a few hours apart, driving through the state is your best bet to see it all.

Here are a few of the top destinations to cross off your California bucket list:
1. San Francisco
Many visitors choose to start their California road trip in a large city like San Francisco and make a loop around the state. However you decide to plan your route, San Francisco is a must on any California itinerary. The city has enough to do in a week by itself, so you won't run out of attractions. Here are a few of the most popular to give you some ideas:
2. Los Angeles
One of the most famous cities on the West Coast, Los Angeles has everything from expansive beaches to lively nightlife. This city can keep you busy, so plan a few days here to get the full experience. Besides the great shopping, dining and beaches, here are some Los Angeles attractions to fill your visit:
3. Joshua Tree National Park
California has some spectacular and vibrant cities, but the state also boasts diverse landscapes visitors can experience in the national parks. For outdoor adventure lovers, Joshua Tree National Park should be top of the list. Joshua Tree is shy of a three-hour drive from Los Angeles, making it an accessible destination to access in your RV.
Joshua Tree National Park has a stunning variety of plants and wildlife. The star of the park is the iconic Joshua tree, known for its scraggly, sprawling branches and dagger-like leaves. Some of the wildlife native to the park include Scott's orioles, wood rats and desert night lizards.
Explore the park's surreal landscape by driving the paved road or hiking on foot. Visitors can camp, bike and go star-gazing. While backpacking, you can climb the otherworldly rock formations and relax by the natural springs. There are also plenty of photo opportunities for photography enthusiasts. Camping here is a bit more rugged, as there are no full RV hookups.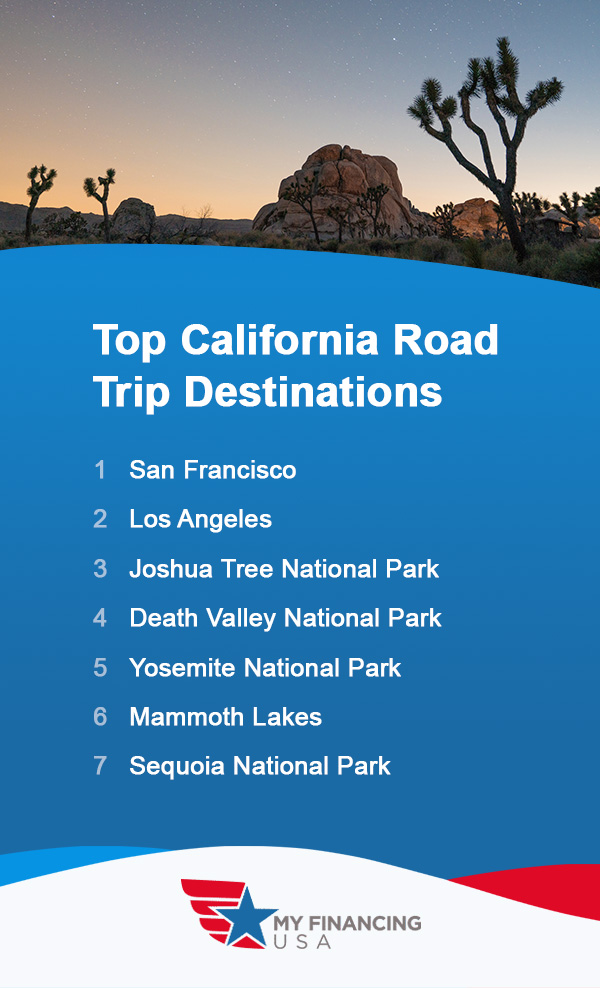 4. Death Valley National Park
Another excellent hiking spot is Death Valley National Park. This national park has the lowest elevation of anywhere in the U.S. and is the hottest and driest place in North America.
There is little vegetation here, making the entire park eerily dry. Yet the towering mountain peaks are sometimes dusted with snow, and if you catch the valley after a rare rain, you can see sprawling fields of wildflowers. Most of the time, though, Death Valley is a stretch of canyons, craters and rock formations.
Some of the most popular destinations within Death Valley National Park include the salt flats, badlands and sand dunes. Make the trip to the Badwater Basin salt flats, which have the lowest elevation in North America. Take your RV or rental car on a scenic drive and stop to see some animal tracks or take sunset photos.
With some of the hottest recorded temperatures in the world, the park can be inhospitable. Visitors should prepare adequately for their stay by bringing lots of water and staying on the clearly marked trails.
5. Yosemite National Park
A necessity on any California road trip is Yosemite National Park. This park is located in the Sierra Nevada mountain range, about a four-hour drive from Death Valley National Park.
Activities at Yosemite National Park range from fishing and skiing to horseback riding, and you could easily spend several days of your California road trip exploring the area. The park is well-known for its steep granite cliffs and giant sequoia trees, best seen at Mariposa Grove. Glacier Point is another favorite attraction, and visitors can also explore the park's extensive falls and sparkling lakes, from Bridalveil Falls and Yosemite Falls to Mirror Lake.
Perhaps the most popular activity is hiking, which you can do year-round. If you want a guided hike, consider the Yosemite Valley tour. From there, you can see most of the waterfalls and the granite cliffs of Half Dome and El Capitan. 
6. Mammoth Lakes
Northwest of Death Valley National Park is Mammoth Lakes, a town known for skiing. On your RV drive to reach this scenic town, you'll pass through the Sierra Nevada mountains and catch some gorgeous mountain views. When you reach Mammoth Lakes, you can shop or check out the local craft beer companies.
You'll have various activities to choose from depending on the time of year. In the winter, the main skiing area is the stunning Mammoth Mountain, which has a variety of slopes for skiers of all ability levels. If you're taking a summer California road trip, you can still explore Mammoth Mountain by mountain bike or on foot as you hike the trails.
In warmer weather, you can hike around several lakes surrounding the town of Mammoth Lakes and enjoy the views of alpine wildflowers. You'll also find natural hot springs where you can relax after your day of hiking. Set up your hammock by one of the lakes and take a nap or read a book.
7. Sequoia National Park
Complete your road trip to California by spending some time hiking in Sequoia National Park. This national park is the best place to experience California's ancient sequoia trees. Visitors can go hiking, see plenty of wildlife and even take a turn on the ski slopes. You might also enjoy participating in activities like rock climbing and the park's other year-round activities.
Without a doubt, the highlight of Sequoia National Park is the sequoia groves. These majestic trees are a must-see for any California road trip. Many of the mature sequoia trees reach 10 to 20 feet in diameter. Hiking beneath the towering branches of these trees brings a sense of peace. Along the way, you'll enjoy photo opportunities with these gentle giants and glimpses of wildlife.
You can reach most of the groves by road, while others require a strenuous hike. The biggest sequoia grove is called Giant Forest and contains the General Sherman Tree, the largest living sequoia by volume. Driving through scenic passes beneath the sequoia branches is a unique experience.
When to Take a California Road Trip
After picking your destinations, the next step in planning a road trip to California is deciding when you'll make the trip. Plan your California road trip thoroughly, including choosing the best time to see the top sights, so you can maximize the state's natural beauty.

California is an excellent destination for year-round road trips, as the weather remains pleasant in many parts of the state. But you should still know a few factors before setting your road trip dates. Check out some tips for choosing which destinations to visit in each season below:
Where to Stay in California
Visitors have many options for accommodations while on a road trip to California. If you're taking a rental car, you'll have no problem finding hotels or other vacation rentals. Be aware that peak tourist season could increase prices, so booking far in advance is best.
California offers many excellent places for RV camping, so driving your RV for your road trip can solve many issues in finding accommodations. Many national parks provide RV hookup sites. You can also find a wide variety of private campsites with additional amenities to make your trip extra relaxing. Book these sites in advance to ensure you have everything you need while camping on-site.
Frequently Asked Questions About How to Plan a California Road Trip
In researching how to plan a road trip to California, you might come up with a few questions about logistics, planning and more. Here are the answers to some of the top questions you might ask about planning a California road trip:
1. Can You Get a Pass for National Parks in California?
The National Park Service offers National Park passes for an annual fee. This pass lets you into over 2,000 federal recreation sites, so you can purchase your pass online ahead of time and avoid fees at the entrance to the national parks in California. These passes cover entrance fees and other standard amenity fees for the driver and passengers in a personal vehicle, which includes RVs.
2. How Long Does It Take to See Each Destination?
If you're low on time, you can check off each California road trip destination in a day per location. If you plan your activities carefully, you might even be able to check off a couple of National Parks in one day. Of course, spending more time in and around your destination gives you more time to explore. For instance, hiking the longer trails at Yosemite National Park will probably take you all day.
3. How Can I Plan for a Day Trip to a National Park?
The best way to prepare for spending a day at a national park is to plan where you'll eat and find gas ahead of time. Many national parks don't have gas stations nearby, so it's essential to make sure your RV has plenty of fuel. Pack a cooler with your food for the day and bring lots of water bottles. You can also read the information on the parks' official websites about hiking tips, closures and other notices.
Plan Your Road Trip to California Today

California has so much to offer, and taking a road trip is one of the best ways to see all the beauty. Whether you're into rugged camping in the desert, fine dining in the city or skiing the mountain slopes, going on a California road trip is an excellent way to enjoy the state's wonders.
Financing an RV is a great way to start your road trip sooner. If you're interested in financing an RV, My Financing USA can help. We finance RVs across the lower 48 states and search nationwide to find the best rates for you.
Apply for RV financing today and our team will get in touch with you within 48 to 72 hours. Or, contact us today to learn how to make your travel dreams a reality with RV financing. 
---
Additional Resources on Road Trips:
---