The United States is home to 63 beautiful and bucket-list-worthy national parks. Visiting them can make for an awesome road trip adventure. Planning a national park road trip comes with much to consider, so breaking down the process into these seven steps can simplify it. From choosing the perfect destinations to traveling tips for bringing your pets along, we have you covered.
Learn more about how to plan a national park road trip and some tips to make planning easier on you.
Quick Navigation
Step 1: Pick a Park

The first step to planning your adventure is deciding where to go. When deciding on which national park to visit, consider these factors:
Distance
Think about how long you want your trip to last and how far you are comfortable driving. Choosing options close to your home could save you money and require fewer hours on the road. Once you know how far you're willing to go, you can narrow down destinations within that distance.
Budget
Your budget will also help you figure out which park to pick. First, determine how much you are willing to spend on your road trip. Calculate the cost of everything, including:
Food
Rentals
Accommodations
Emergency funds
Make a list of the parks you can travel to within your set budget.
Scenery
What type of scenery are you most interested in seeing? There are plenty of options when it comes to national parks. Whether you want to see a desert landscape like Joshua Tree National Park or gushing geysers in Yellowstone National Park, there are all kinds of scenery to choose from.
Popularity
Ask yourself what kind of experience you're seeking on your road trip. Are you looking for a peaceful trip to a remote park that isn't busy? Or do you want to visit tourist hotspots and connect with other travelers and locals? Consider the park's popularity and what you're looking for when deciding which one to go with.
Season
The season can change your experience visiting a national park. Some parks like Mount Rainier National Park are ideal for traveling to in the summertime, while parks like Everglades National Park are better in the colder months. Do some research to discover the best times of year to visit the parks you're interested in.
Step 2: Build Your Itinerary
When you have an idea of which park or parks you want to visit, it's time to start building your road trip's itinerary. We suggest starting with a spreadsheet. Create columns for the following information:
Date
Day of the week
Starting location
Destination
Drive time
Activities
Accommodations
Websites and online guides can help you narrow down where to stop for food and the best places to stay. Be flexible when creating your itinerary. As you book accommodations and activities, you may need to move some things around — book these things first and plan around them. If you wait to reserve your spot, you may spend your time planning around an already booked-out activity.
Step 3: Decide How You'll Travel
You have the choice of driving a car or recreational vehicle (RV) on your road trip. There are advantages and factors to consider with both options, so you should choose whichever suits your travel style better.
When deciding how you'll travel for your road trip, prepare by thinking about:
Insurance: Whether you're driving an RV or car, you'll need to check in with your insurance provider and make sure you have adequate coverage before heading out for your trip.
RV financing and loans: If you are thinking about getting an RV for your trip, financing options can help make the process easier for you. Consider adding extra protection like RV Tire and Wheel Asset Protection or Guaranteed Asset Protection.
Renting: You have the choice between renting and driving your own ride. Some people choose to rent to avoid putting mileage on their personal vehicles. Others drive their own car or RV because of its convenience and familiarity.
Roadside assistance: Enrolling in a roadside assistance membership like AAA can make life much easier if you experience car trouble during your trip.
Space: Think about how long your road trip will take and how much you'll need to pack for it. RVs tend to have more space and room for storage than cars or trucks. You'll want your passengers to feel comfortable throughout the ride and not overly cramped in the car.
Step 4: Pack
One of the biggest tasks when preparing for a road trip is remembering to pack all the essentials. We've split them into three sections to make it easy:
Driving Essentials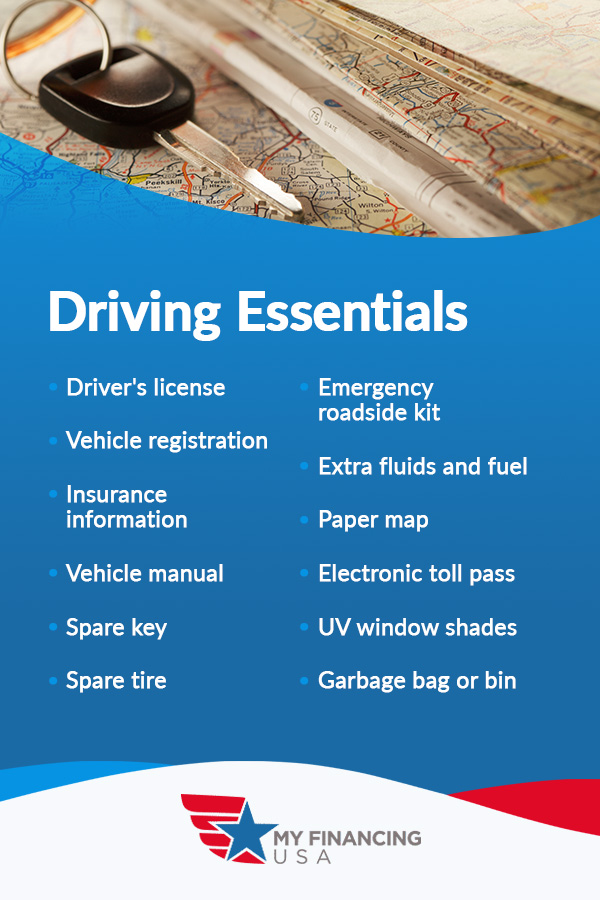 Being prepared can give you peace of mind and enhance your road trip experience. We suggest making a checklist specifically for your driving must-haves to ensure you're taken care of on your journey. Pack these driving essentials for your national park trip:
Driver's license
Vehicle registration
Insurance information
Vehicle manual
Spare key
Spare tire
Emergency roadside kit
Extra fluids and fuel
Paper map
Electronic toll pass
UV window shades
Garbage bag or bin
And if you are traveling somewhere in winter weather, consider packing tire chains and an ice scraper, too. Your future self will thank you!
Personal Essentials
You'll want to make another checklist for personal essentials for everyone joining your road trip. Remember to include the following:
Phone charger
Travel pillow
Blanket
Chapstick
Sunscreen
Sunglasses
Towels
Spare toilet paper
Hand sanitizer
Masks
Insect repellent
Binoculars
Toiletries
First aid kit
Clothing
Hiking or walking shoes
The key to a great trip is being comfortable. Having these personal items will make your time on the road more enjoyable.
Food and Drink Essentials
Don't forget to pack food and drinks for your national park road trip. There could be long stretches of road without any place to stop to grab a bite to eat, so it's best to have the following with you for your drive:
Travel cups
Snacks
Eating utensils
Bulk water
Reusable water bottles
Cooler
Reusable baggies
Trash bag
Miscellaneous Items
To make the most of your trip, we've included a list of miscellaneous items to bring along:
Music or audio: Nothing is better than listening to your favorite songs or podcasts while driving. Make sure you have the accounts you'll need for audio entertainment. Download audio books or playlists before you leave in case you encounter a stretch or road where service is spotty.
Games: There are tons of fun road trip games that don't require cards or props, but it is nice to have a card deck or puzzle book to pass the time.
Journal: Consider packing a notebook or journal to document your trip. You can add pictures from your adventures and save your favorite memories for years to come.
Step 5: Stay Safe
Staying safe should be a top priority for any road trip. There are a few different things you should be aware of for the smoothest and safest national park journey:
Driving safety: Double-check that you have your license and insurance information, and keep emergency supplies on hand in case of mishaps like a flat tire or dead battery. Also remind all passengers to avoid distracting or startling the driver while on the road. Ensure your GPS navigation system is easy to view, too, so the driver doesn't have to take their eyes off the road for more than a second.
Health and safety: Make sure your road trip crew is ready to use public restrooms by keeping hand sanitizer close by and using it after stopping at rest areas. Bring a first aid kit, as well, to prepare for minor accidents along the road or at stops.
Weather safety: Check the weather forecast regularly during your travels. Avoid driving through inclement weather. Bring clothes for all kinds of conditions, and make sure you are protecting your skin from bugs and sunburn.
Personal safety: Follow all of the park's rules and remember to stick with the buddy system when stopping at rest stops or while out on a hike.
Step 6: Account for Kids and Pets
Taking a road trip with kids or pets can go more smoothly if you're prepared. We put together some tips that could help make your trip with furry friends or little ones a little easier.
Tips for Taking a Road Trip With Kids
When bringing kids along on a road trip, make sure they have fun and feel prepared. Consider these tips to make the experience better for everyone:
Let them know what to expect: It can be helpful to clue your kids in about what the road trip will be like and what rules they'll have to follow. Explain how often you'll be stopping and how important it is to avoid distracting the driver.
Practice taking long drives: Going on long car rides can prepare kids for how long they'll be sitting. It also allows them to ask questions and get used to being a passenger.
Have snacks ready: It's always best to have snacks on hand for hungry kids and adults alike. This will keep your road trip crew content.
Plan for possible motion sickness: Something you might overlook before a trip is the possibility of your kids getting motion sickness on the drive. Be sure to have something on hand to help with nausea and vomiting, and pack extra disposable bags just in case.
Make sure they're comfortable: The key to getting your kids to cooperate for a road trip is keeping them relaxed in their seats. Make sure to have pillows and blankets for nap time and comfortable outfits for long periods of sitting.

Tips for Taking a Road Trip With Pets
If you've decided on bringing your dog on the road with you, it's important to take some steps to keep them safe and happy. Check out our tips for taking a road trip with pets:
Plan for more pit stops: Bringing a pet along on a road trip means making more frequent stops. Taking a 15-minute break every three to four hours is usually enough.
Bring a pet first aid kit: Whether you are going hiking or just spending time in nature, keep a pet first aid kit nearby in case of an emergency.
Pack collapsible pet bowls: Keep your pets fed and hydrated without taking up too much cargo room with collapsible pet bowls. Try to stick to the same feeding schedule you would at home for your furry friend.
Keep them active: Bring toys along and get your pet moving when you stop for potty breaks. This will burn off some energy and make them less antsy on the drive.
Use a pet seat belt attachment: Keep your furry friend safe on the ride by utilizing a special seat belt attachment that hooks onto their harness.
Step 7: Plan Where You'll Stay
You may need accommodations for overnight stays when taking a multi-day road trip. There are a few different options, and every national park has its own variety of places to stay on-site or nearby. Here are some possible choices:
Hotels and lodges: If you are looking for comfort and luxury on your road trip, you may want to find accommodations at hotels or lodges.
Vacation rentals: Consider renting out a vacation home close to the national park you are visiting using services like Airbnb or Vrbo. This is a great option if you bring kids or pets along for the trip.
Camping: There are various styles of camping to choose from, including backcountry and car camping. If you're traveling with an RV, this will likely be the easiest option. Be sure to plan out your campsites in advance. You may need to register for a spot and read up on the campsite rules.
Glamping: If you can't decide between hotel accommodations and camping, you can opt for a hybrid of the two and go glamping. The word refers to a form of camping with more luxurious facilities, like sleeping in a real bed and having Wi-Fi.
The Best National Parks Trips
When you plan your travels, consider which parks are close to each other. You can make the most of your road trip by visiting two parks on your adventure instead of only one. Here are a few suggestions:
Yosemite National Park and Death Valley National Park
Yosemite National Park in California is less than a four-hour drive away from Death Valley National Park in both California and Nevada. These parks are their most active during the summer months and are perfect for people who love hiking or mountain biking.
Biscayne National Park and Everglades National Park
In Florida, Biscayne National Park and Everglades National Park are less than an hour-long drive from one another. If you enjoy adventurous outdoor activities like snorkeling or exotic bird watching, this trip is ideal for you. We suggest visiting these parks during the cooler months for the most comfortable experience weather-wise.
Grand Teton National Park and Yellowstone National Park
The drive between Grand Teton National Park and Yellowstone National Park is only about two hours long. Grand Teton is in Wyoming, and Yellowstone spans across:
The peak time to visit this region is in the summertime. Between hiking and rafting, there are plenty of fun, family-friendly outdoor activities for you to do on your road trip here.
Finance Your Road Trip RV With My Financing USA

Road tripping in a recreational vehicle can be a comfortable and awesome experience. My Financing USA offers personalized service to assist you in finding a matching lender, no matter if your credit history is good or low.
We work with various RV companies so you have plenty of options when picking your new vehicle. We also have protection plans that could help you manage repair expenses in the event of damages to your RV.
Learn more about your options and apply for an RV loan today to let the adventures begin!
---
Additional Resources on Road Trips:
---