Quick Navigations
Florida is home to some of the most popular attractions in the United States. From beautiful beaches to exhilarating amusement parks, the state offers much for visitors of all ages. If you're thinking about traveling soon, consider immersing yourself in Florida's warm weather and exciting attractions.
One of the best ways to see all of the state's offerings is by driving. A road trip through Florida lets you slow down and take in the scenery at your own pace, all while saving on costly airfare. It's a fun way to explore the Sunshine State and create your own adventure.
Here are some tips on how to plan a road trip to Florida.
What You Need to Road Trip to Florida
Before you hit the road, you should make some preparations for your drive through Florida. Prepare a plan for your road trip. Don't forget that you need to account for gas costs and factor in extra time for breaks and gas station stops.
Other things to plan for your road trip include:
Transportation: Your first job is to decide what type of vehicle you'll take to Florida. Whether you choose your family car, a rental vehicle or an RV, make sure you choose in advance. Consider how many people will accompany you on the trip. If you want to take your entire family, an RV might suit you better. A small group of friends would fit comfortably inside a smaller car.
A schedule: With so many places to visit in Florida, creating a plan ahead of time helps ensure you make it to your goal destinations. To make a schedule, map out how much time you'll spend in the state and divide a few days for each attraction. You also need to plan for the driving time between stops. The state has seven distinct regions, each with unique excitements. Depending on your preferences, you can plan to visit all seven areas or just a few.
Snacks: One of the best aspects of a road trip is the snacks. You'll get hungry during those long hours on the road, so it's a good idea to prepare some food before leaving. Luckily, there are many food ideas for road trips, from filling meals to quick snacks.
A budget: It's always good practice to set a budget before leaving. Estimate food, gas, lodging and other entertainment costs, such as amusement park tickets. Having a plan before you set off can help you keep costs in control.
Where to Road Trip in Florida
With so many exciting attractions, deciding on your Florida road trip destinations can seem overwhelming. Here are some ideas for your trip:
St. Augustine
As the oldest city in the United States, St. Augustine is a fascinating hub of culture and history. It's also an excellent stop for your Florida road trip. With many hotels, campgrounds and other lodgings available, you can easily spend one or two nights in the city. From wandering through historic downtown to exploring the surrounding nature, you're sure to have an unforgettable visit to St. Augustine.
Here are more places you can visit during your stay:
St. Augustine Alligator Farm: This one-of-a-kind attraction lets you view and interact with a wide variety of exotic animals. It's perfect for an afternoon visit or a quick stop during your road trip.
Lightner Museum: This classic museum resides in the Alcazar Hotel. As you walk through the building, enjoy an immersive experience of art, architecture and other designs.
St. Augustine Sailing: If you're looking to get out on the water, try a trip with St. Augustine Sailing, the leading sailing charter in the city.
Orlando
Orlando is one of Florida's most popular tourist attractions, and for a good reason. The city has many iconic amusement parks, unbeatable nightlife and famous restaurants. With countless activities and places to stay for any visitor, Orlando will make an exciting addition to your road trip. It's located in central Florida, so if you're driving through the state, it's a great stop for the middle of your trip.

There are many places to choose from, so if Orlando is high on your list of ideal destinations, plan to spend a few days. Here are some other features to check out:
Amusement parks: From Magic Kingdom to Universal Studios, Orlando is home to many exciting theme parks. If you're traveling with family, spending a day or two at an amusement park is sure to be unforgettable. Many parks have free parking or include parking costs with ticket prices so you can park your vehicle for the day while you explore. If you take a camper or RV, find a nearby campground and make your way to the parks daily.
Food: Whether you want seafood, barbeque or anything in between, Orlando has a wide range of famous cuisine. You can check out the many bars and restaurants downtown and throughout the city.
Arts and entertainment: Orlando also has a vibrant cultural scene. Explore one of their many museums, such as the Orlando Museum of Art, or watch a performance by the Russian Ballet, Philharmonic Orchestra or any current touring productions. You're sure to find an activity for any art lover, no matter their taste.
Nightlife: Orlando has many options if you're looking for an exciting night in the town. You can find many fun opportunities with various nightclubs, discos and bars.
Miami
Miami has many exciting activities for every visitor, making it a great stop for your trip. Famous for its nightlife and beautiful beaches, Miami is a popular tourist destination for travelers worldwide. You can stay for a night or two during your road trip or just visit for an afternoon.
These are some highlights of the city:
Shopping: If you want to fit some shopping into your road trip, Miami has many opportunities for you. Visit the many stores at the Dolphin Mall, Miami's largest shopping center. Visit the Bayside Marketplace for a beautiful dining and shopping experience.
Nightlife: Miami's nightlife is world-renowned. From the clubs in Little Havana to the many offerings on South Beach, you have a wide range of options for an unforgettable night.
Golfing: Golfing is also a significant component of Miami's culture. If you're a golfer, you have many Miami courses to choose from during your road trip. You could visit local courses for an afternoon swing or stay for a few nights at golf resorts like the Biltmore Golf Course and Resort.
Nature: Whether you're interested in relaxing on the beach, going on a boat tour or visiting a nature preserve, there are many ways to explore Miami's natural landmarks.
Everglades National Park
Covering 1.5 million acres of land, the Everglades is an unforgettable destination for your road trip. If you love nature or want to explore more of Florida's natural landscapes, this national park has much to offer. There are also many options for front-country and back-country camping. You can park your vehicle or RV and settle into nature for a couple of nights.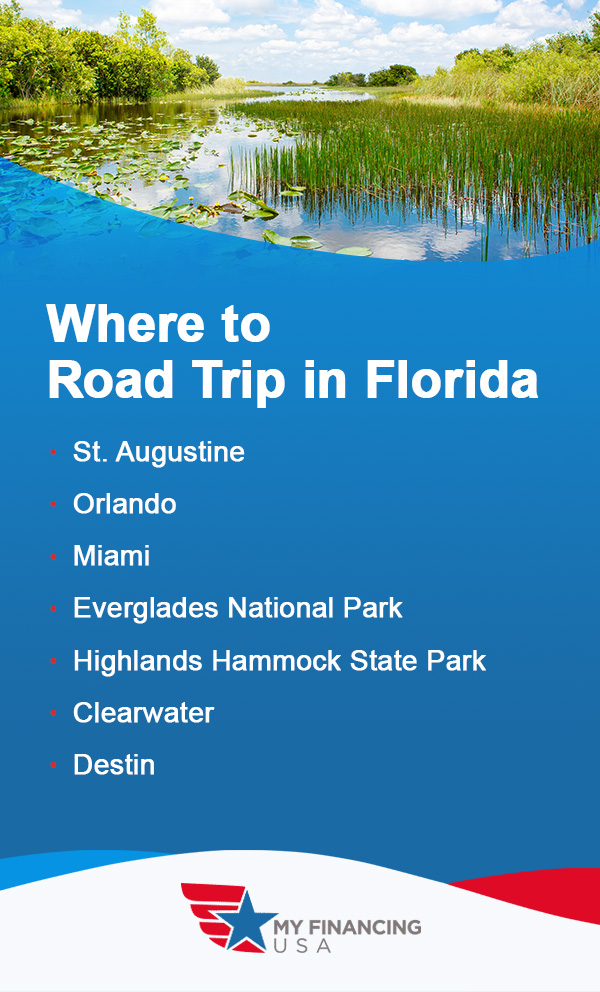 These are some activities to engage in while you're there:
Bicycling
Birdwatching
Kayaking
Hiking
Wildlife tours
Boating
If you or your travel companions are interested in wildlife, you can find an abundance in the Everglades. Look out for:
Frogs
Toads
Ducks
Geese
Flamingo
Beetles
Alligators
Crocodiles
And much more!
Highlands Hammock State Park
This classic Florida state park has an exciting array of plants and wildlife. With an abundance of on-site activities, it's an excellent stop to include in your road trip plans. Like the Everglades, the park has camping opportunities for vehicles, as well as many parking areas for your car.
Drive a 3-mile paved loop that runs through the park and view the exciting nature through your windows or park your car for the afternoon and explore the park up close.
You can also check out these exciting attractions:
Hiking: Highlands Hammock has nine trails leading through hammock, swampland and more.
Picnicking: The park's pleasant, shaded picnic area might be the perfect stop for a picnic during your road trip.
Tram tours: Highlands Hammock offers a tram tour through the entire park. A narrating tour guide will explain the park's history and the nearby wildlife. You can see wildlife up close and learn more about the park's origins.
Clearwater
Florida is famous for its beaches, and you should consider including a beach trip in your driving plans. One of the best examples is the city of Clearwater, known for its pristine beaches. Stay in one of the many ocean-front hotels or park your RV at a nearby campground like Travel World RV Park. Spend your day relaxing in the sand or exploring the beautiful ocean.
You can also check out the Clearwater Marine Life Aquarium, famous for its wide variety of marine life.
Destin
Destin is another unforgettable Florida destination. This beach town is renowned for its cuisine, dazzling beaches and variety of fun activities.
These are some of the city's most notable attractions:
Where to Stay During Your Road Trip
As you plan your road trip, you should also consider lodging. If you want to plan a vacation spanning several weeks, it's important to make sleeping arrangements for each destination.

Here are some ideas for where to stay during the trip:
Hotels: No matter where your Florida road trip takes you, you can be sure there will be a hotel nearby. From resorts with massive suites to simpler guest rooms, you can find the best accommodations for your budget and vacation plans. Hotels are a great option if you're taking a car for your trip. Most come with free or reduced parking included in the room cost, so you don't have to worry about where to park. You could also stay in a hotel for a few nights if there's a particular destination you want to spend a lot of time in.
Bed and breakfasts: Florida also has many bed and breakfasts, often available in historical homes or small cottages. You can have a unique and cozy experience at these beautiful locations and try something new from the typical hotel.
Campgrounds: If you plan to take an RV on your Florida road trip, find campgrounds or RV parks ahead of time to reserve your spot for the night and guarantee a parking place. Florida has a wide variety of RV-friendly campgrounds across the state, and many are located near the beach or local wildlife.
Plan the Ultimate Florida Road Trip With My Financing USA

Are you ready for a Florida road trip? Exploring the state in an RV could be one of your best vacations yet. By financing an RV, you can get on the road quickly and with little hassle.
My Financing USA offers RV financing and loans for clients across the United States. We can help you find the perfect recreational vehicle for your Florida trip and get you on the road in no time. With simple applications and quick turnaround times, My Financing USA strives to provide high-quality service.
Apply for an RV loan today to get started with your Florida road trip!
---
Additional Resources on Road Trips:
---