Quick Navigation
For many Americans, Mount Rushmore is an iconic travel destination. You and your family can hit the road in an RV and head to this historic landmark no matter where in the United States you're located. With so many things to do and see on the way, this can be one of your family's most memorable road trips.
We can help you figure out what time of year to visit, how long to visit, what to do, where to stay, where to eat and how to travel with an RV.
The History of Mount Rushmore
Located in the Black Hills region of South Dakota, Mount Rushmore displays the faces of four U.S. presidents — George Washington, Thomas Jefferson, Theodore Roosevelt and Abraham Lincoln. Carving began in 1927. To complete the job, almost 400 workers climbed 700 stairs each day to carve the faces into the mountainside.
They carved most of the mountain with dynamite and only used jackhammers to remove the final few inches of rock. Then the drillers used hand tools to smooth the stone and add small details, such as moles and wrinkles. The sculpture was completed in 1941.
If you'll be traveling with your family, you can share some fun American history facts with your kids about some of our early presidents:
George Washington: Born in 1732, Washington was the first president and considered to be the father of the nation. Washington is the most prominent figure on Mount Rushmore. His face on Mount Rushmore represents the birth of the nation.
Thomas Jefferson: Born in 1743, Jefferson was the third president, wrote the majority of the Declaration of Independence and purchased the Louisiana Territory, doubling our nation's size. His face on Mount Rushmore represents the growth of the nation.
Abraham Lincoln: Born in 1809, Lincoln was the 16th president, held the country together during the Civil War and abolished slavery. His face on Mount Rushmore represents the preservation of the nation.
Theodore Roosevelt: Born in 1858, Roosevelt was the 26th president, negotiated the Panama Canal's construction and led the country at the start of the 20th century through rapid economic growth. His face on Mount Rushmore represents the development of the nation.
Choosing What Time of Year to Visit
Mount Rushmore is open every day of the year, so you can technically visit whenever you want. Though many families choose to travel to Mount Rushmore during the summer because of summer break, you may also want to consider scheduling your road trip for the spring or fall.
Winter typically isn't a good time of year to visit due to the snow and road closures. Once the snow begins to fall, several scenic drives in the Black Hills will close. These road closures typically occur in mid-October and reopen in April. Additionally, though the grounds are open on Christmas with weather permitting, the visitor center and buildings are not.

You may also want to plan your road trip around an event or attraction. For example, if you want to attend the annual Sturgis Motorcycle Rally, schedule your visit for early August. On the other hand, if you want to avoid motorcycles, you may want to plan your trip for another time of the year. If you want to attend the Evening Lighting Ceremony at Mount Rushmore, you should visit sometime in late May through September.
Keep in mind that the buildings and areas on the grounds like the gift shop, visitor center and parking lot are open during different hours, so consult the operating seasons and hours to plan your visit. Overnight parking is not allowed.
Choosing How Long to Visit
How long you want to visit is ultimately up to you, but we recommend staying for a few days to really experience all the adventure that Mount Rushmore has to offer. You can explore each driving loop and visit downtown Rapid City. If you want to take a day trip, stick with exploring the Black Hills and Mount Rushmore. A day trip should also include the Evening Lighting Ceremony, where you can see Mount Rushmore lit up in the evening.
To make the most of your trip, dedicate a few days or even weeks to your trip, depending on how far away you live and what other sites you want to see along the way. 
What to Do at Mount Rushmore
Once you know you want to visit Mount Rushmore and when, think about what you plan to do while you're there. Below are some suggestions for a fun family trip:
Spot your state flag: Your path to the monument will take you through the Avenue of Flags. Here, you can look for your state's flag among those that represent the 56 states and territories.
View the monument: When you visit the monument, be sure to take in the views then commemorate your trip with photos of the famous faces and your family's.
Visit the Lincoln Borglum Museum: Next, you can head to the Lincoln Borglum Museum, where you can learn more about the site's history and view images of its construction. Watch a short film about why and how the memorial was created. Along with the film and exhibits, you'll also find a bookstore.
Go for a hike: Take a ranger-guided or self-guided walk along the Presidential Trail to get closer to the sculpture. You can also take the trails to the Sculptor's Studio and Borglum View Terrace. One trail is steep with uneven steps and begins at Grand View Terrace, while the other is a nature trail you can take from the main entryway.
Stop by the Sculptor's Studio: On your walk, be sure to make a stop at the Sculptor's Studio. Here, you'll find plaster models, displays of tools related to the sculpting process, exhibits explaining sculptor Gutzon Borglum's vision, a talk on the carving process and the Mount Rushmore Bookstore. To get the most out of your trip, a visit to this studio is a must!
Participate in a program: During the summer, you can participate in activities led by rangers every day. You can visit the exhibit hall with interactive exhibits that teach you more about the creation of Mount Rushmore, and your kids can join the Junior Ranger program to learn more about our national parks.
Browse the gift shop: Before you head out, stop by the gift shop to get some souvenirs for yourself and your loved ones!
Stick around for the Evening Lighting Ceremony: To truly get the most out of your trip, stick around until the evening. Head to the amphitheater where you can view Mount Rushmore as it lights up during the Evening Lighting Ceremony. The ceremony takes place in late May through September. The rest of the year, the sculpture is illuminated at sunset, but there is no ceremony.
Nearby Attractions to Visit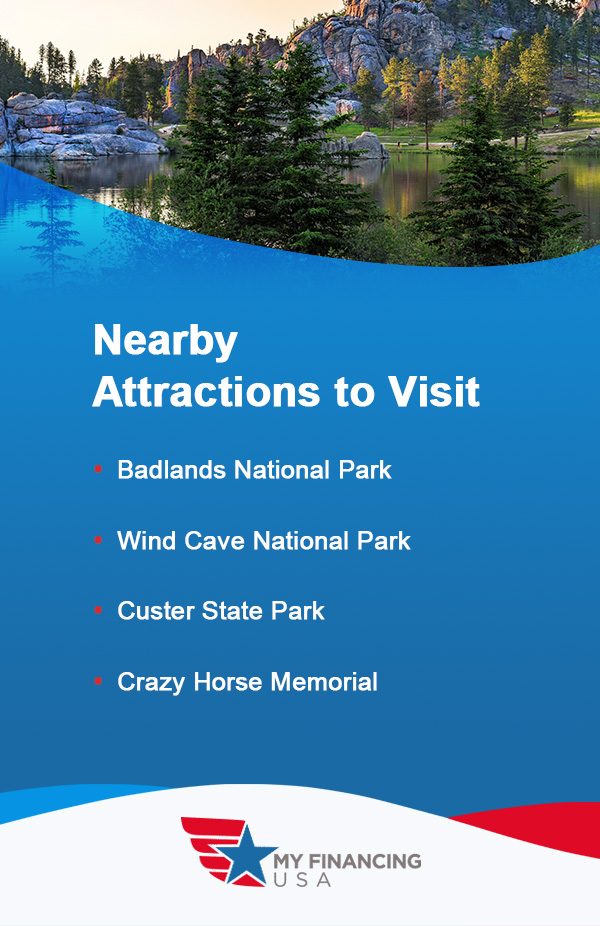 During a trip to Mount Rushmore, there's plenty to do both at the site and in the surrounding area. Be sure to add some of the nearby attractions to your visit to make the most of your trip:
With so much to do, being bored during a trip to Mount Rushmore simply isn't possible!
Things to See on the Way to Mount Rushmore
A road trip isn't just about the destination — it's about the journey. Luckily, there's so much to see on your trip to Mount Rushmore, especially throughout the Midwest. Depending on your route, some of the roadside attractions you may want to stop for on the way include:
Pinkie the Pink Elephant: Ever seen a life-sized pink elephant wearing glasses? You can on your trip to Mount Rushmore if you stop by DeForest, Wisconsin, to see Pinkie! Take pictures with Pinkie and the family, and grab some Pinkie souvenirs from the gas station before you get back on the road.
Storybook Island: On the way, you can stop to stretch at Storybook Island while the kids burn some pent-up energy on the play area with a fairytale theme. The park in Rapid City, South Dakota, is admission-free in the summer.
Bessie the Cow: This fiberglass sculpture of a giant cow stands over Janesville, Wisconsin, so be sure to stop for a photo if you see her!
The giant Volkswagen Beetle spider: Love cars? Be sure to make a stop in Avoca, Iowa, to check out the vintage Volkswagen beetle with eight long, giant spider legs!
Sissy the Cow: On your trip, take a break to stretch your legs in DeForest, Wisconsin, and snap a photo with Sissy the Cow, a larger-than-life statue made of fiberglass. She stands guard over the Cheese Chalet, so be sure to stop in for some cheese too!
Carhenge: Another must-see for car fans is Carhenge in Alliance, Nebraska. Modeled after England's Stonehenge, this replica is made from cars.
Where to Stay on Your Mount Rushmore Trip
Accommodations around Mount Rushmore can fit just about any travel style or budget. Whether you want to stay in a hotel or cabin or you want to hit the road in your RV, there are many spots to choose from.
Custer State Park allows you to stay close to the action. This park features private lodges and some are adorned with outdoor patios and front porches. Campsites are also available that accommodate RVs.
If you plan on staying in Deadwood, you can choose a hotel on the downtown strip. For a hotel with a casino and restaurant, you can check out Mineral Palace.

To camp, you can stay at the Badlands National Park, where you can park your RV or camp under the stars. You can also stay at the Cedar Pass Lodge or the Frontier Cabins in Wall, South Dakota, for a family-friendly option. The Country Inn and Suites in Sioux Falls, South Dakota, is another affordable place to stay and overlooks the Arc of Dreams statue and the Big Sioux River.
Where to Eat on Your Mount Rushmore Trip
There are plenty of places to eat at and around Mount Rushmore. Carver's Cafe is an on-site restaurant that offers meat-and-potato meals, soups and burgers. Mount Rushmore's Memorial Team Ice Cream station offers ice cream made from a delicious original recipe. For a more upscale dining option, you can stop by Skogen Kitchen in Custer, a Nordic-themed restaurant.
In Custer State Park, you'll also find the State Game Lodge. If you're in Deadwood, you can visit Saloon #10. This is where Wild Bill was famously shot while playing poker. If you want barbecue, head to Firehouse Brewing Company in Rapid City, where you'll find delicious food, live music and a beautiful mural that's the perfect spot for taking a family photo. In the mood for milkshakes and burgers? Visit the Phillips Avenue Diner in Sioux Falls and dine in an old Airstream trailer.
Traveling With Your RV to Mount Rushmore
If you want to travel with your RV to Mount Rushmore, you're in luck! There are plenty of camping spots in the Black Hills available to RVs and tents. For many families, this can be the most budget-friendly option. You and your family can forgo expensive hotel rooms each night and instead hunker down in an RV that carries all the comforts of home. Once you're ready to purchase your RV, reach out to us at My Financing USA, and we'll help guide you through the financing process!
Plan Your Trip to Mount Rushmore Today

At My Financing USA, we finance adventure. With our financing options, we can help you purchase your dream RV or boat.
We also provide Guaranteed Asset Protection (GAP), a vehicle loan add-on that helps ensure if you suffer a total RV loss, you won't be left paying off the loan. You may also want to obtain RV Tire and Wheel Asset Protection. If your tires and wheels are damaged by road hazards, you will be covered for repairs or replacement. There's also 24/7 roadside assistance available.
When you're ready to plan your RV trip to Mount Rushmore, take five minutes to fill out an application online today, or contact us to discuss our financing options.
---
Additional Resources on Road Trips:
---