Quick Navigation:
Do you want to know how to plan a cross-country road trip with friends? Road tripping involves many steps, but friends can add some unique considerations. This guide can help you think of everything and create a comprehensive plan.
1. Choose the Right Friends
While traveling across the country with your best friends might seem fun, road trips can be stressful for relationships. Long days on the road and expensive stops can strain friends, possibly causing fights. Taking the proper precautions and planning can help you maintain your friendships while having the adventure of a lifetime:
Find common goals and interests: Avoid conflict by traveling with friends who want to see the same things you do. Having the same interests and travel goals can keep all parties invested and motivated for the trip. You should also accommodate other interests — ensure each friend gets to see something they want. Keeping an open mind can introduce you to new things you might end up loving.
Establish financial expectations: Travel with friends in a similar financial situation as you. This system can help you better agree on how much money you can spend on accommodations, attractions and other costs. Always be clear about your financial expectations and be sensitive to your friends'. Keeping their budgets in mind when planning can help avoid fights and tension.
Be upfront about responsibilities: Road trips require several tasks and planning. Talk about how you want to split responsibilities like planning, driving and paying. When you find a system and schedule that works, help maintain the peace by upholding those expectations on the road.
Develop strong communication and conflict resolution methods: Even the best friends and planners will experience conflicts. Whether it is a disagreement about where to eat or how much money to spend, you can help preserve your friendship through healthy communication and problem-solving. Discuss the issue with your friends in a safe space and stick to your perspective. Compromising is key, so try to go in with an open mind and flexibility.
Even though you are traveling together, alone time can be refreshing and beneficial. Periods of alone time can help individuals refresh and decompress, allowing them to process emotions properly so they can articulate them later. Friends with different interests or financial situations can use alone periods to go on adventures only they can afford or want to do, ensuring all members of your group can do what they want on the trip.
2. Choose Your Destination

Once you have the right people, you can start planning the specifics of your road trip. Your location will depend on several factors, including:
Budget: Establishing your budget early on can help determine where you can go. A road trip around your state will cost significantly less than one across the country. You will have to cover gas, food and accommodations for each night on the road. While there are ways to save, choosing a location that fits your price range is ideal when planning a road trip with friends.
Timeline: How much time do you have to travel? A week-long trip will limit where you can go more than a month-long one. Establishing your timeline can help set your final destination and what attractions and stops you can make along the way.
Season: Some attractions are only available during certain times of the year. If you want to go skiing in Colorado, you need to plan a winter trip. However, the Florida Keys are nice year-round. On-season trips might be more expensive because tourist attractions raise prices, but they might also only be open at that time.
The U.S. is full of notable locations you and your friends can explore. Some popular areas include:
3. Set a Realistic Budget
Since gas is a significant portion of any cross-country road trip, use the following formula to calculate an estimated fuel budget:
(Trip mileage / Your vehicle's miles per gallon) x Current cost of 1 gallon of gas = Your gas budget for a one-way trip
For example, a one-way trip between New York City and Los Angeles is roughly 2,779 miles, and today's current average for gasoline is about $3.80 per gallon. Assuming you drive a standard car, you probably get somewhere around 24 miles per gallon, making the total cost to budget for just fuel around $440 for a one-way trip and $880 for a round trip.
The rest of your budget will largely depend on the specific details of your trip, including:
Food
Accommodations
Sightseeing
Tolls
Souvenirs
Traveling with friends can be a great way to cut costs. With more friends present, you can split costs for gas and accommodations, with each person only paying a portion of the costs. If you are looking for ways to save while road tripping, consider these money-saving techniques:
Cook over eating at restaurants: Restaurants can offer quality food and services, but eating at them every night can add up quickly. Instead, decide to prepare your meals some nights. Whether you have an RV with a small kitchen or a vacation rental, making your food can help cut costs for that part of the budget.
Sleep at free campsites or spaces: Camping is a great way to avoid expensive lodging, like hotels. If you have an RV or room to sleep in the car, many places like Walmart let people stay in the parking lots and use the store restrooms during open hours.
Avoid big cities and research gas prices: Prices for gas, parking, restaurants and other things tend to increase around cities. While cities offer many attractions, go off the beaten path if you are on a strict budget. You can find some unique sites you might love. Research gas prices before your trip to schedule gas stops and stick to your fuel budget.
Once you determine your budget, establish how your friends can pay you back. Cash and money exchange apps like Venmo or Zelle make it easy to share money, but some people might prefer covering future costs.
4. Choose the Right Vehicle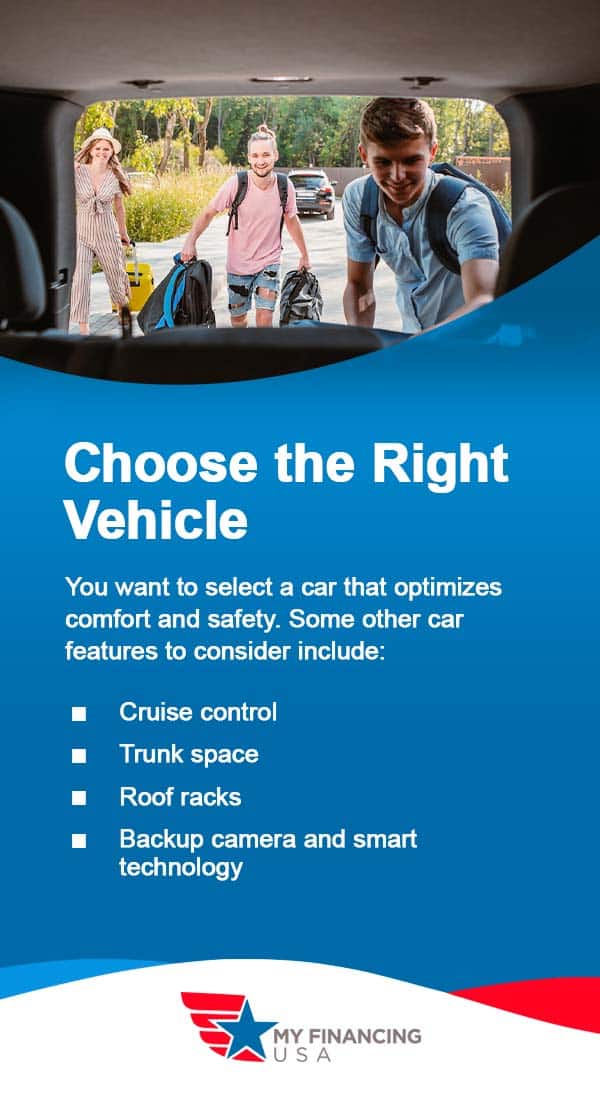 When planning a trip with your friends, you have a couple of vehicles to choose from, including one of your own or a rental. You want to select a car that optimizes comfort and safety. Make sure there is enough room for everyone to rest comfortably. Are there enough seats? Can you adjust the backs? If you are traveling in the summer, check that the car's air conditioning works and the windows roll down. If traveling in the winter, does the car have heat?
You should also select a car that offers good gas mileage for fewer stops to your destinations. Some other car features to consider include:
Cruise control
Trunk space
Roof racks
Backup camera and smart technology
Once you choose the car, consider getting it serviced before leaving. Regular car maintenance ensures gas efficiency and functionality, so you'll know all components are working as they should. Servicing, repairing and replacing parts can be expensive, so each friend should help cover these costs.
You can also forgo a car entirely and choose an RV. With an RV, you have a place to eat, sleep and use the restroom, all on the road, minimizing other costs. RVs can be great for people who love camping.
5. Pack the Necessities
Once you've chosen your route and destination, you can begin packing. While it can be tempting to pack for every scenario, stick to the essentials. Overpacking can take up crucial room in your vehicle, make it cramped for your friends in the back and decrease gas efficiency.
However, underpacking can also be dangerous — you might have to buy supplies as you go, which can quickly become expensive. Prices might rise for goods in tourist and visitor areas, or you might have to settle for what's available rather than the best quality. Make a list of everything you need for your trip and research the best prices and providers.
You can also research places to do laundry on the road if you are taking a longer trip. This information can help decrease the number of clothes you need to bring. If you are staying in an Airbnb or hotel, look into available laundry services included with your stay.
6. Schedule Who Will Drive When

For best road safety, switch drivers now and then. This system helps prevent driver fatigue and ensures whoever is behind the wheel is alert and attentive. It can also be a nice gesture to ensure that one person isn't stuck behind the wheel the whole time.
If you want to determine how to plan a road trip with friends driving, create a schedule for when and how long each person will drive. Having it written down and formalized can help hold your travel companions accountable without catching them off guard. You can avoid tensions by ensuring everyone knows what is expected from them.
When making your rotation, consider everyone's habits and driving comfort levels. If you have a morning person, have them drive first each day and swap them with your night owls later. People can stay on their natural energy cycles and allow others to rest.
7. Prepare Healthy Snacks
While it can be tempting to stop for fast food along the way, takeout can add up and drain energy levels. Instead, stock up on healthy snacks full of nutrients and protein. Some options include:
Trail mix
Nuts
Sunflower seeds
Popcorn
Peanut butter
Dried fruit
Packing snacks helps ensure you always have food when you need it. Whether driving in a less populated area or exploring one of your stops, you can keep yourself and your friends safe and healthy with quality snacks. Consider investing in a trash can for the car so it stays clean.
8. Stay Safe
Traveling with friends might seem safer than going solo, but many let their guard down in groups. Stay safe throughout your road trip by:
Sharing details with others: Provide someone at home with an outline or plan of your movements. Tell them where you'll be staying each day and give them a number and address. If something happens on the road, this person can help locate you through your plan and contact help.
Having offline options: Some places have less cell service than others. Prepare for times on the road when you might be disconnected from online resources. Bring paper copies of maps, directions and reservations. Some apps offer offline services, but paper versions can help if your phone dies.
Research thoroughly: Before making definite plans, research the areas you are traveling to. What are the risks? Is there anything you need to be aware of? Some national and state parks have wildlife precautions you need to know if camping, while big cities might have areas popular for pickpockets. Knowing what to expect can help keep you safe.
9. Plan Where You'll Stay
As you plan your stops, you will need places to stay. Depending on your budget and your area, you'll have different options:
Hotels: Hotels are available in many places but tend to be more expensive. If you are looking for a more luxury experience and additional services, a hotel might be the best option. You can find hotels that offer continental breakfast, clean sheets, room service and laundry services, so you can truly rest and relax while there.
Airbnbs: Airbnbs are great options for friend groups. You can search by the number of people, ensuring everyone has somewhere comfortable to sleep. Like hotels, hosts can offer various services, from laundry to fully stocked kitchens. They are great if you want to feel at home and do the cooking and cleaning yourself.
Hostels: Hostels are cheaper housing options, especially for road tripping or staying somewhere for a short time. In a hostel, you share a room with other travelers, reducing the price. If you want privacy and safety, many hostels offer private or female-only rooms. You also find locked luggage rooms, lockers, kitchens, showers and other amenities.
Campsites: If your friend group loves the outdoors, consider camping across the country. While you might have to pay for some spots, staying in national and state parks can offer scenic drives and hikes, fishing, boating and other outdoor activities you and your friends will love. You can find campsites with grills or invest in a portable one for meals.
Your lodgings can add to the trip and create an experience you and your friends will look back on for years. Mix and match options to fit your budget and where you'll be passing through.
10. Put Together a Playlist
Most of your planning might be about stops, attractions and driving logistics, but driving can be fun. Start a playlist for the trip as you wrap up the serious planning. You can make one long playlist that will last the entire journey or create custom shorter ones for different moods or stretches of the trip.
For example, you might listen to songs that mention locations or states as you arrive at those places. On the other hand, you might want quieter music as your friends nap or loud music when trying to stay awake.
Add to the driving experience by playing car games. Games and good music keep spirits high and create enjoyable, memorable experiences for everyone involved.
Put Together the Perfect Road Trip With Friends and My Financing USA

Going on a road trip with friends can be the adventure of a lifetime. My Financing USA can help pair you with the perfect RV loan for your needs. When you need a reliable and fun way to get to your destinations, an RV can provide the transport and support you and your friends need.
Apply online today or contact us with any questions.
---
Additional Resources on Road Trips:
---