Quick Navigation
What could be more exciting than a road trip full of spectacular sights and spontaneous stops? Planning a road trip can be tons of fun as you look forward to your cross-country adventure and free-spirited escapades. However, mapping out your road trip can be overwhelming if you're unsure how to plan a road trip across America strategically. Luckily, long road trip planning is a skill you can easily develop.
If you need help planning a road trip, this ultimate guide will walk you through how to plan the perfect road trip. From general steps on how to plan a long road trip to more specific road trip planning tips for different routes throughout the U.S., you'll learn everything you need to know.
Keep reading to learn what to plan for a road trip you'll remember forever.

1. Assemble Your Road Trip Team
The best way to plan a road trip starts with choosing a buddy. Whether you decide to bring your brother, sister, the whole family or just a couple of friends, make sure you have someone with you to make the trip more fun. When you're facing endless stretches of open road, you'll be thankful to have someone there to keep you company.
Along with adding an extra layer of fun to the trip, having people with you on the road adds some safety and security.

Depending on where you plan to stop for activities and overnight stays, safety in numbers could be critical. In addition, having someone to swap driving shifts with could save you from driving when dangerously tired.
Before hitting the road with your passenger partner:
Take the time to talk about your expectations for the trip together.
Make sure you're both on the same page about the budget and how much time you intend to spend on the road.
Whether you picture driving for hours on end or taking a more relaxed approach, be upfront about your vision for the trip so that no one ends up frustrated or disappointed.
2. Choose Your Mode of Transportation
When it comes to picking a vehicle for your road trip, you have options. Here are the main types of transportation to consider:

Your own car
A rental car
A recreational vehicle (RV)
Of course, each of these choices comes with plenty of pros and cons. Keep reading to find out which decision is best for your open-road adventure.
Your Own Car
Taking your regular everyday car on a road trip can be a great choice, considering you're already comfortable driving it and you won't have to pay to rent another vehicle. Before committing to taking your car on the road, ask yourself these questions:
Is my vehicle in good enough shape to go on a long road trip?
Will my car be able to handle specific terrain, such as driving on narrow streets or mountain roads?
Will it be a problem to put more miles on my car?
The answers to these questions will be a strong indication of whether your car is a viable option for a road trip. If you decide to go with your own vehicle for a road trip, have a mechanic check basic things like the tire pressure, engine, brakes, wiper blades, engine oil and fluids. Making sure your car's maintenance is up-to-date will minimize the risk of a breakdown or accident.
A Rental Car
Renting a car for your road trip offers many benefits. Learn more about the top reasons to rent your road trip vehicle below.
Using a rental car saves you from putting a bunch of extra miles on your own vehicle.
If your car is not in good shape for a long road trip, using a rental car can keep you from getting stranded or stuck somewhere.
You can get a fun make and model specific to your road trip route when you rent a car. For example, you can rent a convertible for cruising down the California coast or a truck for rugged Utah roads.
Renting a car is the perfect solution for a road trip that you don't plan to start from home. If you're flying to your starting point, you can easily rent a car from the airport. You can even drop the rental car off at a different airport if you plan on ending your road trip at a separate destination from where you began.
When it comes to choosing the best rental car company, you'll simply want to find the company willing to give you the best deal. Prices for renting a car will vary depending on your location, the number of days you'll need the vehicle and the type of car you choose.

Take the time to compare rental car costs across various platforms to ensure you get the best rate for your trip.
An RV
An RV is a large motor vehicle that includes living quarters. There are two main types of RVs — a camper and a motorhome. The term "camper" refers to towable RVs that hook up to a vehicle, while the term "motorhome" applies to motorized RVs.If you're considering how to plan a long-distance road trip, either type of RV is an excellent method of transportation.
Check out these top reasons to travel in an RV:
An RV will give you the freedom to stop whenever you start feeling tired because you'll already have your bed with you. If you begin getting drowsy while driving, you can pull over for a quick nap or park for the night.
Sleeping in your RV means you won't have to pay for expensive hotels throughout your road trip.
An RV allows you to sleep and wake up near stunning scenery, such as thick forests or the ocean. Being right in the heart of these epic locations is far more memorable than most hotel spots while being more comfortable than tent camping.
You can often find free camping for your RV.
RVs usually include a kitchen section, making cooking meals easier and helping you save money on eating out.
Specifically, traveling in a camper gives you the benefit of having both the RV living quarters and your own vehicle with you.
Owning an RV gives you the chance to pack up and travel whenever and wherever you want while bringing all the conveniences of home with you. If you love spontaneous adventures, the RV life is the life for you. Purchasing an RV is a smart investment if you love to travel.
If you're not sure you want to buy an RV at this time, you can also rent one. Renting an RV can still save you a lot of money by letting you avoid hotel prices. After renting an RV for a road trip, you can decide whether you're ready to commit to buying your own.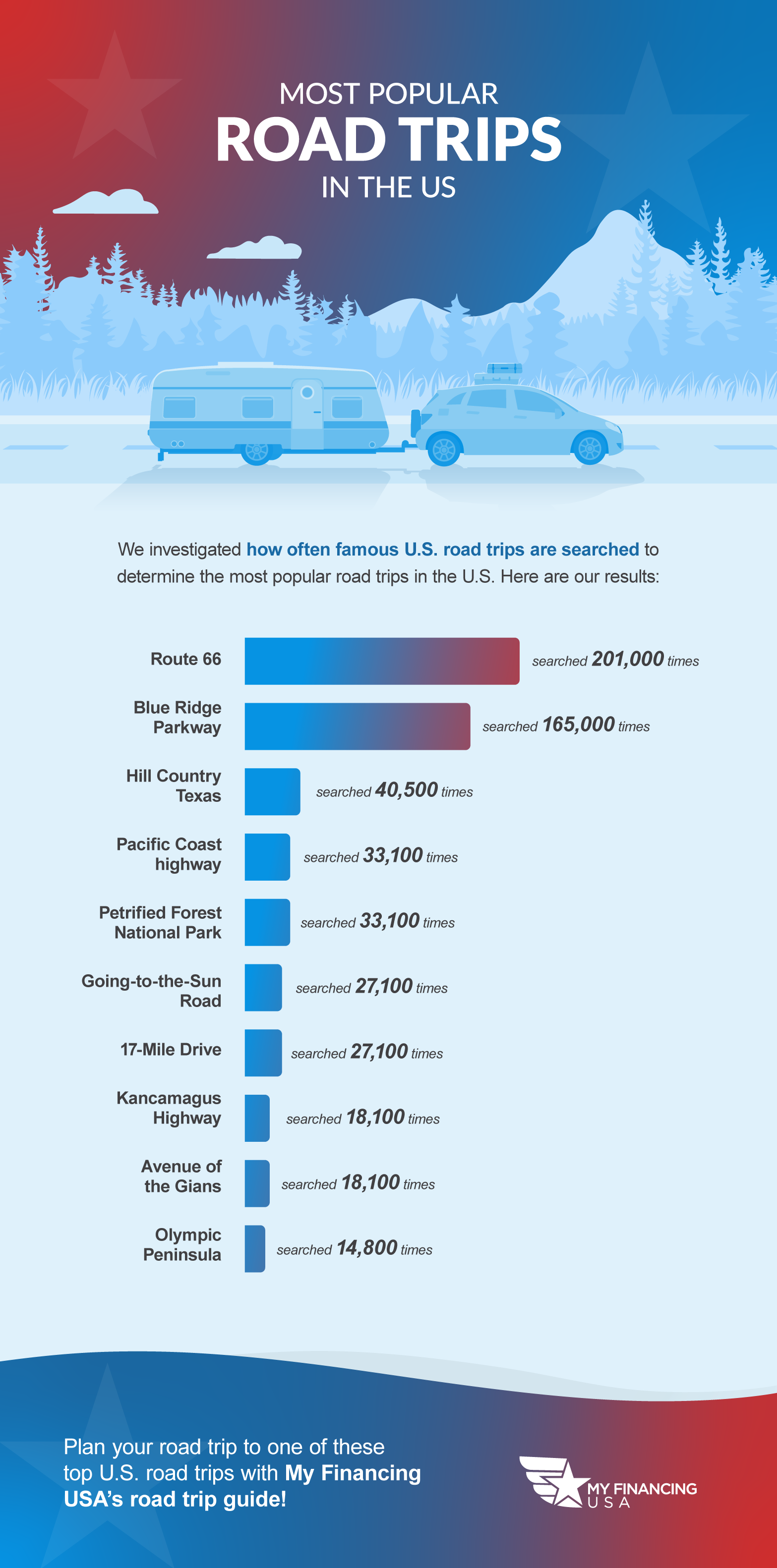 3. Plan Out a Road Trip Route
The next step in figuring out how to plan a cross-country road trip is making a list of all the places you want to see. Write down any must-see spots, along with several areas you'd like to see if it works well with your itinerary. Creating this list will give your road trip a sense of direction and ensure you don't miss attractions along the way.
Make sure you collaborate with your road trip buddies to figure out what everyone wants to see. This way, you'll get to your highest priority spots. Feel free to draw inspiration from travel blogs, social media and general search engine results to find the top attractions and hidden gems to include in your itinerary.
To create your road trip map, plug all of the stops you plan to make into Google Maps or whichever other navigation software you prefer. Play around with the order of your stops until you have a map that looks relatively clean and clear-cut. Hitting your stops in a logical and efficient order will save you fuel and limit your car's exhaust.

Keep in mind that your best road trip route might not be the one you expect. Additionally, the most direct path between two locations might not be the most scenic route, so be open to going a little out of your way for the sake of scenery. For example, historic highways or scenic byways are worth targeting on your road trip map.
Once you have a route marked out in broad strokes, such as which states or sections of states you want to drive through, start to work on the details of your itinerary. Work out the loose details of where you'll be heading each day and where you'll stop at night. Try to sprinkle in various gorgeous nature areas, roadside attractions, exciting cities, cool small towns and other fun stuff like restaurants, breweries or festivals.
How to Plan a Road Trip With Stops
Mastering how to plan a long-distance road trip with multiple stops requires nailing down the details of your trip's timeline. If you want to get the most enjoyment out of your road trip and not spend hours on end driving, try to limit your driving time to about four hours or so each day. Having a solid map of your itinerary will help.
If you're figuring out how to plan a road trip vacation with multiple stops, ask yourself these questions:
How many days do you have for your road trip?
How many destinations are you trying to explore?
How many miles do you plan to cover?
What's the max amount of miles you're comfortable driving in one day?
How many days do you want to do no driving at all?
The best way to plan a cross-country road trip is to decide on these factors, then start plotting out the days of your trip so you can see what each would look like. Once you have a preliminary itinerary sketched out, run through it and see how it feels. Think about whether it feels too rushed or you could fit more stops into the schedule.
After settling on the driving days of your trip, you can start fleshing out the details by looking into what major cities you'll pass through and potential options for activities, sightseeing or overnight stays. While you should develop an overarching outline for your trip, try to remain flexible and be open to straying a bit from your itinerary depending on where adventure calls.
How to Plan a National Park Road Trip

A national park road trip is an excellent way to see some of the most breathtaking sights the United States has to offer. If you plan on hitting multiple national parks during your road trip, make sure you get an America the Beautiful Park Pass. This handy pass grants you admission to all national parks and other paid federal lands.
If you're committed to a national park road trip, you may want to map a trip through every park in the Lower 48 so you don't miss a thing.
Even if you can't make it to all the parks in one trip, you can still use a national park map as a template for crafting your ideal national park road trip.
How to Plan a Road Trip Out West
Planning a road trip out west involves stunning ocean views and astonishing desert scenes. If you're lucky, you'll have enough time to hit both the California coast and the arid Arizona lands. If you can't dedicate that much time to your road trip, you may have to choose what you're most interested in between the two.
Those partial to a Wild West-themed road trip will want to focus on hitting famous desert sights like the Grand Canyon, Bryce Canyon, Zion National Park and Yellowstone National Park. Make your Wild West trip complete by visiting an old-timey town like Tombstone, Arizona — a historic area that will make you feel like you've traveled back in time.
For those more interested in how to plan a road trip in California, all you need to know is the Pacific Coast Highway — a major state highway that offers magnificent views of the cliffside and crashing ocean waves. In addition to cruising down the California coast, think about stopping in major cities like San Francisco, Los Angeles and San Diego. If you have extra time, hit up other cool cities outside California, such as Portland and Seattle.
How to Plan an East Coast Road Trip

A road trip up and down the East Coast offers you the perfect combination of natural wonders and historical landmarks. While New England is full of rich history and colonial towns like Concord, Massachusettes, it also features awe-inspiring landscapes like Acadia National Park in Maine. You'll also get to dine on some of the freshest seafood and best clam chowder in the Northeast.
Farther down the East Coast, you'll discover beautiful beaches and charming, brightly colored Southern cities, such as Charleston, South Carolina.
After relaxing on the sandy beaches of the Carolinas, you can spend some time exploring the bustling city of Atlanta. If you make it down to Florida, you'll get to enjoy tropical weather and international attractions like Disney World.
When you plan an East Coast road trip, you get to choose whether you spend your time appreciating nature, checking out human-made structures or a mix of the two. Depending on your interests, you can spend your no-driving days hiking through the mountains, learning more about American history, navigating world-renowned cities or simply soaking up the sun.
How to Plan a Midwest Road Trip
The middle portion of the United States also offers plenty of opportunities for road trip fun. From thick forests to incredible lakeside views, there's no shortage of natural beauty throughout the Midwest. If you're driving through the Midwest portion of the U.S., prioritize which state parks, trails and scenic overlooks you want to stop at.
More specific Midwest road trip ideas include going on a lighthouse tour, driving through the Black Hills of South Dakota, admiring the Great Lakes and exploring exciting cities like Chicago, Indianapolis and Green Bay. If you have the time, you can span the entire Midwest and visit more central attractions like the Gateway Arch in St. Louis, Missouri. But if you're crunched for time, the most thrilling sights are closer to the top of the region.
How to Plan an RV Road Trip

An RV road trip may be the best way to see the country. Owning an RV allows you to travel from state to state without leaving any of the conveniences of home behind. Going on a road trip in a campervan also gives you the peace of mind that comes with knowing you'll have somewhere to sleep each night no matter what.
If you're driving across the country in an RV, you'll typically want to stay in campgrounds or other places that allow overnight parking. The main places you'll find to legally park your campervan overnight include:
National parks
State parks
National forests
Private campgrounds
Rest stops and parking areas
To make planning your RV road trip a breeze, download camping apps for finding nearby campsites. Most camping apps allow you to filter your search by the types of campsites you want, making it easy to find a place to park each night that suits your needs and preferences.
4. Book Accommodations in Advance

The last thing you want is to be aimlessly driving around at night, searching for a place to stay while you're half asleep. To avoid this fiasco, find a place to stay the night in each area you plan to stop in before leaving the driveway. Booking hotels, hostels or camping spots in advance will save you from spending hours researching accommodations during your trip instead of enjoying the scenery.
Booking places in advance also ensures you have a place to stay and don't end up sleeping in your car. Depending on the time of year, places can fill up fast and many hotels and campgrounds require a reservation. Try booking your accommodations before your road trip starts or at least a couple of days before you arrive.
If you don't plan on staying in hotels or hostels, you don't have to worry about choosing a specific spot to stay for each night. However, it's still smart to have a list of possible places to park your RV in the area. Also, keep in mind many parks and campgrounds will require you to reserve a spot in advance, especially during the busy summer months.
Traveling in an RV is an especially smart choice for finding accommodations because it'll save you money. While reserving a spot at a campground is relatively inexpensive and sometimes even free, hotels and hostels can get quite pricey. Keep your trip within budget by roaming the roads in an RV.
5. Come Up With a Road Trip Budget

One of the most important parts of planning a road trip is figuring out how much the trip will cost. You'll need to come up with a solid road trip budget you can realistically stick to. Budgeting well will ensure you get to see all the sights you want and complete the trip without running out of money.
The best way to plan a cross-country road trip includes factoring these expenses into your budget:
Gas: Fuel will be one of your most significant road trip expenses. Of course, every road trip will be different depending on your route, time on the road and gas mileage. You can estimate the total cost of gas for your road trip after putting together your itinerary, calculating your total mileage and crunching those numbers according to your vehicle's gas mileage.
Accommodations: If you plan on staying in hotels overnight, accommodations will take up another sizable chunk of your road trip budget. Even the cheapest hotels can be costly, so consider what you're willing to sacrifice in comfort for the sake of saving money.
Rentals: If you plan on renting a car or an RV, you'll need to set aside a portion of your budget for the rental rate. You'll also have to factor in the gas you'll be filling the rental vehicle with along the way. But overall, traveling in an RV will save you money on accommodations because you won't be paying for expensive hotel rooms every night.
Food: You'll have to eat to keep up your energy on the road. While it might be tempting to eat a diet of cheap fast food throughout your road trip, your body will thank you for spending a bit extra to eat healthily. You can still be healthy on a budget by packing a bunch of your own snacks and bringing basic ingredients to make your own meals.
Attractions: You'll want to include several attractions and activities in your itinerary to make your road trip as fun as possible. Try to find as many free activities as possible, but be willing to spend some money on things you want to do. If you're going to make the effort to drive across the country, you might as well pay to see the main attractions.
5 Tips for Planning a Road Trip Budget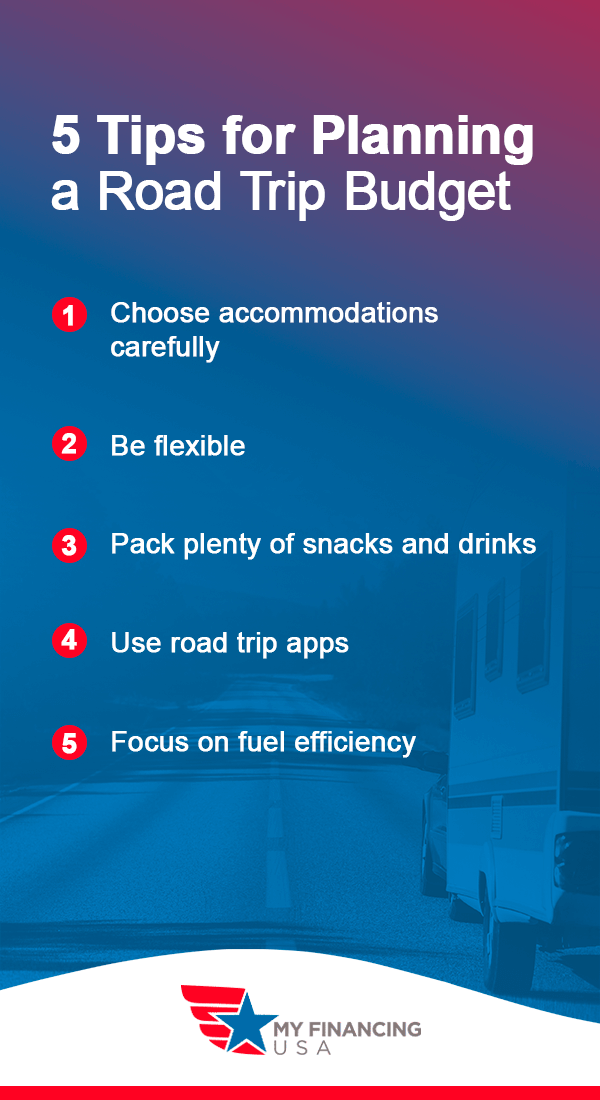 How do you plan a road trip that's both fun and affordable? Here are five money-saving tips to keep your road trip well within budget:
Choose accommodations carefully: If you plan on staying in hotels, try booking budget hotels that offer free breakfasts. Usually, you can fill up fairly well on complimentary hotel breakfasts, which means you don't need to buy any breakfast foods.
Be flexible: Try being flexible about when you plan your road trip so you can avoid traveling during peak seasons when prices are highest. Traveling in the off-season can score you better deals on accommodations, attractions, activities and more.
Pack plenty of snacks and drinks: Buying snacks and drinks at each rest stop adds up fast. You can save a considerable amount of money by planning and stocking up on your favorite snacks before hitting the road. You can also bring a cooler to keep your snacks fresh and beverages cold.
Use road trip apps: Let technology be your thrifty co-pilot by using road trip apps to help you find the lowest gas prices, routes with minimal traffic, least expensive routes and routes with minor traffic, all of which can help you stay on schedule and on budget.
Focus on fuel efficiency: You can save money at the pump by managing your fuel efficiency and keeping your tires properly inflated. If possible, avoid roof-based luggage, which makes the car less aerodynamic, resulting in burning more fuel. In addition, try not to drive too far below the speed limit and use cruise control for long stretches at a time.
6. Make a Packing List

Packing for a road trip can be a breeze, especially if you're traveling in an RV. Packing an RV is less of a hassle than a regular vehicle because there are numerous compartments and designated storage spaces for specific items. For example, the kitchen area of your RV is perfect for stashing extra water bottles, utensils and more.
It's easy to get carried away when packing for a road trip because you have a vehicle's worth of space to stuff with luggage. However, just because you have an entire RV to work with doesn't mean you have to fill it. You don't want to completely fill your road trip vehicle because doing so makes it more difficult to find what you need when you need it.
You can keep yourself in check by making a road trip packing list that includes everything you need while on the road and nothing more. Sticking to your list will ensure you have all the essentials and leave what you don't need at home.
Here's everything you'll want to bring on your road trip:
Clothes: Of course, you'll need plenty of clothes to make it through your road trip. Think about the different climates you'll be passing through and whether you'll need warm clothes, rain jackets, hiking boots, gloves, swimsuits or any other specific sort of gear.
Toiletries: Keep up with your hygiene while on the road by bringing items like your toothbrush, toothpaste, shampoo and conditioner. In addition, make sure you bring your glasses, contacts and contact solution if needed.
Medications: Make sure you bring any prescriptions, vitamins or supplements you'll need.
Electronic devices: Bring any cellphones, cameras, laptops and other electronics you'll want to use during your trip. Remember to pack their corresponding charger as well.
Recreational equipment: Depending on what you plan on doing at specific stops along your trip, you'll need equipment like beach and pool gear, tennis rackets, golf clubs and sports equipment.
Dashboard mount: A dashboard mount is the safest method of using Google Maps for directions without using your phone while driving.
Power inverter: A power inverter plugs into your vehicle's 12V socket to help charge your electronics, which can be crucial on long driving days.
Water bottle: Having a reusable water bottle with you will help you stay hydrated throughout your trip.
Day pack: For days you hike or walk around a city, you'll need a day pack suitable for carrying water, snacks, your wallet and rain gear.
Collapsible cooler: Whether you plan on hanging out in a park or lounging on the beach, having a collapsible cooler on hand provides you with a way to bring food and drinks with you for the day.
First aid kit: Make sure you have a first aid kit full of bandages, antibiotic gel, gauze and medical tape just in case.
Emergency car breakdown kit: Your emergency car breakdown kit should include numerous items to help you in an emergency, from tools for your car like jumper cables to extra water in case you have to wait for a tow truck.
Travel insurance: It's always a good idea to travel with insurance, even if your road trip isn't going to be that long.
Sleeping supplies: Even if you don't plan on sleeping in your car or your RV, it's always best to be prepared. Bring some spare pillows, blankets and whatever else you need to get comfortable enough to sleep.
Sun gear: You'll need both sunglasses and sunscreen to keep you protected from the sun's rays.
Snow gear: If you're traveling through a colder climate, make sure you have an ice scraper, snow brush and shovel in case you need to dig your car out.
Paper map or printed directions: Even though everything's digital nowadays, you'll still want a hard copy of your directions in case your GPS or Wi-Fi stops working.
7. Bring Road Trip Snacks
Along with packing the necessary clothes, climate gear and emergency supplies, you'll need to bring plenty of snacks on your trip. This crucial component of long road trip planning will ensure everyone in the vehicle has a full belly — and everyone will be happier as a result.
Packing road trip snacks involves more than just tossing a couple of bags of chips into the trunk. You need to put some thought into the snacks you choose for your road trip so you end up fueling your body as effectively and efficiently as you fuel your vehicle. Bringing fresh, whole foods to munch on will leave you better off than trying to drive for hours off of processed, sugary snacks.

Here are some tips for filling your tank with foods to make you feel energized and ready to drive:
Think portable: There are plenty of travel-friendly healthy foods. Snacks like fresh fruit, vegetables, hummus wraps, nuts, protein bars and wholegrain crackers are great for eating clean on the go.
Keep snacks handy: Having healthy snacks readily available will eliminate the temptation to stop for fast food. Make sure your snacks are accessible for when hunger strikes, instead of buried beneath other luggage.
Meal prep in the morning: Plan out your meals for the day before you get tired out from a day full of driving and having fun.
Do restaurant research: If you plan on eating out one day, try to find a restaurant in advance that offers healthy food.
Shop local: Stock up on fresh fruits and vegetables at any local markets you drive by and store them in your cooler. You can even get fresh ingredients to prepare healthy meals in your RV or at your hotel.
Bring some guilty pleasures: Keep in mind that you're on vacation! While you'll want to mainly eat healthy foods, be sure to bring some indulgences, too. Whether you're partial to snack cakes, dark chocolate or homemade cookies, have some dessert on hand for special nights.
If you're traveling in an RV, you'll have the opportunity to bring higher quality snacks thanks to the increased storage space and refrigerator you'll have at your disposal. You'll also be able to save money by preparing your own meals using your RV's kitchen area. Cooking instead of grabbing fast food while on the road is healthier, helps you save money and allows you to spend more time with your family.
In addition to bringing plenty of snacks and ingredients, you should never embark on a long road trip without a giant jug of water. Because you'll already have your smaller reusable water bottle, reserve the jug of water for emergencies. Keeping some water on tap in case of emergency could get you out of some sticky situations.
8. Prepare Some Road Trip Entertainment
To avoid getting bored during long stretches of driving, you'll need some creative ways to entertain yourself. Of course, music is a great go-to and you'd be surprised how many hours of driving a killer playlist can get you through. But if you find yourself steadily burning through your favorite jams, you have other options.
You can pass your time behind the wheel by listening to books on tape, podcasts or even language courses. Whether you enjoy a good story or learning something new, you can find the perfect podcast for you. If you're lucky, you'll discover a podcast with numerous seasons to last you your entire trip.
If you're traveling with kids, come prepared with road trip game ideas to keep them occupied. Instead of relying on screens to entertain them, bring other fun options like coloring books, board games, playing cards and more. You can also play classic car games like rock, paper, scissors, the alphabet game or 20 questions.
Traveling in an RV will provide your family with an in-vehicle entertainment center that includes additional storage. Watch TV shows, movies and play video games while you're on the road. As a result, your family won't ever be bored no matter how far you're driving. Likewise, when you're hanging out at a campsite and it's raining, you can always head indoors to hang out.
When you have the right forms of entertainment, you and your kids won't even notice the miles flying by. You can keep everyone in your vehicle happy by preparing some on-the-road activities in advance.
Apply for an RV Loan With My Financing USA

Now that you know how to plan a camping road trip, find out how you can obtain an RV loan from My Financing USA. At My Financing USA, we offer financing options that fit your needs, regardless of your credit score, so you can achieve your RV road trip dreams. Our personalized services help RV loan applicants across the nation find flexible financing solutions with competitive rates and terms.
If you're ready for the adventure of a lifetime, apply for an RV loan from My Financing USA. Our application process is easy, secure and will only take you a few minutes to complete. Take five minutes to fill out an application or contact My Financing USA today to learn more about your financing options.
---
Additional Resources on Road Trips:
---