Quick Navigation
Looking to see the country, enjoy the sights and save some money? Road tripping is a great choice. From gaining full control over your travel to having jam sessions while you drive, the perks of a road trip are hefty — but going it alone can be intimidating. Fortunately, with a little preparation, you can plan the perfect solo road trip that ticks all of your boxes. We'll go over everything you need to do to set up your ideal trip and hit the road worry-free.
How to Plan a Solo Road Trip in the USA
Whether you're still deciding where to go or you're working on the finishing touches of your itinerary, here are our tips for how to plan for a long solo road trip:
1. Determine Your Budget
Although road trips tend to be cheaper than other methods of travel, you still need to account for things like gas, food, hotels and any activities you want to do, like tours or museums. Determine how much money you want to spend on your trip and go from there. You could go all out on fancy hotels, adventurous meals and expensive activities, but road tripping also offers a lot of ways to save:
Accommodations: To save money on one of the biggest costs, you might be able to sleep in your vehicle, particularly if you're traveling in an RV. You'll just need to find a safe place to park legally, and you can say goodbye to expensive hotel rooms.
Food: Road trips are a great way to experience new restaurants and local spots, but it's also pretty easy to opt for affordable food when you're road tripping. You won't need to buy overpriced airport food and can instead grab low-cost snacks and look for cheap eats.
Gas: You can save on gas by doing some research ahead of time. There are many apps and websites that can help you estimate how much gas you'll need for a trip and where to find the cheapest gas on your route.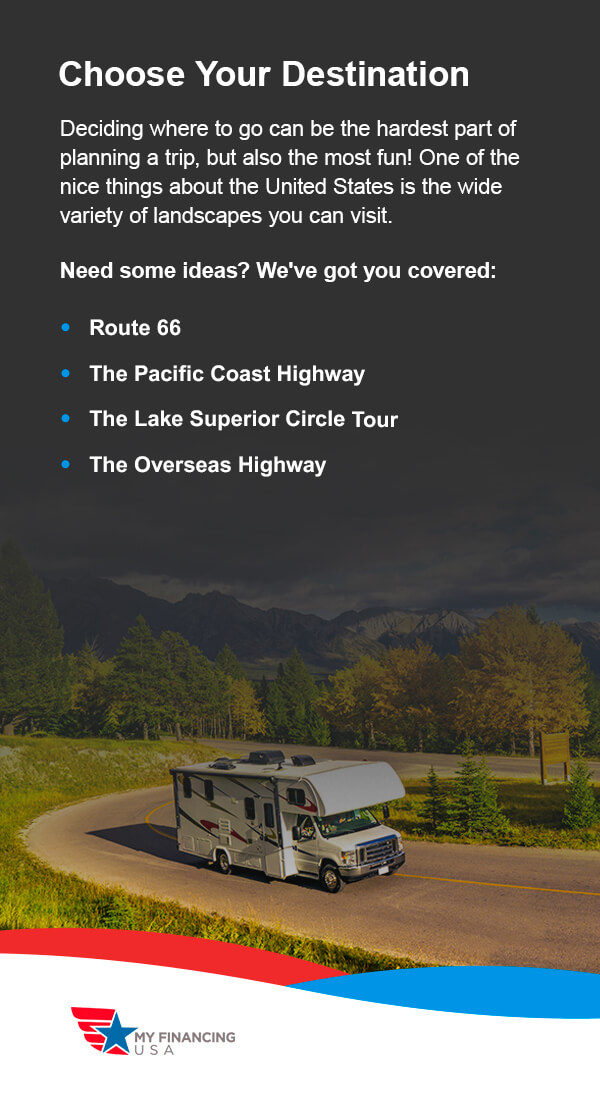 2. Choose Your Destination
Deciding where to go can be the hardest part of planning a trip, but also the most fun! One of the nice things about the United States is the wide variety of landscapes you can visit. Whether you want to hit up the beauty of the Pacific Northwest, the beaches of the East Coast or anything in between, you have tons of options.
Need some ideas? We've got you covered:
Route 66: This classic highway runs from Chicago to California, with some exciting stops in Arizona, New Mexico, Missouri and Illinois. Hit up old-timey diners, historic sights and museums or take detours to any number of cool stops, like the Grand Canyon.
The Pacific Coast Highway: If you want to soak in the beauty of the West Coast, this is the trip for you. Set aside some time for surfing or snorkeling as you drive between Washington and California. From big cities like Seattle and San Fransisco to rainforests, beaches, hot springs, cliffs and other natural beauties, you're in for plenty of diverse sights.
The Lake Superior Circle Tour: Want to dip into another country on your road trip? Try circling Lake Superior and drive through Michigan, Wisconsin, Minnesota and Ontario, Canada. Be sure to do some kayaking or boating on the water to soak in the lake and everything it has to offer.
The Overseas Highway: We don't usually think of road trips through the tropics, but the Overseas Highway goes right over the water, connecting the many islands of the Florida Keys. You can make stops in places like Key Largo and Marathon and do everything from scuba diving and boating to shopping in outdoor markets and, of course, relaxing on the beach.
While you're choosing your destination, consider what kind of trip you're going for. Are you road-tripping mainly to get from point A to point B, or are you looking to savor the trip with a scenic route? Consider how much time you'll have to pack in everything you want to do without rushing yourself.
3. Make Sure Your Vehicle Is Ready for the Trip
Before you ever hit the road, make sure your car is ready for it. If you need any repairs or maintenance, get it done. If you don't know much about your vehicle, take it to a mechanic and ask them to give it a good once-over. Some things they might check include:
Fluids: You need to check on your oil, brake fluid, transmission fluid and windshield fluid, among others, to keep the inner workings of your vehicle running smoothly.
Tires: For your tires, air pressure and rotation are good things to check. Consider whether you're due for a complete tire replacement if it's been a while.
Miscellaneous: You may also want to take a look at your air filters, brake pads, belts, hoses and lights to make sure nothing's worn out.
Still, cars are fickle. You can't predict everything that could happen. We always recommend having a 24/7 roadside assistance plan in place, such as the one offered through our Vehicle Service Contracts. We also offer RV Tire and Wheel Asset Protection to help keep your RV in tip-top tape and allow you to stay on course during your trip.
4. Decide Where You'll Make Your Stops
Whether you're driving for something more chill like sightseeing and classic diners or something more adventurous like ziplining through the mountains or exploring a big city, you want to have an idea of where to stop. There's no shortage of guides online to help you plan stops and find hidden and not-so-hidden gems in every part of the United States.
Look for viewpoints, attractions, museums, must-have restaurants, tours, hiking trails, shopping centers — the sky's the limit! Be on the lookout for events, too, like festivals and concerts that could add a little something special to your trip. Don't be afraid to make a small detour. You're road tripping for a reason, and you never know when a stop outside of your route could turn into the best part of the drive.
5. Have a Communication Plan in Place
In the 21st century, solo road trips are a lot more attainable thanks to modern technology. You won't have to rely on an atlas or worry about where you'll have access to a phone to call home. Still, there are a few things to do to stay safe and in touch with loved ones. Even if you're trying to get some alone time, it's essential to cover the basics.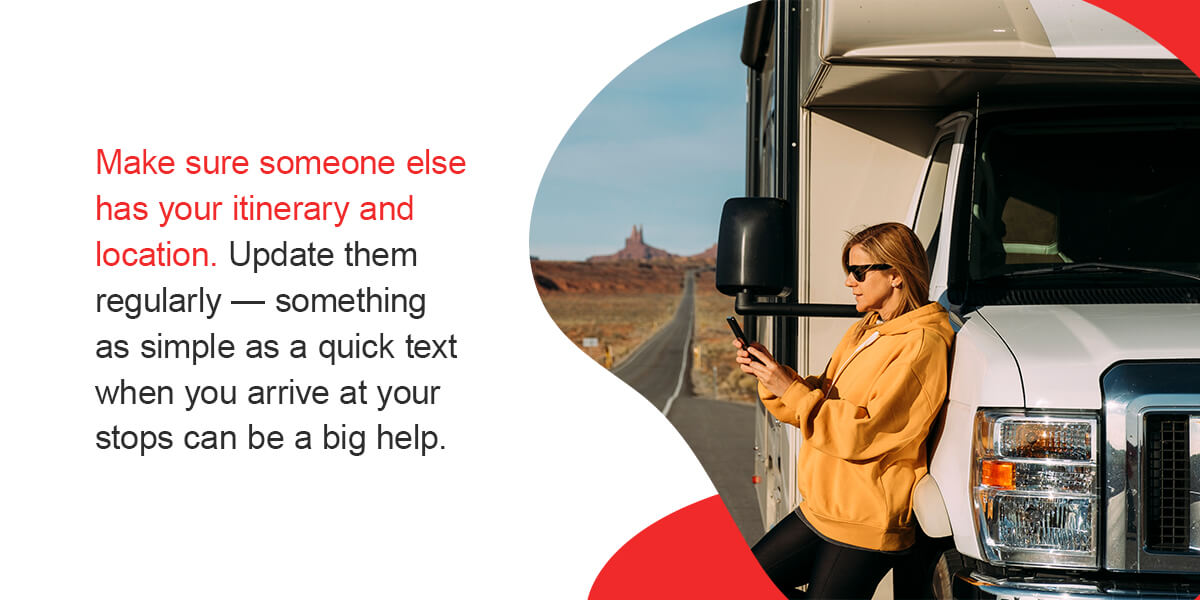 Make sure someone else has your itinerary and location. Update them regularly — something as simple as a quick text when you arrive at your stops can be a big help. Whether you have an Android or iPhone, there are many ways to share your location through the device itself or third-party apps, like Facebook Messenger, WhatsApp, Find My and Google Maps.
Set or update your phone's emergency settings. iPhones and Androids let you designate an emergency contact and record information like your medical history and medications. You can even send out SOS messages with discreet movements, such as clicking the power button multiple times in a row.
Another thing to consider when it comes to communication is service availability. While most major cell phone carriers offer nationwide coverage, there may be a few areas where you dip into no-coverage zones, such as rural highways or national parks. Make sure you download your GPS map for offline use so you always have reliable directions. Consider a satellite-based communication device, especially if you'll be hiking. If you're driving and need to get connected, many restaurants offer free Wi-Fi, especially big chains like Mcdonald's and Starbucks.
6. Plan Gas Stops Frequently
No one wants to putter to a stop in the middle of nowhere because they weren't paying attention to their gas tank. To really keep yourself on track, plan gas stops in advance. You could also get in the habit of stopping for gas often. Even if your tank isn't fully empty, it's better to be overprepared than stuck on the side of the road. You never know when you'll run into one of those long stretches with no gas stations for miles. Plus, these stops are a good opportunity to stretch your legs, grab some food, run to the bathroom and take care of other road-trip essentials.
7. Pack for the Trip
Packing for a road trip is a little different than packing for other types of travel. For starters, you aren't nearly as limited. You don't need to pay for a checked bag or worry about meeting strict airline requirements about the size of your suitcase. You will, however, need some essentials. Think about what you need for:
Driving: Make sure you have a good pair of sunglasses, a phone charger and mount and other little things to make your drive more comfortable, like lotion, chapstick and medications. Even though you might plan to use your phone for GPS, it's a good idea to keep an old-fashioned map in the car, just in case.
Car prep: Check your glove compartment and ensure you have your insurance card, registration and vehicle manual. Stay ready for mishaps with a first aid kit, roadside assistance kit and a spare tire in good condition. If you're traveling in the winter, add a snow shovel and ice scraper to your list.
Sleeping: If you'll be sleeping in an RV, vehicle or in the great outdoors, you'll need things like pillows, blankets, a tent, an eye mask, a portable fan and whatever else you need to fall asleep.
Clothes: Wherever your travels take you, you want to make sure you're comfortable while driving. Loose, breathable clothes are always a safe bet, along with comfy sweaters.
Cooking: For those planning to prepare food in an RV or outdoors, you'll need some cooking tools, like dishes, towels, clean water, a cook set and aluminum foil.
Entertainment: Make sure you have things to keep you busy during stops and while driving. Download some podcasts, audiobooks or playlists to keep your ears entertained, and bring a book, tablet or handheld game console for stops. For the photographers out there, bring your camera and a nice distance lens for the gorgeous landscapes you'll be passing through. Don't forget to keep some cash on hand, whether you need it for an emergency or just to stop at a roadside produce stand.
Pets: If you've got a furry friend joining you, pack up their food, a sleeping space and anything else they'll need.
8. Create a Food Plan
Know how you want to eat before you hit the road. Will you try the finest cuisine you can find, explore hole-in-the-wall restaurants or make your own meals? Whichever approach appeals to you, it helps to have an idea of how much you're looking to spend and where you want to go. For some restaurants, you might need to make reservations. If you're cooking on your own, you'll need some groceries.
Looking for some local gems? Do some research ahead of your trip or, better yet, talk to some townies. Ask what their favorite restaurant is and be spontaneous! Chain restaurants might be convenient, but eating locally can introduce you to wonderful foods. Plus, you get to support the local economy and get a taste of somewhere new.
9. Make Sure You Feel Safe on a Solo Road Trip at Night
One of the most important parts of going on a solo road trip is making sure you feel safe. From interacting with strangers to setting up camp in safe places, it's vital to know how to handle yourself.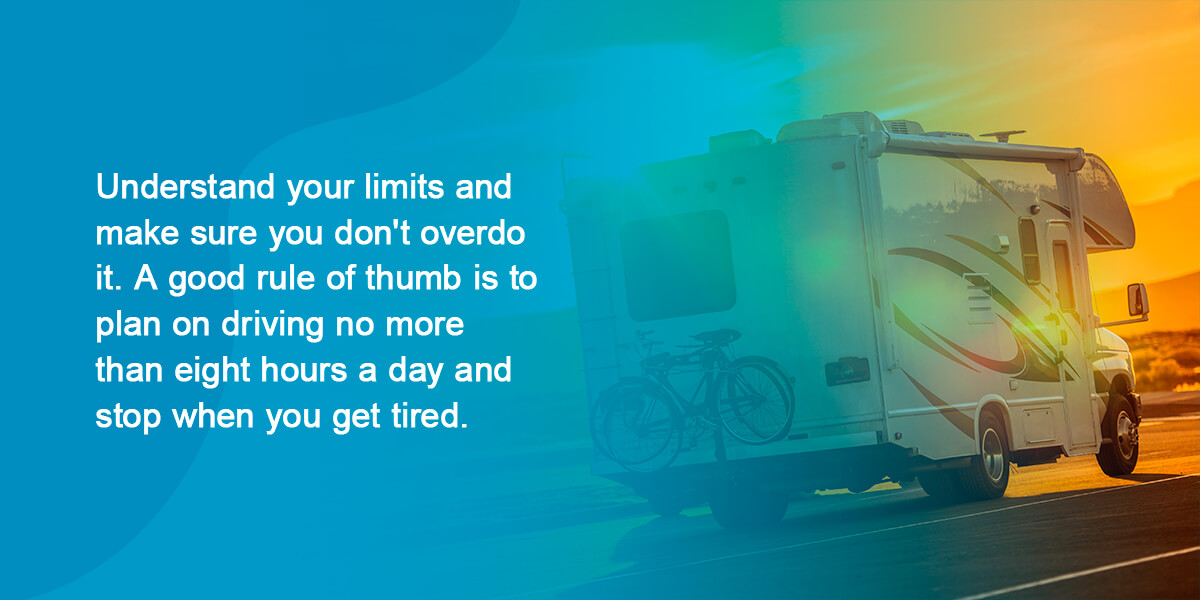 If you start to get tired — whether the sun is out or not — stop and find a place to rest. Driving for hours on end isn't something most people do often. Understand your limits and make sure you don't overdo it. A good rule of thumb is to plan on driving no more than eight hours a day and stop when you get tired.
When you do stop somewhere, be careful about the location. If you get a bad feeling, try somewhere else. If you're staying in a hotel, check out reviews beforehand to find a clean, reliable place.
If you're sleeping in your vehicle, registered campsites are ideal. Some are free, but some charge a small fee and may offer more amenities, like showers, laundry or electrical connections. Apps and websites can help you find the best places to stay in a given area. Another option is a parking lot, like the one at a big grocery store or rest area. It might not be perfect, but it'll do in a pinch. If you aren't sure if you can stay there, just ask. Many places with large lots even encourage it!
If you're getting your shuteye in a car or RV, make it private with some window shades, or DIY your own with some sheets. You may also want to get a bug net so you can crack a window for some fresh air.
Always lock your doors, never leave your engine running overnight and never tell someone you're road tripping alone.
Plan the Perfect Solo Road Trip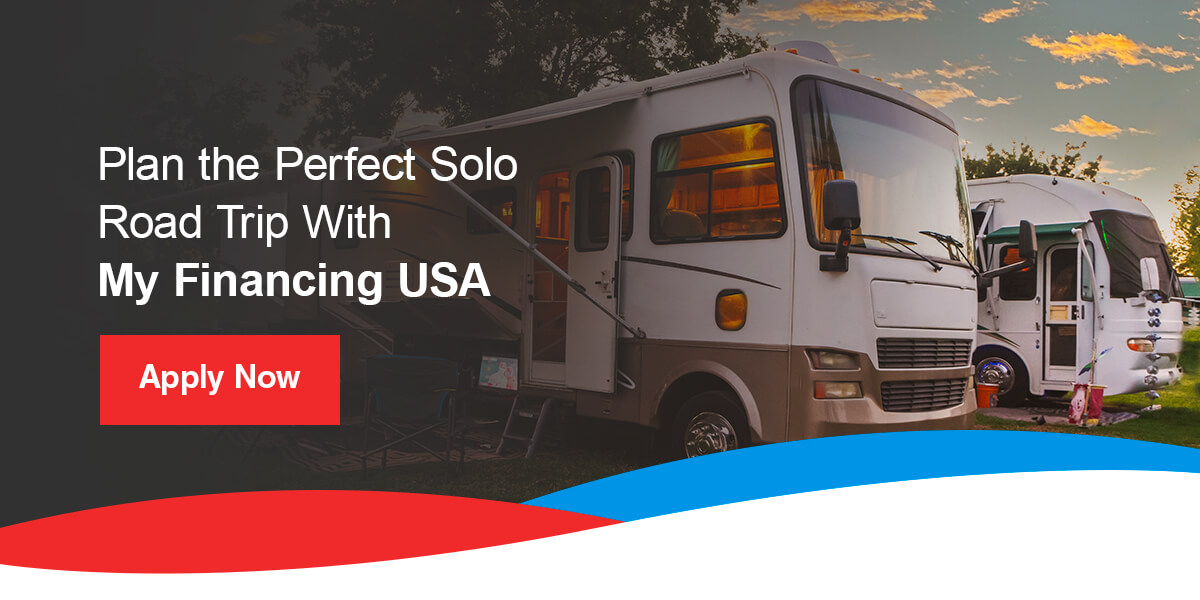 A solo road trip can be intimidating at first, but with a little preparation, you can create a memorable experience! Hopefully, these tips have given you a better idea of what the perfect road trip entails and how to get yourself there.
If you need roadside assistance, a service plan, tire and wheel protection or even an RV loan, we can help. My Financing USA has been helping travelers go on new adventures for years. To learn more about these options, apply for RV financing online!
---
Additional Resources on Road Trips:
---