Quick Navigation
Planning a road trip? The East Coast of the United States is an excellent choice, with diversity, history and culture throughout its states. Knowing what makes the East Coast special and what you can see can help you select the right road trip destinations.
Why Road Trip the East Coast?
The East Coast has much to offer locals and travelers, providing something for every kind of road tripper. Regardless of what road trip you are looking for, you can find it along the East Coast. Some reasons to consider planning your next road trip here include:
History
As the birthplace of the country, the East Coast is rich in history, with Colonial settlements, Revolutionary and Civil War battlefields and Victorian architecture.
Learn about the Founding Fathers throughout the states, exploring several in-tact Civil War forts scattered across the coast. Sleepy New England towns are home to famous witch trials and ghost stories. Cities like Boston, New York City and Washington, D.C. are players in events that shaped the country, featuring several world-famous museums, so you can continue learning.
Culture
The East Coast spans 14 states, each with an individual state and regional culture. Explore the quaint and quiet New England life, hike Virginia and the Carolina mountains or sip authentic Southern sweet tea in Georgia and Florida. Each region hosts local delicacies, like lobster rolls in Maine or key lime pies in Florida. Adventuring along the coast can expose you to new traditions and experiences you can't find anywhere else.
Seasons
You'll find all four seasons along the East Coast. Summer never ends in sunny Florida, with endless coastlines and sandy beaches. Spend spring in Washington, D.C. for the annual Cherry Blossom Festival. Drive through the fall foliage in New England and the mid-Atlantic. Ski in the Vermont mountains or have a snowy day in a warm cabin. Whatever time of year you plan your road trip, you can experience the best the season offers.
Nature
The East Coast is home to diverse ecosystems, so you can explore stunning natural features and spot wildlife. You can find several National and State Parks scattered throughout the 14 states, with hundreds of acres available to explore.
Adirondak State Park is the largest state park in the continental U.S., with 6 million acres of land open to your adventures. The Appalachian mountains stretch from New England through the Carolinas. The Everglades National Park has underwater forests, marshes and species you can only find in this Florida reserve.
Overall, the East Coast is scenic, expansive and historic, making it perfect for every road trip group.

How Long Does It Take to Road Trip the East Coast?
Your road trip length will depend on how many locations you want to see and how far you travel. You can spend a day on the road exploring one state, or you can take a couple of weeks to tackle an entire region.
The Best Time to Road Trip the East Coast
The East Coast's seasonality makes it a great place to visit year-round, though you might need to consider some factors.
Snow: The New England snow is majestic and perfect for winter sports. However, it can be daunting if you don't have practice driving in the snow. Alternatively, Georgia and Florida can be great places to escape the snow and winter chill.
Fall: New England and the Mid-Atlantic states have a beautiful fall season, with vibrant colored trees dotting the hills. Plan for that year's peak, which is usually at the end of September and early October, to get the most of the reds, oranges and golds.
Mud season: Mud season is a period during the spring when heavy snowfall starts to melt, leaving muddy plains and roads across the region's northern states. If you want to make the most of the scenery and the outdoors, consider planning around this.
Your road trip schedule is up to you, though knowing the best times to travel the East Coast can help you make the most of your time on the road.
Where to Start and Stop
Your stopping and starting point depends on many factors, especially your destinations. Where you want to travel will determine where you need to be. For example, if you want to explore New England, a city or town in the region can be a good launching point to connect you with other essential pit stops.
You also will need to consider your availability. If you plan a local road trip, your starting and stopping points will likely be your hometown. However, you can also fly to a city and rent a car, making the airports you choose your end pins.
Where to Visit Along the Way
The East Coast has much to offer. Explore what you can see by region and state to create the right road trip for you.
1. New England
New England is the northeastern section of East Coast states, including Maine, Vermont, Massachusettes, New Hampshire, Connecticut and Rhode Island. The region gets its name from the English settlers who established and defined the states. Now, you can explore their quiet towns with white-steepled churches, rocky coastlines and vibrant fall leaves.
Boston is a standard starting and ending point for New England road trips. As the region's largest city, it gives travelers easy access to its surrounding states while offering adventures within the city itself. Explore the city on foot via the Freedom Trail — a 2.5-mile-long path through the city's historic landmarks.
The Public Garden Lagoon offers swan boat rides, perfect for families or couples. Get a taste of Boston's boat life with a harbor tour. You can select a regular boat or a duck boat, which can move between land and water. For some excitement, hop over to Fenway Stadium for a Red Sox game.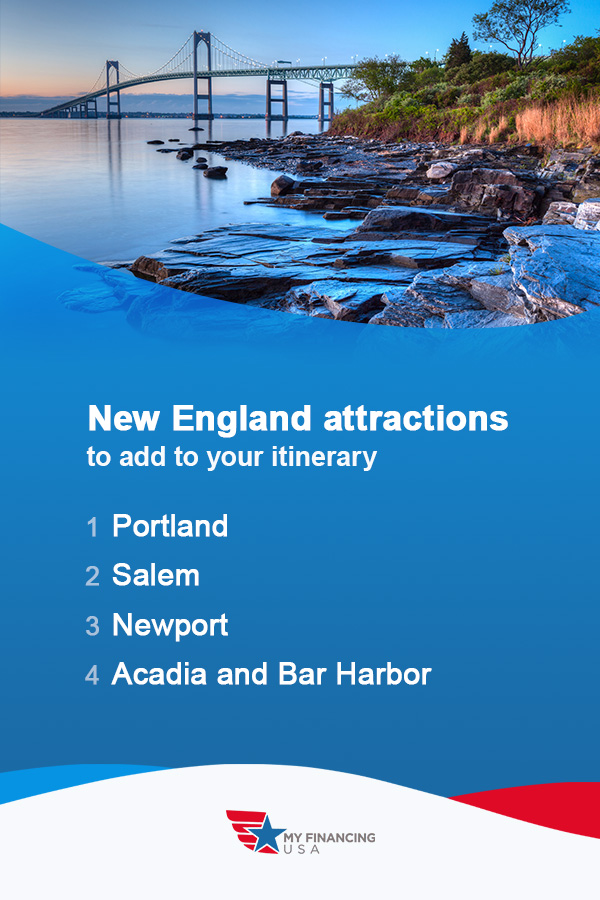 Whether Boston is your destination or starting point, consider these other New England attractions to add to your itinerary:
Portland: The East Coast's Portland sits on Maine's coastline. The city is famous for potato donuts and local breweries, making it a must for the foodie in your road trip group. The Old Port district has quaint shops to explore, helping you find the perfect souvenir for your travels. For some New England charm, visit the Portland Head Light, the city's lighthouse.
Salem: Salem, Massachusettes, is famous for the witch trials. This small town is a must if you love everything spooky or want to learn about this era of history. The Witch Trials Memorial pays tribute to the people killed in the trials, and the 1962 Salem Witch Museum can teach you more about the tragedy.
Newport: Newport, Rhode Island, is another coastal town you need to add to your New England road trip. The mansions in the sweeping hills are picturesque reminders of a luxurious coastal lifestyle. The Newport Lighthouse is an excellent stop to take in the sea and sky.
Acadia and Bar Harbor: Acadia National Park is in Bar Harbor, Maine, and is the perfect destination for every nature lover. Take a boat to spot whales and puffins for an unforgettable New England experience or hike the many trails for panoramic views of the ocean and park scenery.
While this is only a portion of what New England offers, this region is excellent for you and your travel companions to explore.
2. Mid-Atlantic
The Mid-Atlantic region sits below New England, including Pennsylvania, New York, New Jersey, Delaware, Maryland and Washington, D.C. It's also often said to include West Virginia, though West Virginia isn't part of the East Coast.
In Washington, you can learn about any topic, from art to history, at the Smithsonian Museums, which are free to guests. You can also walk around the Tidal Basin and National Mall to visit various iconic monuments, like the Jefferson and Lincoln Memorials or the Washington Monument.
New York City is one of the most famous cities in the world, with many attractions you can visit on your road trip. Consider a night out to a Broadway musical or spend the afternoon exploring Central Park. Like Washington, New York City is home to many carefully curated museums, including the Metropolitan Museum of Art. Plus, it's a foodie's heaven, with more than 27,000 restaurants to consider.
Baltimore, Maryland, is another location in this region you might enjoy. This coastal city is a mix of New England charm and Mid-Atlantic business. The National Aquarium offers several attractions everyone can enjoy, while nearby Fort McHenry is a War of 1812 Monument that's great for the avid history buff. In the evening, enjoy the sunset on a boat tour around the harbor.
The Mid-Atlantic is a beautiful, historic region. New Jersey and Delaware are lined with calm, sunny beaches where you can relax on the sand or play games on the boardwalk. Pennsylvania is also filled with engaging history and activities, as Philadelphia served as the nation's capital until 1800. All in all, you can't go wrong with a couple of weeks spent here.
3. Virginia and the Carolinas
Under the Mid-Atlantic states are Virginia, North Carolina and South Carolina. These states begin the American South, known for its fried food and sweet hospitality. Here, you can find a variety of natural landscapes, from the blue peaks of the Appalachian Mountains to the flat coastal communities.
Some stops to consider on your road trip include:
Chincoteague National Wildlife Refuge: Chincoteague National Wildlife Refuge sits on Assateague Island off Virginia's mainland, protecting the beaches and wild ponies that roam the area.
The Historic Triangle: For those who love Colonial history, southern Virginia is home to some of the first English colonies. Colonial Williamsburg, home to William and Mary University, has preserved the Georgian buildings and town square for an authentically historical feel. Jamestown offers a recreation of the first settlement, including ships and Indigenous American living areas. Yorktown showcases the Revolutionary battle with cannons. Each site has reenactments and actors helping maintain the state's early history.
Boone: In western North Carolina, Boone rests in the Blue Ridge Mountains, a section of the Appalachians. Here, you can enjoy a more rural feel with access to many excellent hiking locations.
Charleston: This South Carolina city is a snapshot of Southern culture. The Frech Quarter's cobblestone streets and pre-Civil War architecture make you feel like you're living in a different time. The city is rich with Civil War history as the location of significant battles, which you can learn about at Fort Sumpter.
Additionally, each of these states features popular beach destinations, including Virginia Beach, Cape Hatteras, Hilton Head and Myrtle Beach, which may interest you if you've never been. Plan your drive through these three historic states and discover your next dream location.
4. Georgia and Florida

As the southernmost East Coast states, Georgia and Florida are full of color and culture. They usually have longer, warmer summers with mild winters. Like the other East Coast states, you can find much to do here, including:
Savannah: Savannah, Georgia, is a charming city that slows down life and gives you a window to the past. Its horse-drawn carriages and cobblestone streets make it the perfect place to enjoy the scenery and stroll on long summer days. Forsyth Park is a must-see here, with Spanish moss hanging from the trees and an elegant fountain that give it a magical feel.
Miami: Miami is a bustling Florida city. Its South Beach Art Deco district offers colorful early 20th-century architecture the city has carefully preserved and restored. The city is on the ocean, so you can enjoy the sand and the surf while working on your tan. This Florida location is also a great gateway to other essential Sunshine State attractions, like the Keys and the Everglades.
The Everglades: Everglades National Park is perfect for the wildlife observer in your travel group. These wetlands are home to several species of birds, frogs, snakes and alligators. If you're lucky, you might even get to see a manatee. In the park, you can tour, kayak, fish, camp and hike through this protected ecosystem.
The Keys: The Florida Keys are a Southern paradise, home to sparkling waters and key lime pies. In Key Largo, John Pennekamp State Park offers beautiful coral reefs that you can explore with a snorkel or from a glass-bottom boat. Bahia Honda State Park has pristine white sand and crystal waters you can explore with friends or family.
How to Decide What Route to Take
When planning East Coast road trip stops, you can design your route around what you want to see. You also have flexibility with your road trip style. You can choose to make a loop where you start and end in the same location, or you can have two different endpoints.
However, if you're unsure where you want to go, some scenic drives along the East Coast can help direct your travels.
1. Blue Ridge Parkway
The Blue Ridge Parkway runs throughout the North Carolina and Virginia Appalachians, which get their name for the blue hue they have from a distance. It's incredibly scenic, with regular stopping points and lookouts for passengers to enjoy overlooks and panoramas. At each end sits a national park — Shenandoah National Park on the Virginia side and Great Smoky Mountains National Park in North Carolina.
2. US Route 1
US Route 1 is one of the longest highways in the U.S., taking you from the top of Maine by the Canadian border all the way down to the Florida Keys. Choosing one part of the route to travel can give you a more focused plan for your road trip.
For example, if you want to experience quintessential New England, take US Route 1 from Portsmouth, New Hampshire, up to Portland, Maine. At just under an hour long, you could easily do this trek there and back in one day. However, setting aside at least a few days to explore the stunning coastal towns and beaches of Portsmouth, Ogunquit, York, Kennebunkport, Cape Elizabeth and Portland is highly recommended.
3. The Overseas Highway
The Overseas Highway is a gorgeous overlook of the Atlantic Ocean and the blue waters that make Florida a popular destination. It connects Miami and the Florida Keys. As a series of bridges, you can easily hop to various islands and the mainland.
Plan the Ultimate East Coast Road Trip With Our Guide

Road trips can create lasting memories and once-in-a-lifetime adventures you can enjoy with your families and friends. Having the right equipment and preparation can help you make your dream road trip a reality.
My Financing USA can help you easily navigate your East Coast road trip with our RV finance plans. With an RV, camping and moving to different locations is efficient, and you have everything you need on board, from sleeping spaces to a small kitchen.
Submit an application online today and discover how My Financing USA can help you explore the East Coast in an RV.
---
Additional Resources on Road Trips:
---