Quick Navigation
If you love adventure and natural scenery, then road-tripping across the country might be the perfect getaway opportunity for you and your family. With 50 states at your disposal, you can find and select the perfect attractions that everyone in the family will enjoy and look forward to.
Especially if your family loves camping, you can consider staying in one of the many state or national parks located across the country. Many parks offer spaces where your family can park your RV or pitch a tent for the night while offering unforgettable attractions for you to explore during the day.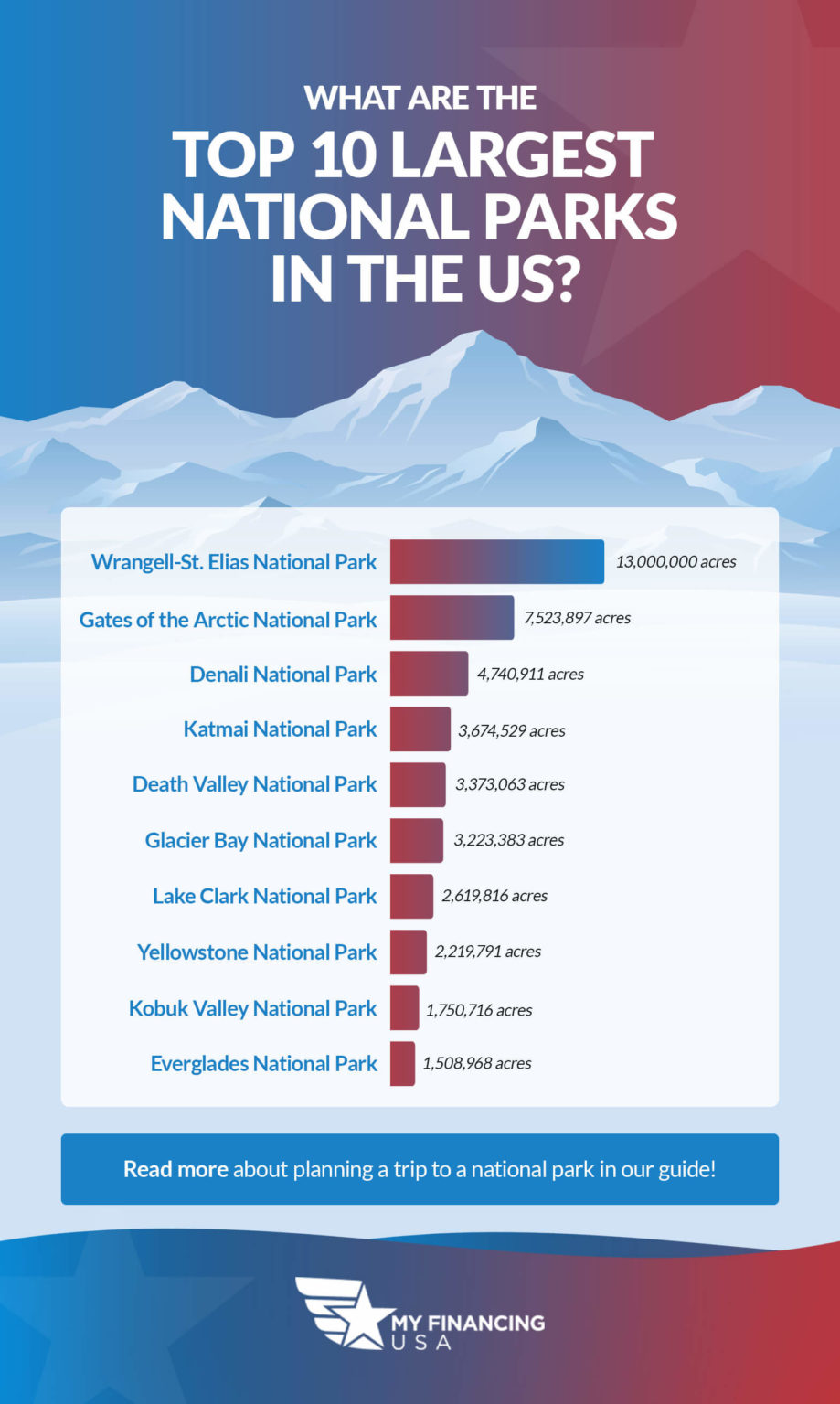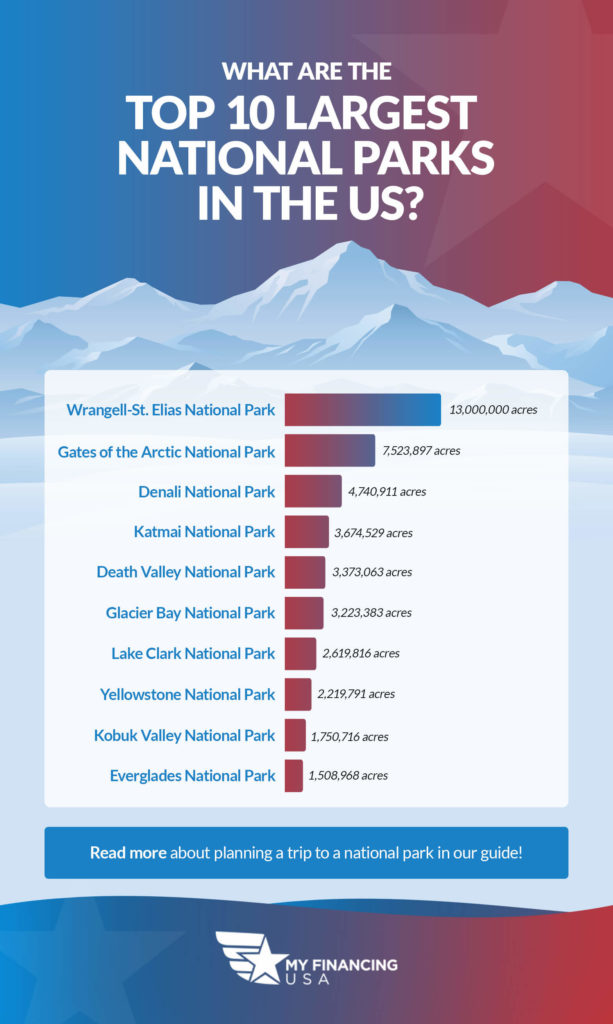 State Vs. National Parks
If you are searching for the largest parks in the U.S., you may find two different kinds of parks — state and national. The difference between the two depends on who manages and maintains the parks. State governments and parks and recreation programs will oversee state parks, while federal parks programs protect national parks. If you are specifically searching for the biggest state parks in the U.S., you will want to ensure state governments run them.
10 Largest State Parks in the U.S. by Acreage


Each state has a unique parks program that helps protect and preserve local wildlife and ecosystems. When traveling across the country, you can find diverse environments and stunning natural features that states work hard to protect. You and your family can further enjoy these locations by camping on their grounds and experiencing all the parks have to offer.
1. Adirondack Park, New York
Adirondack Park is the largest park in the continental U.S. and all 50 states, boasting around 6 million acres of land. Located only hours from NYC, Adirondack is also the largest protected land in the continental states, helping to preserve mountain and forest wildlife in New York. This state park is unique because state agencies allow people to live on the grounds year-round, so you can always enter the park for free and at whatever hour you wish.
When planning a trip to the Adirondacks, you will find everything you could ever want. You can find several classic campsites to make yourself comfortable and experience the New York wilderness and take one of their many trails during the day. However, if you are looking for more adventure or relaxation, you can check out the ski slopes and golf courses located in the park, providing seasonal camping options.
2. Smith Rock State Park, Oregon
While Adirondack is the largest state park in the U.S., the second-largest state park is on the other coast, close to Bend, Oregon. Smith Rock State Park is 650 thousand acres of canyon and rocky wilderness. Many travel out to Smith Rock to try their hand at rock climbing, and the park's varying difficulty levels make it perfect for climbers of all skill levels. Whether you are an expert rock climber or just getting started, Smith Rock is the place for you.
If rock climbing isn't your thing, there's still plenty to do and see around Smith Rock. Smith Rock Tuff is the largest formation on the park, rising to 550 feet. You can explore the rock formation around the park while looking out over the river and watching for local wildlife, like golden eagles and river otters.
3. Anza-Borrego Desert, California
The Anza-Borrego Desert State Park is California's largest state park, an impressive feat for a state with many state parks. This park is around 600 thousand acres and hosts various beautiful desert features within its climate, including palm trees, cacti, badlands and canyons. The park includes several hiking trails, so you can explore the desert and get up close to nature.
Additionally, the park includes metal statues from a local Californian artist, Ricardo Breceda, which you can find scattered throughout the park.
4. Chugach State Park, Alaska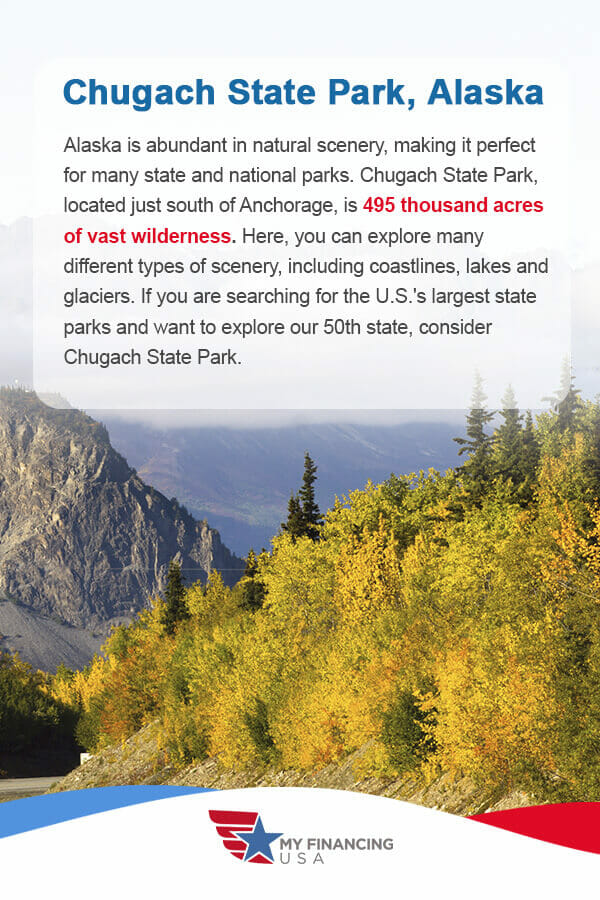 Alaska is abundant in natural scenery, making it perfect for many state and national parks. Chugach State Park, located just south of Anchorage, is 495 thousand acres of vast wilderness. Here, you can explore many different types of scenery, including coastlines, lakes and glaciers. If you are searching for the U.S.'s largest state parks and want to explore our 50th state, consider Chugach State Park.
5. Kachemak Bay, Alaska
In addition to Chugach State Park, Alaska enthusiasts can also explore the state's second-largest state park — Kachemak Bay State Park. Kachemak Bay is 400 thousand acres of exciting natural structures. You can find whatever natural scenery you are looking for at this state park, whether you want glaciers, mountains, forests or the Pacific Ocean.
When visiting Kachemak, you may encounter many aquatic animals, like seals, otters and porpoises. Its proximity to the ocean makes it perfect for whale watching. If you stay closer to land, you can catch glimpses of moose, bears, wolves and mountain goats. Regardless of where you are in the park, you have the opportunity to see incredible Alaskan wildlife.
While Kachemak Bay is the second-largest Alaskan state park, it was its first park.
6. Baxter State Park, Maine
If you love hiking, then Baxter State Park might be the perfect state park for you. With around 209 thousand acres of forest and Appalachian mountains, you can find about 220 hiking trails, each with unique difficulty levels so you can find the perfect trail for you. Baxter is even home to one of the ending points for the famous Appalachian Trail.
Whatever you are looking for in the perfect camping trip, Baxter State Park has it all. The pristine lakes and streams are ideal for fishing. The park is home to Maine's tallest mountain, Mt. Katahdin, perfect for hiking and climbing. If you want to relax and take in the scenery, Baxter is home to moose, bears and other wildlife to keep your trip exciting.
7. Palouse Falls State Park, Washington


Located on the eastern side of the state, Palouse Falls State Park offers a unique perspective to people's typical understanding of the Evergreen state. While many think of foggy pines and coastlines when they think of Washington, Palouse Falls is a 94-acre rocky masterpiece with a canyon carved hundreds of years ago, providing scenic and dramatic overlooks. You can hike around the canyon or enjoy the picnic areas located around the park.
The waterfalls themselves date back to the Ice Age, making them one of the oldest structures of their kind. Now, they attract tourists from across the state and country for their picturesque quality.
8. Custer State Park, South Dakota
If you love the rolling plains of the Midwest, then Custer State Park is perfect for you. With around 71 thousand acres of grasslands and cliffs to explore, you can experience all the beauty South Dakota has to offer.
Further, Custer is home to over 1,000 buffalo, which roam the park's plains year-round. However, the park hosts an annual roundup, where professionals will gather the herds together for visitors to watch from a safe distance.
9. Porcupine Mountain Wilderness, Michigan
For a beautiful northern state park, visit the 60 thousand acres available at the Porcupine Mountain Wilderness State Park, located in the Porcupine Mountains, which locals nicknamed the Porkies. This state park protects around 35 thousand acres of forests, allowing you to have an adventure when camping while maintaining natural Michigan wildlife. If you love hiking, Porcupine State Park sports 90 miles of trails for you to explore.
The park borders Lake Superior and has many rivers and streams if you love the water. Enjoy a nice beach day at the lake, or observe natural wildlife at one of its other natural water features.
10. Valley of Fire, Nevada
The smallest park on our list of the largest state parks in the U.S. is the Valley of Fire State Park, spanning around 42 thousand acres. While it is smaller than other parks, like Adirondack, the Valley of Fire is full of exciting natural rock formations. The park gets its name from the red sandstones that comprise the park's natural scenery — when the sun hits these rocks, they look like they're on fire, creating dramatic and gorgeous visuals.
If you love history, this state park hosts Native petroglyphs dating back 2000 years and petrified trees that can give you a glimpse into a different era in Nevada life. The park's visitor center has ongoing exhibits explaining the history of the area and artifacts found on the grounds, making it perfect for people who love to learn.

For adventurous campers, the Valley of Fire has areas you can rock climb and hike, allowing you to get close to nature.
3 Largest National Parks by Acreage
While camping in state parks offers unique experiences that everyone in your family will love, you can also plan to camp in many national parks. Like state parks, you can find these attractions all across the U.S., and they often serve to protect and preserve specific ecosystems and species.
1. Alaska National Parks
If you are wondering in which state is the largest U.S. national park, the answer is Alaska. The Last Frontier state boasts seven of the top ten largest national parks in the U.S. With wide areas of land available and several ecosystems and scenic landscapes covering the state, Alaska has eight total national parks you can visit, ranking just below California for the total number of national parks.
Alaska's largest national park, Wrangell-St. Elias, protects around 13.2 million acres of land, which is bigger than some countries and several other U.S. national parks. Several parts of this vast wilderness are still untouched by people and include several wilderness types, from mountain ranges to glaciers to active volcanoes. Further, this national park is home to the largest peak in the United States, Mt. Saint Elias, reaching just over 18,000 feet.
Some of Alaska's top national parks include:
Gates of the Arctic: This park is within the Arctic circle, making it the most northbound American national park. However, you can only access this park on foot because there are no roads, so be sure to research the area before making the trek thoroughly.
Denali: Denali is one of Alaska's more popular national parks. When exploring, you can come across many types of Alaskan wildlife, including bears, elk, moose and caribou. Further, it is home to Mt. Denali, the highest peak in all of North America, which rises over 20 thousand feet.
Katmai: Located along the southern part of Alaska, Katmai National Park is perfect for anyone who loves watching wildlife in the wilderness. Each year, tourists flock to Katmai to watch brown bears gather at the rivers and catch salmon.
Glacier Bay: Glacier Bay National Park is a popular cruise destination. Here, you can experience Alaska's aquatic wildlife, making it perfect for whale and dolphin watching. However, you can still explore the land, where you might encounter bears.
Lake Clark: You can only access this national park by plane or boat, but it may be worth the trip for you and your family. This park includes several mountain ranges and active volcanoes. Further, because of its more remote location, it is less popular with tourists, allowing you to have a peaceful park visit where you can truly appreciate nature.
Kobuk Valley: Like Lake Clark, Kobuk Valley National Park is more remote and receives fewer visitors each year than Alaska's other parks. However, it can be a great place to visit if you want to witness caribou in the wilderness.
Regardless of the adventure you are looking for, you can look to Alaska to provide millions of acres of camping experience for you and your family.
2. Death Valley, California
While the name suggests otherwise, Death Valley National Park bursts with desert wildlife. At over 3 million acres of land, this park is the largest continental national park in the U.S. and hosts the lowest point in North America, with Badwater Basin sitting over 280 feet below sea level. Temperatures can rise to above 100 degrees in the day and drop below freezing at night, so you will need to plan when considering this park carefully.
However, it includes some of the clearest night skies, making it the perfect location for stargazing.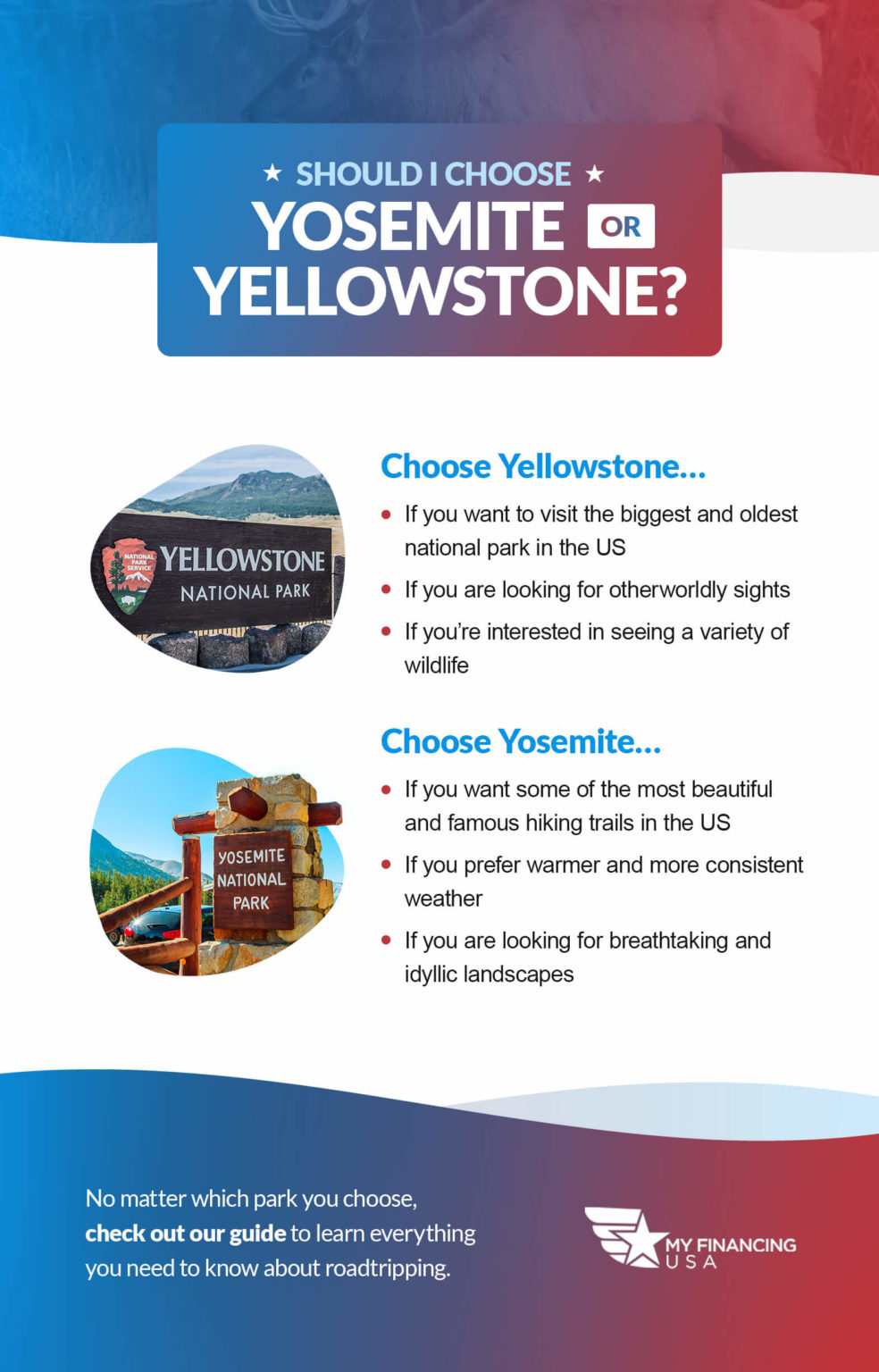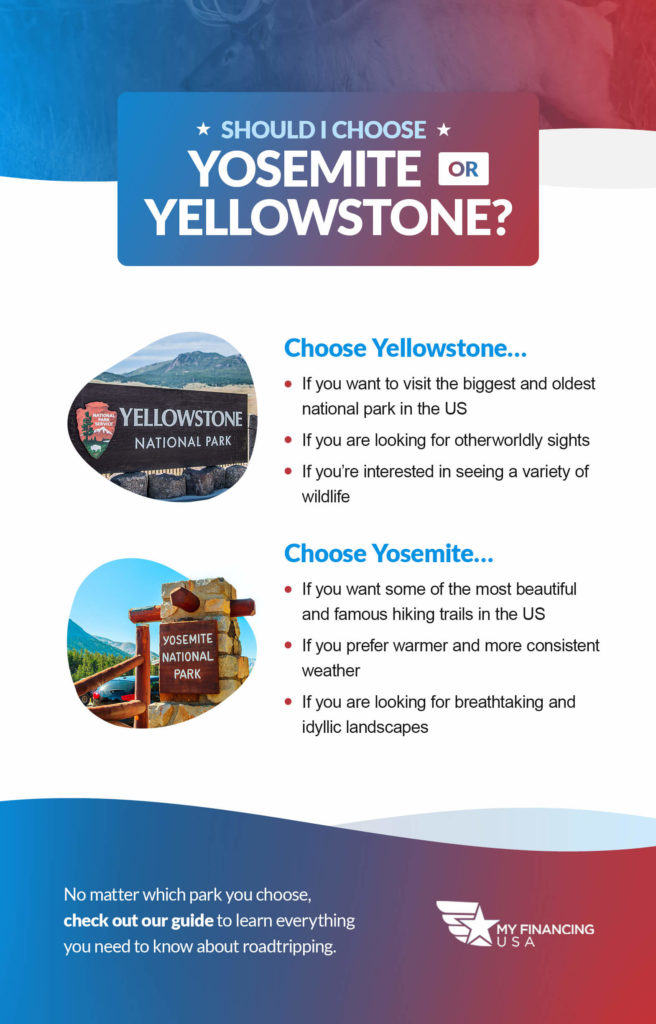 3. Yellowstone
Located across Montana, Wyoming and Idaho, Yellowstone National Park is a classic for families looking for somewhere to camp. Yellowstone includes 2.2 acres of land filled with exciting features, like hot springs and geysers, including Old Faithful. Its foundation back in 1872 makes it our first national park, so you can enjoy nature and history when visiting Yellowstone.
National, State and City Park FAQs
Learn more about the largest parks in the U.S. with these common questions and answers:
What state has the largest state park? Adirondack Park is the largest state park in the U.S. It covers about 6 million acres in New York with forested mountains and lakes, equalling the size of Vermont. In fact, Great Smoky National Park, Yosemite, Yellowstone, Grand Canyon and the Everglades added together could all fit inside Adirondack Park!
What is the largest park in the U.S? Wrangell-St. Elias National Park is the biggest in the U.S., measuring over 13 million acres of land in Alaska. It's larger than Switzerland, Yellowstone National Park and Yosemite National Park combined. The landscape includes remote nature for geological studies and high mountains. It's known for the most amount of glaciers and some of the most massive volcanoes in North America.
What is America's number one state park? People travel from all over to visit Fall Creek Falls State Park in Tennessee. Known as America's top-rated state park, it includes some of the best waterfalls in the U.S. — Fall Creek Falls reaches an East Coast waterfall record of 256 feet in height. The park features 26,000 acres of hardwood forests, cascades, gorges and streams to sightsee.
What are the top 10 largest national parks? The top 10 largest national parks in the U.S. include Wrangell-St. Elias, Gates of the Arctic, Denali, Katmai, Death Valley, Glacier Bay, Lake Clark, Yellowstone, Kobuk Valley and the Everglades. Alaska holds more than half of America's national park lands, including seven of the biggest parks. In total, Alaska contains eight magnificent national parks.
What is the largest city park in the U.S.? Chugach State Park is the biggest city park in the U.S., located east of the Anchorage Bowl in Southcentral Alaska. It features 495,204 acres of land and 280 miles of trails in Anchorage. The scenery includes mountains, glaciers, lakes and streams and popular activities include hiking, biking, fishing, berry picking, horseback riding, ATV riding, snowmobiling, hunting and more.
Is Yellowstone or Yosemite bigger? Yellowstone encompasses over 2,221,766 acres in Wyoming, Idaho and Montana. Travelers love sightseeing hydrothermal features such as hot springs and geysers. Smaller in size, Yosemite includes over 747,956 impressive acres in Southeastern California. Glaciers carved Yosemite in the Sierra Nevada mountain range, creating scenic views of granite monoliths, cliffs and towering waterfalls.
What is the most visited national park? The Blue Ridge Parkway gets almost 16 million visitors yearly, making it the most visited national park in the U.S. An entire ride through America's favorite drive takes about 10 to 12 hours. It includes 469 miles from Virginia to North Carolina. Visitors love seeing the vibrant foliage in the mountains during fall.
What is the second most visited national park? The Great Smoky Mountains National Park is America's second most visited state park with over 14 million people driving to see it each year. The park features over 500,000 acres of forest and 800 miles of hiking trails. Scenic views include many cascading waterfalls with various wildlife.


Apply for an RV Loan With My Financing USA
Discovering the largest state and national parks in the U.S. can open your family's camping opportunities and bring you to new parts of the country you have never seen before. You can go coast to coast or stick to a regional itinerary with ranging locations and natural scenery. Opening your options to both state and national parks allows you to get the most out of the U.S.'s available camping ground and park attractions.
At My Financing USA, we can walk you through the RV loan financing process so your family can find the best RV and payment plan for you. We work with many different RV companies to provide you with many options when selecting an RV. Further, we offer protection plans to help you manage repair costs in the event of damages. When you apply for a loan with us, we do our best to protect your credit score, so you can keep it high at all times.
Submit your RV loan application with My Financing USA today!


---
Additional Resources on RVing:
---