Quick Navigation:
The Midwest includes 12 states, which collectively cover about 821,000 square miles. That's a lot of land to cover! When planning a road trip through Midwest towns, there's so much material to go through. Discover the best places to road trip in the Midwest and make your trip the best it can be. This guide will make it as easy as possible to map out your plans so you can focus on making memories on the road.
If you're looking to explore the Midwestern United States, these Midwest road trip ideas won't steer you wrong.
Road Trip Routes
A route through the Midwest is a fantastic way to see as much as possible of this wonderful region. If you're unsure where to go, check out these options for routes through the Midwest and make your road trip one to remember.
Popular City-to-City Routes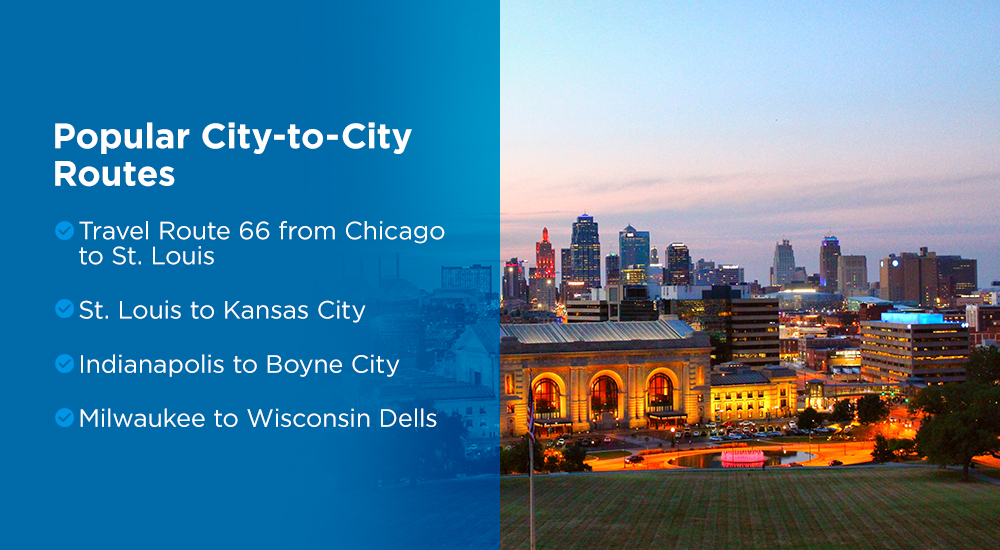 There are so many fantastic cities to visit and sights to see in the Midwest, so some of the best Midwest road trip ideas involve traveling from city to city. This option is great if you can't decide on just one place to visit. See as much as you can of this beautiful region by traveling between popular cities.
1. Travel Route 66 from Chicago to St. Louis
This Midwest road trip route follows the historic Route 66, beginning in Chicago, Illinois and stopping in St. Louis, Missouri. Route 66 features countless unique stops and gorgeous views of the country. Start with a famous deep-dish pizza in Chicago and visit the Bean in Millenium Park. Then, travel down to Springfield to visit the birthplace of Abraham Lincoln.
At the end of your trip, you'll find yourself in beautiful St. Louis, so visit the must-see City Museum and, of course, that famous arch at Gateway Arch National Park.
2. St. Louis to Kansas City
Whether you add this onto your Route 66 trip or want to make it its own vacation, traveling between St. Louis and Kansas City is one of the best Midwest road trips. In St. Louis, visit the beautiful Missouri Botanical Gardens and marvel at over 6.6 million different species there. These nationally ranked gardens are rivaled in size only by the one in New York.
As you make your way to Kansas City, stop in Hermann to be transported into wine country. Nestled amidst vineyards and wineries, with a trolley through town to transport you safely between them, this is the perfect stop for wine buffs.
Finally, Kansas City is famous for its jazz scene. But don't forget to try some of their famous barbecue at countless authentic restaurants in the area.
3. Indianapolis to Boyne City
Make your way from bustling Indianapolis, Indiana to the charming Boyne City, Michigan on this great Midwest road trip. If you want to go fast, check out the Indianapolis Motor Speedway Museum, or delight the kids at the Children's Museum of Indianapolis. Then, hit Grand Rapids on your way to Boyne City to check out the renowned breweries and walk along the Grand River.
In Boyne City, relax on the beautiful Lake Charlevoix in the summertime or ski down the slopes of Boyne Mountain in the winter. This charming small town is the perfect bookend to one of the greatest Midwest road trips.
4. Milwaukee to Wisconsin Dells
Nestled on the shore of Lake Michigan, Milwaukee boasts some gorgeous lake views. Explore the unique "living museum" Mitchell Park Horticultural Conservatory, also known as The Domes. Then, relax from a day of exploring the city at a lakefront brewery.
A short drive lands you in Wisconsin Dells. The kids will love the variety of amusements here, including Wizard Quest and Wisconsin Deer Park, a 40-acre petting zoo. You can also enjoy many outdoor adventures in the Dells, like ziplining, horseback riding, hiking trails and boat tours.
Take the Scenic Route
If you're truly looking for breathtaking views, these roads offer some of the most scenic road trips in the Midwest.
Hocking Hills Scenic Byway — Ohio
Wilderness Byway — Minnesota
The Ohio River Scenic Byway — Indiana
Needles Highway — South Dakota
Chan Sansan Scenic Byway — North Dakota
Lake Michigan Scenic Highway — Michigan
Great River Road — Iowa
Flint Hills National Scenic Byway — Kansas
Spoon River Valley Scenic Drive — Illinois
Door County Coastal Byway — Wisconsin
Coast to Coast Routes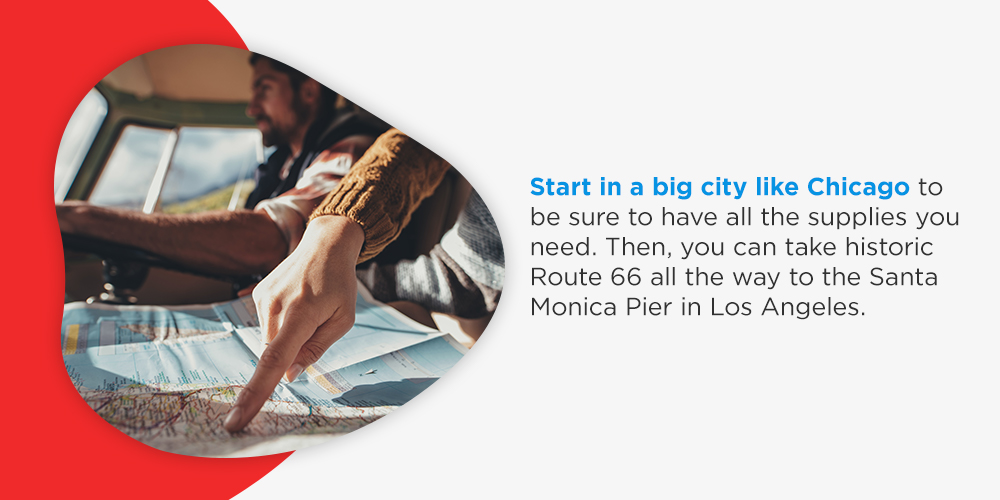 If you want to travel to the coast, try a Midwest to West Coast road trip. Start in a big city like Chicago to be sure to have all the supplies you need. Then, you can take historic Route 66 all the way to the Santa Monica Pier in Los Angeles, or travel a different route where you hit major cities like St. Louis, Denver, Portland or Seattle. Don't forget to stop by and see Yellowstone, the beautiful Rocky Mountains and the Grand Canyon on your way west.
For a great Midwest to East Coast road trip, start in Chicago and head south to Indianapolis and Cincinnati. From there, stop in Pittsburgh and Philadelphia as you make your way to the coast. Then, travel up the Eastern Seaboard through New York and Boston, hitting some of the beautiful seaside towns on your way up the east coast.
State-by-State Road Trip Destinations in the Midwest
The Midwest is full of fun and exciting things to do, but it's not always easy to pinpoint where you want to visit. If you're looking for the best road trip destinations in the Midwest, these ideas will give you everything you need to know. You'll discover the major cities, popular parks and outdoor adventures, fun activities for the kids and some suggestions for destinations off the beaten path for good road trip destinations in each Midwest state.
Illinois
Major Cities
Chicago is the largest city in Illinois and the third-largest city in the entire U.S. If you love the hustle and bustle of a big city, then this destination is the perfect stop for your road trip through the Midwest.
Get Outdoors
Illinois has some fantastic opportunities for visitors to get out and enjoy nature. Some of the great parks to visit include:
Shawnee National Forest
Matthiessen State Park
Starved Rock State Park
Giant City State Park
Fun for the Kids
Some of the most popular Midwest road trip stops for kids in Illinois include:
Off the Beaten Path
Check out these unique travel destination in Illinois:
Stay in a treehouse cabin at Timber Ridge Outpost and Cabins in Elizabethtown.
Take a picture with the world's largest ketchup bottle in Collinsville.
Visit Chester to see the Popeye Character Trail.
See one of the largest collections of Superman memorabilia in Metropolis.
Indiana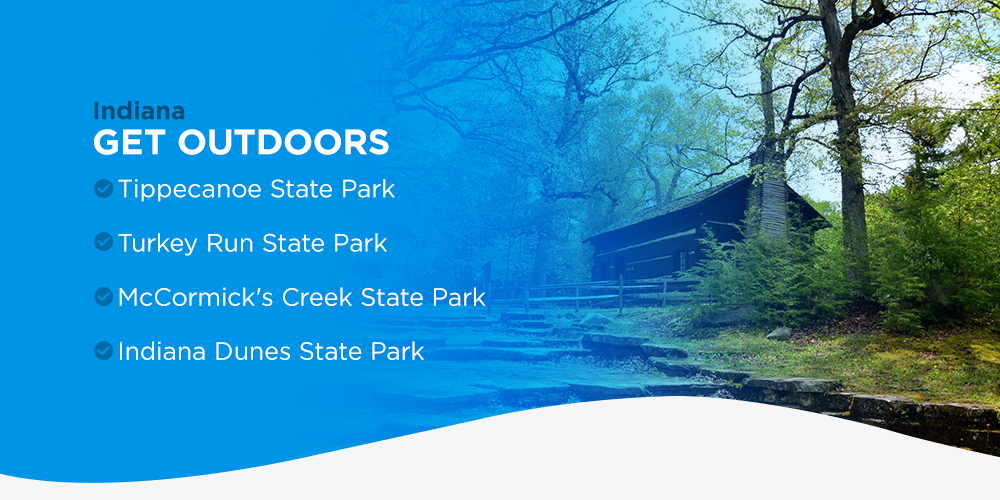 Major Cities
Indianapolis is the largest city in Indiana and a fantastic example of road trip destinations in the Midwest.
Get Outdoors
Some of the best state parks in Indiana are:
Tippecanoe State Park
Turkey Run State Park
McCormick's Creek State Park
Indiana Dunes State Park
Fun for the Kids
If you want some fun road trip destinations in the Midwest, look no further than these kids-friendly attractions in Indiana:
Off the Beaten Path
If you want something unique to add to your Midwest road trip vacation ideas, check out these attractions in Indiana:
See the covered bridges of Parke County.
Get great photos of the kids at the Garfield Trail in Grant County.
Howl with wolves at Wolf Park in Battle Ground.
Iowa
Major Cities
Des Moines and Cedar Rapids are the two largest cities in Iowa. Even with tons to do, both these cities maintain a charming small-town feel.
Get Outdoors
The best places to access nature in Iowa include:
Fossil and Prairie Park and Nature Center
Beed's Lake State Park
Maquoketa Caves State Park
Three Mile Lake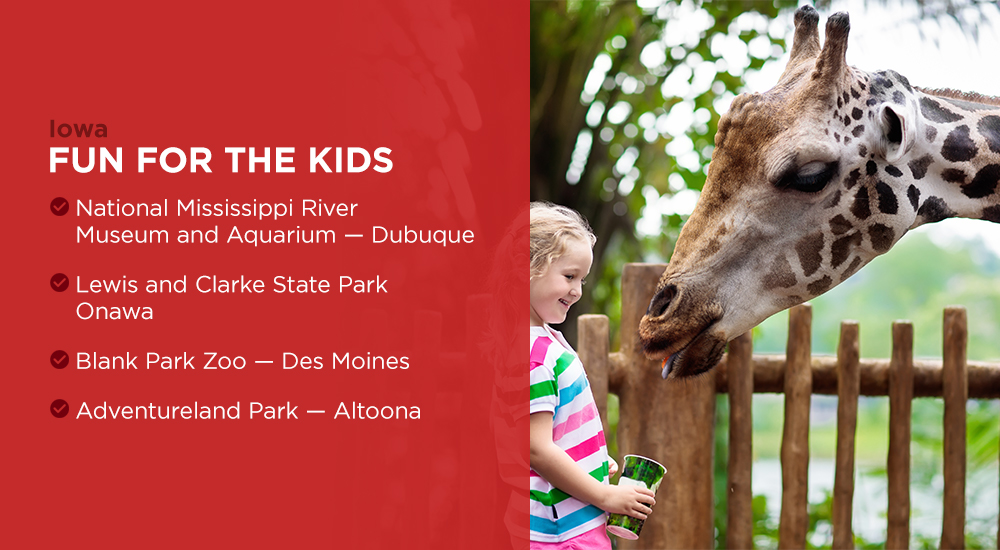 Fun for the Kids
Kids can find ample attractions to enjoy in Iowa, such as:
Off the Beaten Path
If you want an Iowa experience like no other, check out these one-of-a-kind stops:
Keep your balance on the swinging bridge in Columbus Junction.
Visit the house that inspired Grant Wood's famous American Gothic painting in Eldon.
Climb up the Big Treehouse in Marshalltown.
Stop by the future birthplace of Starfleet Captian James T. Kirk in Riverside.
Kansas
Major Cities
Wichita is the largest city in Kansas, with a deep history and a rich cultural center.
Get Outdoors
Enjoy the fields and wide-open prairies of Kansas in these state and national parks:
Shawnee Mission State Park
Prairie National Park
Tuttle Creek State Park
Prairie Dog State Park
Fun for the Kids
Bring the kids for fun in Kansas and visit one of the many family-friendly sites, such as:
Off the Beaten Path
Have fun on your road trip in Midwest USA at some of these unique Kansas sites:
Tour the original Pizza Hut that's now a museum in Wichita.
See the World's Largest Ball of Twine in Cawker City.
Drive by a giant Van Gough painting in Goodland.
Michigan
Major Cities
Know as a hub for the auto industry and the birthplace of Motown, Detroit has tons to offer visitors on a road trip through the Midwest.
Get Outdoors
You'll find much to enjoy outdoors on this pleasant peninsula, including:
Sleeping Bear Dunes National Lakeshore
Pictured Rocks National Lakeshore
Huron National Wildlife Refuge
Fun for the Kids
Michigan has some fantastic family-friendly attractions:
Off the Beaten Path
Make your Midwest USA road trip one to remember with these fun stops:
Visit a beautiful freshwater spring called Kitch-iti-kipi near Manistique.
See the medieval-inspired Curwood Castle in Owosso.
Walk through the Graffiti Alley of Ann Arbor.
Check out the Pickle Barrel House in Grand Marais.
Minnesota
Major Cities
Minneapolis-St. Paul, also known as the twin cities, will double your fun on your U.S. Midwest road trip.
Get Outdoors
Enjoy the land of 10,000 lakes on your Midwest camping road trip at one of these fantastic state parks:
Banning State Park
Blue Mounds State Park
Glacial Lakes State Park
Gooseberry Falls State Park
Fun for the Kids
Have a blast with your kids at these fun stops:
Off the Beaten Path
These off-the-beaten-path destinations will make your Midwest road trip one to remember:
See a gas station designed by famous architect Frank Lloyd Wright in Cloquet.
Take a selfie with the Jolly Green Giant statue in Blue Earth.
Visit Paul Bunyan and Babe the Blue Ox, or at least their statues, in Bemidji.
Missouri
Major Cities
Kansas City and St. Louis are the major cities in Missouri, but there's a lot of fun to be had in between.
Get Outdoors
Get in touch with nature at these gorgeous parks:
Castlewood State Park
Taum Sauk Mountain State Park
Elephant Rocks State Park
Hawn State Park
Fun for the Kids
Entertain the kiddos at one of these family-friendly stops:
Off the Beaten Path
Make your vacation one-of-a-kind at these Missouri stops:
Go to Columbia to visit the Devil's Ice Box.
Get up close and personal with bats at the Bat Bar in Lost Canyon Cave.
Visit Maxie, the world's largest goose in Sumner.
Nebraska
Major Cities
As their tourism slogan states, Nebraska may not be for everyone — but Omaha and Lincoln are still terrific destinations.
Get Outdoors
See the great wide open as it was truly intended in these Nebraska parks:
Platte River State Park
Niobrara National Scenic River
Ponca State Park
Smith Falls State Park
Fun for the Kids
Your kids will marvel at these Nebraska stops:
Off the Beaten Path
Check out these interesting road trip destinations in the Midwest:
Visit the smallest town in America, Monowi.
See the automotive replica of Stonehenge, called Carhenge in Alliance.
Explore the Ashfall Fossil Beds in Royal.
North Dakota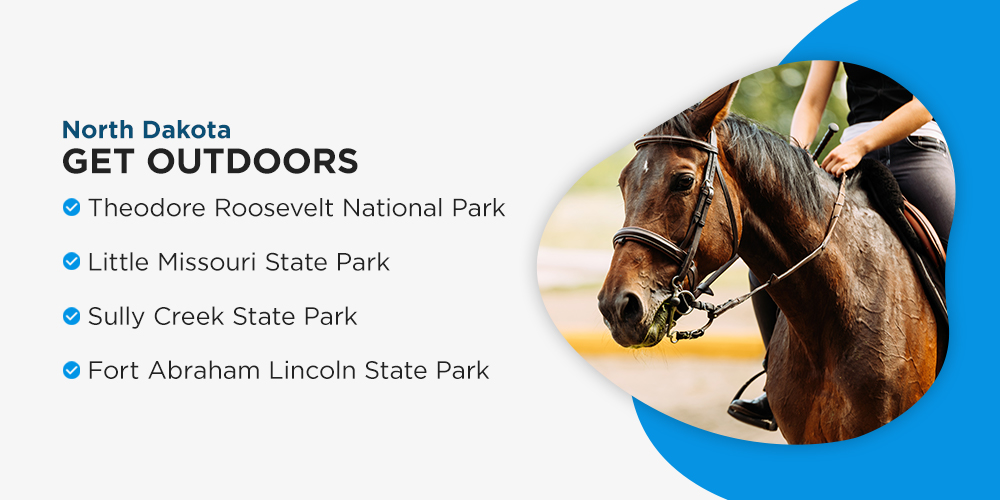 Major Cities
North Dakota gives small towns a new meaning, but you can always find something to do in Bismarck and Fargo.
Get Outdoors
Spend time in the outdoors with its beautiful parks:
Theodore Roosevelt National Park
Little Missouri State Park
Sully Creek State Park
Fort Abraham Lincoln State Park
Fun for the Kids
Entertain your children at these wonderful kid-friendly North Dakota stops:
Off the Beaten Path
Enjoy one of these off-the-wall destinations:
See the Enchanted Highway Sculptures of Regent.
Fans of the film "Fargo" can see the famous wood chipper on display in the town itself.
Say hello to Salem Sue, the world's largest Holstein cow.
Ohio
Major Cities
Known as the three Cs, Cincinnati, Columbus and Cleveland are the perfect trifecta for a road trip through Ohio.
Get Outdoors
Become one with nature at these beautiful Ohio parks:
Hocking Hills State Park
Cuyahoga Valley National Park
John Bryan State Park
Cleveland Lakefront State Park
Fun for the Kids
Kids can't complain about any of these fun Midwest road trip stops:
Off the Beaten Path
Do something you'll remember forever at these interesting Ohio destinations:
Have a drink and explore Crystal Cave in Put-in-Bay.
See the grave of famous sharpshooter Annie Oakley in Versailles.
Visit the historic Leatherlips Monument in Powell.
South Dakota
Major Cities
Get a pick-me-up in Sioux Falls and take it slow in Rapid City as you travel through South Dakota.
Get Outdoors
While famous for their Badlands, South Dakota actually has pretty good lands for a Midwest national parks road trip:
Badlands National Park
Custer State Park
Mount Rushmore National Memorial
Wind Cave National Park
Fun for the Kids
Explore some of the western world at these kid-friendly locations:
Off the Beaten Path
Do the unexpected at these unique South Dakota destinations:
See the haunted Hotel Alex Johnson in Rapid City.
Visit Art Ally, also in Rapid City.
Stop by the abandoned Spokane Ghost Town in Hermosa.
Wisconsin
Major Cities
Milwaukee and Madison are two of the best road trip destinations in the Midwest.
Get Outdoors
You won't find anything lacking in Wisconsin's natural world, so visit these beautiful parks:
Devil's Lake State Park
Willow River State Park
Lakeshore State Park
Rib Mountain State Park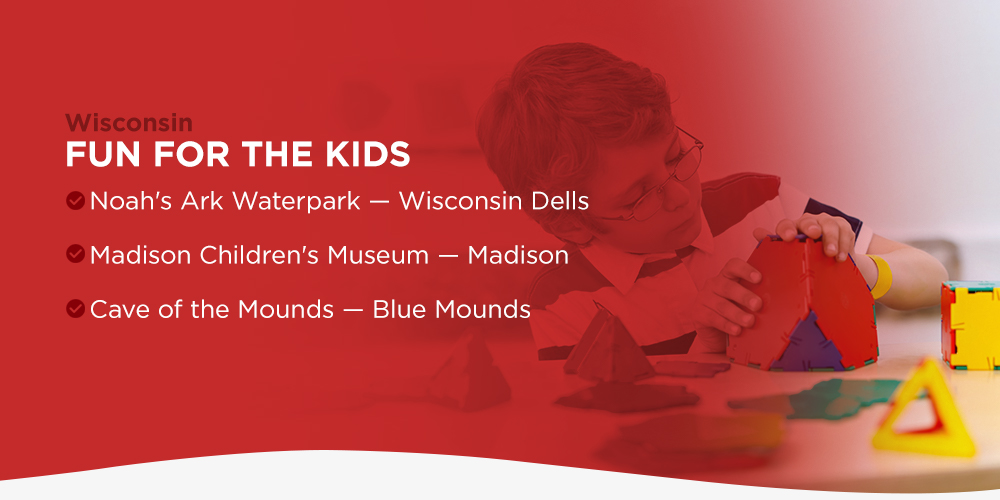 Fun for the Kids
Your kids might even call it a cool Midwest road trip if you stop at one of these fun destinations:
Off the Beaten Path
Have a one-of-a-kind experience at these one-of-a-kind Wisconsin road trip stops:
Defy gravity on Gravity Hill in Shullsburg.
Hang out at Swing Park in Milwaukee.
Eat at the oldest continually operating lunch car diner, Franks Diner in Kenosha.
Midwest Weekend Road Trips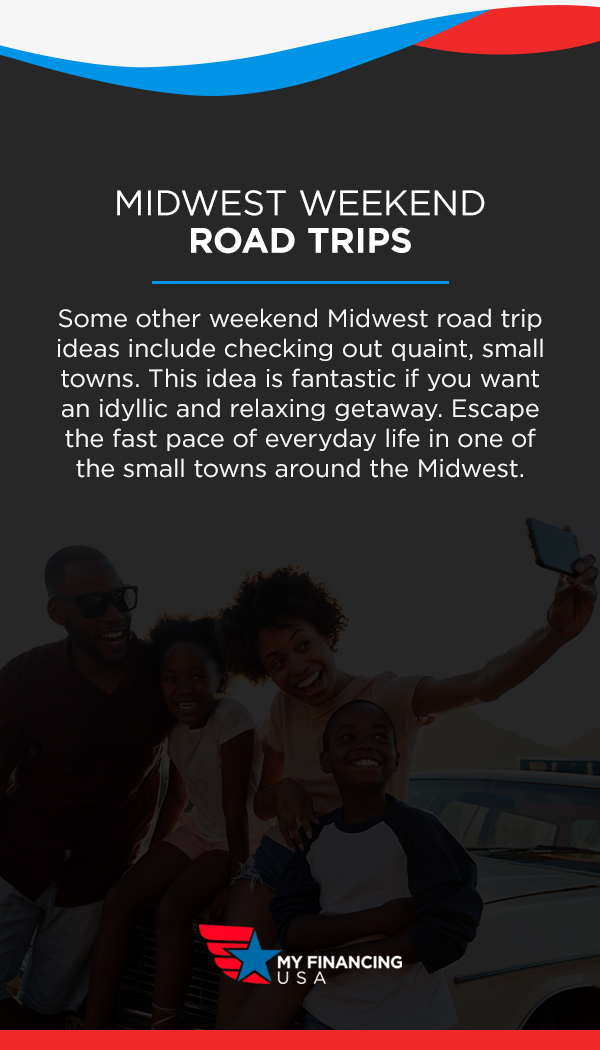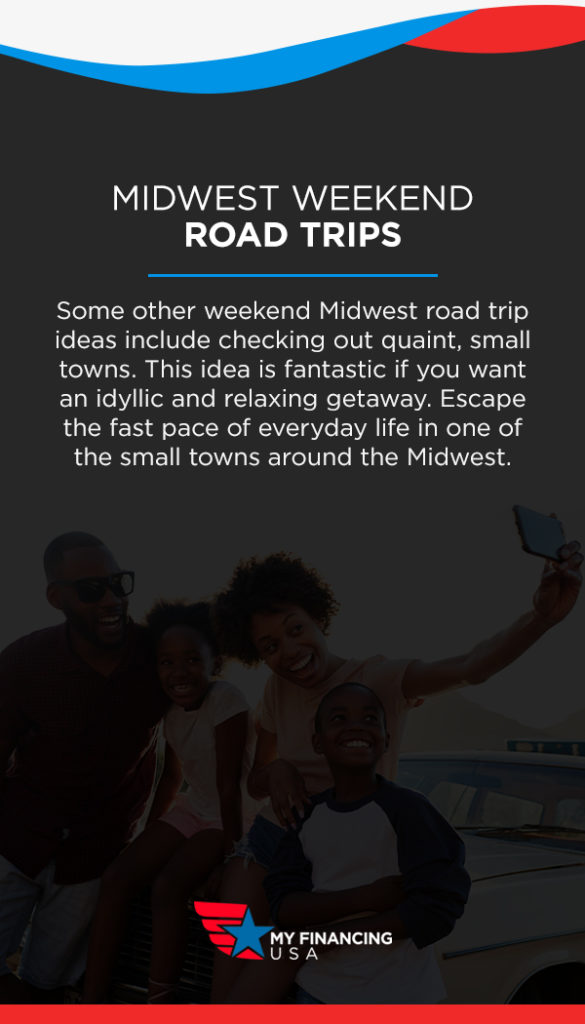 For a shorter trip, take weekend road trips in the Midwest. If you want a big-city vacation, check out Chicago, St. Louis or one of the other major cities in the Midwest. The larger cities in the Midwest can easily fill up a weekend with fun and adventure and will leave you wanting to come back for more.
Some other weekend Midwest road trip ideas include checking out quaint, small towns. This idea is fantastic if you want an idyllic and relaxing getaway. Escape the fast pace of everyday life in one of the small towns around the Midwest. Luckily, most small towns have plenty to entertain for your weekend road trips in the Midwest.
RV Loan Financing to Make Every Road Trip Memorable
These unique Midwest road trip ideas are sure to make your vacation memorable. But what could make these great road trip ideas in the Midwest even better? Your own recreational vehicle (RV) to ride around in style. An RV road trip through the Midwest is fantastic for couples looking for an adventure and families that want a unique vacation experience. Save money on lodgings, reduce travel stops that slow you down and enjoy the privacy of your own space in an RV.
If you've always dreamed of having an RV, know that it's more accessible than you think. At My Financing USA, we make boat and RV loan financing simple, safe and cost-effective. We'll find you the best rates in the nation, even if you've had credit problems in the past.
My Financing USA allows you to complete everything completely online for a fast and straightforward application process. You can hear back in as little as 48 to 72 hours, and we can find you better programs and lower rates than you'll get working directly with a dealer.
You can learn more about our RV loans and even start the application process online today to make your dream of RV ownership come true.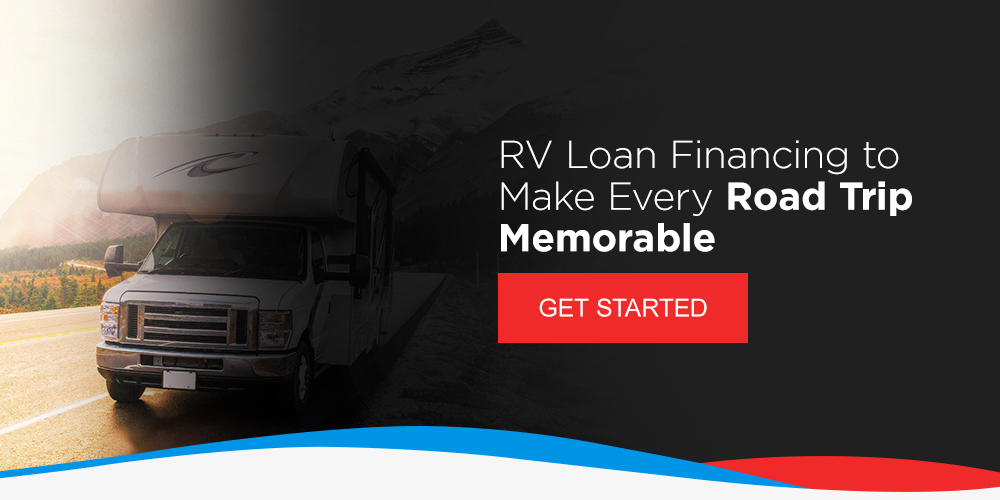 ---
Additional Resources on Road Trips:
---